Overview
Everyone loves cornhole at tailgates, backyard barbecues, or your favorite local bar. Play in one of our Boston cornhole leagues to perfect your skills for your next gathering. Volo cornhole leagues are played all over the city and are available weekly in various locations both indoors and outdoors. Sign up to play cornhole at one of our local venues, and you will meet lots of new people during your games or at the bar.
Program Types
league
tournament
dropin
Cornhole leagues
Volo sports leagues operate a lot like the sports leagues of your youth. Most of our leagues are 5 to 8 weeks and culminate in a series of playoff games to crown a champion! A team t-shirt is always included with registration and you will receive it at your first game. Volo provides specially trained staff members, referees, equipment, and prizes for your game. We strive to keep the games fair, safe, and stress free so that all you need to do is show up, play, socialize, and have a great time!
Styles of Play
Traditional

In every cornhole league you will play a total of four games against two opponents each week - 2 games vs each opponent. Games are played to 21 and you can exceed 21.

Traditional

In every cornhole league you will play a total of four games against two opponents each week - 2 games vs each opponent. Games are played to 21 and you can exceed 21.
1 of 1
Available Formats
open 2v2
Maximum Players on Field:
2  
Minimum Players to Start Game:
2  
Venues
Howl at the Moon
184 High St, Boston, MA 02110, USA
Howl at the Moon's Down offers a fun, exciting place for dancing and games. With a full bar and live music every weekend, this place is non-stop fun.
401 Park
401 Park Dr, Boston, MA 02215, USA
Greenway
Atlantic Ave &, Milk St, Boston, MA 02110, USA
Greenway cornhole is the perfect league for the Boston professional working Downtown. Enjoy a great location and one of our biggest cornhole leagues for a friendly atmosphere. Have your choice of which bar you want to go to after your games as there are several just a few blocks away. We suggest walking from work but the Blue Line drops you off right next to where we play and there is also the Boston Harbor Parking Garage right around the corner if you need to drive. Leagues take place on Tuesday and Thursday evenings. Friendly reminder there is no alcohol allowed on The Greenway.
Carson Beach
Carson Beach, Boston, MA, USA
Everyone knows cornhole is better on the beach, so join us for our only beach cornhole league at Carson Beach! There are two small parking lots at Carson along with free parking available along Columbia Rd. The beach is also easily accessible via the Red Line. With volleyball playing nearby and softball and kickball across the street there will be no shortage of new friends in this social and fun atmosphere. There will usually be a sponsor bar to go to with your teammates where you can enjoy member only specials (post COVID). Friendly reminder, no alcohol is allowed on the beach.
Seapoint
367 E 8th St, Boston, MA 02127, USA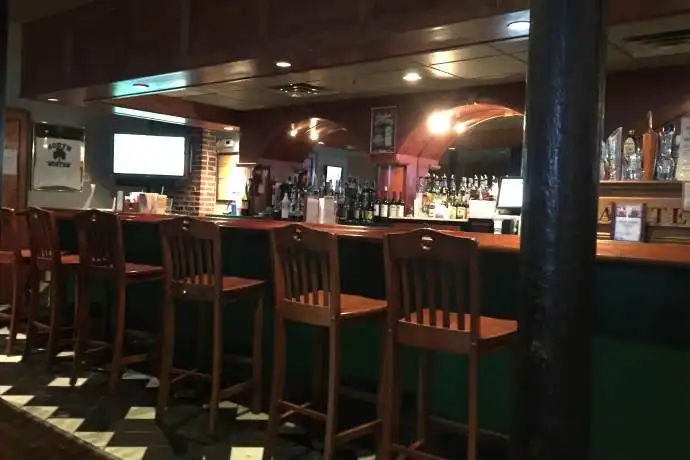 Lucky Strike (Somerville)
325 Revolution Dr #1128, Somerville, MA 02145, USA
Lucky Stike is a massive 36,000-square-foot venue with eight lanes, floor shuffleboard, billiard tables, a full arcade, tons of hi-def screens, delicious cocktails, and a late-night kitchen serving up tasty bites.
Time Out Market Boston
Landmark Center, 401 Park Dr, Boston, MA 02215, USA
Night Shift Brewing- Everett
87 Santilli Hwy, Everett, MA 02149, USA
Since 2012 Night Shift Brewing has been making craft beers with a relentless focus on three values, inclusivity, integrity, and innovation. The Everett Taproom features two bars, a large patio, rotating food trucks, and live music. NSB Everett is the perfect place to enjoy craft beer, wine, hard seltzer, and our cornhole leagues.
Ned Devine's
4 S Market St, Boston, MA 02109, USA
Ned Devine's features an expansive comfort food and cocktail menu in the heart of Boston's famous Faneuil Hall Marketplace. This classic Irish pub with its award winning New England Calm Chowder and 100 ounce beer towers is the perfect place to gather with friends.
Encore Boston Harbor Resort
1 Broadway, Everett, MA 02149, USA
The first and only casino resort in metro Boston, Encore Boston Harbor offers impeccable service enchanting ambiance, and stunning views. The Great Lawn, home to our Cornhole leagues, is surrounded by the Mystic River and features elegant landscaping and the tranquil Harbor Walk.
Tavern In The Square (Allston)
161 Brighton Ave, Boston, MA 02134, USA
A Boston staple Tavern in the Square continually adapts to fit the community in which they are located, creating a fun and casual atmosphere that is enjoyable for everyone. This cornhole league is located in the back room at Tavern in the Square.
Red Lantern
39 Stanhope St, Boston, MA 02116, USA
With a stunning interior design and state-of-the-art sound system, this venue is sure to produce a memorable night.
Studio B
110 Causeway St, Boston, MA 02114, USA
This modern event space is designed with high rafters of raw wood, large-scale tile floors, floor-to-ceiling case windows, brick walls, and globe lighting. The room features an expansive private bar and large LED screens.
Beer Garden Worcester
64 Franklin St, Worcester, MA 01608, USA
Canal District Kendall - Kendall Square
675 W Kendall St, Cambridge, MA 02142, USA
Kendall cornhole takes place inside the Night Shift Beer Garden on site. This means it is our ONLY outdoor cornhole league where you can drink and play at the same time. Space is extremely limited so register for this league ASAP!
MarketStreet
Market St, Lynnfield, MA 01940, USA
Dorchester Brewing Company
1250 Massachusetts Ave, Boston, MA 02125, USA
Lord Hobo Seaport
2 Drydock Ave, Boston, MA 02210, USA
Nash Bar & Stage
253 Tremont St, Boston, MA 02116, USA
Continuum
219 Western Ave, Allston, MA 02134, USA
The Station
1400 Boylston St, Boston, MA 02215, USA
High Street Place Food Hall
100 High St, Boston, MA 02110, USA
Big Night Live
110 Causeway St, Boston, MA 02114, USA
Scorpion Bar Boston
58 Seaport Blvd STE 200, Boston, MA 02210, USA
Guy Fieri's Boston Kitchen + Bar
186 Tremont St, Boston, MA 02111, USA
Join us at our brand-new cornhole location at Guy Fieri's Boston Kitchen and. Bar! Thanks to our new partnership with Big Night Entertainment, we will be running one of our only cornhole leagues in the heart of Downtown Boston!
Upcoming Cornhole Events in Boston
Frequently Asked Questions
Why do we need 3 players on a team when cornhole is a 2 person game?
Are there refs?
When will I get league info?