Info
About Our Sports
Details for Play
Overview
Looking to get active and social in Denver? Look no further and join Volo's Denver yoga! Participants will gather for a super social, fun and healthy hour long yoga class. Denver yoga classes are held outdoors in unique locations throughout the city for all levels of yogi's to enjoy.
Program Types
league
Yoga leagues
Volo sports leagues operate a lot like the sports leagues of your youth. Most of our leagues are 5 to 8 weeks and culminate in a series of playoff games to crown a champion! By competing in leagues, your team can also qualify for championship tournaments throughout the year to compete for city-wide, regional, and even national titles. A team t-shirt is always included with registration and you will receive it at your first game. Volo provides specially trained staff members, referees, equipment, and prizes for your game. After your games each week, you and your team will head over to one of our sponsor bars for some post-game fun! Volo hosts the best post-game social parties and you will have access to Volo exclusive food and drink specials. By participating in leagues, you will also enjoy special invitations to Volo events, often including an end of season party. We strive to keep the games fair, safe, and stress free so that all you need to do is show up, play, socialize, and have a great time!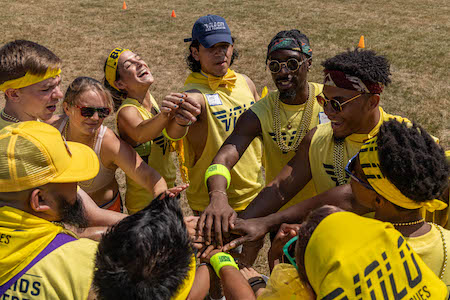 Available Formats
open N/A
Maximum Players on Field:
N/A  
Minimum Players to Start Game:
N/A  
Venues
RiNo Sports Arena
3600 Wynkoop St, Denver, CO 80216, USA
City Park
City Park, Denver, CO, USA
Come join us in historic City Park for our 6 week yoga series! Just bring your mat, a towel, and a water bottle and we'll provide the zen vibes and beautiful scenery.
Upcoming Yoga Events in Denver
Frequently Asked Questions
How many weeks is the series?
Are your instructors certified?
Do you provide mats and blocks?