Overview
Grab your clubs and come play a few rounds with us at The Loma Club in Point Loma!
Program Types
league
tournament
dropin
Golf leagues
Volo sports leagues operate a lot like the sports leagues of your youth. Most of our leagues are 5 to 8 weeks and culminate in a series of playoff games to crown a champion! By competing in leagues, your team can also qualify for championship tournaments throughout the year to compete for city-wide, regional, and even national titles. A team t-shirt is always included with registration and you will receive it at your first game. Volo provides specially trained staff members, referees, equipment, and prizes for your game. After your games each week, you and your team will head over to one of our sponsor bars for some post-game fun! Volo hosts the best post-game social parties and you will have access to Volo exclusive food and drink specials. By participating in leagues, you will also enjoy special invitations to Volo events, often including an end of season party. We strive to keep the games fair, safe, and stress free so that all you need to do is show up, play, socialize, and have a great time!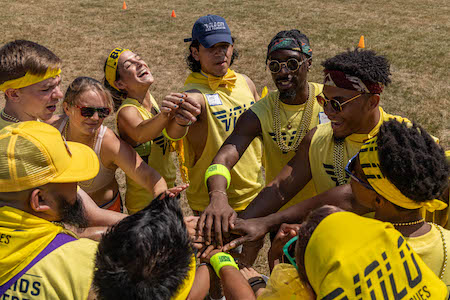 Available Formats
coed 2v2
Minimum Roster Size:
2 | 1 Male | 1 Female
Maximum Players on Field:
2 | 1 Male | 1 Female
Minimum Players to Start Game:
2 | 1 Male | 1 Female
Venues
The Loma Club
2960 Truxtun Rd, San Diego, CA 92106, USA
San Diego's most scenic 9 hole course.
Upcoming Golf Events in San Diego
Golf (4v4 Coed) - Monday - The Loma Club (Point Loma) - June 2023
Monday, June 26 2023
Each game is played to 15 (rounds are unlimited). You do NOT have to win by 2. If the ball touches the pallino, you do NOT get an extra point. You can get 1, 2, 3, or 4 point(s) in a round, ONLY 1 team can score points each round. Points are based on who is CLOSEST to the pallino. If you are closest, you get 1 point. Your team receives a point for every ball that is closer than the opponent's 1st closest ball. If you throw a regular ball (not pallino) short of halfway, it stays on the court and can score a point. The team that won the last round will throw the ball 1st in the next round. Example: The score is 10-1, then the team scores 2 points to make the score 10-3. The team with 3 points will throw the ball 1st (they won that round).\u003c/span> \u003c/p>","question":"What is the scoring?"},{"__typename":"FAQType","answer":"\u003cp>\u003cspan id=\"isPasted\" style='color: rgb(76, 76, 76); font-family: Arial, \"Helvetica Neue\", Helvetica, sans-serif; font-size: 14px; font-style: normal; font-variant-ligatures: normal; font-variant-caps: normal; font-weight: 400; letter-spacing: normal; orphans: 2; text-align: left; text-indent: 0px; text-transform: none; white-space: normal; widows: 2; word-spacing: 0px; -webkit-text-stroke-width: 0px; background-color: rgb(255, 255, 255); text-decoration-thickness: initial; text-decoration-style: initial; text-decoration-color: initial; display: inline !important; float: none;'>There are no gender requirements. Teams must field a minimum of 2 players at all times. If at any time a team cannot have 2 players on the field then they must forfeit. Both teams are still able to play a game with as many players as available just for fun!\u003c/span> \u003c/p>","question":"What are the gender requirements?"},{"__typename":"FAQType","answer":"\u003cp>\u003cspan id=\"isPasted\" style='color: rgb(76, 76, 76); font-family: Arial, \"Helvetica Neue\", Helvetica, sans-serif; font-size: 14px; font-style: normal; font-variant-ligatures: normal; font-variant-caps: normal; font-weight: 400; letter-spacing: normal; orphans: 2; text-align: left; text-indent: 0px; text-transform: none; white-space: normal; widows: 2; word-spacing: 0px; -webkit-text-stroke-width: 0px; background-color: rgb(255, 255, 255); text-decoration-thickness: initial; text-decoration-style: initial; text-decoration-color: initial; display: inline !important; float: none;'>Each player can throw 2 balls max each round. The serving team throws the pallino (small ball). The pallino must pass the centerline of the court. If the player fails 2 times, the opposing team throws the pallino. The team that throws the pallino also throws the first bocce ball. The opposing team then throws their first ball and continues to throw until they have a ball closer to the pallino than the starting team. Teams alternate throws, the team furthest from the pallino always playing until they are closer to the pallino or run out of balls.\u003c/span> \u003c/p>","question":"How do you play?"},{"__typename":"FAQType","answer":"","question":""},{"__typename":"FAQType","answer":"","question":""}],"programTypes":[{"__typename":"ProgramTypesType","hide":false,"name":"league","description":{"__typename":"ProgramTypeDescriptionType","isCustom":false,"text":""},"programImage":{"__typename":"ImageType","name":null,"url":null}},{"__typename":"ProgramTypesType","hide":false,"name":"tournament","description":{"__typename":"ProgramTypeDescriptionType","isCustom":false,"text":""},"programImage":{"__typename":"ImageType","name":null,"url":null}},{"__typename":"ProgramTypesType","hide":true,"name":"practice","description":{"__typename":"ProgramTypeDescriptionType","isCustom":false,"text":""},"programImage":{"__typename":"ImageType","name":null,"url":null}},{"__typename":"ProgramTypesType","hide":true,"name":"pickup","description":{"__typename":"ProgramTypeDescriptionType","isCustom":false,"text":""},"programImage":{"__typename":"ImageType","name":null,"url":null}},{"__typename":"ProgramTypesType","hide":false,"name":"dropin","description":{"__typename":"ProgramTypeDescriptionType","isCustom":false,"text":""},"programImage":{"__typename":"ImageType","name":null,"url":null}},{"__typename":"ProgramTypesType","hide":true,"name":"volunteer_event","description":{"__typename":"ProgramTypeDescriptionType","isCustom":false,"text":""},"programImage":{"__typename":"ImageType","name":null,"url":null}},{"__typename":"ProgramTypesType","hide":true,"name":"volunteer_league","description":{"__typename":"ProgramTypeDescriptionType","isCustom":false,"text":""},"programImage":{"__typename":"ImageType","name":null,"url":null}},{"__typename":"ProgramTypesType","hide":true,"name":"class","description":{"__typename":"ProgramTypeDescriptionType","isCustom":false,"text":""},"programImage":{"__typename":"ImageType","name":null,"url":null}},{"__typename":"ProgramTypesType","hide":true,"name":"clinic","description":{"__typename":"ProgramTypeDescriptionType","isCustom":false,"text":""},"programImage":{"__typename":"ImageType","name":null,"url":null}},{"__typename":"ProgramTypesType","hide":true,"name":"series","description":{"__typename":"ProgramTypeDescriptionType","isCustom":false,"text":""},"programImage":{"__typename":"ImageType","name":null,"url":null}}],"competitionLevels":[{"__typename":"CompetitionLevelsType","hidden":true,"level":"Super Social","description":""},{"__typename":"CompetitionLevelsType","hidden":true,"level":"Recreational","description":""},{"__typename":"CompetitionLevelsType","hidden":true,"level":"Intermediate","description":""},{"__typename":"CompetitionLevelsType","hidden":true,"level":"Upper Intermediate","description":""},{"__typename":"CompetitionLevelsType","hidden":true,"level":"Competitive","description":""}],"formats":[{"__typename":"FormatsType","description":"","format":"N/A","formatImage":{"__typename":"ImageType","url":""},"gender":"coed","maxPlayersOnField":{"__typename":"TotalsType","total":10,"male":5,"female":5},"minPlayersPerGame":{"__typename":"TotalsType","total":2,"male":1,"female":1},"minTeamSize":{"__typename":"TotalsType","total":5,"male":3,"female":2}}]},{"__typename":"SportDetails","sportName":"Bowling","hideSport":true,"notes":"\u003cp>Volo San Diego Bowling Leagues are a fun and social time offering players of all levels to have fun and meet up with new friends! All leagues are coed so everyone can get involved and join the fun. You won't want to miss out! Being social is in our DNA and we strive to make it a big part of our leagues. Come out for some Bowling, meet new people, and always have fun! When you play with us, we'll take care of everything! You just need to sign up, show up, and play.\u003c/p>","hero":{"__typename":"HeroType","heroText":"San Diego's Best Bowling Leagues","heroSubText":"","heroImage":{"__typename":"HeroImageType","image":{"__typename":"ImageType","name":"","url":""}},"heroCta":{"__typename":"HeroCtaType","text":"","url":"","newTab":false}},"stylesOfPlay":[{"__typename":"StylesOfPlayType","title":"10 pin","description":"\u003cp>This is traditional bowling with the big three holed balls and big pins. Relive one of Disney's classics Alley Cats Strike and get your team in the game today! Bowling leagues are super social and friendly with a bar on site! Bowling shoe rentals are included in your registration fee.\u003c/p>","image":null}],"faq":[{"__typename":"FAQType","answer":"\u003cp>Each week you will bowl two games\u003c/p>","question":"How many games do we play?"},{"__typename":"FAQType","answer":"\u003cp>Each game you can have a maximum of 8 bowlers bowl. You can switch out bowlers in between games. If you switch out bowlers between games the player must be replacing someone of the same sex.\u003c/p>","question":"How many players can bowl?"},{"__typename":"FAQType","answer":"\u003cp>At the end of the two games we will total each individual (or individuals if there's sub between games) score. The bottom two scores are dropped* and your team score is the accumulation of the top 6 scores. * - At least two scores need to be from men and two scores from women.\u003c/p>","question":"How does scoring work?"},{"__typename":"FAQType","answer":"\u003cp>The only way to guarantee you don't have any free agents and/or small groups added to your roster is to hit the team minimum of 8 players with at least 3 men/women. If you're not going to reach the team minimum and don't want any additional players added you can register as a prepaid team. A prepaid team allows you to have as big or small of team as you want by paying a fixed cost.\u003c/p>","question":"We have a group that is one person short of the team minimum. Can we be our own team without having free agents/small groups added?"},{"__typename":"FAQType","answer":"\u003cp>One of you should register as captain of a new group. Once the captain has completed registration they will get a team link. The captain should send the team link to all players so they register directly to the correct team.\u003c/p>","question":"I want to sign up with a friend(s). How can I guarantee we're on the same team?"},{"__typename":"FAQType","answer":"\u003cp>League info will be sent via email a minimum of 48 hours prior to the first game. When you get the league info email you will be able to login to your app and see all important details including your team name, teammates, and schedule. Free agents are placed on one team to play with for the entire season. We always *try* to put free agents on teams with at least one other free agent or small group.\u003c/p>","question":"I am a free agent, how do I know what team I'm on? Will I be on the same team all season?"}],"programTypes":[{"__typename":"ProgramTypesType","hide":false,"name":"league","description":{"__typename":"ProgramTypeDescriptionType","isCustom":false,"text":""},"programImage":{"__typename":"ImageType","name":null,"url":null}},{"__typename":"ProgramTypesType","hide":false,"name":"tournament","description":{"__typename":"ProgramTypeDescriptionType","isCustom":false,"text":""},"programImage":{"__typename":"ImageType","name":null,"url":null}},{"__typename":"ProgramTypesType","hide":false,"name":"practice","description":{"__typename":"ProgramTypeDescriptionType","isCustom":false,"text":""},"programImage":{"__typename":"ImageType","name":null,"url":null}},{"__typename":"ProgramTypesType","hide":false,"name":"pickup","description":{"__typename":"ProgramTypeDescriptionType","isCustom":false,"text":""},"programImage":{"__typename":"ImageType","name":null,"url":null}},{"__typename":"ProgramTypesType","hide":false,"name":"dropin","description":{"__typename":"ProgramTypeDescriptionType","isCustom":false,"text":""},"programImage":{"__typename":"ImageType","name":null,"url":null}},{"__typename":"ProgramTypesType","hide":false,"name":"volunteer_event","description":{"__typename":"ProgramTypeDescriptionType","isCustom":false,"text":""},"programImage":{"__typename":"ImageType","name":null,"url":null}},{"__typename":"ProgramTypesType","hide":false,"name":"volunteer_league","description":{"__typename":"ProgramTypeDescriptionType","isCustom":false,"text":""},"programImage":{"__typename":"ImageType","name":null,"url":null}},{"__typename":"ProgramTypesType","hide":false,"name":"class","description":{"__typename":"ProgramTypeDescriptionType","isCustom":false,"text":""},"programImage":{"__typename":"ImageType","name":null,"url":null}},{"__typename":"ProgramTypesType","hide":false,"name":"clinic","description":{"__typename":"ProgramTypeDescriptionType","isCustom":false,"text":""},"programImage":{"__typename":"ImageType","name":null,"url":null}},{"__typename":"ProgramTypesType","hide":false,"name":"series","description":{"__typename":"ProgramTypeDescriptionType","isCustom":false,"text":""},"programImage":{"__typename":"ImageType","name":null,"url":null}}],"competitionLevels":[{"__typename":"CompetitionLevelsType","hidden":false,"level":"Super Social","description":""},{"__typename":"CompetitionLevelsType","hidden":false,"level":"Recreational","description":""},{"__typename":"CompetitionLevelsType","hidden":false,"level":"Intermediate","description":""},{"__typename":"CompetitionLevelsType","hidden":false,"level":"Upper Intermediate","description":""},{"__typename":"CompetitionLevelsType","hidden":false,"level":"Competitive","description":""}],"formats":[{"__typename":"FormatsType","description":"","format":"8v8","formatImage":{"__typename":"ImageType","url":""},"gender":"coed","maxPlayersOnField":{"__typename":"TotalsType","total":0,"male":0,"female":0},"minPlayersPerGame":{"__typename":"TotalsType","total":0,"male":0,"female":0},"minTeamSize":{"__typename":"TotalsType","total":0,"male":0,"female":0}}]},{"__typename":"SportDetails","sportName":"Cornhole","hideSport":false,"notes":"\u003cp>Grab a drink, grab a bag, and make some friends with our San Diego Cornhole leagues!\u003c/p>","hero":{"__typename":"HeroType","heroText":"","heroSubText":"","heroImage":{"__typename":"HeroImageType","image":{"__typename":"ImageType","name":"","url":""}},"heroCta":{"__typename":"HeroCtaType","text":"","url":"","newTab":false}},"stylesOfPlay":[],"faq":[],"programTypes":[{"__typename":"ProgramTypesType","hide":false,"name":"league","description":{"__typename":"ProgramTypeDescriptionType","isCustom":false,"text":""},"programImage":{"__typename":"ImageType","name":null,"url":null}},{"__typename":"ProgramTypesType","hide":true,"name":"tournament","description":{"__typename":"ProgramTypeDescriptionType","isCustom":false,"text":""},"programImage":{"__typename":"ImageType","name":null,"url":null}},{"__typename":"ProgramTypesType","hide":true,"name":"practice","description":{"__typename":"ProgramTypeDescriptionType","isCustom":false,"text":""},"programImage":{"__typename":"ImageType","name":null,"url":null}},{"__typename":"ProgramTypesType","hide":true,"name":"pickup","description":{"__typename":"ProgramTypeDescriptionType","isCustom":false,"text":""},"programImage":{"__typename":"ImageType","name":null,"url":null}},{"__typename":"ProgramTypesType","hide":false,"name":"dropin","description":{"__typename":"ProgramTypeDescriptionType","isCustom":false,"text":""},"programImage":{"__typename":"ImageType","name":null,"url":null}},{"__typename":"ProgramTypesType","hide":false,"name":"volunteer_event","description":{"__typename":"ProgramTypeDescriptionType","isCustom":false,"text":""},"programImage":{"__typename":"ImageType","name":null,"url":null}},{"__typename":"ProgramTypesType","hide":false,"name":"volunteer_league","description":{"__typename":"ProgramTypeDescriptionType","isCustom":false,"text":""},"programImage":{"__typename":"ImageType","name":null,"url":null}},{"__typename":"ProgramTypesType","hide":true,"name":"class","description":{"__typename":"ProgramTypeDescriptionType","isCustom":false,"text":""},"programImage":{"__typename":"ImageType","name":null,"url":null}},{"__typename":"ProgramTypesType","hide":true,"name":"clinic","description":{"__typename":"ProgramTypeDescriptionType","isCustom":false,"text":""},"programImage":{"__typename":"ImageType","name":null,"url":null}},{"__typename":"ProgramTypesType","hide":true,"name":"series","description":{"__typename":"ProgramTypeDescriptionType","isCustom":false,"text":""},"programImage":{"__typename":"ImageType","name":null,"url":null}}],"competitionLevels":[{"__typename":"CompetitionLevelsType","hidden":true,"level":"Super Social","description":""},{"__typename":"CompetitionLevelsType","hidden":true,"level":"Recreational","description":""},{"__typename":"CompetitionLevelsType","hidden":true,"level":"Intermediate","description":""},{"__typename":"CompetitionLevelsType","hidden":true,"level":"Upper Intermediate","description":""},{"__typename":"CompetitionLevelsType","hidden":true,"level":"Competitive","description":""}],"formats":[{"__typename":"FormatsType","description":"","format":"N/A","formatImage":{"__typename":"ImageType","url":""},"gender":"open","maxPlayersOnField":{"__typename":"TotalsType","total":6,"male":null,"female":null},"minPlayersPerGame":{"__typename":"TotalsType","total":2,"male":null,"female":null},"minTeamSize":{"__typename":"TotalsType","total":4,"male":null,"female":null}}]},{"__typename":"SportDetails","sportName":"Dodgeball","hideSport":false,"notes":"Grab Life By The Balls! You've seen the movie, but you still can't dodge a wrench… no problem. Join our San Diego Dodgeball league and you'll perfect the thunder bolt, flinger, and boomerang in no time. Dodgeball is for everyone, whether you want to learn how to play dodgeball or just get a good workout! Our dodgeball games are played at centrally located Pacific Beach Recreation Center with post-game happy hour specials just a couple blocks away!","hero":{"__typename":"HeroType","heroText":"San Diego's Best Dodgeball League","heroSubText":"","heroImage":{"__typename":"HeroImageType","image":{"__typename":"ImageType","name":"10.jpg","url":"https://s3.amazonaws.com/rivall-user-uploads/prodUploads/citySportHeroFolder/10.jpg"}},"heroCta":{"__typename":"HeroCtaType","text":"","url":"","newTab":null}},"stylesOfPlay":[],"faq":[],"programTypes":[{"__typename":"ProgramTypesType","hide":false,"name":"league","description":{"__typename":"ProgramTypeDescriptionType","isCustom":false,"text":""},"programImage":{"__typename":"ImageType","name":null,"url":null}},{"__typename":"ProgramTypesType","hide":true,"name":"tournament","description":{"__typename":"ProgramTypeDescriptionType","isCustom":false,"text":""},"programImage":{"__typename":"ImageType","name":null,"url":null}},{"__typename":"ProgramTypesType","hide":true,"name":"practice","description":{"__typename":"ProgramTypeDescriptionType","isCustom":false,"text":""},"programImage":{"__typename":"ImageType","name":null,"url":null}},{"__typename":"ProgramTypesType","hide":true,"name":"pickup","description":{"__typename":"ProgramTypeDescriptionType","isCustom":false,"text":""},"programImage":{"__typename":"ImageType","name":null,"url":null}},{"__typename":"ProgramTypesType","hide":false,"name":"dropin","description":{"__typename":"ProgramTypeDescriptionType","isCustom":false,"text":""},"programImage":{"__typename":"ImageType","name":null,"url":null}},{"__typename":"ProgramTypesType","hide":false,"name":"volunteer_event","description":{"__typename":"ProgramTypeDescriptionType","isCustom":false,"text":""},"programImage":{"__typename":"ImageType","name":null,"url":null}},{"__typename":"ProgramTypesType","hide":false,"name":"volunteer_league","description":{"__typename":"ProgramTypeDescriptionType","isCustom":false,"text":""},"programImage":{"__typename":"ImageType","name":null,"url":null}},{"__typename":"ProgramTypesType","hide":true,"name":"class","description":{"__typename":"ProgramTypeDescriptionType","isCustom":false,"text":""},"programImage":{"__typename":"ImageType","name":null,"url":null}},{"__typename":"ProgramTypesType","hide":true,"name":"clinic","description":{"__typename":"ProgramTypeDescriptionType","isCustom":false,"text":""},"programImage":{"__typename":"ImageType","name":null,"url":null}},{"__typename":"ProgramTypesType","hide":true,"name":"series","description":{"__typename":"ProgramTypeDescriptionType","isCustom":false,"text":""},"programImage":{"__typename":"ImageType","name":null,"url":null}}],"competitionLevels":[{"__typename":"CompetitionLevelsType","hidden":true,"level":"Super Social","description":""},{"__typename":"CompetitionLevelsType","hidden":true,"level":"Recreational","description":""},{"__typename":"CompetitionLevelsType","hidden":true,"level":"Intermediate","description":""},{"__typename":"CompetitionLevelsType","hidden":true,"level":"Upper Intermediate","description":""},{"__typename":"CompetitionLevelsType","hidden":true,"level":"Competitive","description":""}],"formats":[]},{"__typename":"SportDetails","sportName":"Event","hideSport":true,"notes":"\u003cp>Experience some of San Diego's Premier events with Volo! Check out Volo Day at Petco, Del Mar Opening Day, New Years Eve, and More!\u003c/p>","hero":{"__typename":"HeroType","heroText":"Del Mar Opening Day","heroSubText":"\u003cp>Del Mar Opening Day\u003c/p>","heroImage":{"__typename":"HeroImageType","image":{"__typename":"ImageType","name":"Untitled design (35).jpg","url":"https://s3.amazonaws.com/rivall-user-uploads/prodUploads/citySportHeroFolder/Untitled design (35).jpg"}},"heroCta":{"__typename":"HeroCtaType","text":"Get Del Mar Opening Day Tickets","url":"https://volosandiego.ticketspice.com/del-mar-opening-day-23","newTab":true}},"stylesOfPlay":[],"faq":[{"__typename":"FAQType","answer":"\u003cp>Some of our events are free for Volo Pass Members. Most have a ticket price but Volo Pass Members do get exclusive discounts!\u003c/p>","question":"Are Volo Events Free?"},{"__typename":"FAQType","answer":"\u003cp>Our events are non refundable.\u003c/p>","question":"Are there refunds?"},{"__typename":"FAQType","answer":"\u003cp>Most of our events are 21+ due to the fact they include some sort of bar or club aspect.\u003c/p>","question":"Are Volo Events 21+?"},{"__typename":"FAQType","answer":"\u003cp>Download the app and follow us on instagram, @volosandiego, to stay up to date.\u003c/p>","question":"How do I find out about new events?"}],"programTypes":[{"__typename":"ProgramTypesType","hide":false,"name":"league","description":{"__typename":"ProgramTypeDescriptionType","isCustom":false,"text":""},"programImage":{"__typename":"ImageType","name":null,"url":null}},{"__typename":"ProgramTypesType","hide":true,"name":"tournament","description":{"__typename":"ProgramTypeDescriptionType","isCustom":false,"text":""},"programImage":{"__typename":"ImageType","name":null,"url":null}},{"__typename":"ProgramTypesType","hide":true,"name":"practice","description":{"__typename":"ProgramTypeDescriptionType","isCustom":false,"text":""},"programImage":{"__typename":"ImageType","name":null,"url":null}},{"__typename":"ProgramTypesType","hide":true,"name":"pickup","description":{"__typename":"ProgramTypeDescriptionType","isCustom":false,"text":""},"programImage":{"__typename":"ImageType","name":null,"url":null}},{"__typename":"ProgramTypesType","hide":true,"name":"dropin","description":{"__typename":"ProgramTypeDescriptionType","isCustom":false,"text":""},"programImage":{"__typename":"ImageType","name":null,"url":null}},{"__typename":"ProgramTypesType","hide":false,"name":"volunteer_event","description":{"__typename":"ProgramTypeDescriptionType","isCustom":false,"text":""},"programImage":{"__typename":"ImageType","name":null,"url":null}},{"__typename":"ProgramTypesType","hide":false,"name":"volunteer_league","description":{"__typename":"ProgramTypeDescriptionType","isCustom":false,"text":""},"programImage":{"__typename":"ImageType","name":null,"url":null}},{"__typename":"ProgramTypesType","hide":true,"name":"class","description":{"__typename":"ProgramTypeDescriptionType","isCustom":false,"text":""},"programImage":{"__typename":"ImageType","name":null,"url":null}},{"__typename":"ProgramTypesType","hide":true,"name":"clinic","description":{"__typename":"ProgramTypeDescriptionType","isCustom":false,"text":""},"programImage":{"__typename":"ImageType","name":null,"url":null}},{"__typename":"ProgramTypesType","hide":true,"name":"series","description":{"__typename":"ProgramTypeDescriptionType","isCustom":false,"text":""},"programImage":{"__typename":"ImageType","name":null,"url":null}}],"competitionLevels":[{"__typename":"CompetitionLevelsType","hidden":false,"level":"Super Social","description":""},{"__typename":"CompetitionLevelsType","hidden":false,"level":"Recreational","description":""},{"__typename":"CompetitionLevelsType","hidden":false,"level":"Intermediate","description":""},{"__typename":"CompetitionLevelsType","hidden":false,"level":"Upper Intermediate","description":""},{"__typename":"CompetitionLevelsType","hidden":false,"level":"Competitive","description":""}],"formats":[{"__typename":"FormatsType","description":"","format":"N/A","formatImage":{"__typename":"ImageType","url":""},"gender":"coed","maxPlayersOnField":{"__typename":"TotalsType","total":0,"male":0,"female":0},"minPlayersPerGame":{"__typename":"TotalsType","total":0,"male":0,"female":0},"minTeamSize":{"__typename":"TotalsType","total":0,"male":0,"female":0}}]},{"__typename":"SportDetails","sportName":"Flag Football","hideSport":false,"notes":"\u003cp>Show us your TD's! We offer both Men's and Coed programs and are a favorite when it comes to San Diego Flag Football leagues. Volo Flag Football leagues are the perfect way to stay active, get your competitive juices flowin', play with friends or meet new ones! See all our upcoming leagues in Kearny Mesa, Mira Mesa, and Pacific Beach.\u003c/p>","hero":{"__typename":"HeroType","heroText":"San Diego's Best Flag Football League","heroSubText":"\u003cp>Coed and Men's Flag Football at premier locations around San Diego!\u003c/p>","heroImage":{"__typename":"HeroImageType","image":{"__typename":"ImageType","name":"KDH09796 Large.jpeg","url":"https://s3.amazonaws.com/rivall-user-uploads/prodUploads/citySportHeroFolder/KDH09796 Large.jpeg"}},"heroCta":{"__typename":"HeroCtaType","text":"","url":"","newTab":null}},"stylesOfPlay":[],"faq":[{"__typename":"FAQType","answer":"\u003cp id=\"isPasted\">Minimum 3 women on the field for 8v8 and at least 4 on the roster\u003c/p>\u003cp>Minimum 2 women on the field for 7v7 and atleast 3 on the roster\u003c/p>","question":"How many women needed in Coed"},{"__typename":"FAQType","answer":"\u003cp>Minimum for 6v6 is 4, 7v7, 5 and 8v8 is 6.\u003c/p>","question":"How many do you need to not forfeit?"},{"__typename":"FAQType","answer":"\u003cp>No, you cannot block. You can screen block: \u003cspan id=\"isPasted\" style=\"font-size:11pt;font-family:Arial;color:#434343;background-color:transparent;font-weight:400;font-style:normal;font-variant:normal;text-decoration:none;vertical-align:baseline;white-space:pre;white-space:pre-wrap;\">Screen Blocking is legally obstructing an opponent without initiating contact with him/her with any part of the screen blocker's body.\u003c/span>\u003c/p>","question":"Can you block?"}],"programTypes":[{"__typename":"ProgramTypesType","hide":false,"name":"league","description":{"__typename":"ProgramTypeDescriptionType","isCustom":false,"text":""},"programImage":{"__typename":"ImageType","name":"Football hero.jpeg","url":"https://s3.amazonaws.com/rivall-user-uploads/prodUploads/programImagesFolder/Football hero.jpeg"}},{"__typename":"ProgramTypesType","hide":true,"name":"tournament","description":{"__typename":"ProgramTypeDescriptionType","isCustom":false,"text":""},"programImage":{"__typename":"ImageType","name":null,"url":null}},{"__typename":"ProgramTypesType","hide":true,"name":"practice","description":{"__typename":"ProgramTypeDescriptionType","isCustom":false,"text":""},"programImage":{"__typename":"ImageType","name":null,"url":null}},{"__typename":"ProgramTypesType","hide":true,"name":"pickup","description":{"__typename":"ProgramTypeDescriptionType","isCustom":false,"text":""},"programImage":{"__typename":"ImageType","name":null,"url":null}},{"__typename":"ProgramTypesType","hide":false,"name":"dropin","description":{"__typename":"ProgramTypeDescriptionType","isCustom":false,"text":""},"programImage":{"__typename":"ImageType","name":null,"url":null}},{"__typename":"ProgramTypesType","hide":true,"name":"volunteer_event","description":{"__typename":"ProgramTypeDescriptionType","isCustom":false,"text":""},"programImage":{"__typename":"ImageType","name":null,"url":null}},{"__typename":"ProgramTypesType","hide":true,"name":"volunteer_league","description":{"__typename":"ProgramTypeDescriptionType","isCustom":false,"text":""},"programImage":{"__typename":"ImageType","name":null,"url":null}},{"__typename":"ProgramTypesType","hide":true,"name":"class","description":{"__typename":"ProgramTypeDescriptionType","isCustom":false,"text":""},"programImage":{"__typename":"ImageType","name":null,"url":null}},{"__typename":"ProgramTypesType","hide":true,"name":"clinic","description":{"__typename":"ProgramTypeDescriptionType","isCustom":false,"text":""},"programImage":{"__typename":"ImageType","name":null,"url":null}},{"__typename":"ProgramTypesType","hide":true,"name":"series","description":{"__typename":"ProgramTypeDescriptionType","isCustom":false,"text":""},"programImage":{"__typename":"ImageType","name":null,"url":null}}],"competitionLevels":[{"__typename":"CompetitionLevelsType","hidden":false,"level":"Super Social","description":""},{"__typename":"CompetitionLevelsType","hidden":false,"level":"Recreational","description":""},{"__typename":"CompetitionLevelsType","hidden":false,"level":"Intermediate","description":""},{"__typename":"CompetitionLevelsType","hidden":false,"level":"Upper Intermediate","description":""},{"__typename":"CompetitionLevelsType","hidden":false,"level":"Competitive","description":""}],"formats":[{"__typename":"FormatsType","description":"\u003cp>Minimum 3 women on the field\u003c/p>\u003cp>Maximum 5 men on the field\u003c/p>\u003cp>1 play to a woman every 4 downs\u003c/p>","format":"8v8","formatImage":{"__typename":"ImageType","url":""},"gender":"coed","maxPlayersOnField":{"__typename":"TotalsType","total":8,"male":4,"female":4},"minPlayersPerGame":{"__typename":"TotalsType","total":7,"male":4,"female":2},"minTeamSize":{"__typename":"TotalsType","total":13,"male":8,"female":5}},{"__typename":"FormatsType","description":"","format":"7v7","formatImage":{"__typename":"ImageType","url":""},"gender":"men","maxPlayersOnField":{"__typename":"TotalsType","total":7,"male":7,"female":0},"minPlayersPerGame":{"__typename":"TotalsType","total":6,"male":5,"female":0},"minTeamSize":{"__typename":"TotalsType","total":10,"male":7,"female":0}},{"__typename":"FormatsType","description":"\u003cp id=\"isPasted\">Minimum 2 women on the field\u003c/p>\u003cp>Maximum 5 men on the field\u003c/p>\u003cp>1 play to a woman every 4 downs\u003c/p>","format":"7v7","formatImage":{"__typename":"ImageType","url":""},"gender":"coed","maxPlayersOnField":{"__typename":"TotalsType","total":12,"male":4,"female":3},"minPlayersPerGame":{"__typename":"TotalsType","total":12,"male":3,"female":2},"minTeamSize":{"__typename":"TotalsType","total":12,"male":4,"female":3}},{"__typename":"FormatsType","description":"","format":"6v6","formatImage":{"__typename":"ImageType","url":""},"gender":"men","maxPlayersOnField":{"__typename":"TotalsType","total":0,"male":6,"female":0},"minPlayersPerGame":{"__typename":"TotalsType","total":0,"male":4,"female":0},"minTeamSize":{"__typename":"TotalsType","total":9,"male":9,"female":0}}]},{"__typename":"SportDetails","sportName":"Golf","hideSport":false,"notes":"\u003cp>Grab your clubs and come play a few rounds with us at The Loma Club in Point Loma!\u003c/p>","hero":{"__typename":"HeroType","heroText":"Golf Leagues in San Diego","heroSubText":"\u003cp>Have a tee-refic time with us at one of the premier locations in San Diego.\u003c/p>","heroImage":{"__typename":"HeroImageType","image":{"__typename":"ImageType","name":"Golf 1.jpg","url":"https://s3.amazonaws.com/rivall-user-uploads/prodUploads/citySportHeroFolder/Golf 1.jpg"}},"heroCta":{"__typename":"HeroCtaType","text":"","url":"","newTab":null}},"stylesOfPlay":[],"faq":[{"__typename":"FAQType","answer":"\u003cp>We have a allotted time that our league run. You can come anytime between that and we will pair you with others.\u003c/p>","question":"How do tee times work?"},{"__typename":"FAQType","answer":"\u003cp>We do not keep score the first 7 weeks. The final week we have one day tournament and crown a champion.\u003c/p>","question":"Do you keep score?"},null,null,{"__typename":"FAQType","answer":"","question":""},{"__typename":"FAQType","answer":"","question":""}],"programTypes":[{"__typename":"ProgramTypesType","hide":false,"name":"league","description":{"__typename":"ProgramTypeDescriptionType","isCustom":false,"text":""},"programImage":{"__typename":"ImageType","name":null,"url":null}},{"__typename":"ProgramTypesType","hide":false,"name":"tournament","description":{"__typename":"ProgramTypeDescriptionType","isCustom":false,"text":""},"programImage":{"__typename":"ImageType","name":null,"url":null}},{"__typename":"ProgramTypesType","hide":true,"name":"practice","description":{"__typename":"ProgramTypeDescriptionType","isCustom":false,"text":""},"programImage":{"__typename":"ImageType","name":null,"url":null}},{"__typename":"ProgramTypesType","hide":true,"name":"pickup","description":{"__typename":"ProgramTypeDescriptionType","isCustom":false,"text":""},"programImage":{"__typename":"ImageType","name":null,"url":null}},{"__typename":"ProgramTypesType","hide":false,"name":"dropin","description":{"__typename":"ProgramTypeDescriptionType","isCustom":false,"text":""},"programImage":{"__typename":"ImageType","name":null,"url":null}},{"__typename":"ProgramTypesType","hide":true,"name":"volunteer_event","description":{"__typename":"ProgramTypeDescriptionType","isCustom":false,"text":""},"programImage":{"__typename":"ImageType","name":null,"url":null}},{"__typename":"ProgramTypesType","hide":true,"name":"volunteer_league","description":{"__typename":"ProgramTypeDescriptionType","isCustom":false,"text":""},"programImage":{"__typename":"ImageType","name":null,"url":null}},{"__typename":"ProgramTypesType","hide":true,"name":"class","description":{"__typename":"ProgramTypeDescriptionType","isCustom":false,"text":""},"programImage":{"__typename":"ImageType","name":null,"url":null}},{"__typename":"ProgramTypesType","hide":true,"name":"clinic","description":{"__typename":"ProgramTypeDescriptionType","isCustom":false,"text":""},"programImage":{"__typename":"ImageType","name":null,"url":null}},{"__typename":"ProgramTypesType","hide":true,"name":"series","description":{"__typename":"ProgramTypeDescriptionType","isCustom":false,"text":""},"programImage":{"__typename":"ImageType","name":null,"url":null}}],"competitionLevels":[{"__typename":"CompetitionLevelsType","hidden":true,"level":"Super Social","description":""},{"__typename":"CompetitionLevelsType","hidden":true,"level":"Recreational","description":""},{"__typename":"CompetitionLevelsType","hidden":true,"level":"Intermediate","description":""},{"__typename":"CompetitionLevelsType","hidden":true,"level":"Upper Intermediate","description":""},{"__typename":"CompetitionLevelsType","hidden":true,"level":"Competitive","description":""}],"formats":[{"__typename":"FormatsType","description":"","format":"2v2","formatImage":{"__typename":"ImageType","url":""},"gender":"coed","maxPlayersOnField":{"__typename":"TotalsType","total":2,"male":1,"female":1},"minPlayersPerGame":{"__typename":"TotalsType","total":2,"male":1,"female":1},"minTeamSize":{"__typename":"TotalsType","total":2,"male":1,"female":1}}]},{"__typename":"SportDetails","sportName":"Happy Hour","hideSport":false,"notes":"\u003cp>Interested in hooping it up? Come out and show San Diego your skills on the court. We offer Men's Basketball Leagues and Coed Adult Basketball Leagues at central locations in La Jolla at Doyle Rec or Nobel Rec, and Downtown at Golden Hill Rec. Games are fast paced & full court.\u003c/p>","hero":{"__typename":"HeroType","heroText":"San Diego's Best Basketball League","heroSubText":"\u003cp>5v5 Men's and Coed Indoor Basketball in popular locations.\u003c/p>","heroImage":{"__typename":"HeroImageType","image":{"__typename":"ImageType","name":"Screen Shot 2023-01-24 at 1.36.59 PM Large.jpeg","url":"https://s3.amazonaws.com/rivall-user-uploads/prodUploads/citySportHeroFolder/Screen Shot 2023-01-24 at 1.36.59 PM Large.jpeg"}},"heroCta":{"__typename":"HeroCtaType","text":"","url":"","newTab":false}},"stylesOfPlay":[],"faq":[{"__typename":"FAQType","answer":"\u003cp>Minimum women on the court is 2. If only 1 is present then team must play a man down with a maximum of 3 menon the court. \u003c/p>","question":"How many women need to be on a coed team?"},{"__typename":"FAQType","answer":"\u003cp>Minimum players needed for a team to not forfeit is 4.\u003c/p>","question":"What is the minimum players to start the game?"},{"__typename":"FAQType","answer":"\u003cp>29.5 Men'sregulation\u003c/p>","question":"What size ball do we use?"},{"__typename":"FAQType","answer":"\u003cp>20 minute halves, running clock.\u003c/p>","question":"How long are the halves?"},{"__typename":"FAQType","answer":"\u003cp>2 timeouts per half. Timeouts do not roll over to second half. 1 time out in overtime.\u003c/p>","question":"How many timeouts do you get?"}],"programTypes":[{"__typename":"ProgramTypesType","hide":false,"name":"league","description":{"__typename":"ProgramTypeDescriptionType","isCustom":false,"text":""},"programImage":{"__typename":"ImageType","name":"Screen Shot 2022-04-20 at 9.15.20 AM.jpeg","url":"https://s3.amazonaws.com/rivall-user-uploads/prodUploads/programImagesFolder/Screen Shot 2022-04-20 at 9.15.20 AM.jpeg"}},{"__typename":"ProgramTypesType","hide":true,"name":"tournament","description":{"__typename":"ProgramTypeDescriptionType","isCustom":false,"text":""},"programImage":{"__typename":"ImageType","name":null,"url":null}},{"__typename":"ProgramTypesType","hide":true,"name":"practice","description":{"__typename":"ProgramTypeDescriptionType","isCustom":false,"text":""},"programImage":{"__typename":"ImageType","name":null,"url":null}},{"__typename":"ProgramTypesType","hide":false,"name":"pickup","description":{"__typename":"ProgramTypeDescriptionType","isCustom":false,"text":""},"programImage":{"__typename":"ImageType","name":"Screen Shot 2023-01-24 at 1.38.32 PM Large.jpeg","url":"https://s3.amazonaws.com/rivall-user-uploads/prodUploads/programImagesFolder/Screen Shot 2023-01-24 at 1.38.32 PM Large.jpeg"}},{"__typename":"ProgramTypesType","hide":false,"name":"dropin","description":{"__typename":"ProgramTypeDescriptionType","isCustom":false,"text":""},"programImage":{"__typename":"ImageType","name":"Screen Shot 2023-01-24 at 1.37.15 PM Large.jpeg","url":"https://s3.amazonaws.com/rivall-user-uploads/prodUploads/programImagesFolder/Screen Shot 2023-01-24 at 1.37.15 PM Large.jpeg"}},{"__typename":"ProgramTypesType","hide":true,"name":"volunteer_event","description":{"__typename":"ProgramTypeDescriptionType","isCustom":false,"text":""},"programImage":{"__typename":"ImageType","name":null,"url":null}},{"__typename":"ProgramTypesType","hide":true,"name":"volunteer_league","description":{"__typename":"ProgramTypeDescriptionType","isCustom":false,"text":""},"programImage":{"__typename":"ImageType","name":null,"url":null}},{"__typename":"ProgramTypesType","hide":true,"name":"class","description":{"__typename":"ProgramTypeDescriptionType","isCustom":false,"text":""},"programImage":{"__typename":"ImageType","name":null,"url":null}},{"__typename":"ProgramTypesType","hide":true,"name":"clinic","description":{"__typename":"ProgramTypeDescriptionType","isCustom":false,"text":""},"programImage":{"__typename":"ImageType","name":null,"url":null}},{"__typename":"ProgramTypesType","hide":true,"name":"series","description":{"__typename":"ProgramTypeDescriptionType","isCustom":false,"text":""},"programImage":{"__typename":"ImageType","name":null,"url":null}}],"competitionLevels":[{"__typename":"CompetitionLevelsType","hidden":true,"level":"Super Social","description":""},{"__typename":"CompetitionLevelsType","hidden":false,"level":"Recreational","description":""},{"__typename":"CompetitionLevelsType","hidden":true,"level":"Intermediate","description":""},{"__typename":"CompetitionLevelsType","hidden":true,"level":"Upper Intermediate","description":""},{"__typename":"CompetitionLevelsType","hidden":false,"level":"Competitive","description":""}],"formats":[{"__typename":"FormatsType","description":"\u003cp>5v5 Coed Basketball\u003c/p>\u003cul id=\"isPasted\" style=\"box-sizing: inherit; background-repeat: no-repeat; background-size: contain; margin: 0px; padding: 0px; margin-block: 0px; margin-inline: 0px; padding-block: 0px; padding-inline: 0px; color: rgb(65, 65, 65); text-rendering: optimizelegibility; font-family: sans-serif; font-size: 14px; font-style: normal; font-variant-ligatures: normal; font-variant-caps: normal; font-weight: 400; letter-spacing: normal; orphans: 2; text-align: left; text-indent: 0px; text-transform: none; white-space: normal; widows: 2; word-spacing: 0px; -webkit-text-stroke-width: 0px; background-color: rgb(255, 255, 255); text-decoration-thickness: initial; text-decoration-style: initial; text-decoration-color: initial;\">\u003cli style=\"box-sizing: inherit; background-repeat: no-repeat; background-size: contain; padding-left: 0px; font-weight: 400;\">\u003cspan style='box-sizing: inherit; background-repeat: no-repeat; background-size: contain; font-family: Arial, \"Helvetica Neue\", Helvetica, sans-serif; margin-bottom: 0px; font-weight: 400;'>2 minimum women to play\u003c/span>\u003c/li>\u003cli style=\"box-sizing: inherit; background-repeat: no-repeat; background-size: contain; padding-left: 0px; font-weight: 400;\">\u003cspan style='box-sizing: inherit; background-repeat: no-repeat; background-size: contain; font-family: Arial, \"Helvetica Neue\", Helvetica, sans-serif; margin-bottom: 0px; font-weight: 400;'>3 men max on the court\u003c/span>\u003c/li>\u003c/ul>","format":"5v5","formatImage":{"__typename":"ImageType","url":""},"gender":"coed","maxPlayersOnField":{"__typename":"TotalsType","total":5,"male":3,"female":2},"minPlayersPerGame":{"__typename":"TotalsType","total":4,"male":2,"female":2},"minTeamSize":{"__typename":"TotalsType","total":8,"male":5,"female":4}},{"__typename":"FormatsType","description":"\u003cp>5v5 Men Basketball\u003c/p>\u003cul id=\"isPasted\" style=\"box-sizing: inherit; background-repeat: no-repeat; background-size: contain; margin: 0px; padding: 0px; margin-block: 0px; margin-inline: 0px; padding-block: 0px; padding-inline: 0px; color: rgb(65, 65, 65); text-rendering: optimizelegibility; font-family: sans-serif; font-size: 14px; font-style: normal; font-variant-ligatures: normal; font-variant-caps: normal; font-weight: 400; letter-spacing: normal; orphans: 2; text-align: left; text-indent: 0px; text-transform: none; white-space: normal; widows: 2; word-spacing: 0px; -webkit-text-stroke-width: 0px; background-color: rgb(255, 255, 255); text-decoration-thickness: initial; text-decoration-style: initial; text-decoration-color: initial;\">\u003cli style=\"box-sizing: inherit; background-repeat: no-repeat; background-size: contain; padding-left: 0px; font-weight: 400;\">\u003cspan style='box-sizing: inherit; background-repeat: no-repeat; background-size: contain; font-family: Arial, \"Helvetica Neue\", Helvetica, sans-serif; margin-bottom: 0px; font-weight: 400;'>4 minimum men to play\u003c/span>\u003c/li>\u003c/ul>","format":"5v5","formatImage":{"__typename":"ImageType","url":""},"gender":"men","maxPlayersOnField":{"__typename":"TotalsType","total":5,"male":5,"female":0},"minPlayersPerGame":{"__typename":"TotalsType","total":4,"male":4,"female":0},"minTeamSize":{"__typename":"TotalsType","total":8,"male":5,"female":0}},{"__typename":"FormatsType","description":"","format":"N/A","formatImage":{"__typename":"ImageType","url":""},"gender":"open","maxPlayersOnField":{"__typename":"TotalsType","total":0,"male":0,"female":0},"minPlayersPerGame":{"__typename":"TotalsType","total":0,"male":0,"female":0},"minTeamSize":{"__typename":"TotalsType","total":0,"male":0,"female":0}}]},{"__typename":"SportDetails","sportName":"Hiking","hideSport":true,"notes":"\u003cp>See San Diego from a new viewpoint with the Volo San Diego Hiking Club!\u003c/p>","hero":{"__typename":"HeroType","heroText":"","heroSubText":"","heroImage":{"__typename":"HeroImageType","image":{"__typename":"ImageType","name":"","url":""}},"heroCta":{"__typename":"HeroCtaType","text":"","url":"","newTab":false}},"stylesOfPlay":[],"faq":[],"programTypes":[{"__typename":"ProgramTypesType","hide":false,"name":"league","description":{"__typename":"ProgramTypeDescriptionType","isCustom":false,"text":""},"programImage":{"__typename":"ImageType","name":null,"url":null}},{"__typename":"ProgramTypesType","hide":true,"name":"tournament","description":{"__typename":"ProgramTypeDescriptionType","isCustom":false,"text":""},"programImage":{"__typename":"ImageType","name":null,"url":null}},{"__typename":"ProgramTypesType","hide":true,"name":"practice","description":{"__typename":"ProgramTypeDescriptionType","isCustom":false,"text":""},"programImage":{"__typename":"ImageType","name":null,"url":null}},{"__typename":"ProgramTypesType","hide":true,"name":"pickup","description":{"__typename":"ProgramTypeDescriptionType","isCustom":false,"text":""},"programImage":{"__typename":"ImageType","name":null,"url":null}},{"__typename":"ProgramTypesType","hide":false,"name":"dropin","description":{"__typename":"ProgramTypeDescriptionType","isCustom":false,"text":""},"programImage":{"__typename":"ImageType","name":null,"url":null}},{"__typename":"ProgramTypesType","hide":false,"name":"volunteer_event","description":{"__typename":"ProgramTypeDescriptionType","isCustom":false,"text":""},"programImage":{"__typename":"ImageType","name":null,"url":null}},{"__typename":"ProgramTypesType","hide":false,"name":"volunteer_league","description":{"__typename":"ProgramTypeDescriptionType","isCustom":false,"text":""},"programImage":{"__typename":"ImageType","name":null,"url":null}},{"__typename":"ProgramTypesType","hide":true,"name":"class","description":{"__typename":"ProgramTypeDescriptionType","isCustom":false,"text":""},"programImage":{"__typename":"ImageType","name":null,"url":null}},{"__typename":"ProgramTypesType","hide":true,"name":"clinic","description":{"__typename":"ProgramTypeDescriptionType","isCustom":false,"text":""},"programImage":{"__typename":"ImageType","name":null,"url":null}},{"__typename":"ProgramTypesType","hide":true,"name":"series","description":{"__typename":"ProgramTypeDescriptionType","isCustom":false,"text":""},"programImage":{"__typename":"ImageType","name":null,"url":null}}],"competitionLevels":[{"__typename":"CompetitionLevelsType","hidden":true,"level":"Super Social","description":""},{"__typename":"CompetitionLevelsType","hidden":true,"level":"Recreational","description":""},{"__typename":"CompetitionLevelsType","hidden":true,"level":"Intermediate","description":""},{"__typename":"CompetitionLevelsType","hidden":true,"level":"Upper Intermediate","description":""},{"__typename":"CompetitionLevelsType","hidden":true,"level":"Competitive","description":""}],"formats":[{"__typename":"FormatsType","description":"","format":"N/A","formatImage":{"__typename":"ImageType","url":""},"gender":"coed","maxPlayersOnField":{"__typename":"TotalsType","total":0,"male":0,"female":0},"minPlayersPerGame":{"__typename":"TotalsType","total":0,"male":0,"female":0},"minTeamSize":{"__typename":"TotalsType","total":0,"male":0,"female":0}}]},{"__typename":"SportDetails","sportName":"Kickball","hideSport":false,"notes":"\u003cp>Volo formerly known as VAVi offers everyone's favorite sport! We have San Diego kickball leagues in Pacific Beach, Ocean Beach, Carmel Valley, La Jolla, North Park, Old Town and Golden Hill! If you're looking for something new and fun, try joining an upcoming kickball league here in town. Have no fear if you haven't played a kickball game since elementary school; our kickball leagues are all about having fun.\u003c/p>","hero":{"__typename":"HeroType","heroText":"San Diego's Best Kickball League","heroSubText":"","heroImage":{"__typename":"HeroImageType","image":{"__typename":"ImageType","name":"2.jpg","url":"https://s3.amazonaws.com/rivall-user-uploads/prodUploads/citySportHeroFolder/2.jpg"}},"heroCta":{"__typename":"HeroCtaType","text":"","url":"","newTab":null}},"stylesOfPlay":[],"faq":[],"programTypes":[{"__typename":"ProgramTypesType","hide":false,"name":"league","description":{"__typename":"ProgramTypeDescriptionType","isCustom":false,"text":""},"programImage":{"__typename":"ImageType","name":null,"url":null}},{"__typename":"ProgramTypesType","hide":false,"name":"tournament","description":{"__typename":"ProgramTypeDescriptionType","isCustom":false,"text":""},"programImage":{"__typename":"ImageType","name":null,"url":null}},{"__typename":"ProgramTypesType","hide":true,"name":"practice","description":{"__typename":"ProgramTypeDescriptionType","isCustom":false,"text":""},"programImage":{"__typename":"ImageType","name":null,"url":null}},{"__typename":"ProgramTypesType","hide":true,"name":"pickup","description":{"__typename":"ProgramTypeDescriptionType","isCustom":false,"text":""},"programImage":{"__typename":"ImageType","name":null,"url":null}},{"__typename":"ProgramTypesType","hide":false,"name":"dropin","description":{"__typename":"ProgramTypeDescriptionType","isCustom":false,"text":""},"programImage":{"__typename":"ImageType","name":null,"url":null}},{"__typename":"ProgramTypesType","hide":false,"name":"volunteer_event","description":{"__typename":"ProgramTypeDescriptionType","isCustom":false,"text":""},"programImage":{"__typename":"ImageType","name":null,"url":null}},{"__typename":"ProgramTypesType","hide":false,"name":"volunteer_league","description":{"__typename":"ProgramTypeDescriptionType","isCustom":false,"text":""},"programImage":{"__typename":"ImageType","name":null,"url":null}},{"__typename":"ProgramTypesType","hide":true,"name":"class","description":{"__typename":"ProgramTypeDescriptionType","isCustom":false,"text":""},"programImage":{"__typename":"ImageType","name":null,"url":null}},{"__typename":"ProgramTypesType","hide":true,"name":"clinic","description":{"__typename":"ProgramTypeDescriptionType","isCustom":false,"text":""},"programImage":{"__typename":"ImageType","name":null,"url":null}},{"__typename":"ProgramTypesType","hide":true,"name":"series","description":{"__typename":"ProgramTypeDescriptionType","isCustom":false,"text":""},"programImage":{"__typename":"ImageType","name":null,"url":null}}],"competitionLevels":[{"__typename":"CompetitionLevelsType","hidden":true,"level":"Super Social","description":""},{"__typename":"CompetitionLevelsType","hidden":true,"level":"Recreational","description":""},{"__typename":"CompetitionLevelsType","hidden":true,"level":"Intermediate","description":""},{"__typename":"CompetitionLevelsType","hidden":true,"level":"Upper Intermediate","description":""},{"__typename":"CompetitionLevelsType","hidden":true,"level":"Competitive","description":""}],"formats":[{"__typename":"FormatsType","description":"","format":"10v10","formatImage":{"__typename":"ImageType","url":""},"gender":"coed","maxPlayersOnField":{"__typename":"TotalsType","total":10,"male":6,"female":null},"minPlayersPerGame":{"__typename":"TotalsType","total":7,"male":2,"female":2},"minTeamSize":{"__typename":"TotalsType","total":14,"male":null,"female":null}},{"__typename":"FormatsType","description":"","format":"11v11","formatImage":{"__typename":"ImageType","url":""},"gender":"coed","maxPlayersOnField":{"__typename":"TotalsType","total":11,"male":7,"female":0},"minPlayersPerGame":{"__typename":"TotalsType","total":8,"male":3,"female":3},"minTeamSize":{"__typename":"TotalsType","total":15,"male":0,"female":0}}]},{"__typename":"SportDetails","sportName":"Mini Golf","hideSport":true,"notes":"\u003cp> Grab a drink and play some Mini Golf at Loma Clubs brand new course. A great chance to meet other free agents in our Free Agent Only Mini Golf League!\u003c/p>","hero":{"__typename":"HeroType","heroText":"","heroSubText":"\u003cp>It's like Golf, but Mini!\u003c/p>","heroImage":{"__typename":"HeroImageType","image":{"__typename":"ImageType","name":"mini golf 3.jpg","url":"https://s3.amazonaws.com/rivall-user-uploads/prodUploads/citySportHeroFolder/mini golf 3.jpg"}},"heroCta":{"__typename":"HeroCtaType","text":"","url":"","newTab":false}},"stylesOfPlay":[],"faq":[],"programTypes":[{"__typename":"ProgramTypesType","hide":false,"name":"league","description":{"__typename":"ProgramTypeDescriptionType","isCustom":false,"text":""},"programImage":{"__typename":"ImageType","name":null,"url":null}},{"__typename":"ProgramTypesType","hide":false,"name":"tournament","description":{"__typename":"ProgramTypeDescriptionType","isCustom":false,"text":""},"programImage":{"__typename":"ImageType","name":null,"url":null}},{"__typename":"ProgramTypesType","hide":true,"name":"practice","description":{"__typename":"ProgramTypeDescriptionType","isCustom":false,"text":""},"programImage":{"__typename":"ImageType","name":null,"url":null}},{"__typename":"ProgramTypesType","hide":true,"name":"pickup","description":{"__typename":"ProgramTypeDescriptionType","isCustom":false,"text":""},"programImage":{"__typename":"ImageType","name":null,"url":null}},{"__typename":"ProgramTypesType","hide":false,"name":"dropin","description":{"__typename":"ProgramTypeDescriptionType","isCustom":false,"text":""},"programImage":{"__typename":"ImageType","name":null,"url":null}},{"__typename":"ProgramTypesType","hide":true,"name":"volunteer_event","description":{"__typename":"ProgramTypeDescriptionType","isCustom":false,"text":""},"programImage":{"__typename":"ImageType","name":null,"url":null}},{"__typename":"ProgramTypesType","hide":true,"name":"volunteer_league","description":{"__typename":"ProgramTypeDescriptionType","isCustom":false,"text":""},"programImage":{"__typename":"ImageType","name":null,"url":null}},{"__typename":"ProgramTypesType","hide":true,"name":"class","description":{"__typename":"ProgramTypeDescriptionType","isCustom":false,"text":""},"programImage":{"__typename":"ImageType","name":null,"url":null}},{"__typename":"ProgramTypesType","hide":true,"name":"clinic","description":{"__typename":"ProgramTypeDescriptionType","isCustom":false,"text":""},"programImage":{"__typename":"ImageType","name":null,"url":null}},{"__typename":"ProgramTypesType","hide":true,"name":"series","description":{"__typename":"ProgramTypeDescriptionType","isCustom":false,"text":""},"programImage":{"__typename":"ImageType","name":null,"url":null}}],"competitionLevels":[{"__typename":"CompetitionLevelsType","hidden":true,"level":"Super Social","description":""},{"__typename":"CompetitionLevelsType","hidden":true,"level":"Recreational","description":""},{"__typename":"CompetitionLevelsType","hidden":true,"level":"Intermediate","description":""},{"__typename":"CompetitionLevelsType","hidden":true,"level":"Upper Intermediate","description":""},{"__typename":"CompetitionLevelsType","hidden":true,"level":"Competitive","description":""}],"formats":[{"__typename":"FormatsType","description":"","format":"N/A","formatImage":{"__typename":"ImageType","url":""},"gender":"coed","maxPlayersOnField":{"__typename":"TotalsType","total":0,"male":0,"female":0},"minPlayersPerGame":{"__typename":"TotalsType","total":0,"male":0,"female":0},"minTeamSize":{"__typename":"TotalsType","total":0,"male":0,"female":0}}]},{"__typename":"SportDetails","sportName":"Pickleball","hideSport":false,"notes":"\u003cp>We are bringing the world's fastest growing game all across the city! Whether you're a competitive player, want to play for fun, or picking up the game for the first time we have a league for you! We currently have pickleball venues in North Park, Ocean Beach, Missi!\u003c/p>","hero":{"__typename":"HeroType","heroText":"San Diego's Best Pickleball Leagues","heroSubText":"\u003cp id=\"isPasted\">Pickleball has been named the fastest growing sport in America! But why is it so popular? Well, we think it's because \u003cstrong>anyone can play, it's a good workout & its fun! \u003c/strong>\u003c/p>\u003cp>\u003cstrong>\u003cbr>\u003c/strong>\u003c/p>\u003cp style=\"text-align: center;\">\u003cstrong>SIGN UP HERE\u003c/strong>\u003c/p>","heroImage":{"__typename":"HeroImageType","image":{"__typename":"ImageType","name":"Copy of Untitled Design.png","url":"https://s3.amazonaws.com/rivall-user-uploads/prodUploads/citySportHeroFolder/Copy of Untitled Design.png"}},"heroCta":{"__typename":"HeroCtaType","text":"","url":"","newTab":false}},"stylesOfPlay":[{"__typename":"StylesOfPlayType","title":"Traditional","description":"\u003cp>Our traditional 2v2 leagues have both recreational and competitive divisions so there are divisions for all players and skillsets. Team minimums in all traditional leagues is 3 so that in case one of your teammates can't attend a game you still have a partner to play with! There are no gender requirements.\u003c/p>","image":null},{"__typename":"StylesOfPlayType","title":"Party Pickleball","description":"\u003cp id=\"isPasted\">We created a new format for players picking up the game for the first time, or who are looking for a very casual/friednly playing format. We appropriately call this format "Party Pickleball." \u003c/p>\u003cp>\u003cbr>\u003c/p>\u003cp>In Party Pickleball players serve 5 consecutive times before rotating to help improve their skills. The team minimum for Party Pickleball is 4 players. There are no gender minimums.\u003c/p>","image":null}],"faq":[],"programTypes":[{"__typename":"ProgramTypesType","hide":false,"name":"league","description":{"__typename":"ProgramTypeDescriptionType","isCustom":false,"text":""},"programImage":{"__typename":"ImageType","name":null,"url":null}},{"__typename":"ProgramTypesType","hide":false,"name":"tournament","description":{"__typename":"ProgramTypeDescriptionType","isCustom":false,"text":""},"programImage":{"__typename":"ImageType","name":null,"url":null}},{"__typename":"ProgramTypesType","hide":true,"name":"practice","description":{"__typename":"ProgramTypeDescriptionType","isCustom":false,"text":""},"programImage":{"__typename":"ImageType","name":null,"url":null}},{"__typename":"ProgramTypesType","hide":false,"name":"pickup","description":{"__typename":"ProgramTypeDescriptionType","isCustom":false,"text":""},"programImage":{"__typename":"ImageType","name":null,"url":null}},{"__typename":"ProgramTypesType","hide":false,"name":"dropin","description":{"__typename":"ProgramTypeDescriptionType","isCustom":false,"text":""},"programImage":{"__typename":"ImageType","name":null,"url":null}},{"__typename":"ProgramTypesType","hide":true,"name":"volunteer_event","description":{"__typename":"ProgramTypeDescriptionType","isCustom":false,"text":""},"programImage":{"__typename":"ImageType","name":null,"url":null}},{"__typename":"ProgramTypesType","hide":true,"name":"volunteer_league","description":{"__typename":"ProgramTypeDescriptionType","isCustom":false,"text":""},"programImage":{"__typename":"ImageType","name":null,"url":null}},{"__typename":"ProgramTypesType","hide":false,"name":"class","description":{"__typename":"ProgramTypeDescriptionType","isCustom":false,"text":""},"programImage":{"__typename":"ImageType","name":null,"url":null}},{"__typename":"ProgramTypesType","hide":false,"name":"clinic","description":{"__typename":"ProgramTypeDescriptionType","isCustom":false,"text":""},"programImage":{"__typename":"ImageType","name":null,"url":null}},{"__typename":"ProgramTypesType","hide":true,"name":"series","description":{"__typename":"ProgramTypeDescriptionType","isCustom":false,"text":""},"programImage":{"__typename":"ImageType","name":null,"url":null}}],"competitionLevels":[{"__typename":"CompetitionLevelsType","hidden":true,"level":"Super Social","description":"\u003cp>Pickleball is taking over and some players may want to try it out without the worry of playing expereinced or copmeptitive players. If this is you then our social pickleball league is for you. Teams are bigger and with a rotating serve rule there is more opportunity to be involved and learn the game as you play real games. If you are a competitive or experienced player then this league is not for you.\u003c/p>"},{"__typename":"CompetitionLevelsType","hidden":true,"level":"Recreational","description":""},{"__typename":"CompetitionLevelsType","hidden":true,"level":"Intermediate","description":""},{"__typename":"CompetitionLevelsType","hidden":true,"level":"Upper Intermediate","description":""},{"__typename":"CompetitionLevelsType","hidden":true,"level":"Competitive","description":""}],"formats":[{"__typename":"FormatsType","description":"2v2","format":"2v2","formatImage":{"__typename":"ImageType","url":""},"gender":"open","maxPlayersOnField":{"__typename":"TotalsType","total":2,"male":-3,"female":1},"minPlayersPerGame":{"__typename":"TotalsType","total":2,"male":1,"female":1},"minTeamSize":{"__typename":"TotalsType","total":5,"male":2,"female":2}},{"__typename":"FormatsType","description":"","format":"N/A","formatImage":{"__typename":"ImageType","url":""},"gender":"open","maxPlayersOnField":{"__typename":"TotalsType","total":-1,"male":0,"female":0},"minPlayersPerGame":{"__typename":"TotalsType","total":2,"male":0,"female":0},"minTeamSize":{"__typename":"TotalsType","total":4,"male":0,"female":0}}]},{"__typename":"SportDetails","sportName":"Soccer","hideSport":false,"notes":"\u003cp>Volo offers Coed and Men's Adult Soccer leagues year-round! If you're looking to get more touches in a 7v7, we have you covered. We play our leagues at top of the line turf and grass fields at convenient locations in Downtown, Pacific Beach, Clairemont and more.\u003c/p>","hero":{"__typename":"HeroType","heroText":"San Diego's Best Soccer League","heroSubText":"\u003cp>Turf weekday leagues all around the city with Social and Competitive Coed and Men's leagues and Pick-ups!\u003c/p>","heroImage":{"__typename":"HeroImageType","image":{"__typename":"ImageType","name":"Screenshot 2022-12-12 at 1.39.38 PM.jpeg","url":"https://s3.amazonaws.com/rivall-user-uploads/prodUploads/citySportHeroFolder/Screenshot 2022-12-12 at 1.39.38 PM.jpeg"}},"heroCta":{"__typename":"HeroCtaType","text":"","url":"","newTab":null}},"stylesOfPlay":[{"__typename":"StylesOfPlayType","title":"Quickie 4 week Season","description":"\u003cp>Quickie Soccer, 4 week season with 2 guaranteed playoff games for 6 weeks total.\u003c/p>","image":null},{"__typename":"StylesOfPlayType","title":"Regular 7 week Season","description":"\u003cp>7 week season with 1 playoff week for top 4 teams.\u003c/p>","image":null}],"faq":[{"__typename":"FAQType","answer":"\u003cp>Minimum of 3 women needed on roster and minimum of 2 on the field to field a full team\u003c/p>","question":"How many women needed on a coed team?"},{"__typename":"FAQType","answer":"\u003cp>5 touches max. Deflection resets count.\u003c/p>","question":"How many touches do men get in a coed team?"},{"__typename":"FAQType","answer":"\u003cp>No sliding, sliding will result in yecard\u003c/p>","question":"Can you slide?"},{"__typename":"FAQType","answer":"\u003cp>No offsides will be called. \u003c/p>","question":"Is there offsides?"},{"__typename":"FAQType","answer":"\u003cp>25 minute halves.\u003c/p>","question":"How long are the halves?"}],"programTypes":[{"__typename":"ProgramTypesType","hide":false,"name":"league","description":{"__typename":"ProgramTypeDescriptionType","isCustom":false,"text":""},"programImage":{"__typename":"ImageType","name":"Screenshot 2022-12-12 at 11.22.22 AM.jpeg","url":"https://s3.amazonaws.com/rivall-user-uploads/prodUploads/programImagesFolder/Screenshot 2022-12-12 at 11.22.22 AM.jpeg"}},{"__typename":"ProgramTypesType","hide":false,"name":"tournament","description":{"__typename":"ProgramTypeDescriptionType","isCustom":false,"text":""},"programImage":{"__typename":"ImageType","name":null,"url":null}},{"__typename":"ProgramTypesType","hide":true,"name":"practice","description":{"__typename":"ProgramTypeDescriptionType","isCustom":false,"text":""},"programImage":{"__typename":"ImageType","name":null,"url":null}},{"__typename":"ProgramTypesType","hide":false,"name":"pickup","description":{"__typename":"ProgramTypeDescriptionType","isCustom":false,"text":""},"programImage":{"__typename":"ImageType","name":null,"url":null}},{"__typename":"ProgramTypesType","hide":false,"name":"dropin","description":{"__typename":"ProgramTypeDescriptionType","isCustom":false,"text":""},"programImage":{"__typename":"ImageType","name":null,"url":null}},{"__typename":"ProgramTypesType","hide":true,"name":"volunteer_event","description":{"__typename":"ProgramTypeDescriptionType","isCustom":false,"text":""},"programImage":{"__typename":"ImageType","name":null,"url":null}},{"__typename":"ProgramTypesType","hide":true,"name":"volunteer_league","description":{"__typename":"ProgramTypeDescriptionType","isCustom":false,"text":""},"programImage":{"__typename":"ImageType","name":null,"url":null}},{"__typename":"ProgramTypesType","hide":true,"name":"class","description":{"__typename":"ProgramTypeDescriptionType","isCustom":false,"text":""},"programImage":{"__typename":"ImageType","name":null,"url":null}},{"__typename":"ProgramTypesType","hide":true,"name":"clinic","description":{"__typename":"ProgramTypeDescriptionType","isCustom":false,"text":""},"programImage":{"__typename":"ImageType","name":null,"url":null}},{"__typename":"ProgramTypesType","hide":true,"name":"series","description":{"__typename":"ProgramTypeDescriptionType","isCustom":false,"text":""},"programImage":{"__typename":"ImageType","name":null,"url":null}}],"competitionLevels":[{"__typename":"CompetitionLevelsType","hidden":false,"level":"Super Social","description":""},{"__typename":"CompetitionLevelsType","hidden":false,"level":"Recreational","description":""},{"__typename":"CompetitionLevelsType","hidden":true,"level":"Intermediate","description":""},{"__typename":"CompetitionLevelsType","hidden":true,"level":"Upper Intermediate","description":""},{"__typename":"CompetitionLevelsType","hidden":false,"level":"Competitive","description":""}],"formats":[{"__typename":"FormatsType","description":"\u003cp>Minimum 2 women to field a full team, max of either gender is 5 on the field. 5 touches max for males.\u003c/p>","format":"7v7","formatImage":{"__typename":"ImageType","url":""},"gender":"coed","maxPlayersOnField":{"__typename":"TotalsType","total":7,"male":5,"female":5},"minPlayersPerGame":{"__typename":"TotalsType","total":5,"male":4,"female":1},"minTeamSize":{"__typename":"TotalsType","total":12,"male":7,"female":5}},{"__typename":"FormatsType","description":"\u003cp>No 5 touch rule.\u003c/p>","format":"7v7","formatImage":{"__typename":"ImageType","url":""},"gender":"men","maxPlayersOnField":{"__typename":"TotalsType","total":7,"male":7,"female":0},"minPlayersPerGame":{"__typename":"TotalsType","total":7,"male":5,"female":0},"minTeamSize":{"__typename":"TotalsType","total":10,"male":10,"female":0}},{"__typename":"FormatsType","description":"\u003cp>No 5 touch rule.\u003c/p>","format":"6v6","formatImage":{"__typename":"ImageType","url":""},"gender":"women","maxPlayersOnField":{"__typename":"TotalsType","total":7,"male":0,"female":7},"minPlayersPerGame":{"__typename":"TotalsType","total":5,"male":0,"female":5},"minTeamSize":{"__typename":"TotalsType","total":10,"male":0,"female":10}},{"__typename":"FormatsType","description":"","format":"8v8","formatImage":{"__typename":"ImageType","url":""},"gender":"coed","maxPlayersOnField":{"__typename":"TotalsType","total":8,"male":6,"female":2},"minPlayersPerGame":{"__typename":"TotalsType","total":6,"male":5,"female":1},"minTeamSize":{"__typename":"TotalsType","total":12,"male":6,"female":2}}]},{"__typename":"SportDetails","sportName":"Softball","hideSport":false,"notes":"\u003cp id=\"isPasted\" style='box-sizing: inherit; background-repeat: no-repeat; background-size: contain; margin: 0px; padding: 0px; margin-block: 0px; margin-inline: 0px; padding-block: 0px; padding-inline: 0px; color: rgb(65, 65, 65); text-rendering: optimizelegibility; font-family: Arial, \"Helvetica Neue\", Helvetica, sans-serif; font-size: 14px; font-style: normal; font-variant-ligatures: normal; font-variant-caps: normal; font-weight: 400; letter-spacing: normal; orphans: 2; text-align: left; text-indent: 0px; text-transform: none; white-space: normal; widows: 2; word-spacing: 0px; -webkit-text-stroke-width: 0px; background-color: rgb(255, 255, 255); text-decoration-thickness: initial; text-decoration-style: initial; text-decoration-color: initial;'>Get active with Volo San Diego, San Diego's premier social sport leagues. Come play with friends and meet new ones in our Coed Softball Leagues!\u003c/p>\u003cp style='box-sizing: inherit; background-repeat: no-repeat; background-size: contain; margin: 0px; padding: 0px; margin-block: 0px; margin-inline: 0px; padding-block: 0px; padding-inline: 0px; color: rgb(65, 65, 65); text-rendering: optimizelegibility; font-family: Arial, \"Helvetica Neue\", Helvetica, sans-serif; font-size: 14px; font-style: normal; font-variant-ligatures: normal; font-variant-caps: normal; font-weight: 400; letter-spacing: normal; orphans: 2; text-align: left; text-indent: 0px; text-transform: none; white-space: normal; widows: 2; word-spacing: 0px; -webkit-text-stroke-width: 0px; background-color: rgb(255, 255, 255); text-decoration-thickness: initial; text-decoration-style: initial; text-decoration-color: initial;'> • Coed 3-Pitch Slow-Pitch Softball\u003c/p>\u003cp style='box-sizing: inherit; background-repeat: no-repeat; background-size: contain; margin: 0px; padding: 0px; margin-block: 0px; margin-inline: 0px; padding-block: 0px; padding-inline: 0px; color: rgb(65, 65, 65); text-rendering: optimizelegibility; font-family: Arial, \"Helvetica Neue\", Helvetica, sans-serif; font-size: 14px; font-style: normal; font-variant-ligatures: normal; font-variant-caps: normal; font-weight: 400; letter-spacing: normal; orphans: 2; text-align: left; text-indent: 0px; text-transform: none; white-space: normal; widows: 2; word-spacing: 0px; -webkit-text-stroke-width: 0px; background-color: rgb(255, 255, 255); text-decoration-thickness: initial; text-decoration-style: initial; text-decoration-color: initial;'> • 9v9 Coed League - Pitch to Your Own Team \u003c/p>\u003cp style='box-sizing: inherit; background-repeat: no-repeat; background-size: contain; margin: 0px; padding: 0px; margin-block: 0px; margin-inline: 0px; padding-block: 0px; padding-inline: 0px; color: rgb(65, 65, 65); text-rendering: optimizelegibility; font-family: Arial, \"Helvetica Neue\", Helvetica, sans-serif; font-size: 14px; font-style: normal; font-variant-ligatures: normal; font-variant-caps: normal; font-weight: 400; letter-spacing: normal; orphans: 2; text-align: left; text-indent: 0px; text-transform: none; white-space: normal; widows: 2; word-spacing: 0px; -webkit-text-stroke-width: 0px; background-color: rgb(255, 255, 255); text-decoration-thickness: initial; text-decoration-style: initial; text-decoration-color: initial;'>• 7 Regular Season Weeks \u003c/p>\u003cp style='box-sizing: inherit; background-repeat: no-repeat; background-size: contain; margin: 0px; padding: 0px; margin-block: 0px; margin-inline: 0px; padding-block: 0px; padding-inline: 0px; color: rgb(65, 65, 65); text-rendering: optimizelegibility; font-family: Arial, \"Helvetica Neue\", Helvetica, sans-serif; font-size: 14px; font-style: normal; font-variant-ligatures: normal; font-variant-caps: normal; font-weight: 400; letter-spacing: normal; orphans: 2; text-align: left; text-indent: 0px; text-transform: none; white-space: normal; widows: 2; word-spacing: 0px; -webkit-text-stroke-width: 0px; background-color: rgb(255, 255, 255); text-decoration-thickness: initial; text-decoration-style: initial; text-decoration-color: initial;'>• 1 Week of Playoffs for Top Qualifying Teams \u003c/p>\u003cp style='box-sizing: inherit; background-repeat: no-repeat; background-size: contain; margin: 0px; padding: 0px; margin-block: 0px; margin-inline: 0px; padding-block: 0px; padding-inline: 0px; color: rgb(65, 65, 65); text-rendering: optimizelegibility; font-family: Arial, \"Helvetica Neue\", Helvetica, sans-serif; font-size: 14px; font-style: normal; font-variant-ligatures: normal; font-variant-caps: normal; font-weight: 400; letter-spacing: normal; orphans: 2; text-align: left; text-indent: 0px; text-transform: none; white-space: normal; widows: 2; word-spacing: 0px; -webkit-text-stroke-width: 0px; background-color: rgb(255, 255, 255); text-decoration-thickness: initial; text-decoration-style: initial; text-decoration-color: initial;'>• Champion Trophy \u003c/p>\u003cp style='box-sizing: inherit; background-repeat: no-repeat; background-size: contain; margin: 0px; padding: 0px; margin-block: 0px; margin-inline: 0px; padding-block: 0px; padding-inline: 0px; color: rgb(65, 65, 65); text-rendering: optimizelegibility; font-family: Arial, \"Helvetica Neue\", Helvetica, sans-serif; font-size: 14px; font-style: normal; font-variant-ligatures: normal; font-variant-caps: normal; font-weight: 400; letter-spacing: normal; orphans: 2; text-align: left; text-indent: 0px; text-transform: none; white-space: normal; widows: 2; word-spacing: 0px; -webkit-text-stroke-width: 0px; background-color: rgb(255, 255, 255); text-decoration-thickness: initial; text-decoration-style: initial; text-decoration-color: initial;'>• Team Shirts \u003c/p>\u003cp style='box-sizing: inherit; background-repeat: no-repeat; background-size: contain; margin: 0px; padding: 0px; margin-block: 0px; margin-inline: 0px; padding-block: 0px; padding-inline: 0px; color: rgb(65, 65, 65); text-rendering: optimizelegibility; font-family: Arial, \"Helvetica Neue\", Helvetica, sans-serif; font-size: 14px; font-style: normal; font-variant-ligatures: normal; font-variant-caps: normal; font-weight: 400; letter-spacing: normal; orphans: 2; text-align: left; text-indent: 0px; text-transform: none; white-space: normal; widows: 2; word-spacing: 0px; -webkit-text-stroke-width: 0px; background-color: rgb(255, 255, 255); text-decoration-thickness: initial; text-decoration-style: initial; text-decoration-color: initial;'>• Pre Paid Teams - Unlimited Roster (Must meet gender minimums) \u003c/p>\u003cp style='box-sizing: inherit; background-repeat: no-repeat; background-size: contain; margin: 0px; padding: 0px; margin-block: 0px; margin-inline: 0px; padding-block: 0px; padding-inline: 0px; color: rgb(65, 65, 65); text-rendering: optimizelegibility; font-family: Arial, \"Helvetica Neue\", Helvetica, sans-serif; font-size: 14px; font-style: normal; font-variant-ligatures: normal; font-variant-caps: normal; font-weight: 400; letter-spacing: normal; orphans: 2; text-align: left; text-indent: 0px; text-transform: none; white-space: normal; widows: 2; word-spacing: 0px; -webkit-text-stroke-width: 0px; background-color: rgb(255, 255, 255); text-decoration-thickness: initial; text-decoration-style: initial; text-decoration-color: initial;'>• Groups - Roster locked at 13 with minimum gender \u003c/p>\u003cp style='box-sizing: inherit; background-repeat: no-repeat; background-size: contain; margin: 0px; padding: 0px; margin-block: 0px; margin-inline: 0px; padding-block: 0px; padding-inline: 0px; color: rgb(65, 65, 65); text-rendering: optimizelegibility; font-family: Arial, \"Helvetica Neue\", Helvetica, sans-serif; font-size: 14px; font-style: normal; font-variant-ligatures: normal; font-variant-caps: normal; font-weight: 400; letter-spacing: normal; orphans: 2; text-align: left; text-indent: 0px; text-transform: none; white-space: normal; widows: 2; word-spacing: 0px; -webkit-text-stroke-width: 0px; background-color: rgb(255, 255, 255); text-decoration-thickness: initial; text-decoration-style: initial; text-decoration-color: initial;'>• Free Agents - Placement on a first come first serve basis depending on availability \u003c/p>\u003cp style='box-sizing: inherit; background-repeat: no-repeat; background-size: contain; margin: 0px; padding: 0px; margin-block: 0px; margin-inline: 0px; padding-block: 0px; padding-inline: 0px; color: rgb(65, 65, 65); text-rendering: optimizelegibility; font-family: Arial, \"Helvetica Neue\", Helvetica, sans-serif; font-size: 14px; font-style: normal; font-variant-ligatures: normal; font-variant-caps: normal; font-weight: 400; letter-spacing: normal; orphans: 2; text-align: left; text-indent: 0px; text-transform: none; white-space: normal; widows: 2; word-spacing: 0px; -webkit-text-stroke-width: 0px; background-color: rgb(255, 255, 255); text-decoration-thickness: initial; text-decoration-style: initial; text-decoration-color: initial;'>• 6 men max, 9 max total on the field \u003c/p>\u003cp style='box-sizing: inherit; background-repeat: no-repeat; background-size: contain; margin: 0px; padding: 0px; margin-block: 0px; margin-inline: 0px; padding-block: 0px; padding-inline: 0px; color: rgb(65, 65, 65); text-rendering: optimizelegibility; font-family: Arial, \"Helvetica Neue\", Helvetica, sans-serif; font-size: 14px; font-style: normal; font-variant-ligatures: normal; font-variant-caps: normal; font-weight: 400; letter-spacing: normal; orphans: 2; text-align: left; text-indent: 0px; text-transform: none; white-space: normal; widows: 2; word-spacing: 0px; -webkit-text-stroke-width: 0px; background-color: rgb(255, 255, 255); text-decoration-thickness: initial; text-decoration-style: initial; text-decoration-color: initial;'>• At least 8 players required to start game \u003c/p>\u003cp style='box-sizing: inherit; background-repeat: no-repeat; background-size: contain; margin: 0px; padding: 0px; margin-block: 0px; margin-inline: 0px; padding-block: 0px; padding-inline: 0px; color: rgb(65, 65, 65); text-rendering: optimizelegibility; font-family: Arial, \"Helvetica Neue\", Helvetica, sans-serif; font-size: 14px; font-style: normal; font-variant-ligatures: normal; font-variant-caps: normal; font-weight: 400; letter-spacing: normal; orphans: 2; text-align: left; text-indent: 0px; text-transform: none; white-space: normal; widows: 2; word-spacing: 0px; -webkit-text-stroke-width: 0px; background-color: rgb(255, 255, 255); text-decoration-thickness: initial; text-decoration-style: initial; text-decoration-color: initial;'>• Players must play in the field to bat. \u003c/p>\u003cp style='box-sizing: inherit; background-repeat: no-repeat; background-size: contain; margin: 0px; padding: 0px; margin-block: 0px; margin-inline: 0px; padding-block: 0px; padding-inline: 0px; color: rgb(65, 65, 65); text-rendering: optimizelegibility; font-family: Arial, \"Helvetica Neue\", Helvetica, sans-serif; font-size: 14px; font-style: normal; font-variant-ligatures: normal; font-variant-caps: normal; font-weight: 400; letter-spacing: normal; orphans: 2; text-align: left; text-indent: 0px; text-transform: none; white-space: normal; widows: 2; word-spacing: 0px; -webkit-text-stroke-width: 0px; background-color: rgb(255, 255, 255); text-decoration-thickness: initial; text-decoration-style: initial; text-decoration-color: initial;'>• Gloves and bat are not provided. Please bring your own.\u003c/p>","hero":{"__typename":"HeroType","heroText":"San Diego's Best Softball League","heroSubText":"\u003cp>Come play in San Diego's most social Softball leagues!\u003c/p>","heroImage":{"__typename":"HeroImageType","image":{"__typename":"ImageType","name":"Softball3.png","url":"https://s3.amazonaws.com/rivall-user-uploads/prodUploads/citySportHeroFolder/Softball3.png"}},"heroCta":{"__typename":"HeroCtaType","text":"","url":"","newTab":null}},"stylesOfPlay":[],"faq":[{"__typename":"FAQType","answer":"\u003cp>\u003cspan id=\"isPasted\" style='color: rgb(76, 76, 76); font-family: Arial, \"Helvetica Neue\", Helvetica, sans-serif; font-size: 14px; font-style: normal; font-variant-ligatures: normal; font-variant-caps: normal; font-weight: 400; letter-spacing: normal; orphans: 2; text-align: left; text-indent: 0px; text-transform: none; white-space: normal; widows: 2; word-spacing: 0px; -webkit-text-stroke-width: 0px; background-color: rgb(255, 255, 255); text-decoration-thickness: initial; text-decoration-style: initial; text-decoration-color: initial; display: inline !important; float: none;'>Games are seven innings or 50 minutes. Innings started before the time limit will be finished. Starting a final inning is up to the discretion of the umpire. Games called after 5 innings is considered a completed game.\u003c/span> \u003c/p>","question":"How long are games?"},{"__typename":"FAQType","answer":"\u003cp>\u003cspan id=\"isPasted\" style='color: rgb(76, 76, 76); font-family: Arial, \"Helvetica Neue\", Helvetica, sans-serif; font-size: 14px; font-style: normal; font-variant-ligatures: normal; font-variant-caps: normal; font-weight: 400; letter-spacing: normal; orphans: 2; text-align: left; text-indent: 0px; text-transform: none; white-space: normal; widows: 2; word-spacing: 0px; -webkit-text-stroke-width: 0px; background-color: rgb(255, 255, 255); text-decoration-thickness: initial; text-decoration-style: initial; text-decoration-color: initial; display: inline !important; float: none;'>If you do not have a full team ready to play at start time you may play with a minimum of 8 players (minimum of 3 women, or 3 men). If you do not have at least the minimum you must forfeit. You may split up the players on both teams there and play for fun. This is subject to change if team captains and umpire agree to an alternate plan\u003c/span>\u003c/p>","question":"How many players do you need to play?"},{"__typename":"FAQType","answer":"\u003cp>\u003cspan id=\"isPasted\" style=\"color: rgb(76, 76, 76); font-family: Arial; font-size: 14px; font-style: normal; font-variant-ligatures: normal; font-variant-caps: normal; font-weight: 400; letter-spacing: normal; orphans: 2; text-align: left; text-indent: 0px; text-transform: none; white-space: pre-wrap; widows: 2; word-spacing: 0px; -webkit-text-stroke-width: 0px; background-color: rgb(255, 255, 255); text-decoration-thickness: initial; text-decoration-style: initial; text-decoration-color: initial; display: inline !important; float: none;\">You can have no more than 9 players on the field with a maximum of 6 men and must have a minimum of 3 womenon the field.\u003c/span>\u003c/p>","question":"What are the gender requirements?"},{"__typename":"FAQType","answer":"\u003cp>One Up Home Run Rule: You cannot have more than one homerun than your opponent. For example, if both teams have not hit a home run and Team A hits a homerun, they would have one more home run thanTeam B. Team B would have to hit a homerun for Team A to have the ability to hit another one. All out-of-park home runs will be called OUT if that team is ahead by one out-of-park home run. \u003c/p>","question":"What is a one up homerun rule?"}],"programTypes":[{"__typename":"ProgramTypesType","hide":false,"name":"league","description":{"__typename":"ProgramTypeDescriptionType","isCustom":false,"text":""},"programImage":{"__typename":"ImageType","name":null,"url":null}},{"__typename":"ProgramTypesType","hide":true,"name":"tournament","description":{"__typename":"ProgramTypeDescriptionType","isCustom":false,"text":""},"programImage":{"__typename":"ImageType","name":null,"url":null}},{"__typename":"ProgramTypesType","hide":true,"name":"practice","description":{"__typename":"ProgramTypeDescriptionType","isCustom":false,"text":""},"programImage":{"__typename":"ImageType","name":null,"url":null}},{"__typename":"ProgramTypesType","hide":true,"name":"pickup","description":{"__typename":"ProgramTypeDescriptionType","isCustom":false,"text":""},"programImage":{"__typename":"ImageType","name":null,"url":null}},{"__typename":"ProgramTypesType","hide":false,"name":"dropin","description":{"__typename":"ProgramTypeDescriptionType","isCustom":false,"text":""},"programImage":{"__typename":"ImageType","name":null,"url":null}},{"__typename":"ProgramTypesType","hide":true,"name":"volunteer_event","description":{"__typename":"ProgramTypeDescriptionType","isCustom":false,"text":""},"programImage":{"__typename":"ImageType","name":null,"url":null}},{"__typename":"ProgramTypesType","hide":true,"name":"volunteer_league","description":{"__typename":"ProgramTypeDescriptionType","isCustom":false,"text":""},"programImage":{"__typename":"ImageType","name":null,"url":null}},{"__typename":"ProgramTypesType","hide":true,"name":"class","description":{"__typename":"ProgramTypeDescriptionType","isCustom":false,"text":""},"programImage":{"__typename":"ImageType","name":null,"url":null}},{"__typename":"ProgramTypesType","hide":true,"name":"clinic","description":{"__typename":"ProgramTypeDescriptionType","isCustom":false,"text":""},"programImage":{"__typename":"ImageType","name":null,"url":null}},{"__typename":"ProgramTypesType","hide":true,"name":"series","description":{"__typename":"ProgramTypeDescriptionType","isCustom":false,"text":""},"programImage":{"__typename":"ImageType","name":null,"url":null}}],"competitionLevels":[{"__typename":"CompetitionLevelsType","hidden":true,"level":"Super Social","description":""},{"__typename":"CompetitionLevelsType","hidden":true,"level":"Recreational","description":""},{"__typename":"CompetitionLevelsType","hidden":true,"level":"Intermediate","description":""},{"__typename":"CompetitionLevelsType","hidden":true,"level":"Upper Intermediate","description":""},{"__typename":"CompetitionLevelsType","hidden":true,"level":"Competitive","description":""}],"formats":[{"__typename":"FormatsType","description":"","format":"9v9","formatImage":{"__typename":"ImageType","url":""},"gender":"coed","maxPlayersOnField":{"__typename":"TotalsType","total":9,"male":5,"female":4},"minPlayersPerGame":{"__typename":"TotalsType","total":8,"male":5,"female":3},"minTeamSize":{"__typename":"TotalsType","total":15,"male":8,"female":7}}]},{"__typename":"SportDetails","sportName":"Tennis","hideSport":true,"notes":"\u003cp>Volo's Coed Social Mixed Doubles Leagues (USTA Rating 2.0-3.0) and Coed Competitive Mixed Doubles Leagues (USTA Rating 3.0-4.5+) have San Diego buzzing and hitting winners! We offer a variety of adult tennis leagues for all levels, including: Beginner/Intermediate Classes, Social Mixed Doubles Leagues and Competitive Mixed Doubles Leagues in central locations such as Del Mar, Point Loma and Solana Beach.\u003c/p>","hero":{"__typename":"HeroType","heroText":"Tennis Leagues In San Diego","heroSubText":"","heroImage":{"__typename":"HeroImageType","image":{"__typename":"ImageType","name":"7.jpg","url":"https://s3.amazonaws.com/rivall-user-uploads/prodUploads/citySportHeroFolder/7.jpg"}},"heroCta":{"__typename":"HeroCtaType","text":"","url":"","newTab":null}},"stylesOfPlay":[],"faq":[],"programTypes":[{"__typename":"ProgramTypesType","hide":false,"name":"league","description":{"__typename":"ProgramTypeDescriptionType","isCustom":false,"text":""},"programImage":{"__typename":"ImageType","name":null,"url":null}},{"__typename":"ProgramTypesType","hide":true,"name":"tournament","description":{"__typename":"ProgramTypeDescriptionType","isCustom":false,"text":""},"programImage":{"__typename":"ImageType","name":null,"url":null}},{"__typename":"ProgramTypesType","hide":true,"name":"practice","description":{"__typename":"ProgramTypeDescriptionType","isCustom":false,"text":""},"programImage":{"__typename":"ImageType","name":null,"url":null}},{"__typename":"ProgramTypesType","hide":true,"name":"pickup","description":{"__typename":"ProgramTypeDescriptionType","isCustom":false,"text":""},"programImage":{"__typename":"ImageType","name":null,"url":null}},{"__typename":"ProgramTypesType","hide":false,"name":"dropin","description":{"__typename":"ProgramTypeDescriptionType","isCustom":false,"text":""},"programImage":{"__typename":"ImageType","name":null,"url":null}},{"__typename":"ProgramTypesType","hide":false,"name":"volunteer_event","description":{"__typename":"ProgramTypeDescriptionType","isCustom":false,"text":""},"programImage":{"__typename":"ImageType","name":null,"url":null}},{"__typename":"ProgramTypesType","hide":false,"name":"volunteer_league","description":{"__typename":"ProgramTypeDescriptionType","isCustom":false,"text":""},"programImage":{"__typename":"ImageType","name":null,"url":null}},{"__typename":"ProgramTypesType","hide":true,"name":"class","description":{"__typename":"ProgramTypeDescriptionType","isCustom":false,"text":""},"programImage":{"__typename":"ImageType","name":null,"url":null}},{"__typename":"ProgramTypesType","hide":true,"name":"clinic","description":{"__typename":"ProgramTypeDescriptionType","isCustom":false,"text":""},"programImage":{"__typename":"ImageType","name":null,"url":null}},{"__typename":"ProgramTypesType","hide":true,"name":"series","description":{"__typename":"ProgramTypeDescriptionType","isCustom":false,"text":""},"programImage":{"__typename":"ImageType","name":null,"url":null}}],"competitionLevels":[{"__typename":"CompetitionLevelsType","hidden":false,"level":"Super Social","description":""},{"__typename":"CompetitionLevelsType","hidden":true,"level":"Recreational","description":""},{"__typename":"CompetitionLevelsType","hidden":true,"level":"Intermediate","description":""},{"__typename":"CompetitionLevelsType","hidden":true,"level":"Upper Intermediate","description":""},{"__typename":"CompetitionLevelsType","hidden":false,"level":"Competitive","description":""}],"formats":[{"__typename":"FormatsType","description":"","format":"N/A","formatImage":{"__typename":"ImageType","url":""},"gender":"coed","maxPlayersOnField":{"__typename":"TotalsType","total":0,"male":0,"female":0},"minPlayersPerGame":{"__typename":"TotalsType","total":0,"male":0,"female":0},"minTeamSize":{"__typename":"TotalsType","total":0,"male":0,"female":0}}]},{"__typename":"SportDetails","sportName":"Trivia","hideSport":true,"notes":"\u003cp>Show off all your knowledge that you don't need but somehow have! Sign up as an individual or a team of 4!\u003c/p>","hero":{"__typename":"HeroType","heroText":"","heroSubText":"","heroImage":{"__typename":"HeroImageType","image":{"__typename":"ImageType","name":"","url":""}},"heroCta":{"__typename":"HeroCtaType","text":"","url":"","newTab":false}},"stylesOfPlay":[],"faq":[],"programTypes":[{"__typename":"ProgramTypesType","hide":false,"name":"league","description":{"__typename":"ProgramTypeDescriptionType","isCustom":false,"text":""},"programImage":{"__typename":"ImageType","name":null,"url":null}},{"__typename":"ProgramTypesType","hide":true,"name":"tournament","description":{"__typename":"ProgramTypeDescriptionType","isCustom":false,"text":""},"programImage":{"__typename":"ImageType","name":null,"url":null}},{"__typename":"ProgramTypesType","hide":true,"name":"practice","description":{"__typename":"ProgramTypeDescriptionType","isCustom":false,"text":""},"programImage":{"__typename":"ImageType","name":null,"url":null}},{"__typename":"ProgramTypesType","hide":true,"name":"pickup","description":{"__typename":"ProgramTypeDescriptionType","isCustom":false,"text":""},"programImage":{"__typename":"ImageType","name":null,"url":null}},{"__typename":"ProgramTypesType","hide":false,"name":"dropin","description":{"__typename":"ProgramTypeDescriptionType","isCustom":false,"text":""},"programImage":{"__typename":"ImageType","name":null,"url":null}},{"__typename":"ProgramTypesType","hide":false,"name":"volunteer_event","description":{"__typename":"ProgramTypeDescriptionType","isCustom":false,"text":""},"programImage":{"__typename":"ImageType","name":null,"url":null}},{"__typename":"ProgramTypesType","hide":false,"name":"volunteer_league","description":{"__typename":"ProgramTypeDescriptionType","isCustom":false,"text":""},"programImage":{"__typename":"ImageType","name":null,"url":null}},{"__typename":"ProgramTypesType","hide":true,"name":"class","description":{"__typename":"ProgramTypeDescriptionType","isCustom":false,"text":""},"programImage":{"__typename":"ImageType","name":null,"url":null}},{"__typename":"ProgramTypesType","hide":true,"name":"clinic","description":{"__typename":"ProgramTypeDescriptionType","isCustom":false,"text":""},"programImage":{"__typename":"ImageType","name":null,"url":null}},{"__typename":"ProgramTypesType","hide":true,"name":"series","description":{"__typename":"ProgramTypeDescriptionType","isCustom":false,"text":""},"programImage":{"__typename":"ImageType","name":null,"url":null}}],"competitionLevels":[{"__typename":"CompetitionLevelsType","hidden":true,"level":"Super Social","description":""},{"__typename":"CompetitionLevelsType","hidden":true,"level":"Recreational","description":""},{"__typename":"CompetitionLevelsType","hidden":true,"level":"Intermediate","description":""},{"__typename":"CompetitionLevelsType","hidden":true,"level":"Upper Intermediate","description":""},{"__typename":"CompetitionLevelsType","hidden":true,"level":"Competitive","description":""}],"formats":[{"__typename":"FormatsType","description":"","format":"4v4","formatImage":{"__typename":"ImageType","url":""},"gender":"coed","maxPlayersOnField":{"__typename":"TotalsType","total":12,"male":6,"female":6},"minPlayersPerGame":{"__typename":"TotalsType","total":4,"male":2,"female":2},"minTeamSize":{"__typename":"TotalsType","total":4,"male":2,"female":2}}]},{"__typename":"SportDetails","sportName":"Volleyball","hideSport":false,"notes":"\u003cp>If you're looking to play San Diego beach volleyball and meet new friends, you've come to the right place! Volo powered by VAVi offers 4v4 and 6v6 beach volleyball leagues at centrally located courts in Ocean Beach and Mission Beach. Our coed beach volleyball leagues have become a staple in San Diego! We have leagues for teams who want to just have fun in our Social Division, leagues for B level players in our Intermediate Division and a Competitive Division for A level players.\u003c/p>","hero":{"__typename":"HeroType","heroText":"San Diego's Best Volleyball League","heroSubText":"Registration is Open! 4v4 & 6v6 Beach Volleyball Leagues in Mission Beach, Ocean Beach, and Del Mar.","heroImage":{"__typename":"HeroImageType","image":{"__typename":"ImageType","name":"Untitled design (6).jpg","url":"https://s3.amazonaws.com/rivall-user-uploads/prodUploads/citySportHeroFolder/Untitled design (6).jpg"}},"heroCta":{"__typename":"HeroCtaType","text":"","url":"","newTab":null}},"stylesOfPlay":[],"faq":[{"__typename":"FAQType","answer":"\u003cp>The minimum number of women on a coed 4v4 team is 2. If only 1 is present, then the team must play a man down. 3 men max on the court at all times.\u003c/p>","question":"How many women needed on a 4v4 coed team?"},{"__typename":"FAQType","answer":"\u003cp>The minimum number of women on a coed 6v6 team is 3. There is a maximum of 4 men on the court.\u003c/p>","question":"How many women needed on a 6v6 coed team?"},{"__typename":"FAQType","answer":"\u003cp>Yes, Volo beach volleyball leagues are win by 2. Indoor Volleyball is win by 2, with a cap at 23.\u003c/p>","question":"Are Volo volleyball leagues win by 2?"},{"__typename":"FAQType","answer":"\u003cp>Teams decide who serves first by either "bowling" or rock, paper, scissors. Bowling is when a member from each team rolls a volleyball from one side of the court to the other, with the closest to the line without going past it winning the decision of serve or side.\u003c/p>","question":"How do teams decide who serves and which side each team is on?"},{"__typename":"FAQType","answer":"\u003cp>It is illegal to receive the serve with open hands, or setting the serve.\u003c/p>","question":"Is it illegal to set the serve?"},{"__typename":"FAQType","answer":"\u003cp>There are no gender rules \u003c/p>","question":"Does a woman have to touch the ball before returning it back over the net?"}],"programTypes":[{"__typename":"ProgramTypesType","hide":false,"name":"league","description":{"__typename":"ProgramTypeDescriptionType","isCustom":false,"text":""},"programImage":{"__typename":"ImageType","name":"Untitled design (10).jpg","url":"https://s3.amazonaws.com/rivall-user-uploads/prodUploads/programImagesFolder/Untitled design (10).jpg"}},{"__typename":"ProgramTypesType","hide":false,"name":"tournament","description":{"__typename":"ProgramTypeDescriptionType","isCustom":false,"text":""},"programImage":{"__typename":"ImageType","name":"Untitled design (7).jpg","url":"https://s3.amazonaws.com/rivall-user-uploads/prodUploads/programImagesFolder/Untitled design (7).jpg"}},{"__typename":"ProgramTypesType","hide":true,"name":"practice","description":{"__typename":"ProgramTypeDescriptionType","isCustom":false,"text":""},"programImage":{"__typename":"ImageType","name":null,"url":null}},{"__typename":"ProgramTypesType","hide":false,"name":"pickup","description":{"__typename":"ProgramTypeDescriptionType","isCustom":false,"text":""},"programImage":{"__typename":"ImageType","name":"Untitled design (9).jpg","url":"https://s3.amazonaws.com/rivall-user-uploads/prodUploads/programImagesFolder/Untitled design (9).jpg"}},{"__typename":"ProgramTypesType","hide":false,"name":"dropin","description":{"__typename":"ProgramTypeDescriptionType","isCustom":false,"text":""},"programImage":{"__typename":"ImageType","name":"Happy Hour.jpg","url":"https://s3.amazonaws.com/rivall-user-uploads/prodUploads/programImagesFolder/Happy Hour.jpg"}},{"__typename":"ProgramTypesType","hide":true,"name":"volunteer_event","description":{"__typename":"ProgramTypeDescriptionType","isCustom":false,"text":""},"programImage":{"__typename":"ImageType","name":null,"url":null}},{"__typename":"ProgramTypesType","hide":true,"name":"volunteer_league","description":{"__typename":"ProgramTypeDescriptionType","isCustom":false,"text":""},"programImage":{"__typename":"ImageType","name":null,"url":null}},{"__typename":"ProgramTypesType","hide":true,"name":"class","description":{"__typename":"ProgramTypeDescriptionType","isCustom":false,"text":""},"programImage":{"__typename":"ImageType","name":null,"url":null}},{"__typename":"ProgramTypesType","hide":false,"name":"clinic","description":{"__typename":"ProgramTypeDescriptionType","isCustom":false,"text":""},"programImage":{"__typename":"ImageType","name":"Untitled design (8).jpg","url":"https://s3.amazonaws.com/rivall-user-uploads/prodUploads/programImagesFolder/Untitled design (8).jpg"}},{"__typename":"ProgramTypesType","hide":true,"name":"series","description":{"__typename":"ProgramTypeDescriptionType","isCustom":false,"text":""},"programImage":{"__typename":"ImageType","name":null,"url":null}}],"competitionLevels":[{"__typename":"CompetitionLevelsType","hidden":false,"level":"Super Social","description":""},{"__typename":"CompetitionLevelsType","hidden":true,"level":"Recreational","description":""},{"__typename":"CompetitionLevelsType","hidden":false,"level":"Intermediate","description":""},{"__typename":"CompetitionLevelsType","hidden":false,"level":"Upper Intermediate","description":""},{"__typename":"CompetitionLevelsType","hidden":false,"level":"Competitive","description":""}],"formats":[{"__typename":"FormatsType","description":"","format":"4v4","formatImage":{"__typename":"ImageType","url":""},"gender":"coed","maxPlayersOnField":{"__typename":"TotalsType","total":4,"male":3,"female":1},"minPlayersPerGame":{"__typename":"TotalsType","total":3,"male":0,"female":1},"minTeamSize":{"__typename":"TotalsType","total":6,"male":3,"female":3}},{"__typename":"FormatsType","description":"","format":"6v6","formatImage":{"__typename":"ImageType","url":""},"gender":"coed","maxPlayersOnField":{"__typename":"TotalsType","total":6,"male":3,"female":3},"minPlayersPerGame":{"__typename":"TotalsType","total":4,"male":2,"female":2},"minTeamSize":{"__typename":"TotalsType","total":8,"male":4,"female":4}},{"__typename":"FormatsType","description":"","format":"4v4","formatImage":{"__typename":"ImageType","url":""},"gender":"women","maxPlayersOnField":{"__typename":"TotalsType","total":4,"male":0,"female":4},"minPlayersPerGame":{"__typename":"TotalsType","total":3,"male":0,"female":3},"minTeamSize":{"__typename":"TotalsType","total":6,"male":0,"female":6}},{"__typename":"FormatsType","description":"","format":"2v2","formatImage":{"__typename":"ImageType","url":""},"gender":"open","maxPlayersOnField":{"__typename":"TotalsType","total":0,"male":0,"female":0},"minPlayersPerGame":{"__typename":"TotalsType","total":0,"male":0,"female":0},"minTeamSize":{"__typename":"TotalsType","total":0,"male":0,"female":0}},{"__typename":"FormatsType","description":"","format":"3v3","formatImage":{"__typename":"ImageType","url":""},"gender":"open","maxPlayersOnField":{"__typename":"TotalsType","total":0,"male":0,"female":0},"minPlayersPerGame":{"__typename":"TotalsType","total":0,"male":0,"female":0},"minTeamSize":{"__typename":"TotalsType","total":0,"male":0,"female":0}}]}]},"approvedVenues":[{"__ref":"ApprovedVenue:60637259f0e6ba00376aa488"},{"__ref":"ApprovedVenue:60638ee994f6890031703b8c"},{"__ref":"ApprovedVenue:60638f7cf0e6ba00376b0405"},{"__ref":"ApprovedVenue:6064be33ccbfc5003431d975"},{"__ref":"ApprovedVenue:6064be90f0e6ba00376ce718"},{"__ref":"ApprovedVenue:6064bebdfe7ac5004de648c2"},{"__ref":"ApprovedVenue:6064bfcefe7ac5004de64c14"},{"__ref":"ApprovedVenue:6064bff84b8754004db883ea"},{"__ref":"ApprovedVenue:6064c029ccbfc5003431df92"},{"__ref":"ApprovedVenue:6064c0a52a210900388f24e2"},{"__ref":"ApprovedVenue:6064c0a5ccbfc5003431e15b"},{"__ref":"ApprovedVenue:6064c22e2a210900388f28de"},{"__ref":"ApprovedVenue:6064c26efe7ac5004de65426"},{"__ref":"ApprovedVenue:6064c2f62a210900388f2ad1"},{"__ref":"ApprovedVenue:6064c36727a318003195495a"},{"__ref":"ApprovedVenue:6064c409f3d7590031075f6f"},{"__ref":"ApprovedVenue:6074b802f7e684008552be01"},{"__ref":"ApprovedVenue:6074bbc0f7e684008552cf38"},{"__ref":"ApprovedVenue:60774224c030830038da0f56"},{"__ref":"ApprovedVenue:6081b86ef00521004d4e8ffd"},{"__ref":"ApprovedVenue:608705c5fb36f70038817d4f"},{"__ref":"ApprovedVenue:6087065e8c90d10038ddc8b7"},{"__ref":"ApprovedVenue:608706c094f78c00316544ca"},{"__ref":"ApprovedVenue:6090a1fd7a79d00036178939"},{"__ref":"ApprovedVenue:6091b72516c932004bdc2d8d"},{"__ref":"ApprovedVenue:609319cc90a04b002f912d16"},{"__ref":"ApprovedVenue:60f1d109d455b70083d88b74"},{"__ref":"ApprovedVenue:60f59633f423b60067aa6c1f"},{"__ref":"ApprovedVenue:60f751ae89672c0059e47f16"},{"__ref":"ApprovedVenue:60f75a6bc2eeb60036849d14"},{"__ref":"ApprovedVenue:60f9cabef93474002bbb3fa9"},{"__ref":"ApprovedVenue:60fb477370c657002b0a893e"},{"__ref":"ApprovedVenue:60fb47e570c657002b0a90e5"},{"__ref":"ApprovedVenue:60fb4899da3b0f00c9f2e469"},{"__ref":"ApprovedVenue:6101b8f6847a9702a03c26f1"},{"__ref":"ApprovedVenue:610469a747fbcf008378125e"},{"__ref":"ApprovedVenue:6109c3f5fa78090075ce8702"},{"__ref":"ApprovedVenue:6109ce71f9fa9a00c7115066"},{"__ref":"ApprovedVenue:613faacd52a154028adadc17"},{"__ref":"ApprovedVenue:61787519c3e8e30074cc069d"},{"__ref":"ApprovedVenue:618174bb2ef5fec227aabb46"},{"__ref":"ApprovedVenue:61831a87b6ef654ce758adcd"},{"__ref":"ApprovedVenue:61957901434744038fafae45"},{"__ref":"ApprovedVenue:619579cdd21c53de4d55c0e6"},{"__ref":"ApprovedVenue:619d33cc71d52152097728c4"},{"__ref":"ApprovedVenue:61a7ca4a1486c14f41c8b9d7"},{"__ref":"ApprovedVenue:61a9227ca6c0aa220e435580"},{"__ref":"ApprovedVenue:61a967f532213b2e1f1206d6"},{"__ref":"ApprovedVenue:61afc6f9bac0ae97bb34156f"},{"__ref":"ApprovedVenue:61afe0067edc4969f1db43bf"},{"__ref":"ApprovedVenue:6213ed73178b577a99e6bf47"},{"__ref":"ApprovedVenue:62157daf88e88dd71701244d"},{"__ref":"ApprovedVenue:622108b509a5be85b21a7467"},{"__ref":"ApprovedVenue:628e881e15b69cb7f6419741"},{"__ref":"ApprovedVenue:62994dfec14684e29874c824"},{"__ref":"ApprovedVenue:629a5c2ea5b7ab4fafada712"},{"__ref":"ApprovedVenue:62a777677e8e5f2c01e6050c"},{"__ref":"ApprovedVenue:62bde249b892ce858f0a24c6"},{"__ref":"ApprovedVenue:62c5f98cffbfcdd434c5530a"},{"__ref":"ApprovedVenue:62cc7e566cd795d3ac958fbb"},{"__ref":"ApprovedVenue:62d07cf876d35ade3d1cb871"},{"__ref":"ApprovedVenue:6311198b03721a06d6ab097c"},{"__ref":"ApprovedVenue:63b8845b2c53040c94785136"},{"__ref":"ApprovedVenue:63b8a143cf42aae5029531a1"},{"__ref":"ApprovedVenue:63bdbff7f73382375132873b"},{"__ref":"ApprovedVenue:63bdc01a68a0d8bbf5ee0783"},{"__ref":"ApprovedVenue:63bdc03b99e272d2a8d4fcee"},{"__ref":"ApprovedVenue:63bdc087d64c5949659ee5d5"},{"__ref":"ApprovedVenue:63bdc0d24fc12b561d9f3fbf"},{"__ref":"ApprovedVenue:63c98ee034467a3507c9c593"},{"__ref":"ApprovedVenue:63c9ac8a5dbf322046f2c27a"},{"__ref":"ApprovedVenue:63f7f32b7e7eb0f43d57c8c9"},{"__ref":"ApprovedVenue:6410f1a213d649d6d47d2357"},{"__ref":"ApprovedVenue:642df2d1242c25d58b4c140e"},{"__ref":"ApprovedVenue:643d8d9e3ad266d7321af6fd"},{"__ref":"ApprovedVenue:644032498fdf261b0bb4c72d"},{"__ref":"ApprovedVenue:6442e37fbf5cb1f4e329e360"},{"__ref":"ApprovedVenue:6477b173ac03e13d638d7eb4"}]},"SponsorLogos:632345fc5cf6fa6607df8b7b":{"__typename":"SponsorLogos","_id":"632345fc5cf6fa6607df8b7b","sponsorLogo":"https://s3.amazonaws.com/rivall-user-uploads/prodUploads/sponsorLogoFolder/5a501cf1b92a5562722a8f55_sponsor_logo_0","sponsorName":"Fitness SF","sponsorLink":"https://www.fitnesssf.com"},"Organization:5a501cf1b92a5562722a8f55":{"__typename":"Organization","_id":"5a501cf1b92a5562722a8f55","name":"San Francisco","crest":null,"contact_phone_number":"(415) 723-6110","contact_email":"sf@volosports.com","weather_line_number":"(415) 941-5844","logo":"https://s3.amazonaws.com/rivall-user-uploads/prodUploads/orgLogo/5a501cf1b92a5562722a8f55.png","sponsorLogos":[{"__ref":"SponsorLogos:632345fc5cf6fa6607df8b7b"}],"location":{"__typename":"LocationInfo","coordinates":{"__typename":"Coordinates","lat":37.74873,"lng":-122.455599}},"voloPassTiers":{"__typename":"VoloPassTiersType","isActive":true,"monthlyDollarPrice":35,"monthlyFee":0.99}},"Organization:641b7475f2322708fc1c4251":{"__typename":"Organization","_id":"641b7475f2322708fc1c4251","name":"San Jose","crest":null,"contact_phone_number":"(415) 723-6110","contact_email":"sj@volosports.com","weather_line_number":null,"logo":"https://s3.amazonaws.com/rivall-user-uploads/prodUploads/orgLogo/641b7475f2322708fc1c4251.png","sponsorLogos":[],"location":{"__typename":"LocationInfo","coordinates":{"__typename":"Coordinates","lat":37.328397,"lng":-121.888292}},"voloPassTiers":{"__typename":"VoloPassTiersType","isActive":false,"monthlyDollarPrice":15,"monthlyFee":0.99}},"Organization:5a8dd81331762c7a7dfe2408":{"__typename":"Organization","_id":"5a8dd81331762c7a7dfe2408","name":"Seattle","crest":null,"contact_phone_number":"(720) 381-6304","contact_email":"info@volocityseattle.com","weather_line_number":null,"logo":"https://s3.amazonaws.com/rivall-user-uploads/prodUploads/orgLogo/5a8dd81331762c7a7dfe2408.png","sponsorLogos":[],"location":{"__typename":"LocationInfo","coordinates":{"__typename":"Coordinates","lat":47.6062,"lng":-122.3321}},"voloPassTiers":{"__typename":"VoloPassTiersType","isActive":false,"monthlyDollarPrice":15,"monthlyFee":0.99}},"Organization:5e8639451c9d44000034b626":{"__typename":"Organization","_id":"5e8639451c9d44000034b626","name":"Virtual","crest":null,"contact_phone_number":"(917) 300-1127","contact_email":"virtual@volosports.com","weather_line_number":null,"logo":"https://s3.amazonaws.com/rivall-user-uploads/prodUploads/orgLogo/5e8639451c9d44000034b626.png","sponsorLogos":[],"location":{"__typename":"LocationInfo","coordinates":{"__typename":"Coordinates","lat":38.893109,"lng":-77.036552}},"voloPassTiers":{"__typename":"VoloPassTiersType","isActive":false,"monthlyDollarPrice":20,"monthlyFee":0.99}},"Organization:5bfd81a5b63e3f6e864d00d4":{"__typename":"Organization","_id":"5bfd81a5b63e3f6e864d00d4","name":"Volo Kids Foundation","crest":null,"contact_phone_number":"(410) 995-7701","contact_email":"info@volokids.org","weather_line_number":null,"logo":"https://s3.amazonaws.com/rivall-user-uploads/prodUploads/orgLogo/5bfd81a5b63e3f6e864d00d4.png","sponsorLogos":[],"location":{"__typename":"LocationInfo","coordinates":{"__typename":"Coordinates","lat":38.896549,"lng":-77.033923}},"voloPassTiers":{"__typename":"VoloPassTiersType","isActive":false,"monthlyDollarPrice":20,"monthlyFee":0.99}},"SponsorLogos:6478d437cb346b6c3bbae3aa":{"__typename":"SponsorLogos","_id":"6478d437cb346b6c3bbae3aa","sponsorLogo":"https://s3.amazonaws.com/rivall-user-uploads/prodUploads/sponsorLogoFolder/5a74ea1c958b1a0d3790cc5a_sponsor_logo_1.png","sponsorName":"Optimum Nutrition","sponsorLink":"https://www.optimumnutrition.com/en-us"},"Organization:5a74ea1c958b1a0d3790cc5a":{"__typename":"Organization","_id":"5a74ea1c958b1a0d3790cc5a","name":"Washington DC","crest":null,"contact_phone_number":"(202) 919-3955","contact_email":"dc@volosports.com","weather_line_number":"(202) 751-3558","logo":"https://s3.amazonaws.com/rivall-user-uploads/prodUploads/orgLogo/5a74ea1c958b1a0d3790cc5a.png","sponsorLogos":[{"__ref":"SponsorLogos:6478d437cb346b6c3bbae3aa"}],"location":{"__typename":"LocationInfo","coordinates":null},"voloPassTiers":{"__typename":"VoloPassTiersType","isActive":true,"monthlyDollarPrice":20,"monthlyFee":0.99}},"League:647763dc700c1542679f5b71":{"__typename":"League","_id":"647763dc700c1542679f5b71","name":"2nd Annual Volo Kids Classic Golf Tournament (4 Person, Best Ball Scramble) - August 5th","featured_order":null,"schedule":{"__typename":"Schedule","start_date":"2023-08-05T16:00:00.000Z"},"details":{"__typename":"LeagueDetails","description":"\u003cp id=\"isPasted\">Introducing the second annual Volo Kids Charity Classic! Come join us for this 4 person, best ball scramble at Robert M. Lynch Golf Course in Brookline on Saturday, August 5th! \u003c/p>\u003cp>\u003cbr>\u003c/p>\u003cp>100% of the proceeds will be going to the Volo City Kids Foundation!\u003c/p>\u003cp>\u003cbr>\u003c/p>\u003cp>Your registration fee will include green fees, cart, range time, cookout after the round, and prizes for the winning teams! First, 50 people to register during early bird pricing will receive a Volo Kids Foundation hat. \u003c/p>\u003cp>\u003cbr>\u003c/p>\u003cp>The longest drive, closest to the pin, and a 50-foot putt challenge will be available during the day with prizes awarded to the winners! 1st, 2nd, and 3rd team place prizes will be awarded throughout the day including a silent auction and raffle on site. \u003c/p>\u003cp>\u003cbr>\u003c/p>\u003cp>Don't miss your chance on hitting the links for a fun day of action and a great cause. \u003cspan style=\"font-weight: 400;\">Tee times will be on a team-by-team basis, this will not be a shotgun start. \u003c/span>\u003c/p>\u003cp>\u003cbr>\u003c/p>\u003cp>\u003cspan style=\"font-weight: 400;\">*Tee Times will be sent out at least 72 hours before the start of the tournament* Please arrive at least 30 minutes BEFORE your scheduled tee time to check in!*\u003c/span>\u003c/p>\u003cp>\u003cbr>\u003c/p>\u003cp>\u003cspan style=\"font-weight: 400;\"> Every team will begin on the first tee. Tee times will be staggered for each foursome every 12 minutes. Depending on the number of foursomes, the earliest tee time available is in the morning is 8:00 am, with the latest being 11:36 am.\u003c/span>\u003c/p>"},"activityName":"Golf","programType":"TOURNAMENT"},"League:64347758e58ecc398a14a3e9":{"__typename":"League","_id":"64347758e58ecc398a14a3e9","name":"Golf (4v4 Coed) - Monday - The Loma Club (Point Loma) - June 2023","featured_order":null,"schedule":{"__typename":"Schedule","start_date":"2023-06-26T19:00:00.000Z"},"details":{"__typename":"LeagueDetails","description":"\u003cp id=\"isPasted\" style='box-sizing: inherit; background-repeat: no-repeat; background-size: contain; margin: 0.5rem auto auto; padding: 0px; margin-block: 0px; margin-inline: 0px; padding-block: 0px; padding-inline: 0px; color: rgb(76, 76, 76); text-rendering: optimizelegibility; font-family: Arial, \"Helvetica Neue\", Helvetica, sans-serif; align-items: center; font-size: 14px; overflow: hidden; font-style: normal; font-variant-ligatures: normal; font-variant-caps: normal; font-weight: 400; letter-spacing: normal; orphans: 2; text-align: start; text-indent: 0px; text-transform: none; white-space: pre-wrap; widows: 2; word-spacing: 0px; -webkit-text-stroke-width: 0px; background-color: rgb(255, 255, 255); text-decoration-thickness: initial; text-decoration-style: initial; text-decoration-color: initial;'>- Start your week right at The Loma Club in NTC Park!\u003c/p>\u003cp style='box-sizing: inherit; background-repeat: no-repeat; background-size: contain; margin: 0.5rem auto auto; padding: 0px; margin-block: 0px; margin-inline: 0px; padding-block: 0px; padding-inline: 0px; color: rgb(76, 76, 76); text-rendering: optimizelegibility; font-family: Arial, \"Helvetica Neue\", Helvetica, sans-serif; align-items: center; font-size: 14px; overflow: hidden; font-style: normal; font-variant-ligatures: normal; font-variant-caps: normal; font-weight: 400; letter-spacing: normal; orphans: 2; text-align: start; text-indent: 0px; text-transform: none; white-space: pre-wrap; widows: 2; word-spacing: 0px; -webkit-text-stroke-width: 0px; background-color: rgb(255, 255, 255); text-decoration-thickness: initial; text-decoration-style: initial; text-decoration-color: initial;'>- No gender requirements.\u003c/p>\u003cp style='box-sizing: inherit; background-repeat: no-repeat; background-size: contain; margin: 0.5rem auto auto; padding: 0px; margin-block: 0px; margin-inline: 0px; padding-block: 0px; padding-inline: 0px; color: rgb(76, 76, 76); text-rendering: optimizelegibility; font-family: Arial, \"Helvetica Neue\", Helvetica, sans-serif; align-items: center; font-size: 14px; overflow: hidden; font-style: normal; font-variant-ligatures: normal; font-variant-caps: normal; font-weight: 400; letter-spacing: normal; orphans: 2; text-align: start; text-indent: 0px; text-transform: none; white-space: pre-wrap; widows: 2; word-spacing: 0px; -webkit-text-stroke-width: 0px; background-color: rgb(255, 255, 255); text-decoration-thickness: initial; text-decoration-style: initial; text-decoration-color: initial;'>- 8-week season. \u003c/p>\u003cp style='box-sizing: inherit; background-repeat: no-repeat; background-size: contain; margin: 0.5rem auto auto; padding: 0px; margin-block: 0px; margin-inline: 0px; padding-block: 0px; padding-inline: 0px; color: rgb(76, 76, 76); text-rendering: optimizelegibility; font-family: Arial, \"Helvetica Neue\", Helvetica, sans-serif; align-items: center; font-size: 14px; overflow: hidden; font-style: normal; font-variant-ligatures: normal; font-variant-caps: normal; font-weight: 400; letter-spacing: normal; orphans: 2; text-align: start; text-indent: 0px; text-transform: none; white-space: pre-wrap; widows: 2; word-spacing: 0px; -webkit-text-stroke-width: 0px; background-color: rgb(255, 255, 255); text-decoration-thickness: initial; text-decoration-style: initial; text-decoration-color: initial;'>- Clubs are not provided.\u003c/p>\u003cp style='box-sizing: inherit; background-repeat: no-repeat; background-size: contain; margin: 0.5rem auto auto; padding: 0px; margin-block: 0px; margin-inline: 0px; padding-block: 0px; padding-inline: 0px; color: rgb(76, 76, 76); text-rendering: optimizelegibility; font-family: Arial, \"Helvetica Neue\", Helvetica, sans-serif; align-items: center; font-size: 14px; overflow: hidden; font-style: normal; font-variant-ligatures: normal; font-variant-caps: normal; font-weight: 400; letter-spacing: normal; orphans: 2; text-align: start; text-indent: 0px; text-transform: none; white-space: pre-wrap; widows: 2; word-spacing: 0px; -webkit-text-stroke-width: 0px; background-color: rgb(255, 255, 255); text-decoration-thickness: initial; text-decoration-style: initial; text-decoration-color: initial;'>- All skill levels welcome! Tee Times are first come first serve on arrival. \u003c/p>\u003cp style='box-sizing: inherit; background-repeat: no-repeat; background-size: contain; margin: 0.5rem auto auto; padding: 0px; margin-block: 0px; margin-inline: 0px; padding-block: 0px; padding-inline: 0px; color: rgb(76, 76, 76); text-rendering: optimizelegibility; font-family: Arial, \"Helvetica Neue\", Helvetica, sans-serif; align-items: center; font-size: 14px; overflow: hidden; font-style: normal; font-variant-ligatures: normal; font-variant-caps: normal; font-weight: 400; letter-spacing: normal; orphans: 2; text-align: start; text-indent: 0px; text-transform: none; white-space: pre-wrap; widows: 2; word-spacing: 0px; -webkit-text-stroke-width: 0px; background-color: rgb(255, 255, 255); text-decoration-thickness: initial; text-decoration-style: initial; text-decoration-color: initial;'>- Play in groups of 4. \u003c/p>\u003cp style='box-sizing: inherit; background-repeat: no-repeat; background-size: contain; margin: 0.5rem auto auto; padding: 0px; margin-block: 0px; margin-inline: 0px; padding-block: 0px; padding-inline: 0px; color: rgb(76, 76, 76); text-rendering: optimizelegibility; font-family: Arial, \"Helvetica Neue\", Helvetica, sans-serif; align-items: center; font-size: 14px; overflow: hidden; font-style: normal; font-variant-ligatures: normal; font-variant-caps: normal; font-weight: 400; letter-spacing: normal; orphans: 2; text-align: start; text-indent: 0px; text-transform: none; white-space: pre-wrap; widows: 2; word-spacing: 0px; -webkit-text-stroke-width: 0px; background-color: rgb(255, 255, 255); text-decoration-thickness: initial; text-decoration-style: initial; text-decoration-color: initial;'>\u003cbr>\u003c/p>"},"activityName":"Golf","programType":"LEAGUE"},"ApprovedVenue:60637259f0e6ba00376aa488":{"__typename":"ApprovedVenue","_id":"60637259f0e6ba00376aa488","disabled":false,"shorthandName":"Mission Beach","pdfUploads":[],"place_id":"ChIJK5pfHQmq3oARN1ab_HYFsmk","location":{"__typename":"Coordinates","lat":32.7734854,"lng":-117.2529015},"neighborhood":"Mission Beach","city":"San Diego","formatted_address":"3265 Ocean Front Walk, San Diego, CA 92109, USA","sportDetails":[{"__typename":"SportDescription","sportName":"Volleyball","description":"\u003cp>One of San Diego's most popular beaches and tourist attractions. Play beach volleyball just steps away from the Pacific Ocean with plenty of social scenery in the area.\u003c/p>"}],"image":{"__typename":"ImageType","url":"https://s3.amazonaws.com/rivall-user-uploads/prodUploads/approvedVenueFolder/MissionBeach Volleyball.jpeg"}},"ApprovedVenue:60638ee994f6890031703b8c":{"__typename":"ApprovedVenue","_id":"60638ee994f6890031703b8c","disabled":false,"shorthandName":"Adams Ave Rec Center","pdfUploads":[],"place_id":"ChIJbUmXTFJU2YARB3YL52Onhfc","location":{"__typename":"Coordinates","lat":32.7631731,"lng":-117.1175361},"neighborhood":"Normal Heights","city":"San Diego","formatted_address":"3491 Adams Ave, San Diego, CA 92116, USA","sportDetails":[{"__typename":"SportDescription","sportName":"Kickball","description":""},{"__typename":"SportDescription","sportName":"Softball","description":"\u003cp>Come enjoy this wonderful venue in Normal Heights on Mondays and Tuesdays!\u003c/p>"}],"image":{"__typename":"ImageType","url":"https://s3.amazonaws.com/rivall-user-uploads/prodUploads/approvedVenueFolder/Adams_Avenue_rec_center_t800.jpg"}},"ApprovedVenue:60638f7cf0e6ba00376b0405":{"__typename":"ApprovedVenue","_id":"60638f7cf0e6ba00376b0405","disabled":false,"shorthandName":"Barnard Elementary","pdfUploads":[],"place_id":"ChIJz003SMoB3IARlmT_DN9hSaM","location":{"__typename":"Coordinates","lat":32.8021782,"lng":-117.2248033},"neighborhood":"Pacific Beach","city":"San Diego","formatted_address":"2445 Fogg St, San Diego, CA 92109, USA","sportDetails":[{"__typename":"SportDescription","sportName":"Soccer","description":"\u003cp>Our Sunday Funday and Sunset Quickie hub for Soccer in Pacific Beach!\u003c/p>"}],"image":{"__typename":"ImageType","url":"https://s3.amazonaws.com/rivall-user-uploads/prodUploads/approvedVenueFolder/barnard.jpg"}},"ApprovedVenue:6064be33ccbfc5003431d975":{"__typename":"ApprovedVenue","_id":"6064be33ccbfc5003431d975","disabled":false,"shorthandName":"Cabrillo Recreation Center","pdfUploads":[],"place_id":"ChIJ8RyB07yr3oARVFkphVVhB5w","location":{"__typename":"Coordinates","lat":32.72179029999999,"lng":-117.232709},"neighborhood":"Point Loma","city":"San Diego","formatted_address":"3051 Cañon St, San Diego, CA 92106, USA","sportDetails":[{"__typename":"SportDescription","sportName":"Softball","description":"\u003cp>One of the most scenic venues in San Diego located in Point Loma and blocks from the bay.\u003c/p>"}],"image":{"__typename":"ImageType","url":"https://s3.amazonaws.com/rivall-user-uploads/prodUploads/approvedVenueFolder/cabrillocenterth.jpg"}},"ApprovedVenue:6064be90f0e6ba00376ce718":{"__typename":"ApprovedVenue","_id":"6064be90f0e6ba00376ce718","disabled":false,"shorthandName":"Doyle Rec Center","pdfUploads":[],"place_id":"ChIJASUQl9UA3IARahxT4MR9uWI","location":{"__typename":"Coordinates","lat":32.864577,"lng":-117.2194635},"neighborhood":"UTC","city":"San Diego","formatted_address":"8175 Regents Rd, San Diego, CA 92122, USA","sportDetails":[{"__typename":"SportDescription","sportName":"Basketball","description":"\u003cp>Coed and Men's 5v5 Basketball leagues and Pick-upsat premier gym in San Diego\u003c/p>"},{"__typename":"SportDescription","sportName":"Softball","description":"\u003cp>A great place to spend a Wednesday or Thursday playing softball in the UTC area.\u003c/p>"},{"__typename":"SportDescription","sportName":"Volleyball","description":""}],"image":{"__typename":"ImageType","url":"https://s3.amazonaws.com/rivall-user-uploads/prodUploads/approvedVenueFolder/doylerec.jpg"}},"ApprovedVenue:6064bebdfe7ac5004de648c2":{"__typename":"ApprovedVenue","_id":"6064bebdfe7ac5004de648c2","disabled":false,"shorthandName":"Kearny Mesa Recreation Center","pdfUploads":[],"place_id":"ChIJX89qj_z_24AR4Nu2zaP5A_Y","location":{"__typename":"Coordinates","lat":32.8018721,"lng":-117.1651918},"neighborhood":"Kearny Mesa","city":"San Diego","formatted_address":"3170 Armstrong St, San Diego, CA 92111, USA","sportDetails":[{"__typename":"SportDescription","sportName":"Kickball","description":""},{"__typename":"SportDescription","sportName":"Softball","description":"\u003cp>Just off of the 163 Freeway, Kearny Mesa Rec Center is a great place to play softball on a Tuesday.\u003c/p>"},{"__typename":"SportDescription","sportName":"Soccer","description":""}],"image":{"__typename":"ImageType","url":"https://s3.amazonaws.com/rivall-user-uploads/prodUploads/approvedVenueFolder/kearny mesa park and rec center.jpg"}},"ApprovedVenue:6064bfcefe7ac5004de64c14":{"__typename":"ApprovedVenue","_id":"6064bfcefe7ac5004de64c14","disabled":false,"shorthandName":"Nobel Recreation Center","pdfUploads":[],"place_id":"ChIJiw_3KcoA3IARFzUM__0NDhQ","location":{"__typename":"Coordinates","lat":32.8670275,"lng":-117.1992609},"neighborhood":"UTC","city":"San Diego","formatted_address":"8810 Judicial Dr, San Diego, CA 92122, USA","sportDetails":[{"__typename":"SportDescription","sportName":"Basketball","description":"\u003cp>5v5 Men's Monday Basketball League. Pickup Basketball options!\u003c/p>"},{"__typename":"SportDescription","sportName":"Kickball","description":""},{"__typename":"SportDescription","sportName":"Softball","description":"\u003cp>Come play Softball at the premier rec center in the UTC area.\u003c/p>"}],"image":{"__typename":"ImageType","url":"https://s3.amazonaws.com/rivall-user-uploads/prodUploads/approvedVenueFolder/Nobel.jpg.jpeg"}},"ApprovedVenue:6064bff84b8754004db883ea":{"__typename":"ApprovedVenue","_id":"6064bff84b8754004db883ea","disabled":false,"shorthandName":"North Park Recreation Center","pdfUploads":[],"place_id":"ChIJ50VElfBU2YARf2QT27i0Df4","location":{"__typename":"Coordinates","lat":32.7509148,"lng":-117.1341675},"neighborhood":"North Park","city":"San Diego","formatted_address":"4044 Idaho St, San Diego, CA 92104, USA","sportDetails":[{"__typename":"SportDescription","sportName":"Bocce","description":"\u003cp>An amazing environment for bocce and then blocks from our sponsor bar. \u003c/p>"},{"__typename":"SportDescription","sportName":"Kickball","description":""},{"__typename":"SportDescription","sportName":"Pickleball","description":""},{"__typename":"SportDescription","sportName":"Softball","description":"\u003cp>A new venue for Softball and a few blocks away from our sponsor bar.\u003c/p>"},{"__typename":"SportDescription","sportName":"Volunteer","description":""}],"image":{"__typename":"ImageType","url":"https://s3.amazonaws.com/rivall-user-uploads/prodUploads/approvedVenueFolder/North Park Rec.jpg"}},"ApprovedVenue:6064c029ccbfc5003431df92":{"__typename":"ApprovedVenue","_id":"6064c029ccbfc5003431df92","disabled":false,"shorthandName":"Ocean Beach","pdfUploads":[],"place_id":"ChIJGUX0dDyq3oARFjQ8ui88lv8","location":{"__typename":"Coordinates","lat":32.7512887,"lng":-117.2516243},"neighborhood":"Ocean Beach","city":"San Diego","formatted_address":"5162 Cape May Ave, San Diego, CA 92107, USA","sportDetails":[{"__typename":"SportDescription","sportName":"Event","description":""},{"__typename":"SportDescription","sportName":"Volleyball","description":"\u003cp>Our most popular beach volleyball venue in the country! Not only are there waterfront views, but a bustling beach vibe just blocks away from the courts. A must see!\u003c/p>"},{"__typename":"SportDescription","sportName":"Volunteer","description":""}],"image":{"__typename":"ImageType","url":"https://s3.amazonaws.com/rivall-user-uploads/prodUploads/approvedVenueFolder/ob.jpg"}},"ApprovedVenue:6064c0a52a210900388f24e2":{"__typename":"ApprovedVenue","_id":"6064c0a52a210900388f24e2","disabled":false,"shorthandName":"Ocean Beach Recreation Center","pdfUploads":[],"place_id":"ChIJkaq7Tjaq3oARPTae9cZ2T5M","location":{"__typename":"Coordinates","lat":32.7449984,"lng":-117.2455085},"neighborhood":"Ocean Beach","city":"San Diego","formatted_address":"4726 Santa Monica Ave, San Diego, CA 92107, USA","sportDetails":[{"__typename":"SportDescription","sportName":"Kickball","description":""},{"__typename":"SportDescription","sportName":"Pickleball","description":""},{"__typename":"SportDescription","sportName":"Volleyball","description":""}],"image":{"__typename":"ImageType","url":"https://s3.amazonaws.com/rivall-user-uploads/prodUploads/approvedVenueFolder/348s.jpg"}},"ApprovedVenue:6064c0a5ccbfc5003431e15b":{"__typename":"ApprovedVenue","_id":"6064c0a5ccbfc5003431e15b","disabled":true,"shorthandName":"Ocean Beach Recreation Center","pdfUploads":[],"place_id":"ChIJkaq7Tjaq3oARPTae9cZ2T5M","location":{"__typename":"Coordinates","lat":32.7449984,"lng":-117.2455085},"neighborhood":"Ocean Beach","city":"San Diego","formatted_address":"4726 Santa Monica Ave, San Diego, CA 92107, USA","sportDetails":[],"image":null},"ApprovedVenue:6064c22e2a210900388f28de":{"__typename":"ApprovedVenue","_id":"6064c22e2a210900388f28de","disabled":false,"shorthandName":"Pacific Beach Elementary School","pdfUploads":[],"place_id":"ChIJF8RCGpoB3IAR_uhhK85op1g","location":{"__typename":"Coordinates","lat":32.80896,"lng":-117.2506599},"neighborhood":"Pacific Beach","city":"San Diego","formatted_address":"1234 Tourmaline St, San Diego, CA 92109, USA","sportDetails":[{"__typename":"SportDescription","sportName":"Flag Football","description":"\u003cp>Grass Coed Flag Football in PB with Sponsor Bar!\u003c/p>"},{"__typename":"SportDescription","sportName":"Kickball","description":""}],"image":{"__typename":"ImageType","url":"https://s3.amazonaws.com/rivall-user-uploads/prodUploads/approvedVenueFolder/1109252_8X6HmSbq-0kFXONPd6azLFY3iGVIi9dee4tZx0KaqTU.jpg"}},"ApprovedVenue:6064c26efe7ac5004de65426":{"__typename":"ApprovedVenue","_id":"6064c26efe7ac5004de65426","disabled":false,"shorthandName":"Pacific Beach Recreation Center","pdfUploads":[],"place_id":"ChIJyatccZUB3IAR1rzIwhoQXFc","location":{"__typename":"Coordinates","lat":32.8016205,"lng":-117.2451386},"neighborhood":"Pacific Beach","city":"San Diego","formatted_address":"1405 Diamond St, San Diego, CA 92109, USA","sportDetails":[{"__typename":"SportDescription","sportName":"Bocce","description":"\u003cp>A great venue in the middle of Pacific Beach and just blocks from our sponsor bar.\u003c/p>"},{"__typename":"SportDescription","sportName":"Class","description":""},{"__typename":"SportDescription","sportName":"Dodgeball","description":""},{"__typename":"SportDescription","sportName":"Flag Football","description":"\u003cp>Grass Men's Flag Football in PB with Sponsor Bar!\u003c/p>"},{"__typename":"SportDescription","sportName":"Kickball","description":""},{"__typename":"SportDescription","sportName":"Volleyball","description":""},{"__typename":"SportDescription","sportName":"Pickleball","description":""}],"image":{"__typename":"ImageType","url":"https://s3.amazonaws.com/rivall-user-uploads/prodUploads/approvedVenueFolder/56837_0DWUIzYxVBacep5_xoFACyOPHVS0_r7akyW7mCy9FbQ.jpg"}},"ApprovedVenue:6064c2f62a210900388f2ad1":{"__typename":"ApprovedVenue","_id":"6064c2f62a210900388f2ad1","disabled":false,"shorthandName":"Presidio Recreation Center","pdfUploads":["https://s3.amazonaws.com/rivall-user-uploads/prodUploads/pdfUploadsFolder/Vavi Softball Friday Permit # 103857_1619650757405.pdf","https://s3.amazonaws.com/rivall-user-uploads/prodUploads/pdfUploadsFolder/Vavi Softball Thursday Permit # 103859_1619650764731.pdf"],"place_id":"ChIJU4fVTt2q3oARL6kQdXiAQgM","location":{"__typename":"Coordinates","lat":32.7583469,"lng":-117.1959888},"neighborhood":"Old Town","city":"San Diego","formatted_address":"2811 Jackson St, San Diego, CA 92110, USA","sportDetails":[{"__typename":"SportDescription","sportName":"Kickball","description":""},{"__typename":"SportDescription","sportName":"Softball","description":"\u003cp>Enjoy softball here Monday, Tuesday, Thursday and Friday.\u003c/p>"}],"image":{"__typename":"ImageType","url":"https://s3.amazonaws.com/rivall-user-uploads/prodUploads/approvedVenueFolder/presidiocenterth.jpg"}},"ApprovedVenue:6064c36727a318003195495a":{"__typename":"ApprovedVenue","_id":"6064c36727a318003195495a","disabled":false,"shorthandName":"Robb Field","pdfUploads":[],"place_id":"ChIJB1WdKUGq3oAReodqOjEkC28","location":{"__typename":"Coordinates","lat":32.7543063,"lng":-117.2413488},"neighborhood":"Ocean Beach","city":"San Diego","formatted_address":"2525 Bacon St, San Diego, CA 92107, USA","sportDetails":[{"__typename":"SportDescription","sportName":"Kickball","description":""},{"__typename":"SportDescription","sportName":"Softball","description":"\u003cp>The most scenic venue that we have for Softball. Located blocks from the beach and our sponsor bar.\u003c/p>"},{"__typename":"SportDescription","sportName":"Event","description":""}],"image":{"__typename":"ImageType","url":"https://s3.amazonaws.com/rivall-user-uploads/prodUploads/approvedVenueFolder/_dsc6528.jpg"}},"ApprovedVenue:6064c409f3d7590031075f6f":{"__typename":"ApprovedVenue","_id":"6064c409f3d7590031075f6f","disabled":false,"shorthandName":"Mission Bay Athletic Fields","pdfUploads":[],"place_id":"EigyNjMwIEdyYW5kIEF2ZSwgU2FuIERpZWdvLCBDQSA5MjEwOSwgVVNBIhsSGQoUChIJo3ScLssB3IAR0UwIcrw4anQQxhQ","location":{"__typename":"Coordinates","lat":32.8022405,"lng":-117.2213176},"neighborhood":"Pacific Beach","city":"San Diego","formatted_address":"2630 Grand Ave, San Diego, CA 92109, USA","sportDetails":[{"__typename":"SportDescription","sportName":"Pickleball","description":""},{"__typename":"SportDescription","sportName":"Softball","description":"\u003cp>A great place to end the week and play Softball on a Friday night.\u003c/p>"}],"image":{"__typename":"ImageType","url":"https://s3.amazonaws.com/rivall-user-uploads/prodUploads/approvedVenueFolder/mbaf.jpg"}},"ApprovedVenue:6074b802f7e684008552be01":{"__typename":"ApprovedVenue","_id":"6074b802f7e684008552be01","disabled":false,"shorthandName":"Linda Vista Recreation Center","pdfUploads":[],"place_id":"ChIJhVvtZ1RV2YARpiHJejua6Lg","location":{"__typename":"Coordinates","lat":32.7922259,"lng":-117.1699017},"neighborhood":"Linda Vista","city":"San Diego","formatted_address":"7064 Levant St, San Diego, CA 92111, USA","sportDetails":[],"image":{"__typename":"ImageType","url":"https://s3.amazonaws.com/rivall-user-uploads/prodUploads/approvedVenueFolder/linda.jpg"}},"ApprovedVenue:6074bbc0f7e684008552cf38":{"__typename":"ApprovedVenue","_id":"6074bbc0f7e684008552cf38","disabled":false,"shorthandName":"Barnes Tennis Center","pdfUploads":[],"place_id":"ChIJ3WbvhUSq3oARv5dfLUXvFT8","location":{"__typename":"Coordinates","lat":32.7543638,"lng":-117.2348861},"neighborhood":"Point Loma","city":"San Diego","formatted_address":"4490 W Point Loma Blvd, San Diego, CA 92107, USA","sportDetails":[{"__typename":"SportDescription","sportName":"Tennis","description":""},{"__typename":"SportDescription","sportName":"Pickleball","description":""}],"image":{"__typename":"ImageType","url":"https://s3.amazonaws.com/rivall-user-uploads/prodUploads/approvedVenueFolder/b48411_037cfbc508354455ad044826e793b5a2f000.webp"}},"ApprovedVenue:60774224c030830038da0f56":{"__typename":"ApprovedVenue","_id":"60774224c030830038da0f56","disabled":false,"shorthandName":"WAVE Volleyball Club","pdfUploads":[],"place_id":"ChIJ3fF8hDQJ3IARTt4_x7QjIug","location":{"__typename":"Coordinates","lat":32.9772621,"lng":-117.2546369},"neighborhood":"Del Mar","city":"Del Mar","formatted_address":"Camp site 24, 15555 Jimmy Durante Blvd, Del Mar, CA 92014, USA","sportDetails":[{"__typename":"SportDescription","sportName":"Volleyball","description":"\u003cp>3 premier private volleyball courts located in Del Mar. \u003c/p>"}],"image":{"__typename":"ImageType","url":"https://s3.amazonaws.com/rivall-user-uploads/prodUploads/approvedVenueFolder/wave.jpeg"}},"ApprovedVenue:6081b86ef00521004d4e8ffd":{"__typename":"ApprovedVenue","_id":"6081b86ef00521004d4e8ffd","disabled":true,"shorthandName":"The Golf Bar","pdfUploads":[],"place_id":"ChIJlbRvvoD_24ARn3kDc22YW5Q","location":{"__typename":"Coordinates","lat":32.8333221,"lng":-117.1723474},"neighborhood":"Clairemont","city":"San Diego","formatted_address":"5583 Clairemont Mesa Blvd, San Diego, CA 92117, USA","sportDetails":[{"__typename":"SportDescription","sportName":"Golf","description":""}],"image":{"__typename":"ImageType","url":"https://s3.amazonaws.com/rivall-user-uploads/prodUploads/approvedVenueFolder/Unknown.jpeg"}},"ApprovedVenue:608705c5fb36f70038817d4f":{"__typename":"ApprovedVenue","_id":"608705c5fb36f70038817d4f","disabled":false,"shorthandName":"Crown Point Elementary","pdfUploads":[],"place_id":"ChIJf-NbfsMB3IARbFI8FVGR-3E","location":{"__typename":"Coordinates","lat":32.7933521,"lng":-117.2386297},"neighborhood":"Pacific Beach","city":"San Diego","formatted_address":"4033 Ingraham St, San Diego, CA 92109, USA","sportDetails":[{"__typename":"SportDescription","sportName":"Kickball","description":""}],"image":{"__typename":"ImageType","url":"https://s3.amazonaws.com/rivall-user-uploads/prodUploads/approvedVenueFolder/crown.jpg"}},"ApprovedVenue:6087065e8c90d10038ddc8b7":{"__typename":"ApprovedVenue","_id":"6087065e8c90d10038ddc8b7","disabled":false,"shorthandName":"4S Ranch Sports Park","pdfUploads":[],"place_id":"ChIJgUP9Rw7324ARRaxGjPOdfSc","location":{"__typename":"Coordinates","lat":33.0038366,"lng":-117.1162262},"neighborhood":"Rancho Penasquitos","city":"San Diego","formatted_address":"16118 4S Ranch Pkwy, San Diego, CA 92127, USA","sportDetails":[],"image":{"__typename":"ImageType","url":"https://s3.amazonaws.com/rivall-user-uploads/prodUploads/approvedVenueFolder/4s.webp"}},"ApprovedVenue:608706c094f78c00316544ca":{"__typename":"ApprovedVenue","_id":"608706c094f78c00316544ca","disabled":false,"shorthandName":"Clairemont Boys & Girls Club","pdfUploads":[],"place_id":"ChIJ40Zh8YkA3IARs3AV3QJrwy4","location":{"__typename":"Coordinates","lat":32.8342163,"lng":-117.1907155},"neighborhood":"Clairemont","city":"San Diego","formatted_address":"4635 Clairemont Mesa Blvd, San Diego, CA 92117, USA","sportDetails":[{"__typename":"SportDescription","sportName":"Volleyball","description":""}],"image":{"__typename":"ImageType","url":"https://s3.amazonaws.com/rivall-user-uploads/prodUploads/approvedVenueFolder/branchClairemont-640w.jpg.webp"}},"ApprovedVenue:6090a1fd7a79d00036178939":{"__typename":"ApprovedVenue","_id":"6090a1fd7a79d00036178939","disabled":false,"shorthandName":"San Diego","pdfUploads":[],"place_id":"ChIJSx6SrQ9T2YARed8V_f0hOg0","location":{"__typename":"Coordinates","lat":32.715738,"lng":-117.1610838},"neighborhood":"San Diego","city":"San Diego","formatted_address":"San Diego, CA, USA","sportDetails":[{"__typename":"SportDescription","sportName":"Event","description":""},{"__typename":"SportDescription","sportName":"Hiking","description":""},{"__typename":"SportDescription","sportName":"Volunteer","description":""}],"image":{"__typename":"ImageType","url":"https://s3.amazonaws.com/rivall-user-uploads/prodUploads/approvedVenueFolder/resized_FI_Getty_San-Diego-CA.jpg"}},"ApprovedVenue:6091b72516c932004bdc2d8d":{"__typename":"ApprovedVenue","_id":"6091b72516c932004bdc2d8d","disabled":false,"shorthandName":"The Loma Club","pdfUploads":[],"place_id":"ChIJVSO-HgOr3oARr65JkNzVaBE","location":{"__typename":"Coordinates","lat":32.7421419,"lng":-117.2105854},"neighborhood":"Point Loma","city":"San Diego","formatted_address":"2960 Truxtun Rd, San Diego, CA 92106, USA","sportDetails":[{"__typename":"SportDescription","sportName":"Golf","description":"\u003cp>San Diego's most scenic 9 hole course.\u003c/p>"},{"__typename":"SportDescription","sportName":"Mini Golf","description":"\u003cp>A brand new course at Loma Club.\u003c/p>"}],"image":{"__typename":"ImageType","url":"https://s3.amazonaws.com/rivall-user-uploads/prodUploads/approvedVenueFolder/LomaClub3.jpg"}},"ApprovedVenue:609319cc90a04b002f912d16":{"__typename":"ApprovedVenue","_id":"609319cc90a04b002f912d16","disabled":false,"shorthandName":"Golden Hill Recreation Center","pdfUploads":[],"place_id":"ChIJuWTmUINU2YARbbpR004pf00","location":{"__typename":"Coordinates","lat":32.7249933,"lng":-117.1376429},"neighborhood":"Golden Hill","city":"San Diego","formatted_address":"Balboa Park Clubhouse, 2600 Golf Course Dr, San Diego, CA 92102, USA","sportDetails":[{"__typename":"SportDescription","sportName":"Basketball","description":"\u003cp>Premier central San Diego Men's Basketball leagues and Pick-ups. \u003c/p>"},{"__typename":"SportDescription","sportName":"Pickleball","description":""},{"__typename":"SportDescription","sportName":"Volleyball","description":"\u003cp>Indoor Gym facility located in Golden Hill, near Balboa Park Golf Course. \u003c/p>"}],"image":{"__typename":"ImageType","url":"https://s3.amazonaws.com/rivall-user-uploads/prodUploads/approvedVenueFolder/goldenhillbuilding.jpg"}},"ApprovedVenue:60f1d109d455b70083d88b74":{"__typename":"ApprovedVenue","_id":"60f1d109d455b70083d88b74","disabled":false,"shorthandName":"Madison High School","pdfUploads":[],"place_id":"ChIJRwaQX4f_24AR52HazlNk2S4","location":{"__typename":"Coordinates","lat":32.8311331,"lng":-117.1742668},"neighborhood":"Clairemont","city":"San Diego","formatted_address":"4833 Doliva Dr, San Diego, CA 92117, USA","sportDetails":[{"__typename":"SportDescription","sportName":"Soccer","description":"\u003cp>Premier location for 7v7 Soccer Coed Leagues and Pick-ups.\u003c/p>"}],"image":{"__typename":"ImageType","url":"https://s3.amazonaws.com/rivall-user-uploads/prodUploads/approvedVenueFolder/James_Madison_High_School_Stadium.jpg"}},"ApprovedVenue:60f59633f423b60067aa6c1f":{"__typename":"ApprovedVenue","_id":"60f59633f423b60067aa6c1f","disabled":false,"shorthandName":"619 Spirits North Park","pdfUploads":[],"place_id":"ChIJCaoD-vZU2YARDIxHr10Z7kM","location":{"__typename":"Coordinates","lat":32.750151,"lng":-117.1297898},"neighborhood":"North Park","city":"San Diego","formatted_address":"3015 Lincoln Ave, San Diego, CA 92104, USA","sportDetails":[{"__typename":"SportDescription","sportName":"Bar Games","description":""},{"__typename":"SportDescription","sportName":"Bar Olympics","description":""},{"__typename":"SportDescription","sportName":"Flip Cup","description":""},{"__typename":"SportDescription","sportName":"Trivia","description":""}],"image":{"__typename":"ImageType","url":"https://s3.amazonaws.com/rivall-user-uploads/prodUploads/approvedVenueFolder/2232458_lg.jpg"}},"ApprovedVenue:60f751ae89672c0059e47f16":{"__typename":"ApprovedVenue","_id":"60f751ae89672c0059e47f16","disabled":false,"shorthandName":"Trolley Barn Park","pdfUploads":[],"place_id":"ChIJO0Bk2B1V2YAR02nFLMp4NZk","location":{"__typename":"Coordinates","lat":32.7623219,"lng":-117.1440666},"neighborhood":"University Heights","city":"San Diego","formatted_address":"1943 Adams Ave, San Diego, CA 92116, USA","sportDetails":[],"image":{"__typename":"ImageType","url":"https://s3.amazonaws.com/rivall-user-uploads/prodUploads/approvedVenueFolder/trolley.jpg"}},"ApprovedVenue:60f75a6bc2eeb60036849d14":{"__typename":"ApprovedVenue","_id":"60f75a6bc2eeb60036849d14","disabled":true,"shorthandName":"Park & Rec","pdfUploads":[],"place_id":"ChIJN-V2SR5V2YARK1Nx0DhBSsc","location":{"__typename":"Coordinates","lat":32.7613985,"lng":-117.1466731},"neighborhood":"University Heights","city":"San Diego","formatted_address":"4612 Park Blvd, San Diego, CA 92116, USA","sportDetails":[{"__typename":"SportDescription","sportName":"Cornhole","description":""}],"image":null},"ApprovedVenue:60f9cabef93474002bbb3fa9":{"__typename":"ApprovedVenue","_id":"60f9cabef93474002bbb3fa9","disabled":false,"shorthandName":"Pacific Beach - Crystal Pier","pdfUploads":[],"place_id":"ChIJySRasPIB3IAR_XxQojuFrt0","location":{"__typename":"Coordinates","lat":32.796229,"lng":-117.2567037},"neighborhood":"Pacific Beach","city":"San Diego","formatted_address":"4500 Ocean Blvd, San Diego, CA 92109, USA","sportDetails":[{"__typename":"SportDescription","sportName":"Volleyball","description":"\u003cp>Located at end of Garnet Ave, the street with all the night life in San Diego. The Pacific Beach energy makes this location a must-see, with bars, a boardwalk, and waterfront views.\u003c/p>"}],"image":{"__typename":"ImageType","url":"https://s3.amazonaws.com/rivall-user-uploads/prodUploads/approvedVenueFolder/pier.jpg"}},"ApprovedVenue:60fb477370c657002b0a893e":{"__typename":"ApprovedVenue","_id":"60fb477370c657002b0a893e","disabled":false,"shorthandName":"Bird Rock Park","pdfUploads":[],"place_id":"ChIJuaNFSoEB3IARmzcrvx3hcCs","location":{"__typename":"Coordinates","lat":32.8111856,"lng":-117.2630648},"neighborhood":"Bird Rock","city":"San Diego","formatted_address":"5371 La Jolla Hermosa Ave, La Jolla, CA 92037, USA","sportDetails":[{"__typename":"SportDescription","sportName":"Kickball","description":""}],"image":{"__typename":"ImageType","url":"https://s3.amazonaws.com/rivall-user-uploads/prodUploads/approvedVenueFolder/5e18a132b3e28.image.jpg"}},"ApprovedVenue:60fb47e570c657002b0a90e5":{"__typename":"ApprovedVenue","_id":"60fb47e570c657002b0a90e5","disabled":false,"shorthandName":"La Jolla Rec Center","pdfUploads":["https://s3.amazonaws.com/rivall-user-uploads/prodUploads/pdfUploadsFolder/Permit 112958 - LJRC Mon - Jan:Feb_1642107016372.pdf"],"place_id":"ChIJ_aMOOOUD3IARv_HZulbM0k4","location":{"__typename":"Coordinates","lat":32.8433324,"lng":-117.277853},"neighborhood":"La Jolla","city":"San Diego","formatted_address":"615 Prospect St, La Jolla, CA 92037, USA","sportDetails":[{"__typename":"SportDescription","sportName":"Pickleball","description":""},{"__typename":"SportDescription","sportName":"Event","description":""}],"image":{"__typename":"ImageType","url":"https://s3.amazonaws.com/rivall-user-uploads/prodUploads/approvedVenueFolder/396092340_5GerRxmTN6520JSjkjOrcj7Pm3aI9BLvUe4VOR4ffmo.jpg"}},"ApprovedVenue:60fb4899da3b0f00c9f2e469":{"__typename":"ApprovedVenue","_id":"60fb4899da3b0f00c9f2e469","disabled":false,"shorthandName":"Santa Clara Rec Center","pdfUploads":[],"place_id":"ChIJNVhHsOYB3IARNFxDxefrdo0","location":{"__typename":"Coordinates","lat":32.7835095,"lng":-117.2490289},"neighborhood":"Mission Beach","city":"San Diego","formatted_address":"1008 Santa Clara Pl, San Diego, CA 92109, USA","sportDetails":[],"image":{"__typename":"ImageType","url":"https://s3.amazonaws.com/rivall-user-uploads/prodUploads/approvedVenueFolder/4702d779-0577-4f83-b2ba-eb5a9178273b_d.jpg"}},"ApprovedVenue:6101b8f6847a9702a03c26f1":{"__typename":"ApprovedVenue","_id":"6101b8f6847a9702a03c26f1","disabled":false,"shorthandName":"Frazee State Beach","pdfUploads":[],"place_id":"ChIJizf_FA5y3IAReTI2ZoptP48","location":{"__typename":"Coordinates","lat":33.1559157,"lng":-117.3512268},"neighborhood":"Carlsbad","city":"Carlsbad","formatted_address":"3150 Ocean St, Carlsbad, CA 92008, USA","sportDetails":[{"__typename":"SportDescription","sportName":"Volleyball","description":"\u003cp>3Premier Beach Volleyball courts in Carlsbad, CA. Waterfront views just steps away from the Pacific Ocean. One of the best places in \u003c/p>"}],"image":{"__typename":"ImageType","url":"https://s3.amazonaws.com/rivall-user-uploads/prodUploads/approvedVenueFolder/bigs-Robert-Frazee-Beach-in-Carlsbad-CA-1235-Large-e1512696488540-1000x615.jpg"}},"ApprovedVenue:610469a747fbcf008378125e":{"__typename":"ApprovedVenue","_id":"610469a747fbcf008378125e","disabled":false,"shorthandName":"Mavericks Beach Club","pdfUploads":[],"place_id":"ChIJJSLLS-0B3IARJADVCdawNFU","location":{"__typename":"Coordinates","lat":32.7970465,"lng":-117.254522},"neighborhood":"Pacific Beach","city":"San Diego","formatted_address":"860 Garnet Ave, San Diego, CA 92109, USA","sportDetails":[{"__typename":"SportDescription","sportName":"Bar Games","description":""},{"__typename":"SportDescription","sportName":"Bar Olympics","description":""},{"__typename":"SportDescription","sportName":"Cornhole","description":""},{"__typename":"SportDescription","sportName":"Flip Cup","description":""},{"__typename":"SportDescription","sportName":"Event","description":""}],"image":{"__typename":"ImageType","url":"https://s3.amazonaws.com/rivall-user-uploads/prodUploads/approvedVenueFolder/lower-patio-bar-backyard.jpg"}},"ApprovedVenue:6109c3f5fa78090075ce8702":{"__typename":"ApprovedVenue","_id":"6109c3f5fa78090075ce8702","disabled":false,"shorthandName":"Park de la Cruz","pdfUploads":[],"place_id":"ChIJO744CWlU2YAR3r0RL6o6owU","location":{"__typename":"Coordinates","lat":32.7446398,"lng":-117.110952},"neighborhood":"City Heights","city":"San Diego","formatted_address":"3603 38th Street CA 92105, 3901 Landis St, San Diego, CA 92105, USA","sportDetails":[{"__typename":"SportDescription","sportName":"Kickball","description":""},{"__typename":"SportDescription","sportName":"Softball","description":"\u003cp>An amazing venue in City Heights.\u003c/p>"}],"image":{"__typename":"ImageType","url":"https://s3.amazonaws.com/rivall-user-uploads/prodUploads/approvedVenueFolder/park.jpg"}},"ApprovedVenue:6109ce71f9fa9a00c7115066":{"__typename":"ApprovedVenue","_id":"6109ce71f9fa9a00c7115066","disabled":false,"shorthandName":"Ski Beach","pdfUploads":[],"place_id":"ChIJ5Ye7xnCq3oARawBiDngpspo","location":{"__typename":"Coordinates","lat":32.7779341,"lng":-117.2329266},"neighborhood":"Mission Bay","city":"San Diego","formatted_address":"1600 Vacation Rd, San Diego, CA 92109, USA","sportDetails":[],"image":{"__typename":"ImageType","url":"https://s3.amazonaws.com/rivall-user-uploads/prodUploads/approvedVenueFolder/ski.jpg"}},"ApprovedVenue:613faacd52a154028adadc17":{"__typename":"ApprovedVenue","_id":"613faacd52a154028adadc17","disabled":true,"shorthandName":"Liberty Station at NTC Park","pdfUploads":[],"place_id":"ChIJWbiTjgWr3oARXb7pJZnsBhY","location":{"__typename":"Coordinates","lat":32.7344374,"lng":-117.212779},"neighborhood":"Point Loma","city":"San Diego","formatted_address":"2455 Cushing Rd, San Diego, CA 92106, USA","sportDetails":[{"__typename":"SportDescription","sportName":"Bocce","description":"\u003cp>In the middle of Point Loma and a beautiful venue.\u003c/p>"},{"__typename":"SportDescription","sportName":"Cornhole","description":""},{"__typename":"SportDescription","sportName":"Event","description":""},{"__typename":"SportDescription","sportName":"Kickball","description":""},{"__typename":"SportDescription","sportName":"Volleyball","description":"\u003cp>New location for Grass Volleyball overlooking the San Diego Harbor!\u003c/p>"}],"image":{"__typename":"ImageType","url":"https://s3.amazonaws.com/rivall-user-uploads/prodUploads/approvedVenueFolder/Park-San-Diego-NTC-Liberty-Station-Park-P1210232.jpg"}},"ApprovedVenue:61787519c3e8e30074cc069d":{"__typename":"ApprovedVenue","_id":"61787519c3e8e30074cc069d","disabled":false,"shorthandName":"Carmel Valley Rec Center","pdfUploads":[],"place_id":"ChIJTWdSTJ0I3IARxebVg-HpFio","location":{"__typename":"Coordinates","lat":32.9492684,"lng":-117.2325434},"neighborhood":"Carmel Valley","city":"San Diego","formatted_address":"3777 Townsgate Dr, San Diego, CA 92130, USA","sportDetails":[{"__typename":"SportDescription","sportName":"Kickball","description":""},{"__typename":"SportDescription","sportName":"Softball","description":"\u003cp>Come enjoy softball at a pristine location in Carmel Valley.\u003c/p>"}],"image":{"__typename":"ImageType","url":"https://s3.amazonaws.com/rivall-user-uploads/prodUploads/approvedVenueFolder/carmel.jpg"}},"ApprovedVenue:618174bb2ef5fec227aabb46":{"__typename":"ApprovedVenue","_id":"618174bb2ef5fec227aabb46","disabled":false,"shorthandName":"Moonshine Beach","pdfUploads":[],"place_id":"ChIJvbLDOOsB3IAR1TFecNCdSLE","location":{"__typename":"Coordinates","lat":32.7978676,"lng":-117.2484133},"neighborhood":"Pacific Beach","city":"San Diego","formatted_address":"1165 Garnet Ave, San Diego, CA 92109, USA","sportDetails":[{"__typename":"SportDescription","sportName":"Bar Games","description":""},{"__typename":"SportDescription","sportName":"Bar Olympics","description":""},{"__typename":"SportDescription","sportName":"Cornhole","description":""},{"__typename":"SportDescription","sportName":"Flip Cup","description":""}],"image":{"__typename":"ImageType","url":"https://s3.amazonaws.com/rivall-user-uploads/prodUploads/approvedVenueFolder/moonshine.jpg"}},"ApprovedVenue:61831a87b6ef654ce758adcd":{"__typename":"ApprovedVenue","_id":"61831a87b6ef654ce758adcd","disabled":false,"shorthandName":"Mira Mesa High School","pdfUploads":[],"place_id":"ChIJ_zuU7-j424AR1IXd7iCom78","location":{"__typename":"Coordinates","lat":32.910904,"lng":-117.1403701},"neighborhood":"Mira Mesa","city":"San Diego","formatted_address":"10510 Marauder Way, San Diego, CA 92126, USA","sportDetails":[{"__typename":"SportDescription","sportName":"Flag Football","description":"\u003cp>\u003cspan id=\"isPasted\" style='color: rgb(65, 65, 65); font-family: Arial, \"Helvetica Neue\", Helvetica, sans-serif; font-size: 14px; font-style: normal; font-variant-ligatures: normal; font-variant-caps: normal; font-weight: 400; letter-spacing: normal; orphans: 2; text-align: left; text-indent: 0px; text-transform: none; white-space: normal; widows: 2; word-spacing: 0px; -webkit-text-stroke-width: 0px; background-color: rgb(255, 255, 255); text-decoration-thickness: initial; text-decoration-style: initial; text-decoration-color: initial; display: inline !important; float: none;'>Premier location for Turf \u003c/span>\u003cspan style='color: rgb(65, 65, 65); font-family: Arial, \"Helvetica Neue\", Helvetica, sans-serif; font-size: 14px; font-style: normal; font-variant-ligatures: normal; font-variant-caps: normal; font-weight: 400; letter-spacing: normal; orphans: 2; text-align: left; text-indent: 0px; text-transform: none; white-space: normal; widows: 2; word-spacing: 0px; -webkit-text-stroke-width: 0px; background-color: rgb(255, 255, 255); text-decoration-thickness: initial; text-decoration-style: initial; text-decoration-color: initial; display: inline !important; float: none;'>7v7 Flag Football Coed Leagues.\u003c/span>\u003c/p>"},{"__typename":"SportDescription","sportName":"Soccer","description":"\u003cp>\u003cspan id=\"isPasted\" style='color: rgb(65, 65, 65); font-family: Arial, \"Helvetica Neue\", Helvetica, sans-serif; font-size: 14px; font-style: normal; font-variant-ligatures: normal; font-variant-caps: normal; font-weight: 400; letter-spacing: normal; orphans: 2; text-align: left; text-indent: 0px; text-transform: none; white-space: normal; widows: 2; word-spacing: 0px; -webkit-text-stroke-width: 0px; background-color: rgb(255, 255, 255); text-decoration-thickness: initial; text-decoration-style: initial; text-decoration-color: initial; display: inline !important; float: none;'>Premier location for Turf \u003c/span>\u003cspan style='color: rgb(65, 65, 65); font-family: Arial, \"Helvetica Neue\", Helvetica, sans-serif; font-size: 14px; font-style: normal; font-variant-ligatures: normal; font-variant-caps: normal; font-weight: 400; letter-spacing: normal; orphans: 2; text-align: left; text-indent: 0px; text-transform: none; white-space: normal; widows: 2; word-spacing: 0px; -webkit-text-stroke-width: 0px; background-color: rgb(255, 255, 255); text-decoration-thickness: initial; text-decoration-style: initial; text-decoration-color: initial; display: inline !important; float: none;'>7v7 Soccer Coed Leagues and Pick-ups.\u003c/span>\u003c/p>"}],"image":{"__typename":"ImageType","url":"https://s3.amazonaws.com/rivall-user-uploads/prodUploads/approvedVenueFolder/my post.jpg"}},"ApprovedVenue:61957901434744038fafae45":{"__typename":"ApprovedVenue","_id":"61957901434744038fafae45","disabled":false,"shorthandName":"Harry West Gym at SDCC","pdfUploads":[],"place_id":"ChIJO_X-YqBU2YARFltv8kO4tA8","location":{"__typename":"Coordinates","lat":32.7186055,"lng":-117.1525357},"neighborhood":"Downtown","city":"San Diego","formatted_address":"1313 Park Blvd, San Diego, CA 92101, USA","sportDetails":[{"__typename":"SportDescription","sportName":"Basketball","description":""}],"image":{"__typename":"ImageType","url":"https://s3.amazonaws.com/rivall-user-uploads/prodUploads/approvedVenueFolder/sdcc.jpeg"}},"ApprovedVenue:619579cdd21c53de4d55c0e6":{"__typename":"ApprovedVenue","_id":"619579cdd21c53de4d55c0e6","disabled":false,"shorthandName":"Cabrillo Heights Park","pdfUploads":[],"place_id":"ChIJSVHibt7_24ARw1F6znuoIrk","location":{"__typename":"Coordinates","lat":32.8055839,"lng":-117.1481666},"neighborhood":"Serra Mesa","city":"San Diego","formatted_address":"8308 Hurlbut St, San Diego, CA 92123, USA","sportDetails":[{"__typename":"SportDescription","sportName":"Kickball","description":""},{"__typename":"SportDescription","sportName":"Softball","description":"\u003cp>A great venue right off of the 805 freeway.\u003c/p>"}],"image":{"__typename":"ImageType","url":"https://s3.amazonaws.com/rivall-user-uploads/prodUploads/approvedVenueFolder/cabrillo heights.jpeg"}},"ApprovedVenue:619d33cc71d52152097728c4":{"__typename":"ApprovedVenue","_id":"619d33cc71d52152097728c4","disabled":false,"shorthandName":"Hourglass Community Park","pdfUploads":[],"place_id":"ChIJPSaXhiH524ARf92Fux0VMaQ","location":{"__typename":"Coordinates","lat":32.90651690000001,"lng":-117.1222589},"neighborhood":"Mira Mesa","city":"San Diego","formatted_address":"10440 Black Mountain Rd, San Diego, CA 92126, USA","sportDetails":[{"__typename":"SportDescription","sportName":"Kickball","description":""},{"__typename":"SportDescription","sportName":"Softball","description":"\u003cp>An amazing venue in the Mira Mesa area.\u003c/p>"}],"image":{"__typename":"ImageType","url":"https://s3.amazonaws.com/rivall-user-uploads/prodUploads/approvedVenueFolder/hourglass.jpeg"}},"ApprovedVenue:61a7ca4a1486c14f41c8b9d7":{"__typename":"ApprovedVenue","_id":"61a7ca4a1486c14f41c8b9d7","disabled":false,"shorthandName":"VERVE Studios Del Mar","pdfUploads":[],"place_id":"ChIJn2PjLhMJ3IARNXRxQDolwBQ","location":{"__typename":"Coordinates","lat":32.9511451,"lng":-117.2460829},"neighborhood":"Del Mar","city":"Del Mar","formatted_address":"2630 Del Mar Heights Rd, Del Mar, CA 92014, USA","sportDetails":[{"__typename":"SportDescription","sportName":"Spin","description":""}],"image":{"__typename":"ImageType","url":"https://s3.amazonaws.com/rivall-user-uploads/prodUploads/approvedVenueFolder/verve.jpeg"}},"ApprovedVenue:61a9227ca6c0aa220e435580":{"__typename":"ApprovedVenue","_id":"61a9227ca6c0aa220e435580","disabled":false,"shorthandName":"Bonita Cove","pdfUploads":[],"place_id":"ChIJS8UJHg2q3oARsRP1X34BRls","location":{"__typename":"Coordinates","lat":32.77165539999999,"lng":-117.2494147},"neighborhood":"Mission Beach","city":"San Diego","formatted_address":"1100 W Mission Bay Dr, San Diego, CA 92109, USA","sportDetails":[{"__typename":"SportDescription","sportName":"Bootcamp","description":""},{"__typename":"SportDescription","sportName":"Volleyball","description":"\u003cp>The Pits at Bonita Cove is located in Mission Beach, off west Mission Bay Dr. There are 4 permanent poles for net setup. The courts have a waterfront view of Mission Bay, across the street to the east of Belmont Park rollercoaster.\u003c/p>"},{"__typename":"SportDescription","sportName":"Yoga","description":""}],"image":{"__typename":"ImageType","url":"https://s3.amazonaws.com/rivall-user-uploads/prodUploads/approvedVenueFolder/bonita cove.webp"}},"ApprovedVenue:61a967f532213b2e1f1206d6":{"__typename":"ApprovedVenue","_id":"61a967f532213b2e1f1206d6","disabled":false,"shorthandName":"The Sandbox","pdfUploads":[],"place_id":"ChIJU5oZD8AB3IARQhEoH4PFBxc","location":{"__typename":"Coordinates","lat":32.7995331,"lng":-117.243223},"neighborhood":"Pacific Beach","city":"San Diego","formatted_address":"1466 Garnet Ave, San Diego, CA 92109, USA","sportDetails":[{"__typename":"SportDescription","sportName":"Bar Olympics","description":""},{"__typename":"SportDescription","sportName":"Cornhole","description":""},{"__typename":"SportDescription","sportName":"Flip Cup","description":""},{"__typename":"SportDescription","sportName":"Skeeball","description":""},{"__typename":"SportDescription","sportName":"Event","description":""}],"image":{"__typename":"ImageType","url":"https://s3.amazonaws.com/rivall-user-uploads/prodUploads/approvedVenueFolder/sbp.jpeg"}},"ApprovedVenue:61afc6f9bac0ae97bb34156f":{"__typename":"ApprovedVenue","_id":"61afc6f9bac0ae97bb34156f","disabled":false,"shorthandName":"Pure Project Balboa Park","pdfUploads":[],"place_id":"ChIJDy92crhU2YARspz-pe_LB4A","location":{"__typename":"Coordinates","lat":32.73523889999999,"lng":-117.1600545},"neighborhood":"Bankers Hill","city":"San Diego","formatted_address":"2865 Fifth Ave, San Diego, CA 92103, USA","sportDetails":[{"__typename":"SportDescription","sportName":"Bar Games","description":""},{"__typename":"SportDescription","sportName":"Bar Olympics","description":""},{"__typename":"SportDescription","sportName":"Cornhole","description":""},{"__typename":"SportDescription","sportName":"Flip Cup","description":""}],"image":{"__typename":"ImageType","url":"https://s3.amazonaws.com/rivall-user-uploads/prodUploads/approvedVenueFolder/PPB.jpeg"}},"ApprovedVenue:61afe0067edc4969f1db43bf":{"__typename":"ApprovedVenue","_id":"61afe0067edc4969f1db43bf","disabled":false,"shorthandName":"Tidelands Park","pdfUploads":[],"place_id":"ChIJt6h5VjZT2YARB-FpBFMAIk8","location":{"__typename":"Coordinates","lat":32.6904301,"lng":-117.165091},"neighborhood":"Coronado","city":"Coronado","formatted_address":"2000 Mullinex Dr, Coronado, CA 92118, USA","sportDetails":[{"__typename":"SportDescription","sportName":"Bootcamp","description":""},{"__typename":"SportDescription","sportName":"Kickball","description":""},{"__typename":"SportDescription","sportName":"Yoga","description":""}],"image":{"__typename":"ImageType","url":"https://s3.amazonaws.com/rivall-user-uploads/prodUploads/approvedVenueFolder/Tidelands Park_4.jpeg"}},"ApprovedVenue:6213ed73178b577a99e6bf47":{"__typename":"ApprovedVenue","_id":"6213ed73178b577a99e6bf47","disabled":false,"shorthandName":"Stone Brewing World Bistro & Gardens – Liberty Station","pdfUploads":[],"place_id":"ChIJu-AFdgOr3oAR6wTMm3R-P-4","location":{"__typename":"Coordinates","lat":32.7406063,"lng":-117.2114812},"neighborhood":"Point Loma","city":"San Diego","formatted_address":"2816 Historic Decatur Rd, San Diego, CA 92106, USA","sportDetails":[{"__typename":"SportDescription","sportName":"Cornhole","description":""}],"image":{"__typename":"ImageType","url":"https://s3.amazonaws.com/rivall-user-uploads/prodUploads/approvedVenueFolder/Movie Courtyard full view.jpg"}},"ApprovedVenue:62157daf88e88dd71701244d":{"__typename":"ApprovedVenue","_id":"62157daf88e88dd71701244d","disabled":false,"shorthandName":"Morley Field Sports Complex","pdfUploads":[],"place_id":"ChIJi8uW0ZJU2YARQO6x7ecgRQg","location":{"__typename":"Coordinates","lat":32.7400499,"lng":-117.1405611},"neighborhood":"North Park","city":"San Diego","formatted_address":"2221 Morley Field Dr, San Diego, CA 92104, USA","sportDetails":[],"image":{"__typename":"ImageType","url":"https://s3.amazonaws.com/rivall-user-uploads/prodUploads/approvedVenueFolder/morley.jpeg"}},"ApprovedVenue:622108b509a5be85b21a7467":{"__typename":"ApprovedVenue","_id":"622108b509a5be85b21a7467","disabled":false,"shorthandName":"Balboa Stadium","pdfUploads":[],"place_id":"EiNSdXNzIEJsdmQsIFNhbiBEaWVnbywgQ0EgOTIxMDEsIFVTQSIuKiwKFAoSCWE5JU2gVNmAEVMYHwdIK_XPEhQKEgkr5gi3QlPZgBEjklZbPU5FCQ","location":{"__typename":"Coordinates","lat":32.7194238,"lng":-117.1512452},"neighborhood":"Downtown","city":"San Diego","formatted_address":"Russ Blvd, San Diego, CA 92101, USA","sportDetails":[{"__typename":"SportDescription","sportName":"Flag Football","description":"\u003cp>\u003cspan id=\"isPasted\" style='color: rgb(65, 65, 65); font-family: Arial, \"Helvetica Neue\", Helvetica, sans-serif; font-size: 14px; font-style: normal; font-variant-ligatures: normal; font-variant-caps: normal; font-weight: 400; letter-spacing: normal; orphans: 2; text-align: left; text-indent: 0px; text-transform: none; white-space: normal; widows: 2; word-spacing: 0px; -webkit-text-stroke-width: 0px; background-color: rgb(255, 255, 255); text-decoration-thickness: initial; text-decoration-style: initial; text-decoration-color: initial; display: inline !important; float: none;'>Premier location for Turf \u003c/span>\u003cspan style='color: rgb(65, 65, 65); font-family: Arial, \"Helvetica Neue\", Helvetica, sans-serif; font-size: 14px; font-style: normal; font-variant-ligatures: normal; font-variant-caps: normal; font-weight: 400; letter-spacing: normal; orphans: 2; text-align: left; text-indent: 0px; text-transform: none; white-space: normal; widows: 2; word-spacing: 0px; -webkit-text-stroke-width: 0px; background-color: rgb(255, 255, 255); text-decoration-thickness: initial; text-decoration-style: initial; text-decoration-color: initial; display: inline !important; float: none;'>7v7 Soccer Coed Leagues.\u003c/span>\u003c/p>"},{"__typename":"SportDescription","sportName":"Soccer","description":"\u003cp>\u003cspan id=\"isPasted\" style='color: rgb(65, 65, 65); font-family: Arial, \"Helvetica Neue\", Helvetica, sans-serif; font-size: 14px; font-style: normal; font-variant-ligatures: normal; font-variant-caps: normal; font-weight: 400; letter-spacing: normal; orphans: 2; text-align: left; text-indent: 0px; text-transform: none; white-space: normal; widows: 2; word-spacing: 0px; -webkit-text-stroke-width: 0px; background-color: rgb(255, 255, 255); text-decoration-thickness: initial; text-decoration-style: initial; text-decoration-color: initial; display: inline !important; float: none;'>Premier location for Turf \u003c/span>\u003cspan style='color: rgb(65, 65, 65); font-family: Arial, \"Helvetica Neue\", Helvetica, sans-serif; font-size: 14px; font-style: normal; font-variant-ligatures: normal; font-variant-caps: normal; font-weight: 400; letter-spacing: normal; orphans: 2; text-align: left; text-indent: 0px; text-transform: none; white-space: normal; widows: 2; word-spacing: 0px; -webkit-text-stroke-width: 0px; background-color: rgb(255, 255, 255); text-decoration-thickness: initial; text-decoration-style: initial; text-decoration-color: initial; display: inline !important; float: none;'>7v7 Soccer Coed Leagues and Pick-ups.\u003c/span>\u003c/p>"}],"image":{"__typename":"ImageType","url":"https://s3.amazonaws.com/rivall-user-uploads/prodUploads/approvedVenueFolder/balboa_Stadium_thumb-400x210.jpeg"}},"ApprovedVenue:628e881e15b69cb7f6419741":{"__typename":"ApprovedVenue","_id":"628e881e15b69cb7f6419741","disabled":false,"shorthandName":"Jefferson Elementary ","pdfUploads":[],"place_id":"ChIJ7wSDUPFU2YARIsxgl8fDksI","location":{"__typename":"Coordinates","lat":32.74784200000001,"lng":-117.1331392},"neighborhood":"North Park","city":"San Diego","formatted_address":"3770 Utah St, San Diego, CA 92104, USA","sportDetails":[],"image":{"__typename":"ImageType","url":"https://s3.amazonaws.com/rivall-user-uploads/prodUploads/approvedVenueFolder/VoloKidsFoundation-logo-color (1).png"}},"ApprovedVenue:62994dfec14684e29874c824":{"__typename":"ApprovedVenue","_id":"62994dfec14684e29874c824","disabled":false,"shorthandName":"Crown Point Park","pdfUploads":[],"place_id":"ChIJG0urbNoB3IARJux7ZkKlQ1o","location":{"__typename":"Coordinates","lat":32.787771,"lng":-117.2345955},"neighborhood":"Pacific Beach","city":"San Diego","formatted_address":"Crown Point Dr, San Diego, CA 92109, USA","sportDetails":[{"__typename":"SportDescription","sportName":"Bocce","description":"\u003cp>With a view of the San Diego Bay, there is no better place to play bocce.\u003c/p>"},{"__typename":"SportDescription","sportName":"Volleyball","description":"\u003cp>New Grass Volleyball location overlooking San Diego bay. \u003c/p>"}],"image":{"__typename":"ImageType","url":"https://s3.amazonaws.com/rivall-user-uploads/prodUploads/approvedVenueFolder/Crown Point Park.png"}},"ApprovedVenue:629a5c2ea5b7ab4fafada712":{"__typename":"ApprovedVenue","_id":"629a5c2ea5b7ab4fafada712","disabled":false,"shorthandName":"Morley Field Bocce Ball Courts","pdfUploads":[],"place_id":"EiYyNTc2IFVwYXMgU3QsIFNhbiBEaWVnbywgQ0EgOTIxMDQsIFVTQSIxEi8KFAoSCTclKDCNVNmAEb7NKwh5JzSkEJAUKhQKEgnr_LdLjVTZgBFrad4v8lWtyg","location":{"__typename":"Coordinates","lat":32.7409737,"lng":-117.1362813},"neighborhood":"North Park","city":"San Diego","formatted_address":"2576 Upas St, San Diego, CA 92104, USA","sportDetails":[{"__typename":"SportDescription","sportName":"Bocce","description":"\u003cp>In the middle of North Park and the only venue that has traditional bocce courts.\u003c/p>"}],"image":{"__typename":"ImageType","url":"https://s3.amazonaws.com/rivall-user-uploads/prodUploads/approvedVenueFolder/IMG_8876.300x199.JPG"}},"ApprovedVenue:62a777677e8e5f2c01e6050c":{"__typename":"ApprovedVenue","_id":"62a777677e8e5f2c01e6050c","disabled":false,"shorthandName":"Kearny High School","pdfUploads":[],"place_id":"ChIJTRj5weL_24ARe5m2Yfsa4OA","location":{"__typename":"Coordinates","lat":32.8002085,"lng":-117.1605279},"neighborhood":"Kearny Mesa","city":"San Diego","formatted_address":"1954 Komet Way, San Diego, CA 92111, USA","sportDetails":[{"__typename":"SportDescription","sportName":"Flag Football","description":"\u003cp>\u003cspan id=\"isPasted\" style='color: rgb(65, 65, 65); font-family: Arial, \"Helvetica Neue\", Helvetica, sans-serif; font-size: 14px; font-style: normal; font-variant-ligatures: normal; font-variant-caps: normal; font-weight: 400; letter-spacing: normal; orphans: 2; text-align: left; text-indent: 0px; text-transform: none; white-space: normal; widows: 2; word-spacing: 0px; -webkit-text-stroke-width: 0px; background-color: rgb(255, 255, 255); text-decoration-thickness: initial; text-decoration-style: initial; text-decoration-color: initial; display: inline !important; float: none;'>Premier location for Turf \u003c/span>\u003cspan style='color: rgb(65, 65, 65); font-family: Arial, \"Helvetica Neue\", Helvetica, sans-serif; font-size: 14px; font-style: normal; font-variant-ligatures: normal; font-variant-caps: normal; font-weight: 400; letter-spacing: normal; orphans: 2; text-align: left; text-indent: 0px; text-transform: none; white-space: normal; widows: 2; word-spacing: 0px; -webkit-text-stroke-width: 0px; background-color: rgb(255, 255, 255); text-decoration-thickness: initial; text-decoration-style: initial; text-decoration-color: initial; display: inline !important; float: none;'>7v7 Flag Football Coed Leagues.\u003c/span>\u003c/p>"},{"__typename":"SportDescription","sportName":"Soccer","description":"\u003cp>\u003cspan id=\"isPasted\" style='color: rgb(65, 65, 65); font-family: Arial, \"Helvetica Neue\", Helvetica, sans-serif; font-size: 14px; font-style: normal; font-variant-ligatures: normal; font-variant-caps: normal; font-weight: 400; letter-spacing: normal; orphans: 2; text-align: left; text-indent: 0px; text-transform: none; white-space: normal; widows: 2; word-spacing: 0px; -webkit-text-stroke-width: 0px; background-color: rgb(255, 255, 255); text-decoration-thickness: initial; text-decoration-style: initial; text-decoration-color: initial; display: inline !important; float: none;'>Premier location for Turf \u003c/span>\u003cspan style='color: rgb(65, 65, 65); font-family: Arial, \"Helvetica Neue\", Helvetica, sans-serif; font-size: 14px; font-style: normal; font-variant-ligatures: normal; font-variant-caps: normal; font-weight: 400; letter-spacing: normal; orphans: 2; text-align: left; text-indent: 0px; text-transform: none; white-space: normal; widows: 2; word-spacing: 0px; -webkit-text-stroke-width: 0px; background-color: rgb(255, 255, 255); text-decoration-thickness: initial; text-decoration-style: initial; text-decoration-color: initial; display: inline !important; float: none;'>7v7 Soccer Coed Leagues and Pick-ups.\u003c/span>\u003c/p>"}],"image":{"__typename":"ImageType","url":"https://s3.amazonaws.com/rivall-user-uploads/prodUploads/approvedVenueFolder/kearny.jpeg"}},"ApprovedVenue:62bde249b892ce858f0a24c6":{"__typename":"ApprovedVenue","_id":"62bde249b892ce858f0a24c6","disabled":false,"shorthandName":"Standley Recreation Center","pdfUploads":[],"place_id":"ChIJObdjFN0A3IARDNPkmyjRHEg","location":{"__typename":"Coordinates","lat":32.8508223,"lng":-117.2105854},"neighborhood":"UTC","city":"San Diego","formatted_address":"3585 Governor Dr, San Diego, CA 92122, USA","sportDetails":[{"__typename":"SportDescription","sportName":"Softball","description":"\u003cp>An outstanding venue in the UTC area.\u003c/p>"}],"image":{"__typename":"ImageType","url":"https://s3.amazonaws.com/rivall-user-uploads/prodUploads/approvedVenueFolder/Standley Rec.jpg"}},"ApprovedVenue:62c5f98cffbfcdd434c5530a":{"__typename":"ApprovedVenue","_id":"62c5f98cffbfcdd434c5530a","disabled":false,"shorthandName":"Zoom - Virtual Event ","pdfUploads":[],"place_id":"ChIJCa1iPuuq3oARDFCniJhGd9M","location":{"__typename":"Coordinates","lat":32.766861,"lng":-117.2009241},"neighborhood":"Bankers Hill","city":"San Diego","formatted_address":"Cudahy Pl, San Diego, CA 92110, USA","sportDetails":[{"__typename":"SportDescription","sportName":"Event","description":""}],"image":null},"ApprovedVenue:62cc7e566cd795d3ac958fbb":{"__typename":"ApprovedVenue","_id":"62cc7e566cd795d3ac958fbb","disabled":false,"shorthandName":"Clairemont High School","pdfUploads":[],"place_id":"ChIJhTVgvDgA3IAR5RgYYNS2XgA","location":{"__typename":"Coordinates","lat":32.8083016,"lng":-117.2040963},"neighborhood":"Clairemont","city":"San Diego","formatted_address":"4150 Ute Dr, San Diego, CA 92117, USA","sportDetails":[{"__typename":"SportDescription","sportName":"Soccer","description":"\u003cp>\u003cspan id=\"isPasted\" style='color: rgb(65, 65, 65); font-family: Arial, \"Helvetica Neue\", Helvetica, sans-serif; font-size: 14px; font-style: normal; font-variant-ligatures: normal; font-variant-caps: normal; font-weight: 400; letter-spacing: normal; orphans: 2; text-align: left; text-indent: 0px; text-transform: none; white-space: normal; widows: 2; word-spacing: 0px; -webkit-text-stroke-width: 0px; background-color: rgb(255, 255, 255); text-decoration-thickness: initial; text-decoration-style: initial; text-decoration-color: initial; display: inline !important; float: none;'>Premier location for Turf \u003c/span>\u003cspan style='color: rgb(65, 65, 65); font-family: Arial, \"Helvetica Neue\", Helvetica, sans-serif; font-size: 14px; font-style: normal; font-variant-ligatures: normal; font-variant-caps: normal; font-weight: 400; letter-spacing: normal; orphans: 2; text-align: left; text-indent: 0px; text-transform: none; white-space: normal; widows: 2; word-spacing: 0px; -webkit-text-stroke-width: 0px; background-color: rgb(255, 255, 255); text-decoration-thickness: initial; text-decoration-style: initial; text-decoration-color: initial; display: inline !important; float: none;'>7v7 Soccer Coed Leagues and Pick-ups.\u003c/span>\u003c/p>"}],"image":{"__typename":"ImageType","url":"https://s3.amazonaws.com/rivall-user-uploads/prodUploads/approvedVenueFolder/Screen Shot 2022-07-11 at 12.47.12 PM.png"}},"ApprovedVenue:62d07cf876d35ade3d1cb871":{"__typename":"ApprovedVenue","_id":"62d07cf876d35ade3d1cb871","disabled":false,"shorthandName":"Northside Tavern","pdfUploads":[],"place_id":"ChIJRQcLLj-q3oARn7rSLvo3qS8","location":{"__typename":"Coordinates","lat":32.7526013,"lng":-117.2464155},"neighborhood":"Ocean Beach","city":"San Diego","formatted_address":"2228 Bacon St, San Diego, CA 92107, USA","sportDetails":[{"__typename":"SportDescription","sportName":"Event","description":""}],"image":{"__typename":"ImageType","url":"https://s3.amazonaws.com/rivall-user-uploads/prodUploads/approvedVenueFolder/Northside Tavern.jpeg"}},"ApprovedVenue:6311198b03721a06d6ab097c":{"__typename":"ApprovedVenue","_id":"6311198b03721a06d6ab097c","disabled":false,"shorthandName":"Tavern + Bowl - East Village","pdfUploads":[],"place_id":"ChIJbyE5S1lT2YAR6S1LfAWnAUg","location":{"__typename":"Coordinates","lat":32.7117683,"lng":-117.1558408},"neighborhood":"Downtown","city":"San Diego","formatted_address":"930 Market St, San Diego, CA 92101, USA","sportDetails":[{"__typename":"SportDescription","sportName":"Bowling","description":""}],"image":null},"ApprovedVenue:63b8845b2c53040c94785136":{"__typename":"ApprovedVenue","_id":"63b8845b2c53040c94785136","disabled":false,"shorthandName":"Volo Office","pdfUploads":[],"place_id":"ChIJsQuyN-uq3oARPb9LYCw-NVI","location":{"__typename":"Coordinates","lat":32.7675758,"lng":-117.2014432},"neighborhood":"Point Loma","city":"San Diego","formatted_address":"1094 Cudahy Pl, San Diego, CA 92110, USA","sportDetails":[{"__typename":"SportDescription","sportName":"Event","description":""}],"image":null},"ApprovedVenue:63b8a143cf42aae5029531a1":{"__typename":"ApprovedVenue","_id":"63b8a143cf42aae5029531a1","disabled":false,"shorthandName":"Mission Bay High School","pdfUploads":[],"place_id":"ChIJh2coo8sB3IAR2kCvjaXJJy8","location":{"__typename":"Coordinates","lat":32.8007278,"lng":-117.2242061},"neighborhood":"Pacific Beach","city":"San Diego","formatted_address":"2475 Grand Ave, San Diego, CA 92109, USA","sportDetails":[],"image":null},"ApprovedVenue:63bdbff7f73382375132873b":{"__typename":"ApprovedVenue","_id":"63bdbff7f73382375132873b","disabled":false,"shorthandName":"Valley Middle School","pdfUploads":[],"place_id":"ChIJTcdBCzly3IAR3hSnZZYATiA","location":{"__typename":"Coordinates","lat":33.1584748,"lng":-117.3295081},"neighborhood":"Carlsbad","city":"Carlsbad","formatted_address":"1645 Magnolia Ave, Carlsbad, CA 92008, USA","sportDetails":[],"image":{"__typename":"ImageType","url":"https://s3.amazonaws.com/rivall-user-uploads/prodUploads/approvedVenueFolder/valley middle school.jpeg"}},"ApprovedVenue:63bdc01a68a0d8bbf5ee0783":{"__typename":"ApprovedVenue","_id":"63bdc01a68a0d8bbf5ee0783","disabled":false,"shorthandName":"Carlsbad High School","pdfUploads":[],"place_id":"ChIJ30ftcDpy3IARLQMljX9Uj3w","location":{"__typename":"Coordinates","lat":33.1634328,"lng":-117.3278002},"neighborhood":"Carlsbad","city":"Carlsbad","formatted_address":"3557 Lancer Way, Carlsbad, CA 92008, USA","sportDetails":[],"image":{"__typename":"ImageType","url":"https://s3.amazonaws.com/rivall-user-uploads/prodUploads/approvedVenueFolder/Carlsbad HS.jpeg"}},"ApprovedVenue:63bdc03b99e272d2a8d4fcee":{"__typename":"ApprovedVenue","_id":"63bdc03b99e272d2a8d4fcee","disabled":false,"shorthandName":"Sage Creek High School","pdfUploads":[],"place_id":"ChIJT5sjtZZz3IARDEkltZP_tQg","location":{"__typename":"Coordinates","lat":33.1587056,"lng":-117.2853386},"neighborhood":"Carlsbad","city":"Carlsbad","formatted_address":"3900 Cannon Rd, Carlsbad, CA 92010, USA","sportDetails":[],"image":{"__typename":"ImageType","url":"https://s3.amazonaws.com/rivall-user-uploads/prodUploads/approvedVenueFolder/sage creek HS.webp"}},"ApprovedVenue:63bdc087d64c5949659ee5d5":{"__typename":"ApprovedVenue","_id":"63bdc087d64c5949659ee5d5","disabled":false,"shorthandName":"Modern Times - Point Loma","pdfUploads":[],"place_id":"ChIJVbKoBuWq3oARoSSSLCuBGFQ","location":{"__typename":"Coordinates","lat":32.7542096,"lng":-117.2062202},"neighborhood":"Point Loma","city":"San Diego","formatted_address":"3725 Greenwood St, San Diego, CA 92110, USA","sportDetails":[{"__typename":"SportDescription","sportName":"Cornhole","description":""},{"__typename":"SportDescription","sportName":"Event","description":""}],"image":{"__typename":"ImageType","url":"https://s3.amazonaws.com/rivall-user-uploads/prodUploads/approvedVenueFolder/modern times.jpeg"}},"ApprovedVenue:63bdc0d24fc12b561d9f3fbf":{"__typename":"ApprovedVenue","_id":"63bdc0d24fc12b561d9f3fbf","disabled":false,"shorthandName":"Punchbowl Social","pdfUploads":[],"place_id":"ChIJCwu6NF5T2YARlxk3U2DLK6g","location":{"__typename":"Coordinates","lat":32.7144471,"lng":-117.1508319},"neighborhood":"Downtown","city":"San Diego","formatted_address":"1485 E St, San Diego, CA 92101, USA","sportDetails":[],"image":{"__typename":"ImageType","url":"https://s3.amazonaws.com/rivall-user-uploads/prodUploads/approvedVenueFolder/punchbowl.jpeg"}},"ApprovedVenue:63c98ee034467a3507c9c593":{"__typename":"ApprovedVenue","_id":"63c98ee034467a3507c9c593","disabled":false,"shorthandName":"Alice Birney Elementary School","pdfUploads":[],"place_id":"ChIJW0Un7eBU2YARX2p6Gd9j0dM","location":{"__typename":"Coordinates","lat":32.7560981,"lng":-117.1484883},"neighborhood":"University Heights","city":"San Diego","formatted_address":"4345 Campus Ave, San Diego, CA 92103, USA","sportDetails":[],"image":{"__typename":"ImageType","url":"https://s3.amazonaws.com/rivall-user-uploads/prodUploads/approvedVenueFolder/alice.webp"}},"ApprovedVenue:63c9ac8a5dbf322046f2c27a":{"__typename":"ApprovedVenue","_id":"63c9ac8a5dbf322046f2c27a","disabled":false,"shorthandName":"Petco Park","pdfUploads":[],"place_id":"ChIJafaLvVxT2YARrDgZyavAq6s","location":{"__typename":"Coordinates","lat":32.7070275,"lng":-117.1548988},"neighborhood":"Downtown","city":"San Diego","formatted_address":"100 Park Blvd, San Diego, CA 92101, USA","sportDetails":[{"__typename":"SportDescription","sportName":"Event","description":""}],"image":{"__typename":"ImageType","url":"https://s3.amazonaws.com/rivall-user-uploads/prodUploads/approvedVenueFolder/petco.jpeg"}},"ApprovedVenue:63f7f32b7e7eb0f43d57c8c9":{"__typename":"ApprovedVenue","_id":"63f7f32b7e7eb0f43d57c8c9","disabled":false,"shorthandName":"Balboa Park","pdfUploads":[],"place_id":"ChIJV9YbK7pU2YARdNOcuNF5eos","location":{"__typename":"Coordinates","lat":32.7306197,"lng":-117.1594089},"neighborhood":"Bankers Hill","city":"San Diego","formatted_address":"Sixth Ave, San Diego, CA, USA","sportDetails":[{"__typename":"SportDescription","sportName":"Volleyball","description":"\u003cp>6v6 Grass Volleyball\u003c/p>"},{"__typename":"SportDescription","sportName":"Bootcamp","description":""}],"image":null},"ApprovedVenue:6410f1a213d649d6d47d2357":{"__typename":"ApprovedVenue","_id":"6410f1a213d649d6d47d2357","disabled":false,"shorthandName":"Logan Memorial Educational Campus","pdfUploads":[],"place_id":"ChIJMUe7qXRT2YARss8mipARDkI","location":{"__typename":"Coordinates","lat":32.700754,"lng":-117.1325993},"neighborhood":"Logan Heights","city":"San Diego","formatted_address":"2875 Ocean View Blvd, San Diego, CA 92113, USA","sportDetails":[{"__typename":"SportDescription","sportName":"Flag Football","description":"\u003cp>New premier quality turf field in Logan Heights! 5 minutes from Downtown! Perfect for Flag Football with friends! \u003c/p>"},{"__typename":"SportDescription","sportName":"Soccer","description":"\u003cp>New premier quality turf field in Logan Heights! 5 minutes from Downtown! Perfect for Soccer with friends! \u003c/p>"}],"image":{"__typename":"ImageType","url":"https://s3.amazonaws.com/rivall-user-uploads/prodUploads/approvedVenueFolder/LMEC.jpeg.jpeg"}},"ApprovedVenue:642df2d1242c25d58b4c140e":{"__typename":"ApprovedVenue","_id":"642df2d1242c25d58b4c140e","disabled":false,"shorthandName":"University City High School","pdfUploads":[],"place_id":"ChIJ5RiOjsUA3IARAJajXCyoflQ","location":{"__typename":"Coordinates","lat":32.8605842,"lng":-117.2062606},"neighborhood":"UTC","city":"San Diego","formatted_address":"6949 Genesee Ave, San Diego, CA 92122, USA","sportDetails":[],"image":null},"ApprovedVenue:643d8d9e3ad266d7321af6fd":{"__typename":"ApprovedVenue","_id":"643d8d9e3ad266d7321af6fd","disabled":false,"shorthandName":"The Pit at Bonita Cove","pdfUploads":[],"place_id":"ChIJ1_gKtA2q3oARu7QnA0-ICAk","location":{"__typename":"Coordinates","lat":32.7708619,"lng":-117.2494626},"neighborhood":"Mission Beach","city":"San Diego","formatted_address":"1100 W Mission Bay Dr, San Diego, CA 92109, USA","sportDetails":[{"__typename":"SportDescription","sportName":"Volleyball","description":""}],"image":{"__typename":"ImageType","url":"https://s3.amazonaws.com/rivall-user-uploads/prodUploads/approvedVenueFolder/bonita-cove_volleyball.jpg"}},"ApprovedVenue:644032498fdf261b0bb4c72d":{"__typename":"ApprovedVenue","_id":"644032498fdf261b0bb4c72d","disabled":false,"shorthandName":"710 Beach Club","pdfUploads":[],"place_id":"ChIJr8ZlrvIB3IAREt5IxFpvFJk","location":{"__typename":"Coordinates","lat":32.7965224,"lng":-117.2564935},"neighborhood":"Pacific Beach","city":"San Diego","formatted_address":"710 Garnet Ave, San Diego, CA 92109, USA","sportDetails":[],"image":{"__typename":"ImageType","url":"https://s3.amazonaws.com/rivall-user-uploads/prodUploads/approvedVenueFolder/PB 710 Beach .jpg"}},"ApprovedVenue:6442e37fbf5cb1f4e329e360":{"__typename":"ApprovedVenue","_id":"6442e37fbf5cb1f4e329e360","disabled":false,"shorthandName":"Piña","pdfUploads":[],"place_id":"ChIJIa-VN8EN3IARjyuYY5qXaDE","location":{"__typename":"Coordinates","lat":33.0476816,"lng":-117.293658},"neighborhood":"Encinitas","city":"Encinitas","formatted_address":"345 S Coast Hwy 101, Encinitas, CA 92024, USA","sportDetails":[],"image":null},"ApprovedVenue:6477b173ac03e13d638d7eb4":{"__typename":"ApprovedVenue","_id":"6477b173ac03e13d638d7eb4","disabled":false,"shorthandName":"Pretzels & Pints","pdfUploads":[],"place_id":"ChIJW84OLfRU2YARtVqmtgsNrlg","location":{"__typename":"Coordinates","lat":32.7476724,"lng":-117.1295776},"neighborhood":"North Park","city":"San Diego","formatted_address":"3812 Ray St, San Diego, CA 92104, USA","sportDetails":[],"image":{"__typename":"ImageType","url":"https://s3.amazonaws.com/rivall-user-uploads/prodUploads/approvedVenueFolder/full.jpeg"}}};