Overview
Get active with Volo San Diego, San Diego's premier social sport leagues. Come play with friends and meet new ones in our Coed Softball Leagues!
• Coed 3-Pitch Slow-Pitch Softball
• 9v9 Coed League - Pitch to Your Own Team
• 7 Regular Season Weeks
• 1 Week of Playoffs for Top Qualifying Teams
• Champion Trophy
• Team Shirts
• Pre Paid Teams - Unlimited Roster (Must meet gender minimums)
• Groups - Roster locked at 13 with minimum gender
• Free Agents - Placement on a first come first serve basis depending on availability
• 6 men max, 9 max total on the field
• At least 8 players required to start game
• Players must play in the field to bat.
• Gloves and bat are not provided. Please bring your own.
Program Types
league
dropin
Softball leagues
Volo sports leagues operate a lot like the sports leagues of your youth. Most of our leagues are 5 to 8 weeks and culminate in a series of playoff games to crown a champion! By competing in leagues, your team can also qualify for championship tournaments throughout the year to compete for city-wide, regional, and even national titles. A team t-shirt is always included with registration and you will receive it at your first game. Volo provides specially trained staff members, referees, equipment, and prizes for your game. After your games each week, you and your team will head over to one of our sponsor bars for some post-game fun! Volo hosts the best post-game social parties and you will have access to Volo exclusive food and drink specials. By participating in leagues, you will also enjoy special invitations to Volo events, often including an end of season party. We strive to keep the games fair, safe, and stress free so that all you need to do is show up, play, socialize, and have a great time!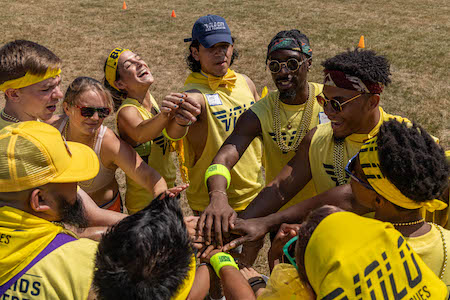 Available Formats
coed 9v9
Minimum Roster Size:
15 | 8 Male | 7 Female
Maximum Players on Field:
9 | 5 Male | 4 Female
Minimum Players to Start Game:
8 | 5 Male | 3 Female
Venues
Adams Ave Rec Center
3491 Adams Ave, San Diego, CA 92116, USA
Come enjoy this wonderful venue in Normal Heights on Mondays and Tuesdays!
Cabrillo Recreation Center
3051 Cañon St, San Diego, CA 92106, USA
One of the most scenic venues in San Diego located in Point Loma and blocks from the bay.
Doyle Rec Center
8175 Regents Rd, San Diego, CA 92122, USA
A great place to spend a Wednesday or Thursday playing softball in the UTC area.
Kearny Mesa Recreation Center
3170 Armstrong St, San Diego, CA 92111, USA
Just off of the 163 Freeway, Kearny Mesa Rec Center is a great place to play softball on a Tuesday.
Nobel Recreation Center
8810 Judicial Dr, San Diego, CA 92122, USA
Come play Softball at the premier rec center in the UTC area.
North Park Recreation Center
4044 Idaho St, San Diego, CA 92104, USA
A new venue for Softball and a few blocks away from our sponsor bar.
Presidio Recreation Center
2811 Jackson St, San Diego, CA 92110, USA
Enjoy softball here Monday, Tuesday, Thursday and Friday.
Robb Field
2525 Bacon St, San Diego, CA 92107, USA
The most scenic venue that we have for Softball. Located blocks from the beach and our sponsor bar.
Mission Bay Athletic Fields
2630 Grand Ave, San Diego, CA 92109, USA
A great place to end the week and play Softball on a Friday night.
Park de la Cruz
3603 38th Street CA 92105, 3901 Landis St, San Diego, CA 92105, USA
An amazing venue in City Heights.
Carmel Valley Rec Center
3777 Townsgate Dr, San Diego, CA 92130, USA
Come enjoy softball at a pristine location in Carmel Valley.
Cabrillo Heights Park
8308 Hurlbut St, San Diego, CA 92123, USA
A great venue right off of the 805 freeway.
Hourglass Community Park
10440 Black Mountain Rd, San Diego, CA 92126, USA
An amazing venue in the Mira Mesa area.
Standley Recreation Center
3585 Governor Dr, San Diego, CA 92122, USA
An outstanding venue in the UTC area.
Upcoming Softball Events in San Diego
Softball (9v9 Coed) - Monday - Park de la Cruz (City Heights) - August 2023
Monday, August 14 2023
No Games on 7/3
Each game is played to 15 (rounds are unlimited). You do NOT have to win by 2. If the ball touches the pallino, you do NOT get an extra point. You can get 1, 2, 3, or 4 point(s) in a round, ONLY 1 team can score points each round. Points are based on who is CLOSEST to the pallino. If you are closest, you get 1 point. Your team receives a point for every ball that is closer than the opponent's 1st closest ball. If you throw a regular ball (not pallino) short of halfway, it stays on the court and can score a point. The team that won the last round will throw the ball 1st in the next round. Example: The score is 10-1, then the team scores 2 points to make the score 10-3. The team with 3 points will throw the ball 1st (they won that round).\u003c/span> \u003c/p>","question":"What is the scoring?"},{"__typename":"FAQType","answer":"\u003cp>\u003cspan id=\"isPasted\" style='color: rgb(76, 76, 76); font-family: Arial, \"Helvetica Neue\", Helvetica, sans-serif; font-size: 14px; font-style: normal; font-variant-ligatures: normal; font-variant-caps: normal; font-weight: 400; letter-spacing: normal; orphans: 2; text-align: left; text-indent: 0px; text-transform: none; white-space: normal; widows: 2; word-spacing: 0px; -webkit-text-stroke-width: 0px; background-color: rgb(255, 255, 255); text-decoration-thickness: initial; text-decoration-style: initial; text-decoration-color: initial; display: inline !important; float: none;'>There are no gender requirements. Teams must field a minimum of 2 players at all times. If at any time a team cannot have 2 players on the field then they must forfeit. Both teams are still able to play a game with as many players as available just for fun!\u003c/span> \u003c/p>","question":"What are the gender requirements?"},{"__typename":"FAQType","answer":"\u003cp>\u003cspan id=\"isPasted\" style='color: rgb(76, 76, 76); font-family: Arial, \"Helvetica Neue\", Helvetica, sans-serif; font-size: 14px; font-style: normal; font-variant-ligatures: normal; font-variant-caps: normal; font-weight: 400; letter-spacing: normal; orphans: 2; text-align: left; text-indent: 0px; text-transform: none; white-space: normal; widows: 2; word-spacing: 0px; -webkit-text-stroke-width: 0px; background-color: rgb(255, 255, 255); text-decoration-thickness: initial; text-decoration-style: initial; text-decoration-color: initial; display: inline !important; float: none;'>Each player can throw 2 balls max each round. The serving team throws the pallino (small ball). The pallino must pass the centerline of the court. If the player fails 2 times, the opposing team throws the pallino. The team that throws the pallino also throws the first bocce ball. The opposing team then throws their first ball and continues to throw until they have a ball closer to the pallino than the starting team. Teams alternate throws, the team furthest from the pallino always playing until they are closer to the pallino or run out of balls.\u003c/span> \u003c/p>","question":"How do you play?"},{"__typename":"FAQType","answer":"","question":""},{"__typename":"FAQType","answer":"","question":""}],"programTypes":[{"__typename":"ProgramTypesType","hide":false,"name":"league","description":{"__typename":"ProgramTypeDescriptionType","isCustom":false,"text":""},"programImage":{"__typename":"ImageType","name":null,"url":null}},{"__typename":"ProgramTypesType","hide":false,"name":"tournament","description":{"__typename":"ProgramTypeDescriptionType","isCustom":false,"text":""},"programImage":{"__typename":"ImageType","name":null,"url":null}},{"__typename":"ProgramTypesType","hide":true,"name":"practice","description":{"__typename":"ProgramTypeDescriptionType","isCustom":false,"text":""},"programImage":{"__typename":"ImageType","name":null,"url":null}},{"__typename":"ProgramTypesType","hide":true,"name":"pickup","description":{"__typename":"ProgramTypeDescriptionType","isCustom":false,"text":""},"programImage":{"__typename":"ImageType","name":null,"url":null}},{"__typename":"ProgramTypesType","hide":false,"name":"dropin","description":{"__typename":"ProgramTypeDescriptionType","isCustom":false,"text":""},"programImage":{"__typename":"ImageType","name":null,"url":null}},{"__typename":"ProgramTypesType","hide":true,"name":"volunteer_event","description":{"__typename":"ProgramTypeDescriptionType","isCustom":false,"text":""},"programImage":{"__typename":"ImageType","name":null,"url":null}},{"__typename":"ProgramTypesType","hide":true,"name":"volunteer_league","description":{"__typename":"ProgramTypeDescriptionType","isCustom":false,"text":""},"programImage":{"__typename":"ImageType","name":null,"url":null}},{"__typename":"ProgramTypesType","hide":true,"name":"class","description":{"__typename":"ProgramTypeDescriptionType","isCustom":false,"text":""},"programImage":{"__typename":"ImageType","name":null,"url":null}},{"__typename":"ProgramTypesType","hide":true,"name":"clinic","description":{"__typename":"ProgramTypeDescriptionType","isCustom":false,"text":""},"programImage":{"__typename":"ImageType","name":null,"url":null}},{"__typename":"ProgramTypesType","hide":true,"name":"series","description":{"__typename":"ProgramTypeDescriptionType","isCustom":false,"text":""},"programImage":{"__typename":"ImageType","name":null,"url":null}}],"competitionLevels":[{"__typename":"CompetitionLevelsType","hidden":true,"level":"Super Social","description":""},{"__typename":"CompetitionLevelsType","hidden":true,"level":"Recreational","description":""},{"__typename":"CompetitionLevelsType","hidden":true,"level":"Intermediate","description":""},{"__typename":"CompetitionLevelsType","hidden":true,"level":"Upper Intermediate","description":""},{"__typename":"CompetitionLevelsType","hidden":true,"level":"Competitive","description":""}],"formats":[{"__typename":"FormatsType","description":"","format":"N/A","formatImage":{"__typename":"ImageType","url":""},"gender":"coed","maxPlayersOnField":{"__typename":"TotalsType","total":10,"male":5,"female":5},"minPlayersPerGame":{"__typename":"TotalsType","total":2,"male":1,"female":1},"minTeamSize":{"__typename":"TotalsType","total":5,"male":3,"female":2}}]},{"__typename":"SportDetails","sportName":"Bowling","hideSport":true,"notes":"\u003cp>Volo San Diego Bowling Leagues are a fun and social time offering players of all levels to have fun and meet up with new friends! All leagues are coed so everyone can get involved and join the fun. You won't want to miss out! Being social is in our DNA and we strive to make it a big part of our leagues. Come out for some Bowling, meet new people, and always have fun! When you play with us, we'll take care of everything! You just need to sign up, show up, and play.\u003c/p>","hero":{"__typename":"HeroType","heroText":"San Diego's Best Bowling Leagues","heroSubText":"","heroImage":{"__typename":"HeroImageType","image":{"__typename":"ImageType","name":"","url":""}},"heroCta":{"__typename":"HeroCtaType","text":"","url":"","newTab":false}},"stylesOfPlay":[{"__typename":"StylesOfPlayType","title":"10 pin","description":"\u003cp>This is traditional bowling with the big three holed balls and big pins. Relive one of Disney's classics Alley Cats Strike and get your team in the game today! Bowling leagues are super social and friendly with a bar on site! Bowling shoe rentals are included in your registration fee.\u003c/p>","image":null}],"faq":[{"__typename":"FAQType","answer":"\u003cp>Each week you will bowl two games\u003c/p>","question":"How many games do we play?"},{"__typename":"FAQType","answer":"\u003cp>Each game you can have a maximum of 8 bowlers bowl. You can switch out bowlers in between games. If you switch out bowlers between games the player must be replacing someone of the same sex.\u003c/p>","question":"How many players can bowl?"},{"__typename":"FAQType","answer":"\u003cp>At the end of the two games we will total each individual (or individuals if there's sub between games) score. The bottom two scores are dropped* and your team score is the accumulation of the top 6 scores. * - At least two scores need to be from men and two scores from women.\u003c/p>","question":"How does scoring work?"},{"__typename":"FAQType","answer":"\u003cp>The only way to guarantee you don't have any free agents and/or small groups added to your roster is to hit the team minimum of 8 players with at least 3 men/women. If you're not going to reach the team minimum and don't want any additional players added you can register as a prepaid team. A prepaid team allows you to have as big or small of team as you want by paying a fixed cost.\u003c/p>","question":"We have a group that is one person short of the team minimum. Can we be our own team without having free agents/small groups added?"},{"__typename":"FAQType","answer":"\u003cp>One of you should register as captain of a new group. Once the captain has completed registration they will get a team link. The captain should send the team link to all players so they register directly to the correct team.\u003c/p>","question":"I want to sign up with a friend(s). How can I guarantee we're on the same team?"},{"__typename":"FAQType","answer":"\u003cp>League info will be sent via email a minimum of 48 hours prior to the first game. When you get the league info email you will be able to login to your app and see all important details including your team name, teammates, and schedule. Free agents are placed on one team to play with for the entire season. We always *try* to put free agents on teams with at least one other free agent or small group.\u003c/p>","question":"I am a free agent, how do I know what team I'm on? Will I be on the same team all season?"}],"programTypes":[{"__typename":"ProgramTypesType","hide":false,"name":"league","description":{"__typename":"ProgramTypeDescriptionType","isCustom":false,"text":""},"programImage":{"__typename":"ImageType","name":null,"url":null}},{"__typename":"ProgramTypesType","hide":false,"name":"tournament","description":{"__typename":"ProgramTypeDescriptionType","isCustom":false,"text":""},"programImage":{"__typename":"ImageType","name":null,"url":null}},{"__typename":"ProgramTypesType","hide":false,"name":"practice","description":{"__typename":"ProgramTypeDescriptionType","isCustom":false,"text":""},"programImage":{"__typename":"ImageType","name":null,"url":null}},{"__typename":"ProgramTypesType","hide":false,"name":"pickup","description":{"__typename":"ProgramTypeDescriptionType","isCustom":false,"text":""},"programImage":{"__typename":"ImageType","name":null,"url":null}},{"__typename":"ProgramTypesType","hide":false,"name":"dropin","description":{"__typename":"ProgramTypeDescriptionType","isCustom":false,"text":""},"programImage":{"__typename":"ImageType","name":null,"url":null}},{"__typename":"ProgramTypesType","hide":false,"name":"volunteer_event","description":{"__typename":"ProgramTypeDescriptionType","isCustom":false,"text":""},"programImage":{"__typename":"ImageType","name":null,"url":null}},{"__typename":"ProgramTypesType","hide":false,"name":"volunteer_league","description":{"__typename":"ProgramTypeDescriptionType","isCustom":false,"text":""},"programImage":{"__typename":"ImageType","name":null,"url":null}},{"__typename":"ProgramTypesType","hide":false,"name":"class","description":{"__typename":"ProgramTypeDescriptionType","isCustom":false,"text":""},"programImage":{"__typename":"ImageType","name":null,"url":null}},{"__typename":"ProgramTypesType","hide":false,"name":"clinic","description":{"__typename":"ProgramTypeDescriptionType","isCustom":false,"text":""},"programImage":{"__typename":"ImageType","name":null,"url":null}},{"__typename":"ProgramTypesType","hide":false,"name":"series","description":{"__typename":"ProgramTypeDescriptionType","isCustom":false,"text":""},"programImage":{"__typename":"ImageType","name":null,"url":null}}],"competitionLevels":[{"__typename":"CompetitionLevelsType","hidden":false,"level":"Super Social","description":""},{"__typename":"CompetitionLevelsType","hidden":false,"level":"Recreational","description":""},{"__typename":"CompetitionLevelsType","hidden":false,"level":"Intermediate","description":""},{"__typename":"CompetitionLevelsType","hidden":false,"level":"Upper Intermediate","description":""},{"__typename":"CompetitionLevelsType","hidden":false,"level":"Competitive","description":""}],"formats":[{"__typename":"FormatsType","description":"","format":"8v8","formatImage":{"__typename":"ImageType","url":""},"gender":"coed","maxPlayersOnField":{"__typename":"TotalsType","total":0,"male":0,"female":0},"minPlayersPerGame":{"__typename":"TotalsType","total":0,"male":0,"female":0},"minTeamSize":{"__typename":"TotalsType","total":0,"male":0,"female":0}}]},{"__typename":"SportDetails","sportName":"Cornhole","hideSport":false,"notes":"\u003cp>Grab a drink, grab a bag, and make some friends with our San Diego Cornhole leagues!\u003c/p>","hero":{"__typename":"HeroType","heroText":"","heroSubText":"","heroImage":{"__typename":"HeroImageType","image":{"__typename":"ImageType","name":"","url":""}},"heroCta":{"__typename":"HeroCtaType","text":"","url":"","newTab":false}},"stylesOfPlay":[],"faq":[],"programTypes":[{"__typename":"ProgramTypesType","hide":false,"name":"league","description":{"__typename":"ProgramTypeDescriptionType","isCustom":false,"text":""},"programImage":{"__typename":"ImageType","name":null,"url":null}},{"__typename":"ProgramTypesType","hide":true,"name":"tournament","description":{"__typename":"ProgramTypeDescriptionType","isCustom":false,"text":""},"programImage":{"__typename":"ImageType","name":null,"url":null}},{"__typename":"ProgramTypesType","hide":true,"name":"practice","description":{"__typename":"ProgramTypeDescriptionType","isCustom":false,"text":""},"programImage":{"__typename":"ImageType","name":null,"url":null}},{"__typename":"ProgramTypesType","hide":true,"name":"pickup","description":{"__typename":"ProgramTypeDescriptionType","isCustom":false,"text":""},"programImage":{"__typename":"ImageType","name":null,"url":null}},{"__typename":"ProgramTypesType","hide":false,"name":"dropin","description":{"__typename":"ProgramTypeDescriptionType","isCustom":false,"text":""},"programImage":{"__typename":"ImageType","name":null,"url":null}},{"__typename":"ProgramTypesType","hide":false,"name":"volunteer_event","description":{"__typename":"ProgramTypeDescriptionType","isCustom":false,"text":""},"programImage":{"__typename":"ImageType","name":null,"url":null}},{"__typename":"ProgramTypesType","hide":false,"name":"volunteer_league","description":{"__typename":"ProgramTypeDescriptionType","isCustom":false,"text":""},"programImage":{"__typename":"ImageType","name":null,"url":null}},{"__typename":"ProgramTypesType","hide":true,"name":"class","description":{"__typename":"ProgramTypeDescriptionType","isCustom":false,"text":""},"programImage":{"__typename":"ImageType","name":null,"url":null}},{"__typename":"ProgramTypesType","hide":true,"name":"clinic","description":{"__typename":"ProgramTypeDescriptionType","isCustom":false,"text":""},"programImage":{"__typename":"ImageType","name":null,"url":null}},{"__typename":"ProgramTypesType","hide":true,"name":"series","description":{"__typename":"ProgramTypeDescriptionType","isCustom":false,"text":""},"programImage":{"__typename":"ImageType","name":null,"url":null}}],"competitionLevels":[{"__typename":"CompetitionLevelsType","hidden":true,"level":"Super Social","description":""},{"__typename":"CompetitionLevelsType","hidden":true,"level":"Recreational","description":""},{"__typename":"CompetitionLevelsType","hidden":true,"level":"Intermediate","description":""},{"__typename":"CompetitionLevelsType","hidden":true,"level":"Upper Intermediate","description":""},{"__typename":"CompetitionLevelsType","hidden":true,"level":"Competitive","description":""}],"formats":[{"__typename":"FormatsType","description":"","format":"N/A","formatImage":{"__typename":"ImageType","url":""},"gender":"open","maxPlayersOnField":{"__typename":"TotalsType","total":6,"male":null,"female":null},"minPlayersPerGame":{"__typename":"TotalsType","total":2,"male":null,"female":null},"minTeamSize":{"__typename":"TotalsType","total":4,"male":null,"female":null}}]},{"__typename":"SportDetails","sportName":"Dodgeball","hideSport":false,"notes":"Grab Life By The Balls! You've seen the movie, but you still can't dodge a wrench… no problem. Join our San Diego Dodgeball league and you'll perfect the thunder bolt, flinger, and boomerang in no time. Dodgeball is for everyone, whether you want to learn how to play dodgeball or just get a good workout! Our dodgeball games are played at centrally located Pacific Beach Recreation Center with post-game happy hour specials just a couple blocks away!","hero":{"__typename":"HeroType","heroText":"San Diego's Best Dodgeball League","heroSubText":"","heroImage":{"__typename":"HeroImageType","image":{"__typename":"ImageType","name":"10.jpg","url":"https://s3.amazonaws.com/rivall-user-uploads/prodUploads/citySportHeroFolder/10.jpg"}},"heroCta":{"__typename":"HeroCtaType","text":"","url":"","newTab":null}},"stylesOfPlay":[],"faq":[],"programTypes":[{"__typename":"ProgramTypesType","hide":false,"name":"league","description":{"__typename":"ProgramTypeDescriptionType","isCustom":false,"text":""},"programImage":{"__typename":"ImageType","name":null,"url":null}},{"__typename":"ProgramTypesType","hide":true,"name":"tournament","description":{"__typename":"ProgramTypeDescriptionType","isCustom":false,"text":""},"programImage":{"__typename":"ImageType","name":null,"url":null}},{"__typename":"ProgramTypesType","hide":true,"name":"practice","description":{"__typename":"ProgramTypeDescriptionType","isCustom":false,"text":""},"programImage":{"__typename":"ImageType","name":null,"url":null}},{"__typename":"ProgramTypesType","hide":true,"name":"pickup","description":{"__typename":"ProgramTypeDescriptionType","isCustom":false,"text":""},"programImage":{"__typename":"ImageType","name":null,"url":null}},{"__typename":"ProgramTypesType","hide":false,"name":"dropin","description":{"__typename":"ProgramTypeDescriptionType","isCustom":false,"text":""},"programImage":{"__typename":"ImageType","name":null,"url":null}},{"__typename":"ProgramTypesType","hide":false,"name":"volunteer_event","description":{"__typename":"ProgramTypeDescriptionType","isCustom":false,"text":""},"programImage":{"__typename":"ImageType","name":null,"url":null}},{"__typename":"ProgramTypesType","hide":false,"name":"volunteer_league","description":{"__typename":"ProgramTypeDescriptionType","isCustom":false,"text":""},"programImage":{"__typename":"ImageType","name":null,"url":null}},{"__typename":"ProgramTypesType","hide":true,"name":"class","description":{"__typename":"ProgramTypeDescriptionType","isCustom":false,"text":""},"programImage":{"__typename":"ImageType","name":null,"url":null}},{"__typename":"ProgramTypesType","hide":true,"name":"clinic","description":{"__typename":"ProgramTypeDescriptionType","isCustom":false,"text":""},"programImage":{"__typename":"ImageType","name":null,"url":null}},{"__typename":"ProgramTypesType","hide":true,"name":"series","description":{"__typename":"ProgramTypeDescriptionType","isCustom":false,"text":""},"programImage":{"__typename":"ImageType","name":null,"url":null}}],"competitionLevels":[{"__typename":"CompetitionLevelsType","hidden":true,"level":"Super Social","description":""},{"__typename":"CompetitionLevelsType","hidden":true,"level":"Recreational","description":""},{"__typename":"CompetitionLevelsType","hidden":true,"level":"Intermediate","description":""},{"__typename":"CompetitionLevelsType","hidden":true,"level":"Upper Intermediate","description":""},{"__typename":"CompetitionLevelsType","hidden":true,"level":"Competitive","description":""}],"formats":[]},{"__typename":"SportDetails","sportName":"Event","hideSport":true,"notes":"\u003cp>Experience some of San Diego's Premier events with Volo! Check out Volo Day at Petco, Del Mar Opening Day, New Years Eve, and More!\u003c/p>","hero":{"__typename":"HeroType","heroText":"Del Mar Opening Day","heroSubText":"\u003cp>Del Mar Opening Day\u003c/p>","heroImage":{"__typename":"HeroImageType","image":{"__typename":"ImageType","name":"Untitled design (35).jpg","url":"https://s3.amazonaws.com/rivall-user-uploads/prodUploads/citySportHeroFolder/Untitled design (35).jpg"}},"heroCta":{"__typename":"HeroCtaType","text":"","url":"","newTab":false}},"stylesOfPlay":[],"faq":[{"__typename":"FAQType","answer":"\u003cp>Some of our events are free for Volo Pass Members. Most have a ticket price but Volo Pass Members do get exclusive discounts!\u003c/p>","question":"Are Volo Events Free?"},{"__typename":"FAQType","answer":"\u003cp>Our events are non refundable.\u003c/p>","question":"Are there refunds?"},{"__typename":"FAQType","answer":"\u003cp>Most of our events are 21+ due to the fact they include some sort of bar or club aspect.\u003c/p>","question":"Are Volo Events 21+?"},{"__typename":"FAQType","answer":"\u003cp>Download the app and follow us on instagram, @volosandiego, to stay up to date.\u003c/p>","question":"How do I find out about new events?"}],"programTypes":[{"__typename":"ProgramTypesType","hide":false,"name":"league","description":{"__typename":"ProgramTypeDescriptionType","isCustom":false,"text":""},"programImage":{"__typename":"ImageType","name":null,"url":null}},{"__typename":"ProgramTypesType","hide":true,"name":"tournament","description":{"__typename":"ProgramTypeDescriptionType","isCustom":false,"text":""},"programImage":{"__typename":"ImageType","name":null,"url":null}},{"__typename":"ProgramTypesType","hide":true,"name":"practice","description":{"__typename":"ProgramTypeDescriptionType","isCustom":false,"text":""},"programImage":{"__typename":"ImageType","name":null,"url":null}},{"__typename":"ProgramTypesType","hide":true,"name":"pickup","description":{"__typename":"ProgramTypeDescriptionType","isCustom":false,"text":""},"programImage":{"__typename":"ImageType","name":null,"url":null}},{"__typename":"ProgramTypesType","hide":true,"name":"dropin","description":{"__typename":"ProgramTypeDescriptionType","isCustom":false,"text":""},"programImage":{"__typename":"ImageType","name":null,"url":null}},{"__typename":"ProgramTypesType","hide":false,"name":"volunteer_event","description":{"__typename":"ProgramTypeDescriptionType","isCustom":false,"text":""},"programImage":{"__typename":"ImageType","name":null,"url":null}},{"__typename":"ProgramTypesType","hide":false,"name":"volunteer_league","description":{"__typename":"ProgramTypeDescriptionType","isCustom":false,"text":""},"programImage":{"__typename":"ImageType","name":null,"url":null}},{"__typename":"ProgramTypesType","hide":true,"name":"class","description":{"__typename":"ProgramTypeDescriptionType","isCustom":false,"text":""},"programImage":{"__typename":"ImageType","name":null,"url":null}},{"__typename":"ProgramTypesType","hide":true,"name":"clinic","description":{"__typename":"ProgramTypeDescriptionType","isCustom":false,"text":""},"programImage":{"__typename":"ImageType","name":null,"url":null}},{"__typename":"ProgramTypesType","hide":true,"name":"series","description":{"__typename":"ProgramTypeDescriptionType","isCustom":false,"text":""},"programImage":{"__typename":"ImageType","name":null,"url":null}}],"competitionLevels":[{"__typename":"CompetitionLevelsType","hidden":false,"level":"Super Social","description":""},{"__typename":"CompetitionLevelsType","hidden":false,"level":"Recreational","description":""},{"__typename":"CompetitionLevelsType","hidden":false,"level":"Intermediate","description":""},{"__typename":"CompetitionLevelsType","hidden":false,"level":"Upper Intermediate","description":""},{"__typename":"CompetitionLevelsType","hidden":false,"level":"Competitive","description":""}],"formats":[{"__typename":"FormatsType","description":"","format":"N/A","formatImage":{"__typename":"ImageType","url":""},"gender":"coed","maxPlayersOnField":{"__typename":"TotalsType","total":0,"male":0,"female":0},"minPlayersPerGame":{"__typename":"TotalsType","total":0,"male":0,"female":0},"minTeamSize":{"__typename":"TotalsType","total":0,"male":0,"female":0}}]},{"__typename":"SportDetails","sportName":"Flag Football","hideSport":false,"notes":"\u003cp>Show us your TD's! We offer both Men's and Coed programs and are a favorite when it comes to San Diego Flag Football leagues. Volo Flag Football leagues are the perfect way to stay active, get your competitive juices flowin', play with friends or meet new ones! See all our upcoming leagues in Kearny Mesa, Mira Mesa, and Pacific Beach.\u003c/p>","hero":{"__typename":"HeroType","heroText":"San Diego's Best Flag Football League","heroSubText":"\u003cp>Coed and Men's Flag Football at premier locations around San Diego!\u003c/p>","heroImage":{"__typename":"HeroImageType","image":{"__typename":"ImageType","name":"KDH09796 Large.jpeg","url":"https://s3.amazonaws.com/rivall-user-uploads/prodUploads/citySportHeroFolder/KDH09796 Large.jpeg"}},"heroCta":{"__typename":"HeroCtaType","text":"","url":"","newTab":null}},"stylesOfPlay":[],"faq":[{"__typename":"FAQType","answer":"\u003cp id=\"isPasted\">Minimum 3 women on the field for 8v8 and at least 4 on the roster\u003c/p>\u003cp>Minimum 2 women on the field for 7v7 and atleast 3 on the roster\u003c/p>","question":"How many women needed in Coed"},{"__typename":"FAQType","answer":"\u003cp>Minimum for 6v6 is 4, 7v7, 5 and 8v8 is 6.\u003c/p>","question":"How many do you need to not forfeit?"},{"__typename":"FAQType","answer":"\u003cp>No, you cannot block. You can screen block: \u003cspan id=\"isPasted\" style=\"font-size:11pt;font-family:Arial;color:#434343;background-color:transparent;font-weight:400;font-style:normal;font-variant:normal;text-decoration:none;vertical-align:baseline;white-space:pre;white-space:pre-wrap;\">Screen Blocking is legally obstructing an opponent without initiating contact with him/her with any part of the screen blocker's body.\u003c/span>\u003c/p>","question":"Can you block?"}],"programTypes":[{"__typename":"ProgramTypesType","hide":false,"name":"league","description":{"__typename":"ProgramTypeDescriptionType","isCustom":false,"text":""},"programImage":{"__typename":"ImageType","name":"Football hero.jpeg","url":"https://s3.amazonaws.com/rivall-user-uploads/prodUploads/programImagesFolder/Football hero.jpeg"}},{"__typename":"ProgramTypesType","hide":true,"name":"tournament","description":{"__typename":"ProgramTypeDescriptionType","isCustom":false,"text":""},"programImage":{"__typename":"ImageType","name":null,"url":null}},{"__typename":"ProgramTypesType","hide":true,"name":"practice","description":{"__typename":"ProgramTypeDescriptionType","isCustom":false,"text":""},"programImage":{"__typename":"ImageType","name":null,"url":null}},{"__typename":"ProgramTypesType","hide":true,"name":"pickup","description":{"__typename":"ProgramTypeDescriptionType","isCustom":false,"text":""},"programImage":{"__typename":"ImageType","name":null,"url":null}},{"__typename":"ProgramTypesType","hide":false,"name":"dropin","description":{"__typename":"ProgramTypeDescriptionType","isCustom":false,"text":""},"programImage":{"__typename":"ImageType","name":null,"url":null}},{"__typename":"ProgramTypesType","hide":true,"name":"volunteer_event","description":{"__typename":"ProgramTypeDescriptionType","isCustom":false,"text":""},"programImage":{"__typename":"ImageType","name":null,"url":null}},{"__typename":"ProgramTypesType","hide":true,"name":"volunteer_league","description":{"__typename":"ProgramTypeDescriptionType","isCustom":false,"text":""},"programImage":{"__typename":"ImageType","name":null,"url":null}},{"__typename":"ProgramTypesType","hide":true,"name":"class","description":{"__typename":"ProgramTypeDescriptionType","isCustom":false,"text":""},"programImage":{"__typename":"ImageType","name":null,"url":null}},{"__typename":"ProgramTypesType","hide":true,"name":"clinic","description":{"__typename":"ProgramTypeDescriptionType","isCustom":false,"text":""},"programImage":{"__typename":"ImageType","name":null,"url":null}},{"__typename":"ProgramTypesType","hide":true,"name":"series","description":{"__typename":"ProgramTypeDescriptionType","isCustom":false,"text":""},"programImage":{"__typename":"ImageType","name":null,"url":null}}],"competitionLevels":[{"__typename":"CompetitionLevelsType","hidden":false,"level":"Super Social","description":""},{"__typename":"CompetitionLevelsType","hidden":false,"level":"Recreational","description":""},{"__typename":"CompetitionLevelsType","hidden":false,"level":"Intermediate","description":""},{"__typename":"CompetitionLevelsType","hidden":false,"level":"Upper Intermediate","description":""},{"__typename":"CompetitionLevelsType","hidden":false,"level":"Competitive","description":""}],"formats":[{"__typename":"FormatsType","description":"\u003cp>Minimum 3 women on the field\u003c/p>\u003cp>Maximum 5 men on the field\u003c/p>\u003cp>1 play to a woman every 4 downs\u003c/p>","format":"8v8","formatImage":{"__typename":"ImageType","url":""},"gender":"coed","maxPlayersOnField":{"__typename":"TotalsType","total":8,"male":4,"female":4},"minPlayersPerGame":{"__typename":"TotalsType","total":7,"male":4,"female":2},"minTeamSize":{"__typename":"TotalsType","total":13,"male":8,"female":5}},{"__typename":"FormatsType","description":"","format":"7v7","formatImage":{"__typename":"ImageType","url":""},"gender":"men","maxPlayersOnField":{"__typename":"TotalsType","total":7,"male":7,"female":0},"minPlayersPerGame":{"__typename":"TotalsType","total":6,"male":5,"female":0},"minTeamSize":{"__typename":"TotalsType","total":10,"male":7,"female":0}},{"__typename":"FormatsType","description":"\u003cp id=\"isPasted\">Minimum 2 women on the field\u003c/p>\u003cp>Maximum 5 men on the field\u003c/p>\u003cp>1 play to a woman every 4 downs\u003c/p>","format":"7v7","formatImage":{"__typename":"ImageType","url":""},"gender":"coed","maxPlayersOnField":{"__typename":"TotalsType","total":12,"male":4,"female":3},"minPlayersPerGame":{"__typename":"TotalsType","total":12,"male":3,"female":2},"minTeamSize":{"__typename":"TotalsType","total":12,"male":4,"female":3}},{"__typename":"FormatsType","description":"","format":"6v6","formatImage":{"__typename":"ImageType","url":""},"gender":"men","maxPlayersOnField":{"__typename":"TotalsType","total":0,"male":6,"female":0},"minPlayersPerGame":{"__typename":"TotalsType","total":0,"male":4,"female":0},"minTeamSize":{"__typename":"TotalsType","total":9,"male":9,"female":0}}]},{"__typename":"SportDetails","sportName":"Golf","hideSport":false,"notes":"\u003cp>Grab your clubs and come play a few rounds with us at The Loma Club in Point Loma!\u003c/p>","hero":{"__typename":"HeroType","heroText":"Golf Leagues in San Diego","heroSubText":"\u003cp>Have a tee-refic time with us at one of the premier locations in San Diego.\u003c/p>","heroImage":{"__typename":"HeroImageType","image":{"__typename":"ImageType","name":"Golf 1.jpg","url":"https://s3.amazonaws.com/rivall-user-uploads/prodUploads/citySportHeroFolder/Golf 1.jpg"}},"heroCta":{"__typename":"HeroCtaType","text":"","url":"","newTab":null}},"stylesOfPlay":[],"faq":[{"__typename":"FAQType","answer":"\u003cp>We have a allotted time that our league run. You can come anytime between that and we will pair you with others.\u003c/p>","question":"How do tee times work?"},{"__typename":"FAQType","answer":"\u003cp>We do not keep score the first 7 weeks. The final week we have one day tournament and crown a champion.\u003c/p>","question":"Do you keep score?"},null,null,{"__typename":"FAQType","answer":"","question":""},{"__typename":"FAQType","answer":"","question":""}],"programTypes":[{"__typename":"ProgramTypesType","hide":false,"name":"league","description":{"__typename":"ProgramTypeDescriptionType","isCustom":false,"text":""},"programImage":{"__typename":"ImageType","name":null,"url":null}},{"__typename":"ProgramTypesType","hide":false,"name":"tournament","description":{"__typename":"ProgramTypeDescriptionType","isCustom":false,"text":""},"programImage":{"__typename":"ImageType","name":null,"url":null}},{"__typename":"ProgramTypesType","hide":true,"name":"practice","description":{"__typename":"ProgramTypeDescriptionType","isCustom":false,"text":""},"programImage":{"__typename":"ImageType","name":null,"url":null}},{"__typename":"ProgramTypesType","hide":true,"name":"pickup","description":{"__typename":"ProgramTypeDescriptionType","isCustom":false,"text":""},"programImage":{"__typename":"ImageType","name":null,"url":null}},{"__typename":"ProgramTypesType","hide":false,"name":"dropin","description":{"__typename":"ProgramTypeDescriptionType","isCustom":false,"text":""},"programImage":{"__typename":"ImageType","name":null,"url":null}},{"__typename":"ProgramTypesType","hide":true,"name":"volunteer_event","description":{"__typename":"ProgramTypeDescriptionType","isCustom":false,"text":""},"programImage":{"__typename":"ImageType","name":null,"url":null}},{"__typename":"ProgramTypesType","hide":true,"name":"volunteer_league","description":{"__typename":"ProgramTypeDescriptionType","isCustom":false,"text":""},"programImage":{"__typename":"ImageType","name":null,"url":null}},{"__typename":"ProgramTypesType","hide":true,"name":"class","description":{"__typename":"ProgramTypeDescriptionType","isCustom":false,"text":""},"programImage":{"__typename":"ImageType","name":null,"url":null}},{"__typename":"ProgramTypesType","hide":true,"name":"clinic","description":{"__typename":"ProgramTypeDescriptionType","isCustom":false,"text":""},"programImage":{"__typename":"ImageType","name":null,"url":null}},{"__typename":"ProgramTypesType","hide":true,"name":"series","description":{"__typename":"ProgramTypeDescriptionType","isCustom":false,"text":""},"programImage":{"__typename":"ImageType","name":null,"url":null}}],"competitionLevels":[{"__typename":"CompetitionLevelsType","hidden":true,"level":"Super Social","description":""},{"__typename":"CompetitionLevelsType","hidden":true,"level":"Recreational","description":""},{"__typename":"CompetitionLevelsType","hidden":true,"level":"Intermediate","description":""},{"__typename":"CompetitionLevelsType","hidden":true,"level":"Upper Intermediate","description":""},{"__typename":"CompetitionLevelsType","hidden":true,"level":"Competitive","description":""}],"formats":[{"__typename":"FormatsType","description":"","format":"2v2","formatImage":{"__typename":"ImageType","url":""},"gender":"coed","maxPlayersOnField":{"__typename":"TotalsType","total":2,"male":1,"female":1},"minPlayersPerGame":{"__typename":"TotalsType","total":2,"male":1,"female":1},"minTeamSize":{"__typename":"TotalsType","total":2,"male":1,"female":1}}]},{"__typename":"SportDetails","sportName":"Happy Hour","hideSport":false,"notes":"\u003cp>Interested in hooping it up? Come out and show San Diego your skills on the court. We offer Men's Basketball Leagues and Coed Adult Basketball Leagues at central locations in La Jolla at Doyle Rec or Nobel Rec, and Downtown at Golden Hill Rec. Games are fast paced & full court.\u003c/p>","hero":{"__typename":"HeroType","heroText":"San Diego's Best Basketball League","heroSubText":"\u003cp>5v5 Men's and Coed Indoor Basketball in popular locations.\u003c/p>","heroImage":{"__typename":"HeroImageType","image":{"__typename":"ImageType","name":"Screen Shot 2023-01-24 at 1.36.59 PM Large.jpeg","url":"https://s3.amazonaws.com/rivall-user-uploads/prodUploads/citySportHeroFolder/Screen Shot 2023-01-24 at 1.36.59 PM Large.jpeg"}},"heroCta":{"__typename":"HeroCtaType","text":"","url":"","newTab":false}},"stylesOfPlay":[],"faq":[{"__typename":"FAQType","answer":"\u003cp>Minimum women on the court is 2. If only 1 is present then team must play a man down with a maximum of 3 menon the court. \u003c/p>","question":"How many women need to be on a coed team?"},{"__typename":"FAQType","answer":"\u003cp>Minimum players needed for a team to not forfeit is 4.\u003c/p>","question":"What is the minimum players to start the game?"},{"__typename":"FAQType","answer":"\u003cp>29.5 Men'sregulation\u003c/p>","question":"What size ball do we use?"},{"__typename":"FAQType","answer":"\u003cp>20 minute halves, running clock.\u003c/p>","question":"How long are the halves?"},{"__typename":"FAQType","answer":"\u003cp>2 timeouts per half. Timeouts do not roll over to second half. 1 time out in overtime.\u003c/p>","question":"How many timeouts do you get?"}],"programTypes":[{"__typename":"ProgramTypesType","hide":false,"name":"league","description":{"__typename":"ProgramTypeDescriptionType","isCustom":false,"text":""},"programImage":{"__typename":"ImageType","name":"Screen Shot 2022-04-20 at 9.15.20 AM.jpeg","url":"https://s3.amazonaws.com/rivall-user-uploads/prodUploads/programImagesFolder/Screen Shot 2022-04-20 at 9.15.20 AM.jpeg"}},{"__typename":"ProgramTypesType","hide":true,"name":"tournament","description":{"__typename":"ProgramTypeDescriptionType","isCustom":false,"text":""},"programImage":{"__typename":"ImageType","name":null,"url":null}},{"__typename":"ProgramTypesType","hide":true,"name":"practice","description":{"__typename":"ProgramTypeDescriptionType","isCustom":false,"text":""},"programImage":{"__typename":"ImageType","name":null,"url":null}},{"__typename":"ProgramTypesType","hide":false,"name":"pickup","description":{"__typename":"ProgramTypeDescriptionType","isCustom":false,"text":""},"programImage":{"__typename":"ImageType","name":"Screen Shot 2023-01-24 at 1.38.32 PM Large.jpeg","url":"https://s3.amazonaws.com/rivall-user-uploads/prodUploads/programImagesFolder/Screen Shot 2023-01-24 at 1.38.32 PM Large.jpeg"}},{"__typename":"ProgramTypesType","hide":false,"name":"dropin","description":{"__typename":"ProgramTypeDescriptionType","isCustom":false,"text":""},"programImage":{"__typename":"ImageType","name":"Screen Shot 2023-01-24 at 1.37.15 PM Large.jpeg","url":"https://s3.amazonaws.com/rivall-user-uploads/prodUploads/programImagesFolder/Screen Shot 2023-01-24 at 1.37.15 PM Large.jpeg"}},{"__typename":"ProgramTypesType","hide":true,"name":"volunteer_event","description":{"__typename":"ProgramTypeDescriptionType","isCustom":false,"text":""},"programImage":{"__typename":"ImageType","name":null,"url":null}},{"__typename":"ProgramTypesType","hide":true,"name":"volunteer_league","description":{"__typename":"ProgramTypeDescriptionType","isCustom":false,"text":""},"programImage":{"__typename":"ImageType","name":null,"url":null}},{"__typename":"ProgramTypesType","hide":true,"name":"class","description":{"__typename":"ProgramTypeDescriptionType","isCustom":false,"text":""},"programImage":{"__typename":"ImageType","name":null,"url":null}},{"__typename":"ProgramTypesType","hide":true,"name":"clinic","description":{"__typename":"ProgramTypeDescriptionType","isCustom":false,"text":""},"programImage":{"__typename":"ImageType","name":null,"url":null}},{"__typename":"ProgramTypesType","hide":true,"name":"series","description":{"__typename":"ProgramTypeDescriptionType","isCustom":false,"text":""},"programImage":{"__typename":"ImageType","name":null,"url":null}}],"competitionLevels":[{"__typename":"CompetitionLevelsType","hidden":true,"level":"Super Social","description":""},{"__typename":"CompetitionLevelsType","hidden":false,"level":"Recreational","description":""},{"__typename":"CompetitionLevelsType","hidden":true,"level":"Intermediate","description":""},{"__typename":"CompetitionLevelsType","hidden":true,"level":"Upper Intermediate","description":""},{"__typename":"CompetitionLevelsType","hidden":false,"level":"Competitive","description":""}],"formats":[{"__typename":"FormatsType","description":"\u003cp>5v5 Coed Basketball\u003c/p>\u003cul id=\"isPasted\" style=\"box-sizing: inherit; background-repeat: no-repeat; background-size: contain; margin: 0px; padding: 0px; margin-block: 0px; margin-inline: 0px; padding-block: 0px; padding-inline: 0px; color: rgb(65, 65, 65); text-rendering: optimizelegibility; font-family: sans-serif; font-size: 14px; font-style: normal; font-variant-ligatures: normal; font-variant-caps: normal; font-weight: 400; letter-spacing: normal; orphans: 2; text-align: left; text-indent: 0px; text-transform: none; white-space: normal; widows: 2; word-spacing: 0px; -webkit-text-stroke-width: 0px; background-color: rgb(255, 255, 255); text-decoration-thickness: initial; text-decoration-style: initial; text-decoration-color: initial;\">\u003cli style=\"box-sizing: inherit; background-repeat: no-repeat; background-size: contain; padding-left: 0px; font-weight: 400;\">\u003cspan style='box-sizing: inherit; background-repeat: no-repeat; background-size: contain; font-family: Arial, \"Helvetica Neue\", Helvetica, sans-serif; margin-bottom: 0px; font-weight: 400;'>2 minimum women to play\u003c/span>\u003c/li>\u003cli style=\"box-sizing: inherit; background-repeat: no-repeat; background-size: contain; padding-left: 0px; font-weight: 400;\">\u003cspan style='box-sizing: inherit; background-repeat: no-repeat; background-size: contain; font-family: Arial, \"Helvetica Neue\", Helvetica, sans-serif; margin-bottom: 0px; font-weight: 400;'>3 men max on the court\u003c/span>\u003c/li>\u003c/ul>","format":"5v5","formatImage":{"__typename":"ImageType","url":""},"gender":"coed","maxPlayersOnField":{"__typename":"TotalsType","total":5,"male":3,"female":2},"minPlayersPerGame":{"__typename":"TotalsType","total":4,"male":2,"female":2},"minTeamSize":{"__typename":"TotalsType","total":8,"male":5,"female":4}},{"__typename":"FormatsType","description":"\u003cp>5v5 Men Basketball\u003c/p>\u003cul id=\"isPasted\" style=\"box-sizing: inherit; background-repeat: no-repeat; background-size: contain; margin: 0px; padding: 0px; margin-block: 0px; margin-inline: 0px; padding-block: 0px; padding-inline: 0px; color: rgb(65, 65, 65); text-rendering: optimizelegibility; font-family: sans-serif; font-size: 14px; font-style: normal; font-variant-ligatures: normal; font-variant-caps: normal; font-weight: 400; letter-spacing: normal; orphans: 2; text-align: left; text-indent: 0px; text-transform: none; white-space: normal; widows: 2; word-spacing: 0px; -webkit-text-stroke-width: 0px; background-color: rgb(255, 255, 255); text-decoration-thickness: initial; text-decoration-style: initial; text-decoration-color: initial;\">\u003cli style=\"box-sizing: inherit; background-repeat: no-repeat; background-size: contain; padding-left: 0px; font-weight: 400;\">\u003cspan style='box-sizing: inherit; background-repeat: no-repeat; background-size: contain; font-family: Arial, \"Helvetica Neue\", Helvetica, sans-serif; margin-bottom: 0px; font-weight: 400;'>4 minimum men to play\u003c/span>\u003c/li>\u003c/ul>","format":"5v5","formatImage":{"__typename":"ImageType","url":""},"gender":"men","maxPlayersOnField":{"__typename":"TotalsType","total":5,"male":5,"female":0},"minPlayersPerGame":{"__typename":"TotalsType","total":4,"male":4,"female":0},"minTeamSize":{"__typename":"TotalsType","total":8,"male":5,"female":0}},{"__typename":"FormatsType","description":"","format":"N/A","formatImage":{"__typename":"ImageType","url":""},"gender":"open","maxPlayersOnField":{"__typename":"TotalsType","total":0,"male":0,"female":0},"minPlayersPerGame":{"__typename":"TotalsType","total":0,"male":0,"female":0},"minTeamSize":{"__typename":"TotalsType","total":0,"male":0,"female":0}}]},{"__typename":"SportDetails","sportName":"Hiking","hideSport":true,"notes":"\u003cp>See San Diego from a new viewpoint with the Volo San Diego Hiking Club!\u003c/p>","hero":{"__typename":"HeroType","heroText":"","heroSubText":"","heroImage":{"__typename":"HeroImageType","image":{"__typename":"ImageType","name":"","url":""}},"heroCta":{"__typename":"HeroCtaType","text":"","url":"","newTab":false}},"stylesOfPlay":[],"faq":[],"programTypes":[{"__typename":"ProgramTypesType","hide":false,"name":"league","description":{"__typename":"ProgramTypeDescriptionType","isCustom":false,"text":""},"programImage":{"__typename":"ImageType","name":null,"url":null}},{"__typename":"ProgramTypesType","hide":true,"name":"tournament","description":{"__typename":"ProgramTypeDescriptionType","isCustom":false,"text":""},"programImage":{"__typename":"ImageType","name":null,"url":null}},{"__typename":"ProgramTypesType","hide":true,"name":"practice","description":{"__typename":"ProgramTypeDescriptionType","isCustom":false,"text":""},"programImage":{"__typename":"ImageType","name":null,"url":null}},{"__typename":"ProgramTypesType","hide":true,"name":"pickup","description":{"__typename":"ProgramTypeDescriptionType","isCustom":false,"text":""},"programImage":{"__typename":"ImageType","name":null,"url":null}},{"__typename":"ProgramTypesType","hide":false,"name":"dropin","description":{"__typename":"ProgramTypeDescriptionType","isCustom":false,"text":""},"programImage":{"__typename":"ImageType","name":null,"url":null}},{"__typename":"ProgramTypesType","hide":false,"name":"volunteer_event","description":{"__typename":"ProgramTypeDescriptionType","isCustom":false,"text":""},"programImage":{"__typename":"ImageType","name":null,"url":null}},{"__typename":"ProgramTypesType","hide":false,"name":"volunteer_league","description":{"__typename":"ProgramTypeDescriptionType","isCustom":false,"text":""},"programImage":{"__typename":"ImageType","name":null,"url":null}},{"__typename":"ProgramTypesType","hide":true,"name":"class","description":{"__typename":"ProgramTypeDescriptionType","isCustom":false,"text":""},"programImage":{"__typename":"ImageType","name":null,"url":null}},{"__typename":"ProgramTypesType","hide":true,"name":"clinic","description":{"__typename":"ProgramTypeDescriptionType","isCustom":false,"text":""},"programImage":{"__typename":"ImageType","name":null,"url":null}},{"__typename":"ProgramTypesType","hide":true,"name":"series","description":{"__typename":"ProgramTypeDescriptionType","isCustom":false,"text":""},"programImage":{"__typename":"ImageType","name":null,"url":null}}],"competitionLevels":[{"__typename":"CompetitionLevelsType","hidden":true,"level":"Super Social","description":""},{"__typename":"CompetitionLevelsType","hidden":true,"level":"Recreational","description":""},{"__typename":"CompetitionLevelsType","hidden":true,"level":"Intermediate","description":""},{"__typename":"CompetitionLevelsType","hidden":true,"level":"Upper Intermediate","description":""},{"__typename":"CompetitionLevelsType","hidden":true,"level":"Competitive","description":""}],"formats":[{"__typename":"FormatsType","description":"","format":"N/A","formatImage":{"__typename":"ImageType","url":""},"gender":"coed","maxPlayersOnField":{"__typename":"TotalsType","total":0,"male":0,"female":0},"minPlayersPerGame":{"__typename":"TotalsType","total":0,"male":0,"female":0},"minTeamSize":{"__typename":"TotalsType","total":0,"male":0,"female":0}}]},{"__typename":"SportDetails","sportName":"Kickball","hideSport":false,"notes":"\u003cp>Volo formerly known as VAVi offers everyone's favorite sport! We have San Diego kickball leagues in Pacific Beach, Ocean Beach, Carmel Valley, La Jolla, North Park, Old Town and Golden Hill! If you're looking for something new and fun, try joining an upcoming kickball league here in town. Have no fear if you haven't played a kickball game since elementary school; our kickball leagues are all about having fun.\u003c/p>","hero":{"__typename":"HeroType","heroText":"San Diego's Best Kickball League","heroSubText":"","heroImage":{"__typename":"HeroImageType","image":{"__typename":"ImageType","name":"2.jpg","url":"https://s3.amazonaws.com/rivall-user-uploads/prodUploads/citySportHeroFolder/2.jpg"}},"heroCta":{"__typename":"HeroCtaType","text":"","url":"","newTab":null}},"stylesOfPlay":[],"faq":[],"programTypes":[{"__typename":"ProgramTypesType","hide":false,"name":"league","description":{"__typename":"ProgramTypeDescriptionType","isCustom":false,"text":""},"programImage":{"__typename":"ImageType","name":null,"url":null}},{"__typename":"ProgramTypesType","hide":false,"name":"tournament","description":{"__typename":"ProgramTypeDescriptionType","isCustom":false,"text":""},"programImage":{"__typename":"ImageType","name":null,"url":null}},{"__typename":"ProgramTypesType","hide":true,"name":"practice","description":{"__typename":"ProgramTypeDescriptionType","isCustom":false,"text":""},"programImage":{"__typename":"ImageType","name":null,"url":null}},{"__typename":"ProgramTypesType","hide":true,"name":"pickup","description":{"__typename":"ProgramTypeDescriptionType","isCustom":false,"text":""},"programImage":{"__typename":"ImageType","name":null,"url":null}},{"__typename":"ProgramTypesType","hide":false,"name":"dropin","description":{"__typename":"ProgramTypeDescriptionType","isCustom":false,"text":""},"programImage":{"__typename":"ImageType","name":null,"url":null}},{"__typename":"ProgramTypesType","hide":false,"name":"volunteer_event","description":{"__typename":"ProgramTypeDescriptionType","isCustom":false,"text":""},"programImage":{"__typename":"ImageType","name":null,"url":null}},{"__typename":"ProgramTypesType","hide":false,"name":"volunteer_league","description":{"__typename":"ProgramTypeDescriptionType","isCustom":false,"text":""},"programImage":{"__typename":"ImageType","name":null,"url":null}},{"__typename":"ProgramTypesType","hide":true,"name":"class","description":{"__typename":"ProgramTypeDescriptionType","isCustom":false,"text":""},"programImage":{"__typename":"ImageType","name":null,"url":null}},{"__typename":"ProgramTypesType","hide":true,"name":"clinic","description":{"__typename":"ProgramTypeDescriptionType","isCustom":false,"text":""},"programImage":{"__typename":"ImageType","name":null,"url":null}},{"__typename":"ProgramTypesType","hide":true,"name":"series","description":{"__typename":"ProgramTypeDescriptionType","isCustom":false,"text":""},"programImage":{"__typename":"ImageType","name":null,"url":null}}],"competitionLevels":[{"__typename":"CompetitionLevelsType","hidden":true,"level":"Super Social","description":""},{"__typename":"CompetitionLevelsType","hidden":true,"level":"Recreational","description":""},{"__typename":"CompetitionLevelsType","hidden":true,"level":"Intermediate","description":""},{"__typename":"CompetitionLevelsType","hidden":true,"level":"Upper Intermediate","description":""},{"__typename":"CompetitionLevelsType","hidden":true,"level":"Competitive","description":""}],"formats":[{"__typename":"FormatsType","description":"","format":"10v10","formatImage":{"__typename":"ImageType","url":""},"gender":"coed","maxPlayersOnField":{"__typename":"TotalsType","total":10,"male":6,"female":null},"minPlayersPerGame":{"__typename":"TotalsType","total":7,"male":2,"female":2},"minTeamSize":{"__typename":"TotalsType","total":14,"male":null,"female":null}},{"__typename":"FormatsType","description":"","format":"11v11","formatImage":{"__typename":"ImageType","url":""},"gender":"coed","maxPlayersOnField":{"__typename":"TotalsType","total":11,"male":7,"female":0},"minPlayersPerGame":{"__typename":"TotalsType","total":8,"male":3,"female":3},"minTeamSize":{"__typename":"TotalsType","total":15,"male":0,"female":0}}]},{"__typename":"SportDetails","sportName":"Mini Golf","hideSport":true,"notes":"\u003cp> Grab a drink and play some Mini Golf at Loma Clubs brand new course. A great chance to meet other free agents in our Free Agent Only Mini Golf League!\u003c/p>","hero":{"__typename":"HeroType","heroText":"","heroSubText":"\u003cp>It's like Golf, but Mini!\u003c/p>","heroImage":{"__typename":"HeroImageType","image":{"__typename":"ImageType","name":"mini golf 3.jpg","url":"https://s3.amazonaws.com/rivall-user-uploads/prodUploads/citySportHeroFolder/mini golf 3.jpg"}},"heroCta":{"__typename":"HeroCtaType","text":"","url":"","newTab":false}},"stylesOfPlay":[],"faq":[],"programTypes":[{"__typename":"ProgramTypesType","hide":false,"name":"league","description":{"__typename":"ProgramTypeDescriptionType","isCustom":false,"text":""},"programImage":{"__typename":"ImageType","name":null,"url":null}},{"__typename":"ProgramTypesType","hide":false,"name":"tournament","description":{"__typename":"ProgramTypeDescriptionType","isCustom":false,"text":""},"programImage":{"__typename":"ImageType","name":null,"url":null}},{"__typename":"ProgramTypesType","hide":true,"name":"practice","description":{"__typename":"ProgramTypeDescriptionType","isCustom":false,"text":""},"programImage":{"__typename":"ImageType","name":null,"url":null}},{"__typename":"ProgramTypesType","hide":true,"name":"pickup","description":{"__typename":"ProgramTypeDescriptionType","isCustom":false,"text":""},"programImage":{"__typename":"ImageType","name":null,"url":null}},{"__typename":"ProgramTypesType","hide":false,"name":"dropin","description":{"__typename":"ProgramTypeDescriptionType","isCustom":false,"text":""},"programImage":{"__typename":"ImageType","name":null,"url":null}},{"__typename":"ProgramTypesType","hide":true,"name":"volunteer_event","description":{"__typename":"ProgramTypeDescriptionType","isCustom":false,"text":""},"programImage":{"__typename":"ImageType","name":null,"url":null}},{"__typename":"ProgramTypesType","hide":true,"name":"volunteer_league","description":{"__typename":"ProgramTypeDescriptionType","isCustom":false,"text":""},"programImage":{"__typename":"ImageType","name":null,"url":null}},{"__typename":"ProgramTypesType","hide":true,"name":"class","description":{"__typename":"ProgramTypeDescriptionType","isCustom":false,"text":""},"programImage":{"__typename":"ImageType","name":null,"url":null}},{"__typename":"ProgramTypesType","hide":true,"name":"clinic","description":{"__typename":"ProgramTypeDescriptionType","isCustom":false,"text":""},"programImage":{"__typename":"ImageType","name":null,"url":null}},{"__typename":"ProgramTypesType","hide":true,"name":"series","description":{"__typename":"ProgramTypeDescriptionType","isCustom":false,"text":""},"programImage":{"__typename":"ImageType","name":null,"url":null}}],"competitionLevels":[{"__typename":"CompetitionLevelsType","hidden":true,"level":"Super Social","description":""},{"__typename":"CompetitionLevelsType","hidden":true,"level":"Recreational","description":""},{"__typename":"CompetitionLevelsType","hidden":true,"level":"Intermediate","description":""},{"__typename":"CompetitionLevelsType","hidden":true,"level":"Upper Intermediate","description":""},{"__typename":"CompetitionLevelsType","hidden":true,"level":"Competitive","description":""}],"formats":[{"__typename":"FormatsType","description":"","format":"N/A","formatImage":{"__typename":"ImageType","url":""},"gender":"coed","maxPlayersOnField":{"__typename":"TotalsType","total":0,"male":0,"female":0},"minPlayersPerGame":{"__typename":"TotalsType","total":0,"male":0,"female":0},"minTeamSize":{"__typename":"TotalsType","total":0,"male":0,"female":0}}]},{"__typename":"SportDetails","sportName":"Pickleball","hideSport":false,"notes":"\u003cp>We are bringing the world's fastest growing game all across the city! Whether you're a competitive player, want to play for fun, or picking up the game for the first time we have a league for you! We currently have pickleball venues in North Park, Ocean Beach, Missi!\u003c/p>","hero":{"__typename":"HeroType","heroText":"San Diego's Best Pickleball Leagues","heroSubText":"\u003cp id=\"isPasted\">Pickleball has been named the fastest growing sport in America! But why is it so popular? Well, we think it's because \u003cstrong>anyone can play, it's a good workout & its fun! \u003c/strong>\u003c/p>\u003cp>\u003cstrong>\u003cbr>\u003c/strong>\u003c/p>\u003cp style=\"text-align: center;\">\u003cstrong>SIGN UP HERE\u003c/strong>\u003c/p>","heroImage":{"__typename":"HeroImageType","image":{"__typename":"ImageType","name":"Copy of Untitled Design.png","url":"https://s3.amazonaws.com/rivall-user-uploads/prodUploads/citySportHeroFolder/Copy of Untitled Design.png"}},"heroCta":{"__typename":"HeroCtaType","text":"","url":"","newTab":false}},"stylesOfPlay":[{"__typename":"StylesOfPlayType","title":"Traditional","description":"\u003cp>Our traditional 2v2 leagues have both recreational and competitive divisions so there are divisions for all players and skillsets. Team minimums in all traditional leagues is 3 so that in case one of your teammates can't attend a game you still have a partner to play with! There are no gender requirements.\u003c/p>","image":null},{"__typename":"StylesOfPlayType","title":"Party Pickleball","description":"\u003cp id=\"isPasted\">We created a new format for players picking up the game for the first time, or who are looking for a very casual/friednly playing format. We appropriately call this format "Party Pickleball." \u003c/p>\u003cp>\u003cbr>\u003c/p>\u003cp>In Party Pickleball players serve 5 consecutive times before rotating to help improve their skills. The team minimum for Party Pickleball is 4 players. There are no gender minimums.\u003c/p>","image":null}],"faq":[],"programTypes":[{"__typename":"ProgramTypesType","hide":false,"name":"league","description":{"__typename":"ProgramTypeDescriptionType","isCustom":false,"text":""},"programImage":{"__typename":"ImageType","name":null,"url":null}},{"__typename":"ProgramTypesType","hide":false,"name":"tournament","description":{"__typename":"ProgramTypeDescriptionType","isCustom":false,"text":""},"programImage":{"__typename":"ImageType","name":null,"url":null}},{"__typename":"ProgramTypesType","hide":true,"name":"practice","description":{"__typename":"ProgramTypeDescriptionType","isCustom":false,"text":""},"programImage":{"__typename":"ImageType","name":null,"url":null}},{"__typename":"ProgramTypesType","hide":false,"name":"pickup","description":{"__typename":"ProgramTypeDescriptionType","isCustom":false,"text":""},"programImage":{"__typename":"ImageType","name":null,"url":null}},{"__typename":"ProgramTypesType","hide":false,"name":"dropin","description":{"__typename":"ProgramTypeDescriptionType","isCustom":false,"text":""},"programImage":{"__typename":"ImageType","name":null,"url":null}},{"__typename":"ProgramTypesType","hide":true,"name":"volunteer_event","description":{"__typename":"ProgramTypeDescriptionType","isCustom":false,"text":""},"programImage":{"__typename":"ImageType","name":null,"url":null}},{"__typename":"ProgramTypesType","hide":true,"name":"volunteer_league","description":{"__typename":"ProgramTypeDescriptionType","isCustom":false,"text":""},"programImage":{"__typename":"ImageType","name":null,"url":null}},{"__typename":"ProgramTypesType","hide":false,"name":"class","description":{"__typename":"ProgramTypeDescriptionType","isCustom":false,"text":""},"programImage":{"__typename":"ImageType","name":null,"url":null}},{"__typename":"ProgramTypesType","hide":false,"name":"clinic","description":{"__typename":"ProgramTypeDescriptionType","isCustom":false,"text":""},"programImage":{"__typename":"ImageType","name":null,"url":null}},{"__typename":"ProgramTypesType","hide":true,"name":"series","description":{"__typename":"ProgramTypeDescriptionType","isCustom":false,"text":""},"programImage":{"__typename":"ImageType","name":null,"url":null}}],"competitionLevels":[{"__typename":"CompetitionLevelsType","hidden":true,"level":"Super Social","description":"\u003cp>Pickleball is taking over and some players may want to try it out without the worry of playing expereinced or copmeptitive players. If this is you then our social pickleball league is for you. Teams are bigger and with a rotating serve rule there is more opportunity to be involved and learn the game as you play real games. If you are a competitive or experienced player then this league is not for you.\u003c/p>"},{"__typename":"CompetitionLevelsType","hidden":true,"level":"Recreational","description":""},{"__typename":"CompetitionLevelsType","hidden":true,"level":"Intermediate","description":""},{"__typename":"CompetitionLevelsType","hidden":true,"level":"Upper Intermediate","description":""},{"__typename":"CompetitionLevelsType","hidden":true,"level":"Competitive","description":""}],"formats":[{"__typename":"FormatsType","description":"2v2","format":"2v2","formatImage":{"__typename":"ImageType","url":""},"gender":"open","maxPlayersOnField":{"__typename":"TotalsType","total":2,"male":-3,"female":1},"minPlayersPerGame":{"__typename":"TotalsType","total":2,"male":1,"female":1},"minTeamSize":{"__typename":"TotalsType","total":5,"male":2,"female":2}},{"__typename":"FormatsType","description":"","format":"N/A","formatImage":{"__typename":"ImageType","url":""},"gender":"open","maxPlayersOnField":{"__typename":"TotalsType","total":-1,"male":0,"female":0},"minPlayersPerGame":{"__typename":"TotalsType","total":2,"male":0,"female":0},"minTeamSize":{"__typename":"TotalsType","total":4,"male":0,"female":0}}]},{"__typename":"SportDetails","sportName":"Soccer","hideSport":false,"notes":"\u003cp>Volo offers Coed and Men's Adult Soccer leagues year-round! If you're looking to get more touches in a 7v7, we have you covered. We play our leagues at top of the line turf and grass fields at convenient locations in Downtown, Pacific Beach, Clairemont and more.\u003c/p>","hero":{"__typename":"HeroType","heroText":"San Diego's Best Soccer League","heroSubText":"\u003cp>Turf weekday leagues all around the city with Social and Competitive Coed and Men's leagues and Pick-ups!\u003c/p>","heroImage":{"__typename":"HeroImageType","image":{"__typename":"ImageType","name":"Screenshot 2022-12-12 at 1.39.38 PM.jpeg","url":"https://s3.amazonaws.com/rivall-user-uploads/prodUploads/citySportHeroFolder/Screenshot 2022-12-12 at 1.39.38 PM.jpeg"}},"heroCta":{"__typename":"HeroCtaType","text":"","url":"","newTab":null}},"stylesOfPlay":[{"__typename":"StylesOfPlayType","title":"Quickie 4 week Season","description":"\u003cp>Quickie Soccer, 4 week season with 2 guaranteed playoff games for 6 weeks total.\u003c/p>","image":null},{"__typename":"StylesOfPlayType","title":"Regular 7 week Season","description":"\u003cp>7 week season with 1 playoff week for top 4 teams.\u003c/p>","image":null}],"faq":[{"__typename":"FAQType","answer":"\u003cp>Minimum of 3 women needed on roster and minimum of 2 on the field to field a full team\u003c/p>","question":"How many women needed on a coed team?"},{"__typename":"FAQType","answer":"\u003cp>5 touches max. Deflection resets count.\u003c/p>","question":"How many touches do men get in a coed team?"},{"__typename":"FAQType","answer":"\u003cp>No sliding, sliding will result in yecard\u003c/p>","question":"Can you slide?"},{"__typename":"FAQType","answer":"\u003cp>No offsides will be called. \u003c/p>","question":"Is there offsides?"},{"__typename":"FAQType","answer":"\u003cp>25 minute halves.\u003c/p>","question":"How long are the halves?"}],"programTypes":[{"__typename":"ProgramTypesType","hide":false,"name":"league","description":{"__typename":"ProgramTypeDescriptionType","isCustom":false,"text":""},"programImage":{"__typename":"ImageType","name":"Screenshot 2022-12-12 at 11.22.22 AM.jpeg","url":"https://s3.amazonaws.com/rivall-user-uploads/prodUploads/programImagesFolder/Screenshot 2022-12-12 at 11.22.22 AM.jpeg"}},{"__typename":"ProgramTypesType","hide":false,"name":"tournament","description":{"__typename":"ProgramTypeDescriptionType","isCustom":false,"text":""},"programImage":{"__typename":"ImageType","name":null,"url":null}},{"__typename":"ProgramTypesType","hide":true,"name":"practice","description":{"__typename":"ProgramTypeDescriptionType","isCustom":false,"text":""},"programImage":{"__typename":"ImageType","name":null,"url":null}},{"__typename":"ProgramTypesType","hide":false,"name":"pickup","description":{"__typename":"ProgramTypeDescriptionType","isCustom":false,"text":""},"programImage":{"__typename":"ImageType","name":null,"url":null}},{"__typename":"ProgramTypesType","hide":false,"name":"dropin","description":{"__typename":"ProgramTypeDescriptionType","isCustom":false,"text":""},"programImage":{"__typename":"ImageType","name":null,"url":null}},{"__typename":"ProgramTypesType","hide":true,"name":"volunteer_event","description":{"__typename":"ProgramTypeDescriptionType","isCustom":false,"text":""},"programImage":{"__typename":"ImageType","name":null,"url":null}},{"__typename":"ProgramTypesType","hide":true,"name":"volunteer_league","description":{"__typename":"ProgramTypeDescriptionType","isCustom":false,"text":""},"programImage":{"__typename":"ImageType","name":null,"url":null}},{"__typename":"ProgramTypesType","hide":true,"name":"class","description":{"__typename":"ProgramTypeDescriptionType","isCustom":false,"text":""},"programImage":{"__typename":"ImageType","name":null,"url":null}},{"__typename":"ProgramTypesType","hide":true,"name":"clinic","description":{"__typename":"ProgramTypeDescriptionType","isCustom":false,"text":""},"programImage":{"__typename":"ImageType","name":null,"url":null}},{"__typename":"ProgramTypesType","hide":true,"name":"series","description":{"__typename":"ProgramTypeDescriptionType","isCustom":false,"text":""},"programImage":{"__typename":"ImageType","name":null,"url":null}}],"competitionLevels":[{"__typename":"CompetitionLevelsType","hidden":false,"level":"Super Social","description":""},{"__typename":"CompetitionLevelsType","hidden":false,"level":"Recreational","description":""},{"__typename":"CompetitionLevelsType","hidden":true,"level":"Intermediate","description":""},{"__typename":"CompetitionLevelsType","hidden":true,"level":"Upper Intermediate","description":""},{"__typename":"CompetitionLevelsType","hidden":false,"level":"Competitive","description":""}],"formats":[{"__typename":"FormatsType","description":"\u003cp>Minimum 2 women to field a full team, max of either gender is 5 on the field. 5 touches max for males.\u003c/p>","format":"7v7","formatImage":{"__typename":"ImageType","url":""},"gender":"coed","maxPlayersOnField":{"__typename":"TotalsType","total":7,"male":5,"female":5},"minPlayersPerGame":{"__typename":"TotalsType","total":5,"male":4,"female":1},"minTeamSize":{"__typename":"TotalsType","total":12,"male":7,"female":5}},{"__typename":"FormatsType","description":"\u003cp>No 5 touch rule.\u003c/p>","format":"7v7","formatImage":{"__typename":"ImageType","url":""},"gender":"men","maxPlayersOnField":{"__typename":"TotalsType","total":7,"male":7,"female":0},"minPlayersPerGame":{"__typename":"TotalsType","total":7,"male":5,"female":0},"minTeamSize":{"__typename":"TotalsType","total":10,"male":10,"female":0}},{"__typename":"FormatsType","description":"\u003cp>No 5 touch rule.\u003c/p>","format":"6v6","formatImage":{"__typename":"ImageType","url":""},"gender":"women","maxPlayersOnField":{"__typename":"TotalsType","total":7,"male":0,"female":7},"minPlayersPerGame":{"__typename":"TotalsType","total":5,"male":0,"female":5},"minTeamSize":{"__typename":"TotalsType","total":10,"male":0,"female":10}},{"__typename":"FormatsType","description":"","format":"8v8","formatImage":{"__typename":"ImageType","url":""},"gender":"coed","maxPlayersOnField":{"__typename":"TotalsType","total":8,"male":6,"female":2},"minPlayersPerGame":{"__typename":"TotalsType","total":6,"male":5,"female":1},"minTeamSize":{"__typename":"TotalsType","total":12,"male":6,"female":2}}]},{"__typename":"SportDetails","sportName":"Softball","hideSport":false,"notes":"\u003cp id=\"isPasted\" style='box-sizing: inherit; background-repeat: no-repeat; background-size: contain; margin: 0px; padding: 0px; margin-block: 0px; margin-inline: 0px; padding-block: 0px; padding-inline: 0px; color: rgb(65, 65, 65); text-rendering: optimizelegibility; font-family: Arial, \"Helvetica Neue\", Helvetica, sans-serif; font-size: 14px; font-style: normal; font-variant-ligatures: normal; font-variant-caps: normal; font-weight: 400; letter-spacing: normal; orphans: 2; text-align: left; text-indent: 0px; text-transform: none; white-space: normal; widows: 2; word-spacing: 0px; -webkit-text-stroke-width: 0px; background-color: rgb(255, 255, 255); text-decoration-thickness: initial; text-decoration-style: initial; text-decoration-color: initial;'>Get active with Volo San Diego, San Diego's premier social sport leagues. Come play with friends and meet new ones in our Coed Softball Leagues!\u003c/p>\u003cp style='box-sizing: inherit; background-repeat: no-repeat; background-size: contain; margin: 0px; padding: 0px; margin-block: 0px; margin-inline: 0px; padding-block: 0px; padding-inline: 0px; color: rgb(65, 65, 65); text-rendering: optimizelegibility; font-family: Arial, \"Helvetica Neue\", Helvetica, sans-serif; font-size: 14px; font-style: normal; font-variant-ligatures: normal; font-variant-caps: normal; font-weight: 400; letter-spacing: normal; orphans: 2; text-align: left; text-indent: 0px; text-transform: none; white-space: normal; widows: 2; word-spacing: 0px; -webkit-text-stroke-width: 0px; background-color: rgb(255, 255, 255); text-decoration-thickness: initial; text-decoration-style: initial; text-decoration-color: initial;'> • Coed 3-Pitch Slow-Pitch Softball\u003c/p>\u003cp style='box-sizing: inherit; background-repeat: no-repeat; background-size: contain; margin: 0px; padding: 0px; margin-block: 0px; margin-inline: 0px; padding-block: 0px; padding-inline: 0px; color: rgb(65, 65, 65); text-rendering: optimizelegibility; font-family: Arial, \"Helvetica Neue\", Helvetica, sans-serif; font-size: 14px; font-style: normal; font-variant-ligatures: normal; font-variant-caps: normal; font-weight: 400; letter-spacing: normal; orphans: 2; text-align: left; text-indent: 0px; text-transform: none; white-space: normal; widows: 2; word-spacing: 0px; -webkit-text-stroke-width: 0px; background-color: rgb(255, 255, 255); text-decoration-thickness: initial; text-decoration-style: initial; text-decoration-color: initial;'> • 9v9 Coed League - Pitch to Your Own Team \u003c/p>\u003cp style='box-sizing: inherit; background-repeat: no-repeat; background-size: contain; margin: 0px; padding: 0px; margin-block: 0px; margin-inline: 0px; padding-block: 0px; padding-inline: 0px; color: rgb(65, 65, 65); text-rendering: optimizelegibility; font-family: Arial, \"Helvetica Neue\", Helvetica, sans-serif; font-size: 14px; font-style: normal; font-variant-ligatures: normal; font-variant-caps: normal; font-weight: 400; letter-spacing: normal; orphans: 2; text-align: left; text-indent: 0px; text-transform: none; white-space: normal; widows: 2; word-spacing: 0px; -webkit-text-stroke-width: 0px; background-color: rgb(255, 255, 255); text-decoration-thickness: initial; text-decoration-style: initial; text-decoration-color: initial;'>• 7 Regular Season Weeks \u003c/p>\u003cp style='box-sizing: inherit; background-repeat: no-repeat; background-size: contain; margin: 0px; padding: 0px; margin-block: 0px; margin-inline: 0px; padding-block: 0px; padding-inline: 0px; color: rgb(65, 65, 65); text-rendering: optimizelegibility; font-family: Arial, \"Helvetica Neue\", Helvetica, sans-serif; font-size: 14px; font-style: normal; font-variant-ligatures: normal; font-variant-caps: normal; font-weight: 400; letter-spacing: normal; orphans: 2; text-align: left; text-indent: 0px; text-transform: none; white-space: normal; widows: 2; word-spacing: 0px; -webkit-text-stroke-width: 0px; background-color: rgb(255, 255, 255); text-decoration-thickness: initial; text-decoration-style: initial; text-decoration-color: initial;'>• 1 Week of Playoffs for Top Qualifying Teams \u003c/p>\u003cp style='box-sizing: inherit; background-repeat: no-repeat; background-size: contain; margin: 0px; padding: 0px; margin-block: 0px; margin-inline: 0px; padding-block: 0px; padding-inline: 0px; color: rgb(65, 65, 65); text-rendering: optimizelegibility; font-family: Arial, \"Helvetica Neue\", Helvetica, sans-serif; font-size: 14px; font-style: normal; font-variant-ligatures: normal; font-variant-caps: normal; font-weight: 400; letter-spacing: normal; orphans: 2; text-align: left; text-indent: 0px; text-transform: none; white-space: normal; widows: 2; word-spacing: 0px; -webkit-text-stroke-width: 0px; background-color: rgb(255, 255, 255); text-decoration-thickness: initial; text-decoration-style: initial; text-decoration-color: initial;'>• Champion Trophy \u003c/p>\u003cp style='box-sizing: inherit; background-repeat: no-repeat; background-size: contain; margin: 0px; padding: 0px; margin-block: 0px; margin-inline: 0px; padding-block: 0px; padding-inline: 0px; color: rgb(65, 65, 65); text-rendering: optimizelegibility; font-family: Arial, \"Helvetica Neue\", Helvetica, sans-serif; font-size: 14px; font-style: normal; font-variant-ligatures: normal; font-variant-caps: normal; font-weight: 400; letter-spacing: normal; orphans: 2; text-align: left; text-indent: 0px; text-transform: none; white-space: normal; widows: 2; word-spacing: 0px; -webkit-text-stroke-width: 0px; background-color: rgb(255, 255, 255); text-decoration-thickness: initial; text-decoration-style: initial; text-decoration-color: initial;'>• Team Shirts \u003c/p>\u003cp style='box-sizing: inherit; background-repeat: no-repeat; background-size: contain; margin: 0px; padding: 0px; margin-block: 0px; margin-inline: 0px; padding-block: 0px; padding-inline: 0px; color: rgb(65, 65, 65); text-rendering: optimizelegibility; font-family: Arial, \"Helvetica Neue\", Helvetica, sans-serif; font-size: 14px; font-style: normal; font-variant-ligatures: normal; font-variant-caps: normal; font-weight: 400; letter-spacing: normal; orphans: 2; text-align: left; text-indent: 0px; text-transform: none; white-space: normal; widows: 2; word-spacing: 0px; -webkit-text-stroke-width: 0px; background-color: rgb(255, 255, 255); text-decoration-thickness: initial; text-decoration-style: initial; text-decoration-color: initial;'>• Pre Paid Teams - Unlimited Roster (Must meet gender minimums) \u003c/p>\u003cp style='box-sizing: inherit; background-repeat: no-repeat; background-size: contain; margin: 0px; padding: 0px; margin-block: 0px; margin-inline: 0px; padding-block: 0px; padding-inline: 0px; color: rgb(65, 65, 65); text-rendering: optimizelegibility; font-family: Arial, \"Helvetica Neue\", Helvetica, sans-serif; font-size: 14px; font-style: normal; font-variant-ligatures: normal; font-variant-caps: normal; font-weight: 400; letter-spacing: normal; orphans: 2; text-align: left; text-indent: 0px; text-transform: none; white-space: normal; widows: 2; word-spacing: 0px; -webkit-text-stroke-width: 0px; background-color: rgb(255, 255, 255); text-decoration-thickness: initial; text-decoration-style: initial; text-decoration-color: initial;'>• Groups - Roster locked at 13 with minimum gender \u003c/p>\u003cp style='box-sizing: inherit; background-repeat: no-repeat; background-size: contain; margin: 0px; padding: 0px; margin-block: 0px; margin-inline: 0px; padding-block: 0px; padding-inline: 0px; color: rgb(65, 65, 65); text-rendering: optimizelegibility; font-family: Arial, \"Helvetica Neue\", Helvetica, sans-serif; font-size: 14px; font-style: normal; font-variant-ligatures: normal; font-variant-caps: normal; font-weight: 400; letter-spacing: normal; orphans: 2; text-align: left; text-indent: 0px; text-transform: none; white-space: normal; widows: 2; word-spacing: 0px; -webkit-text-stroke-width: 0px; background-color: rgb(255, 255, 255); text-decoration-thickness: initial; text-decoration-style: initial; text-decoration-color: initial;'>• Free Agents - Placement on a first come first serve basis depending on availability \u003c/p>\u003cp style='box-sizing: inherit; background-repeat: no-repeat; background-size: contain; margin: 0px; padding: 0px; margin-block: 0px; margin-inline: 0px; padding-block: 0px; padding-inline: 0px; color: rgb(65, 65, 65); text-rendering: optimizelegibility; font-family: Arial, \"Helvetica Neue\", Helvetica, sans-serif; font-size: 14px; font-style: normal; font-variant-ligatures: normal; font-variant-caps: normal; font-weight: 400; letter-spacing: normal; orphans: 2; text-align: left; text-indent: 0px; text-transform: none; white-space: normal; widows: 2; word-spacing: 0px; -webkit-text-stroke-width: 0px; background-color: rgb(255, 255, 255); text-decoration-thickness: initial; text-decoration-style: initial; text-decoration-color: initial;'>• 6 men max, 9 max total on the field \u003c/p>\u003cp style='box-sizing: inherit; background-repeat: no-repeat; background-size: contain; margin: 0px; padding: 0px; margin-block: 0px; margin-inline: 0px; padding-block: 0px; padding-inline: 0px; color: rgb(65, 65, 65); text-rendering: optimizelegibility; font-family: Arial, \"Helvetica Neue\", Helvetica, sans-serif; font-size: 14px; font-style: normal; font-variant-ligatures: normal; font-variant-caps: normal; font-weight: 400; letter-spacing: normal; orphans: 2; text-align: left; text-indent: 0px; text-transform: none; white-space: normal; widows: 2; word-spacing: 0px; -webkit-text-stroke-width: 0px; background-color: rgb(255, 255, 255); text-decoration-thickness: initial; text-decoration-style: initial; text-decoration-color: initial;'>• At least 8 players required to start game \u003c/p>\u003cp style='box-sizing: inherit; background-repeat: no-repeat; background-size: contain; margin: 0px; padding: 0px; margin-block: 0px; margin-inline: 0px; padding-block: 0px; padding-inline: 0px; color: rgb(65, 65, 65); text-rendering: optimizelegibility; font-family: Arial, \"Helvetica Neue\", Helvetica, sans-serif; font-size: 14px; font-style: normal; font-variant-ligatures: normal; font-variant-caps: normal; font-weight: 400; letter-spacing: normal; orphans: 2; text-align: left; text-indent: 0px; text-transform: none; white-space: normal; widows: 2; word-spacing: 0px; -webkit-text-stroke-width: 0px; background-color: rgb(255, 255, 255); text-decoration-thickness: initial; text-decoration-style: initial; text-decoration-color: initial;'>• Players must play in the field to bat. \u003c/p>\u003cp style='box-sizing: inherit; background-repeat: no-repeat; background-size: contain; margin: 0px; padding: 0px; margin-block: 0px; margin-inline: 0px; padding-block: 0px; padding-inline: 0px; color: rgb(65, 65, 65); text-rendering: optimizelegibility; font-family: Arial, \"Helvetica Neue\", Helvetica, sans-serif; font-size: 14px; font-style: normal; font-variant-ligatures: normal; font-variant-caps: normal; font-weight: 400; letter-spacing: normal; orphans: 2; text-align: left; text-indent: 0px; text-transform: none; white-space: normal; widows: 2; word-spacing: 0px; -webkit-text-stroke-width: 0px; background-color: rgb(255, 255, 255); text-decoration-thickness: initial; text-decoration-style: initial; text-decoration-color: initial;'>• Gloves and bat are not provided. Please bring your own.\u003c/p>","hero":{"__typename":"HeroType","heroText":"San Diego's Best Softball League","heroSubText":"\u003cp>Come play in San Diego's most social Softball leagues!\u003c/p>","heroImage":{"__typename":"HeroImageType","image":{"__typename":"ImageType","name":"Softball3.png","url":"https://s3.amazonaws.com/rivall-user-uploads/prodUploads/citySportHeroFolder/Softball3.png"}},"heroCta":{"__typename":"HeroCtaType","text":"","url":"","newTab":null}},"stylesOfPlay":[],"faq":[{"__typename":"FAQType","answer":"\u003cp>\u003cspan id=\"isPasted\" style='color: rgb(76, 76, 76); font-family: Arial, \"Helvetica Neue\", Helvetica, sans-serif; font-size: 14px; font-style: normal; font-variant-ligatures: normal; font-variant-caps: normal; font-weight: 400; letter-spacing: normal; orphans: 2; text-align: left; text-indent: 0px; text-transform: none; white-space: normal; widows: 2; word-spacing: 0px; -webkit-text-stroke-width: 0px; background-color: rgb(255, 255, 255); text-decoration-thickness: initial; text-decoration-style: initial; text-decoration-color: initial; display: inline !important; float: none;'>Games are seven innings or 50 minutes. Innings started before the time limit will be finished. Starting a final inning is up to the discretion of the umpire. Games called after 5 innings is considered a completed game.\u003c/span> \u003c/p>","question":"How long are games?"},{"__typename":"FAQType","answer":"\u003cp>\u003cspan id=\"isPasted\" style='color: rgb(76, 76, 76); font-family: Arial, \"Helvetica Neue\", Helvetica, sans-serif; font-size: 14px; font-style: normal; font-variant-ligatures: normal; font-variant-caps: normal; font-weight: 400; letter-spacing: normal; orphans: 2; text-align: left; text-indent: 0px; text-transform: none; white-space: normal; widows: 2; word-spacing: 0px; -webkit-text-stroke-width: 0px; background-color: rgb(255, 255, 255); text-decoration-thickness: initial; text-decoration-style: initial; text-decoration-color: initial; display: inline !important; float: none;'>If you do not have a full team ready to play at start time you may play with a minimum of 8 players (minimum of 3 women, or 3 men). If you do not have at least the minimum you must forfeit. You may split up the players on both teams there and play for fun. This is subject to change if team captains and umpire agree to an alternate plan\u003c/span>\u003c/p>","question":"How many players do you need to play?"},{"__typename":"FAQType","answer":"\u003cp>\u003cspan id=\"isPasted\" style=\"color: rgb(76, 76, 76); font-family: Arial; font-size: 14px; font-style: normal; font-variant-ligatures: normal; font-variant-caps: normal; font-weight: 400; letter-spacing: normal; orphans: 2; text-align: left; text-indent: 0px; text-transform: none; white-space: pre-wrap; widows: 2; word-spacing: 0px; -webkit-text-stroke-width: 0px; background-color: rgb(255, 255, 255); text-decoration-thickness: initial; text-decoration-style: initial; text-decoration-color: initial; display: inline !important; float: none;\">You can have no more than 9 players on the field with a maximum of 6 men and must have a minimum of 3 womenon the field.\u003c/span>\u003c/p>","question":"What are the gender requirements?"},{"__typename":"FAQType","answer":"\u003cp>One Up Home Run Rule: You cannot have more than one homerun than your opponent. For example, if both teams have not hit a home run and Team A hits a homerun, they would have one more home run thanTeam B. Team B would have to hit a homerun for Team A to have the ability to hit another one. All out-of-park home runs will be called OUT if that team is ahead by one out-of-park home run. \u003c/p>","question":"What is a one up homerun rule?"}],"programTypes":[{"__typename":"ProgramTypesType","hide":false,"name":"league","description":{"__typename":"ProgramTypeDescriptionType","isCustom":false,"text":""},"programImage":{"__typename":"ImageType","name":null,"url":null}},{"__typename":"ProgramTypesType","hide":true,"name":"tournament","description":{"__typename":"ProgramTypeDescriptionType","isCustom":false,"text":""},"programImage":{"__typename":"ImageType","name":null,"url":null}},{"__typename":"ProgramTypesType","hide":true,"name":"practice","description":{"__typename":"ProgramTypeDescriptionType","isCustom":false,"text":""},"programImage":{"__typename":"ImageType","name":null,"url":null}},{"__typename":"ProgramTypesType","hide":true,"name":"pickup","description":{"__typename":"ProgramTypeDescriptionType","isCustom":false,"text":""},"programImage":{"__typename":"ImageType","name":null,"url":null}},{"__typename":"ProgramTypesType","hide":false,"name":"dropin","description":{"__typename":"ProgramTypeDescriptionType","isCustom":false,"text":""},"programImage":{"__typename":"ImageType","name":null,"url":null}},{"__typename":"ProgramTypesType","hide":true,"name":"volunteer_event","description":{"__typename":"ProgramTypeDescriptionType","isCustom":false,"text":""},"programImage":{"__typename":"ImageType","name":null,"url":null}},{"__typename":"ProgramTypesType","hide":true,"name":"volunteer_league","description":{"__typename":"ProgramTypeDescriptionType","isCustom":false,"text":""},"programImage":{"__typename":"ImageType","name":null,"url":null}},{"__typename":"ProgramTypesType","hide":true,"name":"class","description":{"__typename":"ProgramTypeDescriptionType","isCustom":false,"text":""},"programImage":{"__typename":"ImageType","name":null,"url":null}},{"__typename":"ProgramTypesType","hide":true,"name":"clinic","description":{"__typename":"ProgramTypeDescriptionType","isCustom":false,"text":""},"programImage":{"__typename":"ImageType","name":null,"url":null}},{"__typename":"ProgramTypesType","hide":true,"name":"series","description":{"__typename":"ProgramTypeDescriptionType","isCustom":false,"text":""},"programImage":{"__typename":"ImageType","name":null,"url":null}}],"competitionLevels":[{"__typename":"CompetitionLevelsType","hidden":true,"level":"Super Social","description":""},{"__typename":"CompetitionLevelsType","hidden":true,"level":"Recreational","description":""},{"__typename":"CompetitionLevelsType","hidden":true,"level":"Intermediate","description":""},{"__typename":"CompetitionLevelsType","hidden":true,"level":"Upper Intermediate","description":""},{"__typename":"CompetitionLevelsType","hidden":true,"level":"Competitive","description":""}],"formats":[{"__typename":"FormatsType","description":"","format":"9v9","formatImage":{"__typename":"ImageType","url":""},"gender":"coed","maxPlayersOnField":{"__typename":"TotalsType","total":9,"male":5,"female":4},"minPlayersPerGame":{"__typename":"TotalsType","total":8,"male":5,"female":3},"minTeamSize":{"__typename":"TotalsType","total":15,"male":8,"female":7}}]},{"__typename":"SportDetails","sportName":"Tennis","hideSport":true,"notes":"\u003cp>Volo's Coed Social Mixed Doubles Leagues (USTA Rating 2.0-3.0) and Coed Competitive Mixed Doubles Leagues (USTA Rating 3.0-4.5+) have San Diego buzzing and hitting winners! We offer a variety of adult tennis leagues for all levels, including: Beginner/Intermediate Classes, Social Mixed Doubles Leagues and Competitive Mixed Doubles Leagues in central locations such as Del Mar, Point Loma and Solana Beach.\u003c/p>","hero":{"__typename":"HeroType","heroText":"Tennis Leagues In San Diego","heroSubText":"","heroImage":{"__typename":"HeroImageType","image":{"__typename":"ImageType","name":"7.jpg","url":"https://s3.amazonaws.com/rivall-user-uploads/prodUploads/citySportHeroFolder/7.jpg"}},"heroCta":{"__typename":"HeroCtaType","text":"","url":"","newTab":null}},"stylesOfPlay":[],"faq":[],"programTypes":[{"__typename":"ProgramTypesType","hide":false,"name":"league","description":{"__typename":"ProgramTypeDescriptionType","isCustom":false,"text":""},"programImage":{"__typename":"ImageType","name":null,"url":null}},{"__typename":"ProgramTypesType","hide":true,"name":"tournament","description":{"__typename":"ProgramTypeDescriptionType","isCustom":false,"text":""},"programImage":{"__typename":"ImageType","name":null,"url":null}},{"__typename":"ProgramTypesType","hide":true,"name":"practice","description":{"__typename":"ProgramTypeDescriptionType","isCustom":false,"text":""},"programImage":{"__typename":"ImageType","name":null,"url":null}},{"__typename":"ProgramTypesType","hide":true,"name":"pickup","description":{"__typename":"ProgramTypeDescriptionType","isCustom":false,"text":""},"programImage":{"__typename":"ImageType","name":null,"url":null}},{"__typename":"ProgramTypesType","hide":false,"name":"dropin","description":{"__typename":"ProgramTypeDescriptionType","isCustom":false,"text":""},"programImage":{"__typename":"ImageType","name":null,"url":null}},{"__typename":"ProgramTypesType","hide":false,"name":"volunteer_event","description":{"__typename":"ProgramTypeDescriptionType","isCustom":false,"text":""},"programImage":{"__typename":"ImageType","name":null,"url":null}},{"__typename":"ProgramTypesType","hide":false,"name":"volunteer_league","description":{"__typename":"ProgramTypeDescriptionType","isCustom":false,"text":""},"programImage":{"__typename":"ImageType","name":null,"url":null}},{"__typename":"ProgramTypesType","hide":true,"name":"class","description":{"__typename":"ProgramTypeDescriptionType","isCustom":false,"text":""},"programImage":{"__typename":"ImageType","name":null,"url":null}},{"__typename":"ProgramTypesType","hide":true,"name":"clinic","description":{"__typename":"ProgramTypeDescriptionType","isCustom":false,"text":""},"programImage":{"__typename":"ImageType","name":null,"url":null}},{"__typename":"ProgramTypesType","hide":true,"name":"series","description":{"__typename":"ProgramTypeDescriptionType","isCustom":false,"text":""},"programImage":{"__typename":"ImageType","name":null,"url":null}}],"competitionLevels":[{"__typename":"CompetitionLevelsType","hidden":false,"level":"Super Social","description":""},{"__typename":"CompetitionLevelsType","hidden":true,"level":"Recreational","description":""},{"__typename":"CompetitionLevelsType","hidden":true,"level":"Intermediate","description":""},{"__typename":"CompetitionLevelsType","hidden":true,"level":"Upper Intermediate","description":""},{"__typename":"CompetitionLevelsType","hidden":false,"level":"Competitive","description":""}],"formats":[{"__typename":"FormatsType","description":"","format":"N/A","formatImage":{"__typename":"ImageType","url":""},"gender":"coed","maxPlayersOnField":{"__typename":"TotalsType","total":0,"male":0,"female":0},"minPlayersPerGame":{"__typename":"TotalsType","total":0,"male":0,"female":0},"minTeamSize":{"__typename":"TotalsType","total":0,"male":0,"female":0}}]},{"__typename":"SportDetails","sportName":"Trivia","hideSport":true,"notes":"\u003cp>Show off all your knowledge that you don't need but somehow have! Sign up as an individual or a team of 4!\u003c/p>","hero":{"__typename":"HeroType","heroText":"","heroSubText":"","heroImage":{"__typename":"HeroImageType","image":{"__typename":"ImageType","name":"","url":""}},"heroCta":{"__typename":"HeroCtaType","text":"","url":"","newTab":false}},"stylesOfPlay":[],"faq":[],"programTypes":[{"__typename":"ProgramTypesType","hide":false,"name":"league","description":{"__typename":"ProgramTypeDescriptionType","isCustom":false,"text":""},"programImage":{"__typename":"ImageType","name":null,"url":null}},{"__typename":"ProgramTypesType","hide":true,"name":"tournament","description":{"__typename":"ProgramTypeDescriptionType","isCustom":false,"text":""},"programImage":{"__typename":"ImageType","name":null,"url":null}},{"__typename":"ProgramTypesType","hide":true,"name":"practice","description":{"__typename":"ProgramTypeDescriptionType","isCustom":false,"text":""},"programImage":{"__typename":"ImageType","name":null,"url":null}},{"__typename":"ProgramTypesType","hide":true,"name":"pickup","description":{"__typename":"ProgramTypeDescriptionType","isCustom":false,"text":""},"programImage":{"__typename":"ImageType","name":null,"url":null}},{"__typename":"ProgramTypesType","hide":false,"name":"dropin","description":{"__typename":"ProgramTypeDescriptionType","isCustom":false,"text":""},"programImage":{"__typename":"ImageType","name":null,"url":null}},{"__typename":"ProgramTypesType","hide":false,"name":"volunteer_event","description":{"__typename":"ProgramTypeDescriptionType","isCustom":false,"text":""},"programImage":{"__typename":"ImageType","name":null,"url":null}},{"__typename":"ProgramTypesType","hide":false,"name":"volunteer_league","description":{"__typename":"ProgramTypeDescriptionType","isCustom":false,"text":""},"programImage":{"__typename":"ImageType","name":null,"url":null}},{"__typename":"ProgramTypesType","hide":true,"name":"class","description":{"__typename":"ProgramTypeDescriptionType","isCustom":false,"text":""},"programImage":{"__typename":"ImageType","name":null,"url":null}},{"__typename":"ProgramTypesType","hide":true,"name":"clinic","description":{"__typename":"ProgramTypeDescriptionType","isCustom":false,"text":""},"programImage":{"__typename":"ImageType","name":null,"url":null}},{"__typename":"ProgramTypesType","hide":true,"name":"series","description":{"__typename":"ProgramTypeDescriptionType","isCustom":false,"text":""},"programImage":{"__typename":"ImageType","name":null,"url":null}}],"competitionLevels":[{"__typename":"CompetitionLevelsType","hidden":true,"level":"Super Social","description":""},{"__typename":"CompetitionLevelsType","hidden":true,"level":"Recreational","description":""},{"__typename":"CompetitionLevelsType","hidden":true,"level":"Intermediate","description":""},{"__typename":"CompetitionLevelsType","hidden":true,"level":"Upper Intermediate","description":""},{"__typename":"CompetitionLevelsType","hidden":true,"level":"Competitive","description":""}],"formats":[{"__typename":"FormatsType","description":"","format":"4v4","formatImage":{"__typename":"ImageType","url":""},"gender":"coed","maxPlayersOnField":{"__typename":"TotalsType","total":12,"male":6,"female":6},"minPlayersPerGame":{"__typename":"TotalsType","total":4,"male":2,"female":2},"minTeamSize":{"__typename":"TotalsType","total":4,"male":2,"female":2}}]},{"__typename":"SportDetails","sportName":"Volleyball","hideSport":false,"notes":"\u003cp>If you're looking to play San Diego beach volleyball and meet new friends, you've come to the right place! Volo powered by VAVi offers 4v4 and 6v6 beach volleyball leagues at centrally located courts in Ocean Beach and Mission Beach. Our coed beach volleyball leagues have become a staple in San Diego! We have leagues for teams who want to just have fun in our Social Division, leagues for B level players in our Intermediate Division and a Competitive Division for A level players.\u003c/p>","hero":{"__typename":"HeroType","heroText":"San Diego's Best Volleyball League","heroSubText":"Registration is Open! 4v4 & 6v6 Beach Volleyball Leagues in Mission Beach, Ocean Beach, and Del Mar.","heroImage":{"__typename":"HeroImageType","image":{"__typename":"ImageType","name":"Untitled design (6).jpg","url":"https://s3.amazonaws.com/rivall-user-uploads/prodUploads/citySportHeroFolder/Untitled design (6).jpg"}},"heroCta":{"__typename":"HeroCtaType","text":"","url":"","newTab":null}},"stylesOfPlay":[],"faq":[{"__typename":"FAQType","answer":"\u003cp>The minimum number of women on a coed 4v4 team is 2. If only 1 is present, then the team must play a man down. 3 men max on the court at all times.\u003c/p>","question":"How many women needed on a 4v4 coed team?"},{"__typename":"FAQType","answer":"\u003cp>The minimum number of women on a coed 6v6 team is 3. There is a maximum of 4 men on the court.\u003c/p>","question":"How many women needed on a 6v6 coed team?"},{"__typename":"FAQType","answer":"\u003cp>Yes, Volo beach volleyball leagues are win by 2. Indoor Volleyball is win by 2, with a cap at 23.\u003c/p>","question":"Are Volo volleyball leagues win by 2?"},{"__typename":"FAQType","answer":"\u003cp>Teams decide who serves first by either "bowling" or rock, paper, scissors. Bowling is when a member from each team rolls a volleyball from one side of the court to the other, with the closest to the line without going past it winning the decision of serve or side.\u003c/p>","question":"How do teams decide who serves and which side each team is on?"},{"__typename":"FAQType","answer":"\u003cp>It is illegal to receive the serve with open hands, or setting the serve.\u003c/p>","question":"Is it illegal to set the serve?"},{"__typename":"FAQType","answer":"\u003cp>There are no gender rules \u003c/p>","question":"Does a woman have to touch the ball before returning it back over the net?"}],"programTypes":[{"__typename":"ProgramTypesType","hide":false,"name":"league","description":{"__typename":"ProgramTypeDescriptionType","isCustom":false,"text":""},"programImage":{"__typename":"ImageType","name":"Untitled design (10).jpg","url":"https://s3.amazonaws.com/rivall-user-uploads/prodUploads/programImagesFolder/Untitled design (10).jpg"}},{"__typename":"ProgramTypesType","hide":false,"name":"tournament","description":{"__typename":"ProgramTypeDescriptionType","isCustom":false,"text":""},"programImage":{"__typename":"ImageType","name":"Untitled design (7).jpg","url":"https://s3.amazonaws.com/rivall-user-uploads/prodUploads/programImagesFolder/Untitled design (7).jpg"}},{"__typename":"ProgramTypesType","hide":true,"name":"practice","description":{"__typename":"ProgramTypeDescriptionType","isCustom":false,"text":""},"programImage":{"__typename":"ImageType","name":null,"url":null}},{"__typename":"ProgramTypesType","hide":false,"name":"pickup","description":{"__typename":"ProgramTypeDescriptionType","isCustom":false,"text":""},"programImage":{"__typename":"ImageType","name":"Untitled design (9).jpg","url":"https://s3.amazonaws.com/rivall-user-uploads/prodUploads/programImagesFolder/Untitled design (9).jpg"}},{"__typename":"ProgramTypesType","hide":false,"name":"dropin","description":{"__typename":"ProgramTypeDescriptionType","isCustom":false,"text":""},"programImage":{"__typename":"ImageType","name":"Happy Hour.jpg","url":"https://s3.amazonaws.com/rivall-user-uploads/prodUploads/programImagesFolder/Happy Hour.jpg"}},{"__typename":"ProgramTypesType","hide":true,"name":"volunteer_event","description":{"__typename":"ProgramTypeDescriptionType","isCustom":false,"text":""},"programImage":{"__typename":"ImageType","name":null,"url":null}},{"__typename":"ProgramTypesType","hide":true,"name":"volunteer_league","description":{"__typename":"ProgramTypeDescriptionType","isCustom":false,"text":""},"programImage":{"__typename":"ImageType","name":null,"url":null}},{"__typename":"ProgramTypesType","hide":true,"name":"class","description":{"__typename":"ProgramTypeDescriptionType","isCustom":false,"text":""},"programImage":{"__typename":"ImageType","name":null,"url":null}},{"__typename":"ProgramTypesType","hide":false,"name":"clinic","description":{"__typename":"ProgramTypeDescriptionType","isCustom":false,"text":""},"programImage":{"__typename":"ImageType","name":"Untitled design (8).jpg","url":"https://s3.amazonaws.com/rivall-user-uploads/prodUploads/programImagesFolder/Untitled design (8).jpg"}},{"__typename":"ProgramTypesType","hide":true,"name":"series","description":{"__typename":"ProgramTypeDescriptionType","isCustom":false,"text":""},"programImage":{"__typename":"ImageType","name":null,"url":null}}],"competitionLevels":[{"__typename":"CompetitionLevelsType","hidden":false,"level":"Super Social","description":""},{"__typename":"CompetitionLevelsType","hidden":true,"level":"Recreational","description":""},{"__typename":"CompetitionLevelsType","hidden":false,"level":"Intermediate","description":""},{"__typename":"CompetitionLevelsType","hidden":false,"level":"Upper Intermediate","description":""},{"__typename":"CompetitionLevelsType","hidden":false,"level":"Competitive","description":""}],"formats":[{"__typename":"FormatsType","description":"","format":"4v4","formatImage":{"__typename":"ImageType","url":""},"gender":"coed","maxPlayersOnField":{"__typename":"TotalsType","total":4,"male":3,"female":1},"minPlayersPerGame":{"__typename":"TotalsType","total":3,"male":0,"female":1},"minTeamSize":{"__typename":"TotalsType","total":6,"male":3,"female":3}},{"__typename":"FormatsType","description":"","format":"6v6","formatImage":{"__typename":"ImageType","url":""},"gender":"coed","maxPlayersOnField":{"__typename":"TotalsType","total":6,"male":3,"female":3},"minPlayersPerGame":{"__typename":"TotalsType","total":4,"male":2,"female":2},"minTeamSize":{"__typename":"TotalsType","total":8,"male":4,"female":4}},{"__typename":"FormatsType","description":"","format":"4v4","formatImage":{"__typename":"ImageType","url":""},"gender":"women","maxPlayersOnField":{"__typename":"TotalsType","total":4,"male":0,"female":4},"minPlayersPerGame":{"__typename":"TotalsType","total":3,"male":0,"female":3},"minTeamSize":{"__typename":"TotalsType","total":6,"male":0,"female":6}},{"__typename":"FormatsType","description":"","format":"2v2","formatImage":{"__typename":"ImageType","url":""},"gender":"open","maxPlayersOnField":{"__typename":"TotalsType","total":0,"male":0,"female":0},"minPlayersPerGame":{"__typename":"TotalsType","total":0,"male":0,"female":0},"minTeamSize":{"__typename":"TotalsType","total":0,"male":0,"female":0}},{"__typename":"FormatsType","description":"","format":"3v3","formatImage":{"__typename":"ImageType","url":""},"gender":"open","maxPlayersOnField":{"__typename":"TotalsType","total":0,"male":0,"female":0},"minPlayersPerGame":{"__typename":"TotalsType","total":0,"male":0,"female":0},"minTeamSize":{"__typename":"TotalsType","total":0,"male":0,"female":0}}]}]},"approvedVenues":[{"__ref":"ApprovedVenue:60637259f0e6ba00376aa488"},{"__ref":"ApprovedVenue:60638ee994f6890031703b8c"},{"__ref":"ApprovedVenue:60638f7cf0e6ba00376b0405"},{"__ref":"ApprovedVenue:6064be33ccbfc5003431d975"},{"__ref":"ApprovedVenue:6064be90f0e6ba00376ce718"},{"__ref":"ApprovedVenue:6064bebdfe7ac5004de648c2"},{"__ref":"ApprovedVenue:6064bfcefe7ac5004de64c14"},{"__ref":"ApprovedVenue:6064bff84b8754004db883ea"},{"__ref":"ApprovedVenue:6064c029ccbfc5003431df92"},{"__ref":"ApprovedVenue:6064c0a52a210900388f24e2"},{"__ref":"ApprovedVenue:6064c0a5ccbfc5003431e15b"},{"__ref":"ApprovedVenue:6064c22e2a210900388f28de"},{"__ref":"ApprovedVenue:6064c26efe7ac5004de65426"},{"__ref":"ApprovedVenue:6064c2f62a210900388f2ad1"},{"__ref":"ApprovedVenue:6064c36727a318003195495a"},{"__ref":"ApprovedVenue:6064c409f3d7590031075f6f"},{"__ref":"ApprovedVenue:6074b802f7e684008552be01"},{"__ref":"ApprovedVenue:6074bbc0f7e684008552cf38"},{"__ref":"ApprovedVenue:60774224c030830038da0f56"},{"__ref":"ApprovedVenue:6081b86ef00521004d4e8ffd"},{"__ref":"ApprovedVenue:608705c5fb36f70038817d4f"},{"__ref":"ApprovedVenue:6087065e8c90d10038ddc8b7"},{"__ref":"ApprovedVenue:608706c094f78c00316544ca"},{"__ref":"ApprovedVenue:6090a1fd7a79d00036178939"},{"__ref":"ApprovedVenue:6091b72516c932004bdc2d8d"},{"__ref":"ApprovedVenue:609319cc90a04b002f912d16"},{"__ref":"ApprovedVenue:60f1d109d455b70083d88b74"},{"__ref":"ApprovedVenue:60f59633f423b60067aa6c1f"},{"__ref":"ApprovedVenue:60f751ae89672c0059e47f16"},{"__ref":"ApprovedVenue:60f75a6bc2eeb60036849d14"},{"__ref":"ApprovedVenue:60f9cabef93474002bbb3fa9"},{"__ref":"ApprovedVenue:60fb477370c657002b0a893e"},{"__ref":"ApprovedVenue:60fb47e570c657002b0a90e5"},{"__ref":"ApprovedVenue:60fb4899da3b0f00c9f2e469"},{"__ref":"ApprovedVenue:6101b8f6847a9702a03c26f1"},{"__ref":"ApprovedVenue:610469a747fbcf008378125e"},{"__ref":"ApprovedVenue:6109c3f5fa78090075ce8702"},{"__ref":"ApprovedVenue:6109ce71f9fa9a00c7115066"},{"__ref":"ApprovedVenue:613faacd52a154028adadc17"},{"__ref":"ApprovedVenue:61787519c3e8e30074cc069d"},{"__ref":"ApprovedVenue:618174bb2ef5fec227aabb46"},{"__ref":"ApprovedVenue:61831a87b6ef654ce758adcd"},{"__ref":"ApprovedVenue:61957901434744038fafae45"},{"__ref":"ApprovedVenue:619579cdd21c53de4d55c0e6"},{"__ref":"ApprovedVenue:619d33cc71d52152097728c4"},{"__ref":"ApprovedVenue:61a7ca4a1486c14f41c8b9d7"},{"__ref":"ApprovedVenue:61a9227ca6c0aa220e435580"},{"__ref":"ApprovedVenue:61a967f532213b2e1f1206d6"},{"__ref":"ApprovedVenue:61afc6f9bac0ae97bb34156f"},{"__ref":"ApprovedVenue:61afe0067edc4969f1db43bf"},{"__ref":"ApprovedVenue:6213ed73178b577a99e6bf47"},{"__ref":"ApprovedVenue:62157daf88e88dd71701244d"},{"__ref":"ApprovedVenue:622108b509a5be85b21a7467"},{"__ref":"ApprovedVenue:628e881e15b69cb7f6419741"},{"__ref":"ApprovedVenue:62994dfec14684e29874c824"},{"__ref":"ApprovedVenue:629a5c2ea5b7ab4fafada712"},{"__ref":"ApprovedVenue:62a777677e8e5f2c01e6050c"},{"__ref":"ApprovedVenue:62bde249b892ce858f0a24c6"},{"__ref":"ApprovedVenue:62c5f98cffbfcdd434c5530a"},{"__ref":"ApprovedVenue:62cc7e566cd795d3ac958fbb"},{"__ref":"ApprovedVenue:62d07cf876d35ade3d1cb871"},{"__ref":"ApprovedVenue:6311198b03721a06d6ab097c"},{"__ref":"ApprovedVenue:63b8845b2c53040c94785136"},{"__ref":"ApprovedVenue:63b8a143cf42aae5029531a1"},{"__ref":"ApprovedVenue:63bdbff7f73382375132873b"},{"__ref":"ApprovedVenue:63bdc01a68a0d8bbf5ee0783"},{"__ref":"ApprovedVenue:63bdc03b99e272d2a8d4fcee"},{"__ref":"ApprovedVenue:63bdc087d64c5949659ee5d5"},{"__ref":"ApprovedVenue:63bdc0d24fc12b561d9f3fbf"},{"__ref":"ApprovedVenue:63c98ee034467a3507c9c593"},{"__ref":"ApprovedVenue:63c9ac8a5dbf322046f2c27a"},{"__ref":"ApprovedVenue:63f7f32b7e7eb0f43d57c8c9"},{"__ref":"ApprovedVenue:6410f1a213d649d6d47d2357"},{"__ref":"ApprovedVenue:642df2d1242c25d58b4c140e"},{"__ref":"ApprovedVenue:643d8d9e3ad266d7321af6fd"},{"__ref":"ApprovedVenue:644032498fdf261b0bb4c72d"},{"__ref":"ApprovedVenue:6442e37fbf5cb1f4e329e360"},{"__ref":"ApprovedVenue:6477b173ac03e13d638d7eb4"}]},"SponsorLogos:632345fc5cf6fa6607df8b7b":{"__typename":"SponsorLogos","_id":"632345fc5cf6fa6607df8b7b","sponsorLogo":"https://s3.amazonaws.com/rivall-user-uploads/prodUploads/sponsorLogoFolder/5a501cf1b92a5562722a8f55_sponsor_logo_0","sponsorName":"Fitness SF","sponsorLink":"https://www.fitnesssf.com"},"Organization:5a501cf1b92a5562722a8f55":{"__typename":"Organization","_id":"5a501cf1b92a5562722a8f55","name":"San Francisco","crest":null,"contact_phone_number":"(415) 723-6110","contact_email":"sf@volosports.com","weather_line_number":"(415) 941-5844","logo":"https://s3.amazonaws.com/rivall-user-uploads/prodUploads/orgLogo/5a501cf1b92a5562722a8f55.png","sponsorLogos":[{"__ref":"SponsorLogos:632345fc5cf6fa6607df8b7b"}],"location":{"__typename":"LocationInfo","coordinates":{"__typename":"Coordinates","lat":37.74873,"lng":-122.455599}},"voloPassTiers":{"__typename":"VoloPassTiersType","isActive":true,"monthlyDollarPrice":35,"monthlyFee":0.99}},"Organization:641b7475f2322708fc1c4251":{"__typename":"Organization","_id":"641b7475f2322708fc1c4251","name":"San Jose","crest":null,"contact_phone_number":"(415) 723-6110","contact_email":"sj@volosports.com","weather_line_number":null,"logo":"https://s3.amazonaws.com/rivall-user-uploads/prodUploads/orgLogo/641b7475f2322708fc1c4251.png","sponsorLogos":[],"location":{"__typename":"LocationInfo","coordinates":{"__typename":"Coordinates","lat":37.328397,"lng":-121.888292}},"voloPassTiers":{"__typename":"VoloPassTiersType","isActive":false,"monthlyDollarPrice":15,"monthlyFee":0.99}},"Organization:5a8dd81331762c7a7dfe2408":{"__typename":"Organization","_id":"5a8dd81331762c7a7dfe2408","name":"Seattle","crest":null,"contact_phone_number":"(720) 381-6304","contact_email":"info@volocityseattle.com","weather_line_number":null,"logo":"https://s3.amazonaws.com/rivall-user-uploads/prodUploads/orgLogo/5a8dd81331762c7a7dfe2408.png","sponsorLogos":[],"location":{"__typename":"LocationInfo","coordinates":{"__typename":"Coordinates","lat":47.6062,"lng":-122.3321}},"voloPassTiers":{"__typename":"VoloPassTiersType","isActive":false,"monthlyDollarPrice":15,"monthlyFee":0.99}},"Organization:5e8639451c9d44000034b626":{"__typename":"Organization","_id":"5e8639451c9d44000034b626","name":"Virtual","crest":null,"contact_phone_number":"(917) 300-1127","contact_email":"virtual@volosports.com","weather_line_number":null,"logo":"https://s3.amazonaws.com/rivall-user-uploads/prodUploads/orgLogo/5e8639451c9d44000034b626.png","sponsorLogos":[],"location":{"__typename":"LocationInfo","coordinates":{"__typename":"Coordinates","lat":38.893109,"lng":-77.036552}},"voloPassTiers":{"__typename":"VoloPassTiersType","isActive":false,"monthlyDollarPrice":20,"monthlyFee":0.99}},"Organization:5bfd81a5b63e3f6e864d00d4":{"__typename":"Organization","_id":"5bfd81a5b63e3f6e864d00d4","name":"Volo Kids Foundation","crest":null,"contact_phone_number":"(410) 995-7701","contact_email":"info@volokids.org","weather_line_number":null,"logo":"https://s3.amazonaws.com/rivall-user-uploads/prodUploads/orgLogo/5bfd81a5b63e3f6e864d00d4.png","sponsorLogos":[],"location":{"__typename":"LocationInfo","coordinates":{"__typename":"Coordinates","lat":38.896549,"lng":-77.033923}},"voloPassTiers":{"__typename":"VoloPassTiersType","isActive":false,"monthlyDollarPrice":20,"monthlyFee":0.99}},"SponsorLogos:6478d437cb346b6c3bbae3aa":{"__typename":"SponsorLogos","_id":"6478d437cb346b6c3bbae3aa","sponsorLogo":"https://s3.amazonaws.com/rivall-user-uploads/prodUploads/sponsorLogoFolder/5a74ea1c958b1a0d3790cc5a_sponsor_logo_1.png","sponsorName":"Optimum Nutrition","sponsorLink":"https://www.optimumnutrition.com/en-us"},"Organization:5a74ea1c958b1a0d3790cc5a":{"__typename":"Organization","_id":"5a74ea1c958b1a0d3790cc5a","name":"Washington DC","crest":null,"contact_phone_number":"(202) 919-3955","contact_email":"dc@volosports.com","weather_line_number":"(202) 751-3558","logo":"https://s3.amazonaws.com/rivall-user-uploads/prodUploads/orgLogo/5a74ea1c958b1a0d3790cc5a.png","sponsorLogos":[{"__ref":"SponsorLogos:6478d437cb346b6c3bbae3aa"}],"location":{"__typename":"LocationInfo","coordinates":null},"voloPassTiers":{"__typename":"VoloPassTiersType","isActive":true,"monthlyDollarPrice":20,"monthlyFee":0.99}},"ApprovedVenue:60637259f0e6ba00376aa488":{"__typename":"ApprovedVenue","_id":"60637259f0e6ba00376aa488","disabled":false,"shorthandName":"Mission Beach","pdfUploads":[],"place_id":"ChIJK5pfHQmq3oARN1ab_HYFsmk","location":{"__typename":"Coordinates","lat":32.7734854,"lng":-117.2529015},"neighborhood":"Mission Beach","city":"San Diego","formatted_address":"3265 Ocean Front Walk, San Diego, CA 92109, USA","sportDetails":[{"__typename":"SportDescription","sportName":"Volleyball","description":"\u003cp>One of San Diego's most popular beaches and tourist attractions. Play beach volleyball just steps away from the Pacific Ocean with plenty of social scenery in the area.\u003c/p>"}],"image":{"__typename":"ImageType","url":"https://s3.amazonaws.com/rivall-user-uploads/prodUploads/approvedVenueFolder/MissionBeach Volleyball.jpeg"}},"ApprovedVenue:60638ee994f6890031703b8c":{"__typename":"ApprovedVenue","_id":"60638ee994f6890031703b8c","disabled":false,"shorthandName":"Adams Ave Rec Center","pdfUploads":[],"place_id":"ChIJbUmXTFJU2YARB3YL52Onhfc","location":{"__typename":"Coordinates","lat":32.7631731,"lng":-117.1175361},"neighborhood":"Normal Heights","city":"San Diego","formatted_address":"3491 Adams Ave, San Diego, CA 92116, USA","sportDetails":[{"__typename":"SportDescription","sportName":"Kickball","description":""},{"__typename":"SportDescription","sportName":"Softball","description":"\u003cp>Come enjoy this wonderful venue in Normal Heights on Mondays and Tuesdays!\u003c/p>"}],"image":{"__typename":"ImageType","url":"https://s3.amazonaws.com/rivall-user-uploads/prodUploads/approvedVenueFolder/Adams_Avenue_rec_center_t800.jpg"}},"ApprovedVenue:60638f7cf0e6ba00376b0405":{"__typename":"ApprovedVenue","_id":"60638f7cf0e6ba00376b0405","disabled":false,"shorthandName":"Barnard Elementary","pdfUploads":[],"place_id":"ChIJz003SMoB3IARlmT_DN9hSaM","location":{"__typename":"Coordinates","lat":32.8021782,"lng":-117.2248033},"neighborhood":"Pacific Beach","city":"San Diego","formatted_address":"2445 Fogg St, San Diego, CA 92109, USA","sportDetails":[{"__typename":"SportDescription","sportName":"Soccer","description":"\u003cp>Our Sunday Funday and Sunset Quickie hub for Soccer in Pacific Beach!\u003c/p>"}],"image":{"__typename":"ImageType","url":"https://s3.amazonaws.com/rivall-user-uploads/prodUploads/approvedVenueFolder/barnard.jpg"}},"ApprovedVenue:6064be33ccbfc5003431d975":{"__typename":"ApprovedVenue","_id":"6064be33ccbfc5003431d975","disabled":false,"shorthandName":"Cabrillo Recreation Center","pdfUploads":[],"place_id":"ChIJ8RyB07yr3oARVFkphVVhB5w","location":{"__typename":"Coordinates","lat":32.72179029999999,"lng":-117.232709},"neighborhood":"Point Loma","city":"San Diego","formatted_address":"3051 Cañon St, San Diego, CA 92106, USA","sportDetails":[{"__typename":"SportDescription","sportName":"Softball","description":"\u003cp>One of the most scenic venues in San Diego located in Point Loma and blocks from the bay.\u003c/p>"}],"image":{"__typename":"ImageType","url":"https://s3.amazonaws.com/rivall-user-uploads/prodUploads/approvedVenueFolder/cabrillocenterth.jpg"}},"ApprovedVenue:6064be90f0e6ba00376ce718":{"__typename":"ApprovedVenue","_id":"6064be90f0e6ba00376ce718","disabled":false,"shorthandName":"Doyle Rec Center","pdfUploads":[],"place_id":"ChIJASUQl9UA3IARahxT4MR9uWI","location":{"__typename":"Coordinates","lat":32.864577,"lng":-117.2194635},"neighborhood":"UTC","city":"San Diego","formatted_address":"8175 Regents Rd, San Diego, CA 92122, USA","sportDetails":[{"__typename":"SportDescription","sportName":"Basketball","description":"\u003cp>Coed and Men's 5v5 Basketball leagues and Pick-upsat premier gym in San Diego\u003c/p>"},{"__typename":"SportDescription","sportName":"Softball","description":"\u003cp>A great place to spend a Wednesday or Thursday playing softball in the UTC area.\u003c/p>"},{"__typename":"SportDescription","sportName":"Volleyball","description":""}],"image":{"__typename":"ImageType","url":"https://s3.amazonaws.com/rivall-user-uploads/prodUploads/approvedVenueFolder/doylerec.jpg"}},"ApprovedVenue:6064bebdfe7ac5004de648c2":{"__typename":"ApprovedVenue","_id":"6064bebdfe7ac5004de648c2","disabled":false,"shorthandName":"Kearny Mesa Recreation Center","pdfUploads":[],"place_id":"ChIJX89qj_z_24AR4Nu2zaP5A_Y","location":{"__typename":"Coordinates","lat":32.8018721,"lng":-117.1651918},"neighborhood":"Kearny Mesa","city":"San Diego","formatted_address":"3170 Armstrong St, San Diego, CA 92111, USA","sportDetails":[{"__typename":"SportDescription","sportName":"Kickball","description":""},{"__typename":"SportDescription","sportName":"Softball","description":"\u003cp>Just off of the 163 Freeway, Kearny Mesa Rec Center is a great place to play softball on a Tuesday.\u003c/p>"},{"__typename":"SportDescription","sportName":"Soccer","description":""}],"image":{"__typename":"ImageType","url":"https://s3.amazonaws.com/rivall-user-uploads/prodUploads/approvedVenueFolder/kearny mesa park and rec center.jpg"}},"ApprovedVenue:6064bfcefe7ac5004de64c14":{"__typename":"ApprovedVenue","_id":"6064bfcefe7ac5004de64c14","disabled":false,"shorthandName":"Nobel Recreation Center","pdfUploads":[],"place_id":"ChIJiw_3KcoA3IARFzUM__0NDhQ","location":{"__typename":"Coordinates","lat":32.8670275,"lng":-117.1992609},"neighborhood":"UTC","city":"San Diego","formatted_address":"8810 Judicial Dr, San Diego, CA 92122, USA","sportDetails":[{"__typename":"SportDescription","sportName":"Basketball","description":"\u003cp>5v5 Men's Monday Basketball League. Pickup Basketball options!\u003c/p>"},{"__typename":"SportDescription","sportName":"Kickball","description":""},{"__typename":"SportDescription","sportName":"Softball","description":"\u003cp>Come play Softball at the premier rec center in the UTC area.\u003c/p>"}],"image":{"__typename":"ImageType","url":"https://s3.amazonaws.com/rivall-user-uploads/prodUploads/approvedVenueFolder/Nobel.jpg.jpeg"}},"ApprovedVenue:6064bff84b8754004db883ea":{"__typename":"ApprovedVenue","_id":"6064bff84b8754004db883ea","disabled":false,"shorthandName":"North Park Recreation Center","pdfUploads":[],"place_id":"ChIJ50VElfBU2YARf2QT27i0Df4","location":{"__typename":"Coordinates","lat":32.7509148,"lng":-117.1341675},"neighborhood":"North Park","city":"San Diego","formatted_address":"4044 Idaho St, San Diego, CA 92104, USA","sportDetails":[{"__typename":"SportDescription","sportName":"Bocce","description":"\u003cp>An amazing environment for bocce and then blocks from our sponsor bar. \u003c/p>"},{"__typename":"SportDescription","sportName":"Kickball","description":""},{"__typename":"SportDescription","sportName":"Pickleball","description":""},{"__typename":"SportDescription","sportName":"Softball","description":"\u003cp>A new venue for Softball and a few blocks away from our sponsor bar.\u003c/p>"},{"__typename":"SportDescription","sportName":"Volunteer","description":""}],"image":{"__typename":"ImageType","url":"https://s3.amazonaws.com/rivall-user-uploads/prodUploads/approvedVenueFolder/North Park Rec.jpg"}},"ApprovedVenue:6064c029ccbfc5003431df92":{"__typename":"ApprovedVenue","_id":"6064c029ccbfc5003431df92","disabled":false,"shorthandName":"Ocean Beach","pdfUploads":[],"place_id":"ChIJGUX0dDyq3oARFjQ8ui88lv8","location":{"__typename":"Coordinates","lat":32.7512887,"lng":-117.2516243},"neighborhood":"Ocean Beach","city":"San Diego","formatted_address":"5162 Cape May Ave, San Diego, CA 92107, USA","sportDetails":[{"__typename":"SportDescription","sportName":"Event","description":""},{"__typename":"SportDescription","sportName":"Volleyball","description":"\u003cp>Our most popular beach volleyball venue in the country! Not only are there waterfront views, but a bustling beach vibe just blocks away from the courts. A must see!\u003c/p>"},{"__typename":"SportDescription","sportName":"Volunteer","description":""}],"image":{"__typename":"ImageType","url":"https://s3.amazonaws.com/rivall-user-uploads/prodUploads/approvedVenueFolder/ob.jpg"}},"ApprovedVenue:6064c0a52a210900388f24e2":{"__typename":"ApprovedVenue","_id":"6064c0a52a210900388f24e2","disabled":false,"shorthandName":"Ocean Beach Recreation Center","pdfUploads":[],"place_id":"ChIJkaq7Tjaq3oARPTae9cZ2T5M","location":{"__typename":"Coordinates","lat":32.7449984,"lng":-117.2455085},"neighborhood":"Ocean Beach","city":"San Diego","formatted_address":"4726 Santa Monica Ave, San Diego, CA 92107, USA","sportDetails":[{"__typename":"SportDescription","sportName":"Kickball","description":""},{"__typename":"SportDescription","sportName":"Pickleball","description":""},{"__typename":"SportDescription","sportName":"Volleyball","description":""}],"image":{"__typename":"ImageType","url":"https://s3.amazonaws.com/rivall-user-uploads/prodUploads/approvedVenueFolder/348s.jpg"}},"ApprovedVenue:6064c0a5ccbfc5003431e15b":{"__typename":"ApprovedVenue","_id":"6064c0a5ccbfc5003431e15b","disabled":true,"shorthandName":"Ocean Beach Recreation Center","pdfUploads":[],"place_id":"ChIJkaq7Tjaq3oARPTae9cZ2T5M","location":{"__typename":"Coordinates","lat":32.7449984,"lng":-117.2455085},"neighborhood":"Ocean Beach","city":"San Diego","formatted_address":"4726 Santa Monica Ave, San Diego, CA 92107, USA","sportDetails":[],"image":null},"ApprovedVenue:6064c22e2a210900388f28de":{"__typename":"ApprovedVenue","_id":"6064c22e2a210900388f28de","disabled":false,"shorthandName":"Pacific Beach Elementary School","pdfUploads":[],"place_id":"ChIJF8RCGpoB3IAR_uhhK85op1g","location":{"__typename":"Coordinates","lat":32.80896,"lng":-117.2506599},"neighborhood":"Pacific Beach","city":"San Diego","formatted_address":"1234 Tourmaline St, San Diego, CA 92109, USA","sportDetails":[{"__typename":"SportDescription","sportName":"Flag Football","description":"\u003cp>Grass Coed Flag Football in PB with Sponsor Bar!\u003c/p>"},{"__typename":"SportDescription","sportName":"Kickball","description":""}],"image":{"__typename":"ImageType","url":"https://s3.amazonaws.com/rivall-user-uploads/prodUploads/approvedVenueFolder/1109252_8X6HmSbq-0kFXONPd6azLFY3iGVIi9dee4tZx0KaqTU.jpg"}},"ApprovedVenue:6064c26efe7ac5004de65426":{"__typename":"ApprovedVenue","_id":"6064c26efe7ac5004de65426","disabled":false,"shorthandName":"Pacific Beach Recreation Center","pdfUploads":[],"place_id":"ChIJyatccZUB3IAR1rzIwhoQXFc","location":{"__typename":"Coordinates","lat":32.8016205,"lng":-117.2451386},"neighborhood":"Pacific Beach","city":"San Diego","formatted_address":"1405 Diamond St, San Diego, CA 92109, USA","sportDetails":[{"__typename":"SportDescription","sportName":"Bocce","description":"\u003cp>A great venue in the middle of Pacific Beach and just blocks from our sponsor bar.\u003c/p>"},{"__typename":"SportDescription","sportName":"Class","description":""},{"__typename":"SportDescription","sportName":"Dodgeball","description":""},{"__typename":"SportDescription","sportName":"Flag Football","description":"\u003cp>Grass Men's Flag Football in PB with Sponsor Bar!\u003c/p>"},{"__typename":"SportDescription","sportName":"Kickball","description":""},{"__typename":"SportDescription","sportName":"Volleyball","description":""},{"__typename":"SportDescription","sportName":"Pickleball","description":""}],"image":{"__typename":"ImageType","url":"https://s3.amazonaws.com/rivall-user-uploads/prodUploads/approvedVenueFolder/56837_0DWUIzYxVBacep5_xoFACyOPHVS0_r7akyW7mCy9FbQ.jpg"}},"ApprovedVenue:6064c2f62a210900388f2ad1":{"__typename":"ApprovedVenue","_id":"6064c2f62a210900388f2ad1","disabled":false,"shorthandName":"Presidio Recreation Center","pdfUploads":["https://s3.amazonaws.com/rivall-user-uploads/prodUploads/pdfUploadsFolder/Vavi Softball Friday Permit # 103857_1619650757405.pdf","https://s3.amazonaws.com/rivall-user-uploads/prodUploads/pdfUploadsFolder/Vavi Softball Thursday Permit # 103859_1619650764731.pdf"],"place_id":"ChIJU4fVTt2q3oARL6kQdXiAQgM","location":{"__typename":"Coordinates","lat":32.7583469,"lng":-117.1959888},"neighborhood":"Old Town","city":"San Diego","formatted_address":"2811 Jackson St, San Diego, CA 92110, USA","sportDetails":[{"__typename":"SportDescription","sportName":"Kickball","description":""},{"__typename":"SportDescription","sportName":"Softball","description":"\u003cp>Enjoy softball here Monday, Tuesday, Thursday and Friday.\u003c/p>"}],"image":{"__typename":"ImageType","url":"https://s3.amazonaws.com/rivall-user-uploads/prodUploads/approvedVenueFolder/presidiocenterth.jpg"}},"ApprovedVenue:6064c36727a318003195495a":{"__typename":"ApprovedVenue","_id":"6064c36727a318003195495a","disabled":false,"shorthandName":"Robb Field","pdfUploads":[],"place_id":"ChIJB1WdKUGq3oAReodqOjEkC28","location":{"__typename":"Coordinates","lat":32.7543063,"lng":-117.2413488},"neighborhood":"Ocean Beach","city":"San Diego","formatted_address":"2525 Bacon St, San Diego, CA 92107, USA","sportDetails":[{"__typename":"SportDescription","sportName":"Kickball","description":""},{"__typename":"SportDescription","sportName":"Softball","description":"\u003cp>The most scenic venue that we have for Softball. Located blocks from the beach and our sponsor bar.\u003c/p>"},{"__typename":"SportDescription","sportName":"Event","description":""}],"image":{"__typename":"ImageType","url":"https://s3.amazonaws.com/rivall-user-uploads/prodUploads/approvedVenueFolder/_dsc6528.jpg"}},"ApprovedVenue:6064c409f3d7590031075f6f":{"__typename":"ApprovedVenue","_id":"6064c409f3d7590031075f6f","disabled":false,"shorthandName":"Mission Bay Athletic Fields","pdfUploads":[],"place_id":"EigyNjMwIEdyYW5kIEF2ZSwgU2FuIERpZWdvLCBDQSA5MjEwOSwgVVNBIhsSGQoUChIJo3ScLssB3IAR0UwIcrw4anQQxhQ","location":{"__typename":"Coordinates","lat":32.8022405,"lng":-117.2213176},"neighborhood":"Pacific Beach","city":"San Diego","formatted_address":"2630 Grand Ave, San Diego, CA 92109, USA","sportDetails":[{"__typename":"SportDescription","sportName":"Pickleball","description":""},{"__typename":"SportDescription","sportName":"Softball","description":"\u003cp>A great place to end the week and play Softball on a Friday night.\u003c/p>"}],"image":{"__typename":"ImageType","url":"https://s3.amazonaws.com/rivall-user-uploads/prodUploads/approvedVenueFolder/mbaf.jpg"}},"ApprovedVenue:6074b802f7e684008552be01":{"__typename":"ApprovedVenue","_id":"6074b802f7e684008552be01","disabled":false,"shorthandName":"Linda Vista Recreation Center","pdfUploads":[],"place_id":"ChIJhVvtZ1RV2YARpiHJejua6Lg","location":{"__typename":"Coordinates","lat":32.7922259,"lng":-117.1699017},"neighborhood":"Linda Vista","city":"San Diego","formatted_address":"7064 Levant St, San Diego, CA 92111, USA","sportDetails":[],"image":{"__typename":"ImageType","url":"https://s3.amazonaws.com/rivall-user-uploads/prodUploads/approvedVenueFolder/linda.jpg"}},"ApprovedVenue:6074bbc0f7e684008552cf38":{"__typename":"ApprovedVenue","_id":"6074bbc0f7e684008552cf38","disabled":false,"shorthandName":"Barnes Tennis Center","pdfUploads":[],"place_id":"ChIJ3WbvhUSq3oARv5dfLUXvFT8","location":{"__typename":"Coordinates","lat":32.7543638,"lng":-117.2348861},"neighborhood":"Point Loma","city":"San Diego","formatted_address":"4490 W Point Loma Blvd, San Diego, CA 92107, USA","sportDetails":[{"__typename":"SportDescription","sportName":"Tennis","description":""},{"__typename":"SportDescription","sportName":"Pickleball","description":""}],"image":{"__typename":"ImageType","url":"https://s3.amazonaws.com/rivall-user-uploads/prodUploads/approvedVenueFolder/b48411_037cfbc508354455ad044826e793b5a2f000.webp"}},"ApprovedVenue:60774224c030830038da0f56":{"__typename":"ApprovedVenue","_id":"60774224c030830038da0f56","disabled":false,"shorthandName":"WAVE Volleyball Club","pdfUploads":[],"place_id":"ChIJ3fF8hDQJ3IARTt4_x7QjIug","location":{"__typename":"Coordinates","lat":32.9772621,"lng":-117.2546369},"neighborhood":"Del Mar","city":"Del Mar","formatted_address":"Camp site 24, 15555 Jimmy Durante Blvd, Del Mar, CA 92014, USA","sportDetails":[{"__typename":"SportDescription","sportName":"Volleyball","description":"\u003cp>3 premier private volleyball courts located in Del Mar. \u003c/p>"}],"image":{"__typename":"ImageType","url":"https://s3.amazonaws.com/rivall-user-uploads/prodUploads/approvedVenueFolder/wave.jpeg"}},"ApprovedVenue:6081b86ef00521004d4e8ffd":{"__typename":"ApprovedVenue","_id":"6081b86ef00521004d4e8ffd","disabled":true,"shorthandName":"The Golf Bar","pdfUploads":[],"place_id":"ChIJlbRvvoD_24ARn3kDc22YW5Q","location":{"__typename":"Coordinates","lat":32.8333221,"lng":-117.1723474},"neighborhood":"Clairemont","city":"San Diego","formatted_address":"5583 Clairemont Mesa Blvd, San Diego, CA 92117, USA","sportDetails":[{"__typename":"SportDescription","sportName":"Golf","description":""}],"image":{"__typename":"ImageType","url":"https://s3.amazonaws.com/rivall-user-uploads/prodUploads/approvedVenueFolder/Unknown.jpeg"}},"ApprovedVenue:608705c5fb36f70038817d4f":{"__typename":"ApprovedVenue","_id":"608705c5fb36f70038817d4f","disabled":false,"shorthandName":"Crown Point Elementary","pdfUploads":[],"place_id":"ChIJf-NbfsMB3IARbFI8FVGR-3E","location":{"__typename":"Coordinates","lat":32.7933521,"lng":-117.2386297},"neighborhood":"Pacific Beach","city":"San Diego","formatted_address":"4033 Ingraham St, San Diego, CA 92109, USA","sportDetails":[{"__typename":"SportDescription","sportName":"Kickball","description":""}],"image":{"__typename":"ImageType","url":"https://s3.amazonaws.com/rivall-user-uploads/prodUploads/approvedVenueFolder/crown.jpg"}},"ApprovedVenue:6087065e8c90d10038ddc8b7":{"__typename":"ApprovedVenue","_id":"6087065e8c90d10038ddc8b7","disabled":false,"shorthandName":"4S Ranch Sports Park","pdfUploads":[],"place_id":"ChIJgUP9Rw7324ARRaxGjPOdfSc","location":{"__typename":"Coordinates","lat":33.0038366,"lng":-117.1162262},"neighborhood":"Rancho Penasquitos","city":"San Diego","formatted_address":"16118 4S Ranch Pkwy, San Diego, CA 92127, USA","sportDetails":[],"image":{"__typename":"ImageType","url":"https://s3.amazonaws.com/rivall-user-uploads/prodUploads/approvedVenueFolder/4s.webp"}},"ApprovedVenue:608706c094f78c00316544ca":{"__typename":"ApprovedVenue","_id":"608706c094f78c00316544ca","disabled":false,"shorthandName":"Clairemont Boys & Girls Club","pdfUploads":[],"place_id":"ChIJ40Zh8YkA3IARs3AV3QJrwy4","location":{"__typename":"Coordinates","lat":32.8342163,"lng":-117.1907155},"neighborhood":"Clairemont","city":"San Diego","formatted_address":"4635 Clairemont Mesa Blvd, San Diego, CA 92117, USA","sportDetails":[{"__typename":"SportDescription","sportName":"Volleyball","description":""}],"image":{"__typename":"ImageType","url":"https://s3.amazonaws.com/rivall-user-uploads/prodUploads/approvedVenueFolder/branchClairemont-640w.jpg.webp"}},"ApprovedVenue:6090a1fd7a79d00036178939":{"__typename":"ApprovedVenue","_id":"6090a1fd7a79d00036178939","disabled":false,"shorthandName":"San Diego","pdfUploads":[],"place_id":"ChIJSx6SrQ9T2YARed8V_f0hOg0","location":{"__typename":"Coordinates","lat":32.715738,"lng":-117.1610838},"neighborhood":"San Diego","city":"San Diego","formatted_address":"San Diego, CA, USA","sportDetails":[{"__typename":"SportDescription","sportName":"Event","description":""},{"__typename":"SportDescription","sportName":"Hiking","description":""},{"__typename":"SportDescription","sportName":"Volunteer","description":""}],"image":{"__typename":"ImageType","url":"https://s3.amazonaws.com/rivall-user-uploads/prodUploads/approvedVenueFolder/resized_FI_Getty_San-Diego-CA.jpg"}},"ApprovedVenue:6091b72516c932004bdc2d8d":{"__typename":"ApprovedVenue","_id":"6091b72516c932004bdc2d8d","disabled":false,"shorthandName":"The Loma Club","pdfUploads":[],"place_id":"ChIJVSO-HgOr3oARr65JkNzVaBE","location":{"__typename":"Coordinates","lat":32.7421419,"lng":-117.2105854},"neighborhood":"Point Loma","city":"San Diego","formatted_address":"2960 Truxtun Rd, San Diego, CA 92106, USA","sportDetails":[{"__typename":"SportDescription","sportName":"Golf","description":"\u003cp>San Diego's most scenic 9 hole course.\u003c/p>"},{"__typename":"SportDescription","sportName":"Mini Golf","description":"\u003cp>A brand new course at Loma Club.\u003c/p>"}],"image":{"__typename":"ImageType","url":"https://s3.amazonaws.com/rivall-user-uploads/prodUploads/approvedVenueFolder/LomaClub3.jpg"}},"ApprovedVenue:609319cc90a04b002f912d16":{"__typename":"ApprovedVenue","_id":"609319cc90a04b002f912d16","disabled":false,"shorthandName":"Golden Hill Recreation Center","pdfUploads":[],"place_id":"ChIJuWTmUINU2YARbbpR004pf00","location":{"__typename":"Coordinates","lat":32.7249933,"lng":-117.1376429},"neighborhood":"Golden Hill","city":"San Diego","formatted_address":"Balboa Park Clubhouse, 2600 Golf Course Dr, San Diego, CA 92102, USA","sportDetails":[{"__typename":"SportDescription","sportName":"Basketball","description":"\u003cp>Premier central San Diego Men's Basketball leagues and Pick-ups. \u003c/p>"},{"__typename":"SportDescription","sportName":"Pickleball","description":""},{"__typename":"SportDescription","sportName":"Volleyball","description":"\u003cp>Indoor Gym facility located in Golden Hill, near Balboa Park Golf Course. \u003c/p>"}],"image":{"__typename":"ImageType","url":"https://s3.amazonaws.com/rivall-user-uploads/prodUploads/approvedVenueFolder/goldenhillbuilding.jpg"}},"ApprovedVenue:60f1d109d455b70083d88b74":{"__typename":"ApprovedVenue","_id":"60f1d109d455b70083d88b74","disabled":false,"shorthandName":"Madison High School","pdfUploads":[],"place_id":"ChIJRwaQX4f_24AR52HazlNk2S4","location":{"__typename":"Coordinates","lat":32.8311331,"lng":-117.1742668},"neighborhood":"Clairemont","city":"San Diego","formatted_address":"4833 Doliva Dr, San Diego, CA 92117, USA","sportDetails":[{"__typename":"SportDescription","sportName":"Soccer","description":"\u003cp>Premier location for 7v7 Soccer Coed Leagues and Pick-ups.\u003c/p>"}],"image":{"__typename":"ImageType","url":"https://s3.amazonaws.com/rivall-user-uploads/prodUploads/approvedVenueFolder/James_Madison_High_School_Stadium.jpg"}},"ApprovedVenue:60f59633f423b60067aa6c1f":{"__typename":"ApprovedVenue","_id":"60f59633f423b60067aa6c1f","disabled":false,"shorthandName":"619 Spirits North Park","pdfUploads":[],"place_id":"ChIJCaoD-vZU2YARDIxHr10Z7kM","location":{"__typename":"Coordinates","lat":32.750151,"lng":-117.1297898},"neighborhood":"North Park","city":"San Diego","formatted_address":"3015 Lincoln Ave, San Diego, CA 92104, USA","sportDetails":[{"__typename":"SportDescription","sportName":"Bar Games","description":""},{"__typename":"SportDescription","sportName":"Bar Olympics","description":""},{"__typename":"SportDescription","sportName":"Flip Cup","description":""},{"__typename":"SportDescription","sportName":"Trivia","description":""}],"image":{"__typename":"ImageType","url":"https://s3.amazonaws.com/rivall-user-uploads/prodUploads/approvedVenueFolder/2232458_lg.jpg"}},"ApprovedVenue:60f751ae89672c0059e47f16":{"__typename":"ApprovedVenue","_id":"60f751ae89672c0059e47f16","disabled":false,"shorthandName":"Trolley Barn Park","pdfUploads":[],"place_id":"ChIJO0Bk2B1V2YAR02nFLMp4NZk","location":{"__typename":"Coordinates","lat":32.7623219,"lng":-117.1440666},"neighborhood":"University Heights","city":"San Diego","formatted_address":"1943 Adams Ave, San Diego, CA 92116, USA","sportDetails":[],"image":{"__typename":"ImageType","url":"https://s3.amazonaws.com/rivall-user-uploads/prodUploads/approvedVenueFolder/trolley.jpg"}},"ApprovedVenue:60f75a6bc2eeb60036849d14":{"__typename":"ApprovedVenue","_id":"60f75a6bc2eeb60036849d14","disabled":true,"shorthandName":"Park & Rec","pdfUploads":[],"place_id":"ChIJN-V2SR5V2YARK1Nx0DhBSsc","location":{"__typename":"Coordinates","lat":32.7613985,"lng":-117.1466731},"neighborhood":"University Heights","city":"San Diego","formatted_address":"4612 Park Blvd, San Diego, CA 92116, USA","sportDetails":[{"__typename":"SportDescription","sportName":"Cornhole","description":""}],"image":null},"ApprovedVenue:60f9cabef93474002bbb3fa9":{"__typename":"ApprovedVenue","_id":"60f9cabef93474002bbb3fa9","disabled":false,"shorthandName":"Pacific Beach - Crystal Pier","pdfUploads":[],"place_id":"ChIJySRasPIB3IAR_XxQojuFrt0","location":{"__typename":"Coordinates","lat":32.796229,"lng":-117.2567037},"neighborhood":"Pacific Beach","city":"San Diego","formatted_address":"4500 Ocean Blvd, San Diego, CA 92109, USA","sportDetails":[{"__typename":"SportDescription","sportName":"Volleyball","description":"\u003cp>Located at end of Garnet Ave, the street with all the night life in San Diego. The Pacific Beach energy makes this location a must-see, with bars, a boardwalk, and waterfront views.\u003c/p>"}],"image":{"__typename":"ImageType","url":"https://s3.amazonaws.com/rivall-user-uploads/prodUploads/approvedVenueFolder/pier.jpg"}},"ApprovedVenue:60fb477370c657002b0a893e":{"__typename":"ApprovedVenue","_id":"60fb477370c657002b0a893e","disabled":false,"shorthandName":"Bird Rock Park","pdfUploads":[],"place_id":"ChIJuaNFSoEB3IARmzcrvx3hcCs","location":{"__typename":"Coordinates","lat":32.8111856,"lng":-117.2630648},"neighborhood":"Bird Rock","city":"San Diego","formatted_address":"5371 La Jolla Hermosa Ave, La Jolla, CA 92037, USA","sportDetails":[{"__typename":"SportDescription","sportName":"Kickball","description":""}],"image":{"__typename":"ImageType","url":"https://s3.amazonaws.com/rivall-user-uploads/prodUploads/approvedVenueFolder/5e18a132b3e28.image.jpg"}},"ApprovedVenue:60fb47e570c657002b0a90e5":{"__typename":"ApprovedVenue","_id":"60fb47e570c657002b0a90e5","disabled":false,"shorthandName":"La Jolla Rec Center","pdfUploads":["https://s3.amazonaws.com/rivall-user-uploads/prodUploads/pdfUploadsFolder/Permit 112958 - LJRC Mon - Jan:Feb_1642107016372.pdf"],"place_id":"ChIJ_aMOOOUD3IARv_HZulbM0k4","location":{"__typename":"Coordinates","lat":32.8433324,"lng":-117.277853},"neighborhood":"La Jolla","city":"San Diego","formatted_address":"615 Prospect St, La Jolla, CA 92037, USA","sportDetails":[{"__typename":"SportDescription","sportName":"Pickleball","description":""},{"__typename":"SportDescription","sportName":"Event","description":""}],"image":{"__typename":"ImageType","url":"https://s3.amazonaws.com/rivall-user-uploads/prodUploads/approvedVenueFolder/396092340_5GerRxmTN6520JSjkjOrcj7Pm3aI9BLvUe4VOR4ffmo.jpg"}},"ApprovedVenue:60fb4899da3b0f00c9f2e469":{"__typename":"ApprovedVenue","_id":"60fb4899da3b0f00c9f2e469","disabled":false,"shorthandName":"Santa Clara Rec Center","pdfUploads":[],"place_id":"ChIJNVhHsOYB3IARNFxDxefrdo0","location":{"__typename":"Coordinates","lat":32.7835095,"lng":-117.2490289},"neighborhood":"Mission Beach","city":"San Diego","formatted_address":"1008 Santa Clara Pl, San Diego, CA 92109, USA","sportDetails":[],"image":{"__typename":"ImageType","url":"https://s3.amazonaws.com/rivall-user-uploads/prodUploads/approvedVenueFolder/4702d779-0577-4f83-b2ba-eb5a9178273b_d.jpg"}},"ApprovedVenue:6101b8f6847a9702a03c26f1":{"__typename":"ApprovedVenue","_id":"6101b8f6847a9702a03c26f1","disabled":false,"shorthandName":"Frazee State Beach","pdfUploads":[],"place_id":"ChIJizf_FA5y3IAReTI2ZoptP48","location":{"__typename":"Coordinates","lat":33.1559157,"lng":-117.3512268},"neighborhood":"Carlsbad","city":"Carlsbad","formatted_address":"3150 Ocean St, Carlsbad, CA 92008, USA","sportDetails":[{"__typename":"SportDescription","sportName":"Volleyball","description":"\u003cp>3Premier Beach Volleyball courts in Carlsbad, CA. Waterfront views just steps away from the Pacific Ocean. One of the best places in \u003c/p>"}],"image":{"__typename":"ImageType","url":"https://s3.amazonaws.com/rivall-user-uploads/prodUploads/approvedVenueFolder/bigs-Robert-Frazee-Beach-in-Carlsbad-CA-1235-Large-e1512696488540-1000x615.jpg"}},"ApprovedVenue:610469a747fbcf008378125e":{"__typename":"ApprovedVenue","_id":"610469a747fbcf008378125e","disabled":false,"shorthandName":"Mavericks Beach Club","pdfUploads":[],"place_id":"ChIJJSLLS-0B3IARJADVCdawNFU","location":{"__typename":"Coordinates","lat":32.7970465,"lng":-117.254522},"neighborhood":"Pacific Beach","city":"San Diego","formatted_address":"860 Garnet Ave, San Diego, CA 92109, USA","sportDetails":[{"__typename":"SportDescription","sportName":"Bar Games","description":""},{"__typename":"SportDescription","sportName":"Bar Olympics","description":""},{"__typename":"SportDescription","sportName":"Cornhole","description":""},{"__typename":"SportDescription","sportName":"Flip Cup","description":""},{"__typename":"SportDescription","sportName":"Event","description":""}],"image":{"__typename":"ImageType","url":"https://s3.amazonaws.com/rivall-user-uploads/prodUploads/approvedVenueFolder/lower-patio-bar-backyard.jpg"}},"ApprovedVenue:6109c3f5fa78090075ce8702":{"__typename":"ApprovedVenue","_id":"6109c3f5fa78090075ce8702","disabled":false,"shorthandName":"Park de la Cruz","pdfUploads":[],"place_id":"ChIJO744CWlU2YAR3r0RL6o6owU","location":{"__typename":"Coordinates","lat":32.7446398,"lng":-117.110952},"neighborhood":"City Heights","city":"San Diego","formatted_address":"3603 38th Street CA 92105, 3901 Landis St, San Diego, CA 92105, USA","sportDetails":[{"__typename":"SportDescription","sportName":"Kickball","description":""},{"__typename":"SportDescription","sportName":"Softball","description":"\u003cp>An amazing venue in City Heights.\u003c/p>"}],"image":{"__typename":"ImageType","url":"https://s3.amazonaws.com/rivall-user-uploads/prodUploads/approvedVenueFolder/park.jpg"}},"ApprovedVenue:6109ce71f9fa9a00c7115066":{"__typename":"ApprovedVenue","_id":"6109ce71f9fa9a00c7115066","disabled":false,"shorthandName":"Ski Beach","pdfUploads":[],"place_id":"ChIJ5Ye7xnCq3oARawBiDngpspo","location":{"__typename":"Coordinates","lat":32.7779341,"lng":-117.2329266},"neighborhood":"Mission Bay","city":"San Diego","formatted_address":"1600 Vacation Rd, San Diego, CA 92109, USA","sportDetails":[],"image":{"__typename":"ImageType","url":"https://s3.amazonaws.com/rivall-user-uploads/prodUploads/approvedVenueFolder/ski.jpg"}},"ApprovedVenue:613faacd52a154028adadc17":{"__typename":"ApprovedVenue","_id":"613faacd52a154028adadc17","disabled":true,"shorthandName":"Liberty Station at NTC Park","pdfUploads":[],"place_id":"ChIJWbiTjgWr3oARXb7pJZnsBhY","location":{"__typename":"Coordinates","lat":32.7344374,"lng":-117.212779},"neighborhood":"Point Loma","city":"San Diego","formatted_address":"2455 Cushing Rd, San Diego, CA 92106, USA","sportDetails":[{"__typename":"SportDescription","sportName":"Bocce","description":"\u003cp>In the middle of Point Loma and a beautiful venue.\u003c/p>"},{"__typename":"SportDescription","sportName":"Cornhole","description":""},{"__typename":"SportDescription","sportName":"Event","description":""},{"__typename":"SportDescription","sportName":"Kickball","description":""},{"__typename":"SportDescription","sportName":"Volleyball","description":"\u003cp>New location for Grass Volleyball overlooking the San Diego Harbor!\u003c/p>"}],"image":{"__typename":"ImageType","url":"https://s3.amazonaws.com/rivall-user-uploads/prodUploads/approvedVenueFolder/Park-San-Diego-NTC-Liberty-Station-Park-P1210232.jpg"}},"ApprovedVenue:61787519c3e8e30074cc069d":{"__typename":"ApprovedVenue","_id":"61787519c3e8e30074cc069d","disabled":false,"shorthandName":"Carmel Valley Rec Center","pdfUploads":[],"place_id":"ChIJTWdSTJ0I3IARxebVg-HpFio","location":{"__typename":"Coordinates","lat":32.9492684,"lng":-117.2325434},"neighborhood":"Carmel Valley","city":"San Diego","formatted_address":"3777 Townsgate Dr, San Diego, CA 92130, USA","sportDetails":[{"__typename":"SportDescription","sportName":"Kickball","description":""},{"__typename":"SportDescription","sportName":"Softball","description":"\u003cp>Come enjoy softball at a pristine location in Carmel Valley.\u003c/p>"}],"image":{"__typename":"ImageType","url":"https://s3.amazonaws.com/rivall-user-uploads/prodUploads/approvedVenueFolder/carmel.jpg"}},"ApprovedVenue:618174bb2ef5fec227aabb46":{"__typename":"ApprovedVenue","_id":"618174bb2ef5fec227aabb46","disabled":false,"shorthandName":"Moonshine Beach","pdfUploads":[],"place_id":"ChIJvbLDOOsB3IAR1TFecNCdSLE","location":{"__typename":"Coordinates","lat":32.7978676,"lng":-117.2484133},"neighborhood":"Pacific Beach","city":"San Diego","formatted_address":"1165 Garnet Ave, San Diego, CA 92109, USA","sportDetails":[{"__typename":"SportDescription","sportName":"Bar Games","description":""},{"__typename":"SportDescription","sportName":"Bar Olympics","description":""},{"__typename":"SportDescription","sportName":"Cornhole","description":""},{"__typename":"SportDescription","sportName":"Flip Cup","description":""}],"image":{"__typename":"ImageType","url":"https://s3.amazonaws.com/rivall-user-uploads/prodUploads/approvedVenueFolder/moonshine.jpg"}},"ApprovedVenue:61831a87b6ef654ce758adcd":{"__typename":"ApprovedVenue","_id":"61831a87b6ef654ce758adcd","disabled":false,"shorthandName":"Mira Mesa High School","pdfUploads":[],"place_id":"ChIJ_zuU7-j424AR1IXd7iCom78","location":{"__typename":"Coordinates","lat":32.910904,"lng":-117.1403701},"neighborhood":"Mira Mesa","city":"San Diego","formatted_address":"10510 Marauder Way, San Diego, CA 92126, USA","sportDetails":[{"__typename":"SportDescription","sportName":"Flag Football","description":"\u003cp>\u003cspan id=\"isPasted\" style='color: rgb(65, 65, 65); font-family: Arial, \"Helvetica Neue\", Helvetica, sans-serif; font-size: 14px; font-style: normal; font-variant-ligatures: normal; font-variant-caps: normal; font-weight: 400; letter-spacing: normal; orphans: 2; text-align: left; text-indent: 0px; text-transform: none; white-space: normal; widows: 2; word-spacing: 0px; -webkit-text-stroke-width: 0px; background-color: rgb(255, 255, 255); text-decoration-thickness: initial; text-decoration-style: initial; text-decoration-color: initial; display: inline !important; float: none;'>Premier location for Turf \u003c/span>\u003cspan style='color: rgb(65, 65, 65); font-family: Arial, \"Helvetica Neue\", Helvetica, sans-serif; font-size: 14px; font-style: normal; font-variant-ligatures: normal; font-variant-caps: normal; font-weight: 400; letter-spacing: normal; orphans: 2; text-align: left; text-indent: 0px; text-transform: none; white-space: normal; widows: 2; word-spacing: 0px; -webkit-text-stroke-width: 0px; background-color: rgb(255, 255, 255); text-decoration-thickness: initial; text-decoration-style: initial; text-decoration-color: initial; display: inline !important; float: none;'>7v7 Flag Football Coed Leagues.\u003c/span>\u003c/p>"},{"__typename":"SportDescription","sportName":"Soccer","description":"\u003cp>\u003cspan id=\"isPasted\" style='color: rgb(65, 65, 65); font-family: Arial, \"Helvetica Neue\", Helvetica, sans-serif; font-size: 14px; font-style: normal; font-variant-ligatures: normal; font-variant-caps: normal; font-weight: 400; letter-spacing: normal; orphans: 2; text-align: left; text-indent: 0px; text-transform: none; white-space: normal; widows: 2; word-spacing: 0px; -webkit-text-stroke-width: 0px; background-color: rgb(255, 255, 255); text-decoration-thickness: initial; text-decoration-style: initial; text-decoration-color: initial; display: inline !important; float: none;'>Premier location for Turf \u003c/span>\u003cspan style='color: rgb(65, 65, 65); font-family: Arial, \"Helvetica Neue\", Helvetica, sans-serif; font-size: 14px; font-style: normal; font-variant-ligatures: normal; font-variant-caps: normal; font-weight: 400; letter-spacing: normal; orphans: 2; text-align: left; text-indent: 0px; text-transform: none; white-space: normal; widows: 2; word-spacing: 0px; -webkit-text-stroke-width: 0px; background-color: rgb(255, 255, 255); text-decoration-thickness: initial; text-decoration-style: initial; text-decoration-color: initial; display: inline !important; float: none;'>7v7 Soccer Coed Leagues and Pick-ups.\u003c/span>\u003c/p>"}],"image":{"__typename":"ImageType","url":"https://s3.amazonaws.com/rivall-user-uploads/prodUploads/approvedVenueFolder/my post.jpg"}},"ApprovedVenue:61957901434744038fafae45":{"__typename":"ApprovedVenue","_id":"61957901434744038fafae45","disabled":false,"shorthandName":"Harry West Gym at SDCC","pdfUploads":[],"place_id":"ChIJO_X-YqBU2YARFltv8kO4tA8","location":{"__typename":"Coordinates","lat":32.7186055,"lng":-117.1525357},"neighborhood":"Downtown","city":"San Diego","formatted_address":"1313 Park Blvd, San Diego, CA 92101, USA","sportDetails":[{"__typename":"SportDescription","sportName":"Basketball","description":""}],"image":{"__typename":"ImageType","url":"https://s3.amazonaws.com/rivall-user-uploads/prodUploads/approvedVenueFolder/sdcc.jpeg"}},"ApprovedVenue:619579cdd21c53de4d55c0e6":{"__typename":"ApprovedVenue","_id":"619579cdd21c53de4d55c0e6","disabled":false,"shorthandName":"Cabrillo Heights Park","pdfUploads":[],"place_id":"ChIJSVHibt7_24ARw1F6znuoIrk","location":{"__typename":"Coordinates","lat":32.8055839,"lng":-117.1481666},"neighborhood":"Serra Mesa","city":"San Diego","formatted_address":"8308 Hurlbut St, San Diego, CA 92123, USA","sportDetails":[{"__typename":"SportDescription","sportName":"Kickball","description":""},{"__typename":"SportDescription","sportName":"Softball","description":"\u003cp>A great venue right off of the 805 freeway.\u003c/p>"}],"image":{"__typename":"ImageType","url":"https://s3.amazonaws.com/rivall-user-uploads/prodUploads/approvedVenueFolder/cabrillo heights.jpeg"}},"ApprovedVenue:619d33cc71d52152097728c4":{"__typename":"ApprovedVenue","_id":"619d33cc71d52152097728c4","disabled":false,"shorthandName":"Hourglass Community Park","pdfUploads":[],"place_id":"ChIJPSaXhiH524ARf92Fux0VMaQ","location":{"__typename":"Coordinates","lat":32.90651690000001,"lng":-117.1222589},"neighborhood":"Mira Mesa","city":"San Diego","formatted_address":"10440 Black Mountain Rd, San Diego, CA 92126, USA","sportDetails":[{"__typename":"SportDescription","sportName":"Kickball","description":""},{"__typename":"SportDescription","sportName":"Softball","description":"\u003cp>An amazing venue in the Mira Mesa area.\u003c/p>"}],"image":{"__typename":"ImageType","url":"https://s3.amazonaws.com/rivall-user-uploads/prodUploads/approvedVenueFolder/hourglass.jpeg"}},"ApprovedVenue:61a7ca4a1486c14f41c8b9d7":{"__typename":"ApprovedVenue","_id":"61a7ca4a1486c14f41c8b9d7","disabled":false,"shorthandName":"VERVE Studios Del Mar","pdfUploads":[],"place_id":"ChIJn2PjLhMJ3IARNXRxQDolwBQ","location":{"__typename":"Coordinates","lat":32.9511451,"lng":-117.2460829},"neighborhood":"Del Mar","city":"Del Mar","formatted_address":"2630 Del Mar Heights Rd, Del Mar, CA 92014, USA","sportDetails":[{"__typename":"SportDescription","sportName":"Spin","description":""}],"image":{"__typename":"ImageType","url":"https://s3.amazonaws.com/rivall-user-uploads/prodUploads/approvedVenueFolder/verve.jpeg"}},"ApprovedVenue:61a9227ca6c0aa220e435580":{"__typename":"ApprovedVenue","_id":"61a9227ca6c0aa220e435580","disabled":false,"shorthandName":"Bonita Cove","pdfUploads":[],"place_id":"ChIJS8UJHg2q3oARsRP1X34BRls","location":{"__typename":"Coordinates","lat":32.77165539999999,"lng":-117.2494147},"neighborhood":"Mission Beach","city":"San Diego","formatted_address":"1100 W Mission Bay Dr, San Diego, CA 92109, USA","sportDetails":[{"__typename":"SportDescription","sportName":"Bootcamp","description":""},{"__typename":"SportDescription","sportName":"Volleyball","description":"\u003cp>The Pits at Bonita Cove is located in Mission Beach, off west Mission Bay Dr. There are 4 permanent poles for net setup. The courts have a waterfront view of Mission Bay, across the street to the east of Belmont Park rollercoaster.\u003c/p>"},{"__typename":"SportDescription","sportName":"Yoga","description":""}],"image":{"__typename":"ImageType","url":"https://s3.amazonaws.com/rivall-user-uploads/prodUploads/approvedVenueFolder/bonita cove.webp"}},"ApprovedVenue:61a967f532213b2e1f1206d6":{"__typename":"ApprovedVenue","_id":"61a967f532213b2e1f1206d6","disabled":false,"shorthandName":"The Sandbox","pdfUploads":[],"place_id":"ChIJU5oZD8AB3IARQhEoH4PFBxc","location":{"__typename":"Coordinates","lat":32.7995331,"lng":-117.243223},"neighborhood":"Pacific Beach","city":"San Diego","formatted_address":"1466 Garnet Ave, San Diego, CA 92109, USA","sportDetails":[{"__typename":"SportDescription","sportName":"Bar Olympics","description":""},{"__typename":"SportDescription","sportName":"Cornhole","description":""},{"__typename":"SportDescription","sportName":"Flip Cup","description":""},{"__typename":"SportDescription","sportName":"Skeeball","description":""},{"__typename":"SportDescription","sportName":"Event","description":""}],"image":{"__typename":"ImageType","url":"https://s3.amazonaws.com/rivall-user-uploads/prodUploads/approvedVenueFolder/sbp.jpeg"}},"ApprovedVenue:61afc6f9bac0ae97bb34156f":{"__typename":"ApprovedVenue","_id":"61afc6f9bac0ae97bb34156f","disabled":false,"shorthandName":"Pure Project Balboa Park","pdfUploads":[],"place_id":"ChIJDy92crhU2YARspz-pe_LB4A","location":{"__typename":"Coordinates","lat":32.73523889999999,"lng":-117.1600545},"neighborhood":"Bankers Hill","city":"San Diego","formatted_address":"2865 Fifth Ave, San Diego, CA 92103, USA","sportDetails":[{"__typename":"SportDescription","sportName":"Bar Games","description":""},{"__typename":"SportDescription","sportName":"Bar Olympics","description":""},{"__typename":"SportDescription","sportName":"Cornhole","description":""},{"__typename":"SportDescription","sportName":"Flip Cup","description":""}],"image":{"__typename":"ImageType","url":"https://s3.amazonaws.com/rivall-user-uploads/prodUploads/approvedVenueFolder/PPB.jpeg"}},"ApprovedVenue:61afe0067edc4969f1db43bf":{"__typename":"ApprovedVenue","_id":"61afe0067edc4969f1db43bf","disabled":false,"shorthandName":"Tidelands Park","pdfUploads":[],"place_id":"ChIJt6h5VjZT2YARB-FpBFMAIk8","location":{"__typename":"Coordinates","lat":32.6904301,"lng":-117.165091},"neighborhood":"Coronado","city":"Coronado","formatted_address":"2000 Mullinex Dr, Coronado, CA 92118, USA","sportDetails":[{"__typename":"SportDescription","sportName":"Bootcamp","description":""},{"__typename":"SportDescription","sportName":"Kickball","description":""},{"__typename":"SportDescription","sportName":"Yoga","description":""}],"image":{"__typename":"ImageType","url":"https://s3.amazonaws.com/rivall-user-uploads/prodUploads/approvedVenueFolder/Tidelands Park_4.jpeg"}},"ApprovedVenue:6213ed73178b577a99e6bf47":{"__typename":"ApprovedVenue","_id":"6213ed73178b577a99e6bf47","disabled":false,"shorthandName":"Stone Brewing World Bistro & Gardens – Liberty Station","pdfUploads":[],"place_id":"ChIJu-AFdgOr3oAR6wTMm3R-P-4","location":{"__typename":"Coordinates","lat":32.7406063,"lng":-117.2114812},"neighborhood":"Point Loma","city":"San Diego","formatted_address":"2816 Historic Decatur Rd, San Diego, CA 92106, USA","sportDetails":[{"__typename":"SportDescription","sportName":"Cornhole","description":""}],"image":{"__typename":"ImageType","url":"https://s3.amazonaws.com/rivall-user-uploads/prodUploads/approvedVenueFolder/Movie Courtyard full view.jpg"}},"ApprovedVenue:62157daf88e88dd71701244d":{"__typename":"ApprovedVenue","_id":"62157daf88e88dd71701244d","disabled":false,"shorthandName":"Morley Field Sports Complex","pdfUploads":[],"place_id":"ChIJi8uW0ZJU2YARQO6x7ecgRQg","location":{"__typename":"Coordinates","lat":32.7400499,"lng":-117.1405611},"neighborhood":"North Park","city":"San Diego","formatted_address":"2221 Morley Field Dr, San Diego, CA 92104, USA","sportDetails":[],"image":{"__typename":"ImageType","url":"https://s3.amazonaws.com/rivall-user-uploads/prodUploads/approvedVenueFolder/morley.jpeg"}},"ApprovedVenue:622108b509a5be85b21a7467":{"__typename":"ApprovedVenue","_id":"622108b509a5be85b21a7467","disabled":false,"shorthandName":"Balboa Stadium","pdfUploads":[],"place_id":"EiNSdXNzIEJsdmQsIFNhbiBEaWVnbywgQ0EgOTIxMDEsIFVTQSIuKiwKFAoSCWE5JU2gVNmAEVMYHwdIK_XPEhQKEgkr5gi3QlPZgBEjklZbPU5FCQ","location":{"__typename":"Coordinates","lat":32.7194238,"lng":-117.1512452},"neighborhood":"Downtown","city":"San Diego","formatted_address":"Russ Blvd, San Diego, CA 92101, USA","sportDetails":[{"__typename":"SportDescription","sportName":"Flag Football","description":"\u003cp>\u003cspan id=\"isPasted\" style='color: rgb(65, 65, 65); font-family: Arial, \"Helvetica Neue\", Helvetica, sans-serif; font-size: 14px; font-style: normal; font-variant-ligatures: normal; font-variant-caps: normal; font-weight: 400; letter-spacing: normal; orphans: 2; text-align: left; text-indent: 0px; text-transform: none; white-space: normal; widows: 2; word-spacing: 0px; -webkit-text-stroke-width: 0px; background-color: rgb(255, 255, 255); text-decoration-thickness: initial; text-decoration-style: initial; text-decoration-color: initial; display: inline !important; float: none;'>Premier location for Turf \u003c/span>\u003cspan style='color: rgb(65, 65, 65); font-family: Arial, \"Helvetica Neue\", Helvetica, sans-serif; font-size: 14px; font-style: normal; font-variant-ligatures: normal; font-variant-caps: normal; font-weight: 400; letter-spacing: normal; orphans: 2; text-align: left; text-indent: 0px; text-transform: none; white-space: normal; widows: 2; word-spacing: 0px; -webkit-text-stroke-width: 0px; background-color: rgb(255, 255, 255); text-decoration-thickness: initial; text-decoration-style: initial; text-decoration-color: initial; display: inline !important; float: none;'>7v7 Soccer Coed Leagues.\u003c/span>\u003c/p>"},{"__typename":"SportDescription","sportName":"Soccer","description":"\u003cp>\u003cspan id=\"isPasted\" style='color: rgb(65, 65, 65); font-family: Arial, \"Helvetica Neue\", Helvetica, sans-serif; font-size: 14px; font-style: normal; font-variant-ligatures: normal; font-variant-caps: normal; font-weight: 400; letter-spacing: normal; orphans: 2; text-align: left; text-indent: 0px; text-transform: none; white-space: normal; widows: 2; word-spacing: 0px; -webkit-text-stroke-width: 0px; background-color: rgb(255, 255, 255); text-decoration-thickness: initial; text-decoration-style: initial; text-decoration-color: initial; display: inline !important; float: none;'>Premier location for Turf \u003c/span>\u003cspan style='color: rgb(65, 65, 65); font-family: Arial, \"Helvetica Neue\", Helvetica, sans-serif; font-size: 14px; font-style: normal; font-variant-ligatures: normal; font-variant-caps: normal; font-weight: 400; letter-spacing: normal; orphans: 2; text-align: left; text-indent: 0px; text-transform: none; white-space: normal; widows: 2; word-spacing: 0px; -webkit-text-stroke-width: 0px; background-color: rgb(255, 255, 255); text-decoration-thickness: initial; text-decoration-style: initial; text-decoration-color: initial; display: inline !important; float: none;'>7v7 Soccer Coed Leagues and Pick-ups.\u003c/span>\u003c/p>"}],"image":{"__typename":"ImageType","url":"https://s3.amazonaws.com/rivall-user-uploads/prodUploads/approvedVenueFolder/balboa_Stadium_thumb-400x210.jpeg"}},"ApprovedVenue:628e881e15b69cb7f6419741":{"__typename":"ApprovedVenue","_id":"628e881e15b69cb7f6419741","disabled":false,"shorthandName":"Jefferson Elementary ","pdfUploads":[],"place_id":"ChIJ7wSDUPFU2YARIsxgl8fDksI","location":{"__typename":"Coordinates","lat":32.74784200000001,"lng":-117.1331392},"neighborhood":"North Park","city":"San Diego","formatted_address":"3770 Utah St, San Diego, CA 92104, USA","sportDetails":[],"image":{"__typename":"ImageType","url":"https://s3.amazonaws.com/rivall-user-uploads/prodUploads/approvedVenueFolder/VoloKidsFoundation-logo-color (1).png"}},"ApprovedVenue:62994dfec14684e29874c824":{"__typename":"ApprovedVenue","_id":"62994dfec14684e29874c824","disabled":false,"shorthandName":"Crown Point Park","pdfUploads":[],"place_id":"ChIJG0urbNoB3IARJux7ZkKlQ1o","location":{"__typename":"Coordinates","lat":32.787771,"lng":-117.2345955},"neighborhood":"Pacific Beach","city":"San Diego","formatted_address":"Crown Point Dr, San Diego, CA 92109, USA","sportDetails":[{"__typename":"SportDescription","sportName":"Bocce","description":"\u003cp>With a view of the San Diego Bay, there is no better place to play bocce.\u003c/p>"},{"__typename":"SportDescription","sportName":"Volleyball","description":"\u003cp>New Grass Volleyball location overlooking San Diego bay. \u003c/p>"}],"image":{"__typename":"ImageType","url":"https://s3.amazonaws.com/rivall-user-uploads/prodUploads/approvedVenueFolder/Crown Point Park.png"}},"ApprovedVenue:629a5c2ea5b7ab4fafada712":{"__typename":"ApprovedVenue","_id":"629a5c2ea5b7ab4fafada712","disabled":false,"shorthandName":"Morley Field Bocce Ball Courts","pdfUploads":[],"place_id":"EiYyNTc2IFVwYXMgU3QsIFNhbiBEaWVnbywgQ0EgOTIxMDQsIFVTQSIxEi8KFAoSCTclKDCNVNmAEb7NKwh5JzSkEJAUKhQKEgnr_LdLjVTZgBFrad4v8lWtyg","location":{"__typename":"Coordinates","lat":32.7409737,"lng":-117.1362813},"neighborhood":"North Park","city":"San Diego","formatted_address":"2576 Upas St, San Diego, CA 92104, USA","sportDetails":[{"__typename":"SportDescription","sportName":"Bocce","description":"\u003cp>In the middle of North Park and the only venue that has traditional bocce courts.\u003c/p>"}],"image":{"__typename":"ImageType","url":"https://s3.amazonaws.com/rivall-user-uploads/prodUploads/approvedVenueFolder/IMG_8876.300x199.JPG"}},"ApprovedVenue:62a777677e8e5f2c01e6050c":{"__typename":"ApprovedVenue","_id":"62a777677e8e5f2c01e6050c","disabled":false,"shorthandName":"Kearny High School","pdfUploads":[],"place_id":"ChIJTRj5weL_24ARe5m2Yfsa4OA","location":{"__typename":"Coordinates","lat":32.8002085,"lng":-117.1605279},"neighborhood":"Kearny Mesa","city":"San Diego","formatted_address":"1954 Komet Way, San Diego, CA 92111, USA","sportDetails":[{"__typename":"SportDescription","sportName":"Flag Football","description":"\u003cp>\u003cspan id=\"isPasted\" style='color: rgb(65, 65, 65); font-family: Arial, \"Helvetica Neue\", Helvetica, sans-serif; font-size: 14px; font-style: normal; font-variant-ligatures: normal; font-variant-caps: normal; font-weight: 400; letter-spacing: normal; orphans: 2; text-align: left; text-indent: 0px; text-transform: none; white-space: normal; widows: 2; word-spacing: 0px; -webkit-text-stroke-width: 0px; background-color: rgb(255, 255, 255); text-decoration-thickness: initial; text-decoration-style: initial; text-decoration-color: initial; display: inline !important; float: none;'>Premier location for Turf \u003c/span>\u003cspan style='color: rgb(65, 65, 65); font-family: Arial, \"Helvetica Neue\", Helvetica, sans-serif; font-size: 14px; font-style: normal; font-variant-ligatures: normal; font-variant-caps: normal; font-weight: 400; letter-spacing: normal; orphans: 2; text-align: left; text-indent: 0px; text-transform: none; white-space: normal; widows: 2; word-spacing: 0px; -webkit-text-stroke-width: 0px; background-color: rgb(255, 255, 255); text-decoration-thickness: initial; text-decoration-style: initial; text-decoration-color: initial; display: inline !important; float: none;'>7v7 Flag Football Coed Leagues.\u003c/span>\u003c/p>"},{"__typename":"SportDescription","sportName":"Soccer","description":"\u003cp>\u003cspan id=\"isPasted\" style='color: rgb(65, 65, 65); font-family: Arial, \"Helvetica Neue\", Helvetica, sans-serif; font-size: 14px; font-style: normal; font-variant-ligatures: normal; font-variant-caps: normal; font-weight: 400; letter-spacing: normal; orphans: 2; text-align: left; text-indent: 0px; text-transform: none; white-space: normal; widows: 2; word-spacing: 0px; -webkit-text-stroke-width: 0px; background-color: rgb(255, 255, 255); text-decoration-thickness: initial; text-decoration-style: initial; text-decoration-color: initial; display: inline !important; float: none;'>Premier location for Turf \u003c/span>\u003cspan style='color: rgb(65, 65, 65); font-family: Arial, \"Helvetica Neue\", Helvetica, sans-serif; font-size: 14px; font-style: normal; font-variant-ligatures: normal; font-variant-caps: normal; font-weight: 400; letter-spacing: normal; orphans: 2; text-align: left; text-indent: 0px; text-transform: none; white-space: normal; widows: 2; word-spacing: 0px; -webkit-text-stroke-width: 0px; background-color: rgb(255, 255, 255); text-decoration-thickness: initial; text-decoration-style: initial; text-decoration-color: initial; display: inline !important; float: none;'>7v7 Soccer Coed Leagues and Pick-ups.\u003c/span>\u003c/p>"}],"image":{"__typename":"ImageType","url":"https://s3.amazonaws.com/rivall-user-uploads/prodUploads/approvedVenueFolder/kearny.jpeg"}},"ApprovedVenue:62bde249b892ce858f0a24c6":{"__typename":"ApprovedVenue","_id":"62bde249b892ce858f0a24c6","disabled":false,"shorthandName":"Standley Recreation Center","pdfUploads":[],"place_id":"ChIJObdjFN0A3IARDNPkmyjRHEg","location":{"__typename":"Coordinates","lat":32.8508223,"lng":-117.2105854},"neighborhood":"UTC","city":"San Diego","formatted_address":"3585 Governor Dr, San Diego, CA 92122, USA","sportDetails":[{"__typename":"SportDescription","sportName":"Softball","description":"\u003cp>An outstanding venue in the UTC area.\u003c/p>"}],"image":{"__typename":"ImageType","url":"https://s3.amazonaws.com/rivall-user-uploads/prodUploads/approvedVenueFolder/Standley Rec.jpg"}},"ApprovedVenue:62c5f98cffbfcdd434c5530a":{"__typename":"ApprovedVenue","_id":"62c5f98cffbfcdd434c5530a","disabled":false,"shorthandName":"Zoom - Virtual Event ","pdfUploads":[],"place_id":"ChIJCa1iPuuq3oARDFCniJhGd9M","location":{"__typename":"Coordinates","lat":32.766861,"lng":-117.2009241},"neighborhood":"Bankers Hill","city":"San Diego","formatted_address":"Cudahy Pl, San Diego, CA 92110, USA","sportDetails":[{"__typename":"SportDescription","sportName":"Event","description":""}],"image":null},"ApprovedVenue:62cc7e566cd795d3ac958fbb":{"__typename":"ApprovedVenue","_id":"62cc7e566cd795d3ac958fbb","disabled":false,"shorthandName":"Clairemont High School","pdfUploads":[],"place_id":"ChIJhTVgvDgA3IAR5RgYYNS2XgA","location":{"__typename":"Coordinates","lat":32.8083016,"lng":-117.2040963},"neighborhood":"Clairemont","city":"San Diego","formatted_address":"4150 Ute Dr, San Diego, CA 92117, USA","sportDetails":[{"__typename":"SportDescription","sportName":"Soccer","description":"\u003cp>\u003cspan id=\"isPasted\" style='color: rgb(65, 65, 65); font-family: Arial, \"Helvetica Neue\", Helvetica, sans-serif; font-size: 14px; font-style: normal; font-variant-ligatures: normal; font-variant-caps: normal; font-weight: 400; letter-spacing: normal; orphans: 2; text-align: left; text-indent: 0px; text-transform: none; white-space: normal; widows: 2; word-spacing: 0px; -webkit-text-stroke-width: 0px; background-color: rgb(255, 255, 255); text-decoration-thickness: initial; text-decoration-style: initial; text-decoration-color: initial; display: inline !important; float: none;'>Premier location for Turf \u003c/span>\u003cspan style='color: rgb(65, 65, 65); font-family: Arial, \"Helvetica Neue\", Helvetica, sans-serif; font-size: 14px; font-style: normal; font-variant-ligatures: normal; font-variant-caps: normal; font-weight: 400; letter-spacing: normal; orphans: 2; text-align: left; text-indent: 0px; text-transform: none; white-space: normal; widows: 2; word-spacing: 0px; -webkit-text-stroke-width: 0px; background-color: rgb(255, 255, 255); text-decoration-thickness: initial; text-decoration-style: initial; text-decoration-color: initial; display: inline !important; float: none;'>7v7 Soccer Coed Leagues and Pick-ups.\u003c/span>\u003c/p>"}],"image":{"__typename":"ImageType","url":"https://s3.amazonaws.com/rivall-user-uploads/prodUploads/approvedVenueFolder/Screen Shot 2022-07-11 at 12.47.12 PM.png"}},"ApprovedVenue:62d07cf876d35ade3d1cb871":{"__typename":"ApprovedVenue","_id":"62d07cf876d35ade3d1cb871","disabled":false,"shorthandName":"Northside Tavern","pdfUploads":[],"place_id":"ChIJRQcLLj-q3oARn7rSLvo3qS8","location":{"__typename":"Coordinates","lat":32.7526013,"lng":-117.2464155},"neighborhood":"Ocean Beach","city":"San Diego","formatted_address":"2228 Bacon St, San Diego, CA 92107, USA","sportDetails":[{"__typename":"SportDescription","sportName":"Event","description":""}],"image":{"__typename":"ImageType","url":"https://s3.amazonaws.com/rivall-user-uploads/prodUploads/approvedVenueFolder/Northside Tavern.jpeg"}},"ApprovedVenue:6311198b03721a06d6ab097c":{"__typename":"ApprovedVenue","_id":"6311198b03721a06d6ab097c","disabled":false,"shorthandName":"Tavern + Bowl - East Village","pdfUploads":[],"place_id":"ChIJbyE5S1lT2YAR6S1LfAWnAUg","location":{"__typename":"Coordinates","lat":32.7117683,"lng":-117.1558408},"neighborhood":"Downtown","city":"San Diego","formatted_address":"930 Market St, San Diego, CA 92101, USA","sportDetails":[{"__typename":"SportDescription","sportName":"Bowling","description":""}],"image":null},"ApprovedVenue:63b8845b2c53040c94785136":{"__typename":"ApprovedVenue","_id":"63b8845b2c53040c94785136","disabled":false,"shorthandName":"Volo Office","pdfUploads":[],"place_id":"ChIJsQuyN-uq3oARPb9LYCw-NVI","location":{"__typename":"Coordinates","lat":32.7675758,"lng":-117.2014432},"neighborhood":"Point Loma","city":"San Diego","formatted_address":"1094 Cudahy Pl, San Diego, CA 92110, USA","sportDetails":[{"__typename":"SportDescription","sportName":"Event","description":""}],"image":null},"ApprovedVenue:63b8a143cf42aae5029531a1":{"__typename":"ApprovedVenue","_id":"63b8a143cf42aae5029531a1","disabled":false,"shorthandName":"Mission Bay High School","pdfUploads":[],"place_id":"ChIJh2coo8sB3IAR2kCvjaXJJy8","location":{"__typename":"Coordinates","lat":32.8007278,"lng":-117.2242061},"neighborhood":"Pacific Beach","city":"San Diego","formatted_address":"2475 Grand Ave, San Diego, CA 92109, USA","sportDetails":[],"image":null},"ApprovedVenue:63bdbff7f73382375132873b":{"__typename":"ApprovedVenue","_id":"63bdbff7f73382375132873b","disabled":false,"shorthandName":"Valley Middle School","pdfUploads":[],"place_id":"ChIJTcdBCzly3IAR3hSnZZYATiA","location":{"__typename":"Coordinates","lat":33.1584748,"lng":-117.3295081},"neighborhood":"Carlsbad","city":"Carlsbad","formatted_address":"1645 Magnolia Ave, Carlsbad, CA 92008, USA","sportDetails":[],"image":{"__typename":"ImageType","url":"https://s3.amazonaws.com/rivall-user-uploads/prodUploads/approvedVenueFolder/valley middle school.jpeg"}},"ApprovedVenue:63bdc01a68a0d8bbf5ee0783":{"__typename":"ApprovedVenue","_id":"63bdc01a68a0d8bbf5ee0783","disabled":false,"shorthandName":"Carlsbad High School","pdfUploads":[],"place_id":"ChIJ30ftcDpy3IARLQMljX9Uj3w","location":{"__typename":"Coordinates","lat":33.1634328,"lng":-117.3278002},"neighborhood":"Carlsbad","city":"Carlsbad","formatted_address":"3557 Lancer Way, Carlsbad, CA 92008, USA","sportDetails":[],"image":{"__typename":"ImageType","url":"https://s3.amazonaws.com/rivall-user-uploads/prodUploads/approvedVenueFolder/Carlsbad HS.jpeg"}},"ApprovedVenue:63bdc03b99e272d2a8d4fcee":{"__typename":"ApprovedVenue","_id":"63bdc03b99e272d2a8d4fcee","disabled":false,"shorthandName":"Sage Creek High School","pdfUploads":[],"place_id":"ChIJT5sjtZZz3IARDEkltZP_tQg","location":{"__typename":"Coordinates","lat":33.1587056,"lng":-117.2853386},"neighborhood":"Carlsbad","city":"Carlsbad","formatted_address":"3900 Cannon Rd, Carlsbad, CA 92010, USA","sportDetails":[],"image":{"__typename":"ImageType","url":"https://s3.amazonaws.com/rivall-user-uploads/prodUploads/approvedVenueFolder/sage creek HS.webp"}},"ApprovedVenue:63bdc087d64c5949659ee5d5":{"__typename":"ApprovedVenue","_id":"63bdc087d64c5949659ee5d5","disabled":false,"shorthandName":"Modern Times - Point Loma","pdfUploads":[],"place_id":"ChIJVbKoBuWq3oARoSSSLCuBGFQ","location":{"__typename":"Coordinates","lat":32.7542096,"lng":-117.2062202},"neighborhood":"Point Loma","city":"San Diego","formatted_address":"3725 Greenwood St, San Diego, CA 92110, USA","sportDetails":[],"image":{"__typename":"ImageType","url":"https://s3.amazonaws.com/rivall-user-uploads/prodUploads/approvedVenueFolder/modern times.jpeg"}},"ApprovedVenue:63bdc0d24fc12b561d9f3fbf":{"__typename":"ApprovedVenue","_id":"63bdc0d24fc12b561d9f3fbf","disabled":false,"shorthandName":"Punchbowl Social","pdfUploads":[],"place_id":"ChIJCwu6NF5T2YARlxk3U2DLK6g","location":{"__typename":"Coordinates","lat":32.7144471,"lng":-117.1508319},"neighborhood":"Downtown","city":"San Diego","formatted_address":"1485 E St, San Diego, CA 92101, USA","sportDetails":[],"image":{"__typename":"ImageType","url":"https://s3.amazonaws.com/rivall-user-uploads/prodUploads/approvedVenueFolder/punchbowl.jpeg"}},"ApprovedVenue:63c98ee034467a3507c9c593":{"__typename":"ApprovedVenue","_id":"63c98ee034467a3507c9c593","disabled":false,"shorthandName":"Alice Birney Elementary School","pdfUploads":[],"place_id":"ChIJW0Un7eBU2YARX2p6Gd9j0dM","location":{"__typename":"Coordinates","lat":32.7560981,"lng":-117.1484883},"neighborhood":"University Heights","city":"San Diego","formatted_address":"4345 Campus Ave, San Diego, CA 92103, USA","sportDetails":[],"image":{"__typename":"ImageType","url":"https://s3.amazonaws.com/rivall-user-uploads/prodUploads/approvedVenueFolder/alice.webp"}},"ApprovedVenue:63c9ac8a5dbf322046f2c27a":{"__typename":"ApprovedVenue","_id":"63c9ac8a5dbf322046f2c27a","disabled":false,"shorthandName":"Petco Park","pdfUploads":[],"place_id":"ChIJafaLvVxT2YARrDgZyavAq6s","location":{"__typename":"Coordinates","lat":32.7070275,"lng":-117.1548988},"neighborhood":"Downtown","city":"San Diego","formatted_address":"100 Park Blvd, San Diego, CA 92101, USA","sportDetails":[{"__typename":"SportDescription","sportName":"Event","description":""}],"image":{"__typename":"ImageType","url":"https://s3.amazonaws.com/rivall-user-uploads/prodUploads/approvedVenueFolder/petco.jpeg"}},"ApprovedVenue:63f7f32b7e7eb0f43d57c8c9":{"__typename":"ApprovedVenue","_id":"63f7f32b7e7eb0f43d57c8c9","disabled":false,"shorthandName":"Balboa Park","pdfUploads":[],"place_id":"ChIJV9YbK7pU2YARdNOcuNF5eos","location":{"__typename":"Coordinates","lat":32.7306197,"lng":-117.1594089},"neighborhood":"Bankers Hill","city":"San Diego","formatted_address":"Sixth Ave, San Diego, CA, USA","sportDetails":[{"__typename":"SportDescription","sportName":"Volleyball","description":"\u003cp>6v6 Grass Volleyball\u003c/p>"},{"__typename":"SportDescription","sportName":"Bootcamp","description":""}],"image":null},"ApprovedVenue:6410f1a213d649d6d47d2357":{"__typename":"ApprovedVenue","_id":"6410f1a213d649d6d47d2357","disabled":false,"shorthandName":"Logan Memorial Educational Campus","pdfUploads":[],"place_id":"ChIJMUe7qXRT2YARss8mipARDkI","location":{"__typename":"Coordinates","lat":32.700754,"lng":-117.1325993},"neighborhood":"Logan Heights","city":"San Diego","formatted_address":"2875 Ocean View Blvd, San Diego, CA 92113, USA","sportDetails":[{"__typename":"SportDescription","sportName":"Flag Football","description":"\u003cp>New premier quality turf field in Logan Heights! 5 minutes from Downtown! Perfect for Flag Football with friends! \u003c/p>"},{"__typename":"SportDescription","sportName":"Soccer","description":"\u003cp>New premier quality turf field in Logan Heights! 5 minutes from Downtown! Perfect for Soccer with friends! \u003c/p>"}],"image":{"__typename":"ImageType","url":"https://s3.amazonaws.com/rivall-user-uploads/prodUploads/approvedVenueFolder/LMEC.jpeg.jpeg"}},"ApprovedVenue:642df2d1242c25d58b4c140e":{"__typename":"ApprovedVenue","_id":"642df2d1242c25d58b4c140e","disabled":false,"shorthandName":"University City High School","pdfUploads":[],"place_id":"ChIJ5RiOjsUA3IARAJajXCyoflQ","location":{"__typename":"Coordinates","lat":32.8605842,"lng":-117.2062606},"neighborhood":"UTC","city":"San Diego","formatted_address":"6949 Genesee Ave, San Diego, CA 92122, USA","sportDetails":[],"image":null},"ApprovedVenue:643d8d9e3ad266d7321af6fd":{"__typename":"ApprovedVenue","_id":"643d8d9e3ad266d7321af6fd","disabled":false,"shorthandName":"The Pit at Bonita Cove","pdfUploads":[],"place_id":"ChIJ1_gKtA2q3oARu7QnA0-ICAk","location":{"__typename":"Coordinates","lat":32.7708619,"lng":-117.2494626},"neighborhood":"Mission Beach","city":"San Diego","formatted_address":"1100 W Mission Bay Dr, San Diego, CA 92109, USA","sportDetails":[{"__typename":"SportDescription","sportName":"Volleyball","description":""}],"image":{"__typename":"ImageType","url":"https://s3.amazonaws.com/rivall-user-uploads/prodUploads/approvedVenueFolder/bonita-cove_volleyball.jpg"}},"ApprovedVenue:644032498fdf261b0bb4c72d":{"__typename":"ApprovedVenue","_id":"644032498fdf261b0bb4c72d","disabled":false,"shorthandName":"710 Beach Club","pdfUploads":[],"place_id":"ChIJr8ZlrvIB3IAREt5IxFpvFJk","location":{"__typename":"Coordinates","lat":32.7965224,"lng":-117.2564935},"neighborhood":"Pacific Beach","city":"San Diego","formatted_address":"710 Garnet Ave, San Diego, CA 92109, USA","sportDetails":[],"image":{"__typename":"ImageType","url":"https://s3.amazonaws.com/rivall-user-uploads/prodUploads/approvedVenueFolder/PB 710 Beach .jpg"}},"ApprovedVenue:6442e37fbf5cb1f4e329e360":{"__typename":"ApprovedVenue","_id":"6442e37fbf5cb1f4e329e360","disabled":false,"shorthandName":"Piña","pdfUploads":[],"place_id":"ChIJIa-VN8EN3IARjyuYY5qXaDE","location":{"__typename":"Coordinates","lat":33.0476816,"lng":-117.293658},"neighborhood":"Encinitas","city":"Encinitas","formatted_address":"345 S Coast Hwy 101, Encinitas, CA 92024, USA","sportDetails":[],"image":null},"ApprovedVenue:6477b173ac03e13d638d7eb4":{"__typename":"ApprovedVenue","_id":"6477b173ac03e13d638d7eb4","disabled":false,"shorthandName":"Pretzels & Pints","pdfUploads":[],"place_id":"ChIJW84OLfRU2YARtVqmtgsNrlg","location":{"__typename":"Coordinates","lat":32.7476724,"lng":-117.1295776},"neighborhood":"North Park","city":"San Diego","formatted_address":"3812 Ray St, San Diego, CA 92104, USA","sportDetails":[],"image":{"__typename":"ImageType","url":"https://s3.amazonaws.com/rivall-user-uploads/prodUploads/approvedVenueFolder/full.jpeg"}},"League:6468d77c79d4f8743eeb6f7c":{"__typename":"League","_id":"6468d77c79d4f8743eeb6f7c","name":"Softball (10v10 Coed) - Sunday - East River Park Field #6 (Lower East Side) - July 2023","featured_order":null,"schedule":{"__typename":"Schedule","start_date":"2023-07-09T16:00:00.000Z"},"details":{"__typename":"LeagueDetails","description":"\u003cp>JUST ADDED! East River Park 6 leagues will sell out quickly so sign up your team before it's too late. 6 Week Regular Season + Playoffs (Min Top 4Teams)\u003cbr>\u003cbr>\u003cstrong>Game Play: \u003c/strong>\u003cbr>10 vs 10 (Coed) - Min 3 Women on Field Rosters 15-25 players - Min 4 Women on Each Roster\u003cbr>*This League is Metal Bat**Players must bring their own gloves*\u003cbr>\u003cbr>\u003cstrong>Schedule: \u003c/strong>\u003cbr>Game Times will mostly be between 6:00pm - 9:00pm on Sundays\u003c/p>\u003cp>\u003cstrong>\u003cbr>\u003c/strong>\u003c/p>\u003cp>\u003cstrong>Weather Cancellations:\u003c/strong>\u003cbr> *Will will have 1 night available rained out game, all other games subject to be made up at other times, venues and days*\u003c/p>\u003cp>\u003cbr>\u003c/p>\u003cp>\u003cspan id=\"isPasted\" style='color: rgb(76, 76, 76); font-family: Arial, \"Helvetica Neue\", Helvetica, sans-serif; font-size: 14px; font-style: normal; font-variant-ligatures: normal; font-variant-caps: normal; font-weight: 400; letter-spacing: normal; orphans: 2; text-align: start; text-indent: 0px; text-transform: none; white-space: pre-wrap; widows: 2; word-spacing: 0px; -webkit-text-stroke-width: 0px; background-color: rgb(255, 255, 255); text-decoration-thickness: initial; text-decoration-style: initial; text-decoration-color: initial; display: inline !important; float: none;'>All leagues, days, times, and locations are subject to change at any point in the season\u003c/span>\u003c/p>"},"activityName":"Softball","programType":"LEAGUE"},"League:646671aec02729c52e8b416f":{"__typename":"League","_id":"646671aec02729c52e8b416f","name":"Softball (10v10 Men's) - SPRINT Thursday - Randall Rec (Navy Yard) - July 2023","featured_order":null,"schedule":{"__typename":"Schedule","start_date":"2023-07-27T16:00:00.000Z"},"details":{"__typename":"LeagueDetails","description":"\u003cp id=\"isPasted\">\u003cspan style='color: rgb(65, 65, 65); font-family: Arial, \"Helvetica Neue\", Helvetica, sans-serif; font-size: 14px; font-style: normal; font-variant-ligatures: normal; font-variant-caps: normal; font-weight: 400; letter-spacing: normal; orphans: 2; text-align: left; text-indent: 0px; text-transform: none; white-space: normal; widows: 2; word-spacing: 0px; -webkit-text-stroke-width: 0px; background-color: rgb(255, 255, 255); text-decoration-thickness: initial; text-decoration-style: initial; text-decoration-color: initial; display: inline !important; float: none;'>Make Thursday your new favorite day of the week with our Randall Rec Softball League! Grab your glove, grab your crew\u003c/span>\u003cspan style='color: rgb(65, 65, 65); font-family: Arial, \"Helvetica Neue\", Helvetica, sans-serif; font-size: 14px; font-style: normal; font-variant-ligatures: normal; font-variant-caps: normal; font-weight: 400; letter-spacing: normal; orphans: 2; text-align: left; text-indent: 0px; text-transform: none; white-space: normal; widows: 2; word-spacing: 0px; -webkit-text-stroke-width: 0px; background-color: rgb(255, 255, 255); text-decoration-thickness: initial; text-decoration-style: initial; text-decoration-color: initial; display: inline !important; float: none;'> and join us at one of the most popular venues in the city!\u003c/span>\u003c/p>\u003cp>\u003cbr>\u003cstrong>League Overview\u003c/strong>:\u003cbr>-Bats Provided. You may use your own Softball bat if it is ASA, NSA, or USSA approved \u003cbr>-10 players (7 men max) permitted in the field\u003cbr>-Games last 6 innings or 50 min, whichever comes first\u003cbr>-Minimum 6 players to start a game, including at least 1 woman \u003cbr>-5 run max per inning (except for the last inning)\u003cbr>\u003cbr>\u003c/p>\u003cp>\u003cstrong>PLAYOFFS:\u003c/strong>\u003c/p>\u003cp>We will accommodate as many teams as possible in the playoffs, but only the TOP 4 teams are guaranteed.\u003cbr>\u003cbr>\u003c/p>\u003cp>\u003cstrong>RAIN OUTS:\u003c/strong>\u003c/p>\u003cp>Guaranteed 2 makeup games. Location and day may vary.\u003c/p>"},"activityName":"Softball","programType":"LEAGUE"},"League:64658a8d4eb13244d102af30":{"__typename":"League","_id":"64658a8d4eb13244d102af30","name":"Softball (10v10 Coed) - Monday - LIU Brooklyn (Downtown Brooklyn) - August 2023","featured_order":null,"schedule":{"__typename":"Schedule","start_date":"2023-08-07T16:00:00.000Z"},"details":{"__typename":"LeagueDetails","description":"\u003cp style=\"text-align: center;\">10 vs 10 (Coed) - Min 3 Females on Field Rosters 15-25 players - Min 4 females on Each Roster *Players must bring their own gloves*\u003c/p>\u003cp style=\"text-align: center;\">\u003cbr>\u003c/p>\u003cp id=\"isPasted\" style=\"text-align: center;\">\u003cstrong>Sponsor Bar\u003c/strong>\u003cstrong>: \u003c/strong>\u003c/p>\u003cp style=\"text-align: center;\">Fulton Hall\u003c/p>\u003cp style=\"text-align: center;\">\u003cem>(250 Ashland Pl, Brooklyn, NY 11217)\u003c/em>\u003c/p>\u003cp style=\"text-align: center;\">\u003cstrong>Specials: \u003c/strong>\u003c/p>\u003cp style=\"text-align: center;\">$2 Off select Drafts and All Pitchers, $8 Margs, $10 Mules and other cocktails\u003c/p>"},"activityName":"Softball","programType":"LEAGUE"},"League:64658589d9a70ec511224a3d":{"__typename":"League","_id":"64658589d9a70ec511224a3d","name":"Softball (Coed) - Monday - McCarren Park - Blacktop (Williamsburg) - July 2023","featured_order":null,"schedule":{"__typename":"Schedule","start_date":"2023-07-10T16:00:00.000Z"},"details":{"__typename":"LeagueDetails","description":"\u003csection id=\"isPasted\" style=\"margin: 1.5rem auto 2.5rem; white-space: pre-wrap;\">\u003csection style=\"margin: 1.5rem auto 2.5rem;\">\u003cp style=\"align-items: center; font-size: 0.8rem; margin: 0.5rem auto auto; overflow: inherit;\">Back for Summer is our McCarren Softball league.! This league will sell out quickly so sign up your team before it's too late.\u003cbr>\u003cbr>\u003cstrong>Season length:\u003c/strong>\u003cbr>6 Week Regular Season + Playoffs ( Min Top 2 Teams)\u003cbr>\u003cbr>\u003cstrong>Game Play: \u003c/strong>\u003cbr>10 vs 10 (Coed) - Min 3 Women on Field Rosters 15-25 players - Min 4 Women on Each Roster\u003cbr>Games areplayed on Blacktop.\u003cbr>\u003cbr> *This League is Wood Bat*\u003cbr>*Players must bring their own gloves*\u003cbr>\u003cbr>\u003cstrong>Schedule: \u003c/strong>\u003cbr>Game Times will vary weekly\u003cbr>\u003cbr>\u003cstrong>Weather Cancellations\u003c/strong>:\u003cbr> *Will will have 1 night available rained out game, all other games subject to be made up at other times, venues and days*\u003cbr>\u003cbr>\u003c/p>\u003cp style=\"align-items: center; font-size: 0.8rem; margin: 0.5rem auto auto; overflow: inherit;\">\u003cstrong>\u003cspan style=\"font-size: 14px; font-variant-ligatures: normal; font-weight: 400; orphans: 2; widows: 2;\">All leagues, days, times, and locations are subject to change at any point in the season.\u003c/span>\u003c/strong>\u003c/p>\u003cp style=\"text-align: center;\">\u003cbr>\u003c/p>\u003cp id=\"isPasted\" style=\"text-align: center;\">\u003cstrong>Sponsor Bar\u003c/strong>\u003c/p>\u003cp style=\"text-align: center;\">Kilo Bravo \u003cem>(180 N 10th St, Brooklyn, NY 11211)\u003c/em>\u003c/p>\u003cp style=\"text-align: center;\">\u003cstrong>Specials\u003cbr>\u003c/strong>\u003c/p>\u003cp style=\"text-align: center;\">$15 Bravo Pitcher, $7 for 3 Jello Shots\u003c/p>\u003c/section>\u003c/section>"},"activityName":"Softball","programType":"LEAGUE"},"League:646431c575975edad01ed59a":{"__typename":"League","_id":"646431c575975edad01ed59a","name":"Softball (10v10 Coed) - Tuesday - LIU Brooklyn (Downtown Brooklyn) - August 2023","featured_order":null,"schedule":{"__typename":"Schedule","start_date":"2023-08-08T16:00:00.000Z"},"details":{"__typename":"LeagueDetails","description":"\u003cp id=\"isPasted\">Join us at our most popular Softball Leagues! LIU leagues will sell out quickly so sign up your team before it's too late.\u003cbr>\u003cbr>No need to carry Bases & Balls to the field or bring cash for umpires as we provide all equipment and have no ump fees.\u003cbr>\u003cbr>\u003cstrong>Season length:
\u003c/strong>\u003cbr>6 Week Regular Season + Playoffs (Min Top 4 Teams)\u003cbr>\u003cbr>\u003cstrong>

Game Play: \u003c/strong>
\u003cbr>10 vs 10 (Coed) - Min 3 Women on Field
\u003cbr>Rosters 15-25 players - Min 4 Women
\u003cbr>**This League is Metal Bat*\u003cbr>*Players must bring their own gloves*\u003cbr>\u003cbr>\u003cstrong>Schedule: 
\u003c/strong>\u003cbr>Game Times will vary weekly

\u003cbr>\u003cbr>\u003cstrong>Weather Cancellations:
\u003c/strong>\u003cbr> *Will will have 1 night available rained out game, all other games subject to be made up at other times, venues and days*
\u003cbr>\u003cbr>All leagues, days, times, and locations are subject to change at any point in the season.\u003cbr>
\u003c/p>\u003cp id=\"isPasted\" style=\"text-align: center;\">\u003cstrong>Sponsor Bar\u003c/strong>\u003cstrong>: \u003c/strong>\u003c/p>\u003cp style=\"text-align: center;\">Fulton Hall \u003c/p>\u003cp style=\"text-align: center;\">\u003cem>(250 Ashland Pl, Brooklyn, NY 11217)\u003c/em>\u003c/p>\u003cp style=\"text-align: center;\">\u003cstrong>Specials: \u003c/strong>\u003c/p>\u003cp style=\"text-align: center;\">$2 Off select Drafts and All Pitchers, $8 Margs, $10 Mules and other cocktails\u003c/p>\u003cp>\u003cbr>\u003c/p>"},"activityName":"Softball","programType":"LEAGUE"},"League:6462b7ed8df6164230fe9923":{"__typename":"League","_id":"6462b7ed8df6164230fe9923","name":"Softball (11v11 Coed) - Tuesday - Amidon-Bowen Elementary School (Southwest Waterfront) - July 2023","featured_order":null,"schedule":{"__typename":"Schedule","start_date":"2023-07-25T16:00:00.000Z"},"details":{"__typename":"LeagueDetails","description":"\u003cp id=\"isPasted\">\u003cspan style='color: rgb(65, 65, 65); font-family: Arial, \"Helvetica Neue\", Helvetica, sans-serif; font-size: 14px; font-style: normal; font-variant-ligatures: normal; font-variant-caps: normal; font-weight: 400; letter-spacing: normal; orphans: 2; text-align: left; text-indent: 0px; text-transform: none; white-space: normal; widows: 2; word-spacing: 0px; -webkit-text-stroke-width: 0px; background-color: rgb(255, 255, 255); text-decoration-thickness: initial; text-decoration-style: initial; text-decoration-color: initial; display: inline !important; float: none;'>Make Tuesday your new favorite day of the week with our Amidon-Bowen League! Grab your glove, grab your crew\u003c/span>\u003cspan style='color: rgb(65, 65, 65); font-family: Arial, \"Helvetica Neue\", Helvetica, sans-serif; font-size: 14px; font-style: normal; font-variant-ligatures: normal; font-variant-caps: normal; font-weight: 400; letter-spacing: normal; orphans: 2; text-align: left; text-indent: 0px; text-transform: none; white-space: normal; widows: 2; word-spacing: 0px; -webkit-text-stroke-width: 0px; background-color: rgb(255, 255, 255); text-decoration-thickness: initial; text-decoration-style: initial; text-decoration-color: initial; display: inline !important; float: none;'> and join us at one of the most popular venues in the city!\u003c/span>\u003c/p>\u003cp>\u003cbr>\u003cstrong>League Overview\u003c/strong>:\u003cbr>-Bats Provided. You may use your own Softball bat if it is ASA, NSA, or USSA approved \u003cbr>-10 players (7 men max) permitted in the field\u003cbr>-Games last 6 innings or 50 min, whichever comes first\u003cbr>-Minimum 6 players to start a game, including at least 1 woman \u003cbr>-5 run max per inning (except for the last inning)\u003cbr>\u003cbr>\u003c/p>\u003cp>\u003cstrong>PLAYOFFS:\u003c/strong>\u003c/p>\u003cp>We will accommodate as many teams as possible in the playoffs, but only the TOP 4 teams are guaranteed.\u003cbr>\u003cbr>\u003c/p>\u003cp>\u003cstrong>RAIN OUTS:\u003c/strong>\u003c/p>\u003cp>Guaranteed 2 makeup games. Location and day may vary.\u003c/p>"},"activityName":"Softball","programType":"LEAGUE"},"League:64602d6d84ae03251b9fc02a":{"__typename":"League","_id":"64602d6d84ae03251b9fc02a","name":"8/5 + 8/6 - Softball Summer Sizzler - Sat/Sun @ Patterson Park - August 2023","featured_order":null,"schedule":{"__typename":"Schedule","start_date":"2023-08-05T16:00:00.000Z"},"details":{"__typename":"LeagueDetails","description":"\u003cp id=\"isPasted\">\u003cspan style=\"font-family: Arial, Helvetica, sans-serif; font-size: 14px;\">It's the tournament you've all been waiting for! Play against Volo coed league champions from all over Baltimore City to take your shot at becoming a city champion with the Softball Summer Sizzler! \u003c/span>\u003c/p>\u003cp>\u003cbr>\u003c/p>\u003cp>\u003cspan style=\"font-family: Arial, Helvetica, sans-serif; font-size: 14px;\">\u003cimg src=\"https://s3.amazonaws.com/rivall-user-uploads/prodUploads/orgEmailPicturesFolder/5c107ab2e1c341054010102c_1684253130823.png\" style=\"box-sizing: inherit; background-repeat: no-repeat; background-size: contain; border: 0px; max-width: 100%; cursor: pointer; padding: 0px 1px; user-select: none; color: rgb(65, 65, 65); font-family: Arial, Helvetica, sans-serif; font-size: 14px; font-style: normal; font-variant-ligatures: normal; font-variant-caps: normal; font-weight: 400; letter-spacing: normal; orphans: 2; text-align: left; text-indent: 0px; text-transform: none; white-space: normal; widows: 2; word-spacing: 0px; -webkit-text-stroke-width: 0px; background-color: rgb(255, 255, 255); text-decoration-thickness: initial; text-decoration-style: initial; text-decoration-color: initial; width: 580px;\" id=\"isPasted\" class=\"fr-fic fr-dib\">\u003c/span>\u003cbr>\u003c/p>\u003cp>\u003cbr>\u003c/p>\u003cp id=\"isPasted\">\u003cstrong>Here are the details:\u003c/strong>\u003c/p>\u003cp>\u003cspan style=\"font-size: 13px;\">Day 1 - Group Play - Teams placed in pods of 4, playing two games against teams in their pod. Top 2 teams advance (ties in the record are determined by point differential then runs scored against\u003c/span>\u003c/p>\u003cp>\u003cspan style=\"font-size: 13px;\">Day 2 - Top 8 play in single elimination tournament\u003c/span>\u003c/p>\u003cp>Includes commemorative t shirt. \u003c/p>\u003cp>\u003cspan style=\"font-size: 13px;\">Prizes for the winning team! \u003c/span>50% off your next Volo League (use by end of 2023) + Boot!\u003c/p>\u003cp>\u003cbr>\u003c/p>\u003cp>\u003cspan style=\"font-size: 13px;\">\u003cstrong>Game Play\u003c/strong>\u003c/span>\u003c/p>\u003cp>\u003cspan style=\"font-size: 13px;\">Guaranteed 7 innings or 60 min games (whichever comes first)\u003c/span>\u003c/p>\u003cp>\u003cspan style=\"font-size: 13px;\">11 players minimum per team for a complete team \u003c/span>\u003c/p>\u003cp>\u003cspan style=\"font-size: 13px;\">Maximum of 7 men in the field. \u003c/span>\u003c/p>\u003cp>\u003cspan style=\"font-size: 13px;\">No more than 3 men may bat in a row.\u003c/span>\u003c/p>"},"activityName":"Softball","programType":"TOURNAMENT"},"League:645ea4b395a31f5cec00304b":{"__typename":"League","_id":"645ea4b395a31f5cec00304b","name":"Monday 6/26 - Softball Practice (All Levels) - Swann Park 6:00pm","featured_order":null,"schedule":{"__typename":"Schedule","start_date":"2023-06-26T16:00:00.000Z"},"details":{"__typename":"LeagueDetails","description":"\u003cp id=\"isPasted\" style='box-sizing: inherit; background-repeat: no-repeat; background-size: contain; color: rgb(76, 76, 76); text-rendering: optimizelegibility; font-family: Arial, \"Helvetica Neue\", Helvetica, sans-serif; padding: 0px; margin-block: 0px; margin-inline: 0px; padding-block: 0px; padding-inline: 0px; align-items: center; font-size: 0.8rem; margin: 0.5rem auto auto; overflow: inherit; font-style: normal; font-variant-ligatures: normal; font-variant-caps: normal; font-weight: 400; letter-spacing: normal; orphans: 2; text-align: start; text-indent: 0px; text-transform: none; white-space: pre-wrap; widows: 2; word-spacing: 0px; -webkit-text-stroke-width: 0px; background-color: rgb(255, 255, 255); text-decoration-thickness: initial; text-decoration-style: initial; text-decoration-color: initial;'>Get your swing on! Practice your batting skills, swings and batting techniques by taking live pitches on the field for 60 mins. Each player will receive 10 pitches at a time and rotate through the lineup - This is a slow-pitch practice. All players are able to field while they wait to bat so make sure to bring your glove but bats will be provided! Capacity will be limited to the first 30 people so everyone can bat as much as possible. \u003c/p>\u003cp style='box-sizing: inherit; background-repeat: no-repeat; background-size: contain; color: rgb(76, 76, 76); text-rendering: optimizelegibility; font-family: Arial, \"Helvetica Neue\", Helvetica, sans-serif; padding: 0px; margin-block: 0px; margin-inline: 0px; padding-block: 0px; padding-inline: 0px; align-items: center; font-size: 0.8rem; margin: 0.5rem auto auto; overflow: inherit; font-style: normal; font-variant-ligatures: normal; font-variant-caps: normal; font-weight: 400; letter-spacing: normal; orphans: 2; text-align: start; text-indent: 0px; text-transform: none; white-space: pre-wrap; widows: 2; word-spacing: 0px; -webkit-text-stroke-width: 0px; background-color: rgb(255, 255, 255); text-decoration-thickness: initial; text-decoration-style: initial; text-decoration-color: initial;'>THE HIGHLIGHTS\u003c/p>\u003cp>\u003cspan style='color: rgb(76, 76, 76); font-family: Arial, \"Helvetica Neue\", Helvetica, sans-serif; font-size: 14px; font-style: normal; font-variant-ligatures: normal; font-variant-caps: normal; font-weight: 400; letter-spacing: normal; orphans: 2; text-align: start; text-indent: 0px; text-transform: none; white-space: pre-wrap; widows: 2; word-spacing: 0px; -webkit-text-stroke-width: 0px; background-color: rgb(255, 255, 255); text-decoration-thickness: initial; text-decoration-style: initial; text-decoration-color: initial; display: inline !important; float: none;'> \u003c/span>- 60 Mins of Play\u003c/p>\u003cp>\u003cspan style='color: rgb(76, 76, 76); font-family: Arial, \"Helvetica Neue\", Helvetica, sans-serif; font-size: 14px; font-style: normal; font-variant-ligatures: normal; font-variant-caps: normal; font-weight: 400; letter-spacing: normal; orphans: 2; text-align: start; text-indent: 0px; text-transform: none; white-space: pre-wrap; widows: 2; word-spacing: 0px; -webkit-text-stroke-width: 0px; background-color: rgb(255, 255, 255); text-decoration-thickness: initial; text-decoration-style: initial; text-decoration-color: initial; display: inline !important; float: none;'> \u003c/span>- Bats provided; BYO Glove\u003c/p>\u003cp>\u003cbr>\u003c/p>"},"activityName":"Softball","programType":"PRACTICE"},"League:645ea4870a884df2575e9d48":{"__typename":"League","_id":"645ea4870a884df2575e9d48","name":"Monday 6/19 - Softball Practice (All Levels) - Swann Park 6:00pm","featured_order":null,"schedule":{"__typename":"Schedule","start_date":"2023-06-19T16:00:00.000Z"},"details":{"__typename":"LeagueDetails","description":"\u003cp id=\"isPasted\" style='box-sizing: inherit; background-repeat: no-repeat; background-size: contain; color: rgb(76, 76, 76); text-rendering: optimizelegibility; font-family: Arial, \"Helvetica Neue\", Helvetica, sans-serif; padding: 0px; margin-block: 0px; margin-inline: 0px; padding-block: 0px; padding-inline: 0px; align-items: center; font-size: 0.8rem; margin: 0.5rem auto auto; overflow: inherit; font-style: normal; font-variant-ligatures: normal; font-variant-caps: normal; font-weight: 400; letter-spacing: normal; orphans: 2; text-align: start; text-indent: 0px; text-transform: none; white-space: pre-wrap; widows: 2; word-spacing: 0px; -webkit-text-stroke-width: 0px; background-color: rgb(255, 255, 255); text-decoration-thickness: initial; text-decoration-style: initial; text-decoration-color: initial;'>Get your swing on! Practice your batting skills, swings and batting techniques by taking live pitches on the field for 60 mins. Each player will receive 10 pitches at a time and rotate through the lineup - This is a slow-pitch practice. All players are able to field while they wait to bat so make sure to bring your glove but bats will be provided! Capacity will be limited to the first 30 people so everyone can bat as much as possible. \u003c/p>\u003cp style='box-sizing: inherit; background-repeat: no-repeat; background-size: contain; color: rgb(76, 76, 76); text-rendering: optimizelegibility; font-family: Arial, \"Helvetica Neue\", Helvetica, sans-serif; padding: 0px; margin-block: 0px; margin-inline: 0px; padding-block: 0px; padding-inline: 0px; align-items: center; font-size: 0.8rem; margin: 0.5rem auto auto; overflow: inherit; font-style: normal; font-variant-ligatures: normal; font-variant-caps: normal; font-weight: 400; letter-spacing: normal; orphans: 2; text-align: start; text-indent: 0px; text-transform: none; white-space: pre-wrap; widows: 2; word-spacing: 0px; -webkit-text-stroke-width: 0px; background-color: rgb(255, 255, 255); text-decoration-thickness: initial; text-decoration-style: initial; text-decoration-color: initial;'>THE HIGHLIGHTS\u003c/p>\u003cp>\u003cspan style='color: rgb(76, 76, 76); font-family: Arial, \"Helvetica Neue\", Helvetica, sans-serif; font-size: 14px; font-style: normal; font-variant-ligatures: normal; font-variant-caps: normal; font-weight: 400; letter-spacing: normal; orphans: 2; text-align: start; text-indent: 0px; text-transform: none; white-space: pre-wrap; widows: 2; word-spacing: 0px; -webkit-text-stroke-width: 0px; background-color: rgb(255, 255, 255); text-decoration-thickness: initial; text-decoration-style: initial; text-decoration-color: initial; display: inline !important; float: none;'> \u003c/span>- 60 Mins of Play\u003c/p>\u003cp>\u003cspan style='color: rgb(76, 76, 76); font-family: Arial, \"Helvetica Neue\", Helvetica, sans-serif; font-size: 14px; font-style: normal; font-variant-ligatures: normal; font-variant-caps: normal; font-weight: 400; letter-spacing: normal; orphans: 2; text-align: start; text-indent: 0px; text-transform: none; white-space: pre-wrap; widows: 2; word-spacing: 0px; -webkit-text-stroke-width: 0px; background-color: rgb(255, 255, 255); text-decoration-thickness: initial; text-decoration-style: initial; text-decoration-color: initial; display: inline !important; float: none;'> \u003c/span>- Bats provided; BYO Glove\u003c/p>\u003cp>\u003cbr>\u003c/p>"},"activityName":"Softball","programType":"PRACTICE"},"League:645ea44f86f74a5f18f9cb6c":{"__typename":"League","_id":"645ea44f86f74a5f18f9cb6c","name":"Monday 6/12 - Softball Practice (All Levels) - Swann Park 6:00pm","featured_order":null,"schedule":{"__typename":"Schedule","start_date":"2023-06-12T16:00:00.000Z"},"details":{"__typename":"LeagueDetails","description":"\u003cp id=\"isPasted\" style='box-sizing: inherit; background-repeat: no-repeat; background-size: contain; color: rgb(76, 76, 76); text-rendering: optimizelegibility; font-family: Arial, \"Helvetica Neue\", Helvetica, sans-serif; padding: 0px; margin-block: 0px; margin-inline: 0px; padding-block: 0px; padding-inline: 0px; align-items: center; font-size: 0.8rem; margin: 0.5rem auto auto; overflow: inherit; font-style: normal; font-variant-ligatures: normal; font-variant-caps: normal; font-weight: 400; letter-spacing: normal; orphans: 2; text-align: start; text-indent: 0px; text-transform: none; white-space: pre-wrap; widows: 2; word-spacing: 0px; -webkit-text-stroke-width: 0px; background-color: rgb(255, 255, 255); text-decoration-thickness: initial; text-decoration-style: initial; text-decoration-color: initial;'>Get your swing on! Practice your batting skills, swings and batting techniques by taking live pitches on the field for 60 mins. Each player will receive 10 pitches at a time and rotate through the lineup - This is a slow-pitch practice. All players are able to field while they wait to bat so make sure to bring your glove but bats will be provided! Capacity will be limited to the first 30 people so everyone can bat as much as possible. \u003c/p>\u003cp style='box-sizing: inherit; background-repeat: no-repeat; background-size: contain; color: rgb(76, 76, 76); text-rendering: optimizelegibility; font-family: Arial, \"Helvetica Neue\", Helvetica, sans-serif; padding: 0px; margin-block: 0px; margin-inline: 0px; padding-block: 0px; padding-inline: 0px; align-items: center; font-size: 0.8rem; margin: 0.5rem auto auto; overflow: inherit; font-style: normal; font-variant-ligatures: normal; font-variant-caps: normal; font-weight: 400; letter-spacing: normal; orphans: 2; text-align: start; text-indent: 0px; text-transform: none; white-space: pre-wrap; widows: 2; word-spacing: 0px; -webkit-text-stroke-width: 0px; background-color: rgb(255, 255, 255); text-decoration-thickness: initial; text-decoration-style: initial; text-decoration-color: initial;'>THE HIGHLIGHTS\u003c/p>\u003cp>\u003cspan style='color: rgb(76, 76, 76); font-family: Arial, \"Helvetica Neue\", Helvetica, sans-serif; font-size: 14px; font-style: normal; font-variant-ligatures: normal; font-variant-caps: normal; font-weight: 400; letter-spacing: normal; orphans: 2; text-align: start; text-indent: 0px; text-transform: none; white-space: pre-wrap; widows: 2; word-spacing: 0px; -webkit-text-stroke-width: 0px; background-color: rgb(255, 255, 255); text-decoration-thickness: initial; text-decoration-style: initial; text-decoration-color: initial; display: inline !important; float: none;'> \u003c/span>- 60 Mins of Play\u003c/p>\u003cp>\u003cspan style='color: rgb(76, 76, 76); font-family: Arial, \"Helvetica Neue\", Helvetica, sans-serif; font-size: 14px; font-style: normal; font-variant-ligatures: normal; font-variant-caps: normal; font-weight: 400; letter-spacing: normal; orphans: 2; text-align: start; text-indent: 0px; text-transform: none; white-space: pre-wrap; widows: 2; word-spacing: 0px; -webkit-text-stroke-width: 0px; background-color: rgb(255, 255, 255); text-decoration-thickness: initial; text-decoration-style: initial; text-decoration-color: initial; display: inline !important; float: none;'> \u003c/span>- Bats provided; BYO Glove\u003c/p>\u003cp>\u003cbr>\u003c/p>"},"activityName":"Softball","programType":"PRACTICE"},"League:645ea3d695a31f5cecfff6a7":{"__typename":"League","_id":"645ea3d695a31f5cecfff6a7","name":"Monday 6/5 - Softball Practice (All Levels) - Swann Park 6:00pm","featured_order":null,"schedule":{"__typename":"Schedule","start_date":"2023-06-05T16:00:00.000Z"},"details":{"__typename":"LeagueDetails","description":"\u003cp id=\"isPasted\" style='box-sizing: inherit; background-repeat: no-repeat; background-size: contain; color: rgb(76, 76, 76); text-rendering: optimizelegibility; font-family: Arial, \"Helvetica Neue\", Helvetica, sans-serif; padding: 0px; margin-block: 0px; margin-inline: 0px; padding-block: 0px; padding-inline: 0px; align-items: center; font-size: 0.8rem; margin: 0.5rem auto auto; overflow: inherit; font-style: normal; font-variant-ligatures: normal; font-variant-caps: normal; font-weight: 400; letter-spacing: normal; orphans: 2; text-align: start; text-indent: 0px; text-transform: none; white-space: pre-wrap; widows: 2; word-spacing: 0px; -webkit-text-stroke-width: 0px; background-color: rgb(255, 255, 255); text-decoration-thickness: initial; text-decoration-style: initial; text-decoration-color: initial;'>Get your swing on! Practice your batting skills, swings and batting techniques by taking live pitches on the field for 60 mins. Each player will receive 10 pitches at a time and rotate through the lineup - This is a slow-pitch practice. All players are able to field while they wait to bat so make sure to bring your glove but bats will be provided! Capacity will be limited to the first 30 people so everyone can bat as much as possible. \u003c/p>\u003cp style='box-sizing: inherit; background-repeat: no-repeat; background-size: contain; color: rgb(76, 76, 76); text-rendering: optimizelegibility; font-family: Arial, \"Helvetica Neue\", Helvetica, sans-serif; padding: 0px; margin-block: 0px; margin-inline: 0px; padding-block: 0px; padding-inline: 0px; align-items: center; font-size: 0.8rem; margin: 0.5rem auto auto; overflow: inherit; font-style: normal; font-variant-ligatures: normal; font-variant-caps: normal; font-weight: 400; letter-spacing: normal; orphans: 2; text-align: start; text-indent: 0px; text-transform: none; white-space: pre-wrap; widows: 2; word-spacing: 0px; -webkit-text-stroke-width: 0px; background-color: rgb(255, 255, 255); text-decoration-thickness: initial; text-decoration-style: initial; text-decoration-color: initial;'>THE HIGHLIGHTS\u003c/p>\u003cp>\u003cspan style='color: rgb(76, 76, 76); font-family: Arial, \"Helvetica Neue\", Helvetica, sans-serif; font-size: 14px; font-style: normal; font-variant-ligatures: normal; font-variant-caps: normal; font-weight: 400; letter-spacing: normal; orphans: 2; text-align: start; text-indent: 0px; text-transform: none; white-space: pre-wrap; widows: 2; word-spacing: 0px; -webkit-text-stroke-width: 0px; background-color: rgb(255, 255, 255); text-decoration-thickness: initial; text-decoration-style: initial; text-decoration-color: initial; display: inline !important; float: none;'> \u003c/span>- 60 Mins of Play\u003c/p>\u003cp>\u003cspan style='color: rgb(76, 76, 76); font-family: Arial, \"Helvetica Neue\", Helvetica, sans-serif; font-size: 14px; font-style: normal; font-variant-ligatures: normal; font-variant-caps: normal; font-weight: 400; letter-spacing: normal; orphans: 2; text-align: start; text-indent: 0px; text-transform: none; white-space: pre-wrap; widows: 2; word-spacing: 0px; -webkit-text-stroke-width: 0px; background-color: rgb(255, 255, 255); text-decoration-thickness: initial; text-decoration-style: initial; text-decoration-color: initial; display: inline !important; float: none;'> \u003c/span>- Bats provided; BYO Glove\u003c/p>\u003cp>\u003cbr>\u003c/p>"},"activityName":"Softball","programType":"PRACTICE"},"League:645c3310a07abdf90748f479":{"__typename":"League","_id":"645c3310a07abdf90748f479","name":"Softball (10v10 Coed) - Sunday - Moscone Park (Marina) - July 2023","featured_order":null,"schedule":{"__typename":"Schedule","start_date":"2023-07-16T19:00:00.000Z"},"details":{"__typename":"LeagueDetails","description":"\u003cp id=\"isPasted\">Sunday softball is the only way to start your week. Join us onat Moscone Park in the Marina!\u003c/p>\u003cp>\u003cbr>\u003c/p>\u003cp>\u003cstrong>10v10 Coed Softball\u003c/strong>\u003c/p>\u003cp>Max. 7 men on the field\u003c/p>\u003cp>6 players minimum to start the game \u003c/p>\u003cp>\u003cbr>\u003c/p>\u003cp>Bats are provided at leagues, but you are welcome to bring your own.\u003c/p>\u003cp>Bats must be ASA, USSA or NSA certified. Wooden bats are not allowed.\u003c/p>\u003cp>\u003cbr>\u003c/p>\u003cp>\u003cstrong>Gloves are not provided. Please Bring Your Own.\u003c/strong>\u003c/p>\u003cp>\u003cbr>\u003c/p>\u003cp dir=\"ltr\" style=\"line-height:1.38;margin-top:0pt;margin-bottom:0pt;\">\u003cspan style=\"font-size:10.5pt;font-family:Arial;color:#414141;background-color:#ffffff;font-weight:400;font-style:normal;font-variant:normal;text-decoration:none;vertical-align:baseline;white-space:pre;white-space:pre-wrap;\">Join us for our Summer End of Season party including FREE all-you-can-drink beer and other specials. More info to come!\u003c/span>\u003c/p>\u003cp dir=\"ltr\" style=\"line-height:1.38;margin-top:0pt;margin-bottom:0pt;\">\u003cbr>\u003c/p>\u003cp dir=\"ltr\" style=\"line-height:1.38;background-color:#ffffff;margin-top:0pt;margin-bottom:0pt;\">\u003cspan style=\"font-size:10.5pt;font-family:Arial;color:#1d1c1d;background-color:#ffffff;font-weight:700;font-style:normal;font-variant:normal;text-decoration:none;vertical-align:baseline;white-space:pre;white-space:pre-wrap;\">Forfeits Policy\u003c/span>\u003c/p>\u003cp dir=\"ltr\" style=\"line-height:1.38;background-color:#ffffff;margin-top:0pt;margin-bottom:0pt;\">\u003cspan style=\"font-size:10.5pt;font-family:Arial;color:#1d1c1d;background-color:#ffffff;font-weight:400;font-style:normal;font-variant:normal;text-decoration:none;vertical-align:baseline;white-space:pre;white-space:pre-wrap;\">If your team forfeits a game during the season, you MUST do the following to not be penalized:\u003c/span>\u003c/p>\u003cp dir=\"ltr\" style=\"line-height:1.38;background-color:#ffffff;margin-top:0pt;margin-bottom:0pt;\">\u003cspan style=\"font-size:10.5pt;font-family:Arial;color:#1d1c1d;background-color:#ffffff;font-weight:400;font-style:normal;font-variant:normal;text-decoration:none;vertical-align:baseline;white-space:pre;white-space:pre-wrap;\">Email \u003c/span>\u003cspan style=\"font-size:10.5pt;font-family:Arial;color:#0000ff;background-color:#ffffff;font-weight:400;font-style:normal;font-variant:normal;text-decoration:none;vertical-align:baseline;white-space:pre;white-space:pre-wrap;\">SF@volosports.com\u003c/span>\u003cspan style=\"font-size:10.5pt;font-family:Arial;color:#1d1c1d;background-color:#ffffff;font-weight:400;font-style:normal;font-variant:normal;text-decoration:none;vertical-align:baseline;white-space:pre;white-space:pre-wrap;\"> a MINIMUM one hour prior to the first game of the night in your league. Example: Your game is at 10 pm, but your league's first game is at 7 pm. Your email must be sent by 6 pm at the LATEST. Yes, you will be penalized for a 59-minute notice.\u003c/span>\u003c/p>\u003cp dir=\"ltr\" style=\"line-height:1.38;margin-top:0pt;margin-bottom:0pt;\">\u003cspan style=\"font-size:10.5pt;font-family:Arial;color:#414141;background-color:#ffffff;font-weight:400;font-style:normal;font-variant:normal;text-decoration:none;vertical-align:baseline;white-space:pre;white-space:pre-wrap;\">The subject of the email must be "Forfeit - (insert location AND sport)" Example: You play Soccer at Mission the email subject must be "Forfeit - Mission Soccer"\u003c/span>\u003c/p>\u003cp dir=\"ltr\" style=\"line-height:1.38;background-color:#ffffff;margin-top:0pt;margin-bottom:0pt;\">\u003cspan style=\"font-size:10.5pt;font-family:Arial;color:#1d1c1d;background-color:#ffffff;font-weight:400;font-style:normal;font-variant:normal;text-decoration:none;vertical-align:baseline;white-space:pre;white-space:pre-wrap;\">If you do not do these to things you will be penalized:\u003c/span>\u003c/p>\u003cp dir=\"ltr\" style=\"line-height:1.38;background-color:#ffffff;margin-top:0pt;margin-bottom:0pt;\">\u003cspan style=\"font-size:10.5pt;font-family:Arial;color:#414141;background-color:#ffffff;font-weight:400;font-style:normal;font-variant:normal;text-decoration:none;vertical-align:baseline;white-space:pre;white-space:pre-wrap;\">First Offense - You are automatically DISQUALIFIED from the playoffs.\u003c/span>\u003c/p>\u003cp dir=\"ltr\" style=\"line-height:1.38;background-color:#ffffff;margin-top:0pt;margin-bottom:0pt;\">\u003cspan style=\"font-size:10.5pt;font-family:Arial;color:#414141;background-color:#ffffff;font-weight:400;font-style:normal;font-variant:normal;text-decoration:none;vertical-align:baseline;white-space:pre;white-space:pre-wrap;\">Second Offense - You are removed from the league without a refund\u003c/span>\u003c/p>\u003cp>\u003cbr>\u003c/p>\u003cp>\u003cspan style=\"font-size:10pt;font-family:Arial;color:#1d1c1d;background-color:#ffffff;font-weight:400;font-style:normal;font-variant:normal;text-decoration:none;vertical-align:baseline;white-space:pre;white-space:pre-wrap;\">(Registered Groups who are not pre-paid teams and do not meet the minimum roster requirement by the registration deadline may be merged with other small groups, or have free agents added to their roster to meet the roster requirement)\u003c/span>\u003c/p>\u003cp>\u003cbr>\u003c/p>\u003cp>Weather Policy Guaranteed 2 makeup games at the same location but not guaranteed to be played on the same day of the week.\u003c/p>"},"activityName":"Softball","programType":"LEAGUE"},"League:645925654ab573a9aa8bda52":{"__typename":"League","_id":"645925654ab573a9aa8bda52","name":"Softball (10v10 Coed) - Saturday - National Mall - 15th St (National Mall) - July 2023","featured_order":null,"schedule":{"__typename":"Schedule","start_date":"2023-07-29T16:00:00.000Z"},"details":{"__typename":"LeagueDetails","description":"\u003cp>Join us on Saturday, July 27th for a one-day softball tournament!\u003c/p>\u003cp>\u003cbr>\u003c/p>\u003cp>\u003cstrong>Location:\u003c/strong>\u003cbr>The National Mall - 15th St\u003cbr>\u003cstrong>\u003cbr>Tournament structure:\u003c/strong>\u003cbr>-2 pool play games\u003cbr>- Top seeds will qualify for single-elimination tournament\u003cbr>-Minimum 3 games guaranteed\u003cbr>\u003cbr>\u003cstrong>What's Included?\u003c/strong>\u003cbr>-Tournament T-Shirts\u003c/p>\u003cp>\u003cbr>\u003c/p>\u003cp>\u003cstrong>Basic 10v10 Tournament Rules:\u003c/strong>\u003cbr style=\"box-sizing: inherit; background-repeat: no-repeat; background-size: contain; color: rgb(65, 65, 65); font-family: Arial, "Helvetica Neue", Helvetica, sans-serif; font-size: 14px; font-style: normal; font-variant-ligatures: normal; font-variant-caps: normal; font-weight: 400; letter-spacing: normal; orphans: 2; text-align: left; text-indent: 0px; text-transform: none; white-space: normal; widows: 2; word-spacing: 0px; -webkit-text-stroke-width: 0px; background-color: rgb(255, 255, 255); text-decoration-thickness: initial; text-decoration-style: initial; text-decoration-color: initial;\">\u003cspan style='color: rgb(65, 65, 65); font-family: Arial, \"Helvetica Neue\", Helvetica, sans-serif; font-size: 14px; font-style: normal; font-variant-ligatures: normal; font-variant-caps: normal; font-weight: 400; letter-spacing: normal; orphans: 2; text-align: left; text-indent: 0px; text-transform: none; white-space: normal; widows: 2; word-spacing: 0px; -webkit-text-stroke-width: 0px; background-color: rgb(255, 255, 255); text-decoration-thickness: initial; text-decoration-style: initial; text-decoration-color: initial; display: inline !important; float: none;'>-WOOD BAT ONLY: Wood bats provided. You may use your own FULLY wood bat if it is ASA, NSA, or USSA approved. Bats that are composite or not fully wood (i.e. Corndogs) are not permitted.\u003c/span>\u003cbr style=\"box-sizing: inherit; background-repeat: no-repeat; background-size: contain; color: rgb(65, 65, 65); font-family: Arial, "Helvetica Neue", Helvetica, sans-serif; font-size: 14px; font-style: normal; font-variant-ligatures: normal; font-variant-caps: normal; font-weight: 400; letter-spacing: normal; orphans: 2; text-align: left; text-indent: 0px; text-transform: none; white-space: normal; widows: 2; word-spacing: 0px; -webkit-text-stroke-width: 0px; background-color: rgb(255, 255, 255); text-decoration-thickness: initial; text-decoration-style: initial; text-decoration-color: initial;\">\u003cspan style='color: rgb(65, 65, 65); font-family: Arial, \"Helvetica Neue\", Helvetica, sans-serif; font-size: 14px; font-style: normal; font-variant-ligatures: normal; font-variant-caps: normal; font-weight: 400; letter-spacing: normal; orphans: 2; text-align: left; text-indent: 0px; text-transform: none; white-space: normal; widows: 2; word-spacing: 0px; -webkit-text-stroke-width: 0px; background-color: rgb(255, 255, 255); text-decoration-thickness: initial; text-decoration-style: initial; text-decoration-color: initial; display: inline !important; float: none;'>-10 players (7 men max) permitted in the field\u003c/span>\u003cbr style=\"box-sizing: inherit; background-repeat: no-repeat; background-size: contain; color: rgb(65, 65, 65); font-family: Arial, "Helvetica Neue", Helvetica, sans-serif; font-size: 14px; font-style: normal; font-variant-ligatures: normal; font-variant-caps: normal; font-weight: 400; letter-spacing: normal; orphans: 2; text-align: left; text-indent: 0px; text-transform: none; white-space: normal; widows: 2; word-spacing: 0px; -webkit-text-stroke-width: 0px; background-color: rgb(255, 255, 255); text-decoration-thickness: initial; text-decoration-style: initial; text-decoration-color: initial;\">\u003cspan style='color: rgb(65, 65, 65); font-family: Arial, \"Helvetica Neue\", Helvetica, sans-serif; font-size: 14px; font-style: normal; font-variant-ligatures: normal; font-variant-caps: normal; font-weight: 400; letter-spacing: normal; orphans: 2; text-align: left; text-indent: 0px; text-transform: none; white-space: normal; widows: 2; word-spacing: 0px; -webkit-text-stroke-width: 0px; background-color: rgb(255, 255, 255); text-decoration-thickness: initial; text-decoration-style: initial; text-decoration-color: initial; display: inline !important; float: none;'>-Games last 6 innings or 50 min, whichever comes first\u003c/span>\u003c/p>"},"activityName":"Softball","programType":"TOURNAMENT"},"League:64591b332c88f473b83f8329":{"__typename":"League","_id":"64591b332c88f473b83f8329","name":"Softball Tournament (10v10 Coed) - Saturday - National Mall - 15th St (National Mall) - August 2023","featured_order":null,"schedule":{"__typename":"Schedule","start_date":"2023-08-26T16:00:00.000Z"},"details":{"__typename":"LeagueDetails","description":"\u003cp>Join us on Saturday, August 26th for a one-day softball tournament!\u003c/p>\u003cp>\u003cbr>\u003c/p>\u003cp>\u003cstrong>Location:\u003c/strong>\u003cbr>The National Mall - 15th St\u003cbr>\u003cstrong>\u003cbr>Tournament structure:\u003c/strong>\u003cbr>-2 pool play games\u003cbr>- Top seeds will qualify for single-elimination tournament\u003cbr>-Minimum 3 games guaranteed\u003cbr>\u003cbr>\u003cstrong>What's Included?\u003c/strong>\u003cbr>-Tournament T-Shirts\u003c/p>\u003cp>\u003cbr>\u003c/p>\u003cp>\u003cstrong>Basic 10v10 Tournament Rules:\u003c/strong>\u003cbr style=\"box-sizing: inherit; background-repeat: no-repeat; background-size: contain; color: rgb(65, 65, 65); font-family: Arial, "Helvetica Neue", Helvetica, sans-serif; font-size: 14px; font-style: normal; font-variant-ligatures: normal; font-variant-caps: normal; font-weight: 400; letter-spacing: normal; orphans: 2; text-align: left; text-indent: 0px; text-transform: none; white-space: normal; widows: 2; word-spacing: 0px; -webkit-text-stroke-width: 0px; background-color: rgb(255, 255, 255); text-decoration-thickness: initial; text-decoration-style: initial; text-decoration-color: initial;\">\u003cspan style='color: rgb(65, 65, 65); font-family: Arial, \"Helvetica Neue\", Helvetica, sans-serif; font-size: 14px; font-style: normal; font-variant-ligatures: normal; font-variant-caps: normal; font-weight: 400; letter-spacing: normal; orphans: 2; text-align: left; text-indent: 0px; text-transform: none; white-space: normal; widows: 2; word-spacing: 0px; -webkit-text-stroke-width: 0px; background-color: rgb(255, 255, 255); text-decoration-thickness: initial; text-decoration-style: initial; text-decoration-color: initial; display: inline !important; float: none;'>-WOOD BAT ONLY: Wood bats provided. You may use your own FULLY wood bat if it is ASA, NSA, or USSA approved. Bats that are composite or not fully wood (i.e. Corndogs) are not permitted.\u003c/span>\u003cbr style=\"box-sizing: inherit; background-repeat: no-repeat; background-size: contain; color: rgb(65, 65, 65); font-family: Arial, "Helvetica Neue", Helvetica, sans-serif; font-size: 14px; font-style: normal; font-variant-ligatures: normal; font-variant-caps: normal; font-weight: 400; letter-spacing: normal; orphans: 2; text-align: left; text-indent: 0px; text-transform: none; white-space: normal; widows: 2; word-spacing: 0px; -webkit-text-stroke-width: 0px; background-color: rgb(255, 255, 255); text-decoration-thickness: initial; text-decoration-style: initial; text-decoration-color: initial;\">\u003cspan style='color: rgb(65, 65, 65); font-family: Arial, \"Helvetica Neue\", Helvetica, sans-serif; font-size: 14px; font-style: normal; font-variant-ligatures: normal; font-variant-caps: normal; font-weight: 400; letter-spacing: normal; orphans: 2; text-align: left; text-indent: 0px; text-transform: none; white-space: normal; widows: 2; word-spacing: 0px; -webkit-text-stroke-width: 0px; background-color: rgb(255, 255, 255); text-decoration-thickness: initial; text-decoration-style: initial; text-decoration-color: initial; display: inline !important; float: none;'>-10 players (7 men max) permitted in the field\u003c/span>\u003cbr style=\"box-sizing: inherit; background-repeat: no-repeat; background-size: contain; color: rgb(65, 65, 65); font-family: Arial, "Helvetica Neue", Helvetica, sans-serif; font-size: 14px; font-style: normal; font-variant-ligatures: normal; font-variant-caps: normal; font-weight: 400; letter-spacing: normal; orphans: 2; text-align: left; text-indent: 0px; text-transform: none; white-space: normal; widows: 2; word-spacing: 0px; -webkit-text-stroke-width: 0px; background-color: rgb(255, 255, 255); text-decoration-thickness: initial; text-decoration-style: initial; text-decoration-color: initial;\">\u003cspan style='color: rgb(65, 65, 65); font-family: Arial, \"Helvetica Neue\", Helvetica, sans-serif; font-size: 14px; font-style: normal; font-variant-ligatures: normal; font-variant-caps: normal; font-weight: 400; letter-spacing: normal; orphans: 2; text-align: left; text-indent: 0px; text-transform: none; white-space: normal; widows: 2; word-spacing: 0px; -webkit-text-stroke-width: 0px; background-color: rgb(255, 255, 255); text-decoration-thickness: initial; text-decoration-style: initial; text-decoration-color: initial; display: inline !important; float: none;'>-Games last 6 innings or 50 min, whichever comes first\u003c/span>\u003c/p>"},"activityName":"Softball","programType":"TOURNAMENT"},"League:64587d768b4c72254ed15f49":{"__typename":"League","_id":"64587d768b4c72254ed15f49","name":"Softball (10v10 Coed) - Sunday - Sonny Lawson Park (Lodo) - July 2023","featured_order":null,"schedule":{"__typename":"Schedule","start_date":"2023-07-16T18:00:00.000Z"},"details":{"__typename":"LeagueDetails","description":"\u003cp id=\"isPasted\">\u003cspan style=\"font-size: 14px;\">Come play Coed Slowpitch Softball at Sonny Lawson Park in the heart of Downtown Denver!\u003c/span>\u003c/p>\u003cp>\u003cspan style=\"font-size: 14px;\">\u003cbr>\u003c/span>\u003c/p>\u003cp id=\"isPasted\" style=\"margin-top: 0pt; margin-bottom: 0pt;\">\u003cstrong>\u003cspan style=\"font-size: 10pt; font-family: Arial;\">What you get\u003c/span>\u003c/strong>\u003c/p>\u003cp style=\"margin-top: 0pt; margin-bottom: 0pt;\">\u003cspan style=\"font-size: 10pt; font-family: Arial;\">Premier playing experience, rated best sports league in Denver\u003c/span>\u003c/p>\u003cp style=\"margin-top: 0pt; margin-bottom: 0pt;\">\u003cspan style=\"font-size: 10pt; font-family: Arial;\">- Player T-Shirt\u003c/span>\u003c/p>\u003cp style=\"margin-top: 0pt; margin-bottom: 0pt;\">\u003cspan style=\"font-size: 10pt; font-family: Arial;\">- Paid Umpire (at no additional cost to you)\u003c/span>\u003c/p>\u003cp style=\"margin-top: 0pt; margin-bottom: 0pt;\">\u003cspan style=\"font-size: 10pt; font-family: Arial;\">- Bats and balls (we do not provide gloves, please provide your own)\u003c/span>\u003c/p>\u003cp style=\"margin-top: 0pt; margin-bottom: 0pt;\">\u003cspan style=\"font-size: 10pt; font-family: Arial;\">-6 regular season games\u003c/span>\u003c/p>\u003cp style=\"margin-top: 0pt; margin-bottom: 0pt;\">\u003cspan style=\"font-size: 10pt; font-family: Arial;\">- Post game social experience with deals\u003c/span>\u003c/p>\u003cp style=\"margin-top: 0pt; margin-bottom: 0pt;\">\u003cspan style=\"font-size: 10pt; font-family: Arial;\">- League plays on a premier field and popular location\u003c/span>\u003c/p>\u003cp>\u003cbr>\u003c/p>\u003cp style=\"margin-top: 0pt; margin-bottom: 0pt;\">\u003cstrong>\u003cspan style=\"font-size: 10pt; font-family: Arial;\">Softball (Coed 10v10)\u003c/span>\u003c/strong>\u003c/p>\u003cp style=\"margin-top: 0pt; margin-bottom: 0pt;\">\u003cspan style=\"font-size: 10pt; font-family: Arial; background-color: #ffffff;\">- 10v10\u003c/span>\u003c/p>\u003cp style=\"margin-top: 0pt; margin-bottom: 0pt;\">\u003cspan style=\"font-size: 10pt; font-family: Arial; background-color: #ffffff;\">- Minimum for a full team is 15 players \u003cspan style=\"color: rgb(65, 65, 65); font-family: sans-serif; font-size: 14px; font-style: normal; font-variant-ligatures: normal; font-variant-caps: normal; font-weight: 400; letter-spacing: normal; orphans: 2; text-align: left; text-indent: 0px; text-transform: none; white-space: normal; widows: 2; word-spacing: 0px; -webkit-text-stroke-width: 0px; background-color: rgb(255, 255, 255); text-decoration-thickness: initial; text-decoration-style: initial; text-decoration-color: initial; display: inline !important; float: none;\">(\u003c/span>\u003cspan style='box-sizing: inherit; background-repeat: no-repeat; background-size: contain; font-family: Arial, \"Helvetica Neue\", Helvetica, sans-serif; color: rgb(65, 65, 65); font-size: 14px; font-style: normal; font-variant-ligatures: normal; font-variant-caps: normal; font-weight: 400; letter-spacing: normal; orphans: 2; text-align: left; text-indent: 0px; text-transform: none; white-space: normal; widows: 2; word-spacing: 0px; -webkit-text-stroke-width: 0px; text-decoration-thickness: initial; text-decoration-style: initial; text-decoration-color: initial; background-color: rgb(255, 255, 255); float: none; display: inline !important;'>Registered Groups who do not meet the minimum roster requirement by the registration deadline\u003c/span>\u003cspan style='box-sizing: inherit; background-repeat: no-repeat; background-size: contain; font-family: Arial, \"Helvetica Neue\", Helvetica, sans-serif; margin-bottom: 0px; color: rgb(65, 65, 65); font-size: 14px; font-style: normal; font-variant-ligatures: normal; font-variant-caps: normal; font-weight: 400; letter-spacing: normal; orphans: 2; text-align: left; text-indent: 0px; text-transform: none; white-space: normal; widows: 2; word-spacing: 0px; -webkit-text-stroke-width: 0px; text-decoration-thickness: initial; text-decoration-style: initial; text-decoration-color: initial; background-color: rgb(255, 255, 255); float: none; display: inline !important;'> may be merged with other small groups or have free agents added to their roster to meet the roster requirement.)\u003c/span>\u003c/span>\u003c/p>\u003cp style=\"margin-top: 0pt; margin-bottom: 0pt;\">\u003cspan style=\"font-size: 10pt; font-family: Arial; background-color: #ffffff;\">- 10 players maximum in the field (7 men max)\u003c/span>\u003c/p>\u003cp style=\"margin-top: 0pt; margin-bottom: 0pt;\">\u003cspan style=\"font-size: 10pt; font-family: Arial; background-color: #ffffff;\">- Minimum to start a game is 6 players (5 men max)\u003c/span>\u003c/p>\u003cp style=\"margin-top: 0pt; margin-bottom: 0pt;\">\u003cspan style=\"font-size: 10pt; font-family: Arial; background-color: #ffffff;\">- Certified Umps provided\u003c/span>\u003c/p>\u003cp style=\"margin-top: 0pt; margin-bottom: 0pt;\">\u003cspan style=\"font-size: 10pt; font-family: Arial; background-color: #ffffff;\">- Pitch count starts 1-1 \u003c/span>\u003c/p>\u003cp style=\"margin-top: 0pt; margin-bottom: 0pt;\">\u003cspan style=\"font-size: 10pt; font-family: Arial; background-color: #ffffff;\">- No more than 3 men can bat in a row\u003c/span>\u003c/p>\u003cp style=\"margin-top: 0pt; margin-bottom: 0pt;\">\u003cspan style=\"font-size: 10pt; font-family: Arial; background-color: #ffffff;\">- Gloves are not provided. Please bring your own.\u003c/span>\u003c/p>\u003cp style=\"margin-top: 0pt; margin-bottom: 0pt;\">\u003cbr>\u003cspan style=\"font-size: 10pt; font-family: Arial; background-color: #ffffff;\">** No alcohol is permitted at this field**\u003c/span>\u003cbr>\u003cbr>\u003cspan style=\"font-size: 10pt; font-family: Arial;\">** Playoffs We will accommodate as many teams as possible in the playoffs, but only the TOP 4 teams are guaranteed advancement.\u003c/span>\u003c/p>\u003cp style=\"margin-top: 12pt; margin-bottom: 12pt;\">\u003cspan style=\"font-size: 10pt; font-family: Arial;\">** Weather Policy Guaranteed 2 makeup games at the same location but not guaranteed to be played on the same day of the week.\u003c/span>\u003c/p>\u003cp style=\"margin-top: 12pt; margin-bottom: 12pt;\">\u003cspan style=\"font-size: 10pt; font-family: Arial;\">** Doubleheaders Teams may have byes or doubleheaders. The league may be shortened/extended by a week but all league games will be played!\u003c/span>\u003c/p>"},"activityName":"Softball","programType":"LEAGUE"},"League:64557eeba288ff2920c89c98":{"__typename":"League","_id":"64557eeba288ff2920c89c98","name":"Softball (10v10 Coed) - Thursday - Dilboy Field (Somerville) - July 2023","featured_order":null,"schedule":{"__typename":"Schedule","start_date":"2023-07-20T16:00:00.000Z"},"details":{"__typename":"LeagueDetails","description":"\u003cp>Our only Somerville weekday metal bat league happens Thursday night at Dilboy Field! This league has a very limited capacity and will sell out in early bird pricing so register ASAP if you want to play!\u003c/p>\u003csection id=\"isPasted\" style='box-sizing: inherit; background-repeat: no-repeat; background-size: contain; display: block; margin: 1.5rem auto 2.5rem; color: rgb(76, 76, 76); font-family: Arial, \"Helvetica Neue\", Helvetica, sans-serif; font-size: 14px; font-style: normal; font-variant-ligatures: normal; font-variant-caps: normal; font-weight: 400; letter-spacing: normal; orphans: 2; text-align: start; text-indent: 0px; text-transform: none; white-space: pre-wrap; widows: 2; word-spacing: 0px; -webkit-text-stroke-width: 0px; background-color: rgb(255, 255, 255); text-decoration-thickness: initial; text-decoration-style: initial; text-decoration-color: initial;'>\u003cdiv style='box-sizing: inherit; background-repeat: no-repeat; background-size: contain; -webkit-tap-highlight-color: rgba(0, 0, 0, 0); font-family: Arial, \"Helvetica Neue\", Helvetica, sans-serif;'>\u003cp style='box-sizing: inherit; background-repeat: no-repeat; background-size: contain; margin: 0.5rem auto auto; padding: 0px; margin-block: 0px; margin-inline: 0px; padding-block: 0px; padding-inline: 0px; color: rgb(76, 76, 76); text-rendering: optimizelegibility; font-family: Arial, \"Helvetica Neue\", Helvetica, sans-serif; align-items: center; font-size: 0.8rem; overflow: inherit; font-style: normal; font-variant-ligatures: normal; font-variant-caps: normal; font-weight: 400; letter-spacing: normal; orphans: 2; text-align: start; text-indent: 0px; text-transform: none; white-space: pre-wrap; widows: 2; word-spacing: 0px; -webkit-text-stroke-width: 0px; background-color: rgb(255, 255, 255); text-decoration-thickness: initial; text-decoration-style: initial; text-decoration-color: initial;'>\u003cspan style='box-sizing: inherit; background-repeat: no-repeat; background-size: contain; font-family: Arial, \"Helvetica Neue\", Helvetica, sans-serif; margin-bottom: 0px; color: rgb(76, 76, 76); font-size: 14px; font-style: normal; font-variant-ligatures: normal; font-variant-caps: normal; font-weight: 400; letter-spacing: normal; orphans: 2; text-align: start; text-indent: 0px; text-transform: none; white-space: pre-wrap; widows: 2; word-spacing: 0px; -webkit-text-stroke-width: 0px; background-color: rgb(255, 255, 255); text-decoration-thickness: initial; text-decoration-style: initial; text-decoration-color: initial; float: none; display: inline !important;'>10v10 Coed Softball League \u003c/span>\u003c/p>\u003cp style='box-sizing: inherit; background-repeat: no-repeat; background-size: contain; margin: 0.5rem auto auto; padding: 0px; margin-block: 0px; margin-inline: 0px; padding-block: 0px; padding-inline: 0px; color: rgb(76, 76, 76); text-rendering: optimizelegibility; font-family: Arial, \"Helvetica Neue\", Helvetica, sans-serif; align-items: center; font-size: 0.8rem; overflow: inherit; font-style: normal; font-variant-ligatures: normal; font-variant-caps: normal; font-weight: 400; letter-spacing: normal; orphans: 2; text-align: start; text-indent: 0px; text-transform: none; white-space: pre-wrap; widows: 2; word-spacing: 0px; -webkit-text-stroke-width: 0px; background-color: rgb(255, 255, 255); text-decoration-thickness: initial; text-decoration-style: initial; text-decoration-color: initial;'>\u003cspan style='box-sizing: inherit; background-repeat: no-repeat; background-size: contain; font-family: Arial, \"Helvetica Neue\", Helvetica, sans-serif; margin-bottom: 0px; color: rgb(76, 76, 76); font-size: 14px; font-style: normal; font-variant-ligatures: normal; font-variant-caps: normal; font-weight: 400; letter-spacing: normal; orphans: 2; text-align: start; text-indent: 0px; text-transform: none; white-space: pre-wrap; widows: 2; word-spacing: 0px; -webkit-text-stroke-width: 0px; background-color: rgb(255, 255, 255); text-decoration-thickness: initial; text-decoration-style: initial; text-decoration-color: initial; float: none; display: inline !important;'>Minimum for a full team is 14 players - minimum of 4 men/women \u003c/span>\u003c/p>\u003cp style='box-sizing: inherit; background-repeat: no-repeat; background-size: contain; margin: 0.5rem auto auto; padding: 0px; margin-block: 0px; margin-inline: 0px; padding-block: 0px; padding-inline: 0px; color: rgb(76, 76, 76); text-rendering: optimizelegibility; font-family: Arial, \"Helvetica Neue\", Helvetica, sans-serif; align-items: center; font-size: 0.8rem; overflow: inherit; font-style: normal; font-variant-ligatures: normal; font-variant-caps: normal; font-weight: 400; letter-spacing: normal; orphans: 2; text-align: start; text-indent: 0px; text-transform: none; white-space: pre-wrap; widows: 2; word-spacing: 0px; -webkit-text-stroke-width: 0px; background-color: rgb(255, 255, 255); text-decoration-thickness: initial; text-decoration-style: initial; text-decoration-color: initial;'>\u003cspan style='box-sizing: inherit; background-repeat: no-repeat; background-size: contain; font-family: Arial, \"Helvetica Neue\", Helvetica, sans-serif; margin-bottom: 0px; color: rgb(76, 76, 76); font-size: 14px; font-style: normal; font-variant-ligatures: normal; font-variant-caps: normal; font-weight: 400; letter-spacing: normal; orphans: 2; text-align: start; text-indent: 0px; text-transform: none; white-space: pre-wrap; widows: 2; word-spacing: 0px; -webkit-text-stroke-width: 0px; background-color: rgb(255, 255, 255); text-decoration-thickness: initial; text-decoration-style: initial; text-decoration-color: initial; float: none; display: inline !important;'>7 player minimum for official game - minimum of 1 man/woman \u003c/span>\u003c/p>\u003cp style='box-sizing: inherit; background-repeat: no-repeat; background-size: contain; margin: 0.5rem auto auto; padding: 0px; margin-block: 0px; margin-inline: 0px; padding-block: 0px; padding-inline: 0px; color: rgb(76, 76, 76); text-rendering: optimizelegibility; font-family: Arial, \"Helvetica Neue\", Helvetica, sans-serif; align-items: center; font-size: 0.8rem; overflow: inherit; font-style: normal; font-variant-ligatures: normal; font-variant-caps: normal; font-weight: 400; letter-spacing: normal; orphans: 2; text-align: start; text-indent: 0px; text-transform: none; white-space: pre-wrap; widows: 2; word-spacing: 0px; -webkit-text-stroke-width: 0px; background-color: rgb(255, 255, 255); text-decoration-thickness: initial; text-decoration-style: initial; text-decoration-color: initial;'>\u003cspan style='box-sizing: inherit; background-repeat: no-repeat; background-size: contain; font-family: Arial, \"Helvetica Neue\", Helvetica, sans-serif; color: rgb(76, 76, 76); font-size: 14px; font-style: normal; font-variant-ligatures: normal; font-variant-caps: normal; font-weight: 400; letter-spacing: normal; orphans: 2; text-align: start; text-indent: 0px; text-transform: none; white-space: pre-wrap; widows: 2; word-spacing: 0px; -webkit-text-stroke-width: 0px; background-color: rgb(255, 255, 255); text-decoration-thickness: initial; text-decoration-style: initial; text-decoration-color: initial; float: none; display: inline !important;'>1\u003c/span>\u003cspan style='box-sizing: inherit; background-repeat: no-repeat; background-size: contain; font-family: Arial, \"Helvetica Neue\", Helvetica, sans-serif; margin-bottom: 0px; color: rgb(76, 76, 76); font-size: 14px; font-style: normal; font-variant-ligatures: normal; font-variant-caps: normal; font-weight: 400; letter-spacing: normal; orphans: 2; text-align: start; text-indent: 0px; text-transform: none; white-space: pre-wrap; widows: 2; word-spacing: 0px; -webkit-text-stroke-width: 0px; background-color: rgb(255, 255, 255); text-decoration-thickness: initial; text-decoration-style: initial; text-decoration-color: initial; float: none; display: inline !important;'>0 players on field - minimum of 3 men/women \u003c/span>\u003c/p>\u003cp style='box-sizing: inherit; background-repeat: no-repeat; background-size: contain; margin: 0.5rem auto auto; padding: 0px; margin-block: 0px; margin-inline: 0px; padding-block: 0px; padding-inline: 0px; color: rgb(76, 76, 76); text-rendering: optimizelegibility; font-family: Arial, \"Helvetica Neue\", Helvetica, sans-serif; align-items: center; font-size: 0.8rem; overflow: inherit; font-style: normal; font-variant-ligatures: normal; font-variant-caps: normal; font-weight: 400; letter-spacing: normal; orphans: 2; text-align: start; text-indent: 0px; text-transform: none; white-space: pre-wrap; widows: 2; word-spacing: 0px; -webkit-text-stroke-width: 0px; background-color: rgb(255, 255, 255); text-decoration-thickness: initial; text-decoration-style: initial; text-decoration-color: initial;'>\u003cspan style='box-sizing: inherit; background-repeat: no-repeat; background-size: contain; font-family: Arial, \"Helvetica Neue\", Helvetica, sans-serif; margin-bottom: 0px; color: rgb(76, 76, 76); font-size: 14px; font-style: normal; font-variant-ligatures: normal; font-variant-caps: normal; font-weight: 400; letter-spacing: normal; orphans: 2; text-align: start; text-indent: 0px; text-transform: none; white-space: pre-wrap; widows: 2; word-spacing: 0px; -webkit-text-stroke-width: 0px; background-color: rgb(255, 255, 255); text-decoration-thickness: initial; text-decoration-style: initial; text-decoration-color: initial; float: none; display: inline !important;'>Gloves are not provided. Please bring your own. \u003c/span>\u003c/p>\u003cp style='box-sizing: inherit; background-repeat: no-repeat; background-size: contain; margin: 0.5rem auto auto; padding: 0px; margin-block: 0px; margin-inline: 0px; padding-block: 0px; padding-inline: 0px; color: rgb(76, 76, 76); text-rendering: optimizelegibility; font-family: Arial, \"Helvetica Neue\", Helvetica, sans-serif; align-items: center; font-size: 0.8rem; overflow: inherit; font-style: normal; font-variant-ligatures: normal; font-variant-caps: normal; font-weight: 400; letter-spacing: normal; orphans: 2; text-align: start; text-indent: 0px; text-transform: none; white-space: pre-wrap; widows: 2; word-spacing: 0px; -webkit-text-stroke-width: 0px; background-color: rgb(255, 255, 255); text-decoration-thickness: initial; text-decoration-style: initial; text-decoration-color: initial;'>\u003cbr style=\"box-sizing: inherit; background-repeat: no-repeat; background-size: contain; margin-bottom: 0px;\">\u003c/p>\u003cp style='box-sizing: inherit; background-repeat: no-repeat; background-size: contain; margin: 0.5rem auto auto; padding: 0px; margin-block: 0px; margin-inline: 0px; padding-block: 0px; padding-inline: 0px; color: rgb(76, 76, 76); text-rendering: optimizelegibility; font-family: Arial, \"Helvetica Neue\", Helvetica, sans-serif; align-items: center; font-size: 0.8rem; overflow: inherit; font-style: normal; font-variant-ligatures: normal; font-variant-caps: normal; font-weight: 400; letter-spacing: normal; orphans: 2; text-align: start; text-indent: 0px; text-transform: none; white-space: pre-wrap; widows: 2; word-spacing: 0px; -webkit-text-stroke-width: 0px; background-color: rgb(255, 255, 255); text-decoration-thickness: initial; text-decoration-style: initial; text-decoration-color: initial;'>\u003cspan style='box-sizing: inherit; background-repeat: no-repeat; background-size: contain; font-family: Arial, \"Helvetica Neue\", Helvetica, sans-serif; margin-bottom: 0px; color: rgb(76, 76, 76); font-size: 14px; font-style: normal; font-variant-ligatures: normal; font-variant-caps: normal; font-weight: 400; letter-spacing: normal; orphans: 2; text-align: start; text-indent: 0px; text-transform: none; white-space: pre-wrap; widows: 2; word-spacing: 0px; -webkit-text-stroke-width: 0px; background-color: rgb(255, 255, 255); text-decoration-thickness: initial; text-decoration-style: initial; text-decoration-color: initial; float: none; display: inline !important;'>*Depending on the number of teams it's possible for teams to have byes or doubleheaders. All teams will get 6 games. If teams do not follow our forfeit policy they will be automatically DQ'd from the playoffs.\u003c/span>\u003c/p>\u003c/div>\u003c/section>"},"activityName":"Softball","programType":"LEAGUE"},"League:64556a439e8022886ce8ae2a":{"__typename":"League","_id":"64556a439e8022886ce8ae2a","name":"Softball (10v10 Men) - Wednesday - Connell Fields (Hyde Park) - July 2023","featured_order":null,"schedule":{"__typename":"Schedule","start_date":"2023-07-19T16:00:00.000Z"},"details":{"__typename":"LeagueDetails","description":"\u003cp>We are bringing men's softball to Hyde Park on Wednesday nights! This is a metal bat league with lights and plenty of on site parking! This is one of our cheapest options to play this summer! \u003c/p>\u003csection id=\"isPasted\" style='box-sizing: inherit; background-repeat: no-repeat; background-size: contain; display: block; margin: 1.5rem auto 2.5rem; color: rgb(76, 76, 76); font-family: Arial, \"Helvetica Neue\", Helvetica, sans-serif; font-size: 14px; font-style: normal; font-variant-ligatures: normal; font-variant-caps: normal; font-weight: 400; letter-spacing: normal; orphans: 2; text-align: start; text-indent: 0px; text-transform: none; white-space: pre-wrap; widows: 2; word-spacing: 0px; -webkit-text-stroke-width: 0px; background-color: rgb(255, 255, 255); text-decoration-thickness: initial; text-decoration-style: initial; text-decoration-color: initial;'>\u003cdiv style='box-sizing: inherit; background-repeat: no-repeat; background-size: contain; -webkit-tap-highlight-color: rgba(0, 0, 0, 0); font-family: Arial, \"Helvetica Neue\", Helvetica, sans-serif;'>\u003cp style='box-sizing: inherit; background-repeat: no-repeat; background-size: contain; margin: 0.5rem auto auto; padding: 0px; margin-block: 0px; margin-inline: 0px; padding-block: 0px; padding-inline: 0px; color: rgb(76, 76, 76); text-rendering: optimizelegibility; font-family: Arial, \"Helvetica Neue\", Helvetica, sans-serif; align-items: center; font-size: 0.8rem; overflow: inherit; font-style: normal; font-variant-ligatures: normal; font-variant-caps: normal; font-weight: 400; letter-spacing: normal; orphans: 2; text-align: start; text-indent: 0px; text-transform: none; white-space: pre-wrap; widows: 2; word-spacing: 0px; -webkit-text-stroke-width: 0px; background-color: rgb(255, 255, 255); text-decoration-thickness: initial; text-decoration-style: initial; text-decoration-color: initial;'>\u003cspan style='box-sizing: inherit; background-repeat: no-repeat; background-size: contain; font-family: Arial, \"Helvetica Neue\", Helvetica, sans-serif; margin-bottom: 0px; color: rgb(76, 76, 76); font-size: 14px; font-style: normal; font-variant-ligatures: normal; font-variant-caps: normal; font-weight: 400; letter-spacing: normal; orphans: 2; text-align: start; text-indent: 0px; text-transform: none; white-space: pre-wrap; widows: 2; word-spacing: 0px; -webkit-text-stroke-width: 0px; background-color: rgb(255, 255, 255); text-decoration-thickness: initial; text-decoration-style: initial; text-decoration-color: initial; float: none; display: inline !important;'>10v10 Men's Softball League \u003c/span>\u003c/p>\u003cp style='box-sizing: inherit; background-repeat: no-repeat; background-size: contain; margin: 0.5rem auto auto; padding: 0px; margin-block: 0px; margin-inline: 0px; padding-block: 0px; padding-inline: 0px; color: rgb(76, 76, 76); text-rendering: optimizelegibility; font-family: Arial, \"Helvetica Neue\", Helvetica, sans-serif; align-items: center; font-size: 0.8rem; overflow: inherit; font-style: normal; font-variant-ligatures: normal; font-variant-caps: normal; font-weight: 400; letter-spacing: normal; orphans: 2; text-align: start; text-indent: 0px; text-transform: none; white-space: pre-wrap; widows: 2; word-spacing: 0px; -webkit-text-stroke-width: 0px; background-color: rgb(255, 255, 255); text-decoration-thickness: initial; text-decoration-style: initial; text-decoration-color: initial;'>\u003cspan style='box-sizing: inherit; background-repeat: no-repeat; background-size: contain; font-family: Arial, \"Helvetica Neue\", Helvetica, sans-serif; margin-bottom: 0px; color: rgb(76, 76, 76); font-size: 14px; font-style: normal; font-variant-ligatures: normal; font-variant-caps: normal; font-weight: 400; letter-spacing: normal; orphans: 2; text-align: start; text-indent: 0px; text-transform: none; white-space: pre-wrap; widows: 2; word-spacing: 0px; -webkit-text-stroke-width: 0px; background-color: rgb(255, 255, 255); text-decoration-thickness: initial; text-decoration-style: initial; text-decoration-color: initial; float: none; display: inline !important;'>Minimum for a full team is 13 players\u003c/span>\u003c/p>\u003cp style='box-sizing: inherit; background-repeat: no-repeat; background-size: contain; margin: 0.5rem auto auto; padding: 0px; margin-block: 0px; margin-inline: 0px; padding-block: 0px; padding-inline: 0px; color: rgb(76, 76, 76); text-rendering: optimizelegibility; font-family: Arial, \"Helvetica Neue\", Helvetica, sans-serif; align-items: center; font-size: 0.8rem; overflow: inherit; font-style: normal; font-variant-ligatures: normal; font-variant-caps: normal; font-weight: 400; letter-spacing: normal; orphans: 2; text-align: start; text-indent: 0px; text-transform: none; white-space: pre-wrap; widows: 2; word-spacing: 0px; -webkit-text-stroke-width: 0px; background-color: rgb(255, 255, 255); text-decoration-thickness: initial; text-decoration-style: initial; text-decoration-color: initial;'>\u003cspan style='box-sizing: inherit; background-repeat: no-repeat; background-size: contain; font-family: Arial, \"Helvetica Neue\", Helvetica, sans-serif; margin-bottom: 0px; color: rgb(76, 76, 76); font-size: 14px; font-style: normal; font-variant-ligatures: normal; font-variant-caps: normal; font-weight: 400; letter-spacing: normal; orphans: 2; text-align: start; text-indent: 0px; text-transform: none; white-space: pre-wrap; widows: 2; word-spacing: 0px; -webkit-text-stroke-width: 0px; background-color: rgb(255, 255, 255); text-decoration-thickness: initial; text-decoration-style: initial; text-decoration-color: initial; float: none; display: inline !important;'>7 player minimum for official game\u003c/span>\u003c/p>\u003cp style='box-sizing: inherit; background-repeat: no-repeat; background-size: contain; margin: 0.5rem auto auto; padding: 0px; margin-block: 0px; margin-inline: 0px; padding-block: 0px; padding-inline: 0px; color: rgb(76, 76, 76); text-rendering: optimizelegibility; font-family: Arial, \"Helvetica Neue\", Helvetica, sans-serif; align-items: center; font-size: 0.8rem; overflow: inherit; font-style: normal; font-variant-ligatures: normal; font-variant-caps: normal; font-weight: 400; letter-spacing: normal; orphans: 2; text-align: start; text-indent: 0px; text-transform: none; white-space: pre-wrap; widows: 2; word-spacing: 0px; -webkit-text-stroke-width: 0px; background-color: rgb(255, 255, 255); text-decoration-thickness: initial; text-decoration-style: initial; text-decoration-color: initial;'>\u003cspan style='box-sizing: inherit; background-repeat: no-repeat; background-size: contain; font-family: Arial, \"Helvetica Neue\", Helvetica, sans-serif; color: rgb(76, 76, 76); font-size: 14px; font-style: normal; font-variant-ligatures: normal; font-variant-caps: normal; font-weight: 400; letter-spacing: normal; orphans: 2; text-align: start; text-indent: 0px; text-transform: none; white-space: pre-wrap; widows: 2; word-spacing: 0px; -webkit-text-stroke-width: 0px; background-color: rgb(255, 255, 255); text-decoration-thickness: initial; text-decoration-style: initial; text-decoration-color: initial; float: none; display: inline !important;'>1\u003c/span>\u003cspan style='box-sizing: inherit; background-repeat: no-repeat; background-size: contain; font-family: Arial, \"Helvetica Neue\", Helvetica, sans-serif; margin-bottom: 0px; color: rgb(76, 76, 76); font-size: 14px; font-style: normal; font-variant-ligatures: normal; font-variant-caps: normal; font-weight: 400; letter-spacing: normal; orphans: 2; text-align: start; text-indent: 0px; text-transform: none; white-space: pre-wrap; widows: 2; word-spacing: 0px; -webkit-text-stroke-width: 0px; background-color: rgb(255, 255, 255); text-decoration-thickness: initial; text-decoration-style: initial; text-decoration-color: initial; float: none; display: inline !important;'>0 players on field \u003c/span>\u003c/p>\u003cp style='box-sizing: inherit; background-repeat: no-repeat; background-size: contain; margin: 0.5rem auto auto; padding: 0px; margin-block: 0px; margin-inline: 0px; padding-block: 0px; padding-inline: 0px; color: rgb(76, 76, 76); text-rendering: optimizelegibility; font-family: Arial, \"Helvetica Neue\", Helvetica, sans-serif; align-items: center; font-size: 0.8rem; overflow: inherit; font-style: normal; font-variant-ligatures: normal; font-variant-caps: normal; font-weight: 400; letter-spacing: normal; orphans: 2; text-align: start; text-indent: 0px; text-transform: none; white-space: pre-wrap; widows: 2; word-spacing: 0px; -webkit-text-stroke-width: 0px; background-color: rgb(255, 255, 255); text-decoration-thickness: initial; text-decoration-style: initial; text-decoration-color: initial;'>\u003cspan style='box-sizing: inherit; background-repeat: no-repeat; background-size: contain; font-family: Arial, \"Helvetica Neue\", Helvetica, sans-serif; margin-bottom: 0px; color: rgb(76, 76, 76); font-size: 14px; font-style: normal; font-variant-ligatures: normal; font-variant-caps: normal; font-weight: 400; letter-spacing: normal; orphans: 2; text-align: start; text-indent: 0px; text-transform: none; white-space: pre-wrap; widows: 2; word-spacing: 0px; -webkit-text-stroke-width: 0px; background-color: rgb(255, 255, 255); text-decoration-thickness: initial; text-decoration-style: initial; text-decoration-color: initial; float: none; display: inline !important;'>Gloves are not provided. Please bring your own. \u003c/span>\u003c/p>\u003cp style='box-sizing: inherit; background-repeat: no-repeat; background-size: contain; margin: 0.5rem auto auto; padding: 0px; margin-block: 0px; margin-inline: 0px; padding-block: 0px; padding-inline: 0px; color: rgb(76, 76, 76); text-rendering: optimizelegibility; font-family: Arial, \"Helvetica Neue\", Helvetica, sans-serif; align-items: center; font-size: 0.8rem; overflow: inherit; font-style: normal; font-variant-ligatures: normal; font-variant-caps: normal; font-weight: 400; letter-spacing: normal; orphans: 2; text-align: start; text-indent: 0px; text-transform: none; white-space: pre-wrap; widows: 2; word-spacing: 0px; -webkit-text-stroke-width: 0px; background-color: rgb(255, 255, 255); text-decoration-thickness: initial; text-decoration-style: initial; text-decoration-color: initial;'>\u003cbr style=\"box-sizing: inherit; background-repeat: no-repeat; background-size: contain; margin-bottom: 0px;\">\u003c/p>\u003cp style='box-sizing: inherit; background-repeat: no-repeat; background-size: contain; margin: 0.5rem auto auto; padding: 0px; margin-block: 0px; margin-inline: 0px; padding-block: 0px; padding-inline: 0px; color: rgb(76, 76, 76); text-rendering: optimizelegibility; font-family: Arial, \"Helvetica Neue\", Helvetica, sans-serif; align-items: center; font-size: 0.8rem; overflow: inherit; font-style: normal; font-variant-ligatures: normal; font-variant-caps: normal; font-weight: 400; letter-spacing: normal; orphans: 2; text-align: start; text-indent: 0px; text-transform: none; white-space: pre-wrap; widows: 2; word-spacing: 0px; -webkit-text-stroke-width: 0px; background-color: rgb(255, 255, 255); text-decoration-thickness: initial; text-decoration-style: initial; text-decoration-color: initial;'>\u003cspan style='box-sizing: inherit; background-repeat: no-repeat; background-size: contain; font-family: Arial, \"Helvetica Neue\", Helvetica, sans-serif; margin-bottom: 0px; color: rgb(76, 76, 76); font-size: 14px; font-style: normal; font-variant-ligatures: normal; font-variant-caps: normal; font-weight: 400; letter-spacing: normal; orphans: 2; text-align: start; text-indent: 0px; text-transform: none; white-space: pre-wrap; widows: 2; word-spacing: 0px; -webkit-text-stroke-width: 0px; background-color: rgb(255, 255, 255); text-decoration-thickness: initial; text-decoration-style: initial; text-decoration-color: initial; float: none; display: inline !important;'>*Depending on the number of teams it's possible for teams to have byes or doubleheaders. All teams will get 6 games. If teams do not follow our forfeit policy they will be automatically DQ'd from the playoffs.\u003c/span>\u003c/p>\u003c/div>\u003c/section>"},"activityName":"Softball","programType":"LEAGUE"},"League:645568a69552156496886cf9":{"__typename":"League","_id":"645568a69552156496886cf9","name":"Softball (10v10 Men) - Thursday - Connell Fields (Hyde Park) - July 2023","featured_order":null,"schedule":{"__typename":"Schedule","start_date":"2023-07-20T16:00:00.000Z"},"details":{"__typename":"LeagueDetails","description":"\u003cp>We are bringing men's softball to Hyde Park on Thursday nights! This is a metal bat league with lights and plenty of on site parking! This is one of our cheapest options to play this summer! This is a great way to start your weekend early!\u003c/p>\u003csection id=\"isPasted\" style='box-sizing: inherit; background-repeat: no-repeat; background-size: contain; display: block; margin: 1.5rem auto 2.5rem; color: rgb(76, 76, 76); font-family: Arial, \"Helvetica Neue\", Helvetica, sans-serif; font-size: 14px; font-style: normal; font-variant-ligatures: normal; font-variant-caps: normal; font-weight: 400; letter-spacing: normal; orphans: 2; text-align: start; text-indent: 0px; text-transform: none; white-space: pre-wrap; widows: 2; word-spacing: 0px; -webkit-text-stroke-width: 0px; background-color: rgb(255, 255, 255); text-decoration-thickness: initial; text-decoration-style: initial; text-decoration-color: initial;'>\u003cdiv style='box-sizing: inherit; background-repeat: no-repeat; background-size: contain; -webkit-tap-highlight-color: rgba(0, 0, 0, 0); font-family: Arial, \"Helvetica Neue\", Helvetica, sans-serif;'>\u003cp style='box-sizing: inherit; background-repeat: no-repeat; background-size: contain; margin: 0.5rem auto auto; padding: 0px; margin-block: 0px; margin-inline: 0px; padding-block: 0px; padding-inline: 0px; color: rgb(76, 76, 76); text-rendering: optimizelegibility; font-family: Arial, \"Helvetica Neue\", Helvetica, sans-serif; align-items: center; font-size: 0.8rem; overflow: inherit; font-style: normal; font-variant-ligatures: normal; font-variant-caps: normal; font-weight: 400; letter-spacing: normal; orphans: 2; text-align: start; text-indent: 0px; text-transform: none; white-space: pre-wrap; widows: 2; word-spacing: 0px; -webkit-text-stroke-width: 0px; background-color: rgb(255, 255, 255); text-decoration-thickness: initial; text-decoration-style: initial; text-decoration-color: initial;'>\u003cspan style='box-sizing: inherit; background-repeat: no-repeat; background-size: contain; font-family: Arial, \"Helvetica Neue\", Helvetica, sans-serif; margin-bottom: 0px; color: rgb(76, 76, 76); font-size: 14px; font-style: normal; font-variant-ligatures: normal; font-variant-caps: normal; font-weight: 400; letter-spacing: normal; orphans: 2; text-align: start; text-indent: 0px; text-transform: none; white-space: pre-wrap; widows: 2; word-spacing: 0px; -webkit-text-stroke-width: 0px; background-color: rgb(255, 255, 255); text-decoration-thickness: initial; text-decoration-style: initial; text-decoration-color: initial; float: none; display: inline !important;'>10v10 Men's Softball League \u003c/span>\u003c/p>\u003cp style='box-sizing: inherit; background-repeat: no-repeat; background-size: contain; margin: 0.5rem auto auto; padding: 0px; margin-block: 0px; margin-inline: 0px; padding-block: 0px; padding-inline: 0px; color: rgb(76, 76, 76); text-rendering: optimizelegibility; font-family: Arial, \"Helvetica Neue\", Helvetica, sans-serif; align-items: center; font-size: 0.8rem; overflow: inherit; font-style: normal; font-variant-ligatures: normal; font-variant-caps: normal; font-weight: 400; letter-spacing: normal; orphans: 2; text-align: start; text-indent: 0px; text-transform: none; white-space: pre-wrap; widows: 2; word-spacing: 0px; -webkit-text-stroke-width: 0px; background-color: rgb(255, 255, 255); text-decoration-thickness: initial; text-decoration-style: initial; text-decoration-color: initial;'>\u003cspan style='box-sizing: inherit; background-repeat: no-repeat; background-size: contain; font-family: Arial, \"Helvetica Neue\", Helvetica, sans-serif; margin-bottom: 0px; color: rgb(76, 76, 76); font-size: 14px; font-style: normal; font-variant-ligatures: normal; font-variant-caps: normal; font-weight: 400; letter-spacing: normal; orphans: 2; text-align: start; text-indent: 0px; text-transform: none; white-space: pre-wrap; widows: 2; word-spacing: 0px; -webkit-text-stroke-width: 0px; background-color: rgb(255, 255, 255); text-decoration-thickness: initial; text-decoration-style: initial; text-decoration-color: initial; float: none; display: inline !important;'>Minimum for a full team is 13 players\u003c/span>\u003c/p>\u003cp style='box-sizing: inherit; background-repeat: no-repeat; background-size: contain; margin: 0.5rem auto auto; padding: 0px; margin-block: 0px; margin-inline: 0px; padding-block: 0px; padding-inline: 0px; color: rgb(76, 76, 76); text-rendering: optimizelegibility; font-family: Arial, \"Helvetica Neue\", Helvetica, sans-serif; align-items: center; font-size: 0.8rem; overflow: inherit; font-style: normal; font-variant-ligatures: normal; font-variant-caps: normal; font-weight: 400; letter-spacing: normal; orphans: 2; text-align: start; text-indent: 0px; text-transform: none; white-space: pre-wrap; widows: 2; word-spacing: 0px; -webkit-text-stroke-width: 0px; background-color: rgb(255, 255, 255); text-decoration-thickness: initial; text-decoration-style: initial; text-decoration-color: initial;'>\u003cspan style='box-sizing: inherit; background-repeat: no-repeat; background-size: contain; font-family: Arial, \"Helvetica Neue\", Helvetica, sans-serif; margin-bottom: 0px; color: rgb(76, 76, 76); font-size: 14px; font-style: normal; font-variant-ligatures: normal; font-variant-caps: normal; font-weight: 400; letter-spacing: normal; orphans: 2; text-align: start; text-indent: 0px; text-transform: none; white-space: pre-wrap; widows: 2; word-spacing: 0px; -webkit-text-stroke-width: 0px; background-color: rgb(255, 255, 255); text-decoration-thickness: initial; text-decoration-style: initial; text-decoration-color: initial; float: none; display: inline !important;'>7 player minimum for official game\u003c/span>\u003c/p>\u003cp style='box-sizing: inherit; background-repeat: no-repeat; background-size: contain; margin: 0.5rem auto auto; padding: 0px; margin-block: 0px; margin-inline: 0px; padding-block: 0px; padding-inline: 0px; color: rgb(76, 76, 76); text-rendering: optimizelegibility; font-family: Arial, \"Helvetica Neue\", Helvetica, sans-serif; align-items: center; font-size: 0.8rem; overflow: inherit; font-style: normal; font-variant-ligatures: normal; font-variant-caps: normal; font-weight: 400; letter-spacing: normal; orphans: 2; text-align: start; text-indent: 0px; text-transform: none; white-space: pre-wrap; widows: 2; word-spacing: 0px; -webkit-text-stroke-width: 0px; background-color: rgb(255, 255, 255); text-decoration-thickness: initial; text-decoration-style: initial; text-decoration-color: initial;'>\u003cspan style='box-sizing: inherit; background-repeat: no-repeat; background-size: contain; font-family: Arial, \"Helvetica Neue\", Helvetica, sans-serif; color: rgb(76, 76, 76); font-size: 14px; font-style: normal; font-variant-ligatures: normal; font-variant-caps: normal; font-weight: 400; letter-spacing: normal; orphans: 2; text-align: start; text-indent: 0px; text-transform: none; white-space: pre-wrap; widows: 2; word-spacing: 0px; -webkit-text-stroke-width: 0px; background-color: rgb(255, 255, 255); text-decoration-thickness: initial; text-decoration-style: initial; text-decoration-color: initial; float: none; display: inline !important;'>1\u003c/span>\u003cspan style='box-sizing: inherit; background-repeat: no-repeat; background-size: contain; font-family: Arial, \"Helvetica Neue\", Helvetica, sans-serif; margin-bottom: 0px; color: rgb(76, 76, 76); font-size: 14px; font-style: normal; font-variant-ligatures: normal; font-variant-caps: normal; font-weight: 400; letter-spacing: normal; orphans: 2; text-align: start; text-indent: 0px; text-transform: none; white-space: pre-wrap; widows: 2; word-spacing: 0px; -webkit-text-stroke-width: 0px; background-color: rgb(255, 255, 255); text-decoration-thickness: initial; text-decoration-style: initial; text-decoration-color: initial; float: none; display: inline !important;'>0 players on field \u003c/span>\u003c/p>\u003cp style='box-sizing: inherit; background-repeat: no-repeat; background-size: contain; margin: 0.5rem auto auto; padding: 0px; margin-block: 0px; margin-inline: 0px; padding-block: 0px; padding-inline: 0px; color: rgb(76, 76, 76); text-rendering: optimizelegibility; font-family: Arial, \"Helvetica Neue\", Helvetica, sans-serif; align-items: center; font-size: 0.8rem; overflow: inherit; font-style: normal; font-variant-ligatures: normal; font-variant-caps: normal; font-weight: 400; letter-spacing: normal; orphans: 2; text-align: start; text-indent: 0px; text-transform: none; white-space: pre-wrap; widows: 2; word-spacing: 0px; -webkit-text-stroke-width: 0px; background-color: rgb(255, 255, 255); text-decoration-thickness: initial; text-decoration-style: initial; text-decoration-color: initial;'>\u003cspan style='box-sizing: inherit; background-repeat: no-repeat; background-size: contain; font-family: Arial, \"Helvetica Neue\", Helvetica, sans-serif; margin-bottom: 0px; color: rgb(76, 76, 76); font-size: 14px; font-style: normal; font-variant-ligatures: normal; font-variant-caps: normal; font-weight: 400; letter-spacing: normal; orphans: 2; text-align: start; text-indent: 0px; text-transform: none; white-space: pre-wrap; widows: 2; word-spacing: 0px; -webkit-text-stroke-width: 0px; background-color: rgb(255, 255, 255); text-decoration-thickness: initial; text-decoration-style: initial; text-decoration-color: initial; float: none; display: inline !important;'>Gloves are not provided. Please bring your own. \u003c/span>\u003c/p>\u003cp style='box-sizing: inherit; background-repeat: no-repeat; background-size: contain; margin: 0.5rem auto auto; padding: 0px; margin-block: 0px; margin-inline: 0px; padding-block: 0px; padding-inline: 0px; color: rgb(76, 76, 76); text-rendering: optimizelegibility; font-family: Arial, \"Helvetica Neue\", Helvetica, sans-serif; align-items: center; font-size: 0.8rem; overflow: inherit; font-style: normal; font-variant-ligatures: normal; font-variant-caps: normal; font-weight: 400; letter-spacing: normal; orphans: 2; text-align: start; text-indent: 0px; text-transform: none; white-space: pre-wrap; widows: 2; word-spacing: 0px; -webkit-text-stroke-width: 0px; background-color: rgb(255, 255, 255); text-decoration-thickness: initial; text-decoration-style: initial; text-decoration-color: initial;'>\u003cbr style=\"box-sizing: inherit; background-repeat: no-repeat; background-size: contain; margin-bottom: 0px;\">\u003c/p>\u003cp style='box-sizing: inherit; background-repeat: no-repeat; background-size: contain; margin: 0.5rem auto auto; padding: 0px; margin-block: 0px; margin-inline: 0px; padding-block: 0px; padding-inline: 0px; color: rgb(76, 76, 76); text-rendering: optimizelegibility; font-family: Arial, \"Helvetica Neue\", Helvetica, sans-serif; align-items: center; font-size: 0.8rem; overflow: inherit; font-style: normal; font-variant-ligatures: normal; font-variant-caps: normal; font-weight: 400; letter-spacing: normal; orphans: 2; text-align: start; text-indent: 0px; text-transform: none; white-space: pre-wrap; widows: 2; word-spacing: 0px; -webkit-text-stroke-width: 0px; background-color: rgb(255, 255, 255); text-decoration-thickness: initial; text-decoration-style: initial; text-decoration-color: initial;'>\u003cspan style='box-sizing: inherit; background-repeat: no-repeat; background-size: contain; font-family: Arial, \"Helvetica Neue\", Helvetica, sans-serif; margin-bottom: 0px; color: rgb(76, 76, 76); font-size: 14px; font-style: normal; font-variant-ligatures: normal; font-variant-caps: normal; font-weight: 400; letter-spacing: normal; orphans: 2; text-align: start; text-indent: 0px; text-transform: none; white-space: pre-wrap; widows: 2; word-spacing: 0px; -webkit-text-stroke-width: 0px; background-color: rgb(255, 255, 255); text-decoration-thickness: initial; text-decoration-style: initial; text-decoration-color: initial; float: none; display: inline !important;'>*Depending on the number of teams it's possible for teams to have byes or doubleheaders. All teams will get 6 games. If teams do not follow our forfeit policy they will be automatically DQ'd from the playoffs.\u003c/span>\u003c/p>\u003c/div>\u003c/section>"},"activityName":"Softball","programType":"LEAGUE"},"League:645454214ff1d24444d5e4d1":{"__typename":"League","_id":"645454214ff1d24444d5e4d1","name":"Softball (10v10 Coed) - Thursday - Connell Fields (Hyde Park) - July 2023","featured_order":null,"schedule":{"__typename":"Schedule","start_date":"2023-07-20T16:00:00.000Z"},"details":{"__typename":"LeagueDetails","description":"\u003cp>We are bringing coed softball to Hyde Park on Thursday nights! This is a metal bat league with lights and plenty of on site parking! This is one of our cheapest options to play this summer! This is a great way to start your weekend early!\u003c/p>\u003csection id=\"isPasted\" style='box-sizing: inherit; background-repeat: no-repeat; background-size: contain; display: block; margin: 1.5rem auto 2.5rem; color: rgb(76, 76, 76); font-family: Arial, \"Helvetica Neue\", Helvetica, sans-serif; font-size: 14px; font-style: normal; font-variant-ligatures: normal; font-variant-caps: normal; font-weight: 400; letter-spacing: normal; orphans: 2; text-align: start; text-indent: 0px; text-transform: none; white-space: pre-wrap; widows: 2; word-spacing: 0px; -webkit-text-stroke-width: 0px; background-color: rgb(255, 255, 255); text-decoration-thickness: initial; text-decoration-style: initial; text-decoration-color: initial;'>\u003cdiv style='box-sizing: inherit; background-repeat: no-repeat; background-size: contain; -webkit-tap-highlight-color: rgba(0, 0, 0, 0); font-family: Arial, \"Helvetica Neue\", Helvetica, sans-serif;'>\u003cp style='box-sizing: inherit; background-repeat: no-repeat; background-size: contain; margin: 0.5rem auto auto; padding: 0px; margin-block: 0px; margin-inline: 0px; padding-block: 0px; padding-inline: 0px; color: rgb(76, 76, 76); text-rendering: optimizelegibility; font-family: Arial, \"Helvetica Neue\", Helvetica, sans-serif; align-items: center; font-size: 0.8rem; overflow: inherit; font-style: normal; font-variant-ligatures: normal; font-variant-caps: normal; font-weight: 400; letter-spacing: normal; orphans: 2; text-align: start; text-indent: 0px; text-transform: none; white-space: pre-wrap; widows: 2; word-spacing: 0px; -webkit-text-stroke-width: 0px; background-color: rgb(255, 255, 255); text-decoration-thickness: initial; text-decoration-style: initial; text-decoration-color: initial;'>\u003cspan style='box-sizing: inherit; background-repeat: no-repeat; background-size: contain; font-family: Arial, \"Helvetica Neue\", Helvetica, sans-serif; margin-bottom: 0px; color: rgb(76, 76, 76); font-size: 14px; font-style: normal; font-variant-ligatures: normal; font-variant-caps: normal; font-weight: 400; letter-spacing: normal; orphans: 2; text-align: start; text-indent: 0px; text-transform: none; white-space: pre-wrap; widows: 2; word-spacing: 0px; -webkit-text-stroke-width: 0px; background-color: rgb(255, 255, 255); text-decoration-thickness: initial; text-decoration-style: initial; text-decoration-color: initial; float: none; display: inline !important;'>10v10 Coed Softball League \u003c/span>\u003c/p>\u003cp style='box-sizing: inherit; background-repeat: no-repeat; background-size: contain; margin: 0.5rem auto auto; padding: 0px; margin-block: 0px; margin-inline: 0px; padding-block: 0px; padding-inline: 0px; color: rgb(76, 76, 76); text-rendering: optimizelegibility; font-family: Arial, \"Helvetica Neue\", Helvetica, sans-serif; align-items: center; font-size: 0.8rem; overflow: inherit; font-style: normal; font-variant-ligatures: normal; font-variant-caps: normal; font-weight: 400; letter-spacing: normal; orphans: 2; text-align: start; text-indent: 0px; text-transform: none; white-space: pre-wrap; widows: 2; word-spacing: 0px; -webkit-text-stroke-width: 0px; background-color: rgb(255, 255, 255); text-decoration-thickness: initial; text-decoration-style: initial; text-decoration-color: initial;'>\u003cspan style='box-sizing: inherit; background-repeat: no-repeat; background-size: contain; font-family: Arial, \"Helvetica Neue\", Helvetica, sans-serif; margin-bottom: 0px; color: rgb(76, 76, 76); font-size: 14px; font-style: normal; font-variant-ligatures: normal; font-variant-caps: normal; font-weight: 400; letter-spacing: normal; orphans: 2; text-align: start; text-indent: 0px; text-transform: none; white-space: pre-wrap; widows: 2; word-spacing: 0px; -webkit-text-stroke-width: 0px; background-color: rgb(255, 255, 255); text-decoration-thickness: initial; text-decoration-style: initial; text-decoration-color: initial; float: none; display: inline !important;'>Minimum for a full team is 14 players - minimum of 4 men/women \u003c/span>\u003c/p>\u003cp style='box-sizing: inherit; background-repeat: no-repeat; background-size: contain; margin: 0.5rem auto auto; padding: 0px; margin-block: 0px; margin-inline: 0px; padding-block: 0px; padding-inline: 0px; color: rgb(76, 76, 76); text-rendering: optimizelegibility; font-family: Arial, \"Helvetica Neue\", Helvetica, sans-serif; align-items: center; font-size: 0.8rem; overflow: inherit; font-style: normal; font-variant-ligatures: normal; font-variant-caps: normal; font-weight: 400; letter-spacing: normal; orphans: 2; text-align: start; text-indent: 0px; text-transform: none; white-space: pre-wrap; widows: 2; word-spacing: 0px; -webkit-text-stroke-width: 0px; background-color: rgb(255, 255, 255); text-decoration-thickness: initial; text-decoration-style: initial; text-decoration-color: initial;'>\u003cspan style='box-sizing: inherit; background-repeat: no-repeat; background-size: contain; font-family: Arial, \"Helvetica Neue\", Helvetica, sans-serif; margin-bottom: 0px; color: rgb(76, 76, 76); font-size: 14px; font-style: normal; font-variant-ligatures: normal; font-variant-caps: normal; font-weight: 400; letter-spacing: normal; orphans: 2; text-align: start; text-indent: 0px; text-transform: none; white-space: pre-wrap; widows: 2; word-spacing: 0px; -webkit-text-stroke-width: 0px; background-color: rgb(255, 255, 255); text-decoration-thickness: initial; text-decoration-style: initial; text-decoration-color: initial; float: none; display: inline !important;'>7 player minimum for official game - minimum of 1 man/woman \u003c/span>\u003c/p>\u003cp style='box-sizing: inherit; background-repeat: no-repeat; background-size: contain; margin: 0.5rem auto auto; padding: 0px; margin-block: 0px; margin-inline: 0px; padding-block: 0px; padding-inline: 0px; color: rgb(76, 76, 76); text-rendering: optimizelegibility; font-family: Arial, \"Helvetica Neue\", Helvetica, sans-serif; align-items: center; font-size: 0.8rem; overflow: inherit; font-style: normal; font-variant-ligatures: normal; font-variant-caps: normal; font-weight: 400; letter-spacing: normal; orphans: 2; text-align: start; text-indent: 0px; text-transform: none; white-space: pre-wrap; widows: 2; word-spacing: 0px; -webkit-text-stroke-width: 0px; background-color: rgb(255, 255, 255); text-decoration-thickness: initial; text-decoration-style: initial; text-decoration-color: initial;'>\u003cspan style='box-sizing: inherit; background-repeat: no-repeat; background-size: contain; font-family: Arial, \"Helvetica Neue\", Helvetica, sans-serif; color: rgb(76, 76, 76); font-size: 14px; font-style: normal; font-variant-ligatures: normal; font-variant-caps: normal; font-weight: 400; letter-spacing: normal; orphans: 2; text-align: start; text-indent: 0px; text-transform: none; white-space: pre-wrap; widows: 2; word-spacing: 0px; -webkit-text-stroke-width: 0px; background-color: rgb(255, 255, 255); text-decoration-thickness: initial; text-decoration-style: initial; text-decoration-color: initial; float: none; display: inline !important;'>1\u003c/span>\u003cspan style='box-sizing: inherit; background-repeat: no-repeat; background-size: contain; font-family: Arial, \"Helvetica Neue\", Helvetica, sans-serif; margin-bottom: 0px; color: rgb(76, 76, 76); font-size: 14px; font-style: normal; font-variant-ligatures: normal; font-variant-caps: normal; font-weight: 400; letter-spacing: normal; orphans: 2; text-align: start; text-indent: 0px; text-transform: none; white-space: pre-wrap; widows: 2; word-spacing: 0px; -webkit-text-stroke-width: 0px; background-color: rgb(255, 255, 255); text-decoration-thickness: initial; text-decoration-style: initial; text-decoration-color: initial; float: none; display: inline !important;'>0 players on field - minimum of 3 men/women \u003c/span>\u003c/p>\u003cp style='box-sizing: inherit; background-repeat: no-repeat; background-size: contain; margin: 0.5rem auto auto; padding: 0px; margin-block: 0px; margin-inline: 0px; padding-block: 0px; padding-inline: 0px; color: rgb(76, 76, 76); text-rendering: optimizelegibility; font-family: Arial, \"Helvetica Neue\", Helvetica, sans-serif; align-items: center; font-size: 0.8rem; overflow: inherit; font-style: normal; font-variant-ligatures: normal; font-variant-caps: normal; font-weight: 400; letter-spacing: normal; orphans: 2; text-align: start; text-indent: 0px; text-transform: none; white-space: pre-wrap; widows: 2; word-spacing: 0px; -webkit-text-stroke-width: 0px; background-color: rgb(255, 255, 255); text-decoration-thickness: initial; text-decoration-style: initial; text-decoration-color: initial;'>\u003cspan style='box-sizing: inherit; background-repeat: no-repeat; background-size: contain; font-family: Arial, \"Helvetica Neue\", Helvetica, sans-serif; margin-bottom: 0px; color: rgb(76, 76, 76); font-size: 14px; font-style: normal; font-variant-ligatures: normal; font-variant-caps: normal; font-weight: 400; letter-spacing: normal; orphans: 2; text-align: start; text-indent: 0px; text-transform: none; white-space: pre-wrap; widows: 2; word-spacing: 0px; -webkit-text-stroke-width: 0px; background-color: rgb(255, 255, 255); text-decoration-thickness: initial; text-decoration-style: initial; text-decoration-color: initial; float: none; display: inline !important;'>Gloves are not provided. Please bring your own. \u003c/span>\u003c/p>\u003cp style='box-sizing: inherit; background-repeat: no-repeat; background-size: contain; margin: 0.5rem auto auto; padding: 0px; margin-block: 0px; margin-inline: 0px; padding-block: 0px; padding-inline: 0px; color: rgb(76, 76, 76); text-rendering: optimizelegibility; font-family: Arial, \"Helvetica Neue\", Helvetica, sans-serif; align-items: center; font-size: 0.8rem; overflow: inherit; font-style: normal; font-variant-ligatures: normal; font-variant-caps: normal; font-weight: 400; letter-spacing: normal; orphans: 2; text-align: start; text-indent: 0px; text-transform: none; white-space: pre-wrap; widows: 2; word-spacing: 0px; -webkit-text-stroke-width: 0px; background-color: rgb(255, 255, 255); text-decoration-thickness: initial; text-decoration-style: initial; text-decoration-color: initial;'>\u003cbr style=\"box-sizing: inherit; background-repeat: no-repeat; background-size: contain; margin-bottom: 0px;\">\u003c/p>\u003cp style='box-sizing: inherit; background-repeat: no-repeat; background-size: contain; margin: 0.5rem auto auto; padding: 0px; margin-block: 0px; margin-inline: 0px; padding-block: 0px; padding-inline: 0px; color: rgb(76, 76, 76); text-rendering: optimizelegibility; font-family: Arial, \"Helvetica Neue\", Helvetica, sans-serif; align-items: center; font-size: 0.8rem; overflow: inherit; font-style: normal; font-variant-ligatures: normal; font-variant-caps: normal; font-weight: 400; letter-spacing: normal; orphans: 2; text-align: start; text-indent: 0px; text-transform: none; white-space: pre-wrap; widows: 2; word-spacing: 0px; -webkit-text-stroke-width: 0px; background-color: rgb(255, 255, 255); text-decoration-thickness: initial; text-decoration-style: initial; text-decoration-color: initial;'>\u003cspan style='box-sizing: inherit; background-repeat: no-repeat; background-size: contain; font-family: Arial, \"Helvetica Neue\", Helvetica, sans-serif; margin-bottom: 0px; color: rgb(76, 76, 76); font-size: 14px; font-style: normal; font-variant-ligatures: normal; font-variant-caps: normal; font-weight: 400; letter-spacing: normal; orphans: 2; text-align: start; text-indent: 0px; text-transform: none; white-space: pre-wrap; widows: 2; word-spacing: 0px; -webkit-text-stroke-width: 0px; background-color: rgb(255, 255, 255); text-decoration-thickness: initial; text-decoration-style: initial; text-decoration-color: initial; float: none; display: inline !important;'>*Depending on the number of teams it's possible for teams to have byes or doubleheaders. All teams will get 6 games. If teams do not follow our forfeit policy they will be automatically DQ'd from the playoffs.\u003c/span>\u003c/p>\u003c/div>\u003c/section>"},"activityName":"Softball","programType":"LEAGUE"},"League:6454518ae776b60f3e1c45b2":{"__typename":"League","_id":"6454518ae776b60f3e1c45b2","name":"Softball (10v10 Coed) - Wednesday - Connell Fields (Hyde Park) - July 2023","featured_order":null,"schedule":{"__typename":"Schedule","start_date":"2023-07-19T16:00:00.000Z"},"details":{"__typename":"LeagueDetails","description":"\u003cp>We are bringing coed softball to Hyde Park! This is a metal bat league with lights and plenty of on site parking! This is one of our cheapest options to play this summer!\u003c/p>\u003csection id=\"isPasted\" style='box-sizing: inherit; background-repeat: no-repeat; background-size: contain; display: block; margin: 1.5rem auto 2.5rem; color: rgb(76, 76, 76); font-family: Arial, \"Helvetica Neue\", Helvetica, sans-serif; font-size: 14px; font-style: normal; font-variant-ligatures: normal; font-variant-caps: normal; font-weight: 400; letter-spacing: normal; orphans: 2; text-align: start; text-indent: 0px; text-transform: none; white-space: pre-wrap; widows: 2; word-spacing: 0px; -webkit-text-stroke-width: 0px; background-color: rgb(255, 255, 255); text-decoration-thickness: initial; text-decoration-style: initial; text-decoration-color: initial;'>\u003cdiv style='box-sizing: inherit; background-repeat: no-repeat; background-size: contain; -webkit-tap-highlight-color: rgba(0, 0, 0, 0); font-family: Arial, \"Helvetica Neue\", Helvetica, sans-serif;'>\u003cp style='box-sizing: inherit; background-repeat: no-repeat; background-size: contain; margin: 0.5rem auto auto; padding: 0px; margin-block: 0px; margin-inline: 0px; padding-block: 0px; padding-inline: 0px; color: rgb(76, 76, 76); text-rendering: optimizelegibility; font-family: Arial, \"Helvetica Neue\", Helvetica, sans-serif; align-items: center; font-size: 0.8rem; overflow: inherit; font-style: normal; font-variant-ligatures: normal; font-variant-caps: normal; font-weight: 400; letter-spacing: normal; orphans: 2; text-align: start; text-indent: 0px; text-transform: none; white-space: pre-wrap; widows: 2; word-spacing: 0px; -webkit-text-stroke-width: 0px; background-color: rgb(255, 255, 255); text-decoration-thickness: initial; text-decoration-style: initial; text-decoration-color: initial;'>\u003cspan style='box-sizing: inherit; background-repeat: no-repeat; background-size: contain; font-family: Arial, \"Helvetica Neue\", Helvetica, sans-serif; margin-bottom: 0px; color: rgb(76, 76, 76); font-size: 14px; font-style: normal; font-variant-ligatures: normal; font-variant-caps: normal; font-weight: 400; letter-spacing: normal; orphans: 2; text-align: start; text-indent: 0px; text-transform: none; white-space: pre-wrap; widows: 2; word-spacing: 0px; -webkit-text-stroke-width: 0px; background-color: rgb(255, 255, 255); text-decoration-thickness: initial; text-decoration-style: initial; text-decoration-color: initial; float: none; display: inline !important;'>10v10 Coed Softball League \u003c/span>\u003c/p>\u003cp style='box-sizing: inherit; background-repeat: no-repeat; background-size: contain; margin: 0.5rem auto auto; padding: 0px; margin-block: 0px; margin-inline: 0px; padding-block: 0px; padding-inline: 0px; color: rgb(76, 76, 76); text-rendering: optimizelegibility; font-family: Arial, \"Helvetica Neue\", Helvetica, sans-serif; align-items: center; font-size: 0.8rem; overflow: inherit; font-style: normal; font-variant-ligatures: normal; font-variant-caps: normal; font-weight: 400; letter-spacing: normal; orphans: 2; text-align: start; text-indent: 0px; text-transform: none; white-space: pre-wrap; widows: 2; word-spacing: 0px; -webkit-text-stroke-width: 0px; background-color: rgb(255, 255, 255); text-decoration-thickness: initial; text-decoration-style: initial; text-decoration-color: initial;'>\u003cspan style='box-sizing: inherit; background-repeat: no-repeat; background-size: contain; font-family: Arial, \"Helvetica Neue\", Helvetica, sans-serif; margin-bottom: 0px; color: rgb(76, 76, 76); font-size: 14px; font-style: normal; font-variant-ligatures: normal; font-variant-caps: normal; font-weight: 400; letter-spacing: normal; orphans: 2; text-align: start; text-indent: 0px; text-transform: none; white-space: pre-wrap; widows: 2; word-spacing: 0px; -webkit-text-stroke-width: 0px; background-color: rgb(255, 255, 255); text-decoration-thickness: initial; text-decoration-style: initial; text-decoration-color: initial; float: none; display: inline !important;'>Minimum for a full team is 14 players - minimum of 4 men/women \u003c/span>\u003c/p>\u003cp style='box-sizing: inherit; background-repeat: no-repeat; background-size: contain; margin: 0.5rem auto auto; padding: 0px; margin-block: 0px; margin-inline: 0px; padding-block: 0px; padding-inline: 0px; color: rgb(76, 76, 76); text-rendering: optimizelegibility; font-family: Arial, \"Helvetica Neue\", Helvetica, sans-serif; align-items: center; font-size: 0.8rem; overflow: inherit; font-style: normal; font-variant-ligatures: normal; font-variant-caps: normal; font-weight: 400; letter-spacing: normal; orphans: 2; text-align: start; text-indent: 0px; text-transform: none; white-space: pre-wrap; widows: 2; word-spacing: 0px; -webkit-text-stroke-width: 0px; background-color: rgb(255, 255, 255); text-decoration-thickness: initial; text-decoration-style: initial; text-decoration-color: initial;'>\u003cspan style='box-sizing: inherit; background-repeat: no-repeat; background-size: contain; font-family: Arial, \"Helvetica Neue\", Helvetica, sans-serif; margin-bottom: 0px; color: rgb(76, 76, 76); font-size: 14px; font-style: normal; font-variant-ligatures: normal; font-variant-caps: normal; font-weight: 400; letter-spacing: normal; orphans: 2; text-align: start; text-indent: 0px; text-transform: none; white-space: pre-wrap; widows: 2; word-spacing: 0px; -webkit-text-stroke-width: 0px; background-color: rgb(255, 255, 255); text-decoration-thickness: initial; text-decoration-style: initial; text-decoration-color: initial; float: none; display: inline !important;'>7 player minimum for official game - minimum of 1 man/woman \u003c/span>\u003c/p>\u003cp style='box-sizing: inherit; background-repeat: no-repeat; background-size: contain; margin: 0.5rem auto auto; padding: 0px; margin-block: 0px; margin-inline: 0px; padding-block: 0px; padding-inline: 0px; color: rgb(76, 76, 76); text-rendering: optimizelegibility; font-family: Arial, \"Helvetica Neue\", Helvetica, sans-serif; align-items: center; font-size: 0.8rem; overflow: inherit; font-style: normal; font-variant-ligatures: normal; font-variant-caps: normal; font-weight: 400; letter-spacing: normal; orphans: 2; text-align: start; text-indent: 0px; text-transform: none; white-space: pre-wrap; widows: 2; word-spacing: 0px; -webkit-text-stroke-width: 0px; background-color: rgb(255, 255, 255); text-decoration-thickness: initial; text-decoration-style: initial; text-decoration-color: initial;'>\u003cspan style='box-sizing: inherit; background-repeat: no-repeat; background-size: contain; font-family: Arial, \"Helvetica Neue\", Helvetica, sans-serif; color: rgb(76, 76, 76); font-size: 14px; font-style: normal; font-variant-ligatures: normal; font-variant-caps: normal; font-weight: 400; letter-spacing: normal; orphans: 2; text-align: start; text-indent: 0px; text-transform: none; white-space: pre-wrap; widows: 2; word-spacing: 0px; -webkit-text-stroke-width: 0px; background-color: rgb(255, 255, 255); text-decoration-thickness: initial; text-decoration-style: initial; text-decoration-color: initial; float: none; display: inline !important;'>1\u003c/span>\u003cspan style='box-sizing: inherit; background-repeat: no-repeat; background-size: contain; font-family: Arial, \"Helvetica Neue\", Helvetica, sans-serif; margin-bottom: 0px; color: rgb(76, 76, 76); font-size: 14px; font-style: normal; font-variant-ligatures: normal; font-variant-caps: normal; font-weight: 400; letter-spacing: normal; orphans: 2; text-align: start; text-indent: 0px; text-transform: none; white-space: pre-wrap; widows: 2; word-spacing: 0px; -webkit-text-stroke-width: 0px; background-color: rgb(255, 255, 255); text-decoration-thickness: initial; text-decoration-style: initial; text-decoration-color: initial; float: none; display: inline !important;'>0 players on field - minimum of 3 men/women \u003c/span>\u003c/p>\u003cp style='box-sizing: inherit; background-repeat: no-repeat; background-size: contain; margin: 0.5rem auto auto; padding: 0px; margin-block: 0px; margin-inline: 0px; padding-block: 0px; padding-inline: 0px; color: rgb(76, 76, 76); text-rendering: optimizelegibility; font-family: Arial, \"Helvetica Neue\", Helvetica, sans-serif; align-items: center; font-size: 0.8rem; overflow: inherit; font-style: normal; font-variant-ligatures: normal; font-variant-caps: normal; font-weight: 400; letter-spacing: normal; orphans: 2; text-align: start; text-indent: 0px; text-transform: none; white-space: pre-wrap; widows: 2; word-spacing: 0px; -webkit-text-stroke-width: 0px; background-color: rgb(255, 255, 255); text-decoration-thickness: initial; text-decoration-style: initial; text-decoration-color: initial;'>\u003cspan style='box-sizing: inherit; background-repeat: no-repeat; background-size: contain; font-family: Arial, \"Helvetica Neue\", Helvetica, sans-serif; margin-bottom: 0px; color: rgb(76, 76, 76); font-size: 14px; font-style: normal; font-variant-ligatures: normal; font-variant-caps: normal; font-weight: 400; letter-spacing: normal; orphans: 2; text-align: start; text-indent: 0px; text-transform: none; white-space: pre-wrap; widows: 2; word-spacing: 0px; -webkit-text-stroke-width: 0px; background-color: rgb(255, 255, 255); text-decoration-thickness: initial; text-decoration-style: initial; text-decoration-color: initial; float: none; display: inline !important;'>Gloves are not provided. Please bring your own. \u003c/span>\u003c/p>\u003cp style='box-sizing: inherit; background-repeat: no-repeat; background-size: contain; margin: 0.5rem auto auto; padding: 0px; margin-block: 0px; margin-inline: 0px; padding-block: 0px; padding-inline: 0px; color: rgb(76, 76, 76); text-rendering: optimizelegibility; font-family: Arial, \"Helvetica Neue\", Helvetica, sans-serif; align-items: center; font-size: 0.8rem; overflow: inherit; font-style: normal; font-variant-ligatures: normal; font-variant-caps: normal; font-weight: 400; letter-spacing: normal; orphans: 2; text-align: start; text-indent: 0px; text-transform: none; white-space: pre-wrap; widows: 2; word-spacing: 0px; -webkit-text-stroke-width: 0px; background-color: rgb(255, 255, 255); text-decoration-thickness: initial; text-decoration-style: initial; text-decoration-color: initial;'>\u003cbr style=\"box-sizing: inherit; background-repeat: no-repeat; background-size: contain; margin-bottom: 0px;\">\u003c/p>\u003cp style='box-sizing: inherit; background-repeat: no-repeat; background-size: contain; margin: 0.5rem auto auto; padding: 0px; margin-block: 0px; margin-inline: 0px; padding-block: 0px; padding-inline: 0px; color: rgb(76, 76, 76); text-rendering: optimizelegibility; font-family: Arial, \"Helvetica Neue\", Helvetica, sans-serif; align-items: center; font-size: 0.8rem; overflow: inherit; font-style: normal; font-variant-ligatures: normal; font-variant-caps: normal; font-weight: 400; letter-spacing: normal; orphans: 2; text-align: start; text-indent: 0px; text-transform: none; white-space: pre-wrap; widows: 2; word-spacing: 0px; -webkit-text-stroke-width: 0px; background-color: rgb(255, 255, 255); text-decoration-thickness: initial; text-decoration-style: initial; text-decoration-color: initial;'>\u003cspan style='box-sizing: inherit; background-repeat: no-repeat; background-size: contain; font-family: Arial, \"Helvetica Neue\", Helvetica, sans-serif; margin-bottom: 0px; color: rgb(76, 76, 76); font-size: 14px; font-style: normal; font-variant-ligatures: normal; font-variant-caps: normal; font-weight: 400; letter-spacing: normal; orphans: 2; text-align: start; text-indent: 0px; text-transform: none; white-space: pre-wrap; widows: 2; word-spacing: 0px; -webkit-text-stroke-width: 0px; background-color: rgb(255, 255, 255); text-decoration-thickness: initial; text-decoration-style: initial; text-decoration-color: initial; float: none; display: inline !important;'>*Depending on the number of teams it's possible for teams to have byes or doubleheaders. All teams will get 6 games. If teams do not follow our forfeit policy they will be automatically DQ'd from the playoffs.\u003c/span>\u003c/p>\u003c/div>\u003c/section>"},"activityName":"Softball","programType":"LEAGUE"},"League:64506cc651c66817ea53520f":{"__typename":"League","_id":"64506cc651c66817ea53520f","name":"Softball (10v10 Coed) - Monday - Spencer Field (Englewood) - July 2023","featured_order":null,"schedule":{"__typename":"Schedule","start_date":"2023-07-17T18:00:00.000Z"},"details":{"__typename":"LeagueDetails","description":"\u003cp>Monday Fundays at Spencer Field are here! Get your game on while meeting friends and having a blast!\u003cbr>\u003cbr>\u003c/p>\u003cp id=\"isPasted\">\u003cstrong>What you get\u003c/strong>\u003c/p>\u003cp>Premier playing experience, rated best sports league in Denver\u003c/p>\u003cp>Player T-Shirt\u003c/p>\u003cp>Paid Umpire (at no additional cost to you)\u003c/p>\u003cp>Bats and balls (we do not provide gloves, please provide your own)\u003c/p>\u003cp>6 regular season games\u003c/p>\u003cp>Post game social experience with deals\u003c/p>\u003cp>\u003cbr>\u003c/p>\u003cp id=\"isPasted\">\u003cstrong>Softball (Coed 10v10)\u003c/strong>\u003c/p>\u003cp>10v10\u003c/p>\u003cp>Minimum for a full team is 15 players \u003cem>(Registered Groups who do not meet the minimum roster requirement by the registration deadline merged with other small groups, or have free agents added to their roster to meet the roster requirement)\u003c/em>\u003c/p>\u003cp>10 players maximum in the field (7 men max)\u003c/p>\u003cp>Minimum to start a game is 7 players (5 men max)\u003c/p>\u003cp>Certified Umps provided\u003c/p>\u003cp>Pitch count starts 1-1 \u003c/p>\u003cp>No more than 3 men can bat in a row\u003c/p>\u003cp>Gloves are not provided. Please bring your own.\u003c/p>\u003cp> \u003c/p>\u003cp>\u003cstrong>Playoffs\u003c/strong>: We will accommodate as many teams as possible in the playoffs, but only the TOP 4 teams are guaranteed advancement.\u003c/p>\u003cp>\u003cstrong>Weather Policy:\u003c/strong> Guaranteed 2 makeup games at the same location but not guaranteed to be played on the same day of the week.\u003c/p>\u003cp>\u003cstrong>Doubleheaders\u003c/strong>: Teams may have byes or doubleheaders. The league may be shortened/extended by a week but all league games will be played!\u003c/p>\u003cp>\u003cbr>\u003c/p>"},"activityName":"Softball","programType":"LEAGUE"},"League:644c389d8a2eb7551936b8b3":{"__typename":"League","_id":"644c389d8a2eb7551936b8b3","name":"Softball (10v10 Coed) - Monday - Cranmer Park (Cherry Creek / Glendale) - July 2023","featured_order":null,"schedule":{"__typename":"Schedule","start_date":"2023-07-17T18:00:00.000Z"},"details":{"__typename":"LeagueDetails","description":"\u003cp>\u003cspan style=\"font-family: Arial, Helvetica, sans-serif; font-size: 14px;\">Start your week off right with Monday softball in Cherry Creek! Play with wood bats, Chicago-Style in the heart of Cherry Creek. This league is played on grass ! \u003c/span>\u003c/p>\u003cp>\u003cspan style=\"font-family: Arial, Helvetica, sans-serif; font-size: 14px;\">Games may also be played at Garland Park (baseball field with lights) \u003c/span>\u003c/p>\u003cp>\u003cspan id=\"isPasted\" style=\"color: rgb(29, 28, 29); font-family: Arial, Helvetica, sans-serif; font-size: 14px; font-style: normal; font-variant-ligatures: common-ligatures; font-variant-caps: normal; font-weight: 400; letter-spacing: normal; orphans: 2; text-align: left; text-indent: 0px; text-transform: none; white-space: normal; widows: 2; word-spacing: 0px; -webkit-text-stroke-width: 0px; text-decoration-thickness: initial; text-decoration-style: initial; text-decoration-color: initial; float: none; display: inline !important;\">\u003cem>Registered Groups who are not a pre-paid team and do not meet the minimum roster requirement by the registration deadline may be merged with other small groups, or have free agents added to their roster to meet the roster requirement\u003c/em>\u003c/span>\u003c/p>\u003cp>\u003cbr>\u003c/p>\u003cp>\u003cstrong id=\"isPasted\">Game Overview\u003c/strong>\u003cbr>- 10 max. on the field- Max. 7 men\u003cbr>- 7 players, with at least 2 women minimum to start game\u003cbr>- Bats must be ASA, USSA or NSA certified\u003cbr>- No more than 3 men can bat in a row but,\u003cbr>* Women can bat multiple times within the batting order to have 3-1 ratio\u003cbr>MUST bat in order in regards to other women\u003cbr>- If a man batter is walked on four straight balls, and they are followed by a woman batter, the woman batter can elect to bat or take a free base advancing the man to second base.\u003cbr>- There will be cone line (arc) placed in the outfield, all outfield defenders must stay behind that line until the batter makes contact with the ball\u003cbr>- If a man is walked on four straight balls with 2 outs in the inning, and they are followed by a woman, she can elect to bat or take a free base\u003cbr>- 6 innings in a game\u003c/p>\u003cp>- Men are NOT ALLOWED to wear gloves - must use handWomen MAY wear gloves\u003cbr>* UNLESS we reach the 45-minute warning (both teams will be warned and the start the of next inning will be the FINAL inning)\u003c/p>\u003cp>\u003cbr>\u003c/p>\u003cp>\u003cstrong id=\"isPasted\">Teams without the minimum players will forfeit after 10 minutes from their designated start time\u003c/strong>\u003cbr>\u003cbr>\u003cstrong>Playoffs: \u003c/strong>All teams make the playoffs at the end of the season (unless you forfeit 2x)\u003c/p>\u003cp>\u003cstrong>Weather Policy:\u003c/strong> Guaranteed 2 makeup games at the same location but not guaranteed to be played on the same day of the week.\u003c/p>\u003cp style='box-sizing: inherit; background-repeat: no-repeat; background-size: contain; color: rgb(65, 65, 65); text-rendering: optimizelegibility; font-family: Arial, \"Helvetica Neue\", Helvetica, sans-serif; margin: 0px; padding: 0px; margin-block: 0px; margin-inline: 0px; padding-block: 0px; padding-inline: 0px; font-size: 14px; font-style: normal; font-variant-ligatures: normal; font-variant-caps: normal; font-weight: 400; letter-spacing: normal; orphans: 2; text-align: left; text-indent: 0px; text-transform: none; white-space: normal; widows: 2; word-spacing: 0px; -webkit-text-stroke-width: 0px; background-color: rgb(255, 255, 255); text-decoration-thickness: initial; text-decoration-style: initial; text-decoration-color: initial;'>\u003cstrong>Doubleheaders:\u003c/strong> Teams may have byes or doubleheaders.\u003c/p>\u003cp style='box-sizing: inherit; background-repeat: no-repeat; background-size: contain; color: rgb(65, 65, 65); text-rendering: optimizelegibility; font-family: Arial, \"Helvetica Neue\", Helvetica, sans-serif; margin: 0px; padding: 0px; margin-block: 0px; margin-inline: 0px; padding-block: 0px; padding-inline: 0px; font-size: 14px; font-style: normal; font-variant-ligatures: normal; font-variant-caps: normal; font-weight: 400; letter-spacing: normal; orphans: 2; text-align: left; text-indent: 0px; text-transform: none; white-space: normal; widows: 2; word-spacing: 0px; -webkit-text-stroke-width: 0px; background-color: rgb(255, 255, 255); text-decoration-thickness: initial; text-decoration-style: initial; text-decoration-color: initial;'>The league may be shortened/extended by a week but all league games will be played! \u003c/p>"},"activityName":"Softball","programType":"LEAGUE"},"League:644bf2ea2e04b9ccc18d7f77":{"__typename":"League","_id":"644bf2ea2e04b9ccc18d7f77","name":"Softball (10v10 Coed) - SPRINT Wednesday - National Mall - August 2023","featured_order":null,"schedule":{"__typename":"Schedule","start_date":"2023-08-09T16:00:00.000Z"},"details":{"__typename":"LeagueDetails","description":"\u003cp id=\"isPasted\">Nothing says Summer in DC like Softball on the National Mall! Come hangout with your friends and enjoy the best weather all year! \u003cbr>\u003cbr>\u003cstrong>League Overview\u003c/strong>:\u003cbr>-WOOD BAT ONLY: Wood bats provided. You may use your own FULLY wood bat if it is ASA, NSA, or USSA approved. Bats that are composite or not fully wood (i.e. Corndogs) are not permitted.\u003cbr>-10 players (7 men max) permitted in the field\u003cbr>-Games last 6 innings or 50 min, whichever comes first\u003cbr>-Minimum 6 players to start a game, including at least 1 woman \u003cbr>-5 run max per inning (except for the last inning)\u003cbr>\u003cspan style=\"font-size:10.5pt;font-family:Arial;color:#414141;background-color:#ffffff;font-weight:400;font-style:italic;font-variant:normal;text-decoration:none;vertical-align:baseline;white-space:pre;white-space:pre-wrap;\">Note: The National Park Service asks for cleats not to be worn. Players may be asked to change into non-cleated shoes on-site\u003c/span>\u003cbr>\u003cbr>\u003c/p>\u003cp>\u003cstrong>PLAYOFFS:\u003c/strong>\u003c/p>\u003cp>We will accommodate as many teams as possible in the playoffs, but only the TOP 4 teams are guaranteed.\u003cbr>\u003cbr>\u003c/p>\u003cp>\u003cstrong>RAIN OUTS:\u003c/strong>\u003c/p>\u003cp>Guaranteed 2 makeup games. Location and day may vary.\u003c/p>\u003cp>\u003cbr>\u003c/p>\u003cp>\u003cstrong>FIELD LOCATIONS:\u003c/strong>\u003c/p>\u003cp>The National Mall is \u003cu>big,\u003c/u> and availability varies based on what is happening in the city. Exact field locations may be subject to change, and we cannot guarantee you will be on the same plot week-to-week.\u003c/p>"},"activityName":"Softball","programType":"LEAGUE"},"League:644bf2ea2e04b9ccc18d7f74":{"__typename":"League","_id":"644bf2ea2e04b9ccc18d7f74","name":"Softball (10v10 Coed) - Sunday - Virginia Highlands Park (Arlington) - July 2023","featured_order":null,"schedule":{"__typename":"Schedule","start_date":"2023-07-09T16:00:00.000Z"},"details":{"__typename":"LeagueDetails","description":"\u003cp id=\"isPasted\">\u003cspan style='color: rgb(65, 65, 65); font-family: Arial, \"Helvetica Neue\", Helvetica, sans-serif; font-size: 14px; font-style: normal; font-variant-ligatures: normal; font-variant-caps: normal; font-weight: 400; letter-spacing: normal; orphans: 2; text-align: left; text-indent: 0px; text-transform: none; white-space: normal; widows: 2; word-spacing: 0px; -webkit-text-stroke-width: 0px; background-color: rgb(255, 255, 255); text-decoration-thickness: initial; text-decoration-style: initial; text-decoration-color: initial; display: inline !important; float: none;'>Grab your squad and get excited for Sunday Funday Softball in Arlington! One of the premier softball fields in the DMV area, you won't want to miss out on this league! Sign up today so you're not left on the sidelines this Summer!\u003c/span>\u003cbr>\u003cbr>\u003cstrong>League Overview\u003c/strong>:\u003cbr>-Bats Provided. You may use your own Softball bat if it is ASA, NSA, or USSA approved \u003cbr>-10 players (7 men max) permitted in the field\u003cbr>-Games last 6 innings or 50 min, whichever comes first\u003cbr>-Minimum 6 players to start a game, including at least 1 woman \u003cbr>-5 run max per inning (except for the last inning)\u003cbr>\u003cbr>\u003c/p>\u003cp>\u003cstrong>PLAYOFFS:\u003c/strong>\u003c/p>\u003cp>We will accommodate as many teams as possible in the playoffs, but only the TOP 4 teams are guaranteed.\u003cbr>\u003cbr>\u003c/p>\u003cp>\u003cstrong>RAIN OUTS:\u003c/strong>\u003c/p>\u003cp>Guaranteed 2 makeup games. Location and day may vary.\u003c/p>"},"activityName":"Softball","programType":"LEAGUE"},"League:644bf2ea2e04b9ccc18d7f71":{"__typename":"League","_id":"644bf2ea2e04b9ccc18d7f71","name":"Softball (10v10 Coed)- Sunday - National Mall - July 2023 presented by Amin.O Energy","featured_order":null,"schedule":{"__typename":"Schedule","start_date":"2023-07-23T16:00:00.000Z"},"details":{"__typename":"LeagueDetails","description":"\u003cp id=\"isPasted\">The Volo favorite Sunday Funday is back on the National Mall! Lace up your cleats, grab your glove, and get ready to get your game on this Summer!\u003cbr>\u003cbr>\u003cstrong>League Overview\u003c/strong>:\u003cbr>-WOOD BAT ONLY: Wood bats provided. You may use your own FULLY wood bat if it is ASA, NSA, or USSA approved. Bats that are composite or not fully wood (i.e. Corndogs) are not permitted.\u003cbr>-10 players (7 men max) permitted in the field\u003cbr>-Games last 6 innings or 50 min, whichever comes first\u003cbr>-Minimum 6 players to start a game, including at least 1 woman \u003cbr>-5 run max per inning (except for the last inning)\u003cbr>\u003cspan style=\"font-size:10.5pt;font-family:Arial;color:#414141;background-color:#ffffff;font-weight:400;font-style:italic;font-variant:normal;text-decoration:none;vertical-align:baseline;white-space:pre;white-space:pre-wrap;\">Note: The National Park Service asks for cleats not to be worn. Players may be asked to change into non-cleated shoes on-site\u003c/span>\u003cbr>\u003cbr>\u003c/p>\u003cp>\u003cstrong>PLAYOFFS:\u003c/strong>\u003c/p>\u003cp>We will accommodate as many teams as possible in the playoffs, but only the TOP 4 teams are guaranteed.\u003cbr>\u003cbr>\u003c/p>\u003cp>\u003cstrong>RAIN OUTS:\u003c/strong>\u003c/p>\u003cp>Guaranteed 2 makeup games. Location and day may vary.\u003c/p>\u003cp>\u003cbr>\u003c/p>\u003cp>\u003cstrong>FIELD LOCATIONS:\u003c/strong>\u003c/p>\u003cp>The National Mall is \u003cu>big,\u003c/u> and availability varies based on what is happening in the city. Exact field locations may be subject to change, and we cannot guarantee you will be on the same plot week-to-week.\u003c/p>\u003cp>\u003cbr>\u003c/p>\u003cp>\u003cem id=\"isPasted\">This league is sponsored by Optimum Nutrition. Be on the lookout for your chance to try Amin.O Energy drinks FREE at Volo leagues this summer!\u003c/em>\u003c/p>"},"activityName":"Softball","programType":"LEAGUE"},"League:644bf2ea2e04b9ccc18d7f6e":{"__typename":"League","_id":"644bf2ea2e04b9ccc18d7f6e","name":"Softball (10v10 Coed) - Saturday - National Mall - July 2023","featured_order":null,"schedule":{"__typename":"Schedule","start_date":"2023-07-22T16:00:00.000Z"},"details":{"__typename":"LeagueDetails","description":"\u003cp id=\"isPasted\">Saturday Softball at the National Mall is back! Get your weekend started with your squad by playing in between the Monument's!\u003cbr>\u003cbr>\u003c/p>\u003cp style='box-sizing: inherit; background-repeat: no-repeat; background-size: contain; margin: 0.5rem auto auto; padding: 0px; margin-block: 0px; margin-inline: 0px; padding-block: 0px; padding-inline: 0px; color: rgb(76, 76, 76); text-rendering: optimizelegibility; font-family: Arial, \"Helvetica Neue\", Helvetica, sans-serif; align-items: center; font-size: 14px; overflow: hidden; font-style: normal; font-variant-ligatures: normal; font-variant-caps: normal; font-weight: 400; letter-spacing: normal; orphans: 2; text-align: start; text-indent: 0px; text-transform: none; white-space: pre-wrap; widows: 2; word-spacing: 0px; -webkit-text-stroke-width: 0px; background-color: rgb(255, 255, 255); text-decoration-thickness: initial; text-decoration-style: initial; text-decoration-color: initial;'>\u003cstrong style=\"box-sizing: inherit; background-repeat: no-repeat; background-size: contain; font-weight: 600;\">League Overview\u003c/strong>:\u003cbr style=\"box-sizing: inherit; background-repeat: no-repeat; background-size: contain;\">-WOOD BAT ONLY: Wood bats provided. You may use your own FULLY wood bat if it is ASA, NSA, or USSA approved. Bats that are composite or not fully wood (i.e. Corndogs) are not permitted.\u003cbr style=\"box-sizing: inherit; background-repeat: no-repeat; background-size: contain;\">-10 players (7 men max) permitted in the field\u003cbr style=\"box-sizing: inherit; background-repeat: no-repeat; background-size: contain;\">-Games last 6 innings or 50 min, whichever comes first\u003cbr style=\"box-sizing: inherit; background-repeat: no-repeat; background-size: contain;\">-Minimum 6 players to start a game, including at least 1 woman \u003cbr style=\"box-sizing: inherit; background-repeat: no-repeat; background-size: contain;\">-5 run max per inning (except for the last inning)\u003cbr style=\"box-sizing: inherit; background-repeat: no-repeat; background-size: contain;\">\u003cspan style=\"box-sizing: inherit; background-repeat: no-repeat; background-size: contain; font-family: Arial; font-size: 10.5pt; color: rgb(65, 65, 65); background-color: rgb(255, 255, 255); font-weight: 400; font-style: italic; font-variant: normal; text-decoration: none; vertical-align: baseline; white-space: pre-wrap;\">Note: The National Park Service asks for cleats not to be worn. Players may be asked to change into non-cleated shoes on-site\u003c/span>\u003cbr style=\"box-sizing: inherit; background-repeat: no-repeat; background-size: contain;\">\u003cbr style=\"box-sizing: inherit; background-repeat: no-repeat; background-size: contain; margin-bottom: 0px;\">\u003c/p>\u003cp style='box-sizing: inherit; background-repeat: no-repeat; background-size: contain; margin: 0.5rem auto auto; padding: 0px; margin-block: 0px; margin-inline: 0px; padding-block: 0px; padding-inline: 0px; color: rgb(76, 76, 76); text-rendering: optimizelegibility; font-family: Arial, \"Helvetica Neue\", Helvetica, sans-serif; align-items: center; font-size: 14px; overflow: hidden; font-style: normal; font-variant-ligatures: normal; font-variant-caps: normal; font-weight: 400; letter-spacing: normal; orphans: 2; text-align: start; text-indent: 0px; text-transform: none; white-space: pre-wrap; widows: 2; word-spacing: 0px; -webkit-text-stroke-width: 0px; background-color: rgb(255, 255, 255); text-decoration-thickness: initial; text-decoration-style: initial; text-decoration-color: initial;'>\u003cstrong style=\"box-sizing: inherit; background-repeat: no-repeat; background-size: contain; font-weight: 600; margin-bottom: 0px;\">PLAYOFFS:\u003c/strong>\u003c/p>\u003cp style='box-sizing: inherit; background-repeat: no-repeat; background-size: contain; margin: 0.5rem auto auto; padding: 0px; margin-block: 0px; margin-inline: 0px; padding-block: 0px; padding-inline: 0px; color: rgb(76, 76, 76); text-rendering: optimizelegibility; font-family: Arial, \"Helvetica Neue\", Helvetica, sans-serif; align-items: center; font-size: 14px; overflow: hidden; font-style: normal; font-variant-ligatures: normal; font-variant-caps: normal; font-weight: 400; letter-spacing: normal; orphans: 2; text-align: start; text-indent: 0px; text-transform: none; white-space: pre-wrap; widows: 2; word-spacing: 0px; -webkit-text-stroke-width: 0px; background-color: rgb(255, 255, 255); text-decoration-thickness: initial; text-decoration-style: initial; text-decoration-color: initial;'>We will accommodate as many teams as possible in the playoffs, but only the TOP 4 teams are guaranteed.\u003cbr style=\"box-sizing: inherit; background-repeat: no-repeat; background-size: contain;\">\u003cbr style=\"box-sizing: inherit; background-repeat: no-repeat; background-size: contain; margin-bottom: 0px;\">\u003c/p>\u003cp style='box-sizing: inherit; background-repeat: no-repeat; background-size: contain; margin: 0.5rem auto auto; padding: 0px; margin-block: 0px; margin-inline: 0px; padding-block: 0px; padding-inline: 0px; color: rgb(76, 76, 76); text-rendering: optimizelegibility; font-family: Arial, \"Helvetica Neue\", Helvetica, sans-serif; align-items: center; font-size: 14px; overflow: hidden; font-style: normal; font-variant-ligatures: normal; font-variant-caps: normal; font-weight: 400; letter-spacing: normal; orphans: 2; text-align: start; text-indent: 0px; text-transform: none; white-space: pre-wrap; widows: 2; word-spacing: 0px; -webkit-text-stroke-width: 0px; background-color: rgb(255, 255, 255); text-decoration-thickness: initial; text-decoration-style: initial; text-decoration-color: initial;'>\u003cstrong style=\"box-sizing: inherit; background-repeat: no-repeat; background-size: contain; font-weight: 600; margin-bottom: 0px;\">RAIN OUTS:\u003c/strong>\u003c/p>\u003cp style='box-sizing: inherit; background-repeat: no-repeat; background-size: contain; margin: 0.5rem auto auto; padding: 0px; margin-block: 0px; margin-inline: 0px; padding-block: 0px; padding-inline: 0px; color: rgb(76, 76, 76); text-rendering: optimizelegibility; font-family: Arial, \"Helvetica Neue\", Helvetica, sans-serif; align-items: center; font-size: 14px; overflow: hidden; font-style: normal; font-variant-ligatures: normal; font-variant-caps: normal; font-weight: 400; letter-spacing: normal; orphans: 2; text-align: start; text-indent: 0px; text-transform: none; white-space: pre-wrap; widows: 2; word-spacing: 0px; -webkit-text-stroke-width: 0px; background-color: rgb(255, 255, 255); text-decoration-thickness: initial; text-decoration-style: initial; text-decoration-color: initial;'>Guaranteed 2 makeup games. Location and day may vary.\u003c/p>\u003cp style='box-sizing: inherit; background-repeat: no-repeat; background-size: contain; margin: 0.5rem auto auto; padding: 0px; margin-block: 0px; margin-inline: 0px; padding-block: 0px; padding-inline: 0px; color: rgb(76, 76, 76); text-rendering: optimizelegibility; font-family: Arial, \"Helvetica Neue\", Helvetica, sans-serif; align-items: center; font-size: 14px; overflow: hidden; font-style: normal; font-variant-ligatures: normal; font-variant-caps: normal; font-weight: 400; letter-spacing: normal; orphans: 2; text-align: start; text-indent: 0px; text-transform: none; white-space: pre-wrap; widows: 2; word-spacing: 0px; -webkit-text-stroke-width: 0px; background-color: rgb(255, 255, 255); text-decoration-thickness: initial; text-decoration-style: initial; text-decoration-color: initial;'>\u003cbr style=\"box-sizing: inherit; background-repeat: no-repeat; background-size: contain; margin-bottom: 0px;\">\u003c/p>\u003cp style='box-sizing: inherit; background-repeat: no-repeat; background-size: contain; margin: 0.5rem auto auto; padding: 0px; margin-block: 0px; margin-inline: 0px; padding-block: 0px; padding-inline: 0px; color: rgb(76, 76, 76); text-rendering: optimizelegibility; font-family: Arial, \"Helvetica Neue\", Helvetica, sans-serif; align-items: center; font-size: 14px; overflow: hidden; font-style: normal; font-variant-ligatures: normal; font-variant-caps: normal; font-weight: 400; letter-spacing: normal; orphans: 2; text-align: start; text-indent: 0px; text-transform: none; white-space: pre-wrap; widows: 2; word-spacing: 0px; -webkit-text-stroke-width: 0px; background-color: rgb(255, 255, 255); text-decoration-thickness: initial; text-decoration-style: initial; text-decoration-color: initial;'>\u003cstrong style=\"box-sizing: inherit; background-repeat: no-repeat; background-size: contain; font-weight: 600; margin-bottom: 0px;\">FIELD LOCATIONS:\u003c/strong>\u003c/p>\u003cp style='box-sizing: inherit; background-repeat: no-repeat; background-size: contain; margin: 0.5rem auto auto; padding: 0px; margin-block: 0px; margin-inline: 0px; padding-block: 0px; padding-inline: 0px; color: rgb(76, 76, 76); text-rendering: optimizelegibility; font-family: Arial, \"Helvetica Neue\", Helvetica, sans-serif; align-items: center; font-size: 14px; overflow: hidden; font-style: normal; font-variant-ligatures: normal; font-variant-caps: normal; font-weight: 400; letter-spacing: normal; orphans: 2; text-align: start; text-indent: 0px; text-transform: none; white-space: pre-wrap; widows: 2; word-spacing: 0px; -webkit-text-stroke-width: 0px; background-color: rgb(255, 255, 255); text-decoration-thickness: initial; text-decoration-style: initial; text-decoration-color: initial;'>The National Mall is \u003cu style=\"box-sizing: inherit; background-repeat: no-repeat; background-size: contain; margin-bottom: 0px;\">big,\u003c/u> and availability varies based on what is happening in the city. Exact field locations may be subject to change, and we cannot guarantee you will be on the same plot week-to-week.\u003c/p>"},"activityName":"Softball","programType":"LEAGUE"},"League:644bf2ea2e04b9ccc18d7f6b":{"__typename":"League","_id":"644bf2ea2e04b9ccc18d7f6b","name":"Softball (10v10 Men)- Sunday - National Mall - July 2023","featured_order":null,"schedule":{"__typename":"Schedule","start_date":"2023-07-23T16:00:00.000Z"},"details":{"__typename":"LeagueDetails","description":"\u003cp id=\"isPasted\">Brand new league! Join us on Sunday's on the National Mall for our Men's Softball league and play in between the Monuments! Grab your buds, lace up your cleats, and get ready to get your game on this Summer!\u003cbr>\u003cbr>\u003cstrong>League Overview\u003c/strong>:\u003cbr>-WOOD BAT ONLY: Wood bats provided. You may use your own FULLY wood bat if it is ASA, NSA, or USSA approved. Bats that are composite or not fully wood (i.e. Corndogs) are not permitted.\u003cbr>-10 players permitted in the field\u003cbr>-Games last 6 innings or 50 min, whichever comes first\u003cbr>-Minimum 6 players to start a game\u003cbr>-5 run max per inning (except for the last inning)\u003cbr>\u003cspan style=\"font-size:10.5pt;font-family:Arial;color:#414141;background-color:#ffffff;font-weight:400;font-style:italic;font-variant:normal;text-decoration:none;vertical-align:baseline;white-space:pre;white-space:pre-wrap;\">Note: The National Park Service asks for cleats not to be worn. Players may be asked to change into non-cleated shoes on-site\u003c/span>\u003cbr>\u003cbr>\u003c/p>\u003cp>\u003cstrong>PLAYOFFS:\u003c/strong>\u003c/p>\u003cp>We will accommodate as many teams as possible in the playoffs, but only the TOP 4 teams are guaranteed.\u003cbr>\u003cbr>\u003c/p>\u003cp>\u003cstrong>RAIN OUTS:\u003c/strong>\u003c/p>\u003cp>Guaranteed 2 makeup games. Location and day may vary.\u003c/p>\u003cp>\u003cbr>\u003c/p>\u003cp>\u003cstrong>FIELD LOCATIONS:\u003c/strong>\u003c/p>\u003cp>The National Mall is \u003cu>big,\u003c/u> and availability varies based on what is happening in the city. Exact field locations may be subject to change, and we cannot guarantee you will be on the same plot week-to-week.\u003c/p>"},"activityName":"Softball","programType":"LEAGUE"},"League:644bf2ea2e04b9ccc18d7f68":{"__typename":"League","_id":"644bf2ea2e04b9ccc18d7f68","name":"Softball (10v10 Coed) - SPRINT Thursday - National Mall - August 2023","featured_order":null,"schedule":{"__typename":"Schedule","start_date":"2023-08-10T16:00:00.000Z"},"details":{"__typename":"LeagueDetails","description":"\u003cp id=\"isPasted\">\u003cspan style='color: rgb(65, 65, 65); font-family: Arial, \"Helvetica Neue\", Helvetica, sans-serif; font-size: 14px; font-style: normal; font-variant-ligatures: normal; font-variant-caps: normal; font-weight: 400; letter-spacing: normal; orphans: 2; text-align: left; text-indent: 0px; text-transform: none; white-space: normal; widows: 2; word-spacing: 0px; -webkit-text-stroke-width: 0px; background-color: rgb(255, 255, 255); text-decoration-thickness: initial; text-decoration-style: initial; text-decoration-color: initial; display: inline !important; float: none;'>What better way to kickoff Spring than Thursday Softball at the National Mall! Grab your crew and get swinging in this popular league played in the shadow of the Washington Monument.\u003c/span>\u003c/p>\u003cp>\u003cbr>\u003c/p>\u003cp>\u003cspan style='color: rgb(65, 65, 65); font-family: Arial, \"Helvetica Neue\", Helvetica, sans-serif; font-size: 14px; font-style: normal; font-variant-ligatures: normal; font-variant-caps: normal; font-weight: 400; letter-spacing: normal; orphans: 2; text-align: left; text-indent: 0px; text-transform: none; white-space: normal; widows: 2; word-spacing: 0px; -webkit-text-stroke-width: 0px; background-color: rgb(255, 255, 255); text-decoration-thickness: initial; text-decoration-style: initial; text-decoration-color: initial; display: inline !important; float: none;'>Sponsor Bar - Astro Beer Hall - \u003cspan data-sheets-userformat='{\"2\":515,\"3\":{\"1\":0},\"4\":{\"1\":2,\"2\":14281427},\"12\":0}' data-sheets-value='{\"1\":2,\"2\":\"BOGO Pitcher Per team, $4 Select Drafts, $5 Appetizers\"}' style=\"font-size:10pt;font-family:Arial;font-style:normal;\">BOGO Pitcher Per team, $4 Select Drafts, $5 Appetizers\u003c/span>\u003c/span>\u003cbr>\u003cbr>\u003cstrong>League Overview\u003c/strong>:\u003cbr>-WOOD BAT ONLY: Wood bats provided. You may use your own FULLY wood bat if it is ASA, NSA, or USSA approved. Bats that are composite or not fully wood (i.e. Corndogs) are not permitted.\u003cbr>-10 players (7 men max) permitted in the field\u003cbr>-Games last 6 innings or 50 min, whichever comes first\u003cbr>-Minimum 6 players to start a game, including at least 1 woman \u003cbr>-5 run max per inning (except for the last inning)\u003cbr>\u003cspan style=\"font-size:10.5pt;font-family:Arial;color:#414141;background-color:#ffffff;font-weight:400;font-style:italic;font-variant:normal;text-decoration:none;vertical-align:baseline;white-space:pre;white-space:pre-wrap;\">Note: The National Park Service asks for cleats not to be worn. Players may be asked to change into non-cleated shoes on-site\u003c/span>\u003cbr>\u003cbr>\u003c/p>\u003cp>\u003cstrong>PLAYOFFS:\u003c/strong>\u003c/p>\u003cp>We will accommodate as many teams as possible in the playoffs, but only the TOP 4 teams are guaranteed.\u003cbr>\u003cbr>\u003c/p>\u003cp>\u003cstrong>RAIN OUTS:\u003c/strong>\u003c/p>\u003cp>Guaranteed 2 makeup games. Location and day may vary.\u003c/p>\u003cp>\u003cbr>\u003c/p>\u003cp>\u003cstrong>FIELD LOCATIONS:\u003c/strong>\u003c/p>\u003cp>The National Mall is \u003cu>big,\u003c/u> and availability varies based on what is happening in the city. Exact field locations may be subject to change, and we cannot guarantee you will be on the same plot week-to-week.\u003c/p>"},"activityName":"Softball","programType":"LEAGUE"},"League:644bf2ea2e04b9ccc18d7f65":{"__typename":"League","_id":"644bf2ea2e04b9ccc18d7f65","name":"Softball (10v10 Coed) - Thursday - Turkey Thicket Rec Center (NoMa) - July 2023","featured_order":null,"schedule":{"__typename":"Schedule","start_date":"2023-07-06T16:00:00.000Z"},"details":{"__typename":"LeagueDetails","description":"\u003cp id=\"isPasted\">Play under the lights this Summer on Thursdays at Turkey Thicket! This player favorite venue is perfect for those looking to add some friendly competition to their week!\u003cbr>\u003cbr>\u003cstrong>League Overview\u003c/strong>:\u003cbr>-Bats Provided. You may use your own Softball bat if it is ASA, NSA, or USSA approved \u003cbr>-10 players (7 men max) permitted in the field\u003cbr>-Games last 6 innings or 50 min, whichever comes first\u003cbr>-Minimum 6 players to start a game, including at least 1 woman \u003cbr>-5 run max per inning (except for the last inning)\u003cbr>\u003cbr>\u003c/p>\u003cp>\u003cstrong>PLAYOFFS:\u003c/strong>\u003c/p>\u003cp>We will accommodate as many teams as possible in the playoffs, but only the TOP 4 teams are guaranteed.\u003cbr>\u003cbr>\u003c/p>\u003cp>\u003cstrong>RAIN OUTS:\u003c/strong>\u003c/p>\u003cp>Guaranteed 2 makeup games. Location and day may vary.\u003c/p>"},"activityName":"Softball","programType":"LEAGUE"},"League:644bf2ea2e04b9ccc18d7f5b":{"__typename":"League","_id":"644bf2ea2e04b9ccc18d7f5b","name":"Softball (10v10 Coed) - Monday - Old DPR Headquarters (Columbia Heights) - July 2023","featured_order":null,"schedule":{"__typename":"Schedule","start_date":"2023-07-10T16:00:00.000Z"},"details":{"__typename":"LeagueDetails","description":"\u003cp id=\"isPasted\">\u003cspan style='color: rgb(65, 65, 65); font-family: Arial, \"Helvetica Neue\", Helvetica, sans-serif; font-size: 14px; font-style: normal; font-variant-ligatures: normal; font-variant-caps: normal; font-weight: 400; letter-spacing: normal; orphans: 2; text-align: left; text-indent: 0px; text-transform: none; white-space: normal; widows: 2; word-spacing: 0px; -webkit-text-stroke-width: 0px; background-color: rgb(255, 255, 255); text-decoration-thickness: initial; text-decoration-style: initial; text-decoration-color: initial; display: inline !important; float: none;'>What better way to kickoff your week than Monday Softball at Old DPR in Columbia Heights! This league will SELLOUT! Sign up today so you're not sitting on the sidelines this Summer!\u003c/span>\u003cbr>\u003cbr>\u003cstrong>League Overview\u003c/strong>:\u003cbr>-Men must use Wood Bats only. Wood bats provided. You may use your own FULLY wood bat if it is ASA, NSA, or USSA approved. Bats that are composite or not fully wood (i.e. Corndogs) are not permitted.\u003cbr>-10 players (7 men max) permitted in the field\u003cbr>-Games last 6 innings or 50 min, whichever comes first\u003cbr>-Minimum 6 players to start a game, including at least 1 woman \u003cbr>-5 run max per inning (except for the last inning)\u003cbr>\u003cbr>\u003c/p>\u003cp>\u003cstrong>PLAYOFFS:\u003c/strong>\u003c/p>\u003cp>We will accommodate as many teams as possible in the playoffs, but only the TOP 4 teams are guaranteed.\u003cbr>\u003cbr>\u003c/p>\u003cp>\u003cstrong>RAIN OUTS:\u003c/strong>\u003c/p>\u003cp>Guaranteed 2 makeup games. Location and day may vary.\u003c/p>"},"activityName":"Softball","programType":"LEAGUE"},"League:644bf2ea2e04b9ccc18d7f4b":{"__typename":"League","_id":"644bf2ea2e04b9ccc18d7f4b","name":"Softball (10v10 Coed) - Wednesday - Old DPR Headquarters (Columbia Heights) - July 2023","featured_order":null,"schedule":{"__typename":"Schedule","start_date":"2023-07-05T16:00:00.000Z"},"details":{"__typename":"LeagueDetails","description":"\u003cp>Play Ball Wednesday nights in Columbia Heights this Summer! The player favorite Old DPR is back in action. \u003c/p>\u003cp>\u003cbr>\u003c/p>\u003cp id=\"isPasted\">\u003cstrong>League Overview\u003c/strong>:\u003cbr>-Men must use Wood Bats only. Wood bats provided. You may use your own FULLY wood bat if it is ASA, NSA, or USSA approved. Bats that are composite or not fully wood (i.e. Corndogs) are not permitted.\u003cbr>-10 players (7 men max) permitted in the field\u003cbr>-Games last 6 innings or 50 min, whichever comes first\u003cbr>-Minimum 6 players to start a game, including at least 1 woman \u003cbr>-5 run max per inning (except for the last inning)\u003cbr>\u003cbr>\u003c/p>\u003cp>\u003cstrong>PLAYOFFS:\u003c/strong>\u003c/p>\u003cp>We will accommodate as many teams as possible in the playoffs, but only the TOP 4 teams are guaranteed.\u003cbr>\u003cbr>\u003c/p>\u003cp>\u003cstrong>RAIN OUTS:\u003c/strong>\u003c/p>\u003cp>Guaranteed 2 makeup games. Location and day may vary.\u003c/p>"},"activityName":"Softball","programType":"LEAGUE"},"League:644bf2ea2e04b9ccc18d7f48":{"__typename":"League","_id":"644bf2ea2e04b9ccc18d7f48","name":"Softball (10v10 Coed) - SPRINT Tuesday - National Mall - August 2023","featured_order":null,"schedule":{"__typename":"Schedule","start_date":"2023-08-08T16:00:00.000Z"},"details":{"__typename":"LeagueDetails","description":"\u003cp id=\"isPasted\">Nothing says Summer in DC like Softball on the National Mall! Come hangout with your friends and enjoy the best weather all year! \u003cbr>\u003cbr>\u003cstrong>League Overview\u003c/strong>:\u003cbr>-WOOD BAT ONLY: Wood bats provided. You may use your own FULLY wood bat if it is ASA, NSA, or USSA approved. Bats that are composite or not fully wood (i.e. Corndogs) are not permitted.\u003cbr>-10 players (7 men max) permitted in the field\u003cbr>-Games last 6 innings or 50 min, whichever comes first\u003cbr>-Minimum 6 players to start a game, including at least 1 woman \u003cbr>-5 run max per inning (except for the last inning)\u003cbr>\u003cspan style=\"font-size:10.5pt;font-family:Arial;color:#414141;background-color:#ffffff;font-weight:400;font-style:italic;font-variant:normal;text-decoration:none;vertical-align:baseline;white-space:pre;white-space:pre-wrap;\">Note: The National Park Service asks for cleats not to be worn. Players may be asked to change into non-cleated shoes on-site\u003c/span>\u003cbr>\u003cbr>\u003c/p>\u003cp>\u003cstrong>PLAYOFFS:\u003c/strong>\u003c/p>\u003cp>We will accommodate as many teams as possible in the playoffs, but only the TOP 4 teams are guaranteed.\u003cbr>\u003cbr>\u003c/p>\u003cp>\u003cstrong>RAIN OUTS:\u003c/strong>\u003c/p>\u003cp>Guaranteed 2 makeup games. Location and day may vary.\u003c/p>\u003cp>\u003cbr>\u003c/p>\u003cp>\u003cstrong>FIELD LOCATIONS:\u003c/strong>\u003c/p>\u003cp>The National Mall is \u003cu>big,\u003c/u> and availability varies based on what is happening in the city. Exact field locations may be subject to change, and we cannot guarantee you will be on the same plot week-to-week.\u003c/p>"},"activityName":"Softball","programType":"LEAGUE"},"League:644bf2ea2e04b9ccc18d7f45":{"__typename":"League","_id":"644bf2ea2e04b9ccc18d7f45","name":"Softball (10v10 Coed) - Wednesday - Turkey Thicket Rec Center (NoMa) - July 2023","featured_order":null,"schedule":{"__typename":"Schedule","start_date":"2023-07-05T16:00:00.000Z"},"details":{"__typename":"LeagueDetails","description":"\u003cp id=\"isPasted\">\u003cspan style='color: rgb(65, 65, 65); font-family: Arial, \"Helvetica Neue\", Helvetica, sans-serif; font-size: 14px; font-style: normal; font-variant-ligatures: normal; font-variant-caps: normal; font-weight: 400; letter-spacing: normal; orphans: 2; text-align: left; text-indent: 0px; text-transform: none; white-space: normal; widows: 2; word-spacing: 0px; -webkit-text-stroke-width: 0px; background-color: rgb(255, 255, 255); text-decoration-thickness: initial; text-decoration-style: initial; text-decoration-color: initial; display: inline !important; float: none;'>Take a much needed break in your week with Wednesday Turkey Thicket Softball, Grab your glove, grab your crew and join us under the lights in NoMa this Summer!\u003c/span>\u003cbr>\u003cbr>\u003cstrong>League Overview\u003c/strong>:\u003cbr>-Bats Provided. You may use your own Softball bat if it is ASA, NSA, or USSA approved \u003cbr>-10 players (7 men max) permitted in the field\u003cbr>-Games last 6 innings or 50 min, whichever comes first\u003cbr>-Minimum 6 players to start a game, including at least 1 woman \u003cbr>-5 run max per inning (except for the last inning)\u003cbr>\u003cbr>\u003c/p>\u003cp>\u003cstrong>PLAYOFFS:\u003c/strong>\u003c/p>\u003cp>We will accommodate as many teams as possible in the playoffs, but only the TOP 4 teams are guaranteed.\u003cbr>\u003cbr>\u003c/p>\u003cp>\u003cstrong>RAIN OUTS:\u003c/strong>\u003c/p>\u003cp>Guaranteed 2 makeup games. Location and day may vary.\u003c/p>"},"activityName":"Softball","programType":"LEAGUE"},"League:644bf2ea2e04b9ccc18d7f42":{"__typename":"League","_id":"644bf2ea2e04b9ccc18d7f42","name":"Softball (10v10 Coed) - SPRINT Tuesday - Randall Rec (Navy Yard) - July 2023","featured_order":null,"schedule":{"__typename":"Schedule","start_date":"2023-07-25T16:00:00.000Z"},"details":{"__typename":"LeagueDetails","description":"\u003cp id=\"isPasted\">\u003cspan style='color: rgb(65, 65, 65); font-family: Arial, \"Helvetica Neue\", Helvetica, sans-serif; font-size: 14px; font-style: normal; font-variant-ligatures: normal; font-variant-caps: normal; font-weight: 400; letter-spacing: normal; orphans: 2; text-align: left; text-indent: 0px; text-transform: none; white-space: normal; widows: 2; word-spacing: 0px; -webkit-text-stroke-width: 0px; background-color: rgb(255, 255, 255); text-decoration-thickness: initial; text-decoration-style: initial; text-decoration-color: initial; display: inline !important; float: none;'>Make Tuesday your new favorite day of the week with our Randall Rec Softball League! Grab your glove, grab your crew\u003c/span>\u003cspan style='color: rgb(65, 65, 65); font-family: Arial, \"Helvetica Neue\", Helvetica, sans-serif; font-size: 14px; font-style: normal; font-variant-ligatures: normal; font-variant-caps: normal; font-weight: 400; letter-spacing: normal; orphans: 2; text-align: left; text-indent: 0px; text-transform: none; white-space: normal; widows: 2; word-spacing: 0px; -webkit-text-stroke-width: 0px; background-color: rgb(255, 255, 255); text-decoration-thickness: initial; text-decoration-style: initial; text-decoration-color: initial; display: inline !important; float: none;'> and join us at one of the most popular venues in the city!\u003c/span>\u003c/p>\u003cp>\u003cbr>\u003cstrong>League Overview\u003c/strong>:\u003cbr>-Bats Provided. You may use your own Softball bat if it is ASA, NSA, or USSA approved \u003cbr>-10 players (7 men max) permitted in the field\u003cbr>-Games last 6 innings or 50 min, whichever comes first\u003cbr>-Minimum 6 players to start a game, including at least 1 woman \u003cbr>-5 run max per inning (except for the last inning)\u003cbr>\u003cbr>\u003c/p>\u003cp>\u003cstrong>PLAYOFFS:\u003c/strong>\u003c/p>\u003cp>We will accommodate as many teams as possible in the playoffs, but only the TOP 4 teams are guaranteed.\u003cbr>\u003cbr>\u003c/p>\u003cp>\u003cstrong>RAIN OUTS:\u003c/strong>\u003c/p>\u003cp>Guaranteed 2 makeup games. Location and day may vary.\u003c/p>"},"activityName":"Softball","programType":"LEAGUE"},"League:644bf2ea2e04b9ccc18d7f3f":{"__typename":"League","_id":"644bf2ea2e04b9ccc18d7f3f","name":"Softball (10v10 Coed) - Tuesday - Virginia Highlands Park (Arlington) - July 2023","featured_order":null,"schedule":{"__typename":"Schedule","start_date":"2023-07-11T16:00:00.000Z"},"details":{"__typename":"LeagueDetails","description":"\u003cp id=\"isPasted\">\u003cspan style='color: rgb(65, 65, 65); font-family: Arial, \"Helvetica Neue\", Helvetica, sans-serif; font-size: 14px; font-style: normal; font-variant-ligatures: normal; font-variant-caps: normal; font-weight: 400; letter-spacing: normal; orphans: 2; text-align: left; text-indent: 0px; text-transform: none; white-space: normal; widows: 2; word-spacing: 0px; -webkit-text-stroke-width: 0px; background-color: rgb(255, 255, 255); text-decoration-thickness: initial; text-decoration-style: initial; text-decoration-color: initial; display: inline !important; float: none;'>Grab your squad and get excited for our first Coed Softball League at Virginia Highlands Park in Arlington! One of the most popular softball fields in the DMV area, you won't want to miss out on this league! Sign up today so you're not left on the sidelines this Spring!\u003c/span>\u003cbr>\u003cbr>\u003cstrong>League Overview\u003c/strong>:\u003cbr>-Bats Provided. You may use your own Softball bat if it is ASA, NSA, or USSA approved \u003cbr>-10 players (7 men max) permitted in the field\u003cbr>-Games last 6 innings or 50 min, whichever comes first\u003cbr>-Minimum 6 players to start a game, including at least 1 woman \u003cbr>-5 run max per inning (except for the last inning)\u003cbr>\u003cbr>\u003c/p>\u003cp>\u003cstrong>PLAYOFFS:\u003c/strong>\u003c/p>\u003cp>We will accommodate as many teams as possible in the playoffs, but only the TOP 4 teams are guaranteed.\u003cbr>\u003cbr>\u003c/p>\u003cp>\u003cstrong>RAIN OUTS:\u003c/strong>\u003c/p>\u003cp>Guaranteed 2 makeup games. Location and day may vary.\u003c/p>"},"activityName":"Softball","programType":"LEAGUE"},"League:644bf2ea2e04b9ccc18d7f3c":{"__typename":"League","_id":"644bf2ea2e04b9ccc18d7f3c","name":"Softball (10v10 Coed) - Monday - The Fields at RFK Campus (Stadium-Armory) - July 2023","featured_order":null,"schedule":{"__typename":"Schedule","start_date":"2023-07-10T16:00:00.000Z"},"details":{"__typename":"LeagueDetails","description":"\u003cp id=\"isPasted\">\u003cspan style='color: rgb(65, 65, 65); font-family: Arial, \"Helvetica Neue\", Helvetica, sans-serif; font-size: 14px; font-style: normal; font-variant-ligatures: normal; font-variant-caps: normal; font-weight: 400; letter-spacing: normal; orphans: 2; text-align: left; text-indent: 0px; text-transform: none; white-space: normal; widows: 2; word-spacing: 0px; -webkit-text-stroke-width: 0px; background-color: rgb(255, 255, 255); text-decoration-thickness: initial; text-decoration-style: initial; text-decoration-color: initial; display: inline !important; float: none;'>Make Monday your new favorite day of the week with our RFK Turf Softball League! Grab your glove, grab your crew\u003c/span>\u003cspan style='color: rgb(65, 65, 65); font-family: Arial, \"Helvetica Neue\", Helvetica, sans-serif; font-size: 14px; font-style: normal; font-variant-ligatures: normal; font-variant-caps: normal; font-weight: 400; letter-spacing: normal; orphans: 2; text-align: left; text-indent: 0px; text-transform: none; white-space: normal; widows: 2; word-spacing: 0px; -webkit-text-stroke-width: 0px; background-color: rgb(255, 255, 255); text-decoration-thickness: initial; text-decoration-style: initial; text-decoration-color: initial; display: inline !important; float: none;'> and join us at one of the most popular venues in the city!\u003c/span>\u003c/p>\u003cp>\u003cbr>\u003cstrong>League Overview\u003c/strong>:\u003cbr>-Bats Provided. You may use your own Softball bat if it is ASA, NSA, or USSA approved \u003cbr>-10 players (7 men max) permitted in the field\u003cbr>-Games last 6 innings or 50 min, whichever comes first\u003cbr>-Minimum 6 players to start a game, including at least 1 woman \u003cbr>-5 run max per inning (except for the last inning)\u003cbr>\u003cbr>\u003c/p>\u003cp>\u003cstrong>PLAYOFFS:\u003c/strong>\u003c/p>\u003cp>We will accommodate as many teams as possible in the playoffs, but only the TOP 4 teams are guaranteed.\u003cbr>\u003cbr>\u003c/p>\u003cp>\u003cstrong>RAIN OUTS:\u003c/strong>\u003c/p>\u003cp>Guaranteed 2 makeup games. Location and day may vary.\u003c/p>"},"activityName":"Softball","programType":"LEAGUE"},"League:644bf2ea2e04b9ccc18d7f39":{"__typename":"League","_id":"644bf2ea2e04b9ccc18d7f39","name":"Softball (10v10 Men) - Monday - National Mall - July 2023","featured_order":null,"schedule":{"__typename":"Schedule","start_date":"2023-07-17T16:00:00.000Z"},"details":{"__typename":"LeagueDetails","description":"\u003cp id=\"isPasted\">Brand new league! Join us on Monday's on the National Mall for our Men's Softball league and play in between the Monuments! Grab your buds, lace up your cleats, and get ready to get your game on this Summer!\u003cbr>\u003cbr>\u003cstrong>League Overview\u003c/strong>:\u003cbr>-WOOD BAT ONLY: Wood bats provided. You may use your own FULLY wood bat if it is ASA, NSA, or USSA approved. Bats that are composite or not fully wood (i.e. Corndogs) are not permitted.\u003cbr>-10 players permitted in the field\u003cbr>-Games last 6 innings or 50 min, whichever comes first\u003cbr>-Minimum 6 players to start a game\u003cbr>-5 run max per inning (except for the last inning)\u003cbr>\u003cspan style=\"font-size:10.5pt;font-family:Arial;color:#414141;background-color:#ffffff;font-weight:400;font-style:italic;font-variant:normal;text-decoration:none;vertical-align:baseline;white-space:pre;white-space:pre-wrap;\">Note: The National Park Service asks for cleats not to be worn. Players may be asked to change into non-cleated shoes on-site\u003c/span>\u003cbr>\u003cbr>\u003c/p>\u003cp>\u003cstrong>PLAYOFFS:\u003c/strong>\u003c/p>\u003cp>We will accommodate as many teams as possible in the playoffs, but only the TOP 4 teams are guaranteed.\u003cbr>\u003cbr>\u003c/p>\u003cp>\u003cstrong>RAIN OUTS:\u003c/strong>\u003c/p>\u003cp>Guaranteed 2 makeup games. Location and day may vary.\u003c/p>\u003cp>\u003cbr>\u003c/p>\u003cp>\u003cstrong>FIELD LOCATIONS:\u003c/strong>\u003c/p>\u003cp>The National Mall is \u003cu>big,\u003c/u> and availability varies based on what is happening in the city. Exact field locations may be subject to change, and we cannot guarantee you will be on the same plot week-to-week.\u003c/p>"},"activityName":"Softball","programType":"LEAGUE"},"League:644ac13d71f22536c6bce832":{"__typename":"League","_id":"644ac13d71f22536c6bce832","name":"Softball (Coed) - Saturday - Standley Recreation Center (UTC) - August 2023","featured_order":null,"schedule":{"__typename":"Schedule","start_date":"2023-08-12T19:00:00.000Z"},"details":{"__typename":"LeagueDetails","description":"\u003cp id=\"isPasted\">Who is the best Volo Softball Team in San Diego?\u003c/p>\u003cp>\u003cspan style='color: rgb(65, 65, 65); font-family: Arial, \"Helvetica Neue\", Helvetica, sans-serif; font-size: 14px; font-style: normal; font-variant-ligatures: normal; font-variant-caps: normal; font-weight: 400; letter-spacing: normal; orphans: 2; text-align: left; text-indent: 0px; text-transform: none; white-space: normal; widows: 2; word-spacing: 0px; -webkit-text-stroke-width: 0px; background-color: rgb(255, 255, 255); text-decoration-thickness: initial; text-decoration-style: initial; text-decoration-color: initial; display: inline !important; float: none;'>It's the tournament you've all been waiting for! \u003c/span> Come face off against Softball teams across San Diego and \u003cspan style='color: rgb(65, 65, 65); font-family: Arial, \"Helvetica Neue\", Helvetica, sans-serif; font-size: 14px; font-style: normal; font-variant-ligatures: normal; font-variant-caps: normal; font-weight: 400; letter-spacing: normal; orphans: 2; text-align: left; text-indent: 0px; text-transform: none; white-space: normal; widows: 2; word-spacing: 0px; -webkit-text-stroke-width: 0px; background-color: rgb(255, 255, 255); text-decoration-thickness: initial; text-decoration-style: initial; text-decoration-color: initial; display: inline !important; float: none;'>take your shot at becoming the city champion. \u003c/span>\u003c/p>\u003cp>\u003cimg src=\"https://s3.amazonaws.com/rivall-user-uploads/prodUploads/orgEmailPicturesFolder/606240915a91c20093e8be74_1657633794784.png\" style=\"width: 603px;\" class=\"fr-fic fr-dii\">\u003c/p>\u003cp>\u003cspan style='color: rgb(65, 65, 65); font-family: Arial, \"Helvetica Neue\", Helvetica, sans-serif; font-size: 14px; font-style: normal; font-variant-ligatures: normal; font-variant-caps: normal; font-weight: 400; letter-spacing: normal; orphans: 2; text-align: left; text-indent: 0px; text-transform: none; white-space: normal; widows: 2; word-spacing: 0px; -webkit-text-stroke-width: 0px; background-color: rgb(255, 255, 255); text-decoration-thickness: initial; text-decoration-style: initial; text-decoration-color: initial; display: inline !important; float: none;'>Coed 3-Pitch Slow-Pitch Softball - \u003c/span>\u003cspan style='color: rgb(65, 65, 65); font-family: Arial, \"Helvetica Neue\", Helvetica, sans-serif; font-size: 14px; font-style: normal; font-variant-ligatures: normal; font-variant-caps: normal; font-weight: 400; letter-spacing: normal; orphans: 2; text-align: left; text-indent: 0px; text-transform: none; white-space: normal; widows: 2; word-spacing: 0px; -webkit-text-stroke-width: 0px; background-color: rgb(255, 255, 255); text-decoration-thickness: initial; text-decoration-style: initial; text-decoration-color: initial; display: inline !important; float: none;'>9v9 Coed Tournament\u003c/span>\u003c/p>\u003cp>\u003cspan style='color: rgb(65, 65, 65); font-family: Arial, \"Helvetica Neue\", Helvetica, sans-serif; font-size: 14px; font-style: normal; font-variant-ligatures: normal; font-variant-caps: normal; font-weight: 400; letter-spacing: normal; orphans: 2; text-align: left; text-indent: 0px; text-transform: none; white-space: normal; widows: 2; word-spacing: 0px; -webkit-text-stroke-width: 0px; background-color: rgb(255, 255, 255); text-decoration-thickness: initial; text-decoration-style: initial; text-decoration-color: initial; display: inline !important; float: none;'>- Pitch to Your Own Team\u003c/span>\u003c/p>\u003cp>\u003cspan style='color: rgb(65, 65, 65); font-family: Arial, \"Helvetica Neue\", Helvetica, sans-serif; font-size: 14px; font-style: normal; font-variant-ligatures: normal; font-variant-caps: normal; font-weight: 400; letter-spacing: normal; orphans: 2; text-align: left; text-indent: 0px; text-transform: none; white-space: normal; widows: 2; word-spacing: 0px; -webkit-text-stroke-width: 0px; background-color: rgb(255, 255, 255); text-decoration-thickness: initial; text-decoration-style: initial; text-decoration-color: initial; display: inline !important; float: none;'>- 3 \u003cspan style='color: rgb(65, 65, 65); font-family: Arial, \"Helvetica Neue\", Helvetica, sans-serif; font-size: 14px; font-style: normal; font-variant-ligatures: normal; font-variant-caps: normal; font-weight: 400; letter-spacing: normal; orphans: 2; text-align: left; text-indent: 0px; text-transform: none; white-space: normal; widows: 2; word-spacing: 0px; -webkit-text-stroke-width: 0px; background-color: rgb(255, 255, 255); text-decoration-thickness: initial; text-decoration-style: initial; text-decoration-color: initial; display: inline !important; float: none;'>Guaranteed Games\u003c/span>\u003c/span>\u003c/p>\u003cp>\u003cspan style='color: rgb(65, 65, 65); font-family: Arial, \"Helvetica Neue\", Helvetica, sans-serif; font-size: 14px; font-style: normal; font-variant-ligatures: normal; font-variant-caps: normal; font-weight: 400; letter-spacing: normal; orphans: 2; text-align: left; text-indent: 0px; text-transform: none; white-space: normal; widows: 2; word-spacing: 0px; -webkit-text-stroke-width: 0px; background-color: rgb(255, 255, 255); text-decoration-thickness: initial; text-decoration-style: initial; text-decoration-color: initial; display: inline !important; float: none;'>- Single Elimination Playoffs for Top Qualifying Teams\u003c/span>\u003c/p>\u003cp>\u003cspan style='color: rgb(65, 65, 65); font-family: Arial, \"Helvetica Neue\", Helvetica, sans-serif; font-size: 14px; font-style: normal; font-variant-ligatures: normal; font-variant-caps: normal; font-weight: 400; letter-spacing: normal; orphans: 2; text-align: left; text-indent: 0px; text-transform: none; white-space: normal; widows: 2; word-spacing: 0px; -webkit-text-stroke-width: 0px; background-color: rgb(255, 255, 255); text-decoration-thickness: initial; text-decoration-style: initial; text-decoration-color: initial; display: inline !important; float: none;'>- Champion Trophy \u003c/span>\u003c/p>\u003cp>\u003cspan style='color: rgb(65, 65, 65); font-family: Arial, \"Helvetica Neue\", Helvetica, sans-serif; font-size: 14px; font-style: normal; font-variant-ligatures: normal; font-variant-caps: normal; font-weight: 400; letter-spacing: normal; orphans: 2; text-align: left; text-indent: 0px; text-transform: none; white-space: normal; widows: 2; word-spacing: 0px; -webkit-text-stroke-width: 0px; background-color: rgb(255, 255, 255); text-decoration-thickness: initial; text-decoration-style: initial; text-decoration-color: initial; display: inline !important; float: none;'>- Pre Paid Teams - Unlimited Roster (Must meet gender minimums)\u003c/span>\u003c/p>\u003cp>\u003cspan style='color: rgb(65, 65, 65); font-family: Arial, \"Helvetica Neue\", Helvetica, sans-serif; font-size: 14px; font-style: normal; font-variant-ligatures: normal; font-variant-caps: normal; font-weight: 400; letter-spacing: normal; orphans: 2; text-align: left; text-indent: 0px; text-transform: none; white-space: normal; widows: 2; word-spacing: 0px; -webkit-text-stroke-width: 0px; background-color: rgb(255, 255, 255); text-decoration-thickness: initial; text-decoration-style: initial; text-decoration-color: initial; display: inline !important; float: none;'>- Groups - Roster locked at 13 with minimum gender\u003c/span>\u003c/p>\u003cp>\u003cspan style='color: rgb(65, 65, 65); font-family: Arial, \"Helvetica Neue\", Helvetica, sans-serif; font-size: 14px; font-style: normal; font-variant-ligatures: normal; font-variant-caps: normal; font-weight: 400; letter-spacing: normal; orphans: 2; text-align: left; text-indent: 0px; text-transform: none; white-space: normal; widows: 2; word-spacing: 0px; -webkit-text-stroke-width: 0px; background-color: rgb(255, 255, 255); text-decoration-thickness: initial; text-decoration-style: initial; text-decoration-color: initial; display: inline !important; float: none;'>- Free Agents - Placement on a first come first serve basis depending on availability\u003c/span>\u003c/p>\u003cp>\u003cspan style='color: rgb(65, 65, 65); font-family: Arial, \"Helvetica Neue\", Helvetica, sans-serif; font-size: 14px; font-style: normal; font-variant-ligatures: normal; font-variant-caps: normal; font-weight: 400; letter-spacing: normal; orphans: 2; text-align: left; text-indent: 0px; text-transform: none; white-space: normal; widows: 2; word-spacing: 0px; -webkit-text-stroke-width: 0px; background-color: rgb(255, 255, 255); text-decoration-thickness: initial; text-decoration-style: initial; text-decoration-color: initial; display: inline !important; float: none;'>- 6 men max, 9 total players max on the field\u003c/span>\u003c/p>\u003cp>\u003cspan style='color: rgb(65, 65, 65); font-family: Arial, \"Helvetica Neue\", Helvetica, sans-serif; font-size: 14px; font-style: normal; font-variant-ligatures: normal; font-variant-caps: normal; font-weight: 400; letter-spacing: normal; orphans: 2; text-align: left; text-indent: 0px; text-transform: none; white-space: normal; widows: 2; word-spacing: 0px; -webkit-text-stroke-width: 0px; background-color: rgb(255, 255, 255); text-decoration-thickness: initial; text-decoration-style: initial; text-decoration-color: initial; display: inline !important; float: none;'>- At least 8 players required to start game\u003c/span>\u003c/p>\u003cp>\u003cspan style='color: rgb(65, 65, 65); font-family: Arial, \"Helvetica Neue\", Helvetica, sans-serif; font-size: 14px; font-style: normal; font-variant-ligatures: normal; font-variant-caps: normal; font-weight: 400; letter-spacing: normal; orphans: 2; text-align: left; text-indent: 0px; text-transform: none; white-space: normal; widows: 2; word-spacing: 0px; -webkit-text-stroke-width: 0px; background-color: rgb(255, 255, 255); text-decoration-thickness: initial; text-decoration-style: initial; text-decoration-color: initial; display: inline !important; float: none;'>- Players must play in the field to bat\u003c/span>\u003c/p>\u003cp>\u003cspan style='color: rgb(65, 65, 65); font-family: Arial, \"Helvetica Neue\", Helvetica, sans-serif; font-size: 14px; font-style: normal; font-variant-ligatures: normal; font-variant-caps: normal; font-weight: 400; letter-spacing: normal; orphans: 2; text-align: left; text-indent: 0px; text-transform: none; white-space: normal; widows: 2; word-spacing: 0px; -webkit-text-stroke-width: 0px; background-color: rgb(255, 255, 255); text-decoration-thickness: initial; text-decoration-style: initial; text-decoration-color: initial; display: inline !important; float: none;'>- Gloves and bat are not provided. Please bring your own.\u003c/span>\u003c/p>\u003cp>\u003cspan style='color: rgb(65, 65, 65); font-family: Arial, \"Helvetica Neue\", Helvetica, sans-serif; font-size: 14px; font-style: normal; font-variant-ligatures: normal; font-variant-caps: normal; font-weight: 400; letter-spacing: normal; orphans: 2; text-align: left; text-indent: 0px; text-transform: none; white-space: normal; widows: 2; word-spacing: 0px; -webkit-text-stroke-width: 0px; background-color: rgb(255, 255, 255); text-decoration-thickness: initial; text-decoration-style: initial; text-decoration-color: initial; display: inline !important; float: none;'>- Ref fees included\u003c/span>\u003c/p>"},"activityName":"Softball","programType":"TOURNAMENT"},"League:6449f8ca97c0340b5d848660":{"__typename":"League","_id":"6449f8ca97c0340b5d848660","name":"Softball (9v9 Men) - Sunday - Sonny Lawson Park (Lodo) - July 2023","featured_order":null,"schedule":{"__typename":"Schedule","start_date":"2023-07-16T18:00:00.000Z"},"details":{"__typename":"LeagueDetails","description":"\u003cp id=\"isPasted\">\u003cspan style=\"font-size: 14px;\">Come play Men's Slowpitch Softball at Sonny Lawson Park in the heart of Downtown Denver!\u003c/span>\u003c/p>\u003cp>\u003cspan style=\"font-size: 14px;\">\u003cbr>\u003c/span>\u003c/p>\u003cp>\u003cspan style=\"font-size: 14px;\">\u003cstrong>Softball Men's 9v9 \u003c/strong>\u003c/span>\u003c/p>\u003cul>\u003cli style=\"font-size: 14px;\">Minimum for a full team is 13 \u003cspan style=\"color: rgb(65, 65, 65); font-family: sans-serif; font-style: normal; font-variant-ligatures: normal; font-variant-caps: normal; font-weight: 400; letter-spacing: normal; orphans: 2; text-align: left; text-indent: 0px; text-transform: none; white-space: normal; widows: 2; word-spacing: 0px; -webkit-text-stroke-width: 0px; background-color: rgb(255, 255, 255); text-decoration-thickness: initial; text-decoration-style: initial; text-decoration-color: initial; float: none; display: inline !important;\">\u003cstrong>(\u003c/strong>\u003c/span>\u003cspan style='box-sizing: inherit; background-repeat: no-repeat; background-size: contain; font-family: Arial, \"Helvetica Neue\", Helvetica, sans-serif; color: rgb(65, 65, 65); font-style: normal; font-variant-ligatures: normal; font-variant-caps: normal; font-weight: 400; letter-spacing: normal; orphans: 2; text-align: left; text-indent: 0px; text-transform: none; white-space: normal; widows: 2; word-spacing: 0px; -webkit-text-stroke-width: 0px; text-decoration-thickness: initial; text-decoration-style: initial; text-decoration-color: initial; background-color: rgb(255, 255, 255); float: none; display: inline !important;'>\u003cstrong>Registered Groups who do not meet the minimum roster requirement by the registration deadline\u003c/strong>\u003c/span>\u003cspan style='box-sizing: inherit; background-repeat: no-repeat; background-size: contain; font-family: Arial, \"Helvetica Neue\", Helvetica, sans-serif; margin-bottom: 0px; color: rgb(65, 65, 65); font-style: normal; font-variant-ligatures: normal; font-variant-caps: normal; font-weight: 400; letter-spacing: normal; orphans: 2; text-align: left; text-indent: 0px; text-transform: none; white-space: normal; widows: 2; word-spacing: 0px; -webkit-text-stroke-width: 0px; text-decoration-thickness: initial; text-decoration-style: initial; text-decoration-color: initial; background-color: rgb(255, 255, 255); float: none; display: inline !important;'>\u003cstrong> may be merged with other small groups, or have free agents added to their roster to meet the roster requirement)\u003c/strong>\u003c/span>\u003cstrong> \u003c/strong>\u003c/li>\u003cli style=\"font-size: 14px;\">Men's League \u003c/li>\u003cli style=\"font-size: 14px;\">9 max players on the field \u003c/li>\u003cli style=\"font-size: 14px;\">Pitch count starts 1-1 \u003c/li>\u003cli style=\"font-size: 14px;\">At least 6 players required to start a game \u003c/li>\u003cli style=\"font-size: 14px;\">Gloves are not provided. Please bring your own.\u003c/li>\u003c/ul>\u003cp>\u003cbr>\u003c/p>\u003cp>Playoffs:\u003c/p>\u003cp>Top 4 teams are guaranteed a spot. We will take more if time and space permits.\u003c/p>\u003cp>\u003cspan style=\"font-size: 14px;\">\u003cbr>\u003c/span>\u003c/p>\u003cp>\u003cspan style=\"font-size: 14px;\">Weather Policy:\u003c/span>\u003c/p>\u003cp>\u003cspan style=\"font-size: 14px;\">Guaranteed 2 makeup games at the same location but not guaranteed to be played on the same day of the week.\u003c/span>\u003c/p>\u003cp>\u003cspan style=\"font-size: 14px;\">\u003cbr>\u003c/span>\u003c/p>\u003cp>\u003cspan style=\"font-size: 14px;\">Doubleheaders:\u003c/span>\u003c/p>\u003cp>\u003cspan style=\"font-size: 14px;\">Teams may have byes or doubleheaders. The league may be shortened/extended by a week but all league games will be played!\u003c/span>\u003c/p>"},"activityName":"Softball","programType":"LEAGUE"},"League:6449f8ca97c0340b5d84865d":{"__typename":"League","_id":"6449f8ca97c0340b5d84865d","name":"Softball (9v9 Men) - Friday - Citizens Park (Sloan's Lake) - July 2023","featured_order":null,"schedule":{"__typename":"Schedule","start_date":"2023-07-21T18:00:00.000Z"},"details":{"__typename":"LeagueDetails","description":"\u003cp>Looking for a fun way to spend your Sunday afternoons? Gather your friends and join us for the Men's Softball League at Sonny Lawson Park, located in the vibrant heart of downtown Denver!\u003c/p>\u003cp>\u003cbr>\u003c/p>\u003cp>This friendly and inclusive league is the perfect opportunity to get outside, soak up some sunshine, and enjoy a little friendly competition. With its convenient location and well-maintained fields, Sonny Lawson Park provides the ideal setting for a relaxed and enjoyable game of softball.\u003c/p>\u003cp>\u003cbr>\u003c/p>\u003cp id=\"isPasted\">\u003cspan style=\"font-size: 14px;\">\u003cstrong>Softball Men's 9v9 \u003c/strong>\u003c/span>\u003c/p>\u003cul>\u003cli style=\"font-size: 14px;\">Minimum for a full team is 13 \u003cspan style=\"color: rgb(65, 65, 65); font-family: sans-serif; font-style: normal; font-variant-ligatures: normal; font-variant-caps: normal; font-weight: 400; letter-spacing: normal; orphans: 2; text-align: left; text-indent: 0px; text-transform: none; white-space: normal; widows: 2; word-spacing: 0px; -webkit-text-stroke-width: 0px; background-color: rgb(255, 255, 255); text-decoration-thickness: initial; text-decoration-style: initial; text-decoration-color: initial; float: none; display: inline !important;\">\u003cstrong>(\u003c/strong>\u003c/span>\u003cspan style='box-sizing: inherit; background-repeat: no-repeat; background-size: contain; font-family: Arial, \"Helvetica Neue\", Helvetica, sans-serif; color: rgb(65, 65, 65); font-style: normal; font-variant-ligatures: normal; font-variant-caps: normal; font-weight: 400; letter-spacing: normal; orphans: 2; text-align: left; text-indent: 0px; text-transform: none; white-space: normal; widows: 2; word-spacing: 0px; -webkit-text-stroke-width: 0px; text-decoration-thickness: initial; text-decoration-style: initial; text-decoration-color: initial; background-color: rgb(255, 255, 255); float: none; display: inline !important;'>\u003cstrong>Registered Groups who do not meet the minimum roster requirement by the registration deadline\u003c/strong>\u003c/span>\u003cspan style='box-sizing: inherit; background-repeat: no-repeat; background-size: contain; font-family: Arial, \"Helvetica Neue\", Helvetica, sans-serif; margin-bottom: 0px; color: rgb(65, 65, 65); font-style: normal; font-variant-ligatures: normal; font-variant-caps: normal; font-weight: 400; letter-spacing: normal; orphans: 2; text-align: left; text-indent: 0px; text-transform: none; white-space: normal; widows: 2; word-spacing: 0px; -webkit-text-stroke-width: 0px; text-decoration-thickness: initial; text-decoration-style: initial; text-decoration-color: initial; background-color: rgb(255, 255, 255); float: none; display: inline !important;'>\u003cstrong> may be merged with other small groups, or have free agents added to their roster to meet the roster requirement)\u003c/strong>\u003c/span>\u003cstrong> \u003c/strong>\u003c/li>\u003cli style=\"font-size: 14px;\">Men's League \u003c/li>\u003cli style=\"font-size: 14px;\">9 max players on the field \u003c/li>\u003cli style=\"font-size: 14px;\">Pitch count starts 1-1 \u003c/li>\u003cli style=\"font-size: 14px;\">At least 6 players required to start a game \u003c/li>\u003cli style=\"font-size: 14px;\">Gloves are not provided. Please bring your own.\u003c/li>\u003c/ul>\u003cp>\u003cbr>\u003c/p>\u003cp>Playoffs:\u003c/p>\u003cp>Top 4 teams are guaranteed a spot. We will take more if time and space permits.\u003c/p>\u003cp>\u003cspan style=\"font-size: 14px;\">\u003cbr>\u003c/span>\u003c/p>\u003cp>\u003cspan style=\"font-size: 14px;\">Weather Policy:\u003c/span>\u003c/p>\u003cp>\u003cspan style=\"font-size: 14px;\">Guaranteed 2 makeup games at the same location but not guaranteed to be played on the same day of the week.\u003c/span>\u003c/p>\u003cp>\u003cspan style=\"font-size: 14px;\">\u003cbr>\u003c/span>\u003c/p>\u003cp>\u003cspan style=\"font-size: 14px;\">Doubleheaders:\u003c/span>\u003c/p>\u003cp>\u003cspan style=\"font-size: 14px;\">Teams may have byes or doubleheaders. The league may be shortened/extended by a week but all league games will be played!\u003c/span>\u003c/p>"},"activityName":"Softball","programType":"LEAGUE"},"League:6449f8ca97c0340b5d84865a":{"__typename":"League","_id":"6449f8ca97c0340b5d84865a","name":"Softball (10v10 Coed) - Friday - Citizens Park (Sloan's Lake) - July 2023","featured_order":null,"schedule":{"__typename":"Schedule","start_date":"2023-07-21T18:00:00.000Z"},"details":{"__typename":"LeagueDetails","description":"\u003cp>Looking for a fun and exciting way to kick off your weekend? Join us for Friday Night Softball at Citizen's Park, the perfect opportunity to hang out with friends, enjoy some friendly competition, and soak up the electric atmosphere of this lively game.\u003c/p>\u003cp>\u003cbr>\u003c/p>\u003cp id=\"isPasted\">\u003cstrong>Softball (Coed 10v10)\u003c/strong>\u003c/p>\u003cp>10v10\u003c/p>\u003cp>Minimum for a full team is 15 players \u003cstrong>(Registered Groups who do not meet the minimum roster requirement by the registration deadline merged with other small groups, or have free agents added to their roster to meet the roster requirement)\u003c/strong>\u003c/p>\u003cp>10 players maximum in the field (7 men max)\u003c/p>\u003cp>Minimum to start a game is 7 players (5 men max)\u003c/p>\u003cp>Certified Umps provided\u003c/p>\u003cp>Pitch count starts 1-1 \u003c/p>\u003cp>No more than 3 men can bat in a row\u003c/p>\u003cp>Gloves are not provided. Please bring your own.\u003c/p>\u003cp> \u003c/p>\u003cp>\u003cstrong>What you get\u003c/strong>\u003c/p>\u003cp>Premier playing experience, rated best sports league in Denver\u003c/p>\u003cp>Player T-Shirt\u003c/p>\u003cp>Paid Umpire (at no additional cost to you)\u003c/p>\u003cp>Bats and balls (we do not provide gloves, please provide your own)\u003c/p>\u003cp>6 regular season games\u003c/p>\u003cp>Post game social experience with deals\u003c/p>\u003cp>Playoffs: We will accommodate as many teams as possible in the playoffs, but only the TOP 4 teams are guaranteed advancement.\u003c/p>\u003cp>Weather Policy: Guaranteed 2 makeup games at the same location but not guaranteed to be played on the same day of the week.\u003c/p>\u003cp>Doubleheaders: Teams may have byes or doubleheaders. The league may be shortened/extended by a week but all league games will be played!\u003c/p>\u003cp> \u003c/p>"},"activityName":"Softball","programType":"LEAGUE"},"League:6449f8742ccc2d28aa4ae89e":{"__typename":"League","_id":"6449f8742ccc2d28aa4ae89e","name":"Softball (10v10 Coed) - Sunday - Citizens Park (Sloan's Lake) - July 2023","featured_order":null,"schedule":{"__typename":"Schedule","start_date":"2023-07-16T18:00:00.000Z"},"details":{"__typename":"LeagueDetails","description":"\u003cp id=\"isPasted\">Sunday Coed Softball at Citizens Park in Edgewater, Colorado is a recreational and social league for adults of all skill levels. The league is open to both men and women, and teams are composed of players of various ages and abilities. This field is right down the street from Sloan's Lake and Skyline Pub!\u003c/p>\u003cp>\u003cbr>\u003c/p>\u003cp style=\"margin-top: 0pt; margin-bottom: 0pt;\">\u003cstrong>\u003cspan style=\"font-size: 10pt; font-family: Arial;\">What you get\u003c/span>\u003c/strong>\u003c/p>\u003cp style=\"margin-top: 0pt; margin-bottom: 0pt;\">\u003cspan style=\"font-size: 10pt; font-family: Arial;\">Premier playing experience, rated best sports league in Denver\u003c/span>\u003c/p>\u003cp style=\"margin-top: 0pt; margin-bottom: 0pt;\">\u003cspan style=\"font-size: 10pt; font-family: Arial;\">- Player T-Shirt\u003c/span>\u003c/p>\u003cp style=\"margin-top: 0pt; margin-bottom: 0pt;\">\u003cspan style=\"font-size: 10pt; font-family: Arial;\">- Paid Umpire (at no additional cost to you)\u003c/span>\u003c/p>\u003cp style=\"margin-top: 0pt; margin-bottom: 0pt;\">\u003cspan style=\"font-size: 10pt; font-family: Arial;\">- Bats and balls (we do not provide gloves, please provide your own)\u003c/span>\u003c/p>\u003cp style=\"margin-top: 0pt; margin-bottom: 0pt;\">\u003cspan style=\"font-size: 10pt; font-family: Arial;\">-6 regular season games\u003c/span>\u003c/p>\u003cp style=\"margin-top: 0pt; margin-bottom: 0pt;\">\u003cspan style=\"font-size: 10pt; font-family: Arial;\">- Post game social experience with deals\u003c/span>\u003c/p>\u003cp style=\"margin-top: 0pt; margin-bottom: 0pt;\">\u003cspan style=\"font-size: 10pt; font-family: Arial;\">- League plays on a premier field and popular location\u003c/span>\u003c/p>\u003cp>\u003cbr>\u003c/p>\u003cp style=\"margin-top: 0pt; margin-bottom: 0pt;\">\u003cstrong>\u003cspan style=\"font-size: 10pt; font-family: Arial;\">Softball (Coed 10v10)\u003c/span>\u003c/strong>\u003c/p>\u003cp style=\"margin-top: 0pt; margin-bottom: 0pt;\">\u003cspan style=\"font-size: 10pt; font-family: Arial; background-color: #ffffff;\">- 10v10\u003c/span>\u003c/p>\u003cp style=\"margin-top: 0pt; margin-bottom: 0pt;\">\u003cspan style=\"font-size: 10pt; font-family: Arial; background-color: #ffffff;\">- Minimum for a full team is 15 players \u003cspan style=\"color: rgb(65, 65, 65); font-family: sans-serif; font-size: 14px; font-style: normal; font-variant-ligatures: normal; font-variant-caps: normal; font-weight: 400; letter-spacing: normal; orphans: 2; text-align: left; text-indent: 0px; text-transform: none; white-space: normal; widows: 2; word-spacing: 0px; -webkit-text-stroke-width: 0px; background-color: rgb(255, 255, 255); text-decoration-thickness: initial; text-decoration-style: initial; text-decoration-color: initial; display: inline !important; float: none;\">(\u003c/span>\u003cspan style='box-sizing: inherit; background-repeat: no-repeat; background-size: contain; font-family: Arial, \"Helvetica Neue\", Helvetica, sans-serif; color: rgb(65, 65, 65); font-size: 14px; font-style: normal; font-variant-ligatures: normal; font-variant-caps: normal; font-weight: 400; letter-spacing: normal; orphans: 2; text-align: left; text-indent: 0px; text-transform: none; white-space: normal; widows: 2; word-spacing: 0px; -webkit-text-stroke-width: 0px; text-decoration-thickness: initial; text-decoration-style: initial; text-decoration-color: initial; background-color: rgb(255, 255, 255); float: none; display: inline !important;'>Registered Groups who do not meet the minimum roster requirement by the registration deadline\u003c/span>\u003cspan style='box-sizing: inherit; background-repeat: no-repeat; background-size: contain; font-family: Arial, \"Helvetica Neue\", Helvetica, sans-serif; margin-bottom: 0px; color: rgb(65, 65, 65); font-size: 14px; font-style: normal; font-variant-ligatures: normal; font-variant-caps: normal; font-weight: 400; letter-spacing: normal; orphans: 2; text-align: left; text-indent: 0px; text-transform: none; white-space: normal; widows: 2; word-spacing: 0px; -webkit-text-stroke-width: 0px; text-decoration-thickness: initial; text-decoration-style: initial; text-decoration-color: initial; background-color: rgb(255, 255, 255); float: none; display: inline !important;'> may be merged with other small groups or have free agents added to their roster to meet the roster requirement.)\u003c/span>\u003c/span>\u003c/p>\u003cp style=\"margin-top: 0pt; margin-bottom: 0pt;\">\u003cspan style=\"font-size: 10pt; font-family: Arial; background-color: #ffffff;\">- 10 players maximum in the field (7 men max)\u003c/span>\u003c/p>\u003cp style=\"margin-top: 0pt; margin-bottom: 0pt;\">\u003cspan style=\"font-size: 10pt; font-family: Arial; background-color: #ffffff;\">- Minimum to start a game is 6 players (5 men max)\u003c/span>\u003c/p>\u003cp style=\"margin-top: 0pt; margin-bottom: 0pt;\">\u003cspan style=\"font-size: 10pt; font-family: Arial; background-color: #ffffff;\">- Certified Umps provided\u003c/span>\u003c/p>\u003cp style=\"margin-top: 0pt; margin-bottom: 0pt;\">\u003cspan style=\"font-size: 10pt; font-family: Arial; background-color: #ffffff;\">- Pitch count starts 1-1 \u003c/span>\u003c/p>\u003cp style=\"margin-top: 0pt; margin-bottom: 0pt;\">\u003cspan style=\"font-size: 10pt; font-family: Arial; background-color: #ffffff;\">- No more than 3 men can bat in a row\u003c/span>\u003c/p>\u003cp style=\"margin-top: 0pt; margin-bottom: 0pt;\">\u003cspan style=\"font-size: 10pt; font-family: Arial; background-color: #ffffff;\">- Gloves are not provided. Please bring your own.\u003c/span>\u003c/p>\u003cp style=\"margin-top: 0pt; margin-bottom: 0pt;\">\u003cbr>\u003cspan style=\"font-size: 10pt; font-family: Arial; background-color: #ffffff;\">** No alcohol is permitted at this field**\u003c/span>\u003cbr>\u003cbr>\u003cspan style=\"font-size: 10pt; font-family: Arial;\">** Playoffs We will accommodate as many teams as possible in the playoffs, but only the TOP 4 teams are guaranteed advancement.\u003c/span>\u003c/p>\u003cp style=\"margin-top: 12pt; margin-bottom: 12pt;\">\u003cspan style=\"font-size: 10pt; font-family: Arial;\">** Weather Policy Guaranteed 2 makeup games at the same location but not guaranteed to be played on the same day of the week.\u003c/span>\u003c/p>\u003cp style=\"margin-top: 12pt; margin-bottom: 12pt;\">\u003cspan style=\"font-size: 10pt; font-family: Arial;\">** Doubleheaders Teams may have byes or doubleheaders. The league may be shortened/extended by a week but all league games will be played!\u003c/span>\u003c/p>"},"activityName":"Softball","programType":"LEAGUE"},"League:6449f8732ccc2d28aa4ae894":{"__typename":"League","_id":"6449f8732ccc2d28aa4ae894","name":"Softball (Chicago Style) - Thursday - Denver Jewish Day School (Cherry Creek) - July 2023","featured_order":null,"schedule":{"__typename":"Schedule","start_date":"2023-07-20T18:00:00.000Z"},"details":{"__typename":"LeagueDetails","description":"\u003cp>\u003cbr id=\"isPasted\">\u003cspan style=\"color: rgb(0, 0, 0); font-family: Arial, Helvetica, sans-serif; font-size: 14px; font-style: normal; font-variant-ligatures: normal; font-variant-caps: normal; font-weight: 400; letter-spacing: normal; orphans: 2; text-align: start; text-indent: 0px; text-transform: none; white-space: pre-wrap; widows: 2; word-spacing: 0px; -webkit-text-stroke-width: 0px; text-decoration-thickness: initial; text-decoration-style: initial; text-decoration-color: initial; float: none; display: inline !important;\">Looking for some mid-week excitement? \u003cspan id=\"isPasted\" style=\"font-style: normal; font-variant-ligatures: normal; font-variant-caps: normal; font-weight: 400; letter-spacing: normal; orphans: 2; text-align: start; text-indent: 0px; text-transform: none; white-space: pre-wrap; widows: 2; word-spacing: 0px; -webkit-text-stroke-width: 0px; text-decoration-thickness: initial; text-decoration-style: initial; text-decoration-color: initial; float: none; display: inline !important;\">Join us for a fun and friendly game of Chicago-style softball at Denver Jewish Day School on Thursday! Whether you're an experienced player or just looking to have some casual fun, this is the perfect opportunity to get out and enjoy some fresh air and exercise.\u003c/span> \u003c/span>\u003c/p>\u003cp>\u003cbr>\u003c/p>\u003cp id=\"isPasted\">\u003cstrong>Softball (Chicago Style)\u003c/strong>\u003c/p>\u003cp>10v10\u003c/p>\u003cp>Minimum for a full team is 15 players \u003cstrong>(Registered Groups who do not meet the minimum roster requirement by the registration deadline merged with other small groups, or have free agents added to their roster to meet the roster requirement)\u003c/strong>\u003c/p>\u003cp>10 players maximum in the field (7 men max)\u003c/p>\u003cp>Minimum to start a game is 7 players (5 men max)\u003c/p>\u003cp>Certified Umps provided\u003c/p>\u003cp>Pitch count starts 1-1 \u003c/p>\u003cp>No more than 3 men can bat in a row\u003c/p>\u003cp>Gloves are not provided and are optional. Please bring your own.\u003c/p>\u003cp>\u003cstrong>Games are played with 16" Chicago style softballs\u003c/strong>\u003c/p>\u003cp>\u003cstrong>Players must use a wood bat\u003c/strong>\u003c/p>\u003cp> \u003c/p>\u003cp>\u003cstrong>What you get\u003c/strong>\u003c/p>\u003cp>Premier playing experience, rated best sports league in Denver\u003c/p>\u003cp>Player T-Shirt\u003c/p>\u003cp>Paid Umpire (at no additional cost to you)\u003c/p>\u003cp>Bats and balls (we do not provide gloves, please provide your own)\u003c/p>\u003cp>6 regular season games\u003c/p>\u003cp>Post game social experience with deals\u003c/p>\u003cp>Playoffs: We will accommodate as many teams as possible in the playoffs, but only the TOP 4 teams are guaranteed advancement.\u003c/p>\u003cp>Weather Policy: Guaranteed 2 makeup games at the same location but not guaranteed to be played on the same day of the week.\u003c/p>\u003cp>Doubleheaders: Teams may have byes or doubleheaders. The league may be shortened/extended by a week but all league games will be played!\u003c/p>"},"activityName":"Softball","programType":"LEAGUE"},"League:6449f8732ccc2d28aa4ae891":{"__typename":"League","_id":"6449f8732ccc2d28aa4ae891","name":"Softball (10v10 Coed) - Monday - Citizens Park (Sloan's Lake) - July 2023","featured_order":null,"schedule":{"__typename":"Schedule","start_date":"2023-07-24T18:00:00.000Z"},"details":{"__typename":"LeagueDetails","description":"\u003cp id=\"isPasted\">\u003cspan id=\"isPasted\" style=\"color: rgb(0, 0, 0); font-family: Arial, Helvetica, sans-serif; font-size: 14px; font-style: normal; font-variant-ligatures: normal; font-variant-caps: normal; font-weight: 400; letter-spacing: normal; orphans: 2; text-align: start; text-indent: 0px; text-transform: none; white-space: pre-wrap; widows: 2; word-spacing: 0px; -webkit-text-stroke-width: 0px; text-decoration-thickness: initial; text-decoration-style: initial; text-decoration-color: initial; float: none; display: inline !important;\">\u003cspan id=\"isPasted\" style=\"font-style: normal; font-variant-ligatures: normal; font-variant-caps: normal; font-weight: 400; letter-spacing: normal; orphans: 2; text-align: start; text-indent: 0px; text-transform: none; white-space: pre-wrap; widows: 2; word-spacing: 0px; -webkit-text-stroke-width: 0px; text-decoration-thickness: initial; text-decoration-style: initial; text-decoration-color: initial; float: none; display: inline !important;\">Finish your Monday right, surrounded by lush greenery and towering trees, \u003cspan id=\"isPasted\" style=\"color: rgb(0, 0, 0); font-family: Arial, Helvetica, sans-serif; font-size: 14px; font-style: normal; font-variant-ligatures: normal; font-variant-caps: normal; font-weight: 400; letter-spacing: normal; orphans: 2; text-align: start; text-indent: 0px; text-transform: none; white-space: pre-wrap; widows: 2; word-spacing: 0px; -webkit-text-stroke-width: 0px; text-decoration-thickness: initial; text-decoration-style: initial; text-decoration-color: initial; float: none; display: inline !important;\">under the bright lights of Citizen's Park\u003c/span>!\u003c/span> After the game head to Skyline Pub for a great deal on food and drinks!\u003c/span>\u003c/p>\u003cp> \u003c/p>\u003cp id=\"isPasted\">\u003cstrong>What you get\u003c/strong>\u003c/p>\u003cp>Premier playing experience, rated best sports league in Denver\u003c/p>\u003cp>Player T-Shirt\u003c/p>\u003cp>Paid Umpire (at no additional cost to you)\u003c/p>\u003cp>Bats and balls (we do not provide gloves, please provide your own)\u003c/p>\u003cp>6 regular season games\u003c/p>\u003cp>Post game social experience with deals\u003c/p>\u003cp>\u003cbr>\u003c/p>\u003cp>\u003cstrong>Softball (Coed 10v10)\u003c/strong>\u003c/p>\u003cp>10v10\u003c/p>\u003cp>Minimum for a full team\u003cspan style=\"font-family: Arial,Helvetica,sans-serif;\"> is \u003c/span>15 players \u003cstrong>(Registered Groups who do not meet the minimum roster requirement by the registration deadline merged with other small groups, or have free agents added to their roster to meet the roster requirement)\u003c/strong>\u003c/p>\u003cp>10 players maximum in the field (7 men max)\u003c/p>\u003cp>Minimum to start a game is 7 players (5 men max)\u003c/p>\u003cp>Certified Umps provided\u003c/p>\u003cp>Pitch count starts 1-1 \u003c/p>\u003cp>No more than 3 men can bat in a row\u003c/p>\u003cp>Gloves are not provided. Please bring your own.\u003c/p>\u003cp> \u003c/p>\u003cp>\u003cstrong>Playoffs:\u003c/strong> We will accommodate as many teams as possible in the playoffs, but only the TOP 4 teams are guaranteed advancement.\u003c/p>\u003cp>\u003cstrong>Weather Policy:\u003c/strong> Guaranteed 2 makeup games at the same location but not guaranteed to be played on the same day of the week.\u003c/p>\u003cp>\u003cstrong>Doubleheaders: \u003c/strong>Teams may have byes or doubleheaders. The league may be shortened/extended by a week but all league games will be played!\u003c/p>"},"activityName":"Softball","programType":"LEAGUE"},"League:6449f8732ccc2d28aa4ae88e":{"__typename":"League","_id":"6449f8732ccc2d28aa4ae88e","name":"Softball (Chicago Style) - Tuesday - Sloan's Lake Park (Sloan's Lake) - July 2023","featured_order":null,"schedule":{"__typename":"Schedule","start_date":"2023-07-18T18:00:00.000Z"},"details":{"__typename":"LeagueDetails","description":"\u003cp id=\"isPasted\">\u003cspan id=\"isPasted\" style=\"color: rgb(0, 0, 0); font-family: Arial, Helvetica, sans-serif; font-size: 14px; font-style: normal; font-variant-ligatures: normal; font-variant-caps: normal; font-weight: 400; letter-spacing: normal; orphans: 2; text-align: start; text-indent: 0px; text-transform: none; white-space: pre-wrap; widows: 2; word-spacing: 0px; -webkit-text-stroke-width: 0px; text-decoration-thickness: initial; text-decoration-style: initial; text-decoration-color: initial; float: none; display: inline !important;\">Join us for an exciting game of Chicago-style softball every Tuesday at Sloan's Lake Park! Whether you're a seasoned player or just looking for some fun in the sun, this is the perfect opportunity to lace up your cleats and hit the diamond. With its scenic backdrop of sprawling greenery and stunning mountain vistas, Sloan's Lake Park provides the ideal setting for a thrilling game of softball that's sure to get your heart pumping. So why not come out and join the fun? We'd love to see you there!\u003c/span>\u003c/p>\u003cp> \u003c/p>\u003cp>\u003cstrong>Softball (Chicago Style)\u003c/strong>\u003c/p>\u003cp>10v10\u003c/p>\u003cp>Minimum for a full team is 15 players \u003cstrong>(Registered Groups who do not meet the minimum roster requirement by the registration deadline merged with other small groups, or have free agents added to their roster to meet the roster requirement)\u003c/strong>\u003c/p>\u003cp>10 players maximum in the field (7 men max)\u003c/p>\u003cp>Minimum to start a game is 7 players (5 men max)\u003c/p>\u003cp>Certified Umps provided\u003c/p>\u003cp>Pitch count starts 1-1 \u003c/p>\u003cp>No more than 3 men can bat in a row\u003c/p>\u003cp>\u003cstrong>Gloves are not provided and are optional. Please bring your own.\u003c/strong>\u003c/p>\u003cp>\u003cstrong>Games are played with a 16" Chicago Style Softball.\u003c/strong>\u003c/p>\u003cp>\u003cstrong>Players are required to bat with a wood bat (one will be provided)\u003c/strong>\u003c/p>\u003cp> \u003c/p>\u003cp>\u003cstrong>What you get\u003c/strong>\u003c/p>\u003cp>Premier playing experience, rated best sports league in Denver\u003c/p>\u003cp>Player T-Shirt\u003c/p>\u003cp>Paid Umpire (at no additional cost to you)\u003c/p>\u003cp>Bats and balls (we do not provide gloves, please provide your own)\u003c/p>\u003cp>6 regular season games\u003c/p>\u003cp>Post game social experience with deals\u003c/p>\u003cp>\u003cbr>\u003c/p>\u003cp>\u003cstrong>Playoffs:\u003c/strong> We will accommodate as many teams as possible in the playoffs, but only the TOP 4 teams are guaranteed advancement.\u003c/p>\u003cp>\u003cstrong>Weather Policy: \u003c/strong>Guaranteed 2 makeup games at the same location but not guaranteed to be played on the same day of the week.\u003c/p>\u003cp>\u003cstrong>Doubleheaders: \u003c/strong>Teams may have byes or doubleheaders. The league may be shortened/extended by a week but all league games will be played!\u003c/p>"},"activityName":"Softball","programType":"LEAGUE"},"League:6449f8732ccc2d28aa4ae88b":{"__typename":"League","_id":"6449f8732ccc2d28aa4ae88b","name":"Softball (10v10 Coed) - Saturday - City of Cuernavaca Park (Lodo) - July 2023","featured_order":null,"schedule":{"__typename":"Schedule","start_date":"2023-07-22T18:00:00.000Z"},"details":{"__typename":"LeagueDetails","description":"\u003cp id=\"isPasted\" style=\"margin-top: 0pt; margin-bottom: 0pt;\">\u003cspan style=\"font-size: 14px;\">Start your weekend off right by playing softball! Enjoy Denver's beautiful weather and get outside after your work week. Join us at City of Cuernavaca Park for Saturday softball!\u003c/span>\u003c/p>\u003cp>\u003cspan style=\"font-size: 14px;\"> \u003c/span>\u003c/p>\u003cp style=\"margin-top: 0pt; margin-bottom: 0pt;\">\u003cspan style=\"font-size: 14px;\">\u003cstrong>\u003cspan style=\"font-family: Arial;\">Softball (Coed 10v10)\u003c/span>\u003c/strong>\u003c/span>\u003c/p>\u003cp style=\"margin-top: 0pt; margin-bottom: 0pt;\">\u003cspan style=\"font-size: 14px; font-family: Arial; background-color: rgb(255, 255, 255);\">10v10\u003c/span>\u003c/p>\u003cp style=\"margin-top: 0pt; margin-bottom: 0pt;\">\u003cspan style=\"font-size: 14px; font-family: Arial; background-color: rgb(255, 255, 255);\">Minimum for a full team is 15 players \u003cstrong>(\u003c/strong>\u003cspan style='color: rgb(65, 65, 65); font-family: Arial, \"Helvetica Neue\", Helvetica, sans-serif; font-style: normal; font-variant-ligatures: normal; font-variant-caps: normal; font-weight: 400; letter-spacing: normal; orphans: 2; text-align: left; text-indent: 0px; text-transform: none; white-space: normal; widows: 2; word-spacing: 0px; -webkit-text-stroke-width: 0px; background-color: rgb(255, 255, 255); text-decoration-thickness: initial; text-decoration-style: initial; text-decoration-color: initial; float: none; display: inline !important;'>\u003cstrong>Registered Groups who do not meet the minimum roster requirement by the registration deadline\u003c/strong>\u003c/span>\u003cspan style='color: rgb(65, 65, 65); font-family: Arial, \"Helvetica Neue\", Helvetica, sans-serif; font-style: normal; font-variant-ligatures: normal; font-variant-caps: normal; font-weight: 400; letter-spacing: normal; orphans: 2; text-align: left; text-indent: 0px; text-transform: none; white-space: normal; widows: 2; word-spacing: 0px; -webkit-text-stroke-width: 0px; background-color: rgb(255, 255, 255); text-decoration-thickness: initial; text-decoration-style: initial; text-decoration-color: initial; float: none; display: inline !important;'>\u003cstrong> merged with other small groups, or have free agents added to their roster to meet the roster requirement)\u003c/strong>\u003c/span>\u003c/span>\u003c/p>\u003cp style=\"margin-top: 0pt; margin-bottom: 0pt;\">\u003cspan style=\"font-size: 14px; font-family: Arial; background-color: rgb(255, 255, 255);\">10 players maximum in the field (7 men max)\u003c/span>\u003c/p>\u003cp style=\"margin-top: 0pt; margin-bottom: 0pt;\">\u003cspan style=\"font-size: 14px; font-family: Arial; background-color: rgb(255, 255, 255);\">Minimum to start a game is 6 players (5 men max)\u003c/span>\u003c/p>\u003cp style=\"margin-top: 0pt; margin-bottom: 0pt;\">\u003cspan style=\"font-size: 14px; font-family: Arial; background-color: rgb(255, 255, 255);\">Certified Umps provided\u003c/span>\u003c/p>\u003cp style=\"margin-top: 0pt; margin-bottom: 0pt;\">\u003cspan style=\"font-size: 14px; font-family: Arial; background-color: rgb(255, 255, 255);\">Pitch count starts 1-1 \u003c/span>\u003c/p>\u003cp style=\"margin-top: 0pt; margin-bottom: 0pt;\">\u003cspan style=\"font-size: 14px; font-family: Arial; background-color: rgb(255, 255, 255);\">No more than 3 men can bat in a row\u003c/span>\u003c/p>\u003cp style=\"margin-top: 0pt; margin-bottom: 0pt;\">\u003cspan style=\"font-size: 14px; font-family: Arial; background-color: rgb(255, 255, 255);\">Gloves are not provided. Please bring your own.\u003c/span>\u003c/p>\u003cp>\u003cspan style=\"font-size: 14px;\"> \u003c/span>\u003c/p>\u003cp style=\"margin-top: 0pt; margin-bottom: 0pt;\">\u003cspan style=\"font-size: 14px;\">\u003cstrong>\u003cspan style=\"font-family: Arial;\">What you get\u003c/span>\u003c/strong>\u003c/span>\u003c/p>\u003cp style=\"margin-top: 0pt; margin-bottom: 0pt;\">\u003cspan style=\"font-size: 14px; font-family: Arial;\">Premier playing experience, rated best sports league in Denver\u003c/span>\u003c/p>\u003cp style=\"margin-top: 0pt; margin-bottom: 0pt;\">\u003cspan style=\"font-size: 14px; font-family: Arial;\">Player T-Shirt\u003c/span>\u003c/p>\u003cp style=\"margin-top: 0pt; margin-bottom: 0pt;\">\u003cspan style=\"font-size: 14px; font-family: Arial;\">Paid Umpire (at no additional cost to you)\u003c/span>\u003c/p>\u003cp style=\"margin-top: 0pt; margin-bottom: 0pt;\">\u003cspan style=\"font-size: 14px; font-family: Arial;\">Bats and balls (we do not provide gloves, please provide your own)\u003c/span>\u003c/p>\u003cp style=\"margin-top: 0pt; margin-bottom: 0pt;\">\u003cspan style=\"font-size: 14px; font-family: Arial;\">6 regular season games\u003c/span>\u003c/p>\u003cp style=\"margin-top: 0pt; margin-bottom: 0pt;\">\u003cspan style=\"font-size: 14px; font-family: Arial;\">Post game social experience with deals\u003c/span>\u003c/p>\u003cp style=\"margin-top: 12pt; margin-bottom: 12pt;\">\u003cspan style=\"font-size: 14px; font-family: Arial;\">Playoffs: We will accommodate as many teams as possible in the playoffs, but only the TOP 4 teams are guaranteed advancement.\u003c/span>\u003c/p>\u003cp style=\"margin-top: 12pt; margin-bottom: 12pt;\">\u003cspan style=\"font-size: 14px; font-family: Arial;\">Weather Policy: Guaranteed 2 makeup games at the same location but not guaranteed to be played on the same day of the week.\u003c/span>\u003c/p>\u003cp style=\"margin-top: 12pt; margin-bottom: 12pt;\">\u003cspan style=\"font-size: 14px; font-family: Arial;\">Doubleheaders: Teams may have byes or doubleheaders. The league may be shortened/extended by a week but all league games will be played!\u003c/span>\u003c/p>"},"activityName":"Softball","programType":"LEAGUE"},"League:6449f8732ccc2d28aa4ae888":{"__typename":"League","_id":"6449f8732ccc2d28aa4ae888","name":"Softball (10v10 Coed) - Sunday - Barnum East Park (Barnum) - July 2023","featured_order":null,"schedule":{"__typename":"Schedule","start_date":"2023-07-16T18:00:00.000Z"},"details":{"__typename":"LeagueDetails","description":"\u003cp id=\"isPasted\" style=\"margin-top: 0pt; margin-bottom: 0pt;\">Come spend your Sunday afternoons playing softball close to Downtown at Barnum East Park! \u003c/p>\u003cp style=\"margin-top: 0pt; margin-bottom: 0pt;\">\u003cbr>\u003c/p>\u003cp style=\"margin-top: 0pt; margin-bottom: 0pt;\">\u003cspan style=\"font-size: 14px;\">\u003cstrong>\u003cspan style=\"font-family: Arial;\">Softball (Coed 10v10)\u003c/span>\u003c/strong>\u003c/span>\u003c/p>\u003cp style=\"margin-top: 0pt; margin-bottom: 0pt;\">\u003cspan style=\"font-size: 14px; font-family: Arial; background-color: rgb(255, 255, 255);\">10v10\u003c/span>\u003c/p>\u003cp style=\"margin-top: 0pt; margin-bottom: 0pt;\">\u003cspan style=\"font-size: 14px; font-family: Arial; background-color: rgb(255, 255, 255);\">Minimum for a full team is 15 players \u003cstrong>(\u003c/strong>\u003cspan style='color: rgb(65, 65, 65); font-family: Arial, \"Helvetica Neue\", Helvetica, sans-serif; font-style: normal; font-variant-ligatures: normal; font-variant-caps: normal; font-weight: 400; letter-spacing: normal; orphans: 2; text-align: left; text-indent: 0px; text-transform: none; white-space: normal; widows: 2; word-spacing: 0px; -webkit-text-stroke-width: 0px; background-color: rgb(255, 255, 255); text-decoration-thickness: initial; text-decoration-style: initial; text-decoration-color: initial; float: none; display: inline !important;'>\u003cstrong>Registered Groups who do not meet the minimum roster requirement by the registration deadline\u003c/strong>\u003c/span>\u003cspan style='color: rgb(65, 65, 65); font-family: Arial, \"Helvetica Neue\", Helvetica, sans-serif; font-style: normal; font-variant-ligatures: normal; font-variant-caps: normal; font-weight: 400; letter-spacing: normal; orphans: 2; text-align: left; text-indent: 0px; text-transform: none; white-space: normal; widows: 2; word-spacing: 0px; -webkit-text-stroke-width: 0px; background-color: rgb(255, 255, 255); text-decoration-thickness: initial; text-decoration-style: initial; text-decoration-color: initial; float: none; display: inline !important;'>\u003cstrong> merged with other small groups, or have free agents added to their roster to meet the roster requirement)\u003c/strong>\u003c/span>\u003c/span>\u003c/p>\u003cp style=\"margin-top: 0pt; margin-bottom: 0pt;\">\u003cspan style=\"font-size: 14px; font-family: Arial; background-color: rgb(255, 255, 255);\">10 players maximum in the field (7 men max)\u003c/span>\u003c/p>\u003cp style=\"margin-top: 0pt; margin-bottom: 0pt;\">\u003cspan style=\"font-size: 14px; font-family: Arial; background-color: rgb(255, 255, 255);\">Minimum to start a game is 7 players (5 men max)\u003c/span>\u003c/p>\u003cp style=\"margin-top: 0pt; margin-bottom: 0pt;\">\u003cspan style=\"font-size: 14px; font-family: Arial; background-color: rgb(255, 255, 255);\">Certified Umps provided\u003c/span>\u003c/p>\u003cp style=\"margin-top: 0pt; margin-bottom: 0pt;\">\u003cspan style=\"font-size: 14px; font-family: Arial; background-color: rgb(255, 255, 255);\">Pitch count starts 1-1 \u003c/span>\u003c/p>\u003cp style=\"margin-top: 0pt; margin-bottom: 0pt;\">\u003cspan style=\"font-size: 14px; font-family: Arial; background-color: rgb(255, 255, 255);\">No more than 3 men can bat in a row\u003c/span>\u003c/p>\u003cp style=\"margin-top: 0pt; margin-bottom: 0pt;\">\u003cspan style=\"font-size: 14px; font-family: Arial; background-color: rgb(255, 255, 255);\">Gloves are not provided. Please bring your own.\u003c/span>\u003c/p>\u003cp>\u003cspan style=\"font-size: 14px;\"> \u003c/span>\u003c/p>\u003cp style=\"margin-top: 0pt; margin-bottom: 0pt;\">\u003cspan style=\"font-size: 14px;\">\u003cstrong>\u003cspan style=\"font-family: Arial;\">What you get\u003c/span>\u003c/strong>\u003c/span>\u003c/p>\u003cp style=\"margin-top: 0pt; margin-bottom: 0pt;\">\u003cspan style=\"font-size: 14px; font-family: Arial;\">Premier playing experience, rated best sports league in Denver\u003c/span>\u003c/p>\u003cp style=\"margin-top: 0pt; margin-bottom: 0pt;\">\u003cspan style=\"font-size: 14px; font-family: Arial;\">Player T-Shirt\u003c/span>\u003c/p>\u003cp style=\"margin-top: 0pt; margin-bottom: 0pt;\">\u003cspan style=\"font-size: 14px; font-family: Arial;\">Paid Umpire (at no additional cost to you)\u003c/span>\u003c/p>\u003cp style=\"margin-top: 0pt; margin-bottom: 0pt;\">\u003cspan style=\"font-size: 14px; font-family: Arial;\">Bats and balls (we do not provide gloves, please provide your own)\u003c/span>\u003c/p>\u003cp style=\"margin-top: 0pt; margin-bottom: 0pt;\">\u003cspan style=\"font-size: 14px; font-family: Arial;\">6 regular season games\u003c/span>\u003c/p>\u003cp style=\"margin-top: 0pt; margin-bottom: 0pt;\">\u003cspan style=\"font-size: 14px; font-family: Arial;\">Post game social experience with deals\u003c/span>\u003c/p>\u003cp style=\"margin-top: 12pt; margin-bottom: 12pt;\">\u003cspan style=\"font-size: 14px; font-family: Arial;\">Playoffs: We will accommodate as many teams as possible in the playoffs, but only the TOP 4 teams are guaranteed advancement.\u003c/span>\u003c/p>\u003cp style=\"margin-top: 12pt; margin-bottom: 12pt;\">\u003cspan style=\"font-size: 14px; font-family: Arial;\">Weather Policy: Guaranteed 2 makeup games at the same location but not guaranteed to be played on the same day of the week.\u003c/span>\u003c/p>\u003cp style=\"margin-top: 12pt; margin-bottom: 12pt;\">\u003cspan style=\"font-size: 14px; font-family: Arial;\">Doubleheaders: Teams may have byes or doubleheaders. The league may be shortened/extended by a week but all league games will be played!\u003c/span>\u003c/p>"},"activityName":"Softball","programType":"LEAGUE"},"League:6449f8732ccc2d28aa4ae885":{"__typename":"League","_id":"6449f8732ccc2d28aa4ae885","name":"Softball (10v10 Coed) - Sunday - City of Cuernavaca Park (Lodo) - July 2023","featured_order":null,"schedule":{"__typename":"Schedule","start_date":"2023-07-16T18:00:00.000Z"},"details":{"__typename":"LeagueDetails","description":"\u003cp id=\"isPasted\" style=\"margin-top: 0pt; margin-bottom: 0pt;\">\u003cspan style=\"font-size: 14px;\">There are no Sunday scaries when you're playing softball! Enjoy Denver's beautiful weather and get outside before your work week. Join us at City of Cuernavaca Park for Sunday Funday softball!\u003c/span>\u003c/p>\u003cp>\u003cspan style=\"font-size: 14px;\"> \u003c/span>\u003c/p>\u003cp id=\"isPasted\" style=\"margin-top: 0pt; margin-bottom: 0pt;\">\u003cstrong>\u003cspan style=\"font-size: 10pt; font-family: Arial;\">What you get\u003c/span>\u003c/strong>\u003c/p>\u003cp style=\"margin-top: 0pt; margin-bottom: 0pt;\">\u003cspan style=\"font-size: 10pt; font-family: Arial;\">Premier playing experience, rated best sports league in Denver\u003c/span>\u003c/p>\u003cp style=\"margin-top: 0pt; margin-bottom: 0pt;\">\u003cspan style=\"font-size: 10pt; font-family: Arial;\">- Player T-Shirt\u003c/span>\u003c/p>\u003cp style=\"margin-top: 0pt; margin-bottom: 0pt;\">\u003cspan style=\"font-size: 10pt; font-family: Arial;\">- Paid Umpire (at no additional cost to you)\u003c/span>\u003c/p>\u003cp style=\"margin-top: 0pt; margin-bottom: 0pt;\">\u003cspan style=\"font-size: 10pt; font-family: Arial;\">- Bats and balls (we do not provide gloves, please provide your own)\u003c/span>\u003c/p>\u003cp style=\"margin-top: 0pt; margin-bottom: 0pt;\">\u003cspan style=\"font-size: 10pt; font-family: Arial;\">- 6 regular season games\u003c/span>\u003c/p>\u003cp style=\"margin-top: 0pt; margin-bottom: 0pt;\">\u003cspan style=\"font-size: 10pt; font-family: Arial;\">- Post game social experience with deals\u003c/span>\u003c/p>\u003cp style=\"margin-top: 0pt; margin-bottom: 0pt;\">\u003cspan style=\"font-size: 10pt; font-family: Arial;\">- League plays on a premier field and popular location\u003c/span>\u003c/p>\u003cp>\u003cbr>\u003c/p>\u003cp style=\"margin-top: 0pt; margin-bottom: 0pt;\">\u003cstrong>\u003cspan style=\"font-size: 10pt; font-family: Arial;\">Softball (Coed 10v10)\u003c/span>\u003c/strong>\u003c/p>\u003cp style=\"margin-top: 0pt; margin-bottom: 0pt;\">\u003cspan style=\"font-size: 10pt; font-family: Arial; background-color: #ffffff;\">- 10v10\u003c/span>\u003c/p>\u003cp style=\"margin-top: 0pt; margin-bottom: 0pt;\">\u003cspan style=\"font-size: 10pt; font-family: Arial; background-color: #ffffff;\">- Minimum for a full team is 15 players \u003cspan style=\"color: rgb(65, 65, 65); font-family: sans-serif; font-size: 14px; font-style: normal; font-variant-ligatures: normal; font-variant-caps: normal; font-weight: 400; letter-spacing: normal; orphans: 2; text-align: left; text-indent: 0px; text-transform: none; white-space: normal; widows: 2; word-spacing: 0px; -webkit-text-stroke-width: 0px; background-color: rgb(255, 255, 255); text-decoration-thickness: initial; text-decoration-style: initial; text-decoration-color: initial; display: inline !important; float: none;\">(\u003c/span>\u003cspan style='box-sizing: inherit; background-repeat: no-repeat; background-size: contain; font-family: Arial, \"Helvetica Neue\", Helvetica, sans-serif; color: rgb(65, 65, 65); font-size: 14px; font-style: normal; font-variant-ligatures: normal; font-variant-caps: normal; font-weight: 400; letter-spacing: normal; orphans: 2; text-align: left; text-indent: 0px; text-transform: none; white-space: normal; widows: 2; word-spacing: 0px; -webkit-text-stroke-width: 0px; text-decoration-thickness: initial; text-decoration-style: initial; text-decoration-color: initial; background-color: rgb(255, 255, 255); float: none; display: inline !important;'>Registered Groups who do not meet the minimum roster requirement by the registration deadline\u003c/span>\u003cspan style='box-sizing: inherit; background-repeat: no-repeat; background-size: contain; font-family: Arial, \"Helvetica Neue\", Helvetica, sans-serif; margin-bottom: 0px; color: rgb(65, 65, 65); font-size: 14px; font-style: normal; font-variant-ligatures: normal; font-variant-caps: normal; font-weight: 400; letter-spacing: normal; orphans: 2; text-align: left; text-indent: 0px; text-transform: none; white-space: normal; widows: 2; word-spacing: 0px; -webkit-text-stroke-width: 0px; text-decoration-thickness: initial; text-decoration-style: initial; text-decoration-color: initial; background-color: rgb(255, 255, 255); float: none; display: inline !important;'> may be merged with other small groups or have free agents added to their roster to meet the roster requirement.)\u003c/span>\u003c/span>\u003c/p>\u003cp style=\"margin-top: 0pt; margin-bottom: 0pt;\">\u003cspan style=\"font-size: 10pt; font-family: Arial; background-color: #ffffff;\">- 10 players maximum in the field (7 men max)\u003c/span>\u003c/p>\u003cp style=\"margin-top: 0pt; margin-bottom: 0pt;\">\u003cspan style=\"font-size: 10pt; font-family: Arial; background-color: #ffffff;\">- Minimum to start a game is 6 players (5 men max)\u003c/span>\u003c/p>\u003cp style=\"margin-top: 0pt; margin-bottom: 0pt;\">\u003cspan style=\"font-size: 10pt; font-family: Arial; background-color: #ffffff;\">- Certified Umps provided\u003c/span>\u003c/p>\u003cp style=\"margin-top: 0pt; margin-bottom: 0pt;\">\u003cspan style=\"font-size: 10pt; font-family: Arial; background-color: #ffffff;\">- Pitch count starts 1-1 \u003c/span>\u003c/p>\u003cp style=\"margin-top: 0pt; margin-bottom: 0pt;\">\u003cspan style=\"font-size: 10pt; font-family: Arial; background-color: #ffffff;\">- No more than 3 men can bat in a row\u003c/span>\u003c/p>\u003cp style=\"margin-top: 0pt; margin-bottom: 0pt;\">\u003cspan style=\"font-size: 10pt; font-family: Arial; background-color: #ffffff;\">- Gloves are not provided. Please bring your own.\u003c/span>\u003c/p>\u003cp style=\"margin-top: 0pt; margin-bottom: 0pt;\">\u003cbr>\u003cspan style=\"font-size: 10pt; font-family: Arial; background-color: #ffffff;\">** No alcohol is permitted at this field**\u003c/span>\u003cbr>\u003cbr>\u003cspan style=\"font-size: 10pt; font-family: Arial;\">** Playoffs We will accommodate as many teams as possible in the playoffs, but only the TOP 4 teams are guaranteed advancement.\u003c/span>\u003c/p>\u003cp style=\"margin-top: 12pt; margin-bottom: 12pt;\">\u003cspan style=\"font-size: 10pt; font-family: Arial;\">** Weather Policy Guaranteed 2 makeup games at the same location but not guaranteed to be played on the same day of the week.\u003c/span>\u003c/p>\u003cp style=\"margin-top: 12pt; margin-bottom: 12pt;\">\u003cspan style=\"font-size: 10pt; font-family: Arial;\">** Doubleheaders Teams may have byes or doubleheaders. The league may be shortened/extended by a week but all league games will be played!\u003c/span>\u003c/p>"},"activityName":"Softball","programType":"LEAGUE"},"League:6449f8732ccc2d28aa4ae882":{"__typename":"League","_id":"6449f8732ccc2d28aa4ae882","name":"Softball (Chicago Style) - Sunday - Veterans Park (Wash Park) - July 2023","featured_order":null,"schedule":{"__typename":"Schedule","start_date":"2023-07-16T18:00:00.000Z"},"details":{"__typename":"LeagueDetails","description":"\u003cp id=\"isPasted\" style=\"margin-top: 0pt; margin-bottom: 0pt;\">Softball, Sundays, Veterans, Friends, there couldn't be better combination! What's better then finishing your weekend off in Wash Park?\u003c/p>\u003cp style=\"margin-top: 0pt; margin-bottom: 0pt;\">\u003cbr>\u003c/p>\u003cp id=\"isPasted\" style=\"margin-top: 0pt; margin-bottom: 0pt;\">\u003cspan style=\"color: #000000;\">\u003cstrong>\u003cspan style=\"font-size: 10pt; font-family: Arial;\">Chicago Softball (Coed 10v10)\u003c/span>\u003c/strong>\u003c/span>\u003c/p>\u003cp style=\"margin-top: 0pt; margin-bottom: 0pt;\">\u003cspan style=\"font-size: 10pt; font-family: Arial; background-color: #ffffff; color: #000000;\">10v10\u003c/span>\u003c/p>\u003cp style=\"margin-top: 0pt; margin-bottom: 0pt;\">\u003cspan style=\"font-size: 10pt; font-family: Arial; background-color: #ffffff; color: #000000;\">Minimum for a full team is 15 players\u003c/span>\u003c/p>\u003cp style=\"margin-top: 0pt; margin-bottom: 0pt;\">\u003cspan style=\"font-size: 10pt; font-family: Arial; background-color: #ffffff; color: #000000;\">10 players maximum in the field (7 men max)\u003c/span>\u003c/p>\u003cp style=\"margin-top: 0pt; margin-bottom: 0pt;\">\u003cspan style=\"font-size: 10pt; font-family: 'Open Sans', sans-serif; background-color: #ffffff; color: #000000;\">Minimum to start a game is 6 players (5 men max), 1 woman minimum\u003c/span>\u003c/p>\u003cp style=\"margin-top: 0pt; margin-bottom: 0pt;\">\u003cspan style=\"font-size: 10pt; font-family: Arial; background-color: #ffffff; color: #000000;\">Certified Umps provided\u003c/span>\u003c/p>\u003cp style=\"margin-top: 0pt; margin-bottom: 0pt;\">\u003cspan style=\"font-size: 10pt; font-family: Arial; background-color: #ffffff; color: #000000;\">Pitch count starts 1-1 \u003c/span>\u003c/p>\u003cp style=\"margin-top: 0pt; margin-bottom: 0pt;\">\u003cspan style=\"font-size: 10pt; font-family: Arial; background-color: #ffffff; color: #000000;\">No more than 3 men can bat in a row\u003c/span>\u003c/p>\u003cp style=\"margin-top: 0pt; margin-bottom: 0pt;\">\u003cspan style=\"font-size: 10pt; font-family: Arial; background-color: #ffffff; color: #000000;\">\u003cu>\u003cstrong>Played with 16" softball\u003c/strong>\u003c/u>\u003c/span>\u003c/p>\u003cp style=\"margin-top: 0pt; margin-bottom: 0pt;\">\u003cspan style=\"font-size: 10pt; font-family: Arial; background-color: #ffffff; color: #000000;\">Gloves are optional in this league. If you want a glove please bring your own.\u003c/span>\u003c/p>\u003cp style=\"margin-top: 0pt; margin-bottom: 0pt;\">\u003cspan style=\"font-size: 10pt; font-family: Arial; background-color: #ffffff; color: #000000;\">\u003cstrong>Wood bats are required for this league.\u003c/strong>\u003c/span>\u003c/p>\u003cp style=\"margin-top: 0pt; margin-bottom: 0pt;\">\u003cspan style=\"font-size: 10pt; font-family: Arial; background-color: #ffffff; color: #000000;\">** No alcohol is permitted at this field**\u003c/span>\u003c/p>\u003cp style=\"margin-top: 0pt; margin-bottom: 0pt;\"> \u003c/p>\u003cp style=\"margin-top: 0pt; margin-bottom: 0pt;\">\u003cspan style=\"color: #000000;\">\u003cstrong>\u003cspan style=\"font-size: 10pt; font-family: Arial;\">What you get\u003c/span>\u003c/strong>\u003c/span>\u003c/p>\u003cp style=\"margin-top: 0pt; margin-bottom: 0pt;\">\u003cspan style=\"font-size: 10pt; font-family: Arial; color: #000000;\">Premier playing experience, rated best sports league in Denver\u003c/span>\u003c/p>\u003cp style=\"margin-top: 0pt; margin-bottom: 0pt;\">\u003cspan style=\"font-size: 10pt; font-family: Arial; color: #000000;\">Player T-Shirt\u003c/span>\u003c/p>\u003cp style=\"margin-top: 0pt; margin-bottom: 0pt;\">\u003cspan style=\"font-size: 10pt; font-family: Arial; color: #000000;\">Paid Umpire (at no additional cost to you)\u003c/span>\u003c/p>\u003cp style=\"margin-top: 0pt; margin-bottom: 0pt;\">\u003cspan style=\"font-size: 10pt; font-family: Arial; color: #000000;\">Bats and balls (we do not provide gloves, please provide your own)\u003c/span>\u003c/p>\u003cp style=\"margin-top: 0pt; margin-bottom: 0pt;\">\u003cspan style=\"font-size: 10pt; font-family: Arial; color: #000000;\">6 regular season games\u003c/span>\u003c/p>\u003cp style=\"margin-top: 0pt; margin-bottom: 0pt;\">\u003cspan style=\"font-size: 10pt; font-family: Arial; color: #000000;\">End of season player party\u003c/span>\u003c/p>\u003cp style=\"margin-top: 0pt; margin-bottom: 0pt;\">\u003cspan style=\"font-size: 10pt; font-family: Arial; color: #000000;\">Post game social experience with deals\u003c/span>\u003c/p>\u003cp style=\"margin-top: 12pt; margin-bottom: 12pt;\">\u003cspan style=\"font-size: 10pt; font-family: Arial; color: #000000;\">Playoffs We will accommodate as many teams as possible in the playoffs, but only the TOP 4 teams are guaranteed advancement.\u003c/span>\u003c/p>\u003cp style=\"margin-top: 12pt; margin-bottom: 12pt;\">\u003cspan style=\"font-size: 10pt; font-family: Arial; color: #000000;\"> Weather Policy Guaranteed 2 makeup games at the same location but not guaranteed to be played on the same day of the week.\u003c/span>\u003c/p>\u003cp style=\"margin-top: 12pt; margin-bottom: 12pt;\">\u003cspan style=\"font-size: 10pt; font-family: Arial; color: #000000;\">Doubleheaders Teams may have byes or doubleheaders. The league may be shortened/extended by a week but all league games will be played!\u003c/span>\u003c/p>"},"activityName":"Softball","programType":"LEAGUE"},"League:6449f8732ccc2d28aa4ae87d":{"__typename":"League","_id":"6449f8732ccc2d28aa4ae87d","name":"Softball (10v10 Coed Ages 35+) - Monday - Spencer Field (Englewood) - July 2023","featured_order":null,"schedule":{"__typename":"Schedule","start_date":"2023-07-17T18:00:00.000Z"},"details":{"__typename":"LeagueDetails","description":"\u003cp>Make Mondays the favorite night of your week by playing softball with your crew! This league tailored to be 35+ so you are more likely to meet future friends and create a lasting social community. Get on the game and get social this July!\u003c/p>\u003cp id=\"isPasted\"> \u003c/p>\u003cp>\u003cstrong>What you get\u003c/strong>\u003c/p>\u003cp>Premier playing experience, rated best sports league in Denver\u003c/p>\u003cp>Player T-Shirt\u003c/p>\u003cp>Paid Umpire (at no additional cost to you)\u003c/p>\u003cp>Bats and balls (we do not provide gloves, please provide your own)\u003c/p>\u003cp>6 regular season games\u003c/p>\u003cp>Post game social experience with deals\u003c/p>\u003cp>\u003cbr>\u003c/p>\u003cp id=\"isPasted\">\u003cstrong>Softball (Coed 10v10)\u003c/strong>\u003c/p>\u003cp>10v10\u003c/p>\u003cp>Minimum for a full team is 15 players \u003cstrong>(Registered Groups who do not meet the minimum roster requirement by the registration deadline merged with other small groups, or have free agents added to their roster to meet the roster requirement)\u003c/strong>\u003c/p>\u003cp>10 players maximum in the field (7 men max)\u003c/p>\u003cp>Minimum to start a game is 7 players (5 men max)\u003c/p>\u003cp>Certified Umps provided\u003c/p>\u003cp>Pitch count starts 1-1 \u003c/p>\u003cp>No more than 3 men can bat in a row\u003c/p>\u003cp>Gloves are not provided. Please bring your own.\u003c/p>\u003cp>\u003cbr>\u003c/p>\u003cp>\u003cstrong>Playoffs: \u003c/strong>We will accommodate as many teams as possible in the playoffs, but only the TOP 4 teams are guaranteed advancement.\u003c/p>\u003cp>\u003cstrong>Weather Policy:\u003c/strong> Guaranteed 2 makeup games at the same location but not guaranteed to be played on the same day of the week.\u003c/p>\u003cp>\u003cstrong>Doubleheaders: \u003c/strong>Teams may have byes or doubleheaders. The league may be shortened/extended by a week but all league games will be played!\u003c/p>\u003cp> \u003c/p>"},"activityName":"Softball","programType":"LEAGUE"},"League:6449f8732ccc2d28aa4ae870":{"__typename":"League","_id":"6449f8732ccc2d28aa4ae870","name":"Softball (10v10 Coed) - Thursday - Citizens Park (Sloan's Lake) - July 2023","featured_order":null,"schedule":{"__typename":"Schedule","start_date":"2023-07-20T18:00:00.000Z"},"details":{"__typename":"LeagueDetails","description":"\u003cp id=\"isPasted\">Looking for a fun and exciting way to spend your Thursday night? Join us for softball at one of the most sought-after venues in town, under the lights!\u003c/p>\u003cp>\u003cbr>\u003c/p>\u003cp>Our Thursday night softball games offer a great opportunity to get outside, get some exercise, and have some fun with friends and teammates.\u003c/p>\u003cp id=\"isPasted\">\u003cstrong>Softball (Coed 10v10)\u003c/strong>\u003c/p>\u003cp>10v10\u003c/p>\u003cp>Minimum for a full team is 15 players \u003cstrong>(Registered Groups who do not meet the minimum roster requirement by the registration deadline merged with other small groups, or have free agents added to their roster to meet the roster requirement)\u003c/strong>\u003c/p>\u003cp>10 players maximum in the field (7 men max)\u003c/p>\u003cp>Minimum to start a game is 7 players (5 men max)\u003c/p>\u003cp>Certified Umps provided\u003c/p>\u003cp>Pitch count starts 1-1 \u003c/p>\u003cp>No more than 3 men can bat in a row\u003c/p>\u003cp>Gloves are not provided. Please bring your own.\u003c/p>\u003cp> \u003c/p>\u003cp>\u003cstrong>What you get\u003c/strong>\u003c/p>\u003cp>Premier playing experience, rated best sports league in Denver\u003c/p>\u003cp>Player T-Shirt\u003c/p>\u003cp>Paid Umpire (at no additional cost to you)\u003c/p>\u003cp>Bats and balls (we do not provide gloves, please provide your own)\u003c/p>\u003cp>6 regular season games\u003c/p>\u003cp>Post game social experience with deals\u003c/p>\u003cp>Playoffs: We will accommodate as many teams as possible in the playoffs, but only the TOP 4 teams are guaranteed advancement.\u003c/p>\u003cp>Weather Policy: Guaranteed 2 makeup games at the same location but not guaranteed to be played on the same day of the week.\u003c/p>\u003cp>Doubleheaders: Teams may have byes or doubleheaders. The league may be shortened/extended by a week but all league games will be played!\u003c/p>\u003cp>\u003cbr>\u003c/p>"},"activityName":"Softball","programType":"LEAGUE"},"League:64483eb4ffd4a91b46618bbc":{"__typename":"League","_id":"64483eb4ffd4a91b46618bbc","name":"Softball (10v10 Coed) - Monday, Wednesday - Magazine Beach (Cambridge) - July 2023","featured_order":null,"schedule":{"__typename":"Schedule","start_date":"2023-07-17T16:00:00.000Z"},"details":{"__typename":"LeagueDetails","description":"\u003cp id=\"isPasted\" style='box-sizing: inherit; background-repeat: no-repeat; background-size: contain; color: rgb(76, 76, 76); text-rendering: optimizelegibility; font-family: Arial, \"Helvetica Neue\", Helvetica, sans-serif; align-items: center; font-size: 0.8rem; margin: 0.5rem auto auto; overflow: inherit; font-style: normal; font-variant-ligatures: normal; font-variant-caps: normal; font-weight: 400; letter-spacing: normal; orphans: 2; text-indent: 0px; text-transform: none; white-space: pre-wrap; widows: 2; word-spacing: 0px; -webkit-text-stroke-width: 0px; text-decoration-thickness: initial; text-decoration-style: initial; text-decoration-color: initial; padding: 0px; margin-block: 0px; margin-inline: 0px; padding-block: 0px; padding-inline: 0px; text-align: center; background-color: rgb(255, 255, 255);'>\u003cspan style=\"box-sizing: inherit; background-repeat: no-repeat; background-size: contain; font-family: Tahoma, Geneva, sans-serif; margin-bottom: 0px; font-size: 12px; color: rgb(0, 0, 0);\">\u003cstrong style=\"box-sizing: inherit; background-repeat: no-repeat; background-size: contain; font-weight: 600; margin-bottom: 0px;\">Nothing better than weekday softball at Magazine Beach! \u003c/strong>\u003c/span>\u003c/p>\u003cp style='box-sizing: inherit; background-repeat: no-repeat; background-size: contain; color: rgb(76, 76, 76); text-rendering: optimizelegibility; font-family: Arial, \"Helvetica Neue\", Helvetica, sans-serif; align-items: center; font-size: 0.8rem; margin: 0.5rem auto auto; overflow: inherit; font-style: normal; font-variant-ligatures: normal; font-variant-caps: normal; font-weight: 400; letter-spacing: normal; orphans: 2; text-indent: 0px; text-transform: none; white-space: pre-wrap; widows: 2; word-spacing: 0px; -webkit-text-stroke-width: 0px; text-decoration-thickness: initial; text-decoration-style: initial; text-decoration-color: initial; padding: 0px; margin-block: 0px; margin-inline: 0px; padding-block: 0px; padding-inline: 0px; text-align: center; background-color: rgb(255, 255, 255);'>\u003cspan style=\"box-sizing: inherit; background-repeat: no-repeat; background-size: contain; font-family: Tahoma, Geneva, sans-serif; margin-bottom: 0px; font-size: 12px; color: rgb(0, 0, 0);\">\u003cstrong style=\"box-sizing: inherit; background-repeat: no-repeat; background-size: contain; font-weight: 600; margin-bottom: 0px;\">Located \u003c/strong>\u003c/span>\u003cspan style=\"box-sizing: inherit; background-repeat: no-repeat; background-size: contain; font-family: Tahoma, Geneva, sans-serif; margin-bottom: 0px; font-size: 12px; color: rgb(0, 0, 0);\">\u003cstrong style=\"box-sizing: inherit; background-repeat: no-repeat; background-size: contain; font-weight: 600; margin-bottom: 0px;\">right on the Charles River!\u003c/strong>\u003c/span>\u003c/p>\u003cp style='box-sizing: inherit; background-repeat: no-repeat; background-size: contain; color: rgb(76, 76, 76); text-rendering: optimizelegibility; font-family: Arial, \"Helvetica Neue\", Helvetica, sans-serif; padding: 0px; margin-block: 0px; margin-inline: 0px; padding-block: 0px; padding-inline: 0px; align-items: center; font-size: 14px; margin: 0.5rem auto auto; overflow: hidden; font-style: normal; font-variant-ligatures: normal; font-variant-caps: normal; font-weight: 400; letter-spacing: normal; orphans: 2; text-indent: 0px; text-transform: none; white-space: pre-wrap; widows: 2; word-spacing: 0px; -webkit-text-stroke-width: 0px; background-color: rgb(255, 255, 255); text-decoration-thickness: initial; text-decoration-style: initial; text-decoration-color: initial; text-align: center;'>\u003cspan style=\"box-sizing: inherit; background-repeat: no-repeat; background-size: contain; font-family: Tahoma, Geneva, sans-serif; font-size: 12px; color: rgb(0, 0, 0);\">\u003cu style=\"box-sizing: inherit; background-repeat: no-repeat; background-size: contain;\">\u003cstrong style=\"box-sizing: inherit; background-repeat: no-repeat; background-size: contain; font-weight: 600; margin-bottom: 0px;\">Sponsor Bars\u003c/strong>\u003c/u>\u003cstrong style=\"box-sizing: inherit; background-repeat: no-repeat; background-size: contain; font-weight: 600; margin-bottom: 0px;\">: \u003c/strong>\u003cstrong style=\"box-sizing: inherit; background-repeat: no-repeat; background-size: contain; font-weight: 600; margin-bottom: 0px;\">TBD\u003c/strong>\u003c/span>\u003c/p>\u003cp style='box-sizing: inherit; background-repeat: no-repeat; background-size: contain; color: rgb(76, 76, 76); text-rendering: optimizelegibility; font-family: Arial, \"Helvetica Neue\", Helvetica, sans-serif; padding: 0px; margin-block: 0px; margin-inline: 0px; padding-block: 0px; padding-inline: 0px; align-items: center; font-size: 14px; margin: 0.5rem auto auto; overflow: hidden; font-style: normal; font-variant-ligatures: normal; font-variant-caps: normal; font-weight: 400; letter-spacing: normal; orphans: 2; text-indent: 0px; text-transform: none; white-space: pre-wrap; widows: 2; word-spacing: 0px; -webkit-text-stroke-width: 0px; background-color: rgb(255, 255, 255); text-decoration-thickness: initial; text-decoration-style: initial; text-decoration-color: initial; text-align: center;'>\u003cspan style=\"box-sizing: inherit; background-repeat: no-repeat; background-size: contain; font-family: Tahoma, Geneva, sans-serif; font-size: 12px; color: rgb(0, 0, 0);\">\u003cstrong style=\"box-sizing: inherit; background-repeat: no-repeat; background-size: contain; font-weight: 600; margin-bottom: 0px;\">\u003cu style=\"box-sizing: inherit; background-repeat: no-repeat; background-size: contain; margin-bottom: 0px;\">Player Deals\u003c/u>: \u003c/strong>\u003cstrong style=\"box-sizing: inherit; background-repeat: no-repeat; background-size: contain; font-weight: 600;\">TBD\u003c/strong>\u003c/span>\u003c/p>\u003cp style='box-sizing: inherit; background-repeat: no-repeat; background-size: contain; color: rgb(76, 76, 76); text-rendering: optimizelegibility; font-family: Arial, \"Helvetica Neue\", Helvetica, sans-serif; padding: 0px; margin-block: 0px; margin-inline: 0px; padding-block: 0px; padding-inline: 0px; align-items: center; font-size: 14px; margin: 0.5rem auto auto; overflow: hidden; font-style: normal; font-variant-ligatures: normal; font-variant-caps: normal; font-weight: 400; letter-spacing: normal; orphans: 2; text-indent: 0px; text-transform: none; white-space: pre-wrap; widows: 2; word-spacing: 0px; -webkit-text-stroke-width: 0px; background-color: rgb(255, 255, 255); text-decoration-thickness: initial; text-decoration-style: initial; text-decoration-color: initial; text-align: center;'>\u003cbr>\u003c/p>\u003cp style='box-sizing: inherit; background-repeat: no-repeat; background-size: contain; color: rgb(76, 76, 76); text-rendering: optimizelegibility; font-family: Arial, \"Helvetica Neue\", Helvetica, sans-serif; align-items: center; font-size: 0.8rem; margin: 0.5rem auto auto; overflow: inherit; font-style: normal; font-variant-ligatures: normal; font-variant-caps: normal; font-weight: 400; letter-spacing: normal; orphans: 2; text-indent: 0px; text-transform: none; white-space: pre-wrap; widows: 2; word-spacing: 0px; -webkit-text-stroke-width: 0px; text-decoration-thickness: initial; text-decoration-style: initial; text-decoration-color: initial; padding: 0px; margin-block: 0px; margin-inline: 0px; padding-block: 0px; padding-inline: 0px; text-align: center; background-color: rgb(255, 255, 255);'>\u003cspan style=\"box-sizing: inherit; background-repeat: no-repeat; background-size: contain; font-family: Tahoma, Geneva, sans-serif; margin-bottom: 0px; font-size: 12px; color: rgb(0, 0, 0);\">\u003cu style=\"box-sizing: inherit; background-repeat: no-repeat; background-size: contain; margin-bottom: 0px;\">\u003cstrong style=\"box-sizing: inherit; background-repeat: no-repeat; background-size: contain; font-weight: 600; margin-bottom: 0px;\">10v10 Coed Softball - Wood bat w/ *clincher ball*\u003c/strong>\u003c/u>\u003c/span>\u003c/p>\u003cp style='box-sizing: inherit; background-repeat: no-repeat; background-size: contain; color: rgb(76, 76, 76); text-rendering: optimizelegibility; font-family: Arial, \"Helvetica Neue\", Helvetica, sans-serif; align-items: center; font-size: 0.8rem; margin: 0.5rem auto auto; overflow: inherit; font-style: normal; font-variant-ligatures: normal; font-variant-caps: normal; font-weight: 400; letter-spacing: normal; orphans: 2; text-indent: 0px; text-transform: none; white-space: pre-wrap; widows: 2; word-spacing: 0px; -webkit-text-stroke-width: 0px; text-decoration-thickness: initial; text-decoration-style: initial; text-decoration-color: initial; padding: 0px; margin-block: 0px; margin-inline: 0px; padding-block: 0px; padding-inline: 0px; text-align: center; background-color: rgb(255, 255, 255);'>\u003cspan style=\"box-sizing: inherit; background-repeat: no-repeat; background-size: contain; font-family: Tahoma, Geneva, sans-serif; font-size: 12px; color: rgb(0, 0, 0);\">Minimum for a full team is 14 or more players- minimum of 4 rostered men/women.\u003c/span>\u003cspan style=\"box-sizing: inherit; background-repeat: no-repeat; background-size: contain; font-family: Tahoma, Geneva, sans-serif; margin-bottom: 0px; font-size: 12px; color: rgb(0, 0, 0);\"> \u003c/span>\u003c/p>\u003cp style='box-sizing: inherit; background-repeat: no-repeat; background-size: contain; color: rgb(76, 76, 76); text-rendering: optimizelegibility; font-family: Arial, \"Helvetica Neue\", Helvetica, sans-serif; align-items: center; font-size: 0.8rem; margin: 0.5rem auto auto; overflow: inherit; font-style: normal; font-variant-ligatures: normal; font-variant-caps: normal; font-weight: 400; letter-spacing: normal; orphans: 2; text-indent: 0px; text-transform: none; white-space: pre-wrap; widows: 2; word-spacing: 0px; -webkit-text-stroke-width: 0px; text-decoration-thickness: initial; text-decoration-style: initial; text-decoration-color: initial; padding: 0px; margin-block: 0px; margin-inline: 0px; padding-block: 0px; padding-inline: 0px; text-align: center; background-color: rgb(255, 255, 255);'>\u003cspan style=\"box-sizing: inherit; background-repeat: no-repeat; background-size: contain; font-family: Tahoma, Geneva, sans-serif; margin-bottom: 0px; font-size: 12px; color: rgb(0, 0, 0);\">7 players for an official game- at least 1 man/woman\u003c/span>\u003c/p>\u003cp style='box-sizing: inherit; background-repeat: no-repeat; background-size: contain; color: rgb(76, 76, 76); text-rendering: optimizelegibility; font-family: Arial, \"Helvetica Neue\", Helvetica, sans-serif; align-items: center; font-size: 0.8rem; margin: 0.5rem auto auto; overflow: inherit; font-style: normal; font-variant-ligatures: normal; font-variant-caps: normal; font-weight: 400; letter-spacing: normal; orphans: 2; text-indent: 0px; text-transform: none; white-space: pre-wrap; widows: 2; word-spacing: 0px; -webkit-text-stroke-width: 0px; text-decoration-thickness: initial; text-decoration-style: initial; text-decoration-color: initial; padding: 0px; margin-block: 0px; margin-inline: 0px; padding-block: 0px; padding-inline: 0px; text-align: center; background-color: rgb(255, 255, 255);'>\u003cspan style=\"box-sizing: inherit; background-repeat: no-repeat; background-size: contain; font-family: Tahoma, Geneva, sans-serif; margin-bottom: 0px; font-size: 12px; color: rgb(0, 0, 0);\">10 players on field- minimum of 3 men/women \u003c/span>\u003c/p>\u003cp style='box-sizing: inherit; background-repeat: no-repeat; background-size: contain; color: rgb(76, 76, 76); text-rendering: optimizelegibility; font-family: Arial, \"Helvetica Neue\", Helvetica, sans-serif; align-items: center; font-size: 0.8rem; margin: 0.5rem auto auto; overflow: inherit; font-style: normal; font-variant-ligatures: normal; font-variant-caps: normal; font-weight: 400; letter-spacing: normal; orphans: 2; text-indent: 0px; text-transform: none; white-space: pre-wrap; widows: 2; word-spacing: 0px; -webkit-text-stroke-width: 0px; text-decoration-thickness: initial; text-decoration-style: initial; text-decoration-color: initial; padding: 0px; margin-block: 0px; margin-inline: 0px; padding-block: 0px; padding-inline: 0px; text-align: center; background-color: rgb(255, 255, 255);'>\u003cspan style=\"box-sizing: inherit; background-repeat: no-repeat; background-size: contain; font-family: Tahoma, Geneva, sans-serif; margin-bottom: 0px; font-size: 12px; color: rgb(0, 0, 0);\">Gloves are not provided. Please bring your own. Both wood & metal bats are provided.\u003c/span>\u003c/p>\u003cp style='box-sizing: inherit; background-repeat: no-repeat; background-size: contain; color: rgb(76, 76, 76); text-rendering: optimizelegibility; font-family: Arial, \"Helvetica Neue\", Helvetica, sans-serif; align-items: center; font-size: 0.8rem; margin: 0.5rem auto auto; overflow: inherit; font-style: normal; font-variant-ligatures: normal; font-variant-caps: normal; font-weight: 400; letter-spacing: normal; orphans: 2; text-indent: 0px; text-transform: none; white-space: pre-wrap; widows: 2; word-spacing: 0px; -webkit-text-stroke-width: 0px; text-decoration-thickness: initial; text-decoration-style: initial; text-decoration-color: initial; padding: 0px; margin-block: 0px; margin-inline: 0px; padding-block: 0px; padding-inline: 0px; text-align: center; background-color: rgb(255, 255, 255);'>\u003cspan style=\"box-sizing: inherit; background-repeat: no-repeat; background-size: contain; font-family: Tahoma, Geneva, sans-serif; margin-bottom: 0px; font-size: 12px; color: rgb(0, 0, 0);\">*Depending on the number of teams it's possible for teams to have byes/ doubleheaders. It's also possible that the league is shortened or extended by a week. All teams are guaranteed 6 scheduled regular-season games. \u003c/span>\u003c/p>\u003cp style='box-sizing: inherit; background-repeat: no-repeat; background-size: contain; color: rgb(76, 76, 76); text-rendering: optimizelegibility; font-family: Arial, \"Helvetica Neue\", Helvetica, sans-serif; align-items: center; font-size: 0.8rem; margin: 0.5rem auto auto; overflow: inherit; font-style: normal; font-variant-ligatures: normal; font-variant-caps: normal; font-weight: 400; letter-spacing: normal; orphans: 2; text-indent: 0px; text-transform: none; white-space: pre-wrap; widows: 2; word-spacing: 0px; -webkit-text-stroke-width: 0px; text-decoration-thickness: initial; text-decoration-style: initial; text-decoration-color: initial; padding: 0px; margin-block: 0px; margin-inline: 0px; padding-block: 0px; padding-inline: 0px; text-align: center; background-color: rgb(255, 255, 255);'>\u003cspan style=\"box-sizing: inherit; background-repeat: no-repeat; background-size: contain; font-family: Tahoma, Geneva, sans-serif; margin-bottom: 0px; font-size: 12px; color: rgb(0, 0, 0);\">*A clincher ball is the same size as a regular softball. It has a softer core so the games don't become home run derby.*\u003c/span>\u003c/p>"},"activityName":"Softball","programType":"LEAGUE"},"League:6446d926d9d5ad1b572ec3b2":{"__typename":"League","_id":"6446d926d9d5ad1b572ec3b2","name":"Softball (10v10 Coed) - Thursday - National Mall - West Potomac - July 2023","featured_order":null,"schedule":{"__typename":"Schedule","start_date":"2023-07-20T16:00:00.000Z"},"details":{"__typename":"LeagueDetails","description":"\u003cp id=\"isPasted\">Nothing says Summer in DC like Softball on the National Mall! Play your games next on West Potomac Fields then head over to our sponsor bar Astro Beer Hall for some post-game activities!\u003c/p>\u003cp>\u003cbr>\u003cstrong>League Overview\u003c/strong>:\u003cbr>-WOOD BAT ONLY: Wood bats provided. You may use your own FULLY wood bat if it is ASA, NSA, or USSA approved. Bats that are composite or not fully wood (i.e. Corndogs) are not permitted.\u003cbr>-10 players (7 men max) permitted in the field\u003cbr>-Games last 6 innings or 50 min, whichever comes first\u003cbr>-Minimum 6 players to start a game, including at least 1 woman \u003cbr>-5 run max per inning (except for the last inning)\u003cbr>\u003cspan style=\"font-size:10.5pt;font-family:Arial;color:#414141;background-color:#ffffff;font-weight:400;font-style:italic;font-variant:normal;text-decoration:none;vertical-align:baseline;white-space:pre;white-space:pre-wrap;\">Note: The National Park Service asks for cleats not to be worn. Players may be asked to change into non-cleated shoes on-site\u003c/span>\u003cbr>\u003cbr>\u003c/p>\u003cp>\u003cstrong>PLAYOFFS:\u003c/strong>\u003c/p>\u003cp>We will accommodate as many teams as possible in the playoffs, but only the TOP 4 teams are guaranteed.\u003cbr>\u003cbr>\u003c/p>\u003cp>\u003cstrong>RAIN OUTS:\u003c/strong>\u003c/p>\u003cp>Guaranteed 2 makeup games. Location and day may vary.\u003c/p>\u003cp>\u003cbr>\u003c/p>\u003cp>\u003cstrong>FIELD LOCATIONS:\u003c/strong>\u003c/p>\u003cp>The National Mall is \u003cu>big,\u003c/u> and availability varies based on what is happening in the city. Exact field locations may be subject to change, and we cannot guarantee you will be on the same plot week-to-week.\u003c/p>"},"activityName":"Softball","programType":"LEAGUE"},"League:6446d781a117c1e578887e05":{"__typename":"League","_id":"6446d781a117c1e578887e05","name":"Softball (10v10 Coed) - Wednesday - National Mall - West Potomac - July 2023","featured_order":null,"schedule":{"__typename":"Schedule","start_date":"2023-07-19T16:00:00.000Z"},"details":{"__typename":"LeagueDetails","description":"\u003cp id=\"isPasted\">Nothing says Summer in DC like Softball on the National Mall! Play your games next to the Washington Monument then head over to our sponsor bar Astro Beer Hall for some post-game activities!\u003c/p>\u003cp>\u003cbr>\u003cstrong>League Overview\u003c/strong>:\u003cbr>-WOOD BAT ONLY: Wood bats provided. You may use your own FULLY wood bat if it is ASA, NSA, or USSA approved. Bats that are composite or not fully wood (i.e. Corndogs) are not permitted.\u003cbr>-10 players (7 men max) permitted in the field\u003cbr>-Games last 6 innings or 50 min, whichever comes first\u003cbr>-Minimum 6 players to start a game, including at least 1 woman \u003cbr>-5 run max per inning (except for the last inning)\u003cbr>\u003cspan style=\"font-size:10.5pt;font-family:Arial;color:#414141;background-color:#ffffff;font-weight:400;font-style:italic;font-variant:normal;text-decoration:none;vertical-align:baseline;white-space:pre;white-space:pre-wrap;\">Note: The National Park Service asks for cleats not to be worn. Players may be asked to change into non-cleated shoes on-site\u003c/span>\u003cbr>\u003cbr>\u003c/p>\u003cp>\u003cstrong>PLAYOFFS:\u003c/strong>\u003c/p>\u003cp>We will accommodate as many teams as possible in the playoffs, but only the TOP 4 teams are guaranteed.\u003cbr>\u003cbr>\u003c/p>\u003cp>\u003cstrong>RAIN OUTS:\u003c/strong>\u003c/p>\u003cp>Guaranteed 2 makeup games. Location and day may vary.\u003c/p>\u003cp>\u003cbr>\u003c/p>\u003cp>\u003cstrong>FIELD LOCATIONS:\u003c/strong>\u003c/p>\u003cp>The National Mall is \u003cu>big,\u003c/u> and availability varies based on what is happening in the city. Exact field locations may be subject to change, and we cannot guarantee you will be on the same plot week-to-week.\u003c/p>"},"activityName":"Softball","programType":"LEAGUE"},"League:6446d610a117c1e5788792d6":{"__typename":"League","_id":"6446d610a117c1e5788792d6","name":"Softball (10v10 Coed) - Tuesday - National Mall - West Potomac - July 2023","featured_order":null,"schedule":{"__typename":"Schedule","start_date":"2023-07-18T16:00:00.000Z"},"details":{"__typename":"LeagueDetails","description":"\u003cp id=\"isPasted\">Nothing says Summer in DC like Softball on the National Mall! Come hit some dingers with your friends and then head on over to Astro Beer Hall for post-game activities! \u003c/p>\u003cp>\u003cbr>\u003cstrong>League Overview\u003c/strong>:\u003cbr>-WOOD BAT ONLY: Wood bats provided. You may use your own FULLY wood bat if it is ASA, NSA, or USSA approved. Bats that are composite or not fully wood (i.e. Corndogs) are not permitted.\u003cbr>-10 players (7 men max) permitted in the field\u003cbr>-Games last 6 innings or 50 min, whichever comes first\u003cbr>-Minimum 6 players to start a game, including at least 1 woman \u003cbr>-5 run max per inning (except for the last inning)\u003cbr>\u003cspan style=\"font-size:10.5pt;font-family:Arial;color:#414141;background-color:#ffffff;font-weight:400;font-style:italic;font-variant:normal;text-decoration:none;vertical-align:baseline;white-space:pre;white-space:pre-wrap;\">Note: The National Park Service asks for cleats not to be worn. Players may be asked to change into non-cleated shoes on-site\u003c/span>\u003cbr>\u003cbr>\u003c/p>\u003cp>\u003cstrong>PLAYOFFS:\u003c/strong>\u003c/p>\u003cp>We will accommodate as many teams as possible in the playoffs, but only the TOP 4 teams are guaranteed.\u003cbr>\u003cbr>\u003c/p>\u003cp>\u003cstrong>RAIN OUTS:\u003c/strong>\u003c/p>\u003cp>Guaranteed 2 makeup games. Location and day may vary.\u003c/p>\u003cp>\u003cbr>\u003c/p>\u003cp>\u003cstrong>FIELD LOCATIONS:\u003c/strong>\u003c/p>\u003cp>The National Mall is \u003cu>big,\u003c/u> and availability varies based on what is happening in the city. Exact field locations may be subject to change, and we cannot guarantee you will be on the same plot week-to-week.\u003c/p>"},"activityName":"Softball","programType":"LEAGUE"},"League:6442c63be9cbacf5a14d0634":{"__typename":"League","_id":"6442c63be9cbacf5a14d0634","name":"Softball (10v10 Coed) - Sunday - Central Park of Morris County (Morristown) - June 2023","featured_order":null,"schedule":{"__typename":"Schedule","start_date":"2023-06-18T16:00:00.000Z"},"details":{"__typename":"LeagueDetails","description":"\u003cp>Turn your weekend into a Homerun on our beautiful natural fields every Sunday 10v10 Coed Softball at Central Park of Morris County!\u003c/p>\u003cp>\u003cbr>\u003c/p>\u003cp>10 players maximum in the field (7 men max) Minimum to start a game is 6 players (1 woman min) \u003c/p>\u003cp>Certified Umps provided\u003c/p>\u003cp>Men- Pitch count starts 1-1.\u003c/p>\u003cp>No more than 3 men can bat in a row \u003c/p>\u003cp>Gloves are not provided. Please bring your own. \u003c/p>\u003cp>Min team size is 15 players.\u003c/p>\u003cp>Weather We will do our best to play rain or shine! \u003c/p>\u003cp>Any makeup games will be played at the same location, but not guaranteed to be played on the same day of the week. More than two rainouts will result in a shortened season.\u003c/p>"},"activityName":"Softball","programType":"LEAGUE"},"League:6442c3464ec01e3e1ca174dd":{"__typename":"League","_id":"6442c3464ec01e3e1ca174dd","name":"Softball (10v10 Coed) - Saturday - Central Park of Morris County (Morristown) - June 2023","featured_order":null,"schedule":{"__typename":"Schedule","start_date":"2023-06-17T16:00:00.000Z"},"details":{"__typename":"LeagueDetails","description":"\u003cp>Turn your weekend into a Homerun on our beautiful natural fields every Saturday 10v10 Coed Softball at Central Park of Morris County!\u003c/p>\u003cp>\u003cbr>\u003c/p>\u003cp>10 players maximum in the field (7 men max) Minimum to start a game is 6 players (1 woman min) \u003c/p>\u003cp>Certified Umps provided\u003c/p>\u003cp>Men- Pitch count starts 1-1.\u003c/p>\u003cp>No more than 3 men can bat in a row \u003c/p>\u003cp>Gloves are not provided. Please bring your own. \u003c/p>\u003cp>Min team size is 15 players.\u003c/p>\u003cp>Everyone makes the playoffs, \u003c/p>\u003cp>Weather We will do our best to play rain or shine! \u003c/p>\u003cp>Any makeup games will be played at the same location, but not guaranteed to be played on the same day of the week. More than two rainouts will result in a shortened season.\u003c/p>"},"activityName":"Softball","programType":"LEAGUE"},"League:6441b248cefd355fa5ce7b52":{"__typename":"League","_id":"6441b248cefd355fa5ce7b52","name":"Softball (10v10 Coed) - Sunday - Margaret Hayward Playground (Fillmore) - July 2023","featured_order":null,"schedule":{"__typename":"Schedule","start_date":"2023-07-16T19:00:00.000Z"},"details":{"__typename":"LeagueDetails","description":"\u003cp id=\"isPasted\">Sunday Funday in the Fillmore?? Sign ME UP! Join us at Margaret Hayward for Sunday softball!\u003c/p>\u003cp>\u003cbr>\u003c/p>\u003cp style=\"line-height:1.38;margin-top:0pt;margin-bottom:0pt;\">\u003cspan style=\"font-size:10.5pt;font-family:Arial;color:#414141;background-color:#ffffff;font-weight:400;font-style:normal;font-variant:normal;text-decoration:none;vertical-align:baseline;white-space:pre;white-space:pre-wrap;\">\u003cstrong>Join us for our Summer End of Season party including FREE beer and other specials. More info to come!\u003c/strong>\u003c/span>\u003c/p>\u003cp>\u003cbr>\u003c/p>\u003cp>\u003cstrong>10v10 Coed Softball\u003c/strong>\u003c/p>\u003cp>Max. 7 men on the field\u003c/p>\u003cp>6 players minimum to start the game \u003c/p>\u003cp>\u003cbr>\u003c/p>\u003cp>Bats are provided at leagues, but you are welcome to bring your own.\u003c/p>\u003cp>Bats must be ASA, USSA or NSA certified. Wooden bats are not allowed.\u003c/p>\u003cp>\u003cstrong>Gloves are not provided. Please Bring Your Own.\u003c/strong>\u003c/p>\u003cp dir=\"ltr\" style=\"line-height:1.38;margin-top:0pt;margin-bottom:0pt;\">\u003cbr>\u003c/p>"},"activityName":"Softball","programType":"LEAGUE"},"League:6441b248cefd355fa5ce7b4f":{"__typename":"League","_id":"6441b248cefd355fa5ce7b4f","name":"Softball (10v10 Coed) - Friday - Margaret Hayward Playground (Fillmore) - July 2023","featured_order":null,"schedule":{"__typename":"Schedule","start_date":"2023-07-21T19:00:00.000Z"},"details":{"__typename":"LeagueDetails","description":"\u003cp id=\"isPasted\">Friday softball is the only way to end your week on a high note. Join us at Margaret Hayward for Friday softball under the lights!\u003c/p>\u003cp>\u003cbr>\u003c/p>\u003cp>\u003cstrong>10v10 Coed Softball\u003c/strong>\u003c/p>\u003cp>Max. 7 men on the field\u003c/p>\u003cp>6 players minimum to start the game \u003c/p>\u003cp>\u003cbr>\u003c/p>\u003cp>Bats are provided at leagues, but you are welcome to bring your own.\u003c/p>\u003cp>Bats must be ASA, USSA or NSA certified. Wooden bats are not allowed.\u003c/p>\u003cp>\u003cbr>\u003c/p>\u003cp>\u003cstrong>Gloves are not provided. Please Bring Your Own.\u003c/strong>\u003c/p>\u003cp>\u003cbr>\u003c/p>\u003cp dir=\"ltr\" id=\"isPasted\" style=\"line-height:1.38;margin-top:0pt;margin-bottom:0pt;\">\u003cspan style=\"font-size:10.5pt;font-family:Arial;color:#414141;background-color:#ffffff;font-weight:400;font-style:normal;font-variant:normal;text-decoration:none;vertical-align:baseline;white-space:pre;white-space:pre-wrap;\">\u003cstrong>Join us for our Summer End of Season party including FREE beer and other specials. More info to come!\u003c/strong>\u003c/span>\u003c/p>\u003cp dir=\"ltr\" style=\"line-height:1.38;margin-top:0pt;margin-bottom:0pt;\">\u003cbr>\u003c/p>\u003cp style='box-sizing: inherit; background-repeat: no-repeat; background-size: contain; margin: 0pt 0px; padding: 0px; margin-block: 0px; margin-inline: 0px; padding-block: 0px; padding-inline: 0px; color: rgb(65, 65, 65); text-rendering: optimizelegibility; font-family: Arial, \"Helvetica Neue\", Helvetica, sans-serif; font-size: 14px; font-style: normal; font-variant-ligatures: normal; font-variant-caps: normal; font-weight: 400; letter-spacing: normal; orphans: 2; text-align: left; text-indent: 0px; text-transform: none; white-space: normal; widows: 2; word-spacing: 0px; -webkit-text-stroke-width: 0px; background-color: rgb(255, 255, 255); text-decoration-thickness: initial; text-decoration-style: initial; text-decoration-color: initial;'>\u003cstrong style=\"box-sizing: inherit; background-repeat: no-repeat; background-size: contain; font-weight: 700; margin-bottom: 0px;\">\u003cspan style=\"box-sizing: inherit; background-repeat: no-repeat; background-size: contain; font-family: Arial; margin-bottom: 0px; font-size: 11pt;\">Playoffs\u003c/span>\u003c/strong>\u003c/p>\u003cp style='box-sizing: inherit; background-repeat: no-repeat; background-size: contain; margin: 4pt 0px; padding: 0px; margin-block: 0px; margin-inline: 0px; padding-block: 0px; padding-inline: 0px; color: rgb(65, 65, 65); text-rendering: optimizelegibility; font-family: Arial, \"Helvetica Neue\", Helvetica, sans-serif; font-size: 14px; font-style: normal; font-variant-ligatures: normal; font-variant-caps: normal; font-weight: 400; letter-spacing: normal; orphans: 2; text-align: left; text-indent: 0px; text-transform: none; white-space: normal; widows: 2; word-spacing: 0px; -webkit-text-stroke-width: 0px; background-color: rgb(255, 255, 255); text-decoration-thickness: initial; text-decoration-style: initial; text-decoration-color: initial; line-height: 1.2;'>\u003cspan style=\"box-sizing: inherit; background-repeat: no-repeat; background-size: contain; font-family: Arial; margin-bottom: 0px; font-size: 11.5pt; color: rgb(29, 28, 29);\">Top 8 teams will make playoffs\u003c/span>\u003c/p>\u003cp style='box-sizing: inherit; background-repeat: no-repeat; background-size: contain; margin: 4pt 0px; padding: 0px; margin-block: 0px; margin-inline: 0px; padding-block: 0px; padding-inline: 0px; color: rgb(65, 65, 65); text-rendering: optimizelegibility; font-family: Arial, \"Helvetica Neue\", Helvetica, sans-serif; font-size: 14px; font-style: normal; font-variant-ligatures: normal; font-variant-caps: normal; font-weight: 400; letter-spacing: normal; orphans: 2; text-align: left; text-indent: 0px; text-transform: none; white-space: normal; widows: 2; word-spacing: 0px; -webkit-text-stroke-width: 0px; background-color: rgb(255, 255, 255); text-decoration-thickness: initial; text-decoration-style: initial; text-decoration-color: initial; line-height: 1.2;'>\u003cspan style=\"box-sizing: inherit; background-repeat: no-repeat; background-size: contain; font-family: Arial; margin-bottom: 0px; font-size: 11.5pt; color: rgb(29, 28, 29);\">*Additional teams may be added to playoffs if schedules / venue space allow\u003c/span>\u003c/p>\u003cp dir=\"ltr\" style=\"line-height:1.38;margin-top:0pt;margin-bottom:0pt;\">\u003cbr>\u003c/p>\u003cp dir=\"ltr\" style=\"line-height:1.38;background-color:#ffffff;margin-top:0pt;margin-bottom:0pt;\">\u003cspan style=\"font-size:10.5pt;font-family:Arial;color:#1d1c1d;background-color:#ffffff;font-weight:700;font-style:normal;font-variant:normal;text-decoration:none;vertical-align:baseline;white-space:pre;white-space:pre-wrap;\">Forfeits Policy: See Below**\u003c/span>\u003c/p>\u003cp>\u003cbr>\u003c/p>\u003cp dir=\"ltr\" style=\"line-height:1.38;background-color:#ffffff;margin-top:0pt;margin-bottom:0pt;\">\u003cspan style=\"font-size:10.5pt;font-family:Arial;color:#414141;background-color:#ffffff;font-weight:400;font-style:normal;font-variant:normal;text-decoration:none;vertical-align:baseline;white-space:pre;white-space:pre-wrap;\">\u003cspan style=\"font-size:10pt;font-family:Arial;color:#1d1c1d;background-color:#ffffff;font-weight:400;font-style:normal;font-variant:normal;text-decoration:none;vertical-align:baseline;white-space:pre;white-space:pre-wrap;\">(Registered Groups who are not pre-paid teams and do not meet the minimum roster requirement by the registration deadline may be merged with other small groups, or have free agents added to their roster to meet the roster requirement)\u003c/span>\u003cbr>\u003c/span>\u003c/p>\u003cp>\u003cbr>\u003c/p>\u003cp>Weather Policy Guaranteed 2 makeup games at the same location but not guaranteed to be played on the same day of the week.\u003c/p>"},"activityName":"Softball","programType":"LEAGUE"},"League:6441b247cefd355fa5ce7ab1":{"__typename":"League","_id":"6441b247cefd355fa5ce7ab1","name":"Softball (10v10 Competitive Coed) - Tuesday - Jackson Playground (Potrero Hill) - June 2023","featured_order":null,"schedule":{"__typename":"Schedule","start_date":"2023-06-13T19:00:00.000Z"},"details":{"__typename":"LeagueDetails","description":"\u003cp id=\"isPasted\">Join our Tuesday Competitive Coed Softball League at Jackson Playground!!! Start your week right by hitting home runs in our inaugural competitive league! This league is for experienced players looking for a competitive atmosphere while still having fun!\u003c/p>\u003cp>\u003cbr>\u003c/p>\u003cp>\u003cstrong>10v10 Coed Softball\u003c/strong>\u003c/p>\u003cp>Max. 7 men on the field\u003c/p>\u003cp>6 players minimum to start the game \u003c/p>\u003cp>\u003cbr>\u003c/p>\u003cp>Bats are provided at leagues, but you are welcome to bring your own.\u003c/p>\u003cp>Bats must be ASA, USSA or NSA certified. Wooden bats are not allowed.\u003c/p>\u003cp>\u003cbr>\u003c/p>\u003cp>\u003cstrong>Gloves are not provided. Please Bring Your Own.\u003c/strong>\u003c/p>\u003cp>\u003cbr>\u003c/p>\u003cp dir=\"ltr\" style=\"line-height:1.38;margin-top:0pt;margin-bottom:0pt;\">\u003cspan style=\"font-size:10.5pt;font-family:Arial;color:#414141;background-color:#ffffff;font-weight:400;font-style:normal;font-variant:normal;text-decoration:none;vertical-align:baseline;white-space:pre;white-space:pre-wrap;\">Join us for our Spring End of Season party including FREE all-you-can-drink beer and other specials. More info to come!\u003c/span>\u003c/p>\u003cp dir=\"ltr\" style=\"line-height:1.38;margin-top:0pt;margin-bottom:0pt;\">\u003cbr>\u003c/p>\u003cp dir=\"ltr\" style=\"line-height:1.38;background-color:#ffffff;margin-top:0pt;margin-bottom:0pt;\">\u003cspan style=\"font-size:10.5pt;font-family:Arial;color:#1d1c1d;background-color:#ffffff;font-weight:700;font-style:normal;font-variant:normal;text-decoration:none;vertical-align:baseline;white-space:pre;white-space:pre-wrap;\">Forfeits Policy\u003c/span>\u003c/p>\u003cp dir=\"ltr\" style=\"line-height:1.38;background-color:#ffffff;margin-top:0pt;margin-bottom:0pt;\">\u003cspan style=\"font-size:10.5pt;font-family:Arial;color:#1d1c1d;background-color:#ffffff;font-weight:400;font-style:normal;font-variant:normal;text-decoration:none;vertical-align:baseline;white-space:pre;white-space:pre-wrap;\">If your team forfeits a game during the season, you MUST do the following to not be penalized:\u003c/span>\u003c/p>\u003cp dir=\"ltr\" style=\"line-height:1.38;background-color:#ffffff;margin-top:0pt;margin-bottom:0pt;\">\u003cspan style=\"font-size:10.5pt;font-family:Arial;color:#1d1c1d;background-color:#ffffff;font-weight:400;font-style:normal;font-variant:normal;text-decoration:none;vertical-align:baseline;white-space:pre;white-space:pre-wrap;\">Email \u003c/span>\u003cspan style=\"font-size:10.5pt;font-family:Arial;color:#0000ff;background-color:#ffffff;font-weight:400;font-style:normal;font-variant:normal;text-decoration:none;vertical-align:baseline;white-space:pre;white-space:pre-wrap;\">SF@volosports.com\u003c/span>\u003cspan style=\"font-size:10.5pt;font-family:Arial;color:#1d1c1d;background-color:#ffffff;font-weight:400;font-style:normal;font-variant:normal;text-decoration:none;vertical-align:baseline;white-space:pre;white-space:pre-wrap;\"> a MINIMUM one hour prior to the first game of the night in your league. Example: Your game is at 10 pm, but your league's first game is at 7 pm. Your email must be sent by 6 pm at the LATEST. Yes, you will be penalized for a 59-minute notice.\u003c/span>\u003c/p>\u003cul style=\"margin-top:0;margin-bottom:0;padding-inline-start:48px;\">\u003cli dir=\"ltr\" style=\"list-style-type:disc;font-size:10.5pt;font-family:Calibri,sans-serif;color:#414141;background-color:transparent;font-weight:400;font-style:normal;font-variant:normal;text-decoration:none;vertical-align:baseline;white-space:pre;margin-left: 58pt;\">\u003cp dir=\"ltr\" style=\"line-height:1.38;margin-top:0pt;margin-bottom:0pt;\">\u003cspan style=\"font-size:10.5pt;font-family:Arial;color:#414141;background-color:#ffffff;font-weight:400;font-style:normal;font-variant:normal;text-decoration:none;vertical-align:baseline;white-space:pre;white-space:pre-wrap;\">The subject of the email must be "Forfeit - (insert location AND sport)" Example: You play Soccer at Mission the email subject must be "Forfeit - Mission Soccer"\u003c/span>\u003c/p>\u003c/li>\u003c/ul>\u003cp dir=\"ltr\" style=\"line-height:1.38;background-color:#ffffff;margin-top:0pt;margin-bottom:0pt;\">\u003cspan style=\"font-size:10.5pt;font-family:Arial;color:#1d1c1d;background-color:#ffffff;font-weight:400;font-style:normal;font-variant:normal;text-decoration:none;vertical-align:baseline;white-space:pre;white-space:pre-wrap;\">If you do not do these to things you will be penalized:\u003c/span>\u003c/p>\u003cul style=\"margin-top:0;margin-bottom:0;padding-inline-start:48px;\">\u003cli dir=\"ltr\" style=\"list-style-type:disc;font-size:10.5pt;font-family:Arial;color:#414141;background-color:transparent;font-weight:400;font-style:normal;font-variant:normal;text-decoration:none;vertical-align:baseline;white-space:pre;margin-left: 58pt;\">\u003cp dir=\"ltr\" style=\"line-height:1.38;background-color:#ffffff;margin-top:0pt;margin-bottom:0pt;\">\u003cspan style=\"font-size:10.5pt;font-family:Arial;color:#414141;background-color:#ffffff;font-weight:400;font-style:normal;font-variant:normal;text-decoration:none;vertical-align:baseline;white-space:pre;white-space:pre-wrap;\">First Offense - You are automatically DISQUALIFIED from the playoffs.\u003c/span>\u003c/p>\u003c/li>\u003cli dir=\"ltr\" style=\"list-style-type:disc;font-size:10.5pt;font-family:Arial;color:#414141;background-color:transparent;font-weight:400;font-style:normal;font-variant:normal;text-decoration:none;vertical-align:baseline;white-space:pre;margin-left: 58pt;\">\u003cp dir=\"ltr\" style=\"line-height:1.38;background-color:#ffffff;margin-top:0pt;margin-bottom:0pt;\">\u003cspan style=\"font-size:10.5pt;font-family:Arial;color:#414141;background-color:#ffffff;font-weight:400;font-style:normal;font-variant:normal;text-decoration:none;vertical-align:baseline;white-space:pre;white-space:pre-wrap;\">Second Offense - You are removed from the league without a refund\u003c/span>\u003c/p>\u003c/li>\u003c/ul>\u003cp>\u003cbr>\u003c/p>\u003cp dir=\"ltr\" style=\"line-height:1.38;background-color:#ffffff;margin-top:0pt;margin-bottom:0pt;\">\u003cspan style=\"font-size:10.5pt;font-family:Arial;color:#414141;background-color:#ffffff;font-weight:400;font-style:normal;font-variant:normal;text-decoration:none;vertical-align:baseline;white-space:pre;white-space:pre-wrap;\">\u003cspan style=\"font-size:10pt;font-family:Arial;color:#1d1c1d;background-color:#ffffff;font-weight:400;font-style:normal;font-variant:normal;text-decoration:none;vertical-align:baseline;white-space:pre;white-space:pre-wrap;\">(Registered Groups who are not pre-paid teams and do not meet the minimum roster requirement by the registration deadline may be merged with other small groups, or have free agents added to their roster to meet the roster requirement)\u003c/span>\u003cbr>\u003c/span>\u003c/p>"},"activityName":"Softball","programType":"LEAGUE"},"League:6441b247cefd355fa5ce7a9a":{"__typename":"League","_id":"6441b247cefd355fa5ce7a9a","name":"Softball (10v10 Coed) - Friday - Moscone Park (Marina) - July 2023","featured_order":null,"schedule":{"__typename":"Schedule","start_date":"2023-07-21T19:00:00.000Z"},"details":{"__typename":"LeagueDetails","description":"\u003cp id=\"isPasted\">Friday softball is the only way to end your week on a high note. Join us at Moscone Park in the Marina!\u003c/p>\u003cp>\u003cbr>\u003c/p>\u003cp>\u003cstrong>10v10 Coed Softball\u003c/strong>\u003c/p>\u003cp>Max. 7 men on the field\u003c/p>\u003cp>6 players minimum to start the game \u003c/p>\u003cp>\u003cbr>\u003c/p>\u003cp>Bats are provided at leagues, but you are welcome to bring your own.\u003c/p>\u003cp>Bats must be ASA, USSA or NSA certified. Wooden bats are not allowed.\u003c/p>\u003cp>\u003cbr>\u003c/p>\u003cp>\u003cstrong>Gloves are not provided. Please Bring Your Own.\u003c/strong>\u003c/p>\u003cp>\u003cbr>\u003c/p>\u003cp dir=\"ltr\" id=\"isPasted\" style=\"line-height:1.38;margin-top:0pt;margin-bottom:0pt;\">\u003cspan style=\"font-size:10.5pt;font-family:Arial;color:#414141;background-color:#ffffff;font-weight:400;font-style:normal;font-variant:normal;text-decoration:none;vertical-align:baseline;white-space:pre;white-space:pre-wrap;\">\u003cstrong>Join us for our Summer End of Season party including FREE beer and other specials. More info to come!\u003c/strong>\u003c/span>\u003c/p>\u003cp dir=\"ltr\" style=\"line-height:1.38;margin-top:0pt;margin-bottom:0pt;\">\u003cbr>\u003c/p>\u003cp id=\"isPasted\" style='box-sizing: inherit; background-repeat: no-repeat; background-size: contain; margin: 0pt 0px; padding: 0px; margin-block: 0px; margin-inline: 0px; padding-block: 0px; padding-inline: 0px; color: rgb(65, 65, 65); text-rendering: optimizelegibility; font-family: Arial, \"Helvetica Neue\", Helvetica, sans-serif; font-size: 14px; font-style: normal; font-variant-ligatures: normal; font-variant-caps: normal; font-weight: 400; letter-spacing: normal; orphans: 2; text-align: left; text-indent: 0px; text-transform: none; white-space: normal; widows: 2; word-spacing: 0px; -webkit-text-stroke-width: 0px; background-color: rgb(255, 255, 255); text-decoration-thickness: initial; text-decoration-style: initial; text-decoration-color: initial;'>\u003cstrong style=\"box-sizing: inherit; background-repeat: no-repeat; background-size: contain; font-weight: 700; margin-bottom: 0px;\">\u003cspan style=\"box-sizing: inherit; background-repeat: no-repeat; background-size: contain; font-family: Arial; margin-bottom: 0px; font-size: 11pt;\">Playoffs\u003c/span>\u003c/strong>\u003c/p>\u003cp style='box-sizing: inherit; background-repeat: no-repeat; background-size: contain; margin: 4pt 0px; padding: 0px; margin-block: 0px; margin-inline: 0px; padding-block: 0px; padding-inline: 0px; color: rgb(65, 65, 65); text-rendering: optimizelegibility; font-family: Arial, \"Helvetica Neue\", Helvetica, sans-serif; font-size: 14px; font-style: normal; font-variant-ligatures: normal; font-variant-caps: normal; font-weight: 400; letter-spacing: normal; orphans: 2; text-align: left; text-indent: 0px; text-transform: none; white-space: normal; widows: 2; word-spacing: 0px; -webkit-text-stroke-width: 0px; background-color: rgb(255, 255, 255); text-decoration-thickness: initial; text-decoration-style: initial; text-decoration-color: initial; line-height: 1.2;'>\u003cspan style=\"box-sizing: inherit; background-repeat: no-repeat; background-size: contain; font-family: Arial; margin-bottom: 0px; font-size: 11.5pt; color: rgb(29, 28, 29);\">Top 8 teams will make playoffs\u003c/span>\u003c/p>\u003cp style='box-sizing: inherit; background-repeat: no-repeat; background-size: contain; margin: 4pt 0px; padding: 0px; margin-block: 0px; margin-inline: 0px; padding-block: 0px; padding-inline: 0px; color: rgb(65, 65, 65); text-rendering: optimizelegibility; font-family: Arial, \"Helvetica Neue\", Helvetica, sans-serif; font-size: 14px; font-style: normal; font-variant-ligatures: normal; font-variant-caps: normal; font-weight: 400; letter-spacing: normal; orphans: 2; text-align: left; text-indent: 0px; text-transform: none; white-space: normal; widows: 2; word-spacing: 0px; -webkit-text-stroke-width: 0px; background-color: rgb(255, 255, 255); text-decoration-thickness: initial; text-decoration-style: initial; text-decoration-color: initial; line-height: 1.2;'>\u003cspan style=\"box-sizing: inherit; background-repeat: no-repeat; background-size: contain; font-family: Arial; margin-bottom: 0px; font-size: 11.5pt; color: rgb(29, 28, 29);\">*Additional teams may be added to playoffs if schedules / venue space allow\u003c/span>\u003c/p>\u003cp dir=\"ltr\" style=\"line-height:1.38;margin-top:0pt;margin-bottom:0pt;\">\u003cbr>\u003c/p>\u003cp dir=\"ltr\" style=\"line-height:1.38;background-color:#ffffff;margin-top:0pt;margin-bottom:0pt;\">See Updated Forfeit Policy Below**\u003c/p>\u003cp>\u003cbr>\u003c/p>\u003cp>\u003cspan style=\"font-size:10pt;font-family:Arial;color:#1d1c1d;background-color:#ffffff;font-weight:400;font-style:normal;font-variant:normal;text-decoration:none;vertical-align:baseline;white-space:pre;white-space:pre-wrap;\">(Registered Groups who are not pre-paid teams and do not meet the minimum roster requirement by the registration deadline may be merged with other small groups, or have free agents added to their roster to meet the roster requirement)\u003c/span>\u003c/p>\u003cp>\u003cbr>\u003c/p>\u003cp>Weather Policy Guaranteed 2 makeup games at the same location but not guaranteed to be played on the same day of the week or venue \u003c/p>"},"activityName":"Softball","programType":"LEAGUE"},"League:6441b247cefd355fa5ce7a69":{"__typename":"League","_id":"6441b247cefd355fa5ce7a69","name":"Softball (10v10 Coed) - Sunday - Jackson Playground (Potrero Hill) - July 2023","featured_order":null,"schedule":{"__typename":"Schedule","start_date":"2023-07-16T19:00:00.000Z"},"details":{"__typename":"LeagueDetails","description":"\u003cp id=\"isPasted\" style='box-sizing: inherit; background-repeat: no-repeat; background-size: contain; color: rgb(65, 65, 65); text-rendering: optimizelegibility; font-family: Arial, \"Helvetica Neue\", Helvetica, sans-serif; margin: 0px; padding: 0px; margin-block: 0px; margin-inline: 0px; padding-block: 0px; padding-inline: 0px; font-size: 14px; font-style: normal; font-variant-ligatures: normal; font-variant-caps: normal; font-weight: 400; letter-spacing: normal; orphans: 2; text-align: left; text-indent: 0px; text-transform: none; white-space: normal; widows: 2; word-spacing: 0px; -webkit-text-stroke-width: 0px; background-color: rgb(255, 255, 255); text-decoration-thickness: initial; text-decoration-style: initial; text-decoration-color: initial;'>Sandlot Sunday Funday in Potrero Hill! Come play softball at Jackson Playground!!\u003c/p>\u003cp style='box-sizing: inherit; background-repeat: no-repeat; background-size: contain; color: rgb(65, 65, 65); text-rendering: optimizelegibility; font-family: Arial, \"Helvetica Neue\", Helvetica, sans-serif; margin: 0px; padding: 0px; margin-block: 0px; margin-inline: 0px; padding-block: 0px; padding-inline: 0px; font-size: 14px; font-style: normal; font-variant-ligatures: normal; font-variant-caps: normal; font-weight: 400; letter-spacing: normal; orphans: 2; text-align: left; text-indent: 0px; text-transform: none; white-space: normal; widows: 2; word-spacing: 0px; -webkit-text-stroke-width: 0px; background-color: rgb(255, 255, 255); text-decoration-thickness: initial; text-decoration-style: initial; text-decoration-color: initial;'>\u003cbr style=\"box-sizing: inherit; background-repeat: no-repeat; background-size: contain; margin-bottom: 0px;\">\u003c/p>\u003cp style='box-sizing: inherit; background-repeat: no-repeat; background-size: contain; color: rgb(65, 65, 65); text-rendering: optimizelegibility; font-family: Arial, \"Helvetica Neue\", Helvetica, sans-serif; margin: 0px; padding: 0px; margin-block: 0px; margin-inline: 0px; padding-block: 0px; padding-inline: 0px; font-size: 14px; font-style: normal; font-variant-ligatures: normal; font-variant-caps: normal; font-weight: 400; letter-spacing: normal; orphans: 2; text-align: left; text-indent: 0px; text-transform: none; white-space: normal; widows: 2; word-spacing: 0px; -webkit-text-stroke-width: 0px; background-color: rgb(255, 255, 255); text-decoration-thickness: initial; text-decoration-style: initial; text-decoration-color: initial;'>\u003cstrong style=\"box-sizing: inherit; background-repeat: no-repeat; background-size: contain; font-weight: 700; margin-bottom: 0px;\">10v10 Coed Softball\u003c/strong>\u003c/p>\u003cp style='box-sizing: inherit; background-repeat: no-repeat; background-size: contain; color: rgb(65, 65, 65); text-rendering: optimizelegibility; font-family: Arial, \"Helvetica Neue\", Helvetica, sans-serif; margin: 0px; padding: 0px; margin-block: 0px; margin-inline: 0px; padding-block: 0px; padding-inline: 0px; font-size: 14px; font-style: normal; font-variant-ligatures: normal; font-variant-caps: normal; font-weight: 400; letter-spacing: normal; orphans: 2; text-align: left; text-indent: 0px; text-transform: none; white-space: normal; widows: 2; word-spacing: 0px; -webkit-text-stroke-width: 0px; background-color: rgb(255, 255, 255); text-decoration-thickness: initial; text-decoration-style: initial; text-decoration-color: initial;'>Max. 7 men on the field\u003c/p>\u003cp style='box-sizing: inherit; background-repeat: no-repeat; background-size: contain; color: rgb(65, 65, 65); text-rendering: optimizelegibility; font-family: Arial, \"Helvetica Neue\", Helvetica, sans-serif; margin: 0px; padding: 0px; margin-block: 0px; margin-inline: 0px; padding-block: 0px; padding-inline: 0px; font-size: 14px; font-style: normal; font-variant-ligatures: normal; font-variant-caps: normal; font-weight: 400; letter-spacing: normal; orphans: 2; text-align: left; text-indent: 0px; text-transform: none; white-space: normal; widows: 2; word-spacing: 0px; -webkit-text-stroke-width: 0px; background-color: rgb(255, 255, 255); text-decoration-thickness: initial; text-decoration-style: initial; text-decoration-color: initial;'>6 players minimum to start the game \u003c/p>\u003cp style='box-sizing: inherit; background-repeat: no-repeat; background-size: contain; color: rgb(65, 65, 65); text-rendering: optimizelegibility; font-family: Arial, \"Helvetica Neue\", Helvetica, sans-serif; margin: 0px; padding: 0px; margin-block: 0px; margin-inline: 0px; padding-block: 0px; padding-inline: 0px; font-size: 14px; font-style: normal; font-variant-ligatures: normal; font-variant-caps: normal; font-weight: 400; letter-spacing: normal; orphans: 2; text-align: left; text-indent: 0px; text-transform: none; white-space: normal; widows: 2; word-spacing: 0px; -webkit-text-stroke-width: 0px; background-color: rgb(255, 255, 255); text-decoration-thickness: initial; text-decoration-style: initial; text-decoration-color: initial;'>\u003cbr style=\"box-sizing: inherit; background-repeat: no-repeat; background-size: contain; margin-bottom: 0px;\">\u003c/p>\u003cp style='box-sizing: inherit; background-repeat: no-repeat; background-size: contain; color: rgb(65, 65, 65); text-rendering: optimizelegibility; font-family: Arial, \"Helvetica Neue\", Helvetica, sans-serif; margin: 0px; padding: 0px; margin-block: 0px; margin-inline: 0px; padding-block: 0px; padding-inline: 0px; font-size: 14px; font-style: normal; font-variant-ligatures: normal; font-variant-caps: normal; font-weight: 400; letter-spacing: normal; orphans: 2; text-align: left; text-indent: 0px; text-transform: none; white-space: normal; widows: 2; word-spacing: 0px; -webkit-text-stroke-width: 0px; background-color: rgb(255, 255, 255); text-decoration-thickness: initial; text-decoration-style: initial; text-decoration-color: initial;'>Bats are provided at leagues, but you are welcome to bring your own.\u003c/p>\u003cp style='box-sizing: inherit; background-repeat: no-repeat; background-size: contain; color: rgb(65, 65, 65); text-rendering: optimizelegibility; font-family: Arial, \"Helvetica Neue\", Helvetica, sans-serif; margin: 0px; padding: 0px; margin-block: 0px; margin-inline: 0px; padding-block: 0px; padding-inline: 0px; font-size: 14px; font-style: normal; font-variant-ligatures: normal; font-variant-caps: normal; font-weight: 400; letter-spacing: normal; orphans: 2; text-align: left; text-indent: 0px; text-transform: none; white-space: normal; widows: 2; word-spacing: 0px; -webkit-text-stroke-width: 0px; background-color: rgb(255, 255, 255); text-decoration-thickness: initial; text-decoration-style: initial; text-decoration-color: initial;'>Bats must be ASA, USSA or NSA certified. Wooden bats are not allowed.\u003c/p>\u003cp style='box-sizing: inherit; background-repeat: no-repeat; background-size: contain; color: rgb(65, 65, 65); text-rendering: optimizelegibility; font-family: Arial, \"Helvetica Neue\", Helvetica, sans-serif; margin: 0px; padding: 0px; margin-block: 0px; margin-inline: 0px; padding-block: 0px; padding-inline: 0px; font-size: 14px; font-style: normal; font-variant-ligatures: normal; font-variant-caps: normal; font-weight: 400; letter-spacing: normal; orphans: 2; text-align: left; text-indent: 0px; text-transform: none; white-space: normal; widows: 2; word-spacing: 0px; -webkit-text-stroke-width: 0px; background-color: rgb(255, 255, 255); text-decoration-thickness: initial; text-decoration-style: initial; text-decoration-color: initial;'>\u003cbr style=\"box-sizing: inherit; background-repeat: no-repeat; background-size: contain; margin-bottom: 0px;\">\u003c/p>\u003cp style='box-sizing: inherit; background-repeat: no-repeat; background-size: contain; color: rgb(65, 65, 65); text-rendering: optimizelegibility; font-family: Arial, \"Helvetica Neue\", Helvetica, sans-serif; margin: 0px; padding: 0px; margin-block: 0px; margin-inline: 0px; padding-block: 0px; padding-inline: 0px; font-size: 14px; font-style: normal; font-variant-ligatures: normal; font-variant-caps: normal; font-weight: 400; letter-spacing: normal; orphans: 2; text-align: left; text-indent: 0px; text-transform: none; white-space: normal; widows: 2; word-spacing: 0px; -webkit-text-stroke-width: 0px; background-color: rgb(255, 255, 255); text-decoration-thickness: initial; text-decoration-style: initial; text-decoration-color: initial;'>\u003cstrong style=\"box-sizing: inherit; background-repeat: no-repeat; background-size: contain; font-weight: 700; margin-bottom: 0px;\">Gloves are not provided. Please Bring Your Own.\u003c/strong>\u003c/p>\u003cp style='box-sizing: inherit; background-repeat: no-repeat; background-size: contain; color: rgb(65, 65, 65); text-rendering: optimizelegibility; font-family: Arial, \"Helvetica Neue\", Helvetica, sans-serif; margin: 0px; padding: 0px; margin-block: 0px; margin-inline: 0px; padding-block: 0px; padding-inline: 0px; font-size: 14px; font-style: normal; font-variant-ligatures: normal; font-variant-caps: normal; font-weight: 400; letter-spacing: normal; orphans: 2; text-align: left; text-indent: 0px; text-transform: none; white-space: normal; widows: 2; word-spacing: 0px; -webkit-text-stroke-width: 0px; background-color: rgb(255, 255, 255); text-decoration-thickness: initial; text-decoration-style: initial; text-decoration-color: initial;'>\u003cbr style=\"box-sizing: inherit; background-repeat: no-repeat; background-size: contain; margin-bottom: 0px;\">\u003c/p>\u003cp dir=\"ltr\" style='box-sizing: inherit; background-repeat: no-repeat; background-size: contain; color: rgb(65, 65, 65); text-rendering: optimizelegibility; font-family: Arial, \"Helvetica Neue\", Helvetica, sans-serif; margin: 0pt 0px; padding: 0px; margin-block: 0px; margin-inline: 0px; padding-block: 0px; padding-inline: 0px; font-size: 14px; font-style: normal; font-variant-ligatures: normal; font-variant-caps: normal; font-weight: 400; letter-spacing: normal; orphans: 2; text-align: left; text-indent: 0px; text-transform: none; white-space: normal; widows: 2; word-spacing: 0px; -webkit-text-stroke-width: 0px; background-color: rgb(255, 255, 255); text-decoration-thickness: initial; text-decoration-style: initial; text-decoration-color: initial; line-height: 1.38;'>\u003cspan style=\"box-sizing: inherit; background-repeat: no-repeat; background-size: contain; font-family: Arial; margin-bottom: 0px; font-size: 10.5pt; color: rgb(65, 65, 65); background-color: rgb(255, 255, 255); font-weight: 400; font-style: normal; font-variant: normal; text-decoration: none; vertical-align: baseline; white-space: pre-wrap;\">\u003cstrong>Join us for our Summer End of Season party including FREE beer and other specials. More info to come!\u003c/strong>\u003c/span>\u003c/p>\u003cp dir=\"ltr\" style='box-sizing: inherit; background-repeat: no-repeat; background-size: contain; color: rgb(65, 65, 65); text-rendering: optimizelegibility; font-family: Arial, \"Helvetica Neue\", Helvetica, sans-serif; margin: 0pt 0px; padding: 0px; margin-block: 0px; margin-inline: 0px; padding-block: 0px; padding-inline: 0px; font-size: 14px; font-style: normal; font-variant-ligatures: normal; font-variant-caps: normal; font-weight: 400; letter-spacing: normal; orphans: 2; text-align: left; text-indent: 0px; text-transform: none; white-space: normal; widows: 2; word-spacing: 0px; -webkit-text-stroke-width: 0px; background-color: rgb(255, 255, 255); text-decoration-thickness: initial; text-decoration-style: initial; text-decoration-color: initial; line-height: 1.38;'>\u003cbr style=\"box-sizing: inherit; background-repeat: no-repeat; background-size: contain; margin-bottom: 0px;\">\u003c/p>\u003cp dir=\"ltr\" style='box-sizing: inherit; background-repeat: no-repeat; background-size: contain; color: rgb(65, 65, 65); text-rendering: optimizelegibility; font-family: Arial, \"Helvetica Neue\", Helvetica, sans-serif; margin: 0pt 0px; padding: 0px; margin-block: 0px; margin-inline: 0px; padding-block: 0px; padding-inline: 0px; font-size: 14px; font-style: normal; font-variant-ligatures: normal; font-variant-caps: normal; font-weight: 400; letter-spacing: normal; orphans: 2; text-align: left; text-indent: 0px; text-transform: none; white-space: normal; widows: 2; word-spacing: 0px; -webkit-text-stroke-width: 0px; text-decoration-thickness: initial; text-decoration-style: initial; text-decoration-color: initial; line-height: 1.38; background-color: rgb(255, 255, 255);'>\u003cspan style=\"box-sizing: inherit; background-repeat: no-repeat; background-size: contain; font-family: Arial; margin-bottom: 0px; font-size: 10.5pt; color: rgb(29, 28, 29); background-color: rgb(255, 255, 255); font-weight: 700; font-style: normal; font-variant: normal; text-decoration: none; vertical-align: baseline; white-space: pre-wrap;\">Forfeits Policy\u003c/span>\u003c/p>\u003cp dir=\"ltr\" style='box-sizing: inherit; background-repeat: no-repeat; background-size: contain; color: rgb(65, 65, 65); text-rendering: optimizelegibility; font-family: Arial, \"Helvetica Neue\", Helvetica, sans-serif; margin: 0pt 0px; padding: 0px; margin-block: 0px; margin-inline: 0px; padding-block: 0px; padding-inline: 0px; font-size: 14px; font-style: normal; font-variant-ligatures: normal; font-variant-caps: normal; font-weight: 400; letter-spacing: normal; orphans: 2; text-align: left; text-indent: 0px; text-transform: none; white-space: normal; widows: 2; word-spacing: 0px; -webkit-text-stroke-width: 0px; text-decoration-thickness: initial; text-decoration-style: initial; text-decoration-color: initial; line-height: 1.38; background-color: rgb(255, 255, 255);'>\u003cspan style=\"box-sizing: inherit; background-repeat: no-repeat; background-size: contain; font-family: Arial; margin-bottom: 0px; font-size: 10.5pt; color: rgb(29, 28, 29); background-color: rgb(255, 255, 255); font-weight: 400; font-style: normal; font-variant: normal; text-decoration: none; vertical-align: baseline; white-space: pre-wrap;\">If your team forfeits a game during the season, you MUST do the following to not be penalized:\u003c/span>\u003c/p>\u003cp dir=\"ltr\" style='box-sizing: inherit; background-repeat: no-repeat; background-size: contain; color: rgb(65, 65, 65); text-rendering: optimizelegibility; font-family: Arial, \"Helvetica Neue\", Helvetica, sans-serif; margin: 0pt 0px; padding: 0px; margin-block: 0px; margin-inline: 0px; padding-block: 0px; padding-inline: 0px; font-size: 14px; font-style: normal; font-variant-ligatures: normal; font-variant-caps: normal; font-weight: 400; letter-spacing: normal; orphans: 2; text-align: left; text-indent: 0px; text-transform: none; white-space: normal; widows: 2; word-spacing: 0px; -webkit-text-stroke-width: 0px; text-decoration-thickness: initial; text-decoration-style: initial; text-decoration-color: initial; line-height: 1.38; background-color: rgb(255, 255, 255);'>\u003cspan style=\"box-sizing: inherit; background-repeat: no-repeat; background-size: contain; font-family: Arial; font-size: 10.5pt; color: rgb(29, 28, 29); background-color: rgb(255, 255, 255); font-weight: 400; font-style: normal; font-variant: normal; text-decoration: none; vertical-align: baseline; white-space: pre-wrap;\">Email \u003c/span>\u003cspan style=\"box-sizing: inherit; background-repeat: no-repeat; background-size: contain; font-family: Arial; font-size: 10.5pt; color: rgb(0, 0, 255); background-color: rgb(255, 255, 255); font-weight: 400; font-style: normal; font-variant: normal; text-decoration: none; vertical-align: baseline; white-space: pre-wrap;\">SF@volosports.com\u003c/span>\u003cspan style=\"box-sizing: inherit; background-repeat: no-repeat; background-size: contain; font-family: Arial; margin-bottom: 0px; font-size: 10.5pt; color: rgb(29, 28, 29); background-color: rgb(255, 255, 255); font-weight: 400; font-style: normal; font-variant: normal; text-decoration: none; vertical-align: baseline; white-space: pre-wrap;\"> a MINIMUM one hour prior to the first game of the night in your league. Example: Your game is at 10 pm, but your league's first game is at 7 pm. Your email must be sent by 6 pm at the LATEST. Yes, you will be penalized for a 59-minute notice.\u003c/span>\u003c/p>\u003cul style=\"box-sizing: inherit; background-repeat: no-repeat; background-size: contain; color: rgb(65, 65, 65); text-rendering: optimizelegibility; margin: 0px; padding: 0px; margin-block: 0px; margin-inline: 0px; padding-block: 0px; padding-inline: 48px 0px; font-family: sans-serif; font-size: 14px; font-style: normal; font-variant-ligatures: normal; font-variant-caps: normal; font-weight: 400; letter-spacing: normal; orphans: 2; text-align: left; text-indent: 0px; text-transform: none; white-space: normal; widows: 2; word-spacing: 0px; -webkit-text-stroke-width: 0px; background-color: rgb(255, 255, 255); text-decoration-thickness: initial; text-decoration-style: initial; text-decoration-color: initial;\">\u003cli dir=\"ltr\" style=\"box-sizing: inherit; background-repeat: no-repeat; background-size: contain; padding-left: 0px; list-style-type: disc; font-size: 10.5pt; font-family: Calibri, sans-serif; color: rgb(65, 65, 65); background-color: transparent; font-weight: 400; font-style: normal; font-variant: normal; text-decoration: none; vertical-align: baseline; white-space: pre; margin-left: 58pt;\">\u003cp dir=\"ltr\" style='box-sizing: inherit; background-repeat: no-repeat; background-size: contain; color: inherit; text-rendering: optimizelegibility; font-family: Arial, \"Helvetica Neue\", Helvetica, sans-serif; margin: 0pt 0px; padding: 0px; margin-block: 0px; margin-inline: 0px; padding-block: 0px; padding-inline: 0px; line-height: 1.38;'>\u003cspan style=\"box-sizing: inherit; background-repeat: no-repeat; background-size: contain; font-family: Arial; margin-bottom: 0px; font-size: 10.5pt; color: rgb(65, 65, 65); background-color: rgb(255, 255, 255); font-weight: 400; font-style: normal; font-variant: normal; text-decoration: none; vertical-align: baseline; white-space: pre-wrap;\">The subject of the email must be "Forfeit - (insert location AND sport)" Example: You play Soccer at Mission the email subject must be "Forfeit - Mission Soccer"\u003c/span>\u003c/p>\u003c/li>\u003c/ul>\u003cp dir=\"ltr\" style='box-sizing: inherit; background-repeat: no-repeat; background-size: contain; color: rgb(65, 65, 65); text-rendering: optimizelegibility; font-family: Arial, \"Helvetica Neue\", Helvetica, sans-serif; margin: 0pt 0px; padding: 0px; margin-block: 0px; margin-inline: 0px; padding-block: 0px; padding-inline: 0px; font-size: 14px; font-style: normal; font-variant-ligatures: normal; font-variant-caps: normal; font-weight: 400; letter-spacing: normal; orphans: 2; text-align: left; text-indent: 0px; text-transform: none; white-space: normal; widows: 2; word-spacing: 0px; -webkit-text-stroke-width: 0px; text-decoration-thickness: initial; text-decoration-style: initial; text-decoration-color: initial; line-height: 1.38; background-color: rgb(255, 255, 255);'>\u003cspan style=\"box-sizing: inherit; background-repeat: no-repeat; background-size: contain; font-family: Arial; margin-bottom: 0px; font-size: 10.5pt; color: rgb(29, 28, 29); background-color: rgb(255, 255, 255); font-weight: 400; font-style: normal; font-variant: normal; text-decoration: none; vertical-align: baseline; white-space: pre-wrap;\">If you do not do these to things you will be penalized:\u003c/span>\u003c/p>\u003cul style=\"box-sizing: inherit; background-repeat: no-repeat; background-size: contain; color: rgb(65, 65, 65); text-rendering: optimizelegibility; margin: 0px; padding: 0px; margin-block: 0px; margin-inline: 0px; padding-block: 0px; padding-inline: 48px 0px; font-family: sans-serif; font-size: 14px; font-style: normal; font-variant-ligatures: normal; font-variant-caps: normal; font-weight: 400; letter-spacing: normal; orphans: 2; text-align: left; text-indent: 0px; text-transform: none; white-space: normal; widows: 2; word-spacing: 0px; -webkit-text-stroke-width: 0px; background-color: rgb(255, 255, 255); text-decoration-thickness: initial; text-decoration-style: initial; text-decoration-color: initial;\">\u003cli dir=\"ltr\" style=\"box-sizing: inherit; background-repeat: no-repeat; background-size: contain; padding-left: 0px; list-style-type: disc; font-size: 10.5pt; font-family: Arial; color: rgb(65, 65, 65); background-color: transparent; font-weight: 400; font-style: normal; font-variant: normal; text-decoration: none; vertical-align: baseline; white-space: pre; margin-left: 58pt;\">\u003cp dir=\"ltr\" style='box-sizing: inherit; background-repeat: no-repeat; background-size: contain; color: inherit; text-rendering: optimizelegibility; font-family: Arial, \"Helvetica Neue\", Helvetica, sans-serif; margin: 0pt 0px; padding: 0px; margin-block: 0px; margin-inline: 0px; padding-block: 0px; padding-inline: 0px; line-height: 1.38; background-color: rgb(255, 255, 255);'>\u003cspan style=\"box-sizing: inherit; background-repeat: no-repeat; background-size: contain; font-family: Arial; margin-bottom: 0px; font-size: 10.5pt; color: rgb(65, 65, 65); background-color: rgb(255, 255, 255); font-weight: 400; font-style: normal; font-variant: normal; text-decoration: none; vertical-align: baseline; white-space: pre-wrap;\">First Offense - You are automatically DISQUALIFIED from the playoffs.\u003c/span>\u003c/p>\u003c/li>\u003cli dir=\"ltr\" style=\"box-sizing: inherit; background-repeat: no-repeat; background-size: contain; padding-left: 0px; list-style-type: disc; font-size: 10.5pt; font-family: Arial; color: rgb(65, 65, 65); background-color: transparent; font-weight: 400; font-style: normal; font-variant: normal; text-decoration: none; vertical-align: baseline; white-space: pre; margin-left: 58pt;\">\u003cp dir=\"ltr\" style='box-sizing: inherit; background-repeat: no-repeat; background-size: contain; color: inherit; text-rendering: optimizelegibility; font-family: Arial, \"Helvetica Neue\", Helvetica, sans-serif; margin: 0pt 0px; padding: 0px; margin-block: 0px; margin-inline: 0px; padding-block: 0px; padding-inline: 0px; line-height: 1.38; background-color: rgb(255, 255, 255);'>\u003cspan style=\"box-sizing: inherit; background-repeat: no-repeat; background-size: contain; font-family: Arial; margin-bottom: 0px; font-size: 10.5pt; color: rgb(65, 65, 65); background-color: rgb(255, 255, 255); font-weight: 400; font-style: normal; font-variant: normal; text-decoration: none; vertical-align: baseline; white-space: pre-wrap;\">Second Offense - You are removed from the league without a refund.\u003c/span>\u003c/p>\u003c/li>\u003c/ul>\u003cp style='box-sizing: inherit; background-repeat: no-repeat; background-size: contain; color: rgb(65, 65, 65); text-rendering: optimizelegibility; font-family: Arial, \"Helvetica Neue\", Helvetica, sans-serif; margin: 0px; padding: 0px; margin-block: 0px; margin-inline: 0px; padding-block: 0px; padding-inline: 0px; font-size: 14px; font-style: normal; font-variant-ligatures: normal; font-variant-caps: normal; font-weight: 400; letter-spacing: normal; orphans: 2; text-align: left; text-indent: 0px; text-transform: none; white-space: normal; widows: 2; word-spacing: 0px; -webkit-text-stroke-width: 0px; background-color: rgb(255, 255, 255); text-decoration-thickness: initial; text-decoration-style: initial; text-decoration-color: initial;'>\u003cbr style=\"box-sizing: inherit; background-repeat: no-repeat; background-size: contain; margin-bottom: 0px;\">\u003c/p>\u003cp dir=\"ltr\" style='box-sizing: inherit; background-repeat: no-repeat; background-size: contain; color: rgb(65, 65, 65); text-rendering: optimizelegibility; font-family: Arial, \"Helvetica Neue\", Helvetica, sans-serif; margin: 0pt 0px; padding: 0px; margin-block: 0px; margin-inline: 0px; padding-block: 0px; padding-inline: 0px; font-size: 14px; font-style: normal; font-variant-ligatures: normal; font-variant-caps: normal; font-weight: 400; letter-spacing: normal; orphans: 2; text-align: left; text-indent: 0px; text-transform: none; white-space: normal; widows: 2; word-spacing: 0px; -webkit-text-stroke-width: 0px; text-decoration-thickness: initial; text-decoration-style: initial; text-decoration-color: initial; line-height: 1.38; background-color: rgb(255, 255, 255);'>\u003cspan style=\"box-sizing: inherit; background-repeat: no-repeat; background-size: contain; font-family: Arial; margin-bottom: 0px; font-size: 10.5pt; color: rgb(65, 65, 65); background-color: rgb(255, 255, 255); font-weight: 400; font-style: normal; font-variant: normal; text-decoration: none; vertical-align: baseline; white-space: pre-wrap;\">\u003cspan style=\"box-sizing: inherit; background-repeat: no-repeat; background-size: contain; font-family: Arial; margin-bottom: 0px; font-size: 10pt; color: rgb(29, 28, 29); background-color: rgb(255, 255, 255); font-weight: 400; font-style: normal; font-variant: normal; text-decoration: none; vertical-align: baseline; white-space: pre-wrap;\">(Registered Groups who are not pre-paid teams and do not meet the minimum roster requirement by the registration deadline may be merged with other small groups, or have free agents added to their roster to meet the roster requirement.)\u003c/span>\u003c/span>\u003c/p>"},"activityName":"Softball","programType":"LEAGUE"},"League:6441b247cefd355fa5ce7a60":{"__typename":"League","_id":"6441b247cefd355fa5ce7a60","name":"Softball (10v10 Coed) - Wednesday - Fort Scott Field (Presidio) - July 2023","featured_order":null,"schedule":{"__typename":"Schedule","start_date":"2023-07-19T19:00:00.000Z"},"details":{"__typename":"LeagueDetails","description":"\u003cp id=\"isPasted\">Join our NEW Wednesday Coed Softball League at Fort Scott! Hit your week right hitting home runs and enjoying friendly competition!\u003c/p>\u003cp>\u003cbr>\u003c/p>\u003cp>6 Regular Season Games\u003c/p>\u003cp>\u003cbr>\u003c/p>\u003cp>\u003cstrong>10vs10 Coed Softball\u003c/strong>\u003c/p>\u003cp>Max. 7 men on the field\u003c/p>\u003cp>6 players minimum to start the game \u003c/p>\u003cp>\u003cbr>\u003c/p>\u003cp>Bats are provided at leagues, but you are welcome to bring your own.\u003c/p>\u003cp>Bats must be ASA, USSA or NSA certified. Wooden bats are not allowed.\u003c/p>\u003cp>\u003cbr>\u003c/p>\u003cp>\u003cstrong>Gloves are not provided. Please Bring Your Own.\u003c/strong>\u003c/p>\u003cp>\u003cbr>\u003c/p>\u003cp>Weather Policy Guaranteed 2 makeup games at the same location but not guaranteed to be played on the same day of the week or same location.\u003c/p>\u003cp>\u003cbr>\u003c/p>\u003cp dir=\"ltr\" id=\"isPasted\" style=\"line-height:1.38;margin-top:0pt;margin-bottom:0pt;\">\u003cspan style=\"font-size:10.5pt;font-family:Arial;color:#414141;background-color:#ffffff;font-weight:400;font-style:normal;font-variant:normal;text-decoration:none;vertical-align:baseline;white-space:pre;white-space:pre-wrap;\">\u003cstrong>Join us for our Summer End of Season party including FREE beer and other specials. More info to come!\u003c/strong>\u003c/span>\u003c/p>\u003cp dir=\"ltr\" style=\"line-height:1.38;margin-top:0pt;margin-bottom:0pt;\">\u003cbr>\u003c/p>\u003cp style='box-sizing: inherit; background-repeat: no-repeat; background-size: contain; margin: 0pt 0px; padding: 0px; margin-block: 0px; margin-inline: 0px; padding-block: 0px; padding-inline: 0px; color: rgb(65, 65, 65); text-rendering: optimizelegibility; font-family: Arial, \"Helvetica Neue\", Helvetica, sans-serif; font-size: 14px; font-style: normal; font-variant-ligatures: normal; font-variant-caps: normal; font-weight: 400; letter-spacing: normal; orphans: 2; text-align: left; text-indent: 0px; text-transform: none; white-space: normal; widows: 2; word-spacing: 0px; -webkit-text-stroke-width: 0px; background-color: rgb(255, 255, 255); text-decoration-thickness: initial; text-decoration-style: initial; text-decoration-color: initial;'>\u003cstrong style=\"box-sizing: inherit; background-repeat: no-repeat; background-size: contain; font-weight: 700; margin-bottom: 0px;\">\u003cspan style=\"box-sizing: inherit; background-repeat: no-repeat; background-size: contain; font-family: Arial; margin-bottom: 0px; font-size: 11pt;\">Playoffs\u003c/span>\u003c/strong>\u003c/p>\u003cp style='box-sizing: inherit; background-repeat: no-repeat; background-size: contain; margin: 4pt 0px; padding: 0px; margin-block: 0px; margin-inline: 0px; padding-block: 0px; padding-inline: 0px; color: rgb(65, 65, 65); text-rendering: optimizelegibility; font-family: Arial, \"Helvetica Neue\", Helvetica, sans-serif; font-size: 14px; font-style: normal; font-variant-ligatures: normal; font-variant-caps: normal; font-weight: 400; letter-spacing: normal; orphans: 2; text-align: left; text-indent: 0px; text-transform: none; white-space: normal; widows: 2; word-spacing: 0px; -webkit-text-stroke-width: 0px; background-color: rgb(255, 255, 255); text-decoration-thickness: initial; text-decoration-style: initial; text-decoration-color: initial; line-height: 1.2;'>\u003cspan style=\"box-sizing: inherit; background-repeat: no-repeat; background-size: contain; font-family: Arial; margin-bottom: 0px; font-size: 11.5pt; color: rgb(29, 28, 29);\">Top 8 teams will make playoffs\u003c/span>\u003c/p>\u003cp style='box-sizing: inherit; background-repeat: no-repeat; background-size: contain; margin: 4pt 0px; padding: 0px; margin-block: 0px; margin-inline: 0px; padding-block: 0px; padding-inline: 0px; color: rgb(65, 65, 65); text-rendering: optimizelegibility; font-family: Arial, \"Helvetica Neue\", Helvetica, sans-serif; font-size: 14px; font-style: normal; font-variant-ligatures: normal; font-variant-caps: normal; font-weight: 400; letter-spacing: normal; orphans: 2; text-align: left; text-indent: 0px; text-transform: none; white-space: normal; widows: 2; word-spacing: 0px; -webkit-text-stroke-width: 0px; background-color: rgb(255, 255, 255); text-decoration-thickness: initial; text-decoration-style: initial; text-decoration-color: initial; line-height: 1.2;'>\u003cspan style=\"box-sizing: inherit; background-repeat: no-repeat; background-size: contain; font-family: Arial; margin-bottom: 0px; font-size: 11.5pt; color: rgb(29, 28, 29);\">*Additional teams may be added to playoffs if schedules / venue space allow\u003c/span>\u003c/p>"},"activityName":"Softball","programType":"LEAGUE"},"League:6441b247cefd355fa5ce79f7":{"__typename":"League","_id":"6441b247cefd355fa5ce79f7","name":"Softball (10v10 Coed) - Tuesday - Jackson Playground (Potrero Hill) - August 2023","featured_order":null,"schedule":{"__typename":"Schedule","start_date":"2023-08-15T19:00:00.000Z"},"details":{"__typename":"LeagueDetails","description":"\u003cp id=\"isPasted\">Join our Tuesday Coed Softball League at Jackson Playground!!! Start your week right by hitting home runs in our inaugural competitive league! \u003c/p>\u003cp>\u003cbr>\u003c/p>\u003cp>\u003cstrong>10v10 Coed Softball\u003c/strong>\u003c/p>\u003cp>Max. 7 men on the field\u003c/p>\u003cp>6 players minimum to start the game \u003c/p>\u003cp>\u003cbr>\u003c/p>\u003cp>Bats are provided at leagues, but you are welcome to bring your own.\u003c/p>\u003cp>Bats must be ASA, USSA or NSA certified. Wooden bats are not allowed.\u003c/p>\u003cp>\u003cbr>\u003c/p>\u003cp>\u003cstrong>Gloves are not provided. Please Bring Your Own.\u003c/strong>\u003c/p>\u003cp>\u003cbr>\u003c/p>\u003cp dir=\"ltr\" style=\"line-height:1.38;margin-top:0pt;margin-bottom:0pt;\">\u003cspan style=\"font-size:10.5pt;font-family:Arial;color:#414141;background-color:#ffffff;font-weight:400;font-style:normal;font-variant:normal;text-decoration:none;vertical-align:baseline;white-space:pre;white-space:pre-wrap;\">\u003cstrong>Join us for our Summer End of Season party including FREE all-you-can-drink beer and other specials. More info to come!\u003c/strong>\u003c/span>\u003c/p>\u003cp dir=\"ltr\" style=\"line-height:1.38;margin-top:0pt;margin-bottom:0pt;\">\u003cbr>\u003c/p>\u003cp dir=\"ltr\" style=\"line-height:1.38;background-color:#ffffff;margin-top:0pt;margin-bottom:0pt;\">\u003cspan style=\"font-size:10.5pt;font-family:Arial;color:#1d1c1d;background-color:#ffffff;font-weight:700;font-style:normal;font-variant:normal;text-decoration:none;vertical-align:baseline;white-space:pre;white-space:pre-wrap;\">Forfeits Policy\u003c/span>\u003c/p>\u003cp dir=\"ltr\" style=\"line-height:1.38;background-color:#ffffff;margin-top:0pt;margin-bottom:0pt;\">\u003cspan style=\"font-size:10.5pt;font-family:Arial;color:#1d1c1d;background-color:#ffffff;font-weight:400;font-style:normal;font-variant:normal;text-decoration:none;vertical-align:baseline;white-space:pre;white-space:pre-wrap;\">If your team forfeits a game during the season, you MUST do the following to not be penalized:\u003c/span>\u003c/p>\u003cp dir=\"ltr\" style=\"line-height:1.38;background-color:#ffffff;margin-top:0pt;margin-bottom:0pt;\">\u003cspan style=\"font-size:10.5pt;font-family:Arial;color:#1d1c1d;background-color:#ffffff;font-weight:400;font-style:normal;font-variant:normal;text-decoration:none;vertical-align:baseline;white-space:pre;white-space:pre-wrap;\">Email \u003c/span>\u003cspan style=\"font-size:10.5pt;font-family:Arial;color:#0000ff;background-color:#ffffff;font-weight:400;font-style:normal;font-variant:normal;text-decoration:none;vertical-align:baseline;white-space:pre;white-space:pre-wrap;\">SF@volosports.com\u003c/span>\u003cspan style=\"font-size:10.5pt;font-family:Arial;color:#1d1c1d;background-color:#ffffff;font-weight:400;font-style:normal;font-variant:normal;text-decoration:none;vertical-align:baseline;white-space:pre;white-space:pre-wrap;\"> a MINIMUM one hour prior to the first game of the night in your league. Example: Your game is at 10 pm, but your league's first game is at 7 pm. Your email must be sent by 6 pm at the LATEST. Yes, you will be penalized for a 59-minute notice.\u003c/span>\u003c/p>\u003cul style=\"margin-top:0;margin-bottom:0;padding-inline-start:48px;\">\u003cli dir=\"ltr\" style=\"list-style-type:disc;font-size:10.5pt;font-family:Calibri,sans-serif;color:#414141;background-color:transparent;font-weight:400;font-style:normal;font-variant:normal;text-decoration:none;vertical-align:baseline;white-space:pre;margin-left: 58pt;\">\u003cp dir=\"ltr\" style=\"line-height:1.38;margin-top:0pt;margin-bottom:0pt;\">\u003cspan style=\"font-size:10.5pt;font-family:Arial;color:#414141;background-color:#ffffff;font-weight:400;font-style:normal;font-variant:normal;text-decoration:none;vertical-align:baseline;white-space:pre;white-space:pre-wrap;\">The subject of the email must be "Forfeit - (insert location AND sport)" Example: You play Soccer at Mission the email subject must be "Forfeit - Mission Soccer"\u003c/span>\u003c/p>\u003c/li>\u003c/ul>\u003cp dir=\"ltr\" style=\"line-height:1.38;background-color:#ffffff;margin-top:0pt;margin-bottom:0pt;\">\u003cspan style=\"font-size:10.5pt;font-family:Arial;color:#1d1c1d;background-color:#ffffff;font-weight:400;font-style:normal;font-variant:normal;text-decoration:none;vertical-align:baseline;white-space:pre;white-space:pre-wrap;\">If you do not do these to things you will be penalized:\u003c/span>\u003c/p>\u003cul style=\"margin-top:0;margin-bottom:0;padding-inline-start:48px;\">\u003cli dir=\"ltr\" style=\"list-style-type:disc;font-size:10.5pt;font-family:Arial;color:#414141;background-color:transparent;font-weight:400;font-style:normal;font-variant:normal;text-decoration:none;vertical-align:baseline;white-space:pre;margin-left: 58pt;\">\u003cp dir=\"ltr\" style=\"line-height:1.38;background-color:#ffffff;margin-top:0pt;margin-bottom:0pt;\">\u003cspan style=\"font-size:10.5pt;font-family:Arial;color:#414141;background-color:#ffffff;font-weight:400;font-style:normal;font-variant:normal;text-decoration:none;vertical-align:baseline;white-space:pre;white-space:pre-wrap;\">First Offense - You are automatically DISQUALIFIED from the playoffs.\u003c/span>\u003c/p>\u003c/li>\u003cli dir=\"ltr\" style=\"list-style-type:disc;font-size:10.5pt;font-family:Arial;color:#414141;background-color:transparent;font-weight:400;font-style:normal;font-variant:normal;text-decoration:none;vertical-align:baseline;white-space:pre;margin-left: 58pt;\">\u003cp dir=\"ltr\" style=\"line-height:1.38;background-color:#ffffff;margin-top:0pt;margin-bottom:0pt;\">\u003cspan style=\"font-size:10.5pt;font-family:Arial;color:#414141;background-color:#ffffff;font-weight:400;font-style:normal;font-variant:normal;text-decoration:none;vertical-align:baseline;white-space:pre;white-space:pre-wrap;\">Second Offense - You are removed from the league without a refund\u003c/span>\u003c/p>\u003c/li>\u003c/ul>\u003cp>\u003cbr>\u003c/p>\u003cp dir=\"ltr\" style=\"line-height:1.38;background-color:#ffffff;margin-top:0pt;margin-bottom:0pt;\">\u003cspan style=\"font-size:10.5pt;font-family:Arial;color:#414141;background-color:#ffffff;font-weight:400;font-style:normal;font-variant:normal;text-decoration:none;vertical-align:baseline;white-space:pre;white-space:pre-wrap;\">\u003cspan style=\"font-size:10pt;font-family:Arial;color:#1d1c1d;background-color:#ffffff;font-weight:400;font-style:normal;font-variant:normal;text-decoration:none;vertical-align:baseline;white-space:pre;white-space:pre-wrap;\">(Registered Groups who are not pre-paid teams and do not meet the minimum roster requirement by the registration deadline may be merged with other small groups, or have free agents added to their roster to meet the roster requirement)\u003c/span>\u003cbr>\u003c/span>\u003c/p>"},"activityName":"Softball","programType":"LEAGUE"},"League:64419b556107fde7a24c1e87":{"__typename":"League","_id":"64419b556107fde7a24c1e87","name":"Softball (10v10 Coed) - Tuesday - Loantaka Brook Park (Morristown) - July 2023","featured_order":null,"schedule":{"__typename":"Schedule","start_date":"2023-07-11T16:00:00.000Z"},"details":{"__typename":"LeagueDetails","description":"\u003cp>Softball is back this Summer! Our Tuesday games will be played at Loantaka Park in Morristown.\u003c/p>\u003cp>\u003cbr>\u003c/p>\u003cp>10 players maximum in the field (7 men max) Minimum to start a game is 6 players (1 woman min) \u003c/p>\u003cp>Certified Umps provided\u003c/p>\u003cp>Men- Pitch count starts 1-1.\u003c/p>\u003cp>No more than 3 men can bat in a row \u003c/p>\u003cp>Gloves are not provided. Please bring your own. \u003c/p>\u003cp>Min team size is 15 players.\u003c/p>\u003cp>Everyone makes the playoffs, \u003c/p>\u003cp>Weather We will do our best to play rain or shine! \u003c/p>\u003cp>Any makeup games will be played at the same location, but not guaranteed to be played on the same day of the week. More than two rainouts will result in a shortened season.\u003c/p>"},"activityName":"Softball","programType":"LEAGUE"},"League:64418a00d3308f4a4eb9985c":{"__typename":"League","_id":"64418a00d3308f4a4eb9985c","name":"Softball (10v10 Coed) - Monday - Loantaka Brook Park (Morristown) - August 2023","featured_order":null,"schedule":{"__typename":"Schedule","start_date":"2023-08-07T16:00:00.000Z"},"details":{"__typename":"LeagueDetails","description":"\u003cp>Turn your Monday into a Homerun on our beautiful natural fields!\u003c/p>\u003cp>\u003cbr>\u003c/p>\u003cp>\u003cstrong>10v10 Coed Softball \u003c/strong>\u003c/p>\u003cp>Minimum for a full team is 15 players \u003c/p>\u003cp>10 players maximum in the field (7 men max) \u003c/p>\u003cp>Minimum to start a game is 6 players (1 woman min) \u003c/p>\u003cp>Certified Umps provided Men- Pitch count starts 1-1.\u003c/p>\u003cp>No more than 3 men can bat in a row. Gloves are not provided. Please bring your own.\u003c/p>\u003cp>Playoffs Top 4 Teams are guaranteed to make the playoffs, but we will accommodate as many as possible.\u003c/p>\u003cp>Weather: We will do our best to play rain or shine! Any makeup games will be played at the same location, but not guaranteed to be played on the same day of the week. More than two rainouts will result in a shortened season.\u003c/p>"},"activityName":"Softball","programType":"LEAGUE"},"League:64417fc9c3fcfd94c4c2c12c":{"__typename":"League","_id":"64417fc9c3fcfd94c4c2c12c","name":"Softball (10v10 Coed) - Monday - Central Park of Morris County (Morristown) - June 2023","featured_order":null,"schedule":{"__typename":"Schedule","start_date":"2023-06-12T16:00:00.000Z"},"details":{"__typename":"LeagueDetails","description":"\u003cp>Start your week off with coed softball at Central Park of Morris County!\u003c/p>\u003cp>\u003cbr>\u003c/p>\u003cp>\u003cstrong>10v10 Coed Softball \u003c/strong>\u003c/p>\u003cp>Minimum for a full team is 15 players \u003c/p>\u003cp>10 players maximum in the field (7 men max) \u003c/p>\u003cp>Minimum to start a game is 6 players (1 woman min) \u003c/p>\u003cp>Certified Umps provided Everyone- Pitch count starts 1-1.\u003c/p>\u003cp>No more than 3 men can bat in a row. Gloves are not provided. Please bring your own.\u003c/p>\u003cp>Playoffs Top 4 Teams are guaranteed to make the playoffs, but we will accommodate as many as possible.\u003c/p>\u003cp>Weather: We will do our best to play rain or shine! Any makeup games will be played at the same location, but not guaranteed to be played on the same day of the week. More than two rainouts will result in a shortened season.\u003c/p>"},"activityName":"Softball","programType":"LEAGUE"},"League:6440bb046aa654ec71ef8d15":{"__typename":"League","_id":"6440bb046aa654ec71ef8d15","name":"Softball (10v10 Coed) - Sunday - DeWitt Clinton Park (Midtown West) - June 2023","featured_order":null,"schedule":{"__typename":"Schedule","start_date":"2023-06-25T16:00:00.000Z"},"details":{"__typename":"LeagueDetails","description":"\u003cp id=\"isPasted\" style='box-sizing: inherit; background-repeat: no-repeat; background-size: contain; margin: 0.5rem auto auto; padding: 0px; margin-block: 0px; margin-inline: 0px; padding-block: 0px; padding-inline: 0px; color: rgb(76, 76, 76); text-rendering: optimizelegibility; font-family: Arial, \"Helvetica Neue\", Helvetica, sans-serif; align-items: center; font-size: 14px; overflow: hidden; font-style: normal; font-variant-ligatures: normal; font-variant-caps: normal; font-weight: 400; letter-spacing: normal; orphans: 2; text-align: start; text-indent: 0px; text-transform: none; white-space: pre-wrap; widows: 2; word-spacing: 0px; -webkit-text-stroke-width: 0px; background-color: rgb(255, 255, 255); text-decoration-thickness: initial; text-decoration-style: initial; text-decoration-color: initial;'>Enjoy your softball league at DeWitt this summer! This league will sell out quickly so sign up your team before it's too late.\u003cbr style=\"box-sizing: inherit; background-repeat: no-repeat; background-size: contain;\">\u003cbr style=\"box-sizing: inherit; background-repeat: no-repeat; background-size: contain; margin-bottom: 0px;\">\u003c/p>\u003cp style='box-sizing: inherit; background-repeat: no-repeat; background-size: contain; margin: 0.5rem auto auto; padding: 0px; margin-block: 0px; margin-inline: 0px; padding-block: 0px; padding-inline: 0px; color: rgb(76, 76, 76); text-rendering: optimizelegibility; font-family: Arial, \"Helvetica Neue\", Helvetica, sans-serif; align-items: center; font-size: 14px; overflow: hidden; font-style: normal; font-variant-ligatures: normal; font-variant-caps: normal; font-weight: 400; letter-spacing: normal; orphans: 2; text-align: start; text-indent: 0px; text-transform: none; white-space: pre-wrap; widows: 2; word-spacing: 0px; -webkit-text-stroke-width: 0px; text-decoration-thickness: initial; text-decoration-style: initial; text-decoration-color: initial; background-color: rgb(255, 255, 255);'>\u003cstrong style='box-sizing: inherit; background-repeat: no-repeat; background-size: contain; font-weight: 600; margin-bottom: 0px; color: rgb(76, 76, 76); font-family: Arial, \"Helvetica Neue\", Helvetica, sans-serif; font-size: 14px; font-style: normal; font-variant-ligatures: normal; font-variant-caps: normal; letter-spacing: normal; orphans: 2; text-align: start; text-indent: 0px; text-transform: none; white-space: pre-wrap; widows: 2; word-spacing: 0px; -webkit-text-stroke-width: 0px; background-color: rgb(255, 255, 255); text-decoration-thickness: initial; text-decoration-style: initial; text-decoration-color: initial;'>Season length:\u003c/strong>\u003c/p>\u003cp style='box-sizing: inherit; background-repeat: no-repeat; background-size: contain; margin: 0.5rem auto auto; padding: 0px; margin-block: 0px; margin-inline: 0px; padding-block: 0px; padding-inline: 0px; color: rgb(76, 76, 76); text-rendering: optimizelegibility; font-family: Arial, \"Helvetica Neue\", Helvetica, sans-serif; align-items: center; font-size: 14px; overflow: hidden; font-style: normal; font-variant-ligatures: normal; font-variant-caps: normal; font-weight: 400; letter-spacing: normal; orphans: 2; text-align: start; text-indent: 0px; text-transform: none; white-space: pre-wrap; widows: 2; word-spacing: 0px; -webkit-text-stroke-width: 0px; text-decoration-thickness: initial; text-decoration-style: initial; text-decoration-color: initial; background-color: rgb(255, 255, 255);'>\u003cspan style='box-sizing: inherit; background-repeat: no-repeat; background-size: contain; font-family: Arial, \"Helvetica Neue\", Helvetica, sans-serif; margin-bottom: 0px; color: rgb(76, 76, 76); font-size: 14px; font-style: normal; font-variant-ligatures: normal; font-variant-caps: normal; font-weight: 400; letter-spacing: normal; orphans: 2; text-align: start; text-indent: 0px; text-transform: none; white-space: pre-wrap; widows: 2; word-spacing: 0px; -webkit-text-stroke-width: 0px; background-color: rgb(255, 255, 255); text-decoration-thickness: initial; text-decoration-style: initial; text-decoration-color: initial; float: none; display: inline !important;'>6 games + Playoffs (\u003c/span>Min Top Half Teams)\u003c/p>\u003cp style='box-sizing: inherit; background-repeat: no-repeat; background-size: contain; margin: 0.5rem auto auto; padding: 0px; margin-block: 0px; margin-inline: 0px; padding-block: 0px; padding-inline: 0px; color: rgb(76, 76, 76); text-rendering: optimizelegibility; font-family: Arial, \"Helvetica Neue\", Helvetica, sans-serif; align-items: center; font-size: 14px; overflow: hidden; font-style: normal; font-variant-ligatures: normal; font-variant-caps: normal; font-weight: 400; letter-spacing: normal; orphans: 2; text-align: start; text-indent: 0px; text-transform: none; white-space: pre-wrap; widows: 2; word-spacing: 0px; -webkit-text-stroke-width: 0px; text-decoration-thickness: initial; text-decoration-style: initial; text-decoration-color: initial; background-color: rgb(255, 255, 255);'>\u003cbr style=\"box-sizing: inherit; background-repeat: no-repeat; background-size: contain; margin-bottom: 0px;\">\u003c/p>\u003cp style='box-sizing: inherit; background-repeat: no-repeat; background-size: contain; margin: 0.5rem auto auto; padding: 0px; margin-block: 0px; margin-inline: 0px; padding-block: 0px; padding-inline: 0px; color: rgb(76, 76, 76); text-rendering: optimizelegibility; font-family: Arial, \"Helvetica Neue\", Helvetica, sans-serif; align-items: center; font-size: 14px; overflow: hidden; font-style: normal; font-variant-ligatures: normal; font-variant-caps: normal; font-weight: 400; letter-spacing: normal; orphans: 2; text-align: start; text-indent: 0px; text-transform: none; white-space: pre-wrap; widows: 2; word-spacing: 0px; -webkit-text-stroke-width: 0px; text-decoration-thickness: initial; text-decoration-style: initial; text-decoration-color: initial; background-color: rgb(255, 255, 255);'>\u003cstrong style=\"box-sizing: inherit; background-repeat: no-repeat; background-size: contain; font-weight: 600; margin-bottom: 0px;\">Game Play: \u003c/strong>\u003c/p>\u003cp style='box-sizing: inherit; background-repeat: no-repeat; background-size: contain; margin: 0.5rem auto auto; padding: 0px; margin-block: 0px; margin-inline: 0px; padding-block: 0px; padding-inline: 0px; color: rgb(76, 76, 76); text-rendering: optimizelegibility; font-family: Arial, \"Helvetica Neue\", Helvetica, sans-serif; align-items: center; font-size: 14px; overflow: hidden; font-style: normal; font-variant-ligatures: normal; font-variant-caps: normal; font-weight: 400; letter-spacing: normal; orphans: 2; text-align: start; text-indent: 0px; text-transform: none; white-space: pre-wrap; widows: 2; word-spacing: 0px; -webkit-text-stroke-width: 0px; text-decoration-thickness: initial; text-decoration-style: initial; text-decoration-color: initial; background-color: rgb(255, 255, 255);'>\u003cspan style='box-sizing: inherit; background-repeat: no-repeat; background-size: contain; font-family: Arial, \"Helvetica Neue\", Helvetica, sans-serif; color: rgb(76, 76, 76); font-size: 14px; font-style: normal; font-variant-ligatures: normal; font-variant-caps: normal; font-weight: 400; letter-spacing: normal; orphans: 2; text-align: start; text-indent: 0px; text-transform: none; white-space: pre-wrap; widows: 2; word-spacing: 0px; -webkit-text-stroke-width: 0px; background-color: rgb(255, 255, 255); text-decoration-thickness: initial; text-decoration-style: initial; text-decoration-color: initial; float: none; display: inline !important;'>7 \u003c/span>\u003cspan style='box-sizing: inherit; background-repeat: no-repeat; background-size: contain; font-family: Arial, \"Helvetica Neue\", Helvetica, sans-serif; margin-bottom: 0px; color: rgb(76, 76, 76); font-size: 14px; font-style: normal; font-variant-ligatures: normal; font-variant-caps: normal; font-weight: 400; letter-spacing: normal; orphans: 2; text-align: start; text-indent: 0px; text-transform: none; white-space: pre-wrap; widows: 2; word-spacing: 0px; -webkit-text-stroke-width: 0px; background-color: rgb(255, 255, 255); text-decoration-thickness: initial; text-decoration-style: initial; text-decoration-color: initial; float: none; display: inline !important;'>Inning Games or 45 minutes \u003c/span>\u003c/p>\u003cp style='box-sizing: inherit; background-repeat: no-repeat; background-size: contain; margin: 0.5rem auto auto; padding: 0px; margin-block: 0px; margin-inline: 0px; padding-block: 0px; padding-inline: 0px; color: rgb(76, 76, 76); text-rendering: optimizelegibility; font-family: Arial, \"Helvetica Neue\", Helvetica, sans-serif; align-items: center; font-size: 14px; overflow: hidden; font-style: normal; font-variant-ligatures: normal; font-variant-caps: normal; font-weight: 400; letter-spacing: normal; orphans: 2; text-align: start; text-indent: 0px; text-transform: none; white-space: pre-wrap; widows: 2; word-spacing: 0px; -webkit-text-stroke-width: 0px; text-decoration-thickness: initial; text-decoration-style: initial; text-decoration-color: initial; background-color: rgb(255, 255, 255);'>\u003cspan style='box-sizing: inherit; background-repeat: no-repeat; background-size: contain; font-family: Arial, \"Helvetica Neue\", Helvetica, sans-serif; color: rgb(76, 76, 76); font-size: 14px; font-style: normal; font-variant-ligatures: normal; font-variant-caps: normal; font-weight: 400; letter-spacing: normal; orphans: 2; text-align: start; text-indent: 0px; text-transform: none; white-space: pre-wrap; widows: 2; word-spacing: 0px; -webkit-text-stroke-width: 0px; background-color: rgb(255, 255, 255); text-decoration-thickness: initial; text-decoration-style: initial; text-decoration-color: initial; float: none; display: inline !important;'>11 in the Field (Max 7 Men)\u003c/span>\u003cbr style=\"box-sizing: inherit; background-repeat: no-repeat; background-size: contain; color: rgb(76, 76, 76); font-family: Arial, "Helvetica Neue", Helvetica, sans-serif; font-size: 14px; font-style: normal; font-variant-ligatures: normal; font-variant-caps: normal; font-weight: 400; letter-spacing: normal; orphans: 2; text-align: start; text-indent: 0px; text-transform: none; white-space: pre-wrap; widows: 2; word-spacing: 0px; -webkit-text-stroke-width: 0px; background-color: rgb(255, 255, 255); text-decoration-thickness: initial; text-decoration-style: initial; text-decoration-color: initial;\">\u003cspan style='box-sizing: inherit; background-repeat: no-repeat; background-size: contain; font-family: Arial, \"Helvetica Neue\", Helvetica, sans-serif; color: rgb(76, 76, 76); font-size: 14px; font-style: normal; font-variant-ligatures: normal; font-variant-caps: normal; font-weight: 400; letter-spacing: normal; orphans: 2; text-align: start; text-indent: 0px; text-transform: none; white-space: pre-wrap; widows: 2; word-spacing: 0px; -webkit-text-stroke-width: 0px; background-color: rgb(255, 255, 255); text-decoration-thickness: initial; text-decoration-style: initial; text-decoration-color: initial; float: none; display: inline !important;'>A full team consists of 15 players (at least 4 women), we suggest 18-22 players \u003c/span>\u003cbr style=\"box-sizing: inherit; background-repeat: no-repeat; background-size: contain; margin-bottom: 0px; color: rgb(76, 76, 76); font-family: Arial, "Helvetica Neue", Helvetica, sans-serif; font-size: 14px; font-style: normal; font-variant-ligatures: normal; font-variant-caps: normal; font-weight: 400; letter-spacing: normal; orphans: 2; text-align: start; text-indent: 0px; text-transform: none; white-space: pre-wrap; widows: 2; word-spacing: 0px; -webkit-text-stroke-width: 0px; background-color: rgb(255, 255, 255); text-decoration-thickness: initial; text-decoration-style: initial; text-decoration-color: initial;\">\u003cspan style='box-sizing: inherit; background-repeat: no-repeat; background-size: contain; font-family: Arial, \"Helvetica Neue\", Helvetica, sans-serif; margin-bottom: 0px; color: rgb(76, 76, 76); font-size: 14px; font-style: normal; font-variant-ligatures: normal; font-variant-caps: normal; font-weight: 400; letter-spacing: normal; orphans: 2; text-align: start; text-indent: 0px; text-transform: none; white-space: pre-wrap; widows: 2; word-spacing: 0px; -webkit-text-stroke-width: 0px; background-color: rgb(255, 255, 255); text-decoration-thickness: initial; text-decoration-style: initial; text-decoration-color: initial; float: none; display: inline !important;'>*No Players will be added to teams with 15 players signed-up with all roster requirements met*\u003c/span>\u003c/p>\u003cp style='box-sizing: inherit; background-repeat: no-repeat; background-size: contain; margin: 0.5rem auto auto; padding: 0px; margin-block: 0px; margin-inline: 0px; padding-block: 0px; padding-inline: 0px; color: rgb(76, 76, 76); text-rendering: optimizelegibility; font-family: Arial, \"Helvetica Neue\", Helvetica, sans-serif; align-items: center; font-size: 14px; overflow: hidden; font-style: normal; font-variant-ligatures: normal; font-variant-caps: normal; font-weight: 400; letter-spacing: normal; orphans: 2; text-align: start; text-indent: 0px; text-transform: none; white-space: pre-wrap; widows: 2; word-spacing: 0px; -webkit-text-stroke-width: 0px; text-decoration-thickness: initial; text-decoration-style: initial; text-decoration-color: initial; background-color: rgb(255, 255, 255);'>\u003cbr style=\"box-sizing: inherit; background-repeat: no-repeat; background-size: contain; margin-bottom: 0px;\">\u003c/p>\u003cp style='box-sizing: inherit; background-repeat: no-repeat; background-size: contain; margin: 0.5rem auto auto; padding: 0px; margin-block: 0px; margin-inline: 0px; padding-block: 0px; padding-inline: 0px; color: rgb(76, 76, 76); text-rendering: optimizelegibility; font-family: Arial, \"Helvetica Neue\", Helvetica, sans-serif; align-items: center; font-size: 14px; overflow: hidden; font-style: normal; font-variant-ligatures: normal; font-variant-caps: normal; font-weight: 400; letter-spacing: normal; orphans: 2; text-align: start; text-indent: 0px; text-transform: none; white-space: pre-wrap; widows: 2; word-spacing: 0px; -webkit-text-stroke-width: 0px; text-decoration-thickness: initial; text-decoration-style: initial; text-decoration-color: initial; background-color: rgb(255, 255, 255);'>\u003cstrong style=\"box-sizing: inherit; background-repeat: no-repeat; background-size: contain; font-weight: 600; margin-bottom: 0px;\">Schedule: \u003c/strong>\u003c/p>\u003cp style='box-sizing: inherit; background-repeat: no-repeat; background-size: contain; margin: 0.5rem auto auto; padding: 0px; margin-block: 0px; margin-inline: 0px; padding-block: 0px; padding-inline: 0px; color: rgb(76, 76, 76); text-rendering: optimizelegibility; font-family: Arial, \"Helvetica Neue\", Helvetica, sans-serif; align-items: center; font-size: 14px; overflow: hidden; font-style: normal; font-variant-ligatures: normal; font-variant-caps: normal; font-weight: 400; letter-spacing: normal; orphans: 2; text-align: start; text-indent: 0px; text-transform: none; white-space: pre-wrap; widows: 2; word-spacing: 0px; -webkit-text-stroke-width: 0px; text-decoration-thickness: initial; text-decoration-style: initial; text-decoration-color: initial; background-color: rgb(255, 255, 255);'>*Season may have bye weeks*\u003c/p>\u003cp style='box-sizing: inherit; background-repeat: no-repeat; background-size: contain; margin: 0.5rem auto auto; padding: 0px; margin-block: 0px; margin-inline: 0px; padding-block: 0px; padding-inline: 0px; color: rgb(76, 76, 76); text-rendering: optimizelegibility; font-family: Arial, \"Helvetica Neue\", Helvetica, sans-serif; align-items: center; font-size: 14px; overflow: hidden; font-style: normal; font-variant-ligatures: normal; font-variant-caps: normal; font-weight: 400; letter-spacing: normal; orphans: 2; text-align: start; text-indent: 0px; text-transform: none; white-space: pre-wrap; widows: 2; word-spacing: 0px; -webkit-text-stroke-width: 0px; text-decoration-thickness: initial; text-decoration-style: initial; text-decoration-color: initial; outline: 0px; background-color: rgb(255, 255, 255);'>\u003cbr style=\"box-sizing: inherit; background-repeat: no-repeat; background-size: contain; margin-bottom: 0px;\">*We will have games the week of Passover teams needing off will need to request bye weeks these dates - These spots are limited*\u003c/p>\u003cp style='box-sizing: inherit; background-repeat: no-repeat; background-size: contain; margin: 0.5rem auto auto; padding: 0px; margin-block: 0px; margin-inline: 0px; padding-block: 0px; padding-inline: 0px; color: rgb(76, 76, 76); text-rendering: optimizelegibility; font-family: Arial, \"Helvetica Neue\", Helvetica, sans-serif; align-items: center; font-size: 14px; overflow: hidden; font-style: normal; font-variant-ligatures: normal; font-variant-caps: normal; font-weight: 400; letter-spacing: normal; orphans: 2; text-align: start; text-indent: 0px; text-transform: none; white-space: pre-wrap; widows: 2; word-spacing: 0px; -webkit-text-stroke-width: 0px; text-decoration-thickness: initial; text-decoration-style: initial; text-decoration-color: initial; background-color: rgb(255, 255, 255);'>\u003cbr style=\"box-sizing: inherit; background-repeat: no-repeat; background-size: contain; margin-bottom: 0px;\">\u003c/p>\u003cp style='box-sizing: inherit; background-repeat: no-repeat; background-size: contain; margin: 0.5rem auto auto; padding: 0px; margin-block: 0px; margin-inline: 0px; padding-block: 0px; padding-inline: 0px; color: rgb(76, 76, 76); text-rendering: optimizelegibility; font-family: Arial, \"Helvetica Neue\", Helvetica, sans-serif; align-items: center; font-size: 14px; overflow: hidden; font-style: normal; font-variant-ligatures: normal; font-variant-caps: normal; font-weight: 400; letter-spacing: normal; orphans: 2; text-align: start; text-indent: 0px; text-transform: none; white-space: pre-wrap; widows: 2; word-spacing: 0px; -webkit-text-stroke-width: 0px; text-decoration-thickness: initial; text-decoration-style: initial; text-decoration-color: initial; background-color: rgb(255, 255, 255);'>\u003cstrong style=\"box-sizing: inherit; background-repeat: no-repeat; background-size: contain; font-weight: 600; margin-bottom: 0px;\">Weather Cancellations:\u003c/strong>\u003c/p>\u003cp style='box-sizing: inherit; background-repeat: no-repeat; background-size: contain; margin: 0.5rem auto auto; padding: 0px; margin-block: 0px; margin-inline: 0px; padding-block: 0px; padding-inline: 0px; color: rgb(76, 76, 76); text-rendering: optimizelegibility; font-family: Arial, \"Helvetica Neue\", Helvetica, sans-serif; align-items: center; font-size: 14px; overflow: hidden; font-style: normal; font-variant-ligatures: normal; font-variant-caps: normal; font-weight: 400; letter-spacing: normal; orphans: 2; text-align: start; text-indent: 0px; text-transform: none; white-space: pre-wrap; widows: 2; word-spacing: 0px; -webkit-text-stroke-width: 0px; text-decoration-thickness: initial; text-decoration-style: initial; text-decoration-color: initial; background-color: rgb(255, 255, 255);'>*Will will have 1 night available rained out game, all other games subject to be made up at other times, venues and days*\u003c/p>\u003cp style='box-sizing: inherit; background-repeat: no-repeat; background-size: contain; margin: 0.5rem auto auto; padding: 0px; margin-block: 0px; margin-inline: 0px; padding-block: 0px; padding-inline: 0px; color: rgb(76, 76, 76); text-rendering: optimizelegibility; font-family: Arial, \"Helvetica Neue\", Helvetica, sans-serif; align-items: center; font-size: 14px; overflow: hidden; font-style: normal; font-variant-ligatures: normal; font-variant-caps: normal; font-weight: 400; letter-spacing: normal; orphans: 2; text-align: start; text-indent: 0px; text-transform: none; white-space: pre-wrap; widows: 2; word-spacing: 0px; -webkit-text-stroke-width: 0px; text-decoration-thickness: initial; text-decoration-style: initial; text-decoration-color: initial; background-color: rgb(255, 255, 255);'>\u003cbr style=\"box-sizing: inherit; background-repeat: no-repeat; background-size: contain; margin-bottom: 0px;\">\u003c/p>\u003cp style='box-sizing: inherit; background-repeat: no-repeat; background-size: contain; margin: 0.5rem auto auto; padding: 0px; margin-block: 0px; margin-inline: 0px; padding-block: 0px; padding-inline: 0px; color: rgb(76, 76, 76); text-rendering: optimizelegibility; font-family: Arial, \"Helvetica Neue\", Helvetica, sans-serif; outline: 0px; align-items: center; font-size: 14px; overflow: hidden; font-style: normal; font-variant-ligatures: normal; font-variant-caps: normal; font-weight: 400; letter-spacing: normal; orphans: 2; text-align: start; text-indent: 0px; text-transform: none; white-space: pre-wrap; widows: 2; word-spacing: 0px; -webkit-text-stroke-width: 0px; text-decoration-thickness: initial; text-decoration-style: initial; text-decoration-color: initial; background-color: rgb(255, 255, 255);'>\u003cspan style='box-sizing: inherit; background-repeat: no-repeat; background-size: contain; font-family: Arial, \"Helvetica Neue\", Helvetica, sans-serif; margin-bottom: 0px; outline: 0px; color: rgb(76, 76, 76); font-size: 14px; font-style: normal; font-variant-ligatures: normal; font-variant-caps: normal; font-weight: 400; letter-spacing: normal; orphans: 2; text-align: start; text-indent: 0px; text-transform: none; white-space: pre-wrap; widows: 2; word-spacing: 0px; -webkit-text-stroke-width: 0px; background-color: rgb(255, 255, 255); text-decoration-thickness: initial; text-decoration-style: initial; text-decoration-color: initial; float: none; display: inline !important;'>All leagues, days, times, and locations are subject to change at any point in the season\u003c/span>\u003c/p>\u003cp style='box-sizing: inherit; background-repeat: no-repeat; background-size: contain; margin: 0.5rem auto auto; padding: 0px; margin-block: 0px; margin-inline: 0px; padding-block: 0px; padding-inline: 0px; color: rgb(76, 76, 76); text-rendering: optimizelegibility; font-family: Arial, \"Helvetica Neue\", Helvetica, sans-serif; outline: 0px; align-items: center; font-size: 14px; overflow: hidden; font-style: normal; font-variant-ligatures: normal; font-variant-caps: normal; font-weight: 400; letter-spacing: normal; orphans: 2; text-align: start; text-indent: 0px; text-transform: none; white-space: pre-wrap; widows: 2; word-spacing: 0px; -webkit-text-stroke-width: 0px; text-decoration-thickness: initial; text-decoration-style: initial; text-decoration-color: initial; background-color: rgb(255, 255, 255);'>\u003cbr>\u003c/p>\u003cp id=\"isPasted\" style='box-sizing: inherit; background-repeat: no-repeat; background-size: contain; color: inherit; text-rendering: optimizelegibility; font-family: Arial, \"Helvetica Neue\", Helvetica, sans-serif; align-items: center; font-size: inherit; overflow: hidden; font-style: normal; font-variant-ligatures: normal; font-variant-caps: normal; font-weight: 400; letter-spacing: normal; orphans: 2; text-indent: 0px; text-transform: none; white-space: pre-wrap; widows: 2; word-spacing: 0px; -webkit-text-stroke-width: 0px; background-color: rgb(255, 255, 255); text-decoration-thickness: initial; text-decoration-style: initial; text-decoration-color: initial; padding: 0px; margin-block: 0px; margin-inline: 0px; padding-block: 0px; padding-inline: 0px; margin: 0.5rem auto auto; text-align: center;'>\u003cstrong style=\"box-sizing: inherit; background-repeat: no-repeat; background-size: contain; font-weight: 600; margin-bottom: 0px;\">Sponsor Bar\u003c/strong>\u003c/p>\u003cp style='box-sizing: inherit; background-repeat: no-repeat; background-size: contain; color: inherit; text-rendering: optimizelegibility; font-family: Arial, \"Helvetica Neue\", Helvetica, sans-serif; align-items: center; font-size: inherit; overflow: hidden; font-style: normal; font-variant-ligatures: normal; font-variant-caps: normal; font-weight: 400; letter-spacing: normal; orphans: 2; text-indent: 0px; text-transform: none; white-space: pre-wrap; widows: 2; word-spacing: 0px; -webkit-text-stroke-width: 0px; background-color: rgb(255, 255, 255); text-decoration-thickness: initial; text-decoration-style: initial; text-decoration-color: initial; padding: 0px; margin-block: 0px; margin-inline: 0px; padding-block: 0px; padding-inline: 0px; margin: 0.5rem auto auto; text-align: center;'>All-Star Bar \u003cem style=\"box-sizing: inherit; background-repeat: no-repeat; background-size: contain; margin-bottom: 0px;\">(327 W 57th St, New York, NY 10019)\u003c/em>\u003c/p>\u003cp style='box-sizing: inherit; background-repeat: no-repeat; background-size: contain; color: inherit; text-rendering: optimizelegibility; font-family: Arial, \"Helvetica Neue\", Helvetica, sans-serif; align-items: center; font-size: inherit; overflow: hidden; font-style: normal; font-variant-ligatures: normal; font-variant-caps: normal; font-weight: 400; letter-spacing: normal; orphans: 2; text-indent: 0px; text-transform: none; white-space: pre-wrap; widows: 2; word-spacing: 0px; -webkit-text-stroke-width: 0px; background-color: rgb(255, 255, 255); text-decoration-thickness: initial; text-decoration-style: initial; text-decoration-color: initial; padding: 0px; margin-block: 0px; margin-inline: 0px; padding-block: 0px; padding-inline: 0px; margin: 0.5rem auto auto; text-align: center;'>\u003cstrong style=\"box-sizing: inherit; background-repeat: no-repeat; background-size: contain; font-weight: 600; margin-bottom: 0px;\">Specials\u003cbr style=\"box-sizing: inherit; background-repeat: no-repeat; background-size: contain; margin-bottom: 0px;\">\u003c/strong>\u003c/p>\u003cp style='box-sizing: inherit; background-repeat: no-repeat; background-size: contain; color: inherit; text-rendering: optimizelegibility; font-family: Arial, \"Helvetica Neue\", Helvetica, sans-serif; align-items: center; font-size: inherit; overflow: hidden; font-style: normal; font-variant-ligatures: normal; font-variant-caps: normal; font-weight: 400; letter-spacing: normal; orphans: 2; text-indent: 0px; text-transform: none; white-space: pre-wrap; widows: 2; word-spacing: 0px; -webkit-text-stroke-width: 0px; background-color: rgb(255, 255, 255); text-decoration-thickness: initial; text-decoration-style: initial; text-decoration-color: initial; padding: 0px; margin-block: 0px; margin-inline: 0px; padding-block: 0px; padding-inline: 0px; margin: 0.5rem auto auto; text-align: center;'>$20 Select Pitchers or 10% off Bill\u003c/p>"},"activityName":"Softball","programType":"LEAGUE"},"League:6440b7cc81ffae512d9c5c63":{"__typename":"League","_id":"6440b7cc81ffae512d9c5c63","name":"Softball (10v10 Coed) - Sunday - Central Park (Central Park) - June 2023","featured_order":null,"schedule":{"__typename":"Schedule","start_date":"2023-06-18T16:00:00.000Z"},"details":{"__typename":"LeagueDetails","description":"\u003cp>Gotham City Sports Club in conjunction with Volo Sports presents the Gotham City Sports Co-Ed League.\u003cbr>\u003cbr>No need to carry Bases & Balls to the field or bring cash for umpires as we provide all equipment and have no ump fees.\u003cbr id=\"isPasted\">\u003cbr>\u003cstrong>Season length:
\u003c/strong>\u003cbr>6 Week Regular Season + Playoffs (Min Top 6 Teams)\u003cbr>\u003cbr>\u003cstrong>Game Play: 
\u003c/strong>\u003cbr>10 vs 10 (Coed) - Min 3 Women on Field
\u003cbr>Rosters 15-25 players - Min 4 Women\u003cbr>
 *This League is Metal Bat*
\u003cbr>*Players must bring their own gloves*

\u003cbr>\u003cbr>\u003cstrong>Schedule: 
\u003c/strong>\u003cbr>Game Times will vary weekly

\u003cbr>\u003cbr>\u003cstrong>Weather Cancellations\u003c/strong>:\u003cbr>
 *Will will have 1 night available rained out game, all other games subject to be made up at other times, venues and days*
\u003cbr>\u003cbr>All leagues, days, times, and locations are subject to change at any point in the season.\u003c/p>\u003cp>\u003cbr>\u003c/p>\u003cdiv id=\"isPasted\" style='box-sizing: inherit; background-repeat: no-repeat; background-size: contain; -webkit-tap-highlight-color: rgba(0, 0, 0, 0); font-family: Arial, \"Helvetica Neue\", Helvetica, sans-serif;'>\u003cp style='box-sizing: inherit; background-repeat: no-repeat; background-size: contain; color: inherit; text-rendering: optimizelegibility; font-family: Arial, \"Helvetica Neue\", Helvetica, sans-serif; padding: 0px; margin-block: 0px; margin-inline: 0px; padding-block: 0px; padding-inline: 0px; align-items: center; font-size: inherit; margin: 0.5rem auto auto; overflow: hidden; text-align: center;'>\u003cstrong style=\"box-sizing: inherit; background-repeat: no-repeat; background-size: contain; font-weight: 600; margin-bottom: 0px;\">Sponsor Bar\u003c/strong>\u003c/p>\u003cp style='box-sizing: inherit; background-repeat: no-repeat; background-size: contain; color: inherit; text-rendering: optimizelegibility; font-family: Arial, \"Helvetica Neue\", Helvetica, sans-serif; padding: 0px; margin-block: 0px; margin-inline: 0px; padding-block: 0px; padding-inline: 0px; align-items: center; font-size: inherit; margin: 0.5rem auto auto; overflow: hidden; text-align: center;'>All-Star Bar \u003cem style=\"box-sizing: inherit; background-repeat: no-repeat; background-size: contain; margin-bottom: 0px;\">(327 W 57th St, New York, NY 10019)\u003c/em>\u003c/p>\u003cp style='box-sizing: inherit; background-repeat: no-repeat; background-size: contain; color: inherit; text-rendering: optimizelegibility; font-family: Arial, \"Helvetica Neue\", Helvetica, sans-serif; padding: 0px; margin-block: 0px; margin-inline: 0px; padding-block: 0px; padding-inline: 0px; align-items: center; font-size: inherit; margin: 0.5rem auto auto; overflow: hidden; text-align: center;'>\u003cstrong style=\"box-sizing: inherit; background-repeat: no-repeat; background-size: contain; font-weight: 600; margin-bottom: 0px;\">Specials\u003cbr style=\"box-sizing: inherit; background-repeat: no-repeat; background-size: contain; margin-bottom: 0px;\">\u003c/strong>\u003c/p>\u003cp style='box-sizing: inherit; background-repeat: no-repeat; background-size: contain; color: inherit; text-rendering: optimizelegibility; font-family: Arial, \"Helvetica Neue\", Helvetica, sans-serif; padding: 0px; margin-block: 0px; margin-inline: 0px; padding-block: 0px; padding-inline: 0px; align-items: center; font-size: inherit; margin: 0.5rem auto auto; overflow: hidden; text-align: center;'>$20 Select Pitchers or 10% off Bill\u003c/p>\u003c/div>"},"activityName":"Softball","programType":"LEAGUE"},"League:64405c46b557c97a7bf17f6d":{"__typename":"League","_id":"64405c46b557c97a7bf17f6d","name":"Softball (10v10 Coed) - Saturday - Central Park (Central Park) - June 2023","featured_order":null,"schedule":{"__typename":"Schedule","start_date":"2023-06-24T16:00:00.000Z"},"details":{"__typename":"LeagueDetails","description":"\u003cp>Gotham City Sports Club in conjunction with Volo Sports presents the Gotham City Sports Co-Ed League.\u003cbr>\u003cbr>No need to carry Bases & Balls to the field or bring cash for umpires as we provide all equipment and have no ump fees.\u003cbr id=\"isPasted\">\u003cbr>\u003cstrong>Season length:
\u003c/strong>\u003cbr>6 Week Regular Season + Playoffs (Min Top 6 Teams)\u003cbr>\u003cbr>\u003cstrong>Game Play: 
\u003c/strong>\u003cbr>10 vs 10 (Coed) - Min 3 Women on Field
\u003cbr>Rosters 15-25 players - Min 4 Women\u003cbr>
 *This League is Metal Bat*
\u003cbr>*Players must bring their own gloves*

\u003cbr>\u003cbr>\u003cstrong>Schedule: 
\u003c/strong>\u003cbr>Game Times will vary weekly

\u003cbr>\u003cbr>\u003cstrong>Weather Cancellations\u003c/strong>:\u003cbr>
 *Will will have 1 night available rained out game, all other games subject to be made up at other times, venues and days*
\u003cbr>\u003cbr>All leagues, days, times, and locations are subject to change at any point in the season.\u003c/p>\u003cp>\u003cbr>\u003c/p>\u003cdiv id=\"isPasted\" style='box-sizing: inherit; background-repeat: no-repeat; background-size: contain; -webkit-tap-highlight-color: rgba(0, 0, 0, 0); font-family: Arial, \"Helvetica Neue\", Helvetica, sans-serif;'>\u003cp style='box-sizing: inherit; background-repeat: no-repeat; background-size: contain; color: inherit; text-rendering: optimizelegibility; font-family: Arial, \"Helvetica Neue\", Helvetica, sans-serif; padding: 0px; margin-block: 0px; margin-inline: 0px; padding-block: 0px; padding-inline: 0px; align-items: center; font-size: inherit; margin: 0.5rem auto auto; overflow: hidden; text-align: center;'>\u003cstrong style=\"box-sizing: inherit; background-repeat: no-repeat; background-size: contain; font-weight: 600; margin-bottom: 0px;\">Sponsor Bar\u003c/strong>\u003c/p>\u003cp style='box-sizing: inherit; background-repeat: no-repeat; background-size: contain; color: inherit; text-rendering: optimizelegibility; font-family: Arial, \"Helvetica Neue\", Helvetica, sans-serif; padding: 0px; margin-block: 0px; margin-inline: 0px; padding-block: 0px; padding-inline: 0px; align-items: center; font-size: inherit; margin: 0.5rem auto auto; overflow: hidden; text-align: center;'>All-Star Bar \u003cem style=\"box-sizing: inherit; background-repeat: no-repeat; background-size: contain; margin-bottom: 0px;\">(327 W 57th St, New York, NY 10019)\u003c/em>\u003c/p>\u003cp style='box-sizing: inherit; background-repeat: no-repeat; background-size: contain; color: inherit; text-rendering: optimizelegibility; font-family: Arial, \"Helvetica Neue\", Helvetica, sans-serif; padding: 0px; margin-block: 0px; margin-inline: 0px; padding-block: 0px; padding-inline: 0px; align-items: center; font-size: inherit; margin: 0.5rem auto auto; overflow: hidden; text-align: center;'>\u003cstrong style=\"box-sizing: inherit; background-repeat: no-repeat; background-size: contain; font-weight: 600; margin-bottom: 0px;\">Specials\u003cbr style=\"box-sizing: inherit; background-repeat: no-repeat; background-size: contain; margin-bottom: 0px;\">\u003c/strong>\u003c/p>\u003cp style='box-sizing: inherit; background-repeat: no-repeat; background-size: contain; color: inherit; text-rendering: optimizelegibility; font-family: Arial, \"Helvetica Neue\", Helvetica, sans-serif; padding: 0px; margin-block: 0px; margin-inline: 0px; padding-block: 0px; padding-inline: 0px; align-items: center; font-size: inherit; margin: 0.5rem auto auto; overflow: hidden; text-align: center;'>$20 Select Pitchers or 10% off Bill\u003c/p>\u003c/div>"},"activityName":"Softball","programType":"LEAGUE"},"League:64404684c5dce4015896787e":{"__typename":"League","_id":"64404684c5dce4015896787e","name":"Softball (10v10 Coed) - Saturday - McCarren Park - Blacktop (Williamsburg) - June 2023","featured_order":null,"schedule":{"__typename":"Schedule","start_date":"2023-06-24T16:00:00.000Z"},"details":{"__typename":"LeagueDetails","description":"\u003cp>Join us at our most popular Softball Leagues! McCarren Park leagues will sell out quickly so sign up your team before it's too late.\u003c/p>\u003cp>\u003cbr>\u003c/p>\u003cp>No need to carry bases and balls to the field or bring cash for umpires as we provide all equipment and have no ump fees.\u003cbr id=\"isPasted\">\u003cbr>\u003cstrong>Season length:
\u003c/strong>\u003cbr>6 Week Regular Season + Playoffs (Min Top 4 Teams)\u003cbr>\u003cbr>\u003cstrong>

Game Play: \u003c/strong>
\u003cbr>This league played on the McCarren Blacktop.\u003cbr>10 vs 10 (Coed) - Min 3 Women on Field
\u003cbr>Rosters 15-25 players - Min 4 Women
\u003cbr>**This League is Wood Bat*\u003cbr>*Players must bring their own gloves*\u003cbr>\u003cbr>\u003cstrong>Schedule: 
\u003c/strong>\u003cbr>Game Times will vary weekly

\u003cbr>\u003cbr>\u003cstrong>Weather Cancellations:
\u003c/strong>\u003cbr> *Will will have 1 night available rained out game, all other games subject to be made up at other times, venues and days*
\u003cbr>\u003cbr>All leagues, days, times, and locations are subject to change at any point in the season.\u003cbr>
\u003c/p>\u003cp id=\"isPasted\" style=\"text-align: center;\">\u003cstrong>Sponsor Bar\u003c/strong>\u003c/p>\u003cp style=\"text-align: center;\">Kilo Bravo \u003cem>(180 N 10th St, Brooklyn, NY 11211)\u003c/em>\u003c/p>\u003cp style=\"text-align: center;\">\u003cstrong>Specials\u003cbr>\u003c/strong>\u003c/p>\u003cp style=\"text-align: center;\">$15 Bravo Pitcher, $7 for 3 Jello Shots\u003c/p>"},"activityName":"Softball","programType":"LEAGUE"},"League:644045c460b635137b217770":{"__typename":"League","_id":"644045c460b635137b217770","name":"Softball (10v10 Coed) - Saturday - Central Park (Central Park) - June 2023","featured_order":null,"schedule":{"__typename":"Schedule","start_date":"2023-06-24T16:00:00.000Z"},"details":{"__typename":"LeagueDetails","description":"\u003cp>Gotham City Sports Club in conjunction with Volo Sports presents the Gotham City Sports Co-Ed League.\u003cbr>\u003cbr>No need to carry Bases & Balls to the field or bring cash for umpires as we provide all equipment and have no ump fees.\u003cbr id=\"isPasted\">\u003cbr>\u003cstrong>Season length:
\u003c/strong>\u003cbr>6 Week Regular Season + Playoffs (Min Top 6 Teams)\u003cbr>\u003cbr>\u003cstrong>Game Play: 
\u003c/strong>\u003cbr>10 vs 10 (Coed) - Min 3 Women on Field
\u003cbr>Rosters 15-25 players - Min 4 Women\u003cbr>
 *This League is Metal Bat*
\u003cbr>*Players must bring their own gloves*

\u003cbr>\u003cbr>\u003cstrong>Schedule: 
\u003c/strong>\u003cbr>Game Times will vary weekly

\u003cbr>\u003cbr>\u003cstrong>Weather Cancellations\u003c/strong>:\u003cbr>
 *Will will have 1 night available rained out game, all other games subject to be made up at other times, venues and days*
\u003cbr>\u003cbr>All leagues, days, times, and locations are subject to change at any point in the season.\u003c/p>\u003cp>\u003cbr>\u003c/p>\u003cdiv id=\"isPasted\" style='box-sizing: inherit; background-repeat: no-repeat; background-size: contain; -webkit-tap-highlight-color: rgba(0, 0, 0, 0); font-family: Arial, \"Helvetica Neue\", Helvetica, sans-serif;'>\u003cp style='box-sizing: inherit; background-repeat: no-repeat; background-size: contain; color: inherit; text-rendering: optimizelegibility; font-family: Arial, \"Helvetica Neue\", Helvetica, sans-serif; padding: 0px; margin-block: 0px; margin-inline: 0px; padding-block: 0px; padding-inline: 0px; align-items: center; font-size: inherit; margin: 0.5rem auto auto; overflow: hidden; text-align: center;'>\u003cstrong style=\"box-sizing: inherit; background-repeat: no-repeat; background-size: contain; font-weight: 600; margin-bottom: 0px;\">Sponsor Bar\u003c/strong>\u003c/p>\u003cp style='box-sizing: inherit; background-repeat: no-repeat; background-size: contain; color: inherit; text-rendering: optimizelegibility; font-family: Arial, \"Helvetica Neue\", Helvetica, sans-serif; padding: 0px; margin-block: 0px; margin-inline: 0px; padding-block: 0px; padding-inline: 0px; align-items: center; font-size: inherit; margin: 0.5rem auto auto; overflow: hidden; text-align: center;'>All-Star Bar \u003cem style=\"box-sizing: inherit; background-repeat: no-repeat; background-size: contain; margin-bottom: 0px;\">(327 W 57th St, New York, NY 10019)\u003c/em>\u003c/p>\u003cp style='box-sizing: inherit; background-repeat: no-repeat; background-size: contain; color: inherit; text-rendering: optimizelegibility; font-family: Arial, \"Helvetica Neue\", Helvetica, sans-serif; padding: 0px; margin-block: 0px; margin-inline: 0px; padding-block: 0px; padding-inline: 0px; align-items: center; font-size: inherit; margin: 0.5rem auto auto; overflow: hidden; text-align: center;'>\u003cstrong style=\"box-sizing: inherit; background-repeat: no-repeat; background-size: contain; font-weight: 600; margin-bottom: 0px;\">Specials\u003cbr style=\"box-sizing: inherit; background-repeat: no-repeat; background-size: contain; margin-bottom: 0px;\">\u003c/strong>\u003c/p>\u003cp style='box-sizing: inherit; background-repeat: no-repeat; background-size: contain; color: inherit; text-rendering: optimizelegibility; font-family: Arial, \"Helvetica Neue\", Helvetica, sans-serif; padding: 0px; margin-block: 0px; margin-inline: 0px; padding-block: 0px; padding-inline: 0px; align-items: center; font-size: inherit; margin: 0.5rem auto auto; overflow: hidden; text-align: center;'>$20 Select Pitchers or 10% off Bill\u003c/p>\u003c/div>"},"activityName":"Softball","programType":"LEAGUE"},"League:64402c638fdf261b0bb29241":{"__typename":"League","_id":"64402c638fdf261b0bb29241","name":"Softball (10v10 Coed) - Friday - Boston Common (Boston - Downtown) - July 2023","featured_order":null,"schedule":{"__typename":"Schedule","start_date":"2023-07-21T16:00:00.000Z"},"details":{"__typename":"LeagueDetails","description":"\u003cp>Get the squad set to play on Fridays at the iconic Boston Common. Team will meet once a week under the lights to bat it out and hit some dingers. \u003c/p>\u003cp>\u003cbr>\u003c/p>\u003cp>After your league, take the team to the sponsor bar, \u003cstrong>4th Wall\u003c/strong>, for a special player menu\u003c/p>\u003cul>\u003cli>Bucket of Sam Wicked Easy cans $20\u003c/li>\u003cli>Volo happy meal: house burger and fries $12\u003c/li>\u003cli>Bites and a Brew: chicken bites and a Stella draft $16\u003c/li>\u003c/ul>\u003cp>\u003cbr>\u003c/p>\u003cp id=\"isPasted\" style='box-sizing: inherit; background-repeat: no-repeat; background-size: contain; margin: 0px; padding: 0px; margin-block: 0px; margin-inline: 0px; padding-block: 0px; padding-inline: 0px; color: rgb(65, 65, 65); text-rendering: optimizelegibility; font-family: Arial, \"Helvetica Neue\", Helvetica, sans-serif; align-items: center; font-size: 14px; overflow: inherit; font-style: normal; font-variant-ligatures: normal; font-variant-caps: normal; font-weight: 400; letter-spacing: normal; orphans: 2; text-indent: 0px; text-transform: none; widows: 2; word-spacing: 0px; -webkit-text-stroke-width: 0px; text-decoration-thickness: initial; text-decoration-style: initial; text-decoration-color: initial; text-align: left; white-space: normal; background-color: rgb(255, 255, 255);'>\u003cspan id=\"isPasted\" style='color: rgb(76, 76, 76); font-family: Arial, \"Helvetica Neue\", Helvetica, sans-serif; font-size: 14px; font-style: normal; font-variant-ligatures: normal; font-variant-caps: normal; font-weight: 400; letter-spacing: normal; orphans: 2; text-align: start; text-indent: 0px; text-transform: none; white-space: pre-wrap; widows: 2; word-spacing: 0px; -webkit-text-stroke-width: 0px; background-color: rgb(255, 255, 255); text-decoration-thickness: initial; text-decoration-style: initial; text-decoration-color: initial; display: inline !important; float: none;'>10v10 Coed Softball League \u003c/span>\u003c/p>\u003cp style='box-sizing: inherit; background-repeat: no-repeat; background-size: contain; margin: 0px; padding: 0px; margin-block: 0px; margin-inline: 0px; padding-block: 0px; padding-inline: 0px; color: rgb(65, 65, 65); text-rendering: optimizelegibility; font-family: Arial, \"Helvetica Neue\", Helvetica, sans-serif; align-items: center; font-size: 14px; overflow: inherit; font-style: normal; font-variant-ligatures: normal; font-variant-caps: normal; font-weight: 400; letter-spacing: normal; orphans: 2; text-indent: 0px; text-transform: none; widows: 2; word-spacing: 0px; -webkit-text-stroke-width: 0px; text-decoration-thickness: initial; text-decoration-style: initial; text-decoration-color: initial; text-align: left; white-space: normal; background-color: rgb(255, 255, 255);'>\u003cspan style='color: rgb(76, 76, 76); font-family: Arial, \"Helvetica Neue\", Helvetica, sans-serif; font-size: 14px; font-style: normal; font-variant-ligatures: normal; font-variant-caps: normal; font-weight: 400; letter-spacing: normal; orphans: 2; text-align: start; text-indent: 0px; text-transform: none; white-space: pre-wrap; widows: 2; word-spacing: 0px; -webkit-text-stroke-width: 0px; background-color: rgb(255, 255, 255); text-decoration-thickness: initial; text-decoration-style: initial; text-decoration-color: initial; display: inline !important; float: none;'>Minimum for a full team is 14 players - minimum of 4 men/women. Teams that do not reach the minimum roster by the registration deadline are subject to having additional players added to their roster. \u003c/span>\u003c/p>\u003cp style='box-sizing: inherit; background-repeat: no-repeat; background-size: contain; margin: 0px; padding: 0px; margin-block: 0px; margin-inline: 0px; padding-block: 0px; padding-inline: 0px; color: rgb(65, 65, 65); text-rendering: optimizelegibility; font-family: Arial, \"Helvetica Neue\", Helvetica, sans-serif; align-items: center; font-size: 14px; overflow: inherit; font-style: normal; font-variant-ligatures: normal; font-variant-caps: normal; font-weight: 400; letter-spacing: normal; orphans: 2; text-indent: 0px; text-transform: none; widows: 2; word-spacing: 0px; -webkit-text-stroke-width: 0px; text-decoration-thickness: initial; text-decoration-style: initial; text-decoration-color: initial; text-align: left; white-space: normal; background-color: rgb(255, 255, 255);'>\u003cspan style='color: rgb(76, 76, 76); font-family: Arial, \"Helvetica Neue\", Helvetica, sans-serif; font-size: 14px; font-style: normal; font-variant-ligatures: normal; font-variant-caps: normal; font-weight: 400; letter-spacing: normal; orphans: 2; text-align: start; text-indent: 0px; text-transform: none; white-space: pre-wrap; widows: 2; word-spacing: 0px; -webkit-text-stroke-width: 0px; background-color: rgb(255, 255, 255); text-decoration-thickness: initial; text-decoration-style: initial; text-decoration-color: initial; display: inline !important; float: none;'>7 player minimum for official game - minimum of 1 man/woman \u003c/span>\u003c/p>\u003cp style='box-sizing: inherit; background-repeat: no-repeat; background-size: contain; margin: 0px; padding: 0px; margin-block: 0px; margin-inline: 0px; padding-block: 0px; padding-inline: 0px; color: rgb(65, 65, 65); text-rendering: optimizelegibility; font-family: Arial, \"Helvetica Neue\", Helvetica, sans-serif; align-items: center; font-size: 14px; overflow: inherit; font-style: normal; font-variant-ligatures: normal; font-variant-caps: normal; font-weight: 400; letter-spacing: normal; orphans: 2; text-indent: 0px; text-transform: none; widows: 2; word-spacing: 0px; -webkit-text-stroke-width: 0px; text-decoration-thickness: initial; text-decoration-style: initial; text-decoration-color: initial; text-align: left; white-space: normal; background-color: rgb(255, 255, 255);'>\u003cspan style='color: rgb(76, 76, 76); font-family: Arial, \"Helvetica Neue\", Helvetica, sans-serif; font-size: 14px; font-style: normal; font-variant-ligatures: normal; font-variant-caps: normal; font-weight: 400; letter-spacing: normal; orphans: 2; text-align: start; text-indent: 0px; text-transform: none; white-space: pre-wrap; widows: 2; word-spacing: 0px; -webkit-text-stroke-width: 0px; background-color: rgb(255, 255, 255); text-decoration-thickness: initial; text-decoration-style: initial; text-decoration-color: initial; display: inline !important; float: none;'>10 players on field - minimum of 3 men/women \u003c/span>\u003c/p>\u003cp style='box-sizing: inherit; background-repeat: no-repeat; background-size: contain; margin: 0px; padding: 0px; margin-block: 0px; margin-inline: 0px; padding-block: 0px; padding-inline: 0px; color: rgb(65, 65, 65); text-rendering: optimizelegibility; font-family: Arial, \"Helvetica Neue\", Helvetica, sans-serif; align-items: center; font-size: 14px; overflow: inherit; font-style: normal; font-variant-ligatures: normal; font-variant-caps: normal; font-weight: 400; letter-spacing: normal; orphans: 2; text-indent: 0px; text-transform: none; widows: 2; word-spacing: 0px; -webkit-text-stroke-width: 0px; text-decoration-thickness: initial; text-decoration-style: initial; text-decoration-color: initial; text-align: left; white-space: normal; background-color: rgb(255, 255, 255);'>\u003cspan style='color: rgb(76, 76, 76); font-family: Arial, \"Helvetica Neue\", Helvetica, sans-serif; font-size: 14px; font-style: normal; font-variant-ligatures: normal; font-variant-caps: normal; font-weight: 400; letter-spacing: normal; orphans: 2; text-align: start; text-indent: 0px; text-transform: none; white-space: pre-wrap; widows: 2; word-spacing: 0px; -webkit-text-stroke-width: 0px; background-color: rgb(255, 255, 255); text-decoration-thickness: initial; text-decoration-style: initial; text-decoration-color: initial; display: inline !important; float: none;'>Gloves are not provided. Please bring your own. \u003c/span>\u003c/p>\u003cp style='box-sizing: inherit; background-repeat: no-repeat; background-size: contain; margin: 0px; padding: 0px; margin-block: 0px; margin-inline: 0px; padding-block: 0px; padding-inline: 0px; color: rgb(65, 65, 65); text-rendering: optimizelegibility; font-family: Arial, \"Helvetica Neue\", Helvetica, sans-serif; align-items: center; font-size: 14px; overflow: inherit; font-style: normal; font-variant-ligatures: normal; font-variant-caps: normal; font-weight: 400; letter-spacing: normal; orphans: 2; text-indent: 0px; text-transform: none; widows: 2; word-spacing: 0px; -webkit-text-stroke-width: 0px; text-decoration-thickness: initial; text-decoration-style: initial; text-decoration-color: initial; text-align: left; white-space: normal; background-color: rgb(255, 255, 255);'>\u003cbr>\u003c/p>\u003cp style='box-sizing: inherit; background-repeat: no-repeat; background-size: contain; margin: 0px; padding: 0px; margin-block: 0px; margin-inline: 0px; padding-block: 0px; padding-inline: 0px; color: rgb(65, 65, 65); text-rendering: optimizelegibility; font-family: Arial, \"Helvetica Neue\", Helvetica, sans-serif; align-items: center; font-size: 14px; overflow: inherit; font-style: normal; font-variant-ligatures: normal; font-variant-caps: normal; font-weight: 400; letter-spacing: normal; orphans: 2; text-indent: 0px; text-transform: none; widows: 2; word-spacing: 0px; -webkit-text-stroke-width: 0px; text-decoration-thickness: initial; text-decoration-style: initial; text-decoration-color: initial; text-align: left; white-space: normal; background-color: rgb(255, 255, 255);'>\u003cspan style='color: rgb(76, 76, 76); font-family: Arial, \"Helvetica Neue\", Helvetica, sans-serif; font-size: 14px; font-style: normal; font-variant-ligatures: normal; font-variant-caps: normal; font-weight: 400; letter-spacing: normal; orphans: 2; text-align: start; text-indent: 0px; text-transform: none; white-space: pre-wrap; widows: 2; word-spacing: 0px; -webkit-text-stroke-width: 0px; background-color: rgb(255, 255, 255); text-decoration-thickness: initial; text-decoration-style: initial; text-decoration-color: initial; display: inline !important; float: none;'>*Depending on the number of teams it's possible for teams to have byes or doubleheaders. All teams will get 6 regular season games. If teams do not follow our forfeit policy they will be DQ'd from the playoffs. Please see our rules for our forfeit policy.\u003c/span>\u003c/p>\u003cp style='box-sizing: inherit; background-repeat: no-repeat; background-size: contain; margin: 0px; padding: 0px; margin-block: 0px; margin-inline: 0px; padding-block: 0px; padding-inline: 0px; color: rgb(65, 65, 65); text-rendering: optimizelegibility; font-family: Arial, \"Helvetica Neue\", Helvetica, sans-serif; align-items: center; font-size: 14px; overflow: inherit; font-style: normal; font-variant-ligatures: normal; font-variant-caps: normal; font-weight: 400; letter-spacing: normal; orphans: 2; text-indent: 0px; text-transform: none; widows: 2; word-spacing: 0px; -webkit-text-stroke-width: 0px; text-decoration-thickness: initial; text-decoration-style: initial; text-decoration-color: initial; text-align: left; white-space: normal; background-color: rgb(255, 255, 255);'>\u003cbr style=\"box-sizing: inherit; background-repeat: no-repeat; background-size: contain; margin-bottom: 0px;\">\u003c/p>\u003cp style='box-sizing: inherit; background-repeat: no-repeat; background-size: contain; margin: 0px; padding: 0px; margin-block: 0px; margin-inline: 0px; padding-block: 0px; padding-inline: 0px; color: rgb(65, 65, 65); text-rendering: optimizelegibility; font-family: Arial, \"Helvetica Neue\", Helvetica, sans-serif; align-items: center; font-size: 14px; overflow: inherit; font-style: normal; font-variant-ligatures: normal; font-variant-caps: normal; font-weight: 400; letter-spacing: normal; orphans: 2; text-indent: 0px; text-transform: none; widows: 2; word-spacing: 0px; -webkit-text-stroke-width: 0px; text-decoration-thickness: initial; text-decoration-style: initial; text-decoration-color: initial; text-align: left; white-space: normal; background-color: rgb(255, 255, 255);'>\u003cbr>\u003c/p>\u003cp style='box-sizing: inherit; background-repeat: no-repeat; background-size: contain; margin: 0px; padding: 0px; margin-block: 0px; margin-inline: 0px; padding-block: 0px; padding-inline: 0px; color: rgb(65, 65, 65); text-rendering: optimizelegibility; font-family: Arial, \"Helvetica Neue\", Helvetica, sans-serif; align-items: center; font-size: 14px; overflow: inherit; font-style: normal; font-variant-ligatures: normal; font-variant-caps: normal; font-weight: 400; letter-spacing: normal; orphans: 2; text-indent: 0px; text-transform: none; widows: 2; word-spacing: 0px; -webkit-text-stroke-width: 0px; text-decoration-thickness: initial; text-decoration-style: initial; text-decoration-color: initial; text-align: left; white-space: normal; background-color: rgb(255, 255, 255);'>\u003cbr style=\"box-sizing: inherit; background-repeat: no-repeat; background-size: contain; margin-bottom: 0px;\">\u003c/p>\u003cp style='box-sizing: inherit; background-repeat: no-repeat; background-size: contain; margin: 0px; padding: 0px; margin-block: 0px; margin-inline: 0px; padding-block: 0px; padding-inline: 0px; color: rgb(65, 65, 65); text-rendering: optimizelegibility; font-family: Arial, \"Helvetica Neue\", Helvetica, sans-serif; align-items: center; font-size: 14px; overflow: inherit; font-style: normal; font-variant-ligatures: normal; font-variant-caps: normal; font-weight: 400; letter-spacing: normal; orphans: 2; text-indent: 0px; text-transform: none; widows: 2; word-spacing: 0px; -webkit-text-stroke-width: 0px; text-decoration-thickness: initial; text-decoration-style: initial; text-decoration-color: initial; text-align: left; white-space: normal; background-color: rgb(255, 255, 255);'>\u003cbr>\u003c/p>"},"activityName":"Softball","programType":"LEAGUE"},"League:64401d427acdcd18827dfa2b":{"__typename":"League","_id":"64401d427acdcd18827dfa2b","name":"Softball (Men) - Sunday - Swann Park (Federal Hill) - June 2023","featured_order":null,"schedule":{"__typename":"Schedule","start_date":"2023-06-18T16:00:00.000Z"},"details":{"__typename":"LeagueDetails","description":"\u003cp id=\"isPasted\">Sunday Funday at Swann Park is a can't miss!\u003c/p>\u003cp>\u003cbr>\u003c/p>\u003cp style=\"line-height: 1.2; margin-top: 0pt; margin-bottom: 0pt;\">\u003cspan style=\"font-size: 11pt; font-family: Arial; background-color: #ffffff;\">Men's League\u003c/span>\u003c/p>\u003cp style=\"line-height: 1.2; margin-top: 0pt; margin-bottom: 0pt;\">\u003cspan style=\"font-size: 11pt; font-family: Arial; background-color: #ffffff;\">10 max total on the field\u003c/span>\u003c/p>\u003cp style=\"line-height: 1.2; margin-top: 0pt; margin-bottom: 0pt;\">\u003cspan style=\"font-size: 11pt; font-family: Arial; background-color: #ffffff;\">Pitch count starts 1-1 \u003c/span>\u003c/p>\u003cp style=\"line-height: 1.2; margin-top: 0pt; margin-bottom: 0pt;\">\u003cspan style=\"font-size: 11pt; font-family: Arial; background-color: #ffffff;\">At least \u003c/span>\u003cspan style=\"font-size: 11pt; font-family: Arial; background-color: #ffffff;\">6 players required to start game\u003c/span>\u003c/p>\u003cp style=\"line-height: 1.2; margin-top: 0pt; margin-bottom: 0pt;\">\u003cspan style=\"font-size: 11pt; font-family: Arial; background-color: #ffffff;\">Gloves are not provided. Please bring your own.\u003c/span>\u003c/p>\u003cp style=\"line-height: 1.2; margin-top: 0pt; margin-bottom: 0pt;\">\u003cspan style=\"font-size: 11pt; font-family: Arial; background-color: #ffffff;\">NO METAL SPIKES\u003c/span>\u003c/p>\u003cp style=\"line-height: 1.2; margin-top: 0pt; margin-bottom: 0pt;\">\u003cbr>\u003c/p>\u003cp style=\"line-height: 1.2; margin-top: 4pt; margin-bottom: 4pt;\">\u003cstrong>\u003cspan style=\"font-size: 11pt; font-family: Arial;\">Playoffs\u003c/span>\u003c/strong>\u003c/p>\u003cp style=\"line-height: 1.2; margin-top: 4pt; margin-bottom: 4pt;\">\u003cspan style=\"font-size: 11.5pt; font-family: Arial; color: #1d1c1d;\">Top 50% teams will make playoffs\u003c/span>\u003c/p>\u003cp style=\"line-height: 1.2; margin-top: 4pt; margin-bottom: 4pt;\">\u003cspan style=\"font-size: 11.5pt; font-family: Arial; color: #1d1c1d;\">*Additional teams may be added to playoffs if schedules / venue space allow\u003c/span>\u003c/p>\u003cp style=\"line-height: 1.2; margin-top: 4pt; margin-bottom: 4pt;\">\u003cbr>\u003c/p>\u003cp style=\"line-height: 1.2; margin-top: 4pt; margin-bottom: 4pt;\">\u003cstrong>End of season Party will be 6/30 and is included with registration where you can celebrate your season with some free drinks at Volo's new facility The PARK. All spring players will be emailed a code to sign up for free. \u003ca data-fr-linked=\"true\" href=\"//www.volosports.com/d/6435b9eaa520b1a82e834320\">www.volosports.com/d/6435b9eaa520b1a82e834320\u003c/a>\u003cbr>\u003c/strong>\u003c/p>"},"activityName":"Softball","programType":"LEAGUE"},"League:64401d427acdcd18827dfa1d":{"__typename":"League","_id":"64401d427acdcd18827dfa1d","name":"Softball (Coed) - Sunday - Swann Park (Federal Hill) - June 2023","featured_order":null,"schedule":{"__typename":"Schedule","start_date":"2023-06-18T16:00:00.000Z"},"details":{"__typename":"LeagueDetails","description":"\u003cp id=\"isPasted\">Sunday Funday at Swann Park is a can't miss!\u003c/p>\u003cp>\u003cbr>\u003c/p>\u003cp style=\"line-height: 1.2; margin-top: 0pt; margin-bottom: 0pt;\">\u003cspan style=\"font-size: 11pt; font-family: Arial; background-color: #ffffff;\">Coed League\u003c/span>\u003c/p>\u003cp style=\"line-height: 1.2; margin-top: 0pt; margin-bottom: 0pt;\">\u003cspan style=\"font-size: 11pt; font-family: Arial; background-color: #ffffff;\">10 max total, 7 male players max on the field\u003c/span>\u003c/p>\u003cp style=\"line-height: 1.2; margin-top: 0pt; margin-bottom: 0pt;\">\u003cspan style=\"font-size: 11pt; font-family: Arial; background-color: #ffffff;\">Pitch count starts 1-1 \u003c/span>\u003c/p>\u003cp style=\"line-height: 1.2; margin-top: 0pt; margin-bottom: 0pt;\">\u003cspan style=\"font-size: 11pt; font-family: Arial; background-color: #ffffff;\">At least \u003c/span>\u003cspan style=\"font-size: 11pt; font-family: Arial; background-color: #ffffff;\">6 players, 1 woman min, to start game\u003c/span>\u003c/p>\u003cp style=\"line-height: 1.2; margin-top: 0pt; margin-bottom: 0pt;\">\u003cspan style=\"font-size: 11pt; font-family: Arial; background-color: #ffffff;\">No more than 3 men can bat in a row\u003c/span>\u003c/p>\u003cp style=\"line-height: 1.2; margin-top: 0pt; margin-bottom: 0pt;\">\u003cspan style=\"font-size: 11pt; font-family: Arial; background-color: #ffffff;\">Gloves are not provided. Please bring your own.\u003c/span>\u003c/p>\u003cp style=\"line-height: 1.2; margin-top: 0pt; margin-bottom: 0pt;\">\u003cspan style=\"font-size: 11pt; font-family: Arial; background-color: #ffffff;\">NO METAL SPIKES\u003c/span>\u003c/p>\u003cp style=\"line-height: 1.2; margin-top: 0pt; margin-bottom: 0pt;\">\u003cbr>\u003c/p>\u003cp style=\"line-height: 1.2; margin-top: 4pt; margin-bottom: 4pt;\">\u003cstrong>\u003cspan style=\"font-size: 11pt; font-family: Arial;\">Playoffs\u003c/span>\u003c/strong>\u003c/p>\u003cp style=\"line-height: 1.2; margin-top: 4pt; margin-bottom: 4pt;\">\u003cspan style=\"font-size: 11.5pt; font-family: Arial; color: #1d1c1d;\">Top 50% teams will make playoffs\u003c/span>\u003c/p>\u003cp style=\"line-height: 1.2; margin-top: 4pt; margin-bottom: 4pt;\">\u003cspan style=\"font-size: 11.5pt; font-family: Arial; color: #1d1c1d;\">*Additional teams may be added to playoffs if schedules / venue space allow\u003c/span>\u003c/p>\u003cp style=\"line-height: 1.2; margin-top: 4pt; margin-bottom: 4pt;\">\u003cbr>\u003c/p>\u003cp style=\"line-height: 1.2; margin-top: 4pt; margin-bottom: 4pt;\">\u003cstrong>End of season Party will be 6/30 and is included with registration where you can celebrate your season with some free drinks at Volo's new facility The PARK. All spring players will be emailed a code to sign up for free. \u003ca data-fr-linked=\"true\" href=\"//www.volosports.com/d/6435b9eaa520b1a82e834320\">www.volosports.com/d/6435b9eaa520b1a82e834320\u003c/a>\u003c/strong>\u003c/p>"},"activityName":"Softball","programType":"LEAGUE"},"League:64401d427acdcd18827dfa15":{"__typename":"League","_id":"64401d427acdcd18827dfa15","name":"Softball (Coed Competitive) - Sunday - Patterson Park (Canton) - June 2023","featured_order":null,"schedule":{"__typename":"Schedule","start_date":"2023-06-18T16:00:00.000Z"},"details":{"__typename":"LeagueDetails","description":"\u003cp id=\"isPasted\">Hit it over to Patterson Park to run the bases and enjoy the vibes with your team! Don't forget to take a short walk to the sponsor bar with your team! \u003c/p>\u003cp>\u003cbr>\u003c/p>\u003cp style=\"line-height: 1.2; margin-top: 0pt; margin-bottom: 0pt;\">\u003cspan style=\"font-size: 11pt; font-family: Arial; background-color: #ffffff;\">Coed League\u003c/span>\u003c/p>\u003cp style=\"line-height: 1.2; margin-top: 0pt; margin-bottom: 0pt;\">\u003cspan style=\"font-size: 11pt; font-family: Arial; background-color: #ffffff;\">10 max total, 7 male players max on the field\u003c/span>\u003c/p>\u003cp style=\"line-height: 1.2; margin-top: 0pt; margin-bottom: 0pt;\">\u003cspan style=\"font-size: 11pt; font-family: Arial; background-color: #ffffff;\">Pitch count starts 1-1 \u003c/span>\u003c/p>\u003cp style=\"line-height: 1.2; margin-top: 0pt; margin-bottom: 0pt;\">\u003cspan style=\"font-size: 11pt; font-family: Arial; background-color: #ffffff;\">At least \u003c/span>\u003cspan style=\"font-size: 11pt; font-family: Arial; background-color: #ffffff;\">6 players, 1 woman min, to start game\u003c/span>\u003c/p>\u003cp style=\"line-height: 1.2; margin-top: 0pt; margin-bottom: 0pt;\">\u003cspan style=\"font-size: 11pt; font-family: Arial; background-color: #ffffff;\">No more than 3 men can bat in a row\u003c/span>\u003c/p>\u003cp style=\"line-height: 1.2; margin-top: 0pt; margin-bottom: 0pt;\">\u003cspan style=\"font-size: 11pt; font-family: Arial; background-color: #ffffff;\">Gloves are not provided. Please bring your own.\u003c/span>\u003c/p>\u003cp style=\"line-height: 1.2; margin-top: 0pt; margin-bottom: 0pt;\">\u003cspan style=\"font-size: 11pt; font-family: Arial; background-color: #ffffff;\">NO METAL SPIKES\u003c/span>\u003c/p>\u003cp style=\"line-height: 1.2; margin-top: 0pt; margin-bottom: 0pt;\">\u003cbr>\u003c/p>\u003cp style=\"line-height: 1.2; margin-top: 4pt; margin-bottom: 4pt;\">\u003cstrong>\u003cspan style=\"font-size: 11pt; font-family: Arial;\">Playoffs\u003c/span>\u003c/strong>\u003c/p>\u003cp style=\"line-height: 1.2; margin-top: 4pt; margin-bottom: 4pt;\">\u003cspan style=\"font-size: 11.5pt; font-family: Arial; color: #1d1c1d;\">Top 50% teams will make playoffs\u003c/span>\u003c/p>\u003cp style=\"line-height: 1.2; margin-top: 4pt; margin-bottom: 4pt;\">\u003cspan style=\"font-size: 11.5pt; font-family: Arial; color: #1d1c1d;\">*Additional teams may be added to playoffs if schedules / venue space allow\u003c/span>\u003c/p>\u003cp style=\"line-height: 1.2; margin-top: 4pt; margin-bottom: 4pt;\">\u003cbr>\u003c/p>\u003cp style=\"line-height: 1.2; margin-top: 4pt; margin-bottom: 4pt;\">\u003cstrong>End of season Party will be 6/30 and is included with registration where you can celebrate your season with some free drinks at Volo's new facility The PARK. All spring players will be emailed a code to sign up for free. \u003ca data-fr-linked=\"true\" href=\"//www.volosports.com/d/6435b9eaa520b1a82e834320\">www.volosports.com/d/6435b9eaa520b1a82e834320\u003c/a>\u003c/strong>\u003c/p>"},"activityName":"Softball","programType":"LEAGUE"},"League:64401d427acdcd18827dfa0d":{"__typename":"League","_id":"64401d427acdcd18827dfa0d","name":"Softball (Men) - Sunday - Patterson Park (Canton) - June 2023","featured_order":null,"schedule":{"__typename":"Schedule","start_date":"2023-06-18T16:00:00.000Z"},"details":{"__typename":"LeagueDetails","description":"\u003cp id=\"isPasted\">Hit it over to Patterson Park to run the bases and enjoy the vibes with your team! Don't forget to take a short walk to the sponsor bar with your team! \u003c/p>\u003cp>\u003cbr>\u003c/p>\u003cp style=\"line-height: 1.2; margin-top: 0pt; margin-bottom: 0pt;\">\u003cspan style=\"font-size: 11pt; font-family: Arial; background-color: #ffffff;\">Men's League\u003c/span>\u003c/p>\u003cp style=\"line-height: 1.2; margin-top: 0pt; margin-bottom: 0pt;\">\u003cspan style=\"font-size: 11pt; font-family: Arial; background-color: #ffffff;\">10 max total\u003c/span>\u003c/p>\u003cp style=\"line-height: 1.2; margin-top: 0pt; margin-bottom: 0pt;\">\u003cspan style=\"font-size: 11pt; font-family: Arial; background-color: #ffffff;\">Pitch count starts 1-1 \u003c/span>\u003c/p>\u003cp style=\"line-height: 1.2; margin-top: 0pt; margin-bottom: 0pt;\">\u003cspan style=\"font-size: 11pt; font-family: Arial; background-color: #ffffff;\">At least \u003c/span>\u003cspan style=\"font-size: 11pt; font-family: Arial; background-color: #ffffff;\">6 players to start game\u003c/span>\u003c/p>\u003cp style=\"line-height: 1.2; margin-top: 0pt; margin-bottom: 0pt;\">\u003cspan style=\"font-size: 11pt; font-family: Arial; background-color: #ffffff;\">Gloves are not provided. Please bring your own.\u003c/span>\u003c/p>\u003cp style=\"line-height: 1.2; margin-top: 0pt; margin-bottom: 0pt;\">\u003cspan style=\"font-size: 11pt; font-family: Arial; background-color: #ffffff;\">NO METAL SPIKES\u003c/span>\u003c/p>\u003cp style=\"line-height: 1.2; margin-top: 0pt; margin-bottom: 0pt;\">\u003cbr>\u003c/p>\u003cp style=\"line-height: 1.2; margin-top: 4pt; margin-bottom: 4pt;\">\u003cstrong>\u003cspan style=\"font-size: 11pt; font-family: Arial;\">Playoffs\u003c/span>\u003c/strong>\u003c/p>\u003cp style=\"line-height: 1.2; margin-top: 4pt; margin-bottom: 4pt;\">\u003cspan style=\"font-size: 11.5pt; font-family: Arial; color: #1d1c1d;\">Top 50% teams will make playoffs\u003c/span>\u003c/p>\u003cp style=\"line-height: 1.2; margin-top: 4pt; margin-bottom: 4pt;\">\u003cspan style=\"font-size: 11.5pt; font-family: Arial; color: #1d1c1d;\">*Additional teams may be added to playoffs if schedules / venue space allow\u003c/span>\u003c/p>\u003cp style=\"line-height: 1.2; margin-top: 4pt; margin-bottom: 4pt;\">\u003cbr>\u003c/p>\u003cp style=\"line-height: 1.2; margin-top: 4pt; margin-bottom: 4pt;\">\u003cstrong>End of season Party will be 6/30 and is included with registration where you can celebrate your season with some free drinks at Volo's new facility The PARK. All spring players will be emailed a code to sign up for free. \u003ca data-fr-linked=\"true\" href=\"//www.volosports.com/d/6435b9eaa520b1a82e834320\">www.volosports.com/d/6435b9eaa520b1a82e834320\u003c/a>\u003c/strong>\u003c/p>"},"activityName":"Softball","programType":"LEAGUE"},"League:64401d427acdcd18827df9ff":{"__typename":"League","_id":"64401d427acdcd18827df9ff","name":"Softball (Coed) - Sunday - Patterson Park (Canton) - June 2023","featured_order":null,"schedule":{"__typename":"Schedule","start_date":"2023-06-18T16:00:00.000Z"},"details":{"__typename":"LeagueDetails","description":"\u003cp id=\"isPasted\">Hit it over to Patterson Park to run the bases and enjoy the vibes with your team! Don't forget to take a short walk to the sponsor bar with your team! \u003c/p>\u003cp>\u003cbr>\u003c/p>\u003cp style=\"line-height: 1.2; margin-top: 0pt; margin-bottom: 0pt;\">\u003cspan style=\"font-size: 11pt; font-family: Arial; background-color: #ffffff;\">Coed League\u003c/span>\u003c/p>\u003cp style=\"line-height: 1.2; margin-top: 0pt; margin-bottom: 0pt;\">\u003cspan style=\"font-size: 11pt; font-family: Arial; background-color: #ffffff;\">10 max total, 7 male players max on the field\u003c/span>\u003c/p>\u003cp style=\"line-height: 1.2; margin-top: 0pt; margin-bottom: 0pt;\">\u003cspan style=\"font-size: 11pt; font-family: Arial; background-color: #ffffff;\">Pitch count starts 1-1 \u003c/span>\u003c/p>\u003cp style=\"line-height: 1.2; margin-top: 0pt; margin-bottom: 0pt;\">\u003cspan style=\"font-size: 11pt; font-family: Arial; background-color: #ffffff;\">At least \u003c/span>\u003cspan style=\"font-size: 11pt; font-family: Arial; background-color: #ffffff;\">6 players, 1 woman min, to start game\u003c/span>\u003c/p>\u003cp style=\"line-height: 1.2; margin-top: 0pt; margin-bottom: 0pt;\">\u003cspan style=\"font-size: 11pt; font-family: Arial; background-color: #ffffff;\">No more than 3 men can bat in a row\u003c/span>\u003c/p>\u003cp style=\"line-height: 1.2; margin-top: 0pt; margin-bottom: 0pt;\">\u003cspan style=\"font-size: 11pt; font-family: Arial; background-color: #ffffff;\">Gloves are not provided. Please bring your own.\u003c/span>\u003c/p>\u003cp style=\"line-height: 1.2; margin-top: 0pt; margin-bottom: 0pt;\">\u003cspan style=\"font-size: 11pt; font-family: Arial; background-color: #ffffff;\">NO METAL SPIKES\u003c/span>\u003c/p>\u003cp style=\"line-height: 1.2; margin-top: 0pt; margin-bottom: 0pt;\">\u003cbr>\u003c/p>\u003cp style=\"line-height: 1.2; margin-top: 4pt; margin-bottom: 4pt;\">\u003cstrong>\u003cspan style=\"font-size: 11pt; font-family: Arial;\">Playoffs\u003c/span>\u003c/strong>\u003c/p>\u003cp style=\"line-height: 1.2; margin-top: 4pt; margin-bottom: 4pt;\">\u003cspan style=\"font-size: 11.5pt; font-family: Arial; color: #1d1c1d;\">Top 50% teams will make playoffs\u003c/span>\u003c/p>\u003cp style=\"line-height: 1.2; margin-top: 4pt; margin-bottom: 4pt;\">\u003cspan style=\"font-size: 11.5pt; font-family: Arial; color: #1d1c1d;\">*Additional teams may be added to playoffs if schedules / venue space allow\u003c/span>\u003c/p>\u003cp style=\"line-height: 1.2; margin-top: 4pt; margin-bottom: 4pt;\">\u003cbr>\u003c/p>\u003cp style=\"line-height: 1.2; margin-top: 4pt; margin-bottom: 4pt;\">\u003cstrong>End of season Party will be 6/24 and is included with registration where you can celebrate your season with some free drinks at Volo's new facility The PARK. All spring players will be emailed a code to sign up for free. \u003ca data-fr-linked=\"true\" href=\"//www.volosports.com/d/6435b9eaa520b1a82e834320\">www.volosports.com/d/6435b9eaa520b1a82e834320\u003c/a>\u003cbr>\u003c/strong>\u003c/p>"},"activityName":"Softball","programType":"LEAGUE"},"League:64401d427acdcd18827df9b8":{"__typename":"League","_id":"64401d427acdcd18827df9b8","name":"Softball (10v10 Coed) - Sunday - Patterson Park (Canton) - August 2023","featured_order":null,"schedule":{"__typename":"Schedule","start_date":"2023-08-13T16:00:00.000Z"},"details":{"__typename":"LeagueDetails","description":"\u003cp id=\"isPasted\">Sunday Night Softball is back! Enjoy Sunday Funday by gathering your friends and playing softball at one of the best fields the Federal Hill neighborhood has to offer!\u003c/p>\u003cp>\u003cbr>\u003c/p>\u003cp id=\"isPasted\" style=\"line-height: 1.2; margin-top: 0pt; margin-bottom: 0pt;\">\u003cspan style=\"font-size: 11pt; font-family: Arial; background-color: #ffffff;\">Coed League\u003c/span>\u003c/p>\u003cp style=\"line-height: 1.2; margin-top: 0pt; margin-bottom: 0pt;\">\u003cspan style=\"font-size: 11pt; font-family: Arial; background-color: #ffffff;\">10 max total, 7 male players max on the field\u003c/span>\u003c/p>\u003cp style=\"line-height: 1.2; margin-top: 0pt; margin-bottom: 0pt;\">\u003cspan style=\"font-size: 11pt; font-family: Arial; background-color: #ffffff;\">Pitch count starts 1-1 \u003c/span>\u003c/p>\u003cp style=\"line-height: 1.2; margin-top: 0pt; margin-bottom: 0pt;\">\u003cspan style=\"font-size: 11pt; font-family: Arial; background-color: #ffffff;\">At least \u003c/span>\u003cspan style=\"font-size: 11pt; font-family: Arial; background-color: #ffffff;\">6 players, 1 woman min, to start game\u003c/span>\u003c/p>\u003cp style=\"line-height: 1.2; margin-top: 0pt; margin-bottom: 0pt;\">\u003cspan style=\"font-size: 11pt; font-family: Arial; background-color: #ffffff;\">No more than 3 men can bat in a row\u003c/span>\u003c/p>\u003cp style=\"line-height: 1.2; margin-top: 0pt; margin-bottom: 0pt;\">\u003cspan style=\"font-size: 11pt; font-family: Arial; background-color: #ffffff;\">Gloves are not provided. Please bring your own.\u003c/span>\u003c/p>\u003cp style=\"line-height: 1.2; margin-top: 0pt; margin-bottom: 0pt;\">\u003cspan style=\"font-size: 11pt; font-family: Arial; background-color: #ffffff;\">NO METAL SPIKES\u003c/span>\u003c/p>\u003cp style=\"line-height: 1.2; margin-top: 4pt; margin-bottom: 4pt;\">\u003cbr>\u003c/p>\u003cp style=\"line-height: 1.2; margin-top: 4pt; margin-bottom: 4pt;\">\u003cstrong>\u003cspan style=\"font-size: 11pt; font-family: Arial;\">Playoffs\u003c/span>\u003c/strong>\u003c/p>\u003cp style=\"line-height: 1.2; margin-top: 4pt; margin-bottom: 4pt;\">\u003cspan style=\"font-size: 11.5pt; font-family: Arial; color: #1d1c1d;\">Top 50% teams will make playoffs\u003c/span>\u003c/p>\u003cp style=\"line-height: 1.2; margin-top: 4pt; margin-bottom: 4pt;\">\u003cspan style=\"font-size: 11.5pt; font-family: Arial; color: #1d1c1d;\">*Additional teams may be added to playoffs if schedules / venue space allow\u003c/span>\u003c/p>"},"activityName":"Softball","programType":"LEAGUE"},"League:64401d427acdcd18827df9b6":{"__typename":"League","_id":"64401d427acdcd18827df9b6","name":"Softball (10v10 Men) - Sunday - Patterson Park (Canton) - August 2023","featured_order":null,"schedule":{"__typename":"Schedule","start_date":"2023-08-13T16:00:00.000Z"},"details":{"__typename":"LeagueDetails","description":"\u003cp style=\"line-height: 1.2; margin-top: 0pt; margin-bottom: 0pt;\">\u003cspan id=\"isPasted\" style='color: rgb(76, 76, 76); font-family: Arial, \"Helvetica Neue\", Helvetica, sans-serif; font-size: 14px; font-style: normal; font-variant-ligatures: normal; font-variant-caps: normal; font-weight: 400; letter-spacing: normal; orphans: 2; text-align: left; text-indent: 0px; text-transform: none; white-space: pre-wrap; widows: 2; word-spacing: 0px; -webkit-text-stroke-width: 0px; background-color: rgb(255, 255, 255); text-decoration-thickness: initial; text-decoration-style: initial; text-decoration-color: initial; display: inline !important; float: none;'>Sunday Night Softball is back! Enjoy Sunday Funday by gathering your friends and playing softball at one of the best fields the Federal Hill neighborhood has to offer!\u003c/span> \u003c/p>\u003cp style=\"line-height: 1.2; margin-top: 0pt; margin-bottom: 0pt;\">\u003cbr>\u003c/p>\u003cp id=\"isPasted\" style=\"line-height: 1.2; margin-top: 0pt; margin-bottom: 0pt;\">\u003cspan style=\"font-size: 11pt; font-family: Arial; background-color: #ffffff;\">Men's League\u003c/span>\u003c/p>\u003cp style=\"line-height: 1.2; margin-top: 0pt; margin-bottom: 0pt;\">\u003cspan style=\"font-size: 11pt; font-family: Arial; background-color: #ffffff;\">10 max total on the field\u003c/span>\u003c/p>\u003cp style=\"line-height: 1.2; margin-top: 0pt; margin-bottom: 0pt;\">\u003cspan style=\"font-size: 11pt; font-family: Arial; background-color: #ffffff;\">Pitch count starts 1-1 \u003c/span>\u003c/p>\u003cp style=\"line-height: 1.2; margin-top: 0pt; margin-bottom: 0pt;\">\u003cspan style=\"font-size: 11pt; font-family: Arial; background-color: #ffffff;\">At least \u003c/span>\u003cspan style=\"font-size: 11pt; font-family: Arial; background-color: #ffffff;\">6 players required to start game\u003c/span>\u003c/p>\u003cp style=\"line-height: 1.2; margin-top: 0pt; margin-bottom: 0pt;\">\u003cspan style=\"font-size: 11pt; font-family: Arial; background-color: #ffffff;\">Gloves are not provided. Please bring your own.\u003c/span>\u003c/p>\u003cp style=\"line-height: 1.2; margin-top: 0pt; margin-bottom: 0pt;\">\u003cspan style=\"font-size: 11pt; font-family: Arial; background-color: #ffffff;\">NO METAL SPIKES\u003c/span>\u003c/p>\u003cp style=\"line-height: 1.2; margin-top: 0pt; margin-bottom: 0pt;\">\u003cbr>\u003c/p>\u003cp style=\"line-height: 1.2; margin-top: 4pt; margin-bottom: 4pt;\">\u003cstrong>\u003cspan style=\"font-size: 11pt; font-family: Arial;\">Playoffs\u003c/span>\u003c/strong>\u003c/p>\u003cp style=\"line-height: 1.2; margin-top: 4pt; margin-bottom: 4pt;\">\u003cspan style=\"font-size: 11.5pt; font-family: Arial; color: #1d1c1d;\">Top 50% teams will make playoffs\u003c/span>\u003c/p>\u003cp style=\"line-height: 1.2; margin-top: 4pt; margin-bottom: 4pt;\">\u003cspan style=\"font-size: 11.5pt; font-family: Arial; color: #1d1c1d;\">*Additional teams may be added to playoffs if schedules / venue space allow\u003c/span>\u003c/p>"},"activityName":"Softball","programType":"LEAGUE"},"League:64401d427acdcd18827df9aa":{"__typename":"League","_id":"64401d427acdcd18827df9aa","name":"Coed Woodbat Softball - Sunday - SBLL (Formerly McHenry Row) (Federal Hill) - July 2023","featured_order":null,"schedule":{"__typename":"Schedule","start_date":"2023-07-23T16:00:00.000Z"},"details":{"__typename":"LeagueDetails","description":"\u003cp id=\"isPasted\" style='box-sizing: inherit; background-repeat: no-repeat; background-size: contain; color: rgb(65, 65, 65); text-rendering: optimizelegibility; font-family: Arial, \"Helvetica Neue\", Helvetica, sans-serif; margin: 0px; padding: 0px; margin-block: 0px; margin-inline: 0px; padding-block: 0px; padding-inline: 0px; font-size: 14px; font-style: normal; font-variant-ligatures: normal; font-variant-caps: normal; font-weight: 400; letter-spacing: normal; orphans: 2; text-align: left; text-indent: 0px; text-transform: none; white-space: normal; widows: 2; word-spacing: 0px; -webkit-text-stroke-width: 0px; background-color: rgb(255, 255, 255); text-decoration-thickness: initial; text-decoration-style: initial; text-decoration-color: initial;'>Sunday Funday Softball is back! Enjoy your weekend in Federal Hill!\u003c/p>\u003cp style='box-sizing: inherit; background-repeat: no-repeat; background-size: contain; color: rgb(65, 65, 65); text-rendering: optimizelegibility; font-family: Arial, \"Helvetica Neue\", Helvetica, sans-serif; margin: 0px; padding: 0px; margin-block: 0px; margin-inline: 0px; padding-block: 0px; padding-inline: 0px; font-size: 14px; font-style: normal; font-variant-ligatures: normal; font-variant-caps: normal; font-weight: 400; letter-spacing: normal; orphans: 2; text-align: left; text-indent: 0px; text-transform: none; white-space: normal; widows: 2; word-spacing: 0px; -webkit-text-stroke-width: 0px; background-color: rgb(255, 255, 255); text-decoration-thickness: initial; text-decoration-style: initial; text-decoration-color: initial;'>\u003cbr>\u003c/p>\u003cp id=\"isPasted\" style=\"line-height: 1.2; margin-top: 0pt; margin-bottom: 0pt;\">\u003cspan style=\"font-size: 11pt; font-family: Arial; background-color: #ffffff;\">Coed \u003c/span>\u003cspan style=\"font-size: 11pt; font-family: Arial; background-color: #ffffff;\">League\u003c/span>\u003c/p>\u003cp style=\"line-height: 1.2; margin-top: 0pt; margin-bottom: 0pt;\">Wood Bat Only\u003c/p>\u003cp style=\"line-height: 1.2; margin-top: 0pt; margin-bottom: 0pt;\">\u003cspan style=\"font-size: 11pt; font-family: Arial; background-color: #ffffff;\">10 max total on the field, max 7 men\u003c/span>\u003c/p>\u003cp style=\"line-height: 1.2; margin-top: 0pt; margin-bottom: 0pt;\">\u003cspan style=\"font-size: 11pt; font-family: Arial; background-color: #ffffff;\">Pitch count starts 1-1 \u003c/span>\u003c/p>\u003cp style=\"line-height: 1.2; margin-top: 0pt; margin-bottom: 0pt;\">\u003cspan style=\"font-size: 11pt; font-family: Arial; background-color: #ffffff;\">At least 6 players required to start game, 1 woman minimum\u003c/span>\u003c/p>\u003cp style=\"line-height: 1.2; margin-top: 0pt; margin-bottom: 0pt;\">\u003cspan style=\"font-size: 11pt; font-family: Arial; background-color: #ffffff;\">Gloves are not provided. Please bring your own.\u003c/span>\u003c/p>\u003cp style=\"line-height: 1.2; margin-top: 0pt; margin-bottom: 0pt;\">\u003cspan style=\"font-size: 11pt; font-family: Arial; background-color: #ffffff;\">NO METAL SPIKES\u003c/span>\u003c/p>\u003cp style='box-sizing: inherit; background-repeat: no-repeat; background-size: contain; color: rgb(65, 65, 65); text-rendering: optimizelegibility; font-family: Arial, \"Helvetica Neue\", Helvetica, sans-serif; margin: 0pt 0px; padding: 0px; margin-block: 0px; margin-inline: 0px; padding-block: 0px; padding-inline: 0px; font-size: 14px; font-style: normal; font-variant-ligatures: normal; font-variant-caps: normal; font-weight: 400; letter-spacing: normal; orphans: 2; text-align: left; text-indent: 0px; text-transform: none; white-space: normal; widows: 2; word-spacing: 0px; -webkit-text-stroke-width: 0px; background-color: rgb(255, 255, 255); text-decoration-thickness: initial; text-decoration-style: initial; text-decoration-color: initial; line-height: 1.2;'>\u003cbr style=\"box-sizing: inherit; background-repeat: no-repeat; background-size: contain; margin-bottom: 0px;\">\u003c/p>\u003cp style='box-sizing: inherit; background-repeat: no-repeat; background-size: contain; color: rgb(65, 65, 65); text-rendering: optimizelegibility; font-family: Arial, \"Helvetica Neue\", Helvetica, sans-serif; margin: 4pt 0px; padding: 0px; margin-block: 0px; margin-inline: 0px; padding-block: 0px; padding-inline: 0px; font-size: 14px; font-style: normal; font-variant-ligatures: normal; font-variant-caps: normal; font-weight: 400; letter-spacing: normal; orphans: 2; text-align: left; text-indent: 0px; text-transform: none; white-space: normal; widows: 2; word-spacing: 0px; -webkit-text-stroke-width: 0px; background-color: rgb(255, 255, 255); text-decoration-thickness: initial; text-decoration-style: initial; text-decoration-color: initial; line-height: 1.2;'>\u003cstrong style=\"box-sizing: inherit; background-repeat: no-repeat; background-size: contain; font-weight: 700; margin-bottom: 0px;\">\u003cspan style=\"box-sizing: inherit; background-repeat: no-repeat; background-size: contain; font-family: Arial; margin-bottom: 0px; font-size: 11pt;\">Playoffs\u003c/span>\u003c/strong>\u003c/p>\u003cp style='box-sizing: inherit; background-repeat: no-repeat; background-size: contain; color: rgb(65, 65, 65); text-rendering: optimizelegibility; font-family: Arial, \"Helvetica Neue\", Helvetica, sans-serif; margin: 4pt 0px; padding: 0px; margin-block: 0px; margin-inline: 0px; padding-block: 0px; padding-inline: 0px; font-size: 14px; font-style: normal; font-variant-ligatures: normal; font-variant-caps: normal; font-weight: 400; letter-spacing: normal; orphans: 2; text-align: left; text-indent: 0px; text-transform: none; white-space: normal; widows: 2; word-spacing: 0px; -webkit-text-stroke-width: 0px; background-color: rgb(255, 255, 255); text-decoration-thickness: initial; text-decoration-style: initial; text-decoration-color: initial; line-height: 1.2;'>\u003cspan style=\"box-sizing: inherit; background-repeat: no-repeat; background-size: contain; font-family: Arial; margin-bottom: 0px; font-size: 11.5pt; color: rgb(29, 28, 29);\">Top 50% teams will make playoffs\u003c/span>\u003c/p>\u003cp style='box-sizing: inherit; background-repeat: no-repeat; background-size: contain; color: rgb(65, 65, 65); text-rendering: optimizelegibility; font-family: Arial, \"Helvetica Neue\", Helvetica, sans-serif; margin: 4pt 0px; padding: 0px; margin-block: 0px; margin-inline: 0px; padding-block: 0px; padding-inline: 0px; font-size: 14px; font-style: normal; font-variant-ligatures: normal; font-variant-caps: normal; font-weight: 400; letter-spacing: normal; orphans: 2; text-align: left; text-indent: 0px; text-transform: none; white-space: normal; widows: 2; word-spacing: 0px; -webkit-text-stroke-width: 0px; background-color: rgb(255, 255, 255); text-decoration-thickness: initial; text-decoration-style: initial; text-decoration-color: initial; line-height: 1.2;'>\u003cspan style=\"box-sizing: inherit; background-repeat: no-repeat; background-size: contain; font-family: Arial; margin-bottom: 0px; font-size: 11.5pt; color: rgb(29, 28, 29);\">*Additional teams may be added to playoffs if schedules / venue space allow\u003c/span>\u003c/p>\u003cp style='box-sizing: inherit; background-repeat: no-repeat; background-size: contain; color: rgb(65, 65, 65); text-rendering: optimizelegibility; font-family: Arial, \"Helvetica Neue\", Helvetica, sans-serif; margin: 4pt 0px; padding: 0px; margin-block: 0px; margin-inline: 0px; padding-block: 0px; padding-inline: 0px; font-size: 14px; font-style: normal; font-variant-ligatures: normal; font-variant-caps: normal; font-weight: 400; letter-spacing: normal; orphans: 2; text-align: left; text-indent: 0px; text-transform: none; white-space: normal; widows: 2; word-spacing: 0px; -webkit-text-stroke-width: 0px; background-color: rgb(255, 255, 255); text-decoration-thickness: initial; text-decoration-style: initial; text-decoration-color: initial; line-height: 1.2;'>\u003cbr style=\"box-sizing: inherit; background-repeat: no-repeat; background-size: contain; margin-bottom: 0px;\">\u003c/p>\u003cp style='box-sizing: inherit; background-repeat: no-repeat; background-size: contain; color: rgb(65, 65, 65); text-rendering: optimizelegibility; font-family: Arial, \"Helvetica Neue\", Helvetica, sans-serif; margin: 0px; padding: 0px; margin-block: 0px; margin-inline: 0px; padding-block: 0px; padding-inline: 0px; font-size: 14px; font-style: normal; font-variant-ligatures: normal; font-variant-caps: normal; font-weight: 400; letter-spacing: normal; orphans: 2; text-align: left; text-indent: 0px; text-transform: none; white-space: normal; widows: 2; word-spacing: 0px; -webkit-text-stroke-width: 0px; background-color: rgb(255, 255, 255); text-decoration-thickness: initial; text-decoration-style: initial; text-decoration-color: initial;'>\u003cstrong style=\"box-sizing: inherit; background-repeat: no-repeat; background-size: contain; font-weight: 700; margin-bottom: 0px;\">End of season Party will be 6/24 and is included with registration where you can celebrate your season with some free drinks at Volo's new facility The PARK. All spring players will be emailed a code to sign up for free. \u003ca href=\"https://www.volosports.com/d/6435b9eaa520b1a82e834320\" style=\"box-sizing: inherit; background-repeat: no-repeat; background-size: contain; background-color: rgba(0, 0, 0, 0); outline: 0px; -webkit-tap-highlight-color: rgba(0, 0, 0, 0); text-decoration: none; color: rgb(30, 98, 180); cursor: pointer; transition: all 0.2s ease 0s; user-select: auto; margin-bottom: 0px;\">www.volosports.com/d/6435b9eaa520b1a82e834320\u003c/a>\u003c/strong>\u003c/p>\u003cp style='box-sizing: inherit; background-repeat: no-repeat; background-size: contain; color: rgb(65, 65, 65); text-rendering: optimizelegibility; font-family: Arial, \"Helvetica Neue\", Helvetica, sans-serif; margin: 0px; padding: 0px; margin-block: 0px; margin-inline: 0px; padding-block: 0px; padding-inline: 0px; font-size: 14px; font-style: normal; font-variant-ligatures: normal; font-variant-caps: normal; font-weight: 400; letter-spacing: normal; orphans: 2; text-align: left; text-indent: 0px; text-transform: none; white-space: normal; widows: 2; word-spacing: 0px; -webkit-text-stroke-width: 0px; background-color: rgb(255, 255, 255); text-decoration-thickness: initial; text-decoration-style: initial; text-decoration-color: initial;'>\u003cstrong style=\"box-sizing: inherit; background-repeat: no-repeat; background-size: contain; font-weight: 700; margin-bottom: 0px;\">CODE: PARKPARTY\u003c/strong>\u003c/p>\u003cp style='box-sizing: inherit; background-repeat: no-repeat; background-size: contain; color: rgb(65, 65, 65); text-rendering: optimizelegibility; font-family: Arial, \"Helvetica Neue\", Helvetica, sans-serif; margin: 4pt 0px; padding: 0px; margin-block: 0px; margin-inline: 0px; padding-block: 0px; padding-inline: 0px; font-size: 14px; font-style: normal; font-variant-ligatures: normal; font-variant-caps: normal; font-weight: 400; letter-spacing: normal; orphans: 2; text-align: left; text-indent: 0px; text-transform: none; white-space: normal; widows: 2; word-spacing: 0px; -webkit-text-stroke-width: 0px; background-color: rgb(255, 255, 255); text-decoration-thickness: initial; text-decoration-style: initial; text-decoration-color: initial; line-height: 1.2;'>\u003cbr style=\"box-sizing: inherit; background-repeat: no-repeat; background-size: contain; margin-bottom: 0px;\">\u003c/p>\u003cp style='box-sizing: inherit; background-repeat: no-repeat; background-size: contain; color: rgb(65, 65, 65); text-rendering: optimizelegibility; font-family: Arial, \"Helvetica Neue\", Helvetica, sans-serif; margin: 4pt 0px; padding: 0px; margin-block: 0px; margin-inline: 0px; padding-block: 0px; padding-inline: 0px; font-size: 14px; font-style: normal; font-variant-ligatures: normal; font-variant-caps: normal; font-weight: 400; letter-spacing: normal; orphans: 2; text-align: left; text-indent: 0px; text-transform: none; white-space: normal; widows: 2; word-spacing: 0px; -webkit-text-stroke-width: 0px; background-color: rgb(255, 255, 255); text-decoration-thickness: initial; text-decoration-style: initial; text-decoration-color: initial; line-height: 1.2;'>\u003cbr style=\"box-sizing: inherit; background-repeat: no-repeat; background-size: contain; margin-bottom: 0px;\">\u003c/p>\u003cp dir=\"ltr\" style='box-sizing: inherit; background-repeat: no-repeat; background-size: contain; color: rgb(65, 65, 65); text-rendering: optimizelegibility; font-family: Arial, \"Helvetica Neue\", Helvetica, sans-serif; margin: 0pt 0px; padding: 0px; margin-block: 0px; margin-inline: 0px; padding-block: 0px; padding-inline: 0px; font-size: 14px; font-style: normal; font-variant-ligatures: normal; font-variant-caps: normal; font-weight: 400; letter-spacing: normal; orphans: 2; text-indent: 0px; text-transform: none; white-space: normal; widows: 2; word-spacing: 0px; -webkit-text-stroke-width: 0px; background-color: rgb(255, 255, 255); text-decoration-thickness: initial; text-decoration-style: initial; text-decoration-color: initial; line-height: 1.38; text-align: center;'>\u003ca href=\"http://bit.ly/3nL2KGg\" style=\"box-sizing: inherit; background-repeat: no-repeat; background-size: contain; background-color: rgba(0, 0, 0, 0); outline: 0px; -webkit-tap-highlight-color: rgba(0, 0, 0, 0); text-decoration: none; color: rgb(30, 98, 180); cursor: pointer; transition: all 0.2s ease 0s; user-select: auto; margin-bottom: 0px;\">\u003cspan style=\"box-sizing: inherit; background-repeat: no-repeat; background-size: contain; font-family: Calibri, sans-serif; margin-bottom: 0px; font-size: 11pt; color: rgb(17, 85, 204); background-color: transparent; font-weight: 400; font-style: normal; font-variant: normal; text-decoration: underline; text-decoration-skip-ink: none; vertical-align: baseline; white-space: pre-wrap;\">\u003cspan style='box-sizing: inherit; background-repeat: no-repeat; background-size: contain; font-family: Arial, \"Helvetica Neue\", Helvetica, sans-serif; margin-bottom: 0px; border: none; display: inline-block; overflow: hidden; width: 390px; height: 130px;'>\u003cimg src=\"https://s3.amazonaws.com/rivall-user-uploads/prodUploads/orgEmailPicturesFolder/63f3d161dcb88518a96a9b24_1683404428444.png\" width=\"390\" height=\"130\" style=\"box-sizing: inherit; background-repeat: no-repeat; background-size: contain; border: 0px; max-width: calc(100% - 10px); cursor: pointer; padding: 0px 1px; user-select: none;\" class=\"fr-fic fr-dii\">\u003c/span>\u003c/span>\u003c/a>\u003c/p>\u003cp style='box-sizing: inherit; background-repeat: no-repeat; background-size: contain; color: rgb(65, 65, 65); text-rendering: optimizelegibility; font-family: Arial, \"Helvetica Neue\", Helvetica, sans-serif; margin: 0px; padding: 0px; margin-block: 0px; margin-inline: 0px; padding-block: 0px; padding-inline: 0px; font-size: 14px; font-style: normal; font-variant-ligatures: normal; font-variant-caps: normal; font-weight: 400; letter-spacing: normal; orphans: 2; text-align: left; text-indent: 0px; text-transform: none; white-space: normal; widows: 2; word-spacing: 0px; -webkit-text-stroke-width: 0px; background-color: rgb(255, 255, 255); text-decoration-thickness: initial; text-decoration-style: initial; text-decoration-color: initial;'>\u003cspan style=\"box-sizing: inherit; background-repeat: no-repeat; background-size: contain; font-family: Calibri, sans-serif; font-size: 11pt; color: rgb(0, 0, 0); background-color: transparent; font-weight: 400; font-style: normal; font-variant: normal; text-decoration: none; vertical-align: baseline; white-space: pre-wrap;\">Play Ball! Take advantage of our exclusive DraftKings Sportsbook sign up offer and save $50 on your next Volo Baltimore league with any $5+ bet! Must sign up with promo code: VOLO150. \u003c/span>\u003ca href=\"http://bit.ly/3nL2KGg\" style=\"box-sizing: inherit; background-repeat: no-repeat; background-size: contain; background-color: rgba(0, 0, 0, 0); outline: 0px; -webkit-tap-highlight-color: rgba(0, 0, 0, 0); text-decoration: none; color: rgb(30, 98, 180); cursor: pointer; transition: all 0.2s ease 0s; user-select: auto; margin-bottom: 0px;\">\u003cspan style=\"box-sizing: inherit; background-repeat: no-repeat; background-size: contain; font-family: Calibri, sans-serif; margin-bottom: 0px; font-size: 11pt; color: rgb(17, 85, 204); background-color: transparent; font-weight: 400; font-style: normal; font-variant: normal; text-decoration: underline; text-decoration-skip-ink: none; vertical-align: baseline; white-space: pre-wrap;\">SAVE $50 NOW!\u003c/span>\u003c/a>\u003c/p>"},"activityName":"Softball","programType":"LEAGUE"},"League:64401d427acdcd18827df998":{"__typename":"League","_id":"64401d427acdcd18827df998","name":"Softball (10v10 Coed) - Thursday - Roosevelt Park (Hampden) - July 2023","featured_order":null,"schedule":{"__typename":"Schedule","start_date":"2023-07-20T16:00:00.000Z"},"details":{"__typename":"LeagueDetails","description":"\u003cp id=\"isPasted\" style='box-sizing: inherit; background-repeat: no-repeat; background-size: contain; color: rgb(65, 65, 65); text-rendering: optimizelegibility; font-family: Arial, \"Helvetica Neue\", Helvetica, sans-serif; margin: 0px; padding: 0px; margin-block: 0px; margin-inline: 0px; padding-block: 0px; padding-inline: 0px; font-size: 14px; font-style: normal; font-variant-ligatures: normal; font-variant-caps: normal; font-weight: 400; letter-spacing: normal; orphans: 2; text-align: left; text-indent: 0px; text-transform: none; white-space: normal; widows: 2; word-spacing: 0px; -webkit-text-stroke-width: 0px; background-color: rgb(255, 255, 255); text-decoration-thickness: initial; text-decoration-style: initial; text-decoration-color: initial;'>Thursday Night Softball is back! Jumpstart your weekend by gathering your friends and playing softball at Roosevelt Park!\u003c/p>\u003cp style='box-sizing: inherit; background-repeat: no-repeat; background-size: contain; color: rgb(65, 65, 65); text-rendering: optimizelegibility; font-family: Arial, \"Helvetica Neue\", Helvetica, sans-serif; margin: 0px; padding: 0px; margin-block: 0px; margin-inline: 0px; padding-block: 0px; padding-inline: 0px; font-size: 14px; font-style: normal; font-variant-ligatures: normal; font-variant-caps: normal; font-weight: 400; letter-spacing: normal; orphans: 2; text-align: left; text-indent: 0px; text-transform: none; white-space: normal; widows: 2; word-spacing: 0px; -webkit-text-stroke-width: 0px; background-color: rgb(255, 255, 255); text-decoration-thickness: initial; text-decoration-style: initial; text-decoration-color: initial;'>\u003cbr style=\"box-sizing: inherit; background-repeat: no-repeat; background-size: contain; margin-bottom: 0px;\">\u003c/p>\u003cp style='box-sizing: inherit; background-repeat: no-repeat; background-size: contain; color: rgb(65, 65, 65); text-rendering: optimizelegibility; font-family: Arial, \"Helvetica Neue\", Helvetica, sans-serif; margin: 0pt 0px; padding: 0px; margin-block: 0px; margin-inline: 0px; padding-block: 0px; padding-inline: 0px; font-size: 14px; font-style: normal; font-variant-ligatures: normal; font-variant-caps: normal; font-weight: 400; letter-spacing: normal; orphans: 2; text-align: left; text-indent: 0px; text-transform: none; white-space: normal; widows: 2; word-spacing: 0px; -webkit-text-stroke-width: 0px; background-color: rgb(255, 255, 255); text-decoration-thickness: initial; text-decoration-style: initial; text-decoration-color: initial; line-height: 1.2;'>\u003cspan style=\"box-sizing: inherit; background-repeat: no-repeat; background-size: contain; font-family: Arial; margin-bottom: 0px; font-size: 11pt; background-color: rgb(255, 255, 255);\">Coed League\u003c/span>\u003c/p>\u003cp style='box-sizing: inherit; background-repeat: no-repeat; background-size: contain; color: rgb(65, 65, 65); text-rendering: optimizelegibility; font-family: Arial, \"Helvetica Neue\", Helvetica, sans-serif; margin: 0pt 0px; padding: 0px; margin-block: 0px; margin-inline: 0px; padding-block: 0px; padding-inline: 0px; font-size: 14px; font-style: normal; font-variant-ligatures: normal; font-variant-caps: normal; font-weight: 400; letter-spacing: normal; orphans: 2; text-align: left; text-indent: 0px; text-transform: none; white-space: normal; widows: 2; word-spacing: 0px; -webkit-text-stroke-width: 0px; background-color: rgb(255, 255, 255); text-decoration-thickness: initial; text-decoration-style: initial; text-decoration-color: initial; line-height: 1.2;'>\u003cspan style=\"box-sizing: inherit; background-repeat: no-repeat; background-size: contain; font-family: Arial; margin-bottom: 0px; font-size: 11pt; background-color: rgb(255, 255, 255);\">10 max total, 7 men max on the field\u003c/span>\u003c/p>\u003cp style='box-sizing: inherit; background-repeat: no-repeat; background-size: contain; color: rgb(65, 65, 65); text-rendering: optimizelegibility; font-family: Arial, \"Helvetica Neue\", Helvetica, sans-serif; margin: 0pt 0px; padding: 0px; margin-block: 0px; margin-inline: 0px; padding-block: 0px; padding-inline: 0px; font-size: 14px; font-style: normal; font-variant-ligatures: normal; font-variant-caps: normal; font-weight: 400; letter-spacing: normal; orphans: 2; text-align: left; text-indent: 0px; text-transform: none; white-space: normal; widows: 2; word-spacing: 0px; -webkit-text-stroke-width: 0px; background-color: rgb(255, 255, 255); text-decoration-thickness: initial; text-decoration-style: initial; text-decoration-color: initial; line-height: 1.2;'>\u003cspan style=\"box-sizing: inherit; background-repeat: no-repeat; background-size: contain; font-family: Arial; margin-bottom: 0px; font-size: 11pt; background-color: rgb(255, 255, 255);\">Pitch count starts 1-1 \u003c/span>\u003c/p>\u003cp style='box-sizing: inherit; background-repeat: no-repeat; background-size: contain; color: rgb(65, 65, 65); text-rendering: optimizelegibility; font-family: Arial, \"Helvetica Neue\", Helvetica, sans-serif; margin: 0pt 0px; padding: 0px; margin-block: 0px; margin-inline: 0px; padding-block: 0px; padding-inline: 0px; font-size: 14px; font-style: normal; font-variant-ligatures: normal; font-variant-caps: normal; font-weight: 400; letter-spacing: normal; orphans: 2; text-align: left; text-indent: 0px; text-transform: none; white-space: normal; widows: 2; word-spacing: 0px; -webkit-text-stroke-width: 0px; background-color: rgb(255, 255, 255); text-decoration-thickness: initial; text-decoration-style: initial; text-decoration-color: initial; line-height: 1.2;'>\u003cspan style=\"box-sizing: inherit; background-repeat: no-repeat; background-size: contain; font-family: Arial; margin-bottom: 0px; font-size: 11pt; background-color: rgb(255, 255, 255);\">At least 6 players required to start game\u003c/span>\u003c/p>\u003cp style='box-sizing: inherit; background-repeat: no-repeat; background-size: contain; color: rgb(65, 65, 65); text-rendering: optimizelegibility; font-family: Arial, \"Helvetica Neue\", Helvetica, sans-serif; margin: 0pt 0px; padding: 0px; margin-block: 0px; margin-inline: 0px; padding-block: 0px; padding-inline: 0px; font-size: 14px; font-style: normal; font-variant-ligatures: normal; font-variant-caps: normal; font-weight: 400; letter-spacing: normal; orphans: 2; text-align: left; text-indent: 0px; text-transform: none; white-space: normal; widows: 2; word-spacing: 0px; -webkit-text-stroke-width: 0px; background-color: rgb(255, 255, 255); text-decoration-thickness: initial; text-decoration-style: initial; text-decoration-color: initial; line-height: 1.2;'>\u003cspan style=\"box-sizing: inherit; background-repeat: no-repeat; background-size: contain; font-family: Arial; margin-bottom: 0px; font-size: 11pt; background-color: rgb(255, 255, 255);\">6 players, 1 woman min, to start game\u003c/span>\u003c/p>\u003cp style='box-sizing: inherit; background-repeat: no-repeat; background-size: contain; color: rgb(65, 65, 65); text-rendering: optimizelegibility; font-family: Arial, \"Helvetica Neue\", Helvetica, sans-serif; margin: 0pt 0px; padding: 0px; margin-block: 0px; margin-inline: 0px; padding-block: 0px; padding-inline: 0px; font-size: 14px; font-style: normal; font-variant-ligatures: normal; font-variant-caps: normal; font-weight: 400; letter-spacing: normal; orphans: 2; text-align: left; text-indent: 0px; text-transform: none; white-space: normal; widows: 2; word-spacing: 0px; -webkit-text-stroke-width: 0px; background-color: rgb(255, 255, 255); text-decoration-thickness: initial; text-decoration-style: initial; text-decoration-color: initial; line-height: 1.2;'>\u003cspan style=\"box-sizing: inherit; background-repeat: no-repeat; background-size: contain; font-family: Arial; margin-bottom: 0px; font-size: 11pt; background-color: rgb(255, 255, 255);\">No more than 3 men can bat in a row\u003c/span>\u003c/p>\u003cp style='box-sizing: inherit; background-repeat: no-repeat; background-size: contain; color: rgb(65, 65, 65); text-rendering: optimizelegibility; font-family: Arial, \"Helvetica Neue\", Helvetica, sans-serif; margin: 0pt 0px; padding: 0px; margin-block: 0px; margin-inline: 0px; padding-block: 0px; padding-inline: 0px; font-size: 14px; font-style: normal; font-variant-ligatures: normal; font-variant-caps: normal; font-weight: 400; letter-spacing: normal; orphans: 2; text-align: left; text-indent: 0px; text-transform: none; white-space: normal; widows: 2; word-spacing: 0px; -webkit-text-stroke-width: 0px; background-color: rgb(255, 255, 255); text-decoration-thickness: initial; text-decoration-style: initial; text-decoration-color: initial; line-height: 1.2;'>\u003cspan style=\"box-sizing: inherit; background-repeat: no-repeat; background-size: contain; font-family: Arial; margin-bottom: 0px; font-size: 11pt; background-color: rgb(255, 255, 255);\">Gloves are not provided. Please bring your own.\u003c/span>\u003c/p>\u003cp style='box-sizing: inherit; background-repeat: no-repeat; background-size: contain; color: rgb(65, 65, 65); text-rendering: optimizelegibility; font-family: Arial, \"Helvetica Neue\", Helvetica, sans-serif; margin: 0pt 0px; padding: 0px; margin-block: 0px; margin-inline: 0px; padding-block: 0px; padding-inline: 0px; font-size: 14px; font-style: normal; font-variant-ligatures: normal; font-variant-caps: normal; font-weight: 400; letter-spacing: normal; orphans: 2; text-align: left; text-indent: 0px; text-transform: none; white-space: normal; widows: 2; word-spacing: 0px; -webkit-text-stroke-width: 0px; background-color: rgb(255, 255, 255); text-decoration-thickness: initial; text-decoration-style: initial; text-decoration-color: initial; line-height: 1.2;'>\u003cspan style=\"box-sizing: inherit; background-repeat: no-repeat; background-size: contain; font-family: Arial; margin-bottom: 0px; font-size: 11pt; background-color: rgb(255, 255, 255);\">NO METAL SPIKES\u003c/span>\u003c/p>\u003cp style='box-sizing: inherit; background-repeat: no-repeat; background-size: contain; color: rgb(65, 65, 65); text-rendering: optimizelegibility; font-family: Arial, \"Helvetica Neue\", Helvetica, sans-serif; margin: 0pt 0px; padding: 0px; margin-block: 0px; margin-inline: 0px; padding-block: 0px; padding-inline: 0px; font-size: 14px; font-style: normal; font-variant-ligatures: normal; font-variant-caps: normal; font-weight: 400; letter-spacing: normal; orphans: 2; text-align: left; text-indent: 0px; text-transform: none; white-space: normal; widows: 2; word-spacing: 0px; -webkit-text-stroke-width: 0px; background-color: rgb(255, 255, 255); text-decoration-thickness: initial; text-decoration-style: initial; text-decoration-color: initial; line-height: 1.2;'>\u003cspan style=\"box-sizing: inherit; background-repeat: no-repeat; background-size: contain; font-family: Arial; margin-bottom: 0px; font-size: 11pt; background-color: rgb(255, 255, 255);\">No ump fees\u003c/span>\u003c/p>\u003cp style='box-sizing: inherit; background-repeat: no-repeat; background-size: contain; color: rgb(65, 65, 65); text-rendering: optimizelegibility; font-family: Arial, \"Helvetica Neue\", Helvetica, sans-serif; margin: 0pt 0px; padding: 0px; margin-block: 0px; margin-inline: 0px; padding-block: 0px; padding-inline: 0px; font-size: 14px; font-style: normal; font-variant-ligatures: normal; font-variant-caps: normal; font-weight: 400; letter-spacing: normal; orphans: 2; text-align: left; text-indent: 0px; text-transform: none; white-space: normal; widows: 2; word-spacing: 0px; -webkit-text-stroke-width: 0px; background-color: rgb(255, 255, 255); text-decoration-thickness: initial; text-decoration-style: initial; text-decoration-color: initial; line-height: 1.2;'>\u003cbr style=\"box-sizing: inherit; background-repeat: no-repeat; background-size: contain; margin-bottom: 0px;\">\u003c/p>\u003cp style='box-sizing: inherit; background-repeat: no-repeat; background-size: contain; color: rgb(65, 65, 65); text-rendering: optimizelegibility; font-family: Arial, \"Helvetica Neue\", Helvetica, sans-serif; margin: 4pt 0px; padding: 0px; margin-block: 0px; margin-inline: 0px; padding-block: 0px; padding-inline: 0px; font-size: 14px; font-style: normal; font-variant-ligatures: normal; font-variant-caps: normal; font-weight: 400; letter-spacing: normal; orphans: 2; text-align: left; text-indent: 0px; text-transform: none; white-space: normal; widows: 2; word-spacing: 0px; -webkit-text-stroke-width: 0px; background-color: rgb(255, 255, 255); text-decoration-thickness: initial; text-decoration-style: initial; text-decoration-color: initial; line-height: 1.2;'>\u003cstrong style=\"box-sizing: inherit; background-repeat: no-repeat; background-size: contain; font-weight: 700; margin-bottom: 0px;\">\u003cspan style=\"box-sizing: inherit; background-repeat: no-repeat; background-size: contain; font-family: Arial; margin-bottom: 0px; font-size: 11pt;\">Playoffs\u003c/span>\u003c/strong>\u003c/p>\u003cp style='box-sizing: inherit; background-repeat: no-repeat; background-size: contain; color: rgb(65, 65, 65); text-rendering: optimizelegibility; font-family: Arial, \"Helvetica Neue\", Helvetica, sans-serif; margin: 4pt 0px; padding: 0px; margin-block: 0px; margin-inline: 0px; padding-block: 0px; padding-inline: 0px; font-size: 14px; font-style: normal; font-variant-ligatures: normal; font-variant-caps: normal; font-weight: 400; letter-spacing: normal; orphans: 2; text-align: left; text-indent: 0px; text-transform: none; white-space: normal; widows: 2; word-spacing: 0px; -webkit-text-stroke-width: 0px; background-color: rgb(255, 255, 255); text-decoration-thickness: initial; text-decoration-style: initial; text-decoration-color: initial; line-height: 1.2;'>\u003cspan style=\"box-sizing: inherit; background-repeat: no-repeat; background-size: contain; font-family: Arial; margin-bottom: 0px; font-size: 11.5pt; color: rgb(29, 28, 29);\">Top 50% teams will make playoffs\u003c/span>\u003c/p>\u003cp style='box-sizing: inherit; background-repeat: no-repeat; background-size: contain; color: rgb(65, 65, 65); text-rendering: optimizelegibility; font-family: Arial, \"Helvetica Neue\", Helvetica, sans-serif; margin: 4pt 0px; padding: 0px; margin-block: 0px; margin-inline: 0px; padding-block: 0px; padding-inline: 0px; font-size: 14px; font-style: normal; font-variant-ligatures: normal; font-variant-caps: normal; font-weight: 400; letter-spacing: normal; orphans: 2; text-align: left; text-indent: 0px; text-transform: none; white-space: normal; widows: 2; word-spacing: 0px; -webkit-text-stroke-width: 0px; background-color: rgb(255, 255, 255); text-decoration-thickness: initial; text-decoration-style: initial; text-decoration-color: initial; line-height: 1.2;'>\u003cspan style=\"box-sizing: inherit; background-repeat: no-repeat; background-size: contain; font-family: Arial; margin-bottom: 0px; font-size: 11.5pt; color: rgb(29, 28, 29);\">*Additional teams may be added to playoffs if schedules / venue space allow\u003c/span>\u003c/p>\u003cp style='box-sizing: inherit; background-repeat: no-repeat; background-size: contain; color: rgb(65, 65, 65); text-rendering: optimizelegibility; font-family: Arial, \"Helvetica Neue\", Helvetica, sans-serif; margin: 4pt 0px; padding: 0px; margin-block: 0px; margin-inline: 0px; padding-block: 0px; padding-inline: 0px; font-size: 14px; font-style: normal; font-variant-ligatures: normal; font-variant-caps: normal; font-weight: 400; letter-spacing: normal; orphans: 2; text-align: left; text-indent: 0px; text-transform: none; white-space: normal; widows: 2; word-spacing: 0px; -webkit-text-stroke-width: 0px; background-color: rgb(255, 255, 255); text-decoration-thickness: initial; text-decoration-style: initial; text-decoration-color: initial; line-height: 1.2;'>\u003cbr style=\"box-sizing: inherit; background-repeat: no-repeat; background-size: contain; margin-bottom: 0px;\">\u003c/p>\u003cp style='box-sizing: inherit; background-repeat: no-repeat; background-size: contain; color: rgb(65, 65, 65); text-rendering: optimizelegibility; font-family: Arial, \"Helvetica Neue\", Helvetica, sans-serif; margin: 0px; padding: 0px; margin-block: 0px; margin-inline: 0px; padding-block: 0px; padding-inline: 0px; font-size: 14px; font-style: normal; font-variant-ligatures: normal; font-variant-caps: normal; font-weight: 400; letter-spacing: normal; orphans: 2; text-align: left; text-indent: 0px; text-transform: none; white-space: normal; widows: 2; word-spacing: 0px; -webkit-text-stroke-width: 0px; background-color: rgb(255, 255, 255); text-decoration-thickness: initial; text-decoration-style: initial; text-decoration-color: initial;'>\u003cstrong style=\"box-sizing: inherit; background-repeat: no-repeat; background-size: contain; font-weight: 700; margin-bottom: 0px;\">End of season Party will be 6/24 and is included with registration where you can celebrate your season with some free drinks at Volo's new facility The PARK. All spring players will be emailed a code to sign up for free. \u003ca href=\"https://www.volosports.com/d/6435b9eaa520b1a82e834320\" style=\"box-sizing: inherit; background-repeat: no-repeat; background-size: contain; background-color: rgba(0, 0, 0, 0); outline: 0px; -webkit-tap-highlight-color: rgba(0, 0, 0, 0); text-decoration: none; color: rgb(30, 98, 180); cursor: pointer; transition: all 0.2s ease 0s; user-select: auto; margin-bottom: 0px;\">www.volosports.com/d/6435b9eaa520b1a82e834320\u003c/a>\u003c/strong>\u003c/p>\u003cp style='box-sizing: inherit; background-repeat: no-repeat; background-size: contain; color: rgb(65, 65, 65); text-rendering: optimizelegibility; font-family: Arial, \"Helvetica Neue\", Helvetica, sans-serif; margin: 0px; padding: 0px; margin-block: 0px; margin-inline: 0px; padding-block: 0px; padding-inline: 0px; font-size: 14px; font-style: normal; font-variant-ligatures: normal; font-variant-caps: normal; font-weight: 400; letter-spacing: normal; orphans: 2; text-align: left; text-indent: 0px; text-transform: none; white-space: normal; widows: 2; word-spacing: 0px; -webkit-text-stroke-width: 0px; background-color: rgb(255, 255, 255); text-decoration-thickness: initial; text-decoration-style: initial; text-decoration-color: initial;'>\u003cstrong style=\"box-sizing: inherit; background-repeat: no-repeat; background-size: contain; font-weight: 700; margin-bottom: 0px;\">CODE: PARKPARTY\u003c/strong>\u003c/p>\u003cp style='box-sizing: inherit; background-repeat: no-repeat; background-size: contain; color: rgb(65, 65, 65); text-rendering: optimizelegibility; font-family: Arial, \"Helvetica Neue\", Helvetica, sans-serif; margin: 4pt 0px; padding: 0px; margin-block: 0px; margin-inline: 0px; padding-block: 0px; padding-inline: 0px; font-size: 14px; font-style: normal; font-variant-ligatures: normal; font-variant-caps: normal; font-weight: 400; letter-spacing: normal; orphans: 2; text-align: left; text-indent: 0px; text-transform: none; white-space: normal; widows: 2; word-spacing: 0px; -webkit-text-stroke-width: 0px; background-color: rgb(255, 255, 255); text-decoration-thickness: initial; text-decoration-style: initial; text-decoration-color: initial; line-height: 1.2;'>\u003cbr style=\"box-sizing: inherit; background-repeat: no-repeat; background-size: contain; margin-bottom: 0px;\">\u003c/p>\u003cp style='box-sizing: inherit; background-repeat: no-repeat; background-size: contain; color: rgb(65, 65, 65); text-rendering: optimizelegibility; font-family: Arial, \"Helvetica Neue\", Helvetica, sans-serif; margin: 4pt 0px; padding: 0px; margin-block: 0px; margin-inline: 0px; padding-block: 0px; padding-inline: 0px; font-size: 14px; font-style: normal; font-variant-ligatures: normal; font-variant-caps: normal; font-weight: 400; letter-spacing: normal; orphans: 2; text-align: left; text-indent: 0px; text-transform: none; white-space: normal; widows: 2; word-spacing: 0px; -webkit-text-stroke-width: 0px; background-color: rgb(255, 255, 255); text-decoration-thickness: initial; text-decoration-style: initial; text-decoration-color: initial; line-height: 1.2;'>\u003cbr style=\"box-sizing: inherit; background-repeat: no-repeat; background-size: contain; margin-bottom: 0px;\">\u003c/p>\u003cp dir=\"ltr\" style='box-sizing: inherit; background-repeat: no-repeat; background-size: contain; color: rgb(65, 65, 65); text-rendering: optimizelegibility; font-family: Arial, \"Helvetica Neue\", Helvetica, sans-serif; margin: 0pt 0px; padding: 0px; margin-block: 0px; margin-inline: 0px; padding-block: 0px; padding-inline: 0px; font-size: 14px; font-style: normal; font-variant-ligatures: normal; font-variant-caps: normal; font-weight: 400; letter-spacing: normal; orphans: 2; text-indent: 0px; text-transform: none; white-space: normal; widows: 2; word-spacing: 0px; -webkit-text-stroke-width: 0px; background-color: rgb(255, 255, 255); text-decoration-thickness: initial; text-decoration-style: initial; text-decoration-color: initial; line-height: 1.38; text-align: center;'>\u003ca href=\"http://bit.ly/3nL2KGg\" style=\"box-sizing: inherit; background-repeat: no-repeat; background-size: contain; background-color: rgba(0, 0, 0, 0); outline: 0px; -webkit-tap-highlight-color: rgba(0, 0, 0, 0); text-decoration: none; color: rgb(30, 98, 180); cursor: pointer; transition: all 0.2s ease 0s; user-select: auto; margin-bottom: 0px;\">\u003cspan style=\"box-sizing: inherit; background-repeat: no-repeat; background-size: contain; font-family: Calibri, sans-serif; margin-bottom: 0px; font-size: 11pt; color: rgb(17, 85, 204); background-color: transparent; font-weight: 400; font-style: normal; font-variant: normal; text-decoration: underline; text-decoration-skip-ink: none; vertical-align: baseline; white-space: pre-wrap;\">\u003cspan style='box-sizing: inherit; background-repeat: no-repeat; background-size: contain; font-family: Arial, \"Helvetica Neue\", Helvetica, sans-serif; margin-bottom: 0px; border: none; display: inline-block; overflow: hidden; width: 390px; height: 130px;'>\u003cimg src=\"https://s3.amazonaws.com/rivall-user-uploads/prodUploads/orgEmailPicturesFolder/63f3d161dcb88518a96a9b24_1683403884765.png\" width=\"390\" height=\"130\" style=\"box-sizing: inherit; background-repeat: no-repeat; background-size: contain; border: 0px; max-width: calc(100% - 10px); cursor: pointer; padding: 0px 1px; user-select: none;\" class=\"fr-fic fr-dii\">\u003c/span>\u003c/span>\u003c/a>\u003c/p>\u003cp style='box-sizing: inherit; background-repeat: no-repeat; background-size: contain; color: rgb(65, 65, 65); text-rendering: optimizelegibility; font-family: Arial, \"Helvetica Neue\", Helvetica, sans-serif; margin: 0px; padding: 0px; margin-block: 0px; margin-inline: 0px; padding-block: 0px; padding-inline: 0px; font-size: 14px; font-style: normal; font-variant-ligatures: normal; font-variant-caps: normal; font-weight: 400; letter-spacing: normal; orphans: 2; text-align: left; text-indent: 0px; text-transform: none; white-space: normal; widows: 2; word-spacing: 0px; -webkit-text-stroke-width: 0px; background-color: rgb(255, 255, 255); text-decoration-thickness: initial; text-decoration-style: initial; text-decoration-color: initial;'>\u003cspan style=\"box-sizing: inherit; background-repeat: no-repeat; background-size: contain; font-family: Calibri, sans-serif; font-size: 11pt; color: rgb(0, 0, 0); background-color: transparent; font-weight: 400; font-style: normal; font-variant: normal; text-decoration: none; vertical-align: baseline; white-space: pre-wrap;\">Play Ball! Take advantage of our exclusive DraftKings Sportsbook sign up offer and save $50 on your next Volo Baltimore league with any $5+ bet! Must sign up with promo code: VOLO150. \u003c/span>\u003ca href=\"http://bit.ly/3nL2KGg\" style=\"box-sizing: inherit; background-repeat: no-repeat; background-size: contain; background-color: rgba(0, 0, 0, 0); outline: 0px; -webkit-tap-highlight-color: rgba(0, 0, 0, 0); text-decoration: none; color: rgb(30, 98, 180); cursor: pointer; transition: all 0.2s ease 0s; user-select: auto; margin-bottom: 0px;\">\u003cspan style=\"box-sizing: inherit; background-repeat: no-repeat; background-size: contain; font-family: Calibri, sans-serif; margin-bottom: 0px; font-size: 11pt; color: rgb(17, 85, 204); background-color: transparent; font-weight: 400; font-style: normal; font-variant: normal; text-decoration: underline; text-decoration-skip-ink: none; vertical-align: baseline; white-space: pre-wrap;\">SAVE $50 NOW!\u003c/span>\u003c/a>\u003c/p>"},"activityName":"Softball","programType":"LEAGUE"},"League:64401d427acdcd18827df966":{"__typename":"League","_id":"64401d427acdcd18827df966","name":"Softball (10v10 Coed) - Saturday - Patterson Park (Canton) - July 2023","featured_order":null,"schedule":{"__typename":"Schedule","start_date":"2023-07-22T16:00:00.000Z"},"details":{"__typename":"LeagueDetails","description":"\u003cp id=\"isPasted\" style='box-sizing: inherit; background-repeat: no-repeat; background-size: contain; color: rgb(65, 65, 65); text-rendering: optimizelegibility; font-family: Arial, \"Helvetica Neue\", Helvetica, sans-serif; margin: 0px; padding: 0px; margin-block: 0px; margin-inline: 0px; padding-block: 0px; padding-inline: 0px; font-size: 14px; font-style: normal; font-variant-ligatures: normal; font-variant-caps: normal; font-weight: 400; letter-spacing: normal; orphans: 2; text-align: left; text-indent: 0px; text-transform: none; white-space: normal; widows: 2; word-spacing: 0px; -webkit-text-stroke-width: 0px; background-color: rgb(255, 255, 255); text-decoration-thickness: initial; text-decoration-style: initial; text-decoration-color: initial;'>Saturday Softball is back! Smash into your weekend with softball in Patterson Park!\u003c/p>\u003cp style='box-sizing: inherit; background-repeat: no-repeat; background-size: contain; color: rgb(65, 65, 65); text-rendering: optimizelegibility; font-family: Arial, \"Helvetica Neue\", Helvetica, sans-serif; margin: 0px; padding: 0px; margin-block: 0px; margin-inline: 0px; padding-block: 0px; padding-inline: 0px; font-size: 14px; font-style: normal; font-variant-ligatures: normal; font-variant-caps: normal; font-weight: 400; letter-spacing: normal; orphans: 2; text-align: left; text-indent: 0px; text-transform: none; white-space: normal; widows: 2; word-spacing: 0px; -webkit-text-stroke-width: 0px; background-color: rgb(255, 255, 255); text-decoration-thickness: initial; text-decoration-style: initial; text-decoration-color: initial;'>\u003cbr style=\"box-sizing: inherit; background-repeat: no-repeat; background-size: contain; margin-bottom: 0px;\">\u003c/p>\u003cp style='box-sizing: inherit; background-repeat: no-repeat; background-size: contain; color: rgb(65, 65, 65); text-rendering: optimizelegibility; font-family: Arial, \"Helvetica Neue\", Helvetica, sans-serif; margin: 0pt 0px; padding: 0px; margin-block: 0px; margin-inline: 0px; padding-block: 0px; padding-inline: 0px; font-size: 14px; font-style: normal; font-variant-ligatures: normal; font-variant-caps: normal; font-weight: 400; letter-spacing: normal; orphans: 2; text-align: left; text-indent: 0px; text-transform: none; white-space: normal; widows: 2; word-spacing: 0px; -webkit-text-stroke-width: 0px; background-color: rgb(255, 255, 255); text-decoration-thickness: initial; text-decoration-style: initial; text-decoration-color: initial; line-height: 1.2;'>\u003cspan style=\"box-sizing: inherit; background-repeat: no-repeat; background-size: contain; font-family: Arial; margin-bottom: 0px; font-size: 11pt; background-color: rgb(255, 255, 255);\">Coed League\u003c/span>\u003c/p>\u003cp style='box-sizing: inherit; background-repeat: no-repeat; background-size: contain; color: rgb(65, 65, 65); text-rendering: optimizelegibility; font-family: Arial, \"Helvetica Neue\", Helvetica, sans-serif; margin: 0pt 0px; padding: 0px; margin-block: 0px; margin-inline: 0px; padding-block: 0px; padding-inline: 0px; font-size: 14px; font-style: normal; font-variant-ligatures: normal; font-variant-caps: normal; font-weight: 400; letter-spacing: normal; orphans: 2; text-align: left; text-indent: 0px; text-transform: none; white-space: normal; widows: 2; word-spacing: 0px; -webkit-text-stroke-width: 0px; background-color: rgb(255, 255, 255); text-decoration-thickness: initial; text-decoration-style: initial; text-decoration-color: initial; line-height: 1.2;'>\u003cspan style=\"box-sizing: inherit; background-repeat: no-repeat; background-size: contain; font-family: Arial; margin-bottom: 0px; font-size: 11pt; background-color: rgb(255, 255, 255);\">10 max total, 7 men max on the field\u003c/span>\u003c/p>\u003cp style='box-sizing: inherit; background-repeat: no-repeat; background-size: contain; color: rgb(65, 65, 65); text-rendering: optimizelegibility; font-family: Arial, \"Helvetica Neue\", Helvetica, sans-serif; margin: 0pt 0px; padding: 0px; margin-block: 0px; margin-inline: 0px; padding-block: 0px; padding-inline: 0px; font-size: 14px; font-style: normal; font-variant-ligatures: normal; font-variant-caps: normal; font-weight: 400; letter-spacing: normal; orphans: 2; text-align: left; text-indent: 0px; text-transform: none; white-space: normal; widows: 2; word-spacing: 0px; -webkit-text-stroke-width: 0px; background-color: rgb(255, 255, 255); text-decoration-thickness: initial; text-decoration-style: initial; text-decoration-color: initial; line-height: 1.2;'>\u003cspan style=\"box-sizing: inherit; background-repeat: no-repeat; background-size: contain; font-family: Arial; margin-bottom: 0px; font-size: 11pt; background-color: rgb(255, 255, 255);\">Pitch count starts 1-1 \u003c/span>\u003c/p>\u003cp style='box-sizing: inherit; background-repeat: no-repeat; background-size: contain; color: rgb(65, 65, 65); text-rendering: optimizelegibility; font-family: Arial, \"Helvetica Neue\", Helvetica, sans-serif; margin: 0pt 0px; padding: 0px; margin-block: 0px; margin-inline: 0px; padding-block: 0px; padding-inline: 0px; font-size: 14px; font-style: normal; font-variant-ligatures: normal; font-variant-caps: normal; font-weight: 400; letter-spacing: normal; orphans: 2; text-align: left; text-indent: 0px; text-transform: none; white-space: normal; widows: 2; word-spacing: 0px; -webkit-text-stroke-width: 0px; background-color: rgb(255, 255, 255); text-decoration-thickness: initial; text-decoration-style: initial; text-decoration-color: initial; line-height: 1.2;'>\u003cspan style=\"box-sizing: inherit; background-repeat: no-repeat; background-size: contain; font-family: Arial; margin-bottom: 0px; font-size: 11pt; background-color: rgb(255, 255, 255);\">At least 6 players required to start game\u003c/span>\u003c/p>\u003cp style='box-sizing: inherit; background-repeat: no-repeat; background-size: contain; color: rgb(65, 65, 65); text-rendering: optimizelegibility; font-family: Arial, \"Helvetica Neue\", Helvetica, sans-serif; margin: 0pt 0px; padding: 0px; margin-block: 0px; margin-inline: 0px; padding-block: 0px; padding-inline: 0px; font-size: 14px; font-style: normal; font-variant-ligatures: normal; font-variant-caps: normal; font-weight: 400; letter-spacing: normal; orphans: 2; text-align: left; text-indent: 0px; text-transform: none; white-space: normal; widows: 2; word-spacing: 0px; -webkit-text-stroke-width: 0px; background-color: rgb(255, 255, 255); text-decoration-thickness: initial; text-decoration-style: initial; text-decoration-color: initial; line-height: 1.2;'>\u003cspan style=\"box-sizing: inherit; background-repeat: no-repeat; background-size: contain; font-family: Arial; margin-bottom: 0px; font-size: 11pt; background-color: rgb(255, 255, 255);\">6 players, 1 woman min, to start game\u003c/span>\u003c/p>\u003cp style='box-sizing: inherit; background-repeat: no-repeat; background-size: contain; color: rgb(65, 65, 65); text-rendering: optimizelegibility; font-family: Arial, \"Helvetica Neue\", Helvetica, sans-serif; margin: 0pt 0px; padding: 0px; margin-block: 0px; margin-inline: 0px; padding-block: 0px; padding-inline: 0px; font-size: 14px; font-style: normal; font-variant-ligatures: normal; font-variant-caps: normal; font-weight: 400; letter-spacing: normal; orphans: 2; text-align: left; text-indent: 0px; text-transform: none; white-space: normal; widows: 2; word-spacing: 0px; -webkit-text-stroke-width: 0px; background-color: rgb(255, 255, 255); text-decoration-thickness: initial; text-decoration-style: initial; text-decoration-color: initial; line-height: 1.2;'>\u003cspan style=\"box-sizing: inherit; background-repeat: no-repeat; background-size: contain; font-family: Arial; margin-bottom: 0px; font-size: 11pt; background-color: rgb(255, 255, 255);\">No more than 3 men can bat in a row\u003c/span>\u003c/p>\u003cp style='box-sizing: inherit; background-repeat: no-repeat; background-size: contain; color: rgb(65, 65, 65); text-rendering: optimizelegibility; font-family: Arial, \"Helvetica Neue\", Helvetica, sans-serif; margin: 0pt 0px; padding: 0px; margin-block: 0px; margin-inline: 0px; padding-block: 0px; padding-inline: 0px; font-size: 14px; font-style: normal; font-variant-ligatures: normal; font-variant-caps: normal; font-weight: 400; letter-spacing: normal; orphans: 2; text-align: left; text-indent: 0px; text-transform: none; white-space: normal; widows: 2; word-spacing: 0px; -webkit-text-stroke-width: 0px; background-color: rgb(255, 255, 255); text-decoration-thickness: initial; text-decoration-style: initial; text-decoration-color: initial; line-height: 1.2;'>\u003cspan style=\"box-sizing: inherit; background-repeat: no-repeat; background-size: contain; font-family: Arial; margin-bottom: 0px; font-size: 11pt; background-color: rgb(255, 255, 255);\">Gloves are not provided. Please bring your own.\u003c/span>\u003c/p>\u003cp style='box-sizing: inherit; background-repeat: no-repeat; background-size: contain; color: rgb(65, 65, 65); text-rendering: optimizelegibility; font-family: Arial, \"Helvetica Neue\", Helvetica, sans-serif; margin: 0pt 0px; padding: 0px; margin-block: 0px; margin-inline: 0px; padding-block: 0px; padding-inline: 0px; font-size: 14px; font-style: normal; font-variant-ligatures: normal; font-variant-caps: normal; font-weight: 400; letter-spacing: normal; orphans: 2; text-align: left; text-indent: 0px; text-transform: none; white-space: normal; widows: 2; word-spacing: 0px; -webkit-text-stroke-width: 0px; background-color: rgb(255, 255, 255); text-decoration-thickness: initial; text-decoration-style: initial; text-decoration-color: initial; line-height: 1.2;'>\u003cspan style=\"box-sizing: inherit; background-repeat: no-repeat; background-size: contain; font-family: Arial; margin-bottom: 0px; font-size: 11pt; background-color: rgb(255, 255, 255);\">NO METAL SPIKES\u003c/span>\u003c/p>\u003cp style='box-sizing: inherit; background-repeat: no-repeat; background-size: contain; color: rgb(65, 65, 65); text-rendering: optimizelegibility; font-family: Arial, \"Helvetica Neue\", Helvetica, sans-serif; margin: 0pt 0px; padding: 0px; margin-block: 0px; margin-inline: 0px; padding-block: 0px; padding-inline: 0px; font-size: 14px; font-style: normal; font-variant-ligatures: normal; font-variant-caps: normal; font-weight: 400; letter-spacing: normal; orphans: 2; text-align: left; text-indent: 0px; text-transform: none; white-space: normal; widows: 2; word-spacing: 0px; -webkit-text-stroke-width: 0px; background-color: rgb(255, 255, 255); text-decoration-thickness: initial; text-decoration-style: initial; text-decoration-color: initial; line-height: 1.2;'>\u003cbr style=\"box-sizing: inherit; background-repeat: no-repeat; background-size: contain; margin-bottom: 0px;\">\u003c/p>\u003cp style='box-sizing: inherit; background-repeat: no-repeat; background-size: contain; color: rgb(65, 65, 65); text-rendering: optimizelegibility; font-family: Arial, \"Helvetica Neue\", Helvetica, sans-serif; margin: 4pt 0px; padding: 0px; margin-block: 0px; margin-inline: 0px; padding-block: 0px; padding-inline: 0px; font-size: 14px; font-style: normal; font-variant-ligatures: normal; font-variant-caps: normal; font-weight: 400; letter-spacing: normal; orphans: 2; text-align: left; text-indent: 0px; text-transform: none; white-space: normal; widows: 2; word-spacing: 0px; -webkit-text-stroke-width: 0px; background-color: rgb(255, 255, 255); text-decoration-thickness: initial; text-decoration-style: initial; text-decoration-color: initial; line-height: 1.2;'>\u003cstrong style=\"box-sizing: inherit; background-repeat: no-repeat; background-size: contain; font-weight: 700; margin-bottom: 0px;\">\u003cspan style=\"box-sizing: inherit; background-repeat: no-repeat; background-size: contain; font-family: Arial; margin-bottom: 0px; font-size: 11pt;\">Playoffs\u003c/span>\u003c/strong>\u003c/p>\u003cp style='box-sizing: inherit; background-repeat: no-repeat; background-size: contain; color: rgb(65, 65, 65); text-rendering: optimizelegibility; font-family: Arial, \"Helvetica Neue\", Helvetica, sans-serif; margin: 4pt 0px; padding: 0px; margin-block: 0px; margin-inline: 0px; padding-block: 0px; padding-inline: 0px; font-size: 14px; font-style: normal; font-variant-ligatures: normal; font-variant-caps: normal; font-weight: 400; letter-spacing: normal; orphans: 2; text-align: left; text-indent: 0px; text-transform: none; white-space: normal; widows: 2; word-spacing: 0px; -webkit-text-stroke-width: 0px; background-color: rgb(255, 255, 255); text-decoration-thickness: initial; text-decoration-style: initial; text-decoration-color: initial; line-height: 1.2;'>\u003cspan style=\"box-sizing: inherit; background-repeat: no-repeat; background-size: contain; font-family: Arial; margin-bottom: 0px; font-size: 11.5pt; color: rgb(29, 28, 29);\">Top 50% teams will make playoffs\u003c/span>\u003c/p>\u003cp style='box-sizing: inherit; background-repeat: no-repeat; background-size: contain; color: rgb(65, 65, 65); text-rendering: optimizelegibility; font-family: Arial, \"Helvetica Neue\", Helvetica, sans-serif; margin: 4pt 0px; padding: 0px; margin-block: 0px; margin-inline: 0px; padding-block: 0px; padding-inline: 0px; font-size: 14px; font-style: normal; font-variant-ligatures: normal; font-variant-caps: normal; font-weight: 400; letter-spacing: normal; orphans: 2; text-align: left; text-indent: 0px; text-transform: none; white-space: normal; widows: 2; word-spacing: 0px; -webkit-text-stroke-width: 0px; background-color: rgb(255, 255, 255); text-decoration-thickness: initial; text-decoration-style: initial; text-decoration-color: initial; line-height: 1.2;'>\u003cspan style=\"box-sizing: inherit; background-repeat: no-repeat; background-size: contain; font-family: Arial; margin-bottom: 0px; font-size: 11.5pt; color: rgb(29, 28, 29);\">*Additional teams may be added to playoffs if schedules / venue space allow\u003c/span>\u003c/p>\u003cp style='box-sizing: inherit; background-repeat: no-repeat; background-size: contain; color: rgb(65, 65, 65); text-rendering: optimizelegibility; font-family: Arial, \"Helvetica Neue\", Helvetica, sans-serif; margin: 4pt 0px; padding: 0px; margin-block: 0px; margin-inline: 0px; padding-block: 0px; padding-inline: 0px; font-size: 14px; font-style: normal; font-variant-ligatures: normal; font-variant-caps: normal; font-weight: 400; letter-spacing: normal; orphans: 2; text-align: left; text-indent: 0px; text-transform: none; white-space: normal; widows: 2; word-spacing: 0px; -webkit-text-stroke-width: 0px; background-color: rgb(255, 255, 255); text-decoration-thickness: initial; text-decoration-style: initial; text-decoration-color: initial; line-height: 1.2;'>\u003cbr style=\"box-sizing: inherit; background-repeat: no-repeat; background-size: contain; margin-bottom: 0px;\">\u003c/p>\u003cp style='box-sizing: inherit; background-repeat: no-repeat; background-size: contain; color: rgb(65, 65, 65); text-rendering: optimizelegibility; font-family: Arial, \"Helvetica Neue\", Helvetica, sans-serif; margin: 0px; padding: 0px; margin-block: 0px; margin-inline: 0px; padding-block: 0px; padding-inline: 0px; font-size: 14px; font-style: normal; font-variant-ligatures: normal; font-variant-caps: normal; font-weight: 400; letter-spacing: normal; orphans: 2; text-align: left; text-indent: 0px; text-transform: none; white-space: normal; widows: 2; word-spacing: 0px; -webkit-text-stroke-width: 0px; background-color: rgb(255, 255, 255); text-decoration-thickness: initial; text-decoration-style: initial; text-decoration-color: initial;'>\u003cstrong style=\"box-sizing: inherit; background-repeat: no-repeat; background-size: contain; font-weight: 700; margin-bottom: 0px;\">End of season Party will be 6/24 and is included with registration where you can celebrate your season with some free drinks at Volo's new facility The PARK. All spring players will be emailed a code to sign up for free. \u003ca href=\"https://www.volosports.com/d/6435b9eaa520b1a82e834320\" style=\"box-sizing: inherit; background-repeat: no-repeat; background-size: contain; background-color: rgba(0, 0, 0, 0); outline: 0px; -webkit-tap-highlight-color: rgba(0, 0, 0, 0); text-decoration: none; color: rgb(30, 98, 180); cursor: pointer; transition: all 0.2s ease 0s; user-select: auto; margin-bottom: 0px;\">www.volosports.com/d/6435b9eaa520b1a82e834320\u003c/a>\u003c/strong>\u003c/p>\u003cp style='box-sizing: inherit; background-repeat: no-repeat; background-size: contain; color: rgb(65, 65, 65); text-rendering: optimizelegibility; font-family: Arial, \"Helvetica Neue\", Helvetica, sans-serif; margin: 0px; padding: 0px; margin-block: 0px; margin-inline: 0px; padding-block: 0px; padding-inline: 0px; font-size: 14px; font-style: normal; font-variant-ligatures: normal; font-variant-caps: normal; font-weight: 400; letter-spacing: normal; orphans: 2; text-align: left; text-indent: 0px; text-transform: none; white-space: normal; widows: 2; word-spacing: 0px; -webkit-text-stroke-width: 0px; background-color: rgb(255, 255, 255); text-decoration-thickness: initial; text-decoration-style: initial; text-decoration-color: initial;'>\u003cstrong style=\"box-sizing: inherit; background-repeat: no-repeat; background-size: contain; font-weight: 700; margin-bottom: 0px;\">CODE: PARKPARTY\u003c/strong>\u003c/p>\u003cp style='box-sizing: inherit; background-repeat: no-repeat; background-size: contain; color: rgb(65, 65, 65); text-rendering: optimizelegibility; font-family: Arial, \"Helvetica Neue\", Helvetica, sans-serif; margin: 4pt 0px; padding: 0px; margin-block: 0px; margin-inline: 0px; padding-block: 0px; padding-inline: 0px; font-size: 14px; font-style: normal; font-variant-ligatures: normal; font-variant-caps: normal; font-weight: 400; letter-spacing: normal; orphans: 2; text-align: left; text-indent: 0px; text-transform: none; white-space: normal; widows: 2; word-spacing: 0px; -webkit-text-stroke-width: 0px; background-color: rgb(255, 255, 255); text-decoration-thickness: initial; text-decoration-style: initial; text-decoration-color: initial; line-height: 1.2;'>\u003cbr style=\"box-sizing: inherit; background-repeat: no-repeat; background-size: contain; margin-bottom: 0px;\">\u003c/p>\u003cp style='box-sizing: inherit; background-repeat: no-repeat; background-size: contain; color: rgb(65, 65, 65); text-rendering: optimizelegibility; font-family: Arial, \"Helvetica Neue\", Helvetica, sans-serif; margin: 4pt 0px; padding: 0px; margin-block: 0px; margin-inline: 0px; padding-block: 0px; padding-inline: 0px; font-size: 14px; font-style: normal; font-variant-ligatures: normal; font-variant-caps: normal; font-weight: 400; letter-spacing: normal; orphans: 2; text-align: left; text-indent: 0px; text-transform: none; white-space: normal; widows: 2; word-spacing: 0px; -webkit-text-stroke-width: 0px; background-color: rgb(255, 255, 255); text-decoration-thickness: initial; text-decoration-style: initial; text-decoration-color: initial; line-height: 1.2;'>\u003cbr style=\"box-sizing: inherit; background-repeat: no-repeat; background-size: contain; margin-bottom: 0px;\">\u003c/p>\u003cp dir=\"ltr\" style='box-sizing: inherit; background-repeat: no-repeat; background-size: contain; color: rgb(65, 65, 65); text-rendering: optimizelegibility; font-family: Arial, \"Helvetica Neue\", Helvetica, sans-serif; margin: 0pt 0px; padding: 0px; margin-block: 0px; margin-inline: 0px; padding-block: 0px; padding-inline: 0px; font-size: 14px; font-style: normal; font-variant-ligatures: normal; font-variant-caps: normal; font-weight: 400; letter-spacing: normal; orphans: 2; text-indent: 0px; text-transform: none; white-space: normal; widows: 2; word-spacing: 0px; -webkit-text-stroke-width: 0px; background-color: rgb(255, 255, 255); text-decoration-thickness: initial; text-decoration-style: initial; text-decoration-color: initial; line-height: 1.38; text-align: center;'>\u003ca href=\"http://bit.ly/3nL2KGg\" style=\"box-sizing: inherit; background-repeat: no-repeat; background-size: contain; background-color: rgba(0, 0, 0, 0); outline: 0px; -webkit-tap-highlight-color: rgba(0, 0, 0, 0); text-decoration: none; color: rgb(30, 98, 180); cursor: pointer; transition: all 0.2s ease 0s; user-select: auto; margin-bottom: 0px;\">\u003cspan style=\"box-sizing: inherit; background-repeat: no-repeat; background-size: contain; font-family: Calibri, sans-serif; margin-bottom: 0px; font-size: 11pt; color: rgb(17, 85, 204); background-color: transparent; font-weight: 400; font-style: normal; font-variant: normal; text-decoration: underline; text-decoration-skip-ink: none; vertical-align: baseline; white-space: pre-wrap;\">\u003cspan style='box-sizing: inherit; background-repeat: no-repeat; background-size: contain; font-family: Arial, \"Helvetica Neue\", Helvetica, sans-serif; margin-bottom: 0px; border: none; display: inline-block; overflow: hidden; width: 390px; height: 130px;'>\u003cimg src=\"https://s3.amazonaws.com/rivall-user-uploads/prodUploads/orgEmailPicturesFolder/63f3d161dcb88518a96a9b24_1683404359150.png\" width=\"390\" height=\"130\" style=\"box-sizing: inherit; background-repeat: no-repeat; background-size: contain; border: 0px; max-width: calc(100% - 10px); cursor: pointer; padding: 0px 1px; user-select: none;\" class=\"fr-fic fr-dii\">\u003c/span>\u003c/span>\u003c/a>\u003c/p>\u003cp style='box-sizing: inherit; background-repeat: no-repeat; background-size: contain; color: rgb(65, 65, 65); text-rendering: optimizelegibility; font-family: Arial, \"Helvetica Neue\", Helvetica, sans-serif; margin: 0px; padding: 0px; margin-block: 0px; margin-inline: 0px; padding-block: 0px; padding-inline: 0px; font-size: 14px; font-style: normal; font-variant-ligatures: normal; font-variant-caps: normal; font-weight: 400; letter-spacing: normal; orphans: 2; text-align: left; text-indent: 0px; text-transform: none; white-space: normal; widows: 2; word-spacing: 0px; -webkit-text-stroke-width: 0px; background-color: rgb(255, 255, 255); text-decoration-thickness: initial; text-decoration-style: initial; text-decoration-color: initial;'>\u003cspan style=\"box-sizing: inherit; background-repeat: no-repeat; background-size: contain; font-family: Calibri, sans-serif; font-size: 11pt; color: rgb(0, 0, 0); background-color: transparent; font-weight: 400; font-style: normal; font-variant: normal; text-decoration: none; vertical-align: baseline; white-space: pre-wrap;\">Play Ball! Take advantage of our exclusive DraftKings Sportsbook sign up offer and save $50 on your next Volo Baltimore league with any $5+ bet! Must sign up with promo code: VOLO150. \u003c/span>\u003ca href=\"http://bit.ly/3nL2KGg\" style=\"box-sizing: inherit; background-repeat: no-repeat; background-size: contain; background-color: rgba(0, 0, 0, 0); outline: 0px; -webkit-tap-highlight-color: rgba(0, 0, 0, 0); text-decoration: none; color: rgb(30, 98, 180); cursor: pointer; transition: all 0.2s ease 0s; user-select: auto; margin-bottom: 0px;\">\u003cspan style=\"box-sizing: inherit; background-repeat: no-repeat; background-size: contain; font-family: Calibri, sans-serif; margin-bottom: 0px; font-size: 11pt; color: rgb(17, 85, 204); background-color: transparent; font-weight: 400; font-style: normal; font-variant: normal; text-decoration: underline; text-decoration-skip-ink: none; vertical-align: baseline; white-space: pre-wrap;\">SAVE $50 NOW!\u003c/span>\u003c/a>\u003c/p>"},"activityName":"Softball","programType":"LEAGUE"},"League:64401d427acdcd18827df929":{"__typename":"League","_id":"64401d427acdcd18827df929","name":"Softball (Men) - Saturday - Patterson Park (Canton) - June 2023","featured_order":null,"schedule":{"__typename":"Schedule","start_date":"2023-06-17T16:00:00.000Z"},"details":{"__typename":"LeagueDetails","description":"\u003cp id=\"isPasted\">Weekend Softball is the place to be on Saturdays! Hit it over to Patterson Park to run the bases and enjoy the vibes with your team! Don't forget to take a short walk to the sponsor bar with your team!\u003c/p>\u003cp>\u003cbr>\u003c/p>\u003cp style=\"line-height: 1.2; margin-top: 0pt; margin-bottom: 0pt;\">\u003cspan style=\"font-size: 11pt; font-family: Arial; background-color: #ffffff;\">\u003cstrong>Men's League\u003c/strong>\u003c/span>\u003c/p>\u003cp style=\"line-height: 1.2; margin-top: 0pt; margin-bottom: 0pt;\">\u003cspan style=\"font-size: 11pt; font-family: Arial; background-color: #ffffff;\">10 max total on the field\u003c/span>\u003c/p>\u003cp style=\"line-height: 1.2; margin-top: 0pt; margin-bottom: 0pt;\">\u003cspan style=\"font-size: 11pt; font-family: Arial; background-color: #ffffff;\">Pitch count starts 1-1 \u003c/span>\u003c/p>\u003cp style=\"line-height: 1.2; margin-top: 0pt; margin-bottom: 0pt;\">\u003cspan style=\"font-size: 11pt; font-family: Arial; background-color: #ffffff;\">At least \u003c/span>\u003cspan style=\"font-size: 11pt; font-family: Arial; background-color: #ffffff;\">6 players required to start game\u003c/span>\u003c/p>\u003cp style=\"line-height: 1.2; margin-top: 0pt; margin-bottom: 0pt;\">\u003cspan style=\"font-size: 11pt; font-family: Arial; background-color: #ffffff;\">Gloves are not provided. Please bring your own.\u003c/span>\u003c/p>\u003cp style=\"line-height: 1.2; margin-top: 0pt; margin-bottom: 0pt;\">\u003cspan style=\"font-size: 11pt; font-family: Arial; background-color: #ffffff;\">NO METAL SPIKES\u003c/span>\u003c/p>\u003cp style=\"line-height: 1.2; margin-top: 0pt; margin-bottom: 0pt;\">\u003cbr>\u003c/p>\u003cp style=\"line-height: 1.2; margin-top: 4pt; margin-bottom: 4pt;\">\u003cstrong>\u003cspan style=\"font-size: 11pt; font-family: Arial;\">Playoffs\u003c/span>\u003c/strong>\u003c/p>\u003cp style=\"line-height: 1.2; margin-top: 4pt; margin-bottom: 4pt;\">\u003cspan style=\"font-size: 11.5pt; font-family: Arial; color: #1d1c1d;\">Top 50teams will make playoffs\u003c/span>\u003c/p>\u003cp style=\"line-height: 1.2; margin-top: 4pt; margin-bottom: 4pt;\">\u003cspan style=\"font-size: 11.5pt; font-family: Arial; color: #1d1c1d;\">*Additional teams may be added to playoffs if schedules / venue space allow\u003c/span>\u003c/p>\u003cp style=\"line-height: 1.2; margin-top: 4pt; margin-bottom: 4pt;\">\u003cbr>\u003c/p>\u003cp style=\"line-height: 1.2; margin-top: 4pt; margin-bottom: 4pt;\">\u003cstrong>End of season Party will be 6/30 and is included with registration where you can celebrate your season with some free drinks at Volo's new facility The PARK. All spring players will be emailed a code to sign up for free. \u003ca data-fr-linked=\"true\" href=\"//www.volosports.com/d/6435b9eaa520b1a82e834320\">www.volosports.com/d/6435b9eaa520b1a82e834320\u003c/a>\u003cbr>\u003c/strong>\u003c/p>"},"activityName":"Softball","programType":"LEAGUE"},"League:64401d427acdcd18827df927":{"__typename":"League","_id":"64401d427acdcd18827df927","name":"Softball (Coed) - Saturday - Patterson Park (Canton) - June 2023","featured_order":null,"schedule":{"__typename":"Schedule","start_date":"2023-06-17T16:00:00.000Z"},"details":{"__typename":"LeagueDetails","description":"\u003cp id=\"isPasted\">Hit it over to Patterson Park to run the bases and enjoy the vibes with your team! Don't forget to take a short walk to the sponsor bar with your team! \u003c/p>\u003cp>\u003cbr>\u003c/p>\u003cp style=\"line-height: 1.2; margin-top: 0pt; margin-bottom: 0pt;\">\u003cspan style=\"font-size: 11pt; font-family: Arial; background-color: #ffffff;\">Coed League\u003c/span>\u003c/p>\u003cp style=\"line-height: 1.2; margin-top: 0pt; margin-bottom: 0pt;\">\u003cspan style=\"font-size: 11pt; font-family: Arial; background-color: #ffffff;\">10 max total, 7 men max on the field\u003c/span>\u003c/p>\u003cp style=\"line-height: 1.2; margin-top: 0pt; margin-bottom: 0pt;\">\u003cspan style=\"font-size: 11pt; font-family: Arial; background-color: #ffffff;\">Pitch count starts 1-1 \u003c/span>\u003c/p>\u003cp style=\"line-height: 1.2; margin-top: 0pt; margin-bottom: 0pt;\">\u003cspan style=\"font-size: 11pt; font-family: Arial; background-color: #ffffff;\">At least \u003c/span>\u003cspan style=\"font-size: 11pt; font-family: Arial; background-color: #ffffff;\">6 players, 1 woman min, to start game\u003c/span>\u003c/p>\u003cp style=\"line-height: 1.2; margin-top: 0pt; margin-bottom: 0pt;\">\u003cspan style=\"font-size: 11pt; font-family: Arial; background-color: #ffffff;\">No more than 3 men can bat in a row\u003c/span>\u003c/p>\u003cp style=\"line-height: 1.2; margin-top: 0pt; margin-bottom: 0pt;\">\u003cspan style=\"font-size: 11pt; font-family: Arial; background-color: #ffffff;\">Gloves are not provided. Please bring your own.\u003c/span>\u003c/p>\u003cp style=\"line-height: 1.2; margin-top: 0pt; margin-bottom: 0pt;\">\u003cspan style=\"font-size: 11pt; font-family: Arial; background-color: #ffffff;\">NO METAL SPIKES\u003c/span>\u003c/p>\u003cp style=\"line-height: 1.2; margin-top: 0pt; margin-bottom: 0pt;\">\u003cbr>\u003c/p>\u003cp style=\"line-height: 1.2; margin-top: 4pt; margin-bottom: 4pt;\">\u003cstrong>\u003cspan style=\"font-size: 11pt; font-family: Arial;\">Playoffs\u003c/span>\u003c/strong>\u003c/p>\u003cp style=\"line-height: 1.2; margin-top: 4pt; margin-bottom: 4pt;\">\u003cspan style=\"font-size: 11.5pt; font-family: Arial; color: #1d1c1d;\">Top 50% teams will make playoffs\u003c/span>\u003c/p>\u003cp style=\"line-height: 1.2; margin-top: 4pt; margin-bottom: 4pt;\">\u003cspan style=\"font-size: 11.5pt; font-family: Arial; color: #1d1c1d;\">*Additional teams may be added to playoffs if schedules / venue space allow\u003c/span>\u003c/p>\u003cp style=\"line-height: 1.2; margin-top: 4pt; margin-bottom: 4pt;\">\u003cbr>\u003c/p>\u003cp style=\"line-height: 1.2; margin-top: 4pt; margin-bottom: 4pt;\">\u003cstrong>End of season Party will be 6/30 and is included with registration where you can celebrate your season with some free drinks at Volo's new facility The PARK. All spring players will be emailed a code to sign up for free. \u003ca data-fr-linked=\"true\" href=\"//www.volosports.com/d/6435b9eaa520b1a82e834320\">www.volosports.com/d/6435b9eaa520b1a82e834320\u003c/a>\u003c/strong>\u003c/p>"},"activityName":"Softball","programType":"LEAGUE"},"League:64401d427acdcd18827df919":{"__typename":"League","_id":"64401d427acdcd18827df919","name":"Coed Woodbat Softball - Friday - SBLL (Formerly McHenry Row) (Federal Hill) - July 2023","featured_order":null,"schedule":{"__typename":"Schedule","start_date":"2023-07-21T16:00:00.000Z"},"details":{"__typename":"LeagueDetails","description":"\u003cp id=\"isPasted\" style='box-sizing: inherit; background-repeat: no-repeat; background-size: contain; color: rgb(65, 65, 65); text-rendering: optimizelegibility; font-family: Arial, \"Helvetica Neue\", Helvetica, sans-serif; margin: 0px; padding: 0px; margin-block: 0px; margin-inline: 0px; padding-block: 0px; padding-inline: 0px; font-size: 14px; font-style: normal; font-variant-ligatures: normal; font-variant-caps: normal; font-weight: 400; letter-spacing: normal; orphans: 2; text-align: left; text-indent: 0px; text-transform: none; white-space: normal; widows: 2; word-spacing: 0px; -webkit-text-stroke-width: 0px; background-color: rgb(255, 255, 255); text-decoration-thickness: initial; text-decoration-style: initial; text-decoration-color: initial;'>Friday Night Softball is back! Jumpstart your weekend by gathering your friends and playing softball at one of the best fields the Federal Hill neighborhood has to offer!\u003c/p>\u003cp style='box-sizing: inherit; background-repeat: no-repeat; background-size: contain; color: rgb(65, 65, 65); text-rendering: optimizelegibility; font-family: Arial, \"Helvetica Neue\", Helvetica, sans-serif; margin: 0px; padding: 0px; margin-block: 0px; margin-inline: 0px; padding-block: 0px; padding-inline: 0px; font-size: 14px; font-style: normal; font-variant-ligatures: normal; font-variant-caps: normal; font-weight: 400; letter-spacing: normal; orphans: 2; text-align: left; text-indent: 0px; text-transform: none; white-space: normal; widows: 2; word-spacing: 0px; -webkit-text-stroke-width: 0px; background-color: rgb(255, 255, 255); text-decoration-thickness: initial; text-decoration-style: initial; text-decoration-color: initial;'>\u003cbr style=\"box-sizing: inherit; background-repeat: no-repeat; background-size: contain; margin-bottom: 0px;\">\u003c/p>\u003cp style='box-sizing: inherit; background-repeat: no-repeat; background-size: contain; color: rgb(65, 65, 65); text-rendering: optimizelegibility; font-family: Arial, \"Helvetica Neue\", Helvetica, sans-serif; margin: 0pt 0px; padding: 0px; margin-block: 0px; margin-inline: 0px; padding-block: 0px; padding-inline: 0px; font-size: 14px; font-style: normal; font-variant-ligatures: normal; font-variant-caps: normal; font-weight: 400; letter-spacing: normal; orphans: 2; text-align: left; text-indent: 0px; text-transform: none; white-space: normal; widows: 2; word-spacing: 0px; -webkit-text-stroke-width: 0px; background-color: rgb(255, 255, 255); text-decoration-thickness: initial; text-decoration-style: initial; text-decoration-color: initial; line-height: 1.2;'>\u003cspan style=\"box-sizing: inherit; background-repeat: no-repeat; background-size: contain; font-family: Arial; margin-bottom: 0px; font-size: 11pt; background-color: rgb(255, 255, 255);\">Coed League\u003c/span>\u003c/p>\u003cp style='box-sizing: inherit; background-repeat: no-repeat; background-size: contain; color: rgb(65, 65, 65); text-rendering: optimizelegibility; font-family: Arial, \"Helvetica Neue\", Helvetica, sans-serif; margin: 0pt 0px; padding: 0px; margin-block: 0px; margin-inline: 0px; padding-block: 0px; padding-inline: 0px; font-size: 14px; font-style: normal; font-variant-ligatures: normal; font-variant-caps: normal; font-weight: 400; letter-spacing: normal; orphans: 2; text-align: left; text-indent: 0px; text-transform: none; white-space: normal; widows: 2; word-spacing: 0px; -webkit-text-stroke-width: 0px; background-color: rgb(255, 255, 255); text-decoration-thickness: initial; text-decoration-style: initial; text-decoration-color: initial; line-height: 1.2;'>\u003cspan style=\"box-sizing: inherit; background-repeat: no-repeat; background-size: contain; font-family: Arial; margin-bottom: 0px; font-size: 11pt; background-color: rgb(255, 255, 255);\">Wood Bat Only \u003c/span>\u003c/p>\u003cp style='box-sizing: inherit; background-repeat: no-repeat; background-size: contain; color: rgb(65, 65, 65); text-rendering: optimizelegibility; font-family: Arial, \"Helvetica Neue\", Helvetica, sans-serif; margin: 0pt 0px; padding: 0px; margin-block: 0px; margin-inline: 0px; padding-block: 0px; padding-inline: 0px; font-size: 14px; font-style: normal; font-variant-ligatures: normal; font-variant-caps: normal; font-weight: 400; letter-spacing: normal; orphans: 2; text-align: left; text-indent: 0px; text-transform: none; white-space: normal; widows: 2; word-spacing: 0px; -webkit-text-stroke-width: 0px; background-color: rgb(255, 255, 255); text-decoration-thickness: initial; text-decoration-style: initial; text-decoration-color: initial; line-height: 1.2;'>\u003cspan style=\"box-sizing: inherit; background-repeat: no-repeat; background-size: contain; font-family: Arial; margin-bottom: 0px; font-size: 11pt; background-color: rgb(255, 255, 255);\">10 max total on the field, 7 men max on the field\u003c/span>\u003c/p>\u003cp style='box-sizing: inherit; background-repeat: no-repeat; background-size: contain; color: rgb(65, 65, 65); text-rendering: optimizelegibility; font-family: Arial, \"Helvetica Neue\", Helvetica, sans-serif; margin: 0pt 0px; padding: 0px; margin-block: 0px; margin-inline: 0px; padding-block: 0px; padding-inline: 0px; font-size: 14px; font-style: normal; font-variant-ligatures: normal; font-variant-caps: normal; font-weight: 400; letter-spacing: normal; orphans: 2; text-align: left; text-indent: 0px; text-transform: none; white-space: normal; widows: 2; word-spacing: 0px; -webkit-text-stroke-width: 0px; background-color: rgb(255, 255, 255); text-decoration-thickness: initial; text-decoration-style: initial; text-decoration-color: initial; line-height: 1.2;'>\u003cspan style=\"box-sizing: inherit; background-repeat: no-repeat; background-size: contain; font-family: Arial; margin-bottom: 0px; font-size: 11pt; background-color: rgb(255, 255, 255);\">Pitch count starts 1-1 \u003c/span>\u003c/p>\u003cp style='box-sizing: inherit; background-repeat: no-repeat; background-size: contain; color: rgb(65, 65, 65); text-rendering: optimizelegibility; font-family: Arial, \"Helvetica Neue\", Helvetica, sans-serif; margin: 0pt 0px; padding: 0px; margin-block: 0px; margin-inline: 0px; padding-block: 0px; padding-inline: 0px; font-size: 14px; font-style: normal; font-variant-ligatures: normal; font-variant-caps: normal; font-weight: 400; letter-spacing: normal; orphans: 2; text-align: left; text-indent: 0px; text-transform: none; white-space: normal; widows: 2; word-spacing: 0px; -webkit-text-stroke-width: 0px; background-color: rgb(255, 255, 255); text-decoration-thickness: initial; text-decoration-style: initial; text-decoration-color: initial; line-height: 1.2;'>\u003cspan style=\"box-sizing: inherit; background-repeat: no-repeat; background-size: contain; font-family: Arial; margin-bottom: 0px; font-size: 11pt; background-color: rgb(255, 255, 255);\">At least players 6 required to start game,\u003c/span>\u003cspan style=\"box-sizing: inherit; background-repeat: no-repeat; background-size: contain; font-family: Arial; margin-bottom: 0px; font-size: 11pt; background-color: rgb(255, 255, 255);\">1 woman min, to start game\u003c/span>\u003c/p>\u003cp style='box-sizing: inherit; background-repeat: no-repeat; background-size: contain; color: rgb(65, 65, 65); text-rendering: optimizelegibility; font-family: Arial, \"Helvetica Neue\", Helvetica, sans-serif; margin: 0pt 0px; padding: 0px; margin-block: 0px; margin-inline: 0px; padding-block: 0px; padding-inline: 0px; font-size: 14px; font-style: normal; font-variant-ligatures: normal; font-variant-caps: normal; font-weight: 400; letter-spacing: normal; orphans: 2; text-align: left; text-indent: 0px; text-transform: none; white-space: normal; widows: 2; word-spacing: 0px; -webkit-text-stroke-width: 0px; background-color: rgb(255, 255, 255); text-decoration-thickness: initial; text-decoration-style: initial; text-decoration-color: initial; line-height: 1.2;'>\u003cspan style=\"box-sizing: inherit; background-repeat: no-repeat; background-size: contain; font-family: Arial; margin-bottom: 0px; font-size: 11pt; background-color: rgb(255, 255, 255);\">No more than 3 men can bat in a row\u003c/span>\u003c/p>\u003cp style='box-sizing: inherit; background-repeat: no-repeat; background-size: contain; color: rgb(65, 65, 65); text-rendering: optimizelegibility; font-family: Arial, \"Helvetica Neue\", Helvetica, sans-serif; margin: 0pt 0px; padding: 0px; margin-block: 0px; margin-inline: 0px; padding-block: 0px; padding-inline: 0px; font-size: 14px; font-style: normal; font-variant-ligatures: normal; font-variant-caps: normal; font-weight: 400; letter-spacing: normal; orphans: 2; text-align: left; text-indent: 0px; text-transform: none; white-space: normal; widows: 2; word-spacing: 0px; -webkit-text-stroke-width: 0px; background-color: rgb(255, 255, 255); text-decoration-thickness: initial; text-decoration-style: initial; text-decoration-color: initial; line-height: 1.2;'>\u003cspan style=\"box-sizing: inherit; background-repeat: no-repeat; background-size: contain; font-family: Arial; margin-bottom: 0px; font-size: 11pt; background-color: rgb(255, 255, 255);\">Gloves are not provided. Please bring your own.\u003c/span>\u003c/p>\u003cp style='box-sizing: inherit; background-repeat: no-repeat; background-size: contain; color: rgb(65, 65, 65); text-rendering: optimizelegibility; font-family: Arial, \"Helvetica Neue\", Helvetica, sans-serif; margin: 0pt 0px; padding: 0px; margin-block: 0px; margin-inline: 0px; padding-block: 0px; padding-inline: 0px; font-size: 14px; font-style: normal; font-variant-ligatures: normal; font-variant-caps: normal; font-weight: 400; letter-spacing: normal; orphans: 2; text-align: left; text-indent: 0px; text-transform: none; white-space: normal; widows: 2; word-spacing: 0px; -webkit-text-stroke-width: 0px; background-color: rgb(255, 255, 255); text-decoration-thickness: initial; text-decoration-style: initial; text-decoration-color: initial; line-height: 1.2;'>\u003cspan style=\"box-sizing: inherit; background-repeat: no-repeat; background-size: contain; font-family: Arial; margin-bottom: 0px; font-size: 11pt; background-color: rgb(255, 255, 255);\">NO METAL SPIKES\u003c/span>\u003c/p>\u003cp style='box-sizing: inherit; background-repeat: no-repeat; background-size: contain; color: rgb(65, 65, 65); text-rendering: optimizelegibility; font-family: Arial, \"Helvetica Neue\", Helvetica, sans-serif; margin: 0pt 0px; padding: 0px; margin-block: 0px; margin-inline: 0px; padding-block: 0px; padding-inline: 0px; font-size: 14px; font-style: normal; font-variant-ligatures: normal; font-variant-caps: normal; font-weight: 400; letter-spacing: normal; orphans: 2; text-align: left; text-indent: 0px; text-transform: none; white-space: normal; widows: 2; word-spacing: 0px; -webkit-text-stroke-width: 0px; background-color: rgb(255, 255, 255); text-decoration-thickness: initial; text-decoration-style: initial; text-decoration-color: initial; line-height: 1.2;'>\u003cspan style=\"box-sizing: inherit; background-repeat: no-repeat; background-size: contain; font-family: Arial; margin-bottom: 0px; font-size: 11pt; background-color: rgb(255, 255, 255);\">No ump fees\u003c/span>\u003c/p>\u003cp style='box-sizing: inherit; background-repeat: no-repeat; background-size: contain; color: rgb(65, 65, 65); text-rendering: optimizelegibility; font-family: Arial, \"Helvetica Neue\", Helvetica, sans-serif; margin: 0pt 0px; padding: 0px; margin-block: 0px; margin-inline: 0px; padding-block: 0px; padding-inline: 0px; font-size: 14px; font-style: normal; font-variant-ligatures: normal; font-variant-caps: normal; font-weight: 400; letter-spacing: normal; orphans: 2; text-align: left; text-indent: 0px; text-transform: none; white-space: normal; widows: 2; word-spacing: 0px; -webkit-text-stroke-width: 0px; background-color: rgb(255, 255, 255); text-decoration-thickness: initial; text-decoration-style: initial; text-decoration-color: initial; line-height: 1.2;'>\u003cbr style=\"box-sizing: inherit; background-repeat: no-repeat; background-size: contain; margin-bottom: 0px;\">\u003c/p>\u003cp style='box-sizing: inherit; background-repeat: no-repeat; background-size: contain; color: rgb(65, 65, 65); text-rendering: optimizelegibility; font-family: Arial, \"Helvetica Neue\", Helvetica, sans-serif; margin: 4pt 0px; padding: 0px; margin-block: 0px; margin-inline: 0px; padding-block: 0px; padding-inline: 0px; font-size: 14px; font-style: normal; font-variant-ligatures: normal; font-variant-caps: normal; font-weight: 400; letter-spacing: normal; orphans: 2; text-align: left; text-indent: 0px; text-transform: none; white-space: normal; widows: 2; word-spacing: 0px; -webkit-text-stroke-width: 0px; background-color: rgb(255, 255, 255); text-decoration-thickness: initial; text-decoration-style: initial; text-decoration-color: initial; line-height: 1.2;'>\u003cstrong style=\"box-sizing: inherit; background-repeat: no-repeat; background-size: contain; font-weight: 700; margin-bottom: 0px;\">\u003cspan style=\"box-sizing: inherit; background-repeat: no-repeat; background-size: contain; font-family: Arial; margin-bottom: 0px; font-size: 11pt;\">Playoffs\u003c/span>\u003c/strong>\u003c/p>\u003cp style='box-sizing: inherit; background-repeat: no-repeat; background-size: contain; color: rgb(65, 65, 65); text-rendering: optimizelegibility; font-family: Arial, \"Helvetica Neue\", Helvetica, sans-serif; margin: 4pt 0px; padding: 0px; margin-block: 0px; margin-inline: 0px; padding-block: 0px; padding-inline: 0px; font-size: 14px; font-style: normal; font-variant-ligatures: normal; font-variant-caps: normal; font-weight: 400; letter-spacing: normal; orphans: 2; text-align: left; text-indent: 0px; text-transform: none; white-space: normal; widows: 2; word-spacing: 0px; -webkit-text-stroke-width: 0px; background-color: rgb(255, 255, 255); text-decoration-thickness: initial; text-decoration-style: initial; text-decoration-color: initial; line-height: 1.2;'>\u003cspan style=\"box-sizing: inherit; background-repeat: no-repeat; background-size: contain; font-family: Arial; margin-bottom: 0px; font-size: 11.5pt; color: rgb(29, 28, 29);\">Top 50% teams will make playoffs\u003c/span>\u003c/p>\u003cp style='box-sizing: inherit; background-repeat: no-repeat; background-size: contain; color: rgb(65, 65, 65); text-rendering: optimizelegibility; font-family: Arial, \"Helvetica Neue\", Helvetica, sans-serif; margin: 4pt 0px; padding: 0px; margin-block: 0px; margin-inline: 0px; padding-block: 0px; padding-inline: 0px; font-size: 14px; font-style: normal; font-variant-ligatures: normal; font-variant-caps: normal; font-weight: 400; letter-spacing: normal; orphans: 2; text-align: left; text-indent: 0px; text-transform: none; white-space: normal; widows: 2; word-spacing: 0px; -webkit-text-stroke-width: 0px; background-color: rgb(255, 255, 255); text-decoration-thickness: initial; text-decoration-style: initial; text-decoration-color: initial; line-height: 1.2;'>\u003cspan style=\"box-sizing: inherit; background-repeat: no-repeat; background-size: contain; font-family: Arial; margin-bottom: 0px; font-size: 11.5pt; color: rgb(29, 28, 29);\">*Additional teams may be added to playoffs if schedules / venue space allow\u003c/span>\u003c/p>\u003cp style='box-sizing: inherit; background-repeat: no-repeat; background-size: contain; color: rgb(65, 65, 65); text-rendering: optimizelegibility; font-family: Arial, \"Helvetica Neue\", Helvetica, sans-serif; margin: 4pt 0px; padding: 0px; margin-block: 0px; margin-inline: 0px; padding-block: 0px; padding-inline: 0px; font-size: 14px; font-style: normal; font-variant-ligatures: normal; font-variant-caps: normal; font-weight: 400; letter-spacing: normal; orphans: 2; text-align: left; text-indent: 0px; text-transform: none; white-space: normal; widows: 2; word-spacing: 0px; -webkit-text-stroke-width: 0px; background-color: rgb(255, 255, 255); text-decoration-thickness: initial; text-decoration-style: initial; text-decoration-color: initial; line-height: 1.2;'>\u003cbr style=\"box-sizing: inherit; background-repeat: no-repeat; background-size: contain; margin-bottom: 0px;\">\u003c/p>\u003cp style='box-sizing: inherit; background-repeat: no-repeat; background-size: contain; color: rgb(65, 65, 65); text-rendering: optimizelegibility; font-family: Arial, \"Helvetica Neue\", Helvetica, sans-serif; margin: 0px; padding: 0px; margin-block: 0px; margin-inline: 0px; padding-block: 0px; padding-inline: 0px; font-size: 14px; font-style: normal; font-variant-ligatures: normal; font-variant-caps: normal; font-weight: 400; letter-spacing: normal; orphans: 2; text-align: left; text-indent: 0px; text-transform: none; white-space: normal; widows: 2; word-spacing: 0px; -webkit-text-stroke-width: 0px; background-color: rgb(255, 255, 255); text-decoration-thickness: initial; text-decoration-style: initial; text-decoration-color: initial;'>\u003cstrong style=\"box-sizing: inherit; background-repeat: no-repeat; background-size: contain; font-weight: 700; margin-bottom: 0px;\">End of season Party will be 6/24 and is included with registration where you can celebrate your season with some free drinks at Volo's new facility The PARK. All spring players will be emailed a code to sign up for free. \u003ca href=\"https://www.volosports.com/d/6435b9eaa520b1a82e834320\" style=\"box-sizing: inherit; background-repeat: no-repeat; background-size: contain; background-color: rgba(0, 0, 0, 0); outline: 0px; -webkit-tap-highlight-color: rgba(0, 0, 0, 0); text-decoration: none; color: rgb(30, 98, 180); cursor: pointer; transition: all 0.2s ease 0s; user-select: auto; margin-bottom: 0px;\">www.volosports.com/d/6435b9eaa520b1a82e834320\u003c/a>\u003c/strong>\u003c/p>\u003cp style='box-sizing: inherit; background-repeat: no-repeat; background-size: contain; color: rgb(65, 65, 65); text-rendering: optimizelegibility; font-family: Arial, \"Helvetica Neue\", Helvetica, sans-serif; margin: 0px; padding: 0px; margin-block: 0px; margin-inline: 0px; padding-block: 0px; padding-inline: 0px; font-size: 14px; font-style: normal; font-variant-ligatures: normal; font-variant-caps: normal; font-weight: 400; letter-spacing: normal; orphans: 2; text-align: left; text-indent: 0px; text-transform: none; white-space: normal; widows: 2; word-spacing: 0px; -webkit-text-stroke-width: 0px; background-color: rgb(255, 255, 255); text-decoration-thickness: initial; text-decoration-style: initial; text-decoration-color: initial;'>\u003cstrong style=\"box-sizing: inherit; background-repeat: no-repeat; background-size: contain; font-weight: 700; margin-bottom: 0px;\">CODE: PARKPARTY\u003c/strong>\u003c/p>\u003cp style='box-sizing: inherit; background-repeat: no-repeat; background-size: contain; color: rgb(65, 65, 65); text-rendering: optimizelegibility; font-family: Arial, \"Helvetica Neue\", Helvetica, sans-serif; margin: 4pt 0px; padding: 0px; margin-block: 0px; margin-inline: 0px; padding-block: 0px; padding-inline: 0px; font-size: 14px; font-style: normal; font-variant-ligatures: normal; font-variant-caps: normal; font-weight: 400; letter-spacing: normal; orphans: 2; text-align: left; text-indent: 0px; text-transform: none; white-space: normal; widows: 2; word-spacing: 0px; -webkit-text-stroke-width: 0px; background-color: rgb(255, 255, 255); text-decoration-thickness: initial; text-decoration-style: initial; text-decoration-color: initial; line-height: 1.2;'>\u003cbr style=\"box-sizing: inherit; background-repeat: no-repeat; background-size: contain; margin-bottom: 0px;\">\u003c/p>\u003cp style='box-sizing: inherit; background-repeat: no-repeat; background-size: contain; color: rgb(65, 65, 65); text-rendering: optimizelegibility; font-family: Arial, \"Helvetica Neue\", Helvetica, sans-serif; margin: 4pt 0px; padding: 0px; margin-block: 0px; margin-inline: 0px; padding-block: 0px; padding-inline: 0px; font-size: 14px; font-style: normal; font-variant-ligatures: normal; font-variant-caps: normal; font-weight: 400; letter-spacing: normal; orphans: 2; text-align: left; text-indent: 0px; text-transform: none; white-space: normal; widows: 2; word-spacing: 0px; -webkit-text-stroke-width: 0px; background-color: rgb(255, 255, 255); text-decoration-thickness: initial; text-decoration-style: initial; text-decoration-color: initial; line-height: 1.2;'>\u003cbr style=\"box-sizing: inherit; background-repeat: no-repeat; background-size: contain; margin-bottom: 0px;\">\u003c/p>\u003cp dir=\"ltr\" style='box-sizing: inherit; background-repeat: no-repeat; background-size: contain; color: rgb(65, 65, 65); text-rendering: optimizelegibility; font-family: Arial, \"Helvetica Neue\", Helvetica, sans-serif; margin: 0pt 0px; padding: 0px; margin-block: 0px; margin-inline: 0px; padding-block: 0px; padding-inline: 0px; font-size: 14px; font-style: normal; font-variant-ligatures: normal; font-variant-caps: normal; font-weight: 400; letter-spacing: normal; orphans: 2; text-indent: 0px; text-transform: none; white-space: normal; widows: 2; word-spacing: 0px; -webkit-text-stroke-width: 0px; background-color: rgb(255, 255, 255); text-decoration-thickness: initial; text-decoration-style: initial; text-decoration-color: initial; line-height: 1.38; text-align: center;'>\u003ca href=\"http://bit.ly/3nL2KGg\" style=\"box-sizing: inherit; background-repeat: no-repeat; background-size: contain; background-color: rgba(0, 0, 0, 0); outline: 0px; -webkit-tap-highlight-color: rgba(0, 0, 0, 0); text-decoration: none; color: rgb(30, 98, 180); cursor: pointer; transition: all 0.2s ease 0s; user-select: auto; margin-bottom: 0px;\">\u003cspan style=\"box-sizing: inherit; background-repeat: no-repeat; background-size: contain; font-family: Calibri, sans-serif; margin-bottom: 0px; font-size: 11pt; color: rgb(17, 85, 204); background-color: transparent; font-weight: 400; font-style: normal; font-variant: normal; text-decoration: underline; text-decoration-skip-ink: none; vertical-align: baseline; white-space: pre-wrap;\">\u003cspan style='box-sizing: inherit; background-repeat: no-repeat; background-size: contain; font-family: Arial, \"Helvetica Neue\", Helvetica, sans-serif; margin-bottom: 0px; border: none; display: inline-block; overflow: hidden; width: 390px; height: 130px;'>\u003cimg src=\"https://s3.amazonaws.com/rivall-user-uploads/prodUploads/orgEmailPicturesFolder/63f3d161dcb88518a96a9b24_1683404205198.png\" width=\"390\" height=\"130\" style=\"box-sizing: inherit; background-repeat: no-repeat; background-size: contain; border: 0px; max-width: calc(100% - 10px); cursor: pointer; padding: 0px 1px; user-select: none;\" class=\"fr-fic fr-dii\">\u003c/span>\u003c/span>\u003c/a>\u003c/p>\u003cp style='box-sizing: inherit; background-repeat: no-repeat; background-size: contain; color: rgb(65, 65, 65); text-rendering: optimizelegibility; font-family: Arial, \"Helvetica Neue\", Helvetica, sans-serif; margin: 0px; padding: 0px; margin-block: 0px; margin-inline: 0px; padding-block: 0px; padding-inline: 0px; font-size: 14px; font-style: normal; font-variant-ligatures: normal; font-variant-caps: normal; font-weight: 400; letter-spacing: normal; orphans: 2; text-align: left; text-indent: 0px; text-transform: none; white-space: normal; widows: 2; word-spacing: 0px; -webkit-text-stroke-width: 0px; background-color: rgb(255, 255, 255); text-decoration-thickness: initial; text-decoration-style: initial; text-decoration-color: initial;'>\u003cspan style=\"box-sizing: inherit; background-repeat: no-repeat; background-size: contain; font-family: Calibri, sans-serif; font-size: 11pt; color: rgb(0, 0, 0); background-color: transparent; font-weight: 400; font-style: normal; font-variant: normal; text-decoration: none; vertical-align: baseline; white-space: pre-wrap;\">Play Ball! Take advantage of our exclusive DraftKings Sportsbook sign up offer and save $50 on your next Volo Baltimore league with any $5+ bet! Must sign up with promo code: VOLO150. \u003c/span>\u003ca href=\"http://bit.ly/3nL2KGg\" style=\"box-sizing: inherit; background-repeat: no-repeat; background-size: contain; background-color: rgba(0, 0, 0, 0); outline: 0px; -webkit-tap-highlight-color: rgba(0, 0, 0, 0); text-decoration: none; color: rgb(30, 98, 180); cursor: pointer; transition: all 0.2s ease 0s; user-select: auto; margin-bottom: 0px;\">\u003cspan style=\"box-sizing: inherit; background-repeat: no-repeat; background-size: contain; font-family: Calibri, sans-serif; margin-bottom: 0px; font-size: 11pt; color: rgb(17, 85, 204); background-color: transparent; font-weight: 400; font-style: normal; font-variant: normal; text-decoration: underline; text-decoration-skip-ink: none; vertical-align: baseline; white-space: pre-wrap;\">SAVE $50 NOW!\u003c/span>\u003c/a>\u003c/p>"},"activityName":"Softball","programType":"LEAGUE"},"League:64401d427acdcd18827df917":{"__typename":"League","_id":"64401d427acdcd18827df917","name":"9v9 Men's Woodbat Softball - Friday - SBLL (Formerly McHenry Row) (Federal Hill) - July 2023","featured_order":null,"schedule":{"__typename":"Schedule","start_date":"2023-07-21T16:00:00.000Z"},"details":{"__typename":"LeagueDetails","description":"\u003cp style=\"line-height: 1.2; margin-top: 0pt; margin-bottom: 0pt;\">Come on down to Federal Hill for some Men's Softball!\u003c/p>\u003cp style=\"line-height: 1.2; margin-top: 0pt; margin-bottom: 0pt;\">\u003cbr>\u003c/p>\u003cp id=\"isPasted\" style=\"line-height: 1.2; margin-top: 0pt; margin-bottom: 0pt;\">\u003cspan style=\"font-size: 11pt; font-family: Arial; background-color: #ffffff;\">Men's League\u003c/span>\u003c/p>\u003cp style=\"line-height: 1.2; margin-top: 0pt; margin-bottom: 0pt;\">\u003cspan style=\"font-size: 11pt; font-family: Arial; background-color: #ffffff;\">Wood Bat Only\u003c/span>\u003c/p>\u003cp style=\"line-height: 1.2; margin-top: 0pt; margin-bottom: 0pt;\">\u003cspan style=\"font-size: 11pt; font-family: Arial; background-color: #ffffff;\">9 max total on the field\u003c/span>\u003c/p>\u003cp style=\"line-height: 1.2; margin-top: 0pt; margin-bottom: 0pt;\">\u003cspan style=\"font-size: 11pt; font-family: Arial; background-color: #ffffff;\">Pitch count starts 1-1 \u003c/span>\u003c/p>\u003cp style=\"line-height: 1.2; margin-top: 0pt; margin-bottom: 0pt;\">\u003cspan style=\"font-size: 11pt; font-family: Arial; background-color: #ffffff;\">At least 6 players required to start game\u003c/span>\u003c/p>\u003cp style=\"line-height: 1.2; margin-top: 0pt; margin-bottom: 0pt;\">\u003cspan style=\"font-size: 11pt; font-family: Arial; background-color: #ffffff;\">Gloves are not provided. Please bring your own.\u003c/span>\u003c/p>\u003cp style=\"line-height: 1.2; margin-top: 0pt; margin-bottom: 0pt;\">\u003cspan style=\"font-size: 11pt; font-family: Arial; background-color: #ffffff;\">NO METAL SPIKES\u003c/span>\u003c/p>\u003cp style=\"line-height: 1.2; margin-top: 0pt; margin-bottom: 0pt;\">No ump fees\u003c/p>\u003cp style=\"line-height: 1.2; margin-top: 0pt; margin-bottom: 0pt;\">\u003cbr>\u003c/p>\u003cp style=\"line-height: 1.2; margin-top: 4pt; margin-bottom: 4pt;\">\u003cstrong>\u003cspan style=\"font-size: 11pt; font-family: Arial;\">Playoffs\u003c/span>\u003c/strong>\u003c/p>\u003cp style=\"line-height: 1.2; margin-top: 4pt; margin-bottom: 4pt;\">\u003cspan style=\"font-size: 11.5pt; font-family: Arial; color: #1d1c1d;\">Top 50% teams will make playoffs\u003c/span>\u003c/p>\u003cp style=\"line-height: 1.2; margin-top: 4pt; margin-bottom: 4pt;\">\u003cspan style=\"font-size: 11.5pt; font-family: Arial; color: #1d1c1d;\">*Additional teams may be added to playoffs if schedules / venue space allow\u003c/span>\u003c/p>\u003cp style=\"line-height: 1.2; margin-top: 4pt; margin-bottom: 4pt;\">\u003cbr>\u003c/p>\u003cp>\u003cstrong>End of season Party will be 6/24 and is included with registration where you can celebrate your season with some free drinks at Volo's new facility The PARK. All spring players will be emailed a code to sign up for free. \u003ca href=\"//www.volosports.com/d/6435b9eaa520b1a82e834320\">www.volosports.com/d/6435b9eaa520b1a82e834320\u003c/a>\u003c/strong>\u003c/p>\u003cp>\u003cstrong>CODE: PARKPARTY\u003c/strong>\u003c/p>\u003cp style=\"line-height: 1.2; margin-top: 4pt; margin-bottom: 4pt;\">\u003cbr>\u003c/p>\u003cp>\u003cstrong>End of season Party will be 6/24 and is included with registration where you can celebrate your season with some free drinks at Volo's new facility The PARK. All spring players will be emailed a code to sign up for free. \u003ca href=\"//www.volosports.com/d/6435b9eaa520b1a82e834320\">www.volosports.com/d/6435b9eaa520b1a82e834320\u003c/a>\u003c/strong>\u003c/p>\u003cp>\u003cstrong>CODE: PARKPARTY\u003c/strong>\u003c/p>\u003cp style=\"line-height: 1.2; margin-top: 4pt; margin-bottom: 4pt;\">\u003cbr>\u003c/p>\u003cp dir=\"ltr\" style=\"line-height:1.38;text-align: center;margin-top:0pt;margin-bottom:0pt;\">\u003ca href=\"http://bit.ly/3nL2KGg\" style=\"text-decoration:none;\">\u003cspan style=\"font-size:11pt;font-family:Calibri,sans-serif;color:#1155cc;background-color:transparent;font-weight:400;font-style:normal;font-variant:normal;text-decoration:underline;-webkit-text-decoration-skip:none;text-decoration-skip-ink:none;vertical-align:baseline;white-space:pre;white-space:pre-wrap;\">\u003cspan style=\"border:none;display:inline-block;overflow:hidden;width:390px;height:130px;\">\u003cimg src=\"https://s3.amazonaws.com/rivall-user-uploads/prodUploads/orgEmailPicturesFolder/624b6905f214b16cfc304ee2_1680820409147.png\" width=\"390\" height=\"130\" class=\"fr-fic fr-dii\">\u003c/span>\u003c/span>\u003c/a>\u003c/p>\u003cp>\u003cspan style=\"font-size:11pt;font-family:Calibri,sans-serif;color:#000000;background-color:transparent;font-weight:400;font-style:normal;font-variant:normal;text-decoration:none;vertical-align:baseline;white-space:pre;white-space:pre-wrap;\">Play Ball! Take advantage of our exclusive DraftKings Sportsbook sign up offer and save $50 on your next Volo Baltimore league with any $5+ bet! Must sign up with promo code: VOLO150. \u003c/span>\u003ca href=\"http://bit.ly/3nL2KGg\" style=\"text-decoration:none;\">\u003cspan style=\"font-size:11pt;font-family:Calibri,sans-serif;color:#1155cc;background-color:transparent;font-weight:400;font-style:normal;font-variant:normal;text-decoration:underline;-webkit-text-decoration-skip:none;text-decoration-skip-ink:none;vertical-align:baseline;white-space:pre;white-space:pre-wrap;\">SAVE $50 NOW!\u003c/span>\u003c/a>\u003c/p>"},"activityName":"Softball","programType":"LEAGUE"},"League:64401d427acdcd18827df8fb":{"__typename":"League","_id":"64401d427acdcd18827df8fb","name":"Coed Woodbat Softball - Wednesday - SBLL (Formerly McHenry Row) (Federal Hill) - July 2023","featured_order":null,"schedule":{"__typename":"Schedule","start_date":"2023-07-19T16:00:00.000Z"},"details":{"__typename":"LeagueDetails","description":"\u003cp id=\"isPasted\">Wednesday Night Softball is back! Get ready for some Hump Day Softball in Federal Hill!\u003c/p>\u003cp>\u003cbr>\u003c/p>\u003cp style=\"line-height: 1.2; margin-top: 0pt; margin-bottom: 0pt;\">\u003cspan style=\"font-size: 11pt; font-family: Arial; background-color: #ffffff;\">Coed League\u003c/span>\u003c/p>\u003cp style=\"line-height: 1.2; margin-top: 0pt; margin-bottom: 0pt;\">\u003cspan style=\"font-size: 11pt; font-family: Arial; background-color: #ffffff;\">Wood Bat Only\u003c/span>\u003c/p>\u003cp style=\"line-height: 1.2; margin-top: 0pt; margin-bottom: 0pt;\">\u003cspan style=\"font-size: 11pt; font-family: Arial; background-color: #ffffff;\">10 max total, 7 men max on the field\u003c/span>\u003c/p>\u003cp style=\"line-height: 1.2; margin-top: 0pt; margin-bottom: 0pt;\">\u003cspan style=\"font-size: 11pt; font-family: Arial; background-color: #ffffff;\">Pitch count starts 1-1 \u003c/span>\u003c/p>\u003cp style=\"line-height: 1.2; margin-top: 0pt; margin-bottom: 0pt;\">\u003cspan style=\"font-size: 11pt; font-family: Arial; background-color: #ffffff;\">At least 6 players required to start game\u003c/span>\u003c/p>\u003cp style=\"line-height: 1.2; margin-top: 0pt; margin-bottom: 0pt;\">\u003cspan style=\"font-size: 11pt; font-family: Arial; background-color: #ffffff;\">6 players, 1 woman min, to start game\u003c/span>\u003c/p>\u003cp style=\"line-height: 1.2; margin-top: 0pt; margin-bottom: 0pt;\">\u003cspan style=\"font-size: 11pt; font-family: Arial; background-color: #ffffff;\">No more than 3 men can bat in a row\u003c/span>\u003c/p>\u003cp style=\"line-height: 1.2; margin-top: 0pt; margin-bottom: 0pt;\">\u003cspan style=\"font-size: 11pt; font-family: Arial; background-color: #ffffff;\">Gloves are not provided. Please bring your own.\u003c/span>\u003c/p>\u003cp style=\"line-height: 1.2; margin-top: 0pt; margin-bottom: 0pt;\">\u003cspan style=\"font-size: 11pt; font-family: Arial; background-color: #ffffff;\">NO METAL SPIKES\u003c/span>\u003c/p>\u003cp style=\"line-height: 1.2; margin-top: 0pt; margin-bottom: 0pt;\">No ump fees\u003c/p>\u003cp style=\"line-height: 1.2; margin-top: 0pt; margin-bottom: 0pt;\">\u003cbr>\u003c/p>\u003cp style=\"line-height: 1.2; margin-top: 4pt; margin-bottom: 4pt;\">\u003cstrong>\u003cspan style=\"font-size: 11pt; font-family: Arial;\">Playoffs\u003c/span>\u003c/strong>\u003c/p>\u003cp style=\"line-height: 1.2; margin-top: 4pt; margin-bottom: 4pt;\">\u003cspan style=\"font-size: 11.5pt; font-family: Arial; color: #1d1c1d;\">Top 50% teams will make playoffs\u003c/span>\u003c/p>\u003cp style=\"line-height: 1.2; margin-top: 4pt; margin-bottom: 4pt;\">\u003cspan style=\"font-size: 11.5pt; font-family: Arial; color: #1d1c1d;\">*Additional teams may be added to playoffs if schedules / venue space allow\u003c/span>\u003c/p>\u003cp style=\"line-height: 1.2; margin-top: 4pt; margin-bottom: 4pt;\">\u003cbr>\u003c/p>\u003cp>\u003cstrong>End of season Party will be 6/24 and is included with registration where you can celebrate your season with some free drinks at Volo's new facility The PARK. All spring players will be emailed a code to sign up for free. \u003ca href=\"//www.volosports.com/d/6435b9eaa520b1a82e834320\">www.volosports.com/d/6435b9eaa520b1a82e834320\u003c/a>\u003c/strong>\u003c/p>\u003cp>\u003cstrong>CODE: PARKPARTY\u003c/strong>\u003c/p>\u003cp style=\"line-height: 1.2; margin-top: 4pt; margin-bottom: 4pt;\">\u003cbr>\u003c/p>\u003cp style=\"line-height: 1.2; margin-top: 4pt; margin-bottom: 4pt;\">\u003cbr>\u003c/p>\u003cp dir=\"ltr\" style=\"line-height:1.38;text-align: center;margin-top:0pt;margin-bottom:0pt;\">\u003ca href=\"http://bit.ly/3nL2KGg\" style=\"text-decoration:none;\">\u003cspan style=\"font-size:11pt;font-family:Calibri,sans-serif;color:#1155cc;background-color:transparent;font-weight:400;font-style:normal;font-variant:normal;text-decoration:underline;-webkit-text-decoration-skip:none;text-decoration-skip-ink:none;vertical-align:baseline;white-space:pre;white-space:pre-wrap;\">\u003cspan style=\"border:none;display:inline-block;overflow:hidden;width:390px;height:130px;\">\u003cimg src=\"https://s3.amazonaws.com/rivall-user-uploads/prodUploads/orgEmailPicturesFolder/624b6905f214b16cfc304ee2_1680820383585.png\" width=\"390\" height=\"130\" class=\"fr-fic fr-dii\">\u003c/span>\u003c/span>\u003c/a>\u003c/p>\u003cp>\u003cspan style=\"font-size:11pt;font-family:Calibri,sans-serif;color:#000000;background-color:transparent;font-weight:400;font-style:normal;font-variant:normal;text-decoration:none;vertical-align:baseline;white-space:pre;white-space:pre-wrap;\">Play Ball! Take advantage of our exclusive DraftKings Sportsbook sign up offer and save $50 on your next Volo Baltimore league with any $5+ bet! Must sign up with promo code: VOLO150. \u003c/span>\u003ca href=\"http://bit.ly/3nL2KGg\" style=\"text-decoration:none;\">\u003cspan style=\"font-size:11pt;font-family:Calibri,sans-serif;color:#1155cc;background-color:transparent;font-weight:400;font-style:normal;font-variant:normal;text-decoration:underline;-webkit-text-decoration-skip:none;text-decoration-skip-ink:none;vertical-align:baseline;white-space:pre;white-space:pre-wrap;\">SAVE $50 NOW!\u003c/span>\u003c/a>\u003c/p>"},"activityName":"Softball","programType":"LEAGUE"},"League:64401d427acdcd18827df8f1":{"__typename":"League","_id":"64401d427acdcd18827df8f1","name":"Softball (10v10 Coed) - Wednesday/Thursday - Fort Holabird Park (Canton) - August 2023","featured_order":null,"schedule":{"__typename":"Schedule","start_date":"2023-08-09T16:00:00.000Z"},"details":{"__typename":"LeagueDetails","description":"\u003cp id=\"isPasted\" style=\"line-height: 1.2; margin-top: 0pt; margin-bottom: 0pt;\">\u003cspan style=\"font-size: 11pt; font-family: Arial; background-color: #ffffff;\">Coed League\u003c/span>\u003c/p>\u003cp style=\"line-height: 1.2; margin-top: 0pt; margin-bottom: 0pt;\">\u003cspan style=\"font-size: 11pt; font-family: Arial; background-color: #ffffff;\">10 max total, 7 male players max on the field\u003c/span>\u003c/p>\u003cp style=\"line-height: 1.2; margin-top: 0pt; margin-bottom: 0pt;\">\u003cspan style=\"font-size: 11pt; font-family: Arial; background-color: #ffffff;\">Pitch count starts 1-1 \u003c/span>\u003c/p>\u003cp style=\"line-height: 1.2; margin-top: 0pt; margin-bottom: 0pt;\">\u003cspan style=\"font-size: 11pt; font-family: Arial; background-color: #ffffff;\">At least \u003c/span>\u003cspan style=\"font-size: 11pt; font-family: Arial; background-color: #ffffff;\">6 players, 1 woman min to start game\u003c/span>\u003c/p>\u003cp style=\"line-height: 1.2; margin-top: 0pt; margin-bottom: 0pt;\">\u003cspan style=\"font-size: 11pt; font-family: Arial; background-color: #ffffff;\">No more than 3 men can bat in a row\u003c/span>\u003c/p>\u003cp style=\"line-height: 1.2; margin-top: 0pt; margin-bottom: 0pt;\">\u003cspan style=\"font-size: 11pt; font-family: Arial; background-color: #ffffff;\">Gloves are not provided. Please bring your own.\u003c/span>\u003c/p>\u003cp style=\"line-height: 1.2; margin-top: 0pt; margin-bottom: 0pt;\">\u003cspan style=\"font-size: 11pt; font-family: Arial; background-color: #ffffff;\">NO METAL SPIKES\u003c/span>\u003c/p>\u003cp style=\"line-height: 1.2; margin-top: 0pt; margin-bottom: 0pt;\">\u003cbr>\u003c/p>\u003cp style=\"line-height: 1.2; margin-top: 4pt; margin-bottom: 4pt;\">\u003cstrong>\u003cspan style=\"font-size: 11pt; font-family: Arial;\">Playoffs\u003c/span>\u003c/strong>\u003c/p>\u003cp style=\"line-height: 1.2; margin-top: 4pt; margin-bottom: 4pt;\">\u003cspan style=\"font-size: 11.5pt; font-family: Arial; color: #1d1c1d;\">Top 50% teams will make playoffs\u003c/span>\u003c/p>\u003cp style=\"line-height: 1.2; margin-top: 4pt; margin-bottom: 4pt;\">\u003cspan style=\"font-size: 11.5pt; font-family: Arial; color: #1d1c1d;\">*Additional teams may be added to playoffs if schedules / venue space allow\u003c/span>\u003c/p>"},"activityName":"Softball","programType":"LEAGUE"},"League:64401d427acdcd18827df8e9":{"__typename":"League","_id":"64401d427acdcd18827df8e9","name":"Softball (Coed) - Thursday - Patterson Park - Ortman Field (Canton) - June 2023","featured_order":null,"schedule":{"__typename":"Schedule","start_date":"2023-06-15T16:00:00.000Z"},"details":{"__typename":"LeagueDetails","description":"\u003cp id=\"isPasted\">Hit it over to Park to run the bases and enjoy the vibes with your team! Don't forget to take a short walk to the sponsor bar with your team! \u003c/p>\u003cp>\u003cbr>\u003c/p>\u003cp style=\"line-height: 1.2; margin-top: 0pt; margin-bottom: 0pt;\">\u003cspan style=\"font-size: 11pt; font-family: Arial; background-color: #ffffff;\">Coed League\u003c/span>\u003c/p>\u003cp style=\"line-height: 1.2; margin-top: 0pt; margin-bottom: 0pt;\">\u003cspan style=\"font-size: 11pt; font-family: Arial; background-color: #ffffff;\">10 max total, 7 men players max on the field\u003c/span>\u003c/p>\u003cp style=\"line-height: 1.2; margin-top: 0pt; margin-bottom: 0pt;\">\u003cspan style=\"font-size: 11pt; font-family: Arial; background-color: #ffffff;\">Pitch count starts 1-1 \u003c/span>\u003c/p>\u003cp style=\"line-height: 1.2; margin-top: 0pt; margin-bottom: 0pt;\">\u003cspan style=\"font-size: 11pt; font-family: Arial; background-color: #ffffff;\">At least \u003c/span>\u003cspan style=\"font-size: 11pt; font-family: Arial; background-color: #ffffff;\">6 players, 1 woman min, to start game\u003c/span>\u003c/p>\u003cp style=\"line-height: 1.2; margin-top: 0pt; margin-bottom: 0pt;\">\u003cspan style=\"font-size: 11pt; font-family: Arial; background-color: #ffffff;\">No more than 3 men can bat in a row\u003c/span>\u003c/p>\u003cp style=\"line-height: 1.2; margin-top: 0pt; margin-bottom: 0pt;\">\u003cspan style=\"font-size: 11pt; font-family: Arial; background-color: #ffffff;\">Gloves are not provided. Please bring your own.\u003c/span>\u003c/p>\u003cp style=\"line-height: 1.2; margin-top: 0pt; margin-bottom: 0pt;\">\u003cspan style=\"font-size: 11pt; font-family: Arial; background-color: #ffffff;\">NO METAL SPIKES\u003c/span>\u003c/p>\u003cp style=\"line-height: 1.2; margin-top: 0pt; margin-bottom: 0pt;\">\u003cbr>\u003c/p>\u003cp style=\"line-height: 1.2; margin-top: 4pt; margin-bottom: 4pt;\">\u003cstrong>\u003cspan style=\"font-size: 11pt; font-family: Arial;\">Playoffs\u003c/span>\u003c/strong>\u003c/p>\u003cp style=\"line-height: 1.2; margin-top: 4pt; margin-bottom: 4pt;\">\u003cspan style=\"font-size: 11.5pt; font-family: Arial; color: #1d1c1d;\">Top 50% teams will make playoffs\u003c/span>\u003c/p>\u003cp style=\"line-height: 1.2; margin-top: 4pt; margin-bottom: 4pt;\">\u003cspan style=\"font-size: 11.5pt; font-family: Arial; color: #1d1c1d;\">*Additional teams may be added to playoffs if schedules / venue space allow\u003c/span>\u003c/p>\u003cp style=\"line-height: 1.2; margin-top: 4pt; margin-bottom: 4pt;\">\u003cbr>\u003c/p>\u003cp style=\"line-height: 1.2; margin-top: 4pt; margin-bottom: 4pt;\">\u003cstrong>End of season Party will be 6/30 and is included with registration where you can celebrate your season with some free drinks at Volo's new facility The PARK. All spring players will be emailed a code to sign up for free. \u003ca data-fr-linked=\"true\" href=\"//www.volosports.com/d/6435b9eaa520b1a82e834320\">www.volosports.com/d/6435b9eaa520b1a82e834320\u003c/a>\u003cbr>\u003c/strong>\u003c/p>"},"activityName":"Softball","programType":"LEAGUE"},"League:64401d427acdcd18827df8e1":{"__typename":"League","_id":"64401d427acdcd18827df8e1","name":"Softball (Coed) - Wednesday - Roosevelt Park (Hampden) - July 2023","featured_order":null,"schedule":{"__typename":"Schedule","start_date":"2023-07-19T16:00:00.000Z"},"details":{"__typename":"LeagueDetails","description":"\u003cp id=\"isPasted\">Wednesday Night Softball is back! You do not want to miss Hump Day Softball at Roosevelt Park!\u003c/p>\u003cp>\u003cbr>\u003c/p>\u003cp style=\"line-height: 1.2; margin-top: 0pt; margin-bottom: 0pt;\">\u003cspan style=\"font-size: 11pt; font-family: Arial; background-color: #ffffff;\">Coed League\u003c/span>\u003c/p>\u003cp style=\"line-height: 1.2; margin-top: 0pt; margin-bottom: 0pt;\">\u003cspan style=\"font-size: 11pt; font-family: Arial; background-color: #ffffff;\">10 max total, 7 men max on the field\u003c/span>\u003c/p>\u003cp style=\"line-height: 1.2; margin-top: 0pt; margin-bottom: 0pt;\">\u003cspan style=\"font-size: 11pt; font-family: Arial; background-color: #ffffff;\">Pitch count starts 1-1 \u003c/span>\u003c/p>\u003cp style=\"line-height: 1.2; margin-top: 0pt; margin-bottom: 0pt;\">\u003cspan style=\"font-size: 11pt; font-family: Arial; background-color: #ffffff;\">At least 6 players required to start game\u003c/span>\u003c/p>\u003cp style=\"line-height: 1.2; margin-top: 0pt; margin-bottom: 0pt;\">\u003cspan style=\"font-size: 11pt; font-family: Arial; background-color: #ffffff;\">6 players, 1 woman min, to start game\u003c/span>\u003c/p>\u003cp style=\"line-height: 1.2; margin-top: 0pt; margin-bottom: 0pt;\">\u003cspan style=\"font-size: 11pt; font-family: Arial; background-color: #ffffff;\">No more than 3 men can bat in a row\u003c/span>\u003c/p>\u003cp style=\"line-height: 1.2; margin-top: 0pt; margin-bottom: 0pt;\">\u003cspan style=\"font-size: 11pt; font-family: Arial; background-color: #ffffff;\">Gloves are not provided. Please bring your own.\u003c/span>\u003c/p>\u003cp style=\"line-height: 1.2; margin-top: 0pt; margin-bottom: 0pt;\">\u003cspan style=\"font-size: 11pt; font-family: Arial; background-color: #ffffff;\">NO METAL SPIKES\u003c/span>\u003c/p>\u003cp style=\"line-height: 1.2; margin-top: 0pt; margin-bottom: 0pt;\">\u003cspan style=\"font-size: 11pt; font-family: Arial; background-color: #ffffff;\">No ump fees\u003c/span>\u003c/p>\u003cp style=\"line-height: 1.2; margin-top: 0pt; margin-bottom: 0pt;\">\u003cbr>\u003c/p>\u003cp style=\"line-height: 1.2; margin-top: 4pt; margin-bottom: 4pt;\">\u003cstrong>\u003cspan style=\"font-size: 11pt; font-family: Arial;\">Playoffs\u003c/span>\u003c/strong>\u003c/p>\u003cp style=\"line-height: 1.2; margin-top: 4pt; margin-bottom: 4pt;\">\u003cspan style=\"font-size: 11.5pt; font-family: Arial; color: #1d1c1d;\">Top 50% teams will make playoffs\u003c/span>\u003c/p>\u003cp style=\"line-height: 1.2; margin-top: 4pt; margin-bottom: 4pt;\">\u003cspan style=\"font-size: 11.5pt; font-family: Arial; color: #1d1c1d;\">*Additional teams may be added to playoffs if schedules / venue space allow\u003c/span>\u003c/p>\u003cp style=\"line-height: 1.2; margin-top: 4pt; margin-bottom: 4pt;\">\u003cbr>\u003c/p>\u003cp>\u003cstrong>End of season Party will be 6/24 and is included with registration where you can celebrate your season with some free drinks at Volo's new facility The PARK. All spring players will be emailed a code to sign up for free. \u003ca href=\"//www.volosports.com/d/6435b9eaa520b1a82e834320\">www.volosports.com/d/6435b9eaa520b1a82e834320\u003c/a>\u003c/strong>\u003c/p>\u003cp>\u003cstrong>CODE: PARKPARTY\u003c/strong>\u003c/p>\u003cp style=\"line-height: 1.2; margin-top: 4pt; margin-bottom: 4pt;\">\u003cbr>\u003c/p>\u003cp style=\"line-height: 1.2; margin-top: 4pt; margin-bottom: 4pt;\">\u003cbr>\u003c/p>\u003cp dir=\"ltr\" style=\"line-height:1.38;text-align: center;margin-top:0pt;margin-bottom:0pt;\">\u003ca href=\"http://bit.ly/3nL2KGg\" style=\"text-decoration:none;\">\u003cspan style=\"font-size:11pt;font-family:Calibri,sans-serif;color:#1155cc;background-color:transparent;font-weight:400;font-style:normal;font-variant:normal;text-decoration:underline;-webkit-text-decoration-skip:none;text-decoration-skip-ink:none;vertical-align:baseline;white-space:pre;white-space:pre-wrap;\">\u003cspan style=\"border:none;display:inline-block;overflow:hidden;width:390px;height:130px;\">\u003cimg src=\"https://s3.amazonaws.com/rivall-user-uploads/prodUploads/orgEmailPicturesFolder/624b6905f214b16cfc304ee2_1680820383585.png\" width=\"390\" height=\"130\" class=\"fr-fic fr-dii\">\u003c/span>\u003c/span>\u003c/a>\u003c/p>\u003cp>\u003cspan style=\"font-size:11pt;font-family:Calibri,sans-serif;color:#000000;background-color:transparent;font-weight:400;font-style:normal;font-variant:normal;text-decoration:none;vertical-align:baseline;white-space:pre;white-space:pre-wrap;\">Play Ball! Take advantage of our exclusive DraftKings Sportsbook sign up offer and save $50 on your next Volo Baltimore league with any $5+ bet! Must sign up with promo code: VOLO150. \u003c/span>\u003ca href=\"http://bit.ly/3nL2KGg\" style=\"text-decoration:none;\">\u003cspan style=\"font-size:11pt;font-family:Calibri,sans-serif;color:#1155cc;background-color:transparent;font-weight:400;font-style:normal;font-variant:normal;text-decoration:underline;-webkit-text-decoration-skip:none;text-decoration-skip-ink:none;vertical-align:baseline;white-space:pre;white-space:pre-wrap;\">SAVE $50 NOW!\u003c/span>\u003c/a>\u003c/p>"},"activityName":"Softball","programType":"LEAGUE"},"League:64401d417acdcd18827df8d7":{"__typename":"League","_id":"64401d417acdcd18827df8d7","name":"Softball (Coed) - Thursday - Fort Holabird Park (Canton) - July 2023","featured_order":null,"schedule":{"__typename":"Schedule","start_date":"2023-07-20T16:00:00.000Z"},"details":{"__typename":"LeagueDetails","description":"\u003cp id=\"isPasted\" style='box-sizing: inherit; background-repeat: no-repeat; background-size: contain; color: rgb(65, 65, 65); text-rendering: optimizelegibility; font-family: Arial, \"Helvetica Neue\", Helvetica, sans-serif; margin: 0pt 0px; padding: 0px; margin-block: 0px; margin-inline: 0px; padding-block: 0px; padding-inline: 0px; font-size: 14px; font-style: normal; font-variant-ligatures: normal; font-variant-caps: normal; font-weight: 400; letter-spacing: normal; orphans: 2; text-align: left; text-indent: 0px; text-transform: none; white-space: normal; widows: 2; word-spacing: 0px; -webkit-text-stroke-width: 0px; background-color: rgb(255, 255, 255); text-decoration-thickness: initial; text-decoration-style: initial; text-decoration-color: initial; line-height: 1.2;'>\u003cspan style=\"box-sizing: inherit; background-repeat: no-repeat; background-size: contain; font-family: Arial; margin-bottom: 0px; font-size: 11pt; background-color: rgb(255, 255, 255);\">Say holla! Holabird is back and better than ever!\u003c/span>\u003c/p>\u003cp style='box-sizing: inherit; background-repeat: no-repeat; background-size: contain; color: rgb(65, 65, 65); text-rendering: optimizelegibility; font-family: Arial, \"Helvetica Neue\", Helvetica, sans-serif; margin: 0pt 0px; padding: 0px; margin-block: 0px; margin-inline: 0px; padding-block: 0px; padding-inline: 0px; font-size: 14px; font-style: normal; font-variant-ligatures: normal; font-variant-caps: normal; font-weight: 400; letter-spacing: normal; orphans: 2; text-align: left; text-indent: 0px; text-transform: none; white-space: normal; widows: 2; word-spacing: 0px; -webkit-text-stroke-width: 0px; background-color: rgb(255, 255, 255); text-decoration-thickness: initial; text-decoration-style: initial; text-decoration-color: initial; line-height: 1.2;'>\u003cspan style=\"box-sizing: inherit; background-repeat: no-repeat; background-size: contain; font-family: Arial; margin-bottom: 0px; font-size: 11pt; background-color: rgb(255, 255, 255);\">\u003cbr>Coed League\u003c/span>\u003c/p>\u003cp style='box-sizing: inherit; background-repeat: no-repeat; background-size: contain; color: rgb(65, 65, 65); text-rendering: optimizelegibility; font-family: Arial, \"Helvetica Neue\", Helvetica, sans-serif; margin: 0pt 0px; padding: 0px; margin-block: 0px; margin-inline: 0px; padding-block: 0px; padding-inline: 0px; font-size: 14px; font-style: normal; font-variant-ligatures: normal; font-variant-caps: normal; font-weight: 400; letter-spacing: normal; orphans: 2; text-align: left; text-indent: 0px; text-transform: none; white-space: normal; widows: 2; word-spacing: 0px; -webkit-text-stroke-width: 0px; background-color: rgb(255, 255, 255); text-decoration-thickness: initial; text-decoration-style: initial; text-decoration-color: initial; line-height: 1.2;'>\u003cspan style=\"box-sizing: inherit; background-repeat: no-repeat; background-size: contain; font-family: Arial; margin-bottom: 0px; font-size: 11pt; background-color: rgb(255, 255, 255);\">10 max total, 7 men max on the field\u003c/span>\u003c/p>\u003cp style='box-sizing: inherit; background-repeat: no-repeat; background-size: contain; color: rgb(65, 65, 65); text-rendering: optimizelegibility; font-family: Arial, \"Helvetica Neue\", Helvetica, sans-serif; margin: 0pt 0px; padding: 0px; margin-block: 0px; margin-inline: 0px; padding-block: 0px; padding-inline: 0px; font-size: 14px; font-style: normal; font-variant-ligatures: normal; font-variant-caps: normal; font-weight: 400; letter-spacing: normal; orphans: 2; text-align: left; text-indent: 0px; text-transform: none; white-space: normal; widows: 2; word-spacing: 0px; -webkit-text-stroke-width: 0px; background-color: rgb(255, 255, 255); text-decoration-thickness: initial; text-decoration-style: initial; text-decoration-color: initial; line-height: 1.2;'>\u003cspan style=\"box-sizing: inherit; background-repeat: no-repeat; background-size: contain; font-family: Arial; margin-bottom: 0px; font-size: 11pt; background-color: rgb(255, 255, 255);\">Pitch count starts 1-1 \u003c/span>\u003c/p>\u003cp style='box-sizing: inherit; background-repeat: no-repeat; background-size: contain; color: rgb(65, 65, 65); text-rendering: optimizelegibility; font-family: Arial, \"Helvetica Neue\", Helvetica, sans-serif; margin: 0pt 0px; padding: 0px; margin-block: 0px; margin-inline: 0px; padding-block: 0px; padding-inline: 0px; font-size: 14px; font-style: normal; font-variant-ligatures: normal; font-variant-caps: normal; font-weight: 400; letter-spacing: normal; orphans: 2; text-align: left; text-indent: 0px; text-transform: none; white-space: normal; widows: 2; word-spacing: 0px; -webkit-text-stroke-width: 0px; background-color: rgb(255, 255, 255); text-decoration-thickness: initial; text-decoration-style: initial; text-decoration-color: initial; line-height: 1.2;'>\u003cspan style=\"box-sizing: inherit; background-repeat: no-repeat; background-size: contain; font-family: Arial; margin-bottom: 0px; font-size: 11pt; background-color: rgb(255, 255, 255);\">At least 6 players required to start game\u003c/span>\u003c/p>\u003cp style='box-sizing: inherit; background-repeat: no-repeat; background-size: contain; color: rgb(65, 65, 65); text-rendering: optimizelegibility; font-family: Arial, \"Helvetica Neue\", Helvetica, sans-serif; margin: 0pt 0px; padding: 0px; margin-block: 0px; margin-inline: 0px; padding-block: 0px; padding-inline: 0px; font-size: 14px; font-style: normal; font-variant-ligatures: normal; font-variant-caps: normal; font-weight: 400; letter-spacing: normal; orphans: 2; text-align: left; text-indent: 0px; text-transform: none; white-space: normal; widows: 2; word-spacing: 0px; -webkit-text-stroke-width: 0px; background-color: rgb(255, 255, 255); text-decoration-thickness: initial; text-decoration-style: initial; text-decoration-color: initial; line-height: 1.2;'>\u003cspan style=\"box-sizing: inherit; background-repeat: no-repeat; background-size: contain; font-family: Arial; margin-bottom: 0px; font-size: 11pt; background-color: rgb(255, 255, 255);\">6 players, 1 woman min, to start game\u003c/span>\u003c/p>\u003cp style='box-sizing: inherit; background-repeat: no-repeat; background-size: contain; color: rgb(65, 65, 65); text-rendering: optimizelegibility; font-family: Arial, \"Helvetica Neue\", Helvetica, sans-serif; margin: 0pt 0px; padding: 0px; margin-block: 0px; margin-inline: 0px; padding-block: 0px; padding-inline: 0px; font-size: 14px; font-style: normal; font-variant-ligatures: normal; font-variant-caps: normal; font-weight: 400; letter-spacing: normal; orphans: 2; text-align: left; text-indent: 0px; text-transform: none; white-space: normal; widows: 2; word-spacing: 0px; -webkit-text-stroke-width: 0px; background-color: rgb(255, 255, 255); text-decoration-thickness: initial; text-decoration-style: initial; text-decoration-color: initial; line-height: 1.2;'>\u003cspan style=\"box-sizing: inherit; background-repeat: no-repeat; background-size: contain; font-family: Arial; margin-bottom: 0px; font-size: 11pt; background-color: rgb(255, 255, 255);\">No more than 3 men can bat in a row\u003c/span>\u003c/p>\u003cp style='box-sizing: inherit; background-repeat: no-repeat; background-size: contain; color: rgb(65, 65, 65); text-rendering: optimizelegibility; font-family: Arial, \"Helvetica Neue\", Helvetica, sans-serif; margin: 0pt 0px; padding: 0px; margin-block: 0px; margin-inline: 0px; padding-block: 0px; padding-inline: 0px; font-size: 14px; font-style: normal; font-variant-ligatures: normal; font-variant-caps: normal; font-weight: 400; letter-spacing: normal; orphans: 2; text-align: left; text-indent: 0px; text-transform: none; white-space: normal; widows: 2; word-spacing: 0px; -webkit-text-stroke-width: 0px; background-color: rgb(255, 255, 255); text-decoration-thickness: initial; text-decoration-style: initial; text-decoration-color: initial; line-height: 1.2;'>\u003cspan style=\"box-sizing: inherit; background-repeat: no-repeat; background-size: contain; font-family: Arial; margin-bottom: 0px; font-size: 11pt; background-color: rgb(255, 255, 255);\">Gloves are not provided. Please bring your own.\u003c/span>\u003c/p>\u003cp style='box-sizing: inherit; background-repeat: no-repeat; background-size: contain; color: rgb(65, 65, 65); text-rendering: optimizelegibility; font-family: Arial, \"Helvetica Neue\", Helvetica, sans-serif; margin: 0pt 0px; padding: 0px; margin-block: 0px; margin-inline: 0px; padding-block: 0px; padding-inline: 0px; font-size: 14px; font-style: normal; font-variant-ligatures: normal; font-variant-caps: normal; font-weight: 400; letter-spacing: normal; orphans: 2; text-align: left; text-indent: 0px; text-transform: none; white-space: normal; widows: 2; word-spacing: 0px; -webkit-text-stroke-width: 0px; background-color: rgb(255, 255, 255); text-decoration-thickness: initial; text-decoration-style: initial; text-decoration-color: initial; line-height: 1.2;'>\u003cspan style=\"box-sizing: inherit; background-repeat: no-repeat; background-size: contain; font-family: Arial; margin-bottom: 0px; font-size: 11pt; background-color: rgb(255, 255, 255);\">NO METAL SPIKES\u003c/span>\u003c/p>\u003cp style='box-sizing: inherit; background-repeat: no-repeat; background-size: contain; color: rgb(65, 65, 65); text-rendering: optimizelegibility; font-family: Arial, \"Helvetica Neue\", Helvetica, sans-serif; margin: 0pt 0px; padding: 0px; margin-block: 0px; margin-inline: 0px; padding-block: 0px; padding-inline: 0px; font-size: 14px; font-style: normal; font-variant-ligatures: normal; font-variant-caps: normal; font-weight: 400; letter-spacing: normal; orphans: 2; text-align: left; text-indent: 0px; text-transform: none; white-space: normal; widows: 2; word-spacing: 0px; -webkit-text-stroke-width: 0px; background-color: rgb(255, 255, 255); text-decoration-thickness: initial; text-decoration-style: initial; text-decoration-color: initial; line-height: 1.2;'>\u003cspan style=\"box-sizing: inherit; background-repeat: no-repeat; background-size: contain; font-family: Arial; margin-bottom: 0px; font-size: 11pt; background-color: rgb(255, 255, 255);\">No ump fees\u003c/span>\u003c/p>\u003cp style=\"line-height: 1.2; margin-top: 0pt; margin-bottom: 0pt;\">\u003cbr>\u003c/p>\u003cp style=\"line-height: 1.2; margin-top: 4pt; margin-bottom: 4pt;\">\u003cstrong>\u003cspan style=\"font-size: 11pt; font-family: Arial;\">Playoffs\u003c/span>\u003c/strong>\u003c/p>\u003cp style=\"line-height: 1.2; margin-top: 4pt; margin-bottom: 4pt;\">\u003cspan style=\"font-size: 11.5pt; font-family: Arial; color: #1d1c1d;\">Top 50% teams will make playoffs\u003c/span>\u003c/p>\u003cp style=\"line-height: 1.2; margin-top: 4pt; margin-bottom: 4pt;\">\u003cspan style=\"font-size: 11.5pt; font-family: Arial; color: #1d1c1d;\">*Additional teams may be added to playoffs if schedules / venue space allow\u003c/span>\u003c/p>\u003cp style=\"line-height: 1.2; margin-top: 4pt; margin-bottom: 4pt;\">\u003cbr>\u003c/p>\u003cp>\u003cstrong>End of season Party will be 6/24 and is included with registration where you can celebrate your season with some free drinks at Volo's new facility The PARK. All spring players will be emailed a code to sign up for free. \u003ca href=\"//www.volosports.com/d/6435b9eaa520b1a82e834320\">www.volosports.com/d/6435b9eaa520b1a82e834320\u003c/a>\u003c/strong>\u003c/p>\u003cp>\u003cstrong>CODE: PARKPARTY\u003c/strong>\u003c/p>\u003cp style=\"line-height: 1.2; margin-top: 4pt; margin-bottom: 4pt;\">\u003cbr>\u003c/p>\u003cp>\u003cstrong>End of season Party will be 6/24 and is included with registration where you can celebrate your season with some free drinks at Volo's new facility The PARK. All spring players will be emailed a code to sign up for free. \u003ca href=\"//www.volosports.com/d/6435b9eaa520b1a82e834320\">www.volosports.com/d/6435b9eaa520b1a82e834320\u003c/a>\u003c/strong>\u003c/p>\u003cp>\u003cstrong>CODE: PARKPARTY\u003c/strong>\u003c/p>\u003cp style=\"line-height: 1.2; margin-top: 4pt; margin-bottom: 4pt;\">\u003cbr>\u003c/p>\u003cp dir=\"ltr\" style=\"line-height:1.38;text-align: center;margin-top:0pt;margin-bottom:0pt;\">\u003ca href=\"http://bit.ly/3nL2KGg\" style=\"text-decoration:none;\">\u003cspan style=\"font-size:11pt;font-family:Calibri,sans-serif;color:#1155cc;background-color:transparent;font-weight:400;font-style:normal;font-variant:normal;text-decoration:underline;-webkit-text-decoration-skip:none;text-decoration-skip-ink:none;vertical-align:baseline;white-space:pre;white-space:pre-wrap;\">\u003cspan style=\"border:none;display:inline-block;overflow:hidden;width:390px;height:130px;\">\u003cimg src=\"https://s3.amazonaws.com/rivall-user-uploads/prodUploads/orgEmailPicturesFolder/624b6905f214b16cfc304ee2_1680820409147.png\" width=\"390\" height=\"130\" class=\"fr-fic fr-dii\">\u003c/span>\u003c/span>\u003c/a>\u003c/p>\u003cp>\u003cspan style=\"font-size:11pt;font-family:Calibri,sans-serif;color:#000000;background-color:transparent;font-weight:400;font-style:normal;font-variant:normal;text-decoration:none;vertical-align:baseline;white-space:pre;white-space:pre-wrap;\">Play Ball! Take advantage of our exclusive DraftKings Sportsbook sign up offer and save $50 on your next Volo Baltimore league with any $5+ bet! Must sign up with promo code: VOLO150. \u003c/span>\u003ca href=\"http://bit.ly/3nL2KGg\" style=\"text-decoration:none;\">\u003cspan style=\"font-size:11pt;font-family:Calibri,sans-serif;color:#1155cc;background-color:transparent;font-weight:400;font-style:normal;font-variant:normal;text-decoration:underline;-webkit-text-decoration-skip:none;text-decoration-skip-ink:none;vertical-align:baseline;white-space:pre;white-space:pre-wrap;\">SAVE $50 NOW!\u003c/span>\u003c/a>\u003c/p>"},"activityName":"Softball","programType":"LEAGUE"},"League:64401d417acdcd18827df8c5":{"__typename":"League","_id":"64401d417acdcd18827df8c5","name":"Softball (Men) - Wednesday - Latrobe Park (Federal Hill) - June 2023","featured_order":null,"schedule":{"__typename":"Schedule","start_date":"2023-06-14T16:00:00.000Z"},"details":{"__typename":"LeagueDetails","description":"\u003cp id=\"isPasted\">Change up your midweek routine and come run the bases and enjoy the vibes with your team at Latrobe Park \u003c/p>\u003cp>\u003cbr>\u003c/p>\u003cp id=\"isPasted\">\u003cbr>\u003c/p>\u003cp style=\"line-height: 1.2; margin-top: 0pt; margin-bottom: 0pt;\">\u003cspan style=\"font-size: 11pt; font-family: Arial; background-color: #ffffff;\">\u003cstrong>Men's League\u003c/strong>\u003c/span>\u003c/p>\u003cp style=\"line-height: 1.2; margin-top: 0pt; margin-bottom: 0pt;\">\u003cspan style=\"font-size: 11pt; font-family: Arial; background-color: #ffffff;\">10 max total on the field\u003c/span>\u003c/p>\u003cp style=\"line-height: 1.2; margin-top: 0pt; margin-bottom: 0pt;\">\u003cspan style=\"font-size: 11pt; font-family: Arial; background-color: #ffffff;\">Pitch count starts 1-1 \u003c/span>\u003c/p>\u003cp style=\"line-height: 1.2; margin-top: 0pt; margin-bottom: 0pt;\">\u003cspan style=\"font-size: 11pt; font-family: Arial; background-color: #ffffff;\">At least \u003c/span>\u003cspan style=\"font-size: 11pt; font-family: Arial; background-color: #ffffff;\">6 players required to start game\u003c/span>\u003c/p>\u003cp style=\"line-height: 1.2; margin-top: 0pt; margin-bottom: 0pt;\">\u003cspan style=\"font-size: 11pt; font-family: Arial; background-color: #ffffff;\">Gloves are not provided. Please bring your own.\u003c/span>\u003c/p>\u003cp style=\"line-height: 1.2; margin-top: 0pt; margin-bottom: 0pt;\">\u003cspan style=\"font-size: 11pt; font-family: Arial; background-color: #ffffff;\">NO METAL SPIKES\u003c/span>\u003c/p>\u003cp style=\"line-height: 1.2; margin-top: 0pt; margin-bottom: 0pt;\">\u003cbr>\u003c/p>\u003cp style=\"line-height: 1.2; margin-top: 4pt; margin-bottom: 4pt;\">\u003cstrong>\u003cspan style=\"font-size: 11pt; font-family: Arial;\">Playoffs\u003c/span>\u003c/strong>\u003c/p>\u003cp style=\"line-height: 1.2; margin-top: 4pt; margin-bottom: 4pt;\">\u003cspan style=\"font-size: 11.5pt; font-family: Arial; color: #1d1c1d;\">Top 50% teams will make playoffs\u003c/span>\u003c/p>\u003cp style=\"line-height: 1.2; margin-top: 4pt; margin-bottom: 4pt;\">\u003cspan style=\"font-size: 11.5pt; font-family: Arial; color: #1d1c1d;\">*Additional teams may be added to playoffs if schedules / venue space allow\u003c/span>\u003c/p>\u003cp style=\"line-height: 1.2; margin-top: 4pt; margin-bottom: 4pt;\">\u003cbr>\u003c/p>\u003cp>\u003cstrong>End of season Party will be 6/30 and is included with registration where you can celebrate your season with some free drinks at Volo's new facility The PARK. All spring players will be emailed a code to sign up for free. \u003ca href=\"//www.volosports.com/d/6435b9eaa520b1a82e834320\">www.volosports.com/d/6435b9eaa520b1a82e834320\u003c/a>\u003c/strong>\u003c/p>\u003cp>\u003cstrong>CODE: PARKPARTY\u003c/strong>\u003c/p>"},"activityName":"Softball","programType":"LEAGUE"},"League:64401d417acdcd18827df8c1":{"__typename":"League","_id":"64401d417acdcd18827df8c1","name":"Softball (Men) - Wednesday/Thursday - Fort Holabird Park (Canton) - July 2023","featured_order":null,"schedule":{"__typename":"Schedule","start_date":"2023-07-19T16:00:00.000Z"},"details":{"__typename":"LeagueDetails","description":"\u003cp style=\"line-height: 1.2; margin-top: 0pt; margin-bottom: 0pt;\">Say holla! Holabird!! You do not want to miss this!\u003c/p>\u003cp style=\"line-height: 1.2; margin-top: 0pt; margin-bottom: 0pt;\">\u003cbr>\u003c/p>\u003cp id=\"isPasted\" style=\"line-height: 1.2; margin-top: 0pt; margin-bottom: 0pt;\">\u003cspan style=\"font-size: 11pt; font-family: Arial; background-color: #ffffff;\">Men's League\u003c/span>\u003c/p>\u003cp style=\"line-height: 1.2; margin-top: 0pt; margin-bottom: 0pt;\">\u003cspan style=\"font-size: 11pt; font-family: Arial; background-color: #ffffff;\">10 max total on the field\u003c/span>\u003c/p>\u003cp style=\"line-height: 1.2; margin-top: 0pt; margin-bottom: 0pt;\">\u003cspan style=\"font-size: 11pt; font-family: Arial; background-color: #ffffff;\">Pitch count starts 1-1 \u003c/span>\u003c/p>\u003cp style=\"line-height: 1.2; margin-top: 0pt; margin-bottom: 0pt;\">\u003cspan style=\"font-size: 11pt; font-family: Arial; background-color: #ffffff;\">At least 6 players required to start game\u003c/span>\u003c/p>\u003cp style=\"line-height: 1.2; margin-top: 0pt; margin-bottom: 0pt;\">\u003cspan style=\"font-size: 11pt; font-family: Arial; background-color: #ffffff;\">Gloves are not provided. Please bring your own.\u003c/span>\u003c/p>\u003cp style=\"line-height: 1.2; margin-top: 0pt; margin-bottom: 0pt;\">\u003cspan style=\"font-size: 11pt; font-family: Arial; background-color: #ffffff;\">NO METAL SPIKES\u003c/span>\u003c/p>\u003cp style=\"line-height: 1.2; margin-top: 0pt; margin-bottom: 0pt;\">\u003cspan style=\"font-size: 11pt; font-family: Arial; background-color: #ffffff;\">No ump fees\u003c/span>\u003c/p>\u003cp style=\"line-height: 1.2; margin-top: 0pt; margin-bottom: 0pt;\">\u003cbr>\u003c/p>\u003cp style=\"line-height: 1.2; margin-top: 4pt; margin-bottom: 4pt;\">\u003cstrong>\u003cspan style=\"font-size: 11pt; font-family: Arial;\">Playoffs\u003c/span>\u003c/strong>\u003c/p>\u003cp style=\"line-height: 1.2; margin-top: 4pt; margin-bottom: 4pt;\">\u003cspan style=\"font-size: 11.5pt; font-family: Arial; color: #1d1c1d;\">Top 50% teams will make playoffs\u003c/span>\u003c/p>\u003cp style=\"line-height: 1.2; margin-top: 4pt; margin-bottom: 4pt;\">\u003cspan style=\"font-size: 11.5pt; font-family: Arial; color: #1d1c1d;\">*Additional teams may be added to playoffs if schedules / venue space allow\u003c/span>\u003c/p>\u003cp style=\"line-height: 1.2; margin-top: 4pt; margin-bottom: 4pt;\">\u003cbr>\u003c/p>\u003cp>\u003cstrong>End of season Party will be 6/24 and is included with registration where you can celebrate your season with some free drinks at Volo's new facility The PARK. All spring players will be emailed a code to sign up for free. \u003ca href=\"//www.volosports.com/d/6435b9eaa520b1a82e834320\">www.volosports.com/d/6435b9eaa520b1a82e834320\u003c/a>\u003c/strong>\u003c/p>\u003cp>\u003cstrong>CODE: PARKPARTY\u003c/strong>\u003c/p>\u003cp style=\"line-height: 1.2; margin-top: 4pt; margin-bottom: 4pt;\">\u003cbr>\u003c/p>\u003cp>\u003cstrong>End of season Party will be 6/24 and is included with registration where you can celebrate your season with some free drinks at Volo's new facility The PARK. All spring players will be emailed a code to sign up for free. \u003ca href=\"//www.volosports.com/d/6435b9eaa520b1a82e834320\">www.volosports.com/d/6435b9eaa520b1a82e834320\u003c/a>\u003c/strong>\u003c/p>\u003cp>\u003cstrong>CODE: PARKPARTY\u003c/strong>\u003c/p>\u003cp style=\"line-height: 1.2; margin-top: 4pt; margin-bottom: 4pt;\">\u003cbr>\u003c/p>\u003cp dir=\"ltr\" style=\"line-height:1.38;text-align: center;margin-top:0pt;margin-bottom:0pt;\">\u003ca href=\"http://bit.ly/3nL2KGg\" style=\"text-decoration:none;\">\u003cspan style=\"font-size:11pt;font-family:Calibri,sans-serif;color:#1155cc;background-color:transparent;font-weight:400;font-style:normal;font-variant:normal;text-decoration:underline;-webkit-text-decoration-skip:none;text-decoration-skip-ink:none;vertical-align:baseline;white-space:pre;white-space:pre-wrap;\">\u003cspan style=\"border:none;display:inline-block;overflow:hidden;width:390px;height:130px;\">\u003cimg src=\"https://s3.amazonaws.com/rivall-user-uploads/prodUploads/orgEmailPicturesFolder/624b6905f214b16cfc304ee2_1680820409147.png\" width=\"390\" height=\"130\" class=\"fr-fic fr-dii\">\u003c/span>\u003c/span>\u003c/a>\u003c/p>\u003cp>\u003cspan style=\"font-size:11pt;font-family:Calibri,sans-serif;color:#000000;background-color:transparent;font-weight:400;font-style:normal;font-variant:normal;text-decoration:none;vertical-align:baseline;white-space:pre;white-space:pre-wrap;\">Play Ball! Take advantage of our exclusive DraftKings Sportsbook sign up offer and save $50 on your next Volo Baltimore league with any $5+ bet! Must sign up with promo code: VOLO150. \u003c/span>\u003ca href=\"http://bit.ly/3nL2KGg\" style=\"text-decoration:none;\">\u003cspan style=\"font-size:11pt;font-family:Calibri,sans-serif;color:#1155cc;background-color:transparent;font-weight:400;font-style:normal;font-variant:normal;text-decoration:underline;-webkit-text-decoration-skip:none;text-decoration-skip-ink:none;vertical-align:baseline;white-space:pre;white-space:pre-wrap;\">SAVE $50 NOW!\u003c/span>\u003c/a>\u003c/p>"},"activityName":"Softball","programType":"LEAGUE"},"League:64401d417acdcd18827df8a9":{"__typename":"League","_id":"64401d417acdcd18827df8a9","name":"Softball (Coed) - Wednesday - Latrobe Park (Federal Hill) - June 2023","featured_order":null,"schedule":{"__typename":"Schedule","start_date":"2023-06-14T16:00:00.000Z"},"details":{"__typename":"LeagueDetails","description":"\u003cp id=\"isPasted\">Change up your midweek routine and come run the bases and enjoy the vibes with your team at Latrobe Park \u003c/p>\u003cp>\u003cbr>\u003c/p>\u003cp style=\"line-height: 1.2; margin-top: 0pt; margin-bottom: 0pt;\">\u003cspan style=\"font-size: 11pt; font-family: Arial; background-color: #ffffff;\">Coed League\u003c/span>\u003c/p>\u003cp style=\"line-height: 1.2; margin-top: 0pt; margin-bottom: 0pt;\">\u003cspan style=\"font-size: 11pt; font-family: Arial; background-color: #ffffff;\">10 max total, 7 male players max on the field\u003c/span>\u003c/p>\u003cp style=\"line-height: 1.2; margin-top: 0pt; margin-bottom: 0pt;\">\u003cspan style=\"font-size: 11pt; font-family: Arial; background-color: #ffffff;\">Pitch count starts 1-1 \u003c/span>\u003c/p>\u003cp style=\"line-height: 1.2; margin-top: 0pt; margin-bottom: 0pt;\">\u003cspan style=\"font-size: 11pt; font-family: Arial; background-color: #ffffff;\">At least \u003c/span>\u003cspan style=\"font-size: 11pt; font-family: Arial; background-color: #ffffff;\">6 players, 1 woman min, to start game\u003c/span>\u003c/p>\u003cp style=\"line-height: 1.2; margin-top: 0pt; margin-bottom: 0pt;\">\u003cspan style=\"font-size: 11pt; font-family: Arial; background-color: #ffffff;\">No more than 3 men can bat in a row\u003c/span>\u003c/p>\u003cp style=\"line-height: 1.2; margin-top: 0pt; margin-bottom: 0pt;\">\u003cspan style=\"font-size: 11pt; font-family: Arial; background-color: #ffffff;\">Gloves are not provided. Please bring your own.\u003c/span>\u003c/p>\u003cp style=\"line-height: 1.2; margin-top: 0pt; margin-bottom: 0pt;\">\u003cspan style=\"font-size: 11pt; font-family: Arial; background-color: #ffffff;\">NO METAL SPIKES\u003c/span>\u003c/p>\u003cp style=\"line-height: 1.2; margin-top: 0pt; margin-bottom: 0pt;\">\u003cbr>\u003c/p>\u003cp style=\"line-height: 1.2; margin-top: 4pt; margin-bottom: 4pt;\">\u003cstrong>\u003cspan style=\"font-size: 11pt; font-family: Arial;\">Playoffs\u003c/span>\u003c/strong>\u003c/p>\u003cp style=\"line-height: 1.2; margin-top: 4pt; margin-bottom: 4pt;\">\u003cspan style=\"font-size: 11.5pt; font-family: Arial; color: #1d1c1d;\">Top 50% teams will make playoffs\u003c/span>\u003c/p>\u003cp style=\"line-height: 1.2; margin-top: 4pt; margin-bottom: 4pt;\">\u003cspan style=\"font-size: 11.5pt; font-family: Arial; color: #1d1c1d;\">*Additional teams may be added to playoffs if schedules / venue space allow\u003c/span>\u003c/p>\u003cp style=\"line-height: 1.2; margin-top: 4pt; margin-bottom: 4pt;\">\u003cbr>\u003c/p>\u003cp>\u003cstrong>End of season Party will be 6/30 and is included with registration where you can celebrate your season with some free drinks at Volo's new facility The PARK. All spring players will be emailed a code to sign up for free. \u003ca href=\"//www.volosports.com/d/6435b9eaa520b1a82e834320\">www.volosports.com/d/6435b9eaa520b1a82e834320\u003c/a>\u003c/strong>\u003c/p>\u003cp>\u003cstrong>CODE: PARKPARTY\u003c/strong>\u003c/p>"},"activityName":"Softball","programType":"LEAGUE"},"League:64401d417acdcd18827df87b":{"__typename":"League","_id":"64401d417acdcd18827df87b","name":"Coed Woodbat Softball - Monday - SBLL (Formerly McHenry Row) (Federal Hill) - July 2023","featured_order":null,"schedule":{"__typename":"Schedule","start_date":"2023-07-17T16:00:00.000Z"},"details":{"__typename":"LeagueDetails","description":"\u003cp id=\"isPasted\">Monday Night Softball is back! Jumpstart your week by playing softball in Federal Hill!\u003c/p>\u003cp>\u003cbr>\u003c/p>\u003cp id=\"isPasted\" style=\"line-height: 1.2; margin-top: 0pt; margin-bottom: 0pt;\">\u003cspan style=\"font-size: 11pt; font-family: Arial; background-color: #ffffff;\">Coed League\u003c/span>\u003c/p>\u003cp style=\"line-height: 1.2; margin-top: 0pt; margin-bottom: 0pt;\">\u003cspan style=\"font-size: 11pt; font-family: Arial; background-color: #ffffff;\">Woodt Only\u003c/span>\u003c/p>\u003cp style=\"line-height: 1.2; margin-top: 0pt; margin-bottom: 0pt;\">\u003cspan style=\"font-size: 11pt; font-family: Arial; background-color: #ffffff;\">10 max total, 7 men max on the field\u003c/span>\u003c/p>\u003cp style=\"line-height: 1.2; margin-top: 0pt; margin-bottom: 0pt;\">\u003cspan style=\"font-size: 11pt; font-family: Arial; background-color: #ffffff;\">Pitch count starts 1-1 \u003c/span>\u003c/p>\u003cp style=\"line-height: 1.2; margin-top: 0pt; margin-bottom: 0pt;\">\u003cspan style=\"font-size: 11pt; font-family: Arial; background-color: #ffffff;\">At least 6 players required to start game\u003c/span>\u003c/p>\u003cp style=\"line-height: 1.2; margin-top: 0pt; margin-bottom: 0pt;\">\u003cspan style=\"font-size: 11pt; font-family: Arial; background-color: #ffffff;\">6 players, 1 woman min, to start game\u003c/span>\u003c/p>\u003cp style=\"line-height: 1.2; margin-top: 0pt; margin-bottom: 0pt;\">\u003cspan style=\"font-size: 11pt; font-family: Arial; background-color: #ffffff;\">No more than 3 men can bat in a row\u003c/span>\u003c/p>\u003cp style=\"line-height: 1.2; margin-top: 0pt; margin-bottom: 0pt;\">\u003cspan style=\"font-size: 11pt; font-family: Arial; background-color: #ffffff;\">Gloves are not provided. Please bring your own.\u003c/span>\u003c/p>\u003cp style=\"line-height: 1.2; margin-top: 0pt; margin-bottom: 0pt;\">\u003cspan style=\"font-size: 11pt; font-family: Arial; background-color: #ffffff;\">NO METAL SPIKES\u003c/span>\u003c/p>\u003cp style=\"line-height: 1.2; margin-top: 0pt; margin-bottom: 0pt;\">\u003cspan style=\"font-size: 11pt; font-family: Arial; background-color: #ffffff;\">No ump fees\u003c/span>\u003c/p>\u003cp style=\"line-height: 1.2; margin-top: 0pt; margin-bottom: 0pt;\">\u003cbr>\u003c/p>\u003cp style=\"line-height: 1.2; margin-top: 4pt; margin-bottom: 4pt;\">\u003cstrong>\u003cspan style=\"font-size: 11pt; font-family: Arial;\">Playoffs\u003c/span>\u003c/strong>\u003c/p>\u003cp style=\"line-height: 1.2; margin-top: 4pt; margin-bottom: 4pt;\">\u003cspan style=\"font-size: 11.5pt; font-family: Arial; color: #1d1c1d;\">Top 50% teams will make playoffs\u003c/span>\u003c/p>\u003cp style=\"line-height: 1.2; margin-top: 4pt; margin-bottom: 4pt;\">\u003cspan style=\"font-size: 11.5pt; font-family: Arial; color: #1d1c1d;\">*Additional teams may be added to playoffs if schedules / venue space allow\u003c/span>\u003c/p>\u003cp style=\"line-height: 1.2; margin-top: 4pt; margin-bottom: 4pt;\">\u003cbr>\u003c/p>\u003cp>\u003cstrong>End of season Party will be 6/24 and is included with registration where you can celebrate your season with some free drinks at Volo's new facility The PARK. All spring players will be emailed a code to sign up for free. \u003ca href=\"//www.volosports.com/d/6435b9eaa520b1a82e834320\">www.volosports.com/d/6435b9eaa520b1a82e834320\u003c/a>\u003c/strong>\u003c/p>\u003cp>\u003cstrong>CODE: PARKPARTY\u003c/strong>\u003c/p>\u003cp style=\"line-height: 1.2; margin-top: 4pt; margin-bottom: 4pt;\">\u003cbr>\u003c/p>\u003cp>\u003cstrong>End of season Party will be 6/24 and is included with registration where you can celebrate your season with some free drinks at Volo's new facility The PARK. All spring players will be emailed a code to sign up for free. \u003ca href=\"//www.volosports.com/d/6435b9eaa520b1a82e834320\">www.volosports.com/d/6435b9eaa520b1a82e834320\u003c/a>\u003c/strong>\u003c/p>\u003cp>\u003cstrong>CODE: PARKPARTY\u003c/strong>\u003c/p>\u003cp style=\"line-height: 1.2; margin-top: 4pt; margin-bottom: 4pt;\">\u003cbr>\u003c/p>\u003cp dir=\"ltr\" style=\"line-height:1.38;text-align: center;margin-top:0pt;margin-bottom:0pt;\">\u003ca href=\"http://bit.ly/3nL2KGg\" style=\"text-decoration:none;\">\u003cspan style=\"font-size:11pt;font-family:Calibri,sans-serif;color:#1155cc;background-color:transparent;font-weight:400;font-style:normal;font-variant:normal;text-decoration:underline;-webkit-text-decoration-skip:none;text-decoration-skip-ink:none;vertical-align:baseline;white-space:pre;white-space:pre-wrap;\">\u003cspan style=\"border:none;display:inline-block;overflow:hidden;width:390px;height:130px;\">\u003cimg src=\"https://s3.amazonaws.com/rivall-user-uploads/prodUploads/orgEmailPicturesFolder/624b6905f214b16cfc304ee2_1680820409147.png\" width=\"390\" height=\"130\" class=\"fr-fic fr-dii\">\u003c/span>\u003c/span>\u003c/a>\u003c/p>\u003cp>\u003cspan style=\"font-size:11pt;font-family:Calibri,sans-serif;color:#000000;background-color:transparent;font-weight:400;font-style:normal;font-variant:normal;text-decoration:none;vertical-align:baseline;white-space:pre;white-space:pre-wrap;\">Play Ball! Take advantage of our exclusive DraftKings Sportsbook sign up offer and save $50 on your next Volo Baltimore league with any $5+ bet! Must sign up with promo code: VOLO150. \u003c/span>\u003ca href=\"http://bit.ly/3nL2KGg\" style=\"text-decoration:none;\">\u003cspan style=\"font-size:11pt;font-family:Calibri,sans-serif;color:#1155cc;background-color:transparent;font-weight:400;font-style:normal;font-variant:normal;text-decoration:underline;-webkit-text-decoration-skip:none;text-decoration-skip-ink:none;vertical-align:baseline;white-space:pre;white-space:pre-wrap;\">SAVE $50 NOW!\u003c/span>\u003c/a>\u003c/p>"},"activityName":"Softball","programType":"LEAGUE"},"League:64401d417acdcd18827df877":{"__typename":"League","_id":"64401d417acdcd18827df877","name":"Coed Softball - Tuesday - The BOWL at Druid Hill Park (Hampden) - June 2023","featured_order":null,"schedule":{"__typename":"Schedule","start_date":"2023-06-13T16:00:00.000Z"},"details":{"__typename":"LeagueDetails","description":"\u003cp id=\"isPasted\">Hit it over to run the bases and enjoy the vibes with your team! Don't forget to take a short walk to the sponsor bar with your team! \u003c/p>\u003cp>\u003cbr>\u003c/p>\u003cp style=\"line-height: 1.2; margin-top: 0pt; margin-bottom: 0pt;\">\u003cspan style=\"font-size: 11pt; font-family: Arial; background-color: #ffffff;\">Coed League\u003c/span>\u003c/p>\u003cp style=\"line-height: 1.2; margin-top: 0pt; margin-bottom: 0pt;\">\u003cspan style=\"font-size: 11pt; font-family: Arial; background-color: #ffffff;\">10 max total, 7 men max on the field\u003c/span>\u003c/p>\u003cp style=\"line-height: 1.2; margin-top: 0pt; margin-bottom: 0pt;\">\u003cspan style=\"font-size: 11pt; font-family: Arial; background-color: #ffffff;\">Pitch count starts 1-1 \u003c/span>\u003c/p>\u003cp style=\"line-height: 1.2; margin-top: 0pt; margin-bottom: 0pt;\">\u003cspan style=\"font-size: 11pt; font-family: Arial; background-color: #ffffff;\">At least \u003c/span>\u003cspan style=\"font-size: 11pt; font-family: Arial; background-color: #ffffff;\">6 players, 1 woman min, to start game\u003c/span>\u003c/p>\u003cp style=\"line-height: 1.2; margin-top: 0pt; margin-bottom: 0pt;\">\u003cspan style=\"font-size: 11pt; font-family: Arial; background-color: #ffffff;\">No more than 3 men can bat in a row\u003c/span>\u003c/p>\u003cp style=\"line-height: 1.2; margin-top: 0pt; margin-bottom: 0pt;\">\u003cspan style=\"font-size: 11pt; font-family: Arial; background-color: #ffffff;\">Gloves are not provided. Please bring your own.\u003c/span>\u003c/p>\u003cp style=\"line-height: 1.2; margin-top: 0pt; margin-bottom: 0pt;\">\u003cspan style=\"font-size: 11pt; font-family: Arial; background-color: #ffffff;\">NO METAL SPIKES\u003c/span>\u003c/p>\u003cp style=\"line-height: 1.2; margin-top: 0pt; margin-bottom: 0pt;\">\u003cbr>\u003c/p>\u003cp style=\"line-height: 1.2; margin-top: 4pt; margin-bottom: 4pt;\">\u003cstrong>\u003cspan style=\"font-size: 11pt; font-family: Arial;\">Playoffs\u003c/span>\u003c/strong>\u003c/p>\u003cp style=\"line-height: 1.2; margin-top: 4pt; margin-bottom: 4pt;\">\u003cspan style=\"font-size: 11.5pt; font-family: Arial; color: #1d1c1d;\">Top 50teams will make playoffs\u003c/span>\u003c/p>\u003cp style=\"line-height: 1.2; margin-top: 4pt; margin-bottom: 4pt;\">\u003cspan style=\"font-size: 11.5pt; font-family: Arial; color: #1d1c1d;\">*Additional teams may be added to playoffs if schedules / venue space allow\u003c/span>\u003c/p>\u003cp style=\"line-height: 1.2; margin-top: 4pt; margin-bottom: 4pt;\">\u003cbr>\u003c/p>\u003cp style=\"line-height: 1.2; margin-top: 4pt; margin-bottom: 4pt;\">\u003cstrong>End of season Party will be 6/30 and is included with registration where you can celebrate your season with some free drinks at Volo's new facility The PARK. All spring players will be emailed a code to sign up for free. \u003ca data-fr-linked=\"true\" href=\"//www.volosports.com/d/6435b9eaa520b1a82e834320\">www.volosports.com/d/6435b9eaa520b1a82e834320\u003c/a>\u003c/strong>\u003c/p>"},"activityName":"Softball","programType":"LEAGUE"},"League:64401d417acdcd18827df865":{"__typename":"League","_id":"64401d417acdcd18827df865","name":"9v9 Men's Woodbat Softball - Monday - SBLL (Formerly McHenry Row) (Federal Hill) - July 2023","featured_order":null,"schedule":{"__typename":"Schedule","start_date":"2023-07-17T16:00:00.000Z"},"details":{"__typename":"LeagueDetails","description":"\u003cp id=\"isPasted\">Monday Night Softball is back! Jumpstart your week by playing softball in Federal Hill\u003c/p>\u003cp>Men's Wood Bat\u003c/p>\u003cp>\u003cbr>\u003c/p>\u003cp style=\"line-height: 1.2; margin-top: 0pt; margin-bottom: 0pt;\">\u003cspan style=\"font-size: 11pt; font-family: Arial; background-color: #ffffff;\">Men's League\u003c/span>\u003c/p>\u003cp style=\"line-height: 1.2; margin-top: 0pt; margin-bottom: 0pt;\">\u003cspan style=\"font-size: 11pt; font-family: Arial; background-color: #ffffff;\">Wood Bat Only\u003c/span>\u003c/p>\u003cp style=\"line-height: 1.2; margin-top: 0pt; margin-bottom: 0pt;\">\u003cspan style=\"font-size: 11pt; font-family: Arial; background-color: #ffffff;\">9 max total on the field\u003c/span>\u003c/p>\u003cp style=\"line-height: 1.2; margin-top: 0pt; margin-bottom: 0pt;\">\u003cspan style=\"font-size: 11pt; font-family: Arial; background-color: #ffffff;\">Pitch count starts 1-1 \u003c/span>\u003c/p>\u003cp style=\"line-height: 1.2; margin-top: 0pt; margin-bottom: 0pt;\">\u003cspan style=\"font-size: 11pt; font-family: Arial; background-color: #ffffff;\">At least 6 players required to start game\u003c/span>\u003c/p>\u003cp style=\"line-height: 1.2; margin-top: 0pt; margin-bottom: 0pt;\">\u003cspan style=\"font-size: 11pt; font-family: Arial; background-color: #ffffff;\">Gloves are not provided. Please bring your own.\u003c/span>\u003c/p>\u003cp style=\"line-height: 1.2; margin-top: 0pt; margin-bottom: 0pt;\">\u003cspan style=\"font-size: 11pt; font-family: Arial; background-color: #ffffff;\">NO METAL SPIKES\u003c/span>\u003c/p>\u003cp style=\"line-height: 1.2; margin-top: 0pt; margin-bottom: 0pt;\">No ump fees\u003c/p>\u003cp style=\"line-height: 1.2; margin-top: 0pt; margin-bottom: 0pt;\">\u003cbr>\u003c/p>\u003cp style=\"line-height: 1.2; margin-top: 4pt; margin-bottom: 4pt;\">\u003cstrong>\u003cspan style=\"font-size: 11pt; font-family: Arial;\">Playoffs\u003c/span>\u003c/strong>\u003c/p>\u003cp style=\"line-height: 1.2; margin-top: 4pt; margin-bottom: 4pt;\">\u003cspan style=\"font-size: 11.5pt; font-family: Arial; color: #1d1c1d;\">Top 50% teams will make playoffs\u003c/span>\u003c/p>\u003cp style=\"line-height: 1.2; margin-top: 4pt; margin-bottom: 4pt;\">\u003cspan style=\"font-size: 11.5pt; font-family: Arial; color: #1d1c1d;\">*Additional teams may be added to playoffs if schedules / venue space allow\u003c/span>\u003c/p>\u003cp style=\"line-height: 1.2; margin-top: 4pt; margin-bottom: 4pt;\">\u003cbr>\u003c/p>\u003cp>\u003cstrong>End of season Party will be 6/24 and is included with registration where you can celebrate your season with some free drinks at Volo's new facility The PARK. All spring players will be emailed a code to sign up for free. \u003ca href=\"//www.volosports.com/d/6435b9eaa520b1a82e834320\">www.volosports.com/d/6435b9eaa520b1a82e834320\u003c/a>\u003c/strong>\u003c/p>\u003cp>\u003cstrong>CODE: PARKPARTY\u003c/strong>\u003c/p>\u003cp style=\"line-height: 1.2; margin-top: 4pt; margin-bottom: 4pt;\">\u003cbr>\u003c/p>\u003cp>\u003cstrong>End of season Party will be 6/24 and is included with registration where you can celebrate your season with some free drinks at Volo's new facility The PARK. All spring players will be emailed a code to sign up for free. \u003ca href=\"//www.volosports.com/d/6435b9eaa520b1a82e834320\">www.volosports.com/d/6435b9eaa520b1a82e834320\u003c/a>\u003c/strong>\u003c/p>\u003cp>\u003cstrong>CODE: PARKPARTY\u003c/strong>\u003c/p>\u003cp style=\"line-height: 1.2; margin-top: 4pt; margin-bottom: 4pt;\">\u003cbr>\u003c/p>\u003cp dir=\"ltr\" style=\"line-height:1.38;text-align: center;margin-top:0pt;margin-bottom:0pt;\">\u003ca href=\"http://bit.ly/3nL2KGg\" style=\"text-decoration:none;\">\u003cspan style=\"font-size:11pt;font-family:Calibri,sans-serif;color:#1155cc;background-color:transparent;font-weight:400;font-style:normal;font-variant:normal;text-decoration:underline;-webkit-text-decoration-skip:none;text-decoration-skip-ink:none;vertical-align:baseline;white-space:pre;white-space:pre-wrap;\">\u003cspan style=\"border:none;display:inline-block;overflow:hidden;width:390px;height:130px;\">\u003cimg src=\"https://s3.amazonaws.com/rivall-user-uploads/prodUploads/orgEmailPicturesFolder/624b6905f214b16cfc304ee2_1680820409147.png\" width=\"390\" height=\"130\" class=\"fr-fic fr-dii\">\u003c/span>\u003c/span>\u003c/a>\u003c/p>\u003cp>\u003cspan style=\"font-size:11pt;font-family:Calibri,sans-serif;color:#000000;background-color:transparent;font-weight:400;font-style:normal;font-variant:normal;text-decoration:none;vertical-align:baseline;white-space:pre;white-space:pre-wrap;\">Play Ball! Take advantage of our exclusive DraftKings Sportsbook sign up offer and save $50 on your next Volo Baltimore league with any $5+ bet! Must sign up with promo code: VOLO150. \u003c/span>\u003ca href=\"http://bit.ly/3nL2KGg\" style=\"text-decoration:none;\">\u003cspan style=\"font-size:11pt;font-family:Calibri,sans-serif;color:#1155cc;background-color:transparent;font-weight:400;font-style:normal;font-variant:normal;text-decoration:underline;-webkit-text-decoration-skip:none;text-decoration-skip-ink:none;vertical-align:baseline;white-space:pre;white-space:pre-wrap;\">SAVE $50 NOW!\u003c/span>\u003c/a>\u003c/p>"},"activityName":"Softball","programType":"LEAGUE"},"League:64401d417acdcd18827df84d":{"__typename":"League","_id":"64401d417acdcd18827df84d","name":"Softball (Coed) - Thursday - Swann Park (Federal Hill) - June 2023","featured_order":null,"schedule":{"__typename":"Schedule","start_date":"2023-06-15T16:00:00.000Z"},"details":{"__typename":"LeagueDetails","description":"\u003cp id=\"isPasted\">Hit it over to Swann Park to run the bases and enjoy the vibes with your team! Don't forget to take a walk to the sponsor bar with your team! \u003c/p>\u003cp>\u003cbr>\u003c/p>\u003cp style=\"line-height: 1.2; margin-top: 0pt; margin-bottom: 0pt;\">\u003cspan style=\"font-size: 11pt; font-family: Arial; background-color: #ffffff;\">Coed League\u003c/span>\u003c/p>\u003cp style=\"line-height: 1.2; margin-top: 0pt; margin-bottom: 0pt;\">\u003cspan style=\"font-size: 11pt; font-family: Arial; background-color: #ffffff;\">10 max total, 7 men players max on the field\u003c/span>\u003c/p>\u003cp style=\"line-height: 1.2; margin-top: 0pt; margin-bottom: 0pt;\">\u003cspan style=\"font-size: 11pt; font-family: Arial; background-color: #ffffff;\">Pitch count starts 1-1 \u003c/span>\u003c/p>\u003cp style=\"line-height: 1.2; margin-top: 0pt; margin-bottom: 0pt;\">\u003cspan style=\"font-size: 11pt; font-family: Arial; background-color: #ffffff;\">At least \u003c/span>\u003cspan style=\"font-size: 11pt; font-family: Arial; background-color: #ffffff;\">6 players, 1 woman min, to start game\u003c/span>\u003c/p>\u003cp style=\"line-height: 1.2; margin-top: 0pt; margin-bottom: 0pt;\">\u003cspan style=\"font-size: 11pt; font-family: Arial; background-color: #ffffff;\">No more than 3 men can bat in a row\u003c/span>\u003c/p>\u003cp style=\"line-height: 1.2; margin-top: 0pt; margin-bottom: 0pt;\">\u003cspan style=\"font-size: 11pt; font-family: Arial; background-color: #ffffff;\">Gloves are not provided. Please bring your own.\u003c/span>\u003c/p>\u003cp style=\"line-height: 1.2; margin-top: 0pt; margin-bottom: 0pt;\">\u003cspan style=\"font-size: 11pt; font-family: Arial; background-color: #ffffff;\">NO METAL SPIKES\u003c/span>\u003c/p>\u003cp style=\"line-height: 1.2; margin-top: 0pt; margin-bottom: 0pt;\">\u003cbr>\u003c/p>\u003cp style=\"line-height: 1.2; margin-top: 4pt; margin-bottom: 4pt;\">\u003cstrong>\u003cspan style=\"font-size: 11pt; font-family: Arial;\">Playoffs\u003c/span>\u003c/strong>\u003c/p>\u003cp style=\"line-height: 1.2; margin-top: 4pt; margin-bottom: 4pt;\">\u003cspan style=\"font-size: 11.5pt; font-family: Arial; color: #1d1c1d;\">Top teams will make playoffs\u003c/span>\u003c/p>\u003cp style=\"line-height: 1.2; margin-top: 4pt; margin-bottom: 4pt;\">\u003cspan style=\"font-size: 11.5pt; font-family: Arial; color: #1d1c1d;\">*Additional teams may be added to playoffs if schedules / venue space allow\u003c/span>\u003c/p>\u003cp style=\"line-height: 1.2; margin-top: 4pt; margin-bottom: 4pt;\">\u003cbr>\u003c/p>\u003cp style=\"line-height: 1.2; margin-top: 4pt; margin-bottom: 4pt;\">\u003cstrong>End of season Party will be 6/30 and is included with registration where you can celebrate your season with some free drinks at Volo's new facility The PARK. All spring players will be emailed a code to sign up for free. \u003ca data-fr-linked=\"true\" href=\"//www.volosports.com/d/6435b9eaa520b1a82e834320\">www.volosports.com/d/6435b9eaa520b1a82e834320\u003c/a>\u003c/strong>\u003c/p>"},"activityName":"Softball","programType":"LEAGUE"},"League:64401d417acdcd18827df845":{"__typename":"League","_id":"64401d417acdcd18827df845","name":"Softball (Coed) - Thursday - Latrobe Park (Federal Hill) - June 2023","featured_order":null,"schedule":{"__typename":"Schedule","start_date":"2023-06-15T16:00:00.000Z"},"details":{"__typename":"LeagueDetails","description":"\u003cp id=\"isPasted\">Hit it over to Latrobe Park to run the bases and enjoy the vibes with your team! Don't forget to take a walk to the sponsor bar with your team! \u003c/p>\u003cp>\u003cbr>\u003c/p>\u003cp style=\"line-height: 1.2; margin-top: 0pt; margin-bottom: 0pt;\">\u003cspan style=\"font-size: 11pt; font-family: Arial; background-color: #ffffff;\">Coed League\u003c/span>\u003c/p>\u003cp style=\"line-height: 1.2; margin-top: 0pt; margin-bottom: 0pt;\">\u003cspan style=\"font-size: 11pt; font-family: Arial; background-color: #ffffff;\">10 max total, 7 men players max on the field\u003c/span>\u003c/p>\u003cp style=\"line-height: 1.2; margin-top: 0pt; margin-bottom: 0pt;\">\u003cspan style=\"font-size: 11pt; font-family: Arial; background-color: #ffffff;\">Pitch count starts 1-1 \u003c/span>\u003c/p>\u003cp style=\"line-height: 1.2; margin-top: 0pt; margin-bottom: 0pt;\">\u003cspan style=\"font-size: 11pt; font-family: Arial; background-color: #ffffff;\">At least \u003c/span>\u003cspan style=\"font-size: 11pt; font-family: Arial; background-color: #ffffff;\">6 players, 1 woman min, to start game\u003c/span>\u003c/p>\u003cp style=\"line-height: 1.2; margin-top: 0pt; margin-bottom: 0pt;\">\u003cspan style=\"font-size: 11pt; font-family: Arial; background-color: #ffffff;\">No more than 3 men can bat in a row\u003c/span>\u003c/p>\u003cp style=\"line-height: 1.2; margin-top: 0pt; margin-bottom: 0pt;\">\u003cspan style=\"font-size: 11pt; font-family: Arial; background-color: #ffffff;\">Gloves are not provided. Please bring your own.\u003c/span>\u003c/p>\u003cp style=\"line-height: 1.2; margin-top: 0pt; margin-bottom: 0pt;\">\u003cspan style=\"font-size: 11pt; font-family: Arial; background-color: #ffffff;\">NO METAL SPIKES\u003c/span>\u003c/p>\u003cp style=\"line-height: 1.2; margin-top: 0pt; margin-bottom: 0pt;\">\u003cbr>\u003c/p>\u003cp style=\"line-height: 1.2; margin-top: 4pt; margin-bottom: 4pt;\">\u003cstrong>\u003cspan style=\"font-size: 11pt; font-family: Arial;\">Playoffs\u003c/span>\u003c/strong>\u003c/p>\u003cp style=\"line-height: 1.2; margin-top: 4pt; margin-bottom: 4pt;\">\u003cspan style=\"font-size: 11.5pt; font-family: Arial; color: #1d1c1d;\">Top 50% teams will make playoffs\u003c/span>\u003c/p>\u003cp style=\"line-height: 1.2; margin-top: 4pt; margin-bottom: 4pt;\">\u003cspan style=\"font-size: 11.5pt; font-family: Arial; color: #1d1c1d;\">*Additional teams may be added to playoffs if schedules / venue space allow\u003c/span>\u003c/p>\u003cp style=\"line-height: 1.2; margin-top: 4pt; margin-bottom: 4pt;\">\u003cbr>\u003c/p>\u003cp style=\"line-height: 1.2; margin-top: 4pt; margin-bottom: 4pt;\">\u003cstrong>End of season Party will be 6/30 and is included with registration where you can celebrate your season with some free drinks at Volo's new facility The PARK. All spring players will be emailed a code to sign up for free. \u003ca data-fr-linked=\"true\" href=\"//www.volosports.com/d/6435b9eaa520b1a82e834320\">www.volosports.com/d/6435b9eaa520b1a82e834320\u003c/a>\u003c/strong>\u003c/p>"},"activityName":"Softball","programType":"LEAGUE"},"League:64401d417acdcd18827df82b":{"__typename":"League","_id":"64401d417acdcd18827df82b","name":"Softball (Competitive Coed) - Wednesday - Patterson Park - Ortman Field (Canton) - June 2023","featured_order":null,"schedule":{"__typename":"Schedule","start_date":"2023-06-14T16:00:00.000Z"},"details":{"__typename":"LeagueDetails","description":"\u003cp id=\"isPasted\">Hit it over to Patterson Park to run the bases and enjoy the vibes with your team! Don't forget to take a short walk to the sponsor bar with your team! \u003c/p>\u003cp>\u003cbr>\u003c/p>\u003cp style=\"line-height: 1.2; margin-top: 0pt; margin-bottom: 0pt;\">\u003cspan style=\"font-size: 11pt; font-family: Arial; background-color: #ffffff;\">\u003cstrong>Coed League\u003c/strong>\u003c/span>\u003c/p>\u003cp style=\"line-height: 1.2; margin-top: 0pt; margin-bottom: 0pt;\">\u003cspan style=\"font-size: 11pt; font-family: Arial; background-color: #ffffff;\">10 max total, 7 men players max on the field\u003c/span>\u003c/p>\u003cp style=\"line-height: 1.2; margin-top: 0pt; margin-bottom: 0pt;\">\u003cspan style=\"font-size: 11pt; font-family: Arial; background-color: #ffffff;\">Pitch count starts 1-1 \u003c/span>\u003c/p>\u003cp style=\"line-height: 1.2; margin-top: 0pt; margin-bottom: 0pt;\">\u003cspan style=\"font-size: 11pt; font-family: Arial; background-color: #ffffff;\">At least \u003c/span>\u003cspan style=\"font-size: 11pt; font-family: Arial; background-color: #ffffff;\">6 players, 1 woman min, to start game\u003c/span>\u003c/p>\u003cp style=\"line-height: 1.2; margin-top: 0pt; margin-bottom: 0pt;\">\u003cspan style=\"font-size: 11pt; font-family: Arial; background-color: #ffffff;\">No more than 3 men can bat in a row\u003c/span>\u003c/p>\u003cp style=\"line-height: 1.2; margin-top: 0pt; margin-bottom: 0pt;\">\u003cspan style=\"font-size: 11pt; font-family: Arial; background-color: #ffffff;\">Gloves are not provided. Please bring your own.\u003c/span>\u003c/p>\u003cp style=\"line-height: 1.2; margin-top: 0pt; margin-bottom: 0pt;\">\u003cspan style=\"font-size: 11pt; font-family: Arial; background-color: #ffffff;\">NO METAL SPIKES\u003c/span>\u003c/p>\u003cp style=\"line-height: 1.2; margin-top: 0pt; margin-bottom: 0pt;\">\u003cbr>\u003c/p>\u003cp style=\"line-height: 1.2; margin-top: 4pt; margin-bottom: 4pt;\">\u003cstrong>\u003cspan style=\"font-size: 11pt; font-family: Arial;\">Playoffs\u003c/span>\u003c/strong>\u003c/p>\u003cp style=\"line-height: 1.2; margin-top: 4pt; margin-bottom: 4pt;\">\u003cspan style=\"font-size: 11.5pt; font-family: Arial; color: #1d1c1d;\">Top 50% teams will make playoffs\u003c/span>\u003c/p>\u003cp style=\"line-height: 1.2; margin-top: 4pt; margin-bottom: 4pt;\">\u003cspan style=\"font-size: 11.5pt; font-family: Arial; color: #1d1c1d;\">*Additional teams may be added to playoffs if schedules / venue space allow\u003c/span>\u003c/p>\u003cp style=\"line-height: 1.2; margin-top: 4pt; margin-bottom: 4pt;\">\u003cbr>\u003c/p>\u003cp style=\"line-height: 1.2; margin-top: 4pt; margin-bottom: 4pt;\">\u003cstrong>End of season Party will be 6/30 and is included with registration where you can celebrate your season with some free drinks at Volo's new facility The PARK. All spring players will be emailed a code to sign up for free. \u003ca data-fr-linked=\"true\" href=\"//www.volosports.com/d/6435b9eaa520b1a82e834320\">www.volosports.com/d/6435b9eaa520b1a82e834320\u003c/a>\u003c/strong>\u003c/p>"},"activityName":"Softball","programType":"LEAGUE"},"League:64401d417acdcd18827df81b":{"__typename":"League","_id":"64401d417acdcd18827df81b","name":"Softball (Coed) - Tuesday - Swann Park (Federal Hill) - June 2023","featured_order":null,"schedule":{"__typename":"Schedule","start_date":"2023-06-13T16:00:00.000Z"},"details":{"__typename":"LeagueDetails","description":"\u003cp id=\"isPasted\">Jumpstart your week by playing softball in one of the best fields Federal Hill has to offer! Don't forget to take a short walk to the sponsor bar with your team! \u003c/p>\u003cp>\u003cbr>\u003c/p>\u003cp style=\"line-height: 1.2; margin-top: 0pt; margin-bottom: 0pt;\">\u003cspan style=\"font-size: 11pt; font-family: Arial; background-color: #ffffff;\">Coed League\u003c/span>\u003c/p>\u003cp style=\"line-height: 1.2; margin-top: 0pt; margin-bottom: 0pt;\">\u003cspan style=\"font-size: 11pt; font-family: Arial; background-color: #ffffff;\">10 max total, 7 men max on the field\u003c/span>\u003c/p>\u003cp style=\"line-height: 1.2; margin-top: 0pt; margin-bottom: 0pt;\">\u003cspan style=\"font-size: 11pt; font-family: Arial; background-color: #ffffff;\">Pitch count starts 1-1 \u003c/span>\u003c/p>\u003cp style=\"line-height: 1.2; margin-top: 0pt; margin-bottom: 0pt;\">\u003cspan style=\"font-size: 11pt; font-family: Arial; background-color: #ffffff;\">At least \u003c/span>\u003cspan style=\"font-size: 11pt; font-family: Arial; background-color: #ffffff;\">6 players, 1 woman min, to start game\u003c/span>\u003c/p>\u003cp style=\"line-height: 1.2; margin-top: 0pt; margin-bottom: 0pt;\">\u003cspan style=\"font-size: 11pt; font-family: Arial; background-color: #ffffff;\">No more than 3 men can bat in a row\u003c/span>\u003c/p>\u003cp style=\"line-height: 1.2; margin-top: 0pt; margin-bottom: 0pt;\">\u003cspan style=\"font-size: 11pt; font-family: Arial; background-color: #ffffff;\">Gloves are not provided. Please bring your own.\u003c/span>\u003c/p>\u003cp style=\"line-height: 1.2; margin-top: 0pt; margin-bottom: 0pt;\">\u003cspan style=\"font-size: 11pt; font-family: Arial; background-color: #ffffff;\">NO METAL SPIKES\u003c/span>\u003c/p>\u003cp style=\"line-height: 1.2; margin-top: 0pt; margin-bottom: 0pt;\">\u003cbr>\u003c/p>\u003cp style=\"line-height: 1.2; margin-top: 4pt; margin-bottom: 4pt;\">\u003cstrong>\u003cspan style=\"font-size: 11pt; font-family: Arial;\">Playoffs\u003c/span>\u003c/strong>\u003c/p>\u003cp style=\"line-height: 1.2; margin-top: 4pt; margin-bottom: 4pt;\">\u003cspan style=\"font-size: 11.5pt; font-family: Arial; color: #1d1c1d;\">Top 50% teams will make playoffs\u003c/span>\u003c/p>\u003cp style=\"line-height: 1.2; margin-top: 4pt; margin-bottom: 4pt;\">\u003cspan style=\"font-size: 11.5pt; font-family: Arial; color: #1d1c1d;\">*Additional teams may be added to playoffs if schedules / venue space allow\u003c/span>\u003c/p>\u003cp style=\"line-height: 1.2; margin-top: 4pt; margin-bottom: 4pt;\">\u003cbr>\u003c/p>\u003cp style=\"line-height: 1.2; margin-top: 4pt; margin-bottom: 4pt;\">\u003cstrong>End of season Party will be 6/30 and is included with registration where you can celebrate your season with some free drinks at Volo's new facility The PARK. All spring players will be emailed a code to sign up for free. \u003ca data-fr-linked=\"true\" href=\"//www.volosports.com/d/6435b9eaa520b1a82e834320\">www.volosports.com/d/6435b9eaa520b1a82e834320\u003c/a>\u003c/strong>\u003c/p>"},"activityName":"Softball","programType":"LEAGUE"},"League:64401d417acdcd18827df809":{"__typename":"League","_id":"64401d417acdcd18827df809","name":"Softball (Coed) - Wednesday - Fort Holabird Park (Canton) - July 2023","featured_order":null,"schedule":{"__typename":"Schedule","start_date":"2023-07-19T16:00:00.000Z"},"details":{"__typename":"LeagueDetails","description":"\u003cp id=\"isPasted\">Change up your routine in the middle of the week and come play softball at the recently renovated Fort Holabird Park! \u003c/p>\u003cp>\u003cbr>\u003c/p>\u003cp id=\"isPasted\" style=\"line-height: 1.2; margin-top: 0pt; margin-bottom: 0pt;\">\u003cspan style=\"font-size: 11pt; font-family: Arial; background-color: #ffffff;\">Coed League\u003c/span>\u003c/p>\u003cp style=\"line-height: 1.2; margin-top: 0pt; margin-bottom: 0pt;\">\u003cspan style=\"font-size: 11pt; font-family: Arial; background-color: #ffffff;\">10 max total, 7 men max on the field\u003c/span>\u003c/p>\u003cp style=\"line-height: 1.2; margin-top: 0pt; margin-bottom: 0pt;\">\u003cspan style=\"font-size: 11pt; font-family: Arial; background-color: #ffffff;\">Pitch count starts 1-1 \u003c/span>\u003c/p>\u003cp style=\"line-height: 1.2; margin-top: 0pt; margin-bottom: 0pt;\">\u003cspan style=\"font-size: 11pt; font-family: Arial; background-color: #ffffff;\">At least \u003c/span>\u003cspan style=\"font-size: 11pt; font-family: Arial; background-color: #ffffff;\">6 players, 1 woman min, to start game\u003c/span>\u003c/p>\u003cp style=\"line-height: 1.2; margin-top: 0pt; margin-bottom: 0pt;\">\u003cspan style=\"font-size: 11pt; font-family: Arial; background-color: #ffffff;\">No more than 3 men can bat in a row\u003c/span>\u003c/p>\u003cp style=\"line-height: 1.2; margin-top: 0pt; margin-bottom: 0pt;\">\u003cspan style=\"font-size: 11pt; font-family: Arial; background-color: #ffffff;\">Gloves are not provided. Please bring your own.\u003c/span>\u003c/p>\u003cp style=\"line-height: 1.2; margin-top: 0pt; margin-bottom: 0pt;\">\u003cspan style=\"font-size: 11pt; font-family: Arial; background-color: #ffffff;\">NO METAL SPIKES\u003c/span>\u003c/p>\u003cp style=\"line-height: 1.2; margin-top: 0pt; margin-bottom: 0pt;\">\u003cbr>\u003c/p>\u003cp style=\"line-height: 1.2; margin-top: 4pt; margin-bottom: 4pt;\">\u003cstrong>\u003cspan style=\"font-size: 11pt; font-family: Arial;\">Playoffs\u003c/span>\u003c/strong>\u003c/p>\u003cp style=\"line-height: 1.2; margin-top: 4pt; margin-bottom: 4pt;\">\u003cspan style=\"font-size: 11.5pt; font-family: Arial; color: #1d1c1d;\">Top 50% teams will make playoffs\u003c/span>\u003c/p>\u003cp style=\"line-height: 1.2; margin-top: 4pt; margin-bottom: 4pt;\">\u003cspan style=\"font-size: 11.5pt; font-family: Arial; color: #1d1c1d;\">*Additional teams may be added to playoffs if schedules / venue space allow\u003c/span>\u003c/p>\u003cp style=\"line-height: 1.2; margin-top: 4pt; margin-bottom: 4pt;\">\u003cbr>\u003c/p>\u003cp style=\"line-height: 1.2; margin-top: 4pt; margin-bottom: 4pt;\">\u003cstrong>End of season Party will be 6/24 and is included with registration where you can celebrate your season with some free drinks at Volo's new facility The PARK. All spring players will be emailed a code to sign up for free. \u003ca data-fr-linked=\"true\" href=\"//www.volosports.com/d/6435b9eaa520b1a82e834320\">www.volosports.com/d/6435b9eaa520b1a82e834320\u003c/a>\u003c/strong>\u003c/p>"},"activityName":"Softball","programType":"LEAGUE"},"League:64401d417acdcd18827df7f7":{"__typename":"League","_id":"64401d417acdcd18827df7f7","name":"Coed Woodbat Softball - Tuesday - SBLL (Formerly McHenry Row) (Federal Hill) - July 2023","featured_order":null,"schedule":{"__typename":"Schedule","start_date":"2023-07-18T16:00:00.000Z"},"details":{"__typename":"LeagueDetails","description":"\u003cp id=\"isPasted\">TuesdayjoyNight Softball is back! Wnhby gathering your friends and playing softball in Federal Hill!\u003c/p>\u003cp>\u003cbr>\u003c/p>\u003cp style=\"line-height: 1.2; margin-top: 0pt; margin-bottom: 0pt;\">\u003cspan style=\"font-size: 11pt; font-family: Arial; background-color: #ffffff;\">Coed League\u003c/span>\u003c/p>\u003cp style=\"line-height: 1.2; margin-top: 0pt; margin-bottom: 0pt;\">\u003cspan style=\"font-size: 11pt; font-family: Arial; background-color: #ffffff;\">Wood Bat Only \u003c/span>\u003c/p>\u003cp style=\"line-height: 1.2; margin-top: 0pt; margin-bottom: 0pt;\">\u003cspan style=\"font-size: 11pt; font-family: Arial; background-color: #ffffff;\">10 max total, 7 men max on the field\u003c/span>\u003c/p>\u003cp style=\"line-height: 1.2; margin-top: 0pt; margin-bottom: 0pt;\">\u003cspan style=\"font-size: 11pt; font-family: Arial; background-color: #ffffff;\">Pitch count starts 1-1 \u003c/span>\u003c/p>\u003cp style=\"line-height: 1.2; margin-top: 0pt; margin-bottom: 0pt;\">\u003cspan style=\"font-size: 11pt; font-family: Arial; background-color: #ffffff;\">At least 6 players required to start game\u003c/span>\u003c/p>\u003cp style=\"line-height: 1.2; margin-top: 0pt; margin-bottom: 0pt;\">\u003cspan style=\"font-size: 11pt; font-family: Arial; background-color: #ffffff;\">6 players, 1 woman min, to start game\u003c/span>\u003c/p>\u003cp style=\"line-height: 1.2; margin-top: 0pt; margin-bottom: 0pt;\">\u003cspan style=\"font-size: 11pt; font-family: Arial; background-color: #ffffff;\">No more than 3 men can bat in a row\u003c/span>\u003c/p>\u003cp style=\"line-height: 1.2; margin-top: 0pt; margin-bottom: 0pt;\">\u003cspan style=\"font-size: 11pt; font-family: Arial; background-color: #ffffff;\">Gloves are not provided. Please bring your own.\u003c/span>\u003c/p>\u003cp style=\"line-height: 1.2; margin-top: 0pt; margin-bottom: 0pt;\">\u003cspan style=\"font-size: 11pt; font-family: Arial; background-color: #ffffff;\">NO METAL SPIKES\u003c/span>\u003c/p>\u003cp style=\"line-height: 1.2; margin-top: 0pt; margin-bottom: 0pt;\">\u003cspan style=\"font-size: 11pt; font-family: Arial; background-color: #ffffff;\">No ump fees\u003c/span>\u003c/p>\u003cp style=\"line-height: 1.2; margin-top: 0pt; margin-bottom: 0pt;\">\u003cbr>\u003c/p>\u003cp style=\"line-height: 1.2; margin-top: 4pt; margin-bottom: 4pt;\">\u003cstrong>\u003cspan style=\"font-size: 11pt; font-family: Arial;\">Playoffs\u003c/span>\u003c/strong>\u003c/p>\u003cp style=\"line-height: 1.2; margin-top: 4pt; margin-bottom: 4pt;\">\u003cspan style=\"font-size: 11.5pt; font-family: Arial; color: #1d1c1d;\">Top 50% teams will make playoffs\u003c/span>\u003c/p>\u003cp style=\"line-height: 1.2; margin-top: 4pt; margin-bottom: 4pt;\">\u003cspan style=\"font-size: 11.5pt; font-family: Arial; color: #1d1c1d;\">*Additional teams may be added to playoffs if schedules / venue space allow\u003c/span>\u003c/p>\u003cp style=\"line-height: 1.2; margin-top: 4pt; margin-bottom: 4pt;\">\u003cbr>\u003c/p>\u003cp>\u003cstrong>End of season Party will be 6/24 and is included with registration where you can celebrate your season with some free drinks at Volo's new facility The PARK. All spring players will be emailed a code to sign up for free. \u003ca href=\"//www.volosports.com/d/6435b9eaa520b1a82e834320\">www.volosports.com/d/6435b9eaa520b1a82e834320\u003c/a>\u003c/strong>\u003c/p>\u003cp>\u003cstrong>CODE: PARKPARTY\u003c/strong>\u003c/p>\u003cp style=\"line-height: 1.2; margin-top: 4pt; margin-bottom: 4pt;\">\u003cbr>\u003c/p>\u003cp style=\"line-height: 1.2; margin-top: 4pt; margin-bottom: 4pt;\">\u003cbr>\u003c/p>\u003cp dir=\"ltr\" style=\"line-height:1.38;text-align: center;margin-top:0pt;margin-bottom:0pt;\">\u003ca href=\"http://bit.ly/3nL2KGg\" style=\"text-decoration:none;\">\u003cspan style=\"font-size:11pt;font-family:Calibri,sans-serif;color:#1155cc;background-color:transparent;font-weight:400;font-style:normal;font-variant:normal;text-decoration:underline;-webkit-text-decoration-skip:none;text-decoration-skip-ink:none;vertical-align:baseline;white-space:pre;white-space:pre-wrap;\">\u003cspan style=\"border:none;display:inline-block;overflow:hidden;width:390px;height:130px;\">\u003cimg src=\"https://s3.amazonaws.com/rivall-user-uploads/prodUploads/orgEmailPicturesFolder/624b6905f214b16cfc304ee2_1680820383585.png\" width=\"390\" height=\"130\" class=\"fr-fic fr-dii\">\u003c/span>\u003c/span>\u003c/a>\u003c/p>\u003cp>\u003cspan style=\"font-size:11pt;font-family:Calibri,sans-serif;color:#000000;background-color:transparent;font-weight:400;font-style:normal;font-variant:normal;text-decoration:none;vertical-align:baseline;white-space:pre;white-space:pre-wrap;\">Play Ball! Take advantage of our exclusive DraftKings Sportsbook sign up offer and save $50 on your next Volo Baltimore league with any $5+ bet! Must sign up with promo code: VOLO150. \u003c/span>\u003ca href=\"http://bit.ly/3nL2KGg\" style=\"text-decoration:none;\">\u003cspan style=\"font-size:11pt;font-family:Calibri,sans-serif;color:#1155cc;background-color:transparent;font-weight:400;font-style:normal;font-variant:normal;text-decoration:underline;-webkit-text-decoration-skip:none;text-decoration-skip-ink:none;vertical-align:baseline;white-space:pre;white-space:pre-wrap;\">SAVE $50 NOW!\u003c/span>\u003c/a>\u003c/p>"},"activityName":"Softball","programType":"LEAGUE"},"League:64401d417acdcd18827df7d3":{"__typename":"League","_id":"64401d417acdcd18827df7d3","name":"Softball (Coed) - Monday - Swann Park (Federal Hill) - June 2023","featured_order":null,"schedule":{"__typename":"Schedule","start_date":"2023-06-12T16:00:00.000Z"},"details":{"__typename":"LeagueDetails","description":"\u003cp id=\"isPasted\">Jumpstart your week by playing softball in one of the best fields Federal Hill has to offer! Don't forget to take a walk to the sponsor bar with your team! \u003c/p>\u003cp>\u003cbr>\u003c/p>\u003cp style=\"line-height: 1.2; margin-top: 0pt; margin-bottom: 0pt;\">\u003cspan style=\"font-size: 11pt; font-family: Arial; background-color: #ffffff;\">Coed League\u003c/span>\u003c/p>\u003cp style=\"line-height: 1.2; margin-top: 0pt; margin-bottom: 0pt;\">\u003cspan style=\"font-size: 11pt; font-family: Arial; background-color: #ffffff;\">10 max total, 7 male players max on the field\u003c/span>\u003c/p>\u003cp style=\"line-height: 1.2; margin-top: 0pt; margin-bottom: 0pt;\">\u003cspan style=\"font-size: 11pt; font-family: Arial; background-color: #ffffff;\">Pitch count starts 1-1 \u003c/span>\u003c/p>\u003cp style=\"line-height: 1.2; margin-top: 0pt; margin-bottom: 0pt;\">\u003cspan style=\"font-size: 11pt; font-family: Arial; background-color: #ffffff;\">At least \u003c/span>\u003cspan style=\"font-size: 11pt; font-family: Arial; background-color: #ffffff;\">6 players, 1 woman min, to start game\u003c/span>\u003c/p>\u003cp style=\"line-height: 1.2; margin-top: 0pt; margin-bottom: 0pt;\">\u003cspan style=\"font-size: 11pt; font-family: Arial; background-color: #ffffff;\">No more than 3 men can bat in a row\u003c/span>\u003c/p>\u003cp style=\"line-height: 1.2; margin-top: 0pt; margin-bottom: 0pt;\">\u003cspan style=\"font-size: 11pt; font-family: Arial; background-color: #ffffff;\">Gloves are not provided. Please bring your own.\u003c/span>\u003c/p>\u003cp style=\"line-height: 1.2; margin-top: 0pt; margin-bottom: 0pt;\">\u003cspan style=\"font-size: 11pt; font-family: Arial; background-color: #ffffff;\">NO METAL SPIKES\u003c/span>\u003c/p>\u003cp style=\"line-height: 1.2; margin-top: 0pt; margin-bottom: 0pt;\">\u003cbr>\u003c/p>\u003cp style=\"line-height: 1.2; margin-top: 4pt; margin-bottom: 4pt;\">\u003cstrong>\u003cspan style=\"font-size: 11pt; font-family: Arial;\">Playoffs\u003c/span>\u003c/strong>\u003c/p>\u003cp style=\"line-height: 1.2; margin-top: 4pt; margin-bottom: 4pt;\">\u003cspan style=\"font-size: 11.5pt; font-family: Arial; color: #1d1c1d;\">Top 50% teams will make playoffs\u003c/span>\u003c/p>\u003cp style=\"line-height: 1.2; margin-top: 4pt; margin-bottom: 4pt;\">\u003cspan style=\"font-size: 11.5pt; font-family: Arial; color: #1d1c1d;\">*Additional teams may be added to playoffs if schedules / venue space allow\u003c/span>\u003c/p>\u003cp style=\"line-height: 1.2; margin-top: 4pt; margin-bottom: 4pt;\">\u003cbr>\u003c/p>\u003cp style=\"line-height: 1.2; margin-top: 4pt; margin-bottom: 4pt;\">\u003cstrong>End of season Party will be 6/30 and is included with registration where you can celebrate your season with some free drinks at Volo's new facility The PARK. All spring players will be emailed a code to sign up for free. \u003ca data-fr-linked=\"true\" href=\"//www.volosports.com/d/6435b9eaa520b1a82e834320\">www.volosports.com/d/6435b9eaa520b1a82e834320\u003c/a>\u003c/strong>\u003c/p>"},"activityName":"Softball","programType":"LEAGUE"},"League:64401d417acdcd18827df7cf":{"__typename":"League","_id":"64401d417acdcd18827df7cf","name":"Softball (Men) - Tuesday - Swann Park (Federal Hill) - June 2023","featured_order":null,"schedule":{"__typename":"Schedule","start_date":"2023-06-13T16:00:00.000Z"},"details":{"__typename":"LeagueDetails","description":"\u003cp id=\"isPasted\">Jumpstart your week by playing softball in one of the best fields Federal Hill has to offer! \u003c/p>\u003cp>\u003cbr>\u003c/p>\u003cp style=\"line-height: 1.2; margin-top: 0pt; margin-bottom: 0pt;\">\u003cspan style=\"font-size: 11pt; font-family: Arial; background-color: #ffffff;\">Men's League\u003c/span>\u003c/p>\u003cp style=\"line-height: 1.2; margin-top: 0pt; margin-bottom: 0pt;\">\u003cspan style=\"font-size: 11pt; font-family: Arial; background-color: #ffffff;\">10 max total on the field\u003c/span>\u003c/p>\u003cp style=\"line-height: 1.2; margin-top: 0pt; margin-bottom: 0pt;\">\u003cspan style=\"font-size: 11pt; font-family: Arial; background-color: #ffffff;\">Pitch count starts 1-1 \u003c/span>\u003c/p>\u003cp style=\"line-height: 1.2; margin-top: 0pt; margin-bottom: 0pt;\">\u003cspan style=\"font-size: 11pt; font-family: Arial; background-color: #ffffff;\">At least \u003c/span>\u003cspan style=\"font-size: 11pt; font-family: Arial; background-color: #ffffff;\">6 players required to start game\u003c/span>\u003c/p>\u003cp style=\"line-height: 1.2; margin-top: 0pt; margin-bottom: 0pt;\">\u003cspan style=\"font-size: 11pt; font-family: Arial; background-color: #ffffff;\">Gloves are not provided. Please bring your own.\u003c/span>\u003c/p>\u003cp style=\"line-height: 1.2; margin-top: 0pt; margin-bottom: 0pt;\">\u003cspan style=\"font-size: 11pt; font-family: Arial; background-color: #ffffff;\">NO METAL SPIKES\u003c/span>\u003c/p>\u003cp style=\"line-height: 1.2; margin-top: 0pt; margin-bottom: 0pt;\">\u003cbr>\u003c/p>\u003cp style=\"line-height: 1.2; margin-top: 4pt; margin-bottom: 4pt;\">\u003cstrong>\u003cspan style=\"font-size: 11pt; font-family: Arial;\">Playoffs\u003c/span>\u003c/strong>\u003c/p>\u003cp style=\"line-height: 1.2; margin-top: 4pt; margin-bottom: 4pt;\">\u003cspan style=\"font-size: 11.5pt; font-family: Arial; color: #1d1c1d;\">Top 50% teams will make playoffs\u003c/span>\u003c/p>\u003cp style=\"line-height: 1.2; margin-top: 4pt; margin-bottom: 4pt;\">\u003cspan style=\"font-size: 11.5pt; font-family: Arial; color: #1d1c1d;\">*Additional teams may be added to playoffs if schedules / venue space allow\u003c/span>\u003c/p>\u003cp style=\"line-height: 1.2; margin-top: 4pt; margin-bottom: 4pt;\">\u003cbr>\u003c/p>\u003cp style=\"line-height: 1.2; margin-top: 4pt; margin-bottom: 4pt;\">\u003cstrong>End of season Party will be 6/30 and is included with registration where you can celebrate your season with some free drinks at Volo's new facility The PARK. All spring players will be emailed a code to sign up for free. \u003ca data-fr-linked=\"true\" href=\"//www.volosports.com/d/6435b9eaa520b1a82e834320\">www.volosports.com/d/6435b9eaa520b1a82e834320\u003c/a>\u003c/strong>\u003c/p>"},"activityName":"Softball","programType":"LEAGUE"},"League:64401d417acdcd18827df777":{"__typename":"League","_id":"64401d417acdcd18827df777","name":"Softball (Men) - Monday - Swann Park (Federal Hill) - June 2023","featured_order":null,"schedule":{"__typename":"Schedule","start_date":"2023-06-12T16:00:00.000Z"},"details":{"__typename":"LeagueDetails","description":"\u003cp id=\"isPasted\">Monday Night Softball is back! Jumpstart your week by playing softball in one of the best fields Federal Hill has to offer! \u003c/p>\u003cp>\u003cbr>\u003c/p>\u003cp style=\"line-height: 1.2; margin-top: 0pt; margin-bottom: 0pt;\">\u003cspan style=\"font-size: 11pt; font-family: Arial; background-color: #ffffff;\">Men's League\u003c/span>\u003c/p>\u003cp style=\"line-height: 1.2; margin-top: 0pt; margin-bottom: 0pt;\">\u003cspan style=\"font-size: 11pt; font-family: Arial; background-color: #ffffff;\">10 max total on the field\u003c/span>\u003c/p>\u003cp style=\"line-height: 1.2; margin-top: 0pt; margin-bottom: 0pt;\">\u003cspan style=\"font-size: 11pt; font-family: Arial; background-color: #ffffff;\">Pitch count starts 1-1 \u003c/span>\u003c/p>\u003cp style=\"line-height: 1.2; margin-top: 0pt; margin-bottom: 0pt;\">\u003cspan style=\"font-size: 11pt; font-family: Arial; background-color: #ffffff;\">At least \u003c/span>\u003cspan style=\"font-size: 11pt; font-family: Arial; background-color: #ffffff;\">6 players required to start game\u003c/span>\u003c/p>\u003cp style=\"line-height: 1.2; margin-top: 0pt; margin-bottom: 0pt;\">\u003cspan style=\"font-size: 11pt; font-family: Arial; background-color: #ffffff;\">Gloves are not provided. Please bring your own.\u003c/span>\u003c/p>\u003cp style=\"line-height: 1.2; margin-top: 0pt; margin-bottom: 0pt;\">\u003cspan style=\"font-size: 11pt; font-family: Arial; background-color: #ffffff;\">NO METAL SPIKES\u003c/span>\u003c/p>\u003cp style=\"line-height: 1.2; margin-top: 0pt; margin-bottom: 0pt;\">\u003cbr>\u003c/p>\u003cp style=\"line-height: 1.2; margin-top: 4pt; margin-bottom: 4pt;\">\u003cstrong>\u003cspan style=\"font-size: 11pt; font-family: Arial;\">Playoffs\u003c/span>\u003c/strong>\u003c/p>\u003cp style=\"line-height: 1.2; margin-top: 4pt; margin-bottom: 4pt;\">\u003cspan style=\"font-size: 11.5pt; font-family: Arial; color: #1d1c1d;\">Top 50% teams will make playoffs\u003c/span>\u003c/p>\u003cp style=\"line-height: 1.2; margin-top: 4pt; margin-bottom: 4pt;\">\u003cspan style=\"font-size: 11.5pt; font-family: Arial; color: #1d1c1d;\">*Additional teams may be added to playoffs if schedules / venue space allow\u003c/span>\u003c/p>\u003cp style=\"line-height: 1.2; margin-top: 4pt; margin-bottom: 4pt;\">\u003cbr>\u003c/p>\u003cp style=\"line-height: 1.2; margin-top: 4pt; margin-bottom: 4pt;\">\u003cstrong>End of season Party will be 6/30 and is included with registration where you can celebrate your season with some free drinks at Volo's new facility The PARK. All spring players will be emailed a code to sign up for free. \u003ca data-fr-linked=\"true\" href=\"//www.volosports.com/d/6435b9eaa520b1a82e834320\">www.volosports.com/d/6435b9eaa520b1a82e834320\u003c/a>\u003cbr>\u003c/strong>\u003c/p>\u003cp style=\"line-height: 1.2; margin-top: 4pt; margin-bottom: 4pt;\">\u003cbr>\u003c/p>\u003cp style=\"line-height: 1.2; margin-top: 4pt; margin-bottom: 4pt;\">\u003cbr>\u003c/p>\u003cp style=\"line-height: 1.2; margin-top: 4pt; margin-bottom: 4pt;\">\u003cbr>\u003c/p>"},"activityName":"Softball","programType":"LEAGUE"},"League:64401d417acdcd18827df751":{"__typename":"League","_id":"64401d417acdcd18827df751","name":"Men's Softball - Tuesday - The BOWL at Druid Hill Park (Hampden) - June 2023","featured_order":null,"schedule":{"__typename":"Schedule","start_date":"2023-06-13T16:00:00.000Z"},"details":{"__typename":"LeagueDetails","description":"\u003cp id=\"isPasted\">Change up your routine and come play softball at The BOWL! \u003c/p>\u003cp>\u003cbr>\u003c/p>\u003cp style=\"line-height: 1.2; margin-top: 0pt; margin-bottom: 0pt;\">\u003cspan style=\"font-size: 11pt; font-family: Arial; background-color: #ffffff;\">Men's League\u003c/span>\u003c/p>\u003cp style=\"line-height: 1.2; margin-top: 0pt; margin-bottom: 0pt;\">\u003cspan style=\"font-size: 11pt; font-family: Arial; background-color: #ffffff;\">10 max total on the field\u003c/span>\u003c/p>\u003cp style=\"line-height: 1.2; margin-top: 0pt; margin-bottom: 0pt;\">\u003cspan style=\"font-size: 11pt; font-family: Arial; background-color: #ffffff;\">Pitch count starts 1-1 \u003c/span>\u003c/p>\u003cp style=\"line-height: 1.2; margin-top: 0pt; margin-bottom: 0pt;\">\u003cspan style=\"font-size: 11pt; font-family: Arial; background-color: #ffffff;\">At least \u003c/span>\u003cspan style=\"font-size: 11pt; font-family: Arial; background-color: #ffffff;\">6 players required to start game\u003c/span>\u003c/p>\u003cp style=\"line-height: 1.2; margin-top: 0pt; margin-bottom: 0pt;\">\u003cspan style=\"font-size: 11pt; font-family: Arial; background-color: #ffffff;\">Gloves are not provided. Please