Overview
Each week you will play in 5 different bar games against your opponents to see who is the champion of bar games... consider it the bar olympics! Come out with friends as a team or as an individual to be on a team looking to enjoy friendly competition in arcade/bar style games and meet others for a fun night.
Program Types
league
Bar Olympics leagues
Volo sports leagues operate a lot like the sports leagues of your youth. Most of our leagues are 5 to 8 weeks and culminate in a series of playoff games to crown a champion! By competing in leagues, your team can also qualify for championship tournaments throughout the year to compete for city-wide, regional, and even national titles. A team t-shirt is always included with registration and you will receive it at your first game. Volo provides specially trained staff members, referees, equipment, and prizes for your game. After your games each week, you and your team will head over to one of our sponsor bars for some post-game fun! Volo hosts the best post-game social parties and you will have access to Volo exclusive food and drink specials. By participating in leagues, you will also enjoy special invitations to Volo events, often including an end of season party. We strive to keep the games fair, safe, and stress free so that all you need to do is show up, play, socialize, and have a great time!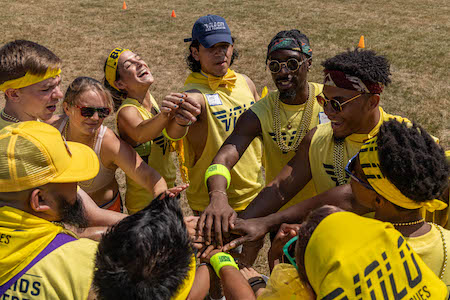 Available Formats
open N/A
Maximum Players on Field:
N/A  
Minimum Players to Start Game:
2  
Venues
Thriller Social Club
508 4th St, San Francisco, CA 94107, USA
Home of our Bar Games, Thriller is the perfect place to spend your night in our league meeting others and having a blast over your favorite styles of arcade/bar/carnival games!
Frequently Asked Questions