Overview
Join our Party Dodgeball leagues to learn how to duck, dodge, dip, dive and dodge! We offer super social dodgeball on Thursday to make the game social and fun! Come out, play, meet new people, and HAVE FUN. You can join our extremely social dodgeball league as a team, small group of friends, or solo as a free agent!
Program Types
league
Dodgeball leagues
Volo sports leagues operate a lot like the sports leagues of your youth. Most of our leagues are 5 to 8 weeks and culminate in a series of playoff games to crown a champion! By competing in leagues, your team can also qualify for championship tournaments throughout the year to compete for city-wide, regional, and even national titles. A team t-shirt is always included with registration and you will receive it at your first game. Volo provides specially trained staff members, referees, equipment, and prizes for your game. After your games each week, you and your team will head over to one of our sponsor bars for some post-game fun! Volo hosts the best post-game social parties and you will have access to Volo exclusive food and drink specials. By participating in leagues, you will also enjoy special invitations to Volo events, often including an end of season party. We strive to keep the games fair, safe, and stress free so that all you need to do is show up, play, socialize, and have a great time!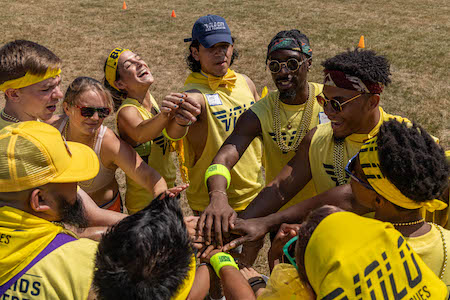 Competition Levels
Recreational dodgeball leagues are for players who have minimal to no experience. This level is geared toward people who want to have friendly competition and then head to the bar. Players at this level don't take the game too seriously, want to get in a good workout and/or socialize. This level is great for players who are new to dodgeball or are looking to get back into it without the pressure of winning.
Available Formats
coed 10v10
Maximum Players on Field:
10  
Minimum Players to Start Game:
6  | 2 Female
Venues
SF Italian Athletic Club
1630 Stockton St, San Francisco, CA 94133, USA
The perfect venue to play dodgeball!
Upcoming Dodgeball Events in San Francisco
Dodgeball (10v10 Coed) - Thursday - SF Italian Athletic Club (North Beach) - April 2023
Thursday, April 20 2023
Coed 7v7 recreational, yet all about having fun. Coed flag football are played in formats like 7v7 - and don't worry, flags and belts are provided! Each game offers gender requirements to keep competition friendly and fair\u003c/p>","format":"7v7","formatImage":{"__typename":"ImageType","url":""},"gender":"coed","maxPlayersOnField":{"__typename":"TotalsType","total":7,"male":5,"female":0},"minPlayersPerGame":{"__typename":"TotalsType","total":4,"male":0,"female":0},"minTeamSize":{"__typename":"TotalsType","total":12,"male":0,"female":3}},{"__typename":"FormatsType","description":"\u003cp>Competitive, yet all about having fun. Men's flag football is played in formats like 7v7 - and don't worry, flags and belts are provided! \u003c/p>","format":"7v7","formatImage":{"__typename":"ImageType","url":""},"gender":"men","maxPlayersOnField":{"__typename":"TotalsType","total":7,"male":0,"female":0},"minPlayersPerGame":{"__typename":"TotalsType","total":4,"male":0,"female":0},"minTeamSize":{"__typename":"TotalsType","total":12,"male":0,"female":0}}]},{"__typename":"SportDetails","sportName":"Frisbee","hideSport":true,"notes":"","hero":{"__typename":"HeroType","heroText":"","heroSubText":null,"heroImage":{"__typename":"HeroImageType","image":{"__typename":"ImageType","name":"","url":""}},"heroCta":{"__typename":"HeroCtaType","text":"","url":"","newTab":false}},"stylesOfPlay":null,"faq":[],"programTypes":[{"__typename":"ProgramTypesType","hide":false,"name":"league","description":{"__typename":"ProgramTypeDescriptionType","isCustom":false,"text":""},"programImage":{"__typename":"ImageType","name":null,"url":null}},{"__typename":"ProgramTypesType","hide":false,"name":"tournament","description":{"__typename":"ProgramTypeDescriptionType","isCustom":false,"text":""},"programImage":{"__typename":"ImageType","name":null,"url":null}},{"__typename":"ProgramTypesType","hide":false,"name":"practice","description":{"__typename":"ProgramTypeDescriptionType","isCustom":false,"text":""},"programImage":{"__typename":"ImageType","name":null,"url":null}},{"__typename":"ProgramTypesType","hide":false,"name":"pickup","description":{"__typename":"ProgramTypeDescriptionType","isCustom":false,"text":""},"programImage":{"__typename":"ImageType","name":null,"url":null}},{"__typename":"ProgramTypesType","hide":false,"name":"dropin","description":{"__typename":"ProgramTypeDescriptionType","isCustom":false,"text":""},"programImage":{"__typename":"ImageType","name":null,"url":null}},{"__typename":"ProgramTypesType","hide":false,"name":"volunteer_event","description":{"__typename":"ProgramTypeDescriptionType","isCustom":false,"text":""},"programImage":{"__typename":"ImageType","name":null,"url":null}},{"__typename":"ProgramTypesType","hide":false,"name":"volunteer_league","description":{"__typename":"ProgramTypeDescriptionType","isCustom":false,"text":""},"programImage":{"__typename":"ImageType","name":null,"url":null}},{"__typename":"ProgramTypesType","hide":false,"name":"class","description":{"__typename":"ProgramTypeDescriptionType","isCustom":false,"text":""},"programImage":{"__typename":"ImageType","name":null,"url":null}},{"__typename":"ProgramTypesType","hide":false,"name":"clinic","description":{"__typename":"ProgramTypeDescriptionType","isCustom":false,"text":""},"programImage":{"__typename":"ImageType","name":null,"url":null}},{"__typename":"ProgramTypesType","hide":false,"name":"series","description":{"__typename":"ProgramTypeDescriptionType","isCustom":false,"text":""},"programImage":{"__typename":"ImageType","name":null,"url":null}}],"competitionLevels":[{"__typename":"CompetitionLevelsType","hidden":false,"level":"Super Social","description":""},{"__typename":"CompetitionLevelsType","hidden":false,"level":"Recreational","description":""},{"__typename":"CompetitionLevelsType","hidden":false,"level":"Intermediate","description":""},{"__typename":"CompetitionLevelsType","hidden":false,"level":"Upper Intermediate","description":""},{"__typename":"CompetitionLevelsType","hidden":false,"level":"Competitive","description":""}],"formats":[]},{"__typename":"SportDetails","sportName":"Futsal","hideSport":false,"notes":"\u003cp>Volo 5v5 futsal leagues are taking off! With offerings for 7 week leagues or daily pickups games, we have you covered from the Marina to Potrero Hill!\u003c/p>","hero":{"__typename":"HeroType","heroText":"Futsal in San Francisco","heroSubText":"\u003cp>Join this hot new sport to Volo SF: Futsal! Our futsal leagues are selling out, so register today!\u003c/p>","heroImage":{"__typename":"HeroImageType","image":{"__typename":"ImageType","name":"100.png","url":"https://s3.amazonaws.com/rivall-user-uploads/prodUploads/citySportHeroFolder/100.png"}},"heroCta":{"__typename":"HeroCtaType","text":"","url":"","newTab":false}},"stylesOfPlay":null,"faq":[],"programTypes":[{"__typename":"ProgramTypesType","hide":false,"name":"league","description":{"__typename":"ProgramTypeDescriptionType","isCustom":false,"text":""},"programImage":{"__typename":"ImageType","name":null,"url":null}},{"__typename":"ProgramTypesType","hide":true,"name":"tournament","description":{"__typename":"ProgramTypeDescriptionType","isCustom":false,"text":""},"programImage":{"__typename":"ImageType","name":null,"url":null}},{"__typename":"ProgramTypesType","hide":true,"name":"practice","description":{"__typename":"ProgramTypeDescriptionType","isCustom":false,"text":""},"programImage":{"__typename":"ImageType","name":null,"url":null}},{"__typename":"ProgramTypesType","hide":true,"name":"pickup","description":{"__typename":"ProgramTypeDescriptionType","isCustom":false,"text":""},"programImage":{"__typename":"ImageType","name":null,"url":null}},{"__typename":"ProgramTypesType","hide":false,"name":"dropin","description":{"__typename":"ProgramTypeDescriptionType","isCustom":false,"text":""},"programImage":{"__typename":"ImageType","name":null,"url":null}},{"__typename":"ProgramTypesType","hide":false,"name":"volunteer_event","description":{"__typename":"ProgramTypeDescriptionType","isCustom":false,"text":""},"programImage":{"__typename":"ImageType","name":null,"url":null}},{"__typename":"ProgramTypesType","hide":true,"name":"volunteer_league","description":{"__typename":"ProgramTypeDescriptionType","isCustom":false,"text":""},"programImage":{"__typename":"ImageType","name":null,"url":null}},{"__typename":"ProgramTypesType","hide":true,"name":"class","description":{"__typename":"ProgramTypeDescriptionType","isCustom":false,"text":""},"programImage":{"__typename":"ImageType","name":null,"url":null}},{"__typename":"ProgramTypesType","hide":true,"name":"clinic","description":{"__typename":"ProgramTypeDescriptionType","isCustom":false,"text":""},"programImage":{"__typename":"ImageType","name":null,"url":null}},{"__typename":"ProgramTypesType","hide":true,"name":"series","description":{"__typename":"ProgramTypeDescriptionType","isCustom":false,"text":""},"programImage":{"__typename":"ImageType","name":null,"url":null}}],"competitionLevels":[{"__typename":"CompetitionLevelsType","hidden":false,"level":"Super Social","description":""},{"__typename":"CompetitionLevelsType","hidden":false,"level":"Recreational","description":""},{"__typename":"CompetitionLevelsType","hidden":false,"level":"Intermediate","description":""},{"__typename":"CompetitionLevelsType","hidden":false,"level":"Upper Intermediate","description":""},{"__typename":"CompetitionLevelsType","hidden":false,"level":"Competitive","description":""}],"formats":[{"__typename":"FormatsType","description":"5v5","format":"5v5","formatImage":{"__typename":"ImageType","url":""},"gender":"coed","maxPlayersOnField":{"__typename":"TotalsType","total":5,"male":0,"female":1},"minPlayersPerGame":{"__typename":"TotalsType","total":3,"male":0,"female":1},"minTeamSize":{"__typename":"TotalsType","total":10,"male":0,"female":1}}]},{"__typename":"SportDetails","sportName":"Kickball","hideSport":false,"notes":"\u003cp>Relive your recess glory days! Kickball, one of our most popular and social sports, is played throughout San Francisco including North Beach, Fillmore, Potreto Hill and more! Cultivate new friendships, meet you next significant other or use it as a reason to get your crew together each week! Flip Cup is also included in the kickball standings as your team will face off at our sponsor bar after the game! Volo offers different formats of kickball with regular 11v11 and Cup in Hand ( Sign up to play any of our kickball formats and you're sure to join a social group of people ready to mingle.\u003c/p>","hero":{"__typename":"HeroType","heroText":"San Francisco's Most Social Kickball League","heroSubText":"\u003cp>Play in a league close to you! Leagues all throughout the city!\u003c/p>","heroImage":{"__typename":"HeroImageType","image":{"__typename":"ImageType","name":"Screen Shot 2021-03-31 at 3.26.44 PM.png","url":"https://s3.amazonaws.com/rivall-user-uploads/prodUploads/citySportHeroFolder/Screen Shot 2021-03-31 at 3.26.44 PM.png"}},"heroCta":{"__typename":"HeroCtaType","text":"Find Kickball Leagues","url":"https://www.volosports.com/discover?cityName=San%20Francisco&sportNames[]=Kickball","newTab":false}},"stylesOfPlay":[{"__typename":"StylesOfPlayType","title":"Traditional","description":"Traditional leagues consist of 6 innings or 45-minute games, whichever comes first. With a maximum of 11 players on the field, including catcher, remember that you'll need at least 6 players to complete. Our traditional leagues includes a flip cup competition at the bar! Kickball wins are worth 2 points and flip cup wins are worth 1 point. \n","image":null}],"faq":[{"__typename":"FAQType","answer":"A premiere, FUN experience! Plan to arrive at the field 10-15 minutes before game time to meet up with your teammates and get ready to play in your Volo kickball league.","question":"What can I expect at a Volo Kickball League?"},{"__typename":"FAQType","answer":"We're all about being social here at Volo! Volo Kickball Leagues are all about having a good time and meeting new people. ","question":"How competitive are the Kickball Leagues?"},{"__typename":"FAQType","answer":"16 players will consist a full team for traditional kickball. If you and your crew don't have a full roster, we'll merge you with another small group. FYI – merged teams generally have extra players to protect against forfeits. If you'd like to make sure you have a larger or smaller team, you can register as a prepaid team which allows you determine the amount of players on your team.","question":"How many people do I need for a full kickball team?"},{"__typename":"FAQType","answer":"You can expect your Volo kickball league to be anywhere from $69-$119 per player for the entire season. Registration fees are dependent on location and day of the week, so be sure to check the league details carefully. After you sign up, everything else is taken care of for you. Your registration includes league shirt, referees, venue costs, insurance, equipment, prizes, league management and more.\n\nDon't forget, when you sign up with Volo, your league registration helps provide free youth sports programs in SF through the Volo Kids Foundation. #playitforward\n","question":"How much does it cost to join Volo Kickball?"},{"__typename":"FAQType","answer":"\u003cp>For traditional kickball, a full team consists of at least 16 players. Teams will have 11 players on the field with a maximum of 6 males on the field. For cup in hand kickball, a full team consists of at least 17 players. Teams will have 12 players on the field with a maximum of 7 males on the field. The minimum to play either game is 6 players, 3 of which must be female.\u003c/p>","question":"What are the Volo Kickball Gender Requirements?"}],"programTypes":[{"__typename":"ProgramTypesType","hide":false,"name":"league","description":{"__typename":"ProgramTypeDescriptionType","isCustom":false,"text":""},"programImage":{"__typename":"ImageType","name":null,"url":null}},{"__typename":"ProgramTypesType","hide":true,"name":"tournament","description":{"__typename":"ProgramTypeDescriptionType","isCustom":false,"text":""},"programImage":{"__typename":"ImageType","name":null,"url":null}},{"__typename":"ProgramTypesType","hide":true,"name":"practice","description":{"__typename":"ProgramTypeDescriptionType","isCustom":true,"text":""},"programImage":{"__typename":"ImageType","name":null,"url":null}},{"__typename":"ProgramTypesType","hide":true,"name":"pickup","description":{"__typename":"ProgramTypeDescriptionType","isCustom":true,"text":""},"programImage":{"__typename":"ImageType","name":null,"url":null}},{"__typename":"ProgramTypesType","hide":true,"name":"dropin","description":{"__typename":"ProgramTypeDescriptionType","isCustom":false,"text":""},"programImage":{"__typename":"ImageType","name":null,"url":null}},{"__typename":"ProgramTypesType","hide":true,"name":"volunteer_event","description":{"__typename":"ProgramTypeDescriptionType","isCustom":false,"text":""},"programImage":{"__typename":"ImageType","name":null,"url":null}},{"__typename":"ProgramTypesType","hide":true,"name":"volunteer_league","description":{"__typename":"ProgramTypeDescriptionType","isCustom":false,"text":""},"programImage":{"__typename":"ImageType","name":null,"url":null}},{"__typename":"ProgramTypesType","hide":true,"name":"class","description":{"__typename":"ProgramTypeDescriptionType","isCustom":false,"text":""},"programImage":{"__typename":"ImageType","name":null,"url":null}},{"__typename":"ProgramTypesType","hide":true,"name":"clinic","description":{"__typename":"ProgramTypeDescriptionType","isCustom":false,"text":""},"programImage":{"__typename":"ImageType","name":null,"url":null}},{"__typename":"ProgramTypesType","hide":true,"name":"series","description":{"__typename":"ProgramTypeDescriptionType","isCustom":false,"text":""},"programImage":{"__typename":"ImageType","name":null,"url":null}}],"competitionLevels":[{"__typename":"CompetitionLevelsType","hidden":false,"level":"Super Social","description":"Recreational kickball leagues are for players who have minimal to no experience. This level is geared toward people who want to have friendly competition and then head to the bar. Players at this level don't take the game too seriously, want to get in a good workout and/or socialize. This level is great for players who are new to kickball or are looking to get back into it without the pressure of winning."},{"__typename":"CompetitionLevelsType","hidden":false,"level":"Recreational","description":"\u003cp>Recreational kickball leagues are for players who have minimal to no experience. This level is geared toward people who want to have friendly competition and then head to the bar. Players at this level don't take the game too seriously, want to get in a good workout and/or socialize. This level is great for players who are new to kickball or are looking to get back into it without the pressure of winning.\u003c/p>"},{"__typename":"CompetitionLevelsType","hidden":true,"level":"Intermediate","description":""},{"__typename":"CompetitionLevelsType","hidden":true,"level":"Upper Intermediate","description":""},{"__typename":"CompetitionLevelsType","hidden":true,"level":"Competitive","description":""}],"formats":[{"__typename":"FormatsType","description":"","format":"11v11","formatImage":{"__typename":"ImageType","url":""},"gender":"coed","maxPlayersOnField":{"__typename":"TotalsType","total":11,"male":8,"female":0},"minPlayersPerGame":{"__typename":"TotalsType","total":6,"male":0,"female":2},"minTeamSize":{"__typename":"TotalsType","total":16,"male":0,"female":0}}]},{"__typename":"SportDetails","sportName":"Laser Tag","hideSport":true,"notes":"","hero":{"__typename":"HeroType","heroText":"","heroSubText":null,"heroImage":{"__typename":"HeroImageType","image":{"__typename":"ImageType","name":"","url":""}},"heroCta":{"__typename":"HeroCtaType","text":"","url":"","newTab":false}},"stylesOfPlay":null,"faq":[null,null,null,{"__typename":"FAQType","answer":"","question":""}],"programTypes":[{"__typename":"ProgramTypesType","hide":false,"name":"league","description":{"__typename":"ProgramTypeDescriptionType","isCustom":false,"text":""},"programImage":{"__typename":"ImageType","name":null,"url":null}},{"__typename":"ProgramTypesType","hide":false,"name":"tournament","description":{"__typename":"ProgramTypeDescriptionType","isCustom":false,"text":""},"programImage":{"__typename":"ImageType","name":null,"url":null}},{"__typename":"ProgramTypesType","hide":false,"name":"practice","description":{"__typename":"ProgramTypeDescriptionType","isCustom":false,"text":""},"programImage":{"__typename":"ImageType","name":null,"url":null}},{"__typename":"ProgramTypesType","hide":false,"name":"pickup","description":{"__typename":"ProgramTypeDescriptionType","isCustom":false,"text":""},"programImage":{"__typename":"ImageType","name":null,"url":null}},{"__typename":"ProgramTypesType","hide":false,"name":"dropin","description":{"__typename":"ProgramTypeDescriptionType","isCustom":false,"text":""},"programImage":{"__typename":"ImageType","name":null,"url":null}},{"__typename":"ProgramTypesType","hide":false,"name":"volunteer_event","description":{"__typename":"ProgramTypeDescriptionType","isCustom":false,"text":""},"programImage":{"__typename":"ImageType","name":null,"url":null}},{"__typename":"ProgramTypesType","hide":false,"name":"volunteer_league","description":{"__typename":"ProgramTypeDescriptionType","isCustom":false,"text":""},"programImage":{"__typename":"ImageType","name":null,"url":null}},{"__typename":"ProgramTypesType","hide":false,"name":"class","description":{"__typename":"ProgramTypeDescriptionType","isCustom":false,"text":""},"programImage":{"__typename":"ImageType","name":null,"url":null}},{"__typename":"ProgramTypesType","hide":false,"name":"clinic","description":{"__typename":"ProgramTypeDescriptionType","isCustom":false,"text":""},"programImage":{"__typename":"ImageType","name":null,"url":null}},{"__typename":"ProgramTypesType","hide":false,"name":"series","description":{"__typename":"ProgramTypeDescriptionType","isCustom":false,"text":""},"programImage":{"__typename":"ImageType","name":null,"url":null}}],"competitionLevels":[{"__typename":"CompetitionLevelsType","hidden":false,"level":"Super Social","description":""},{"__typename":"CompetitionLevelsType","hidden":false,"level":"Recreational","description":""},{"__typename":"CompetitionLevelsType","hidden":false,"level":"Intermediate","description":""},{"__typename":"CompetitionLevelsType","hidden":false,"level":"Upper Intermediate","description":""},{"__typename":"CompetitionLevelsType","hidden":false,"level":"Competitive","description":""}],"formats":[]},{"__typename":"SportDetails","sportName":"Pickleball","hideSport":false,"notes":"\u003cp>We are bringing the world's fastest growing game all across the city! Whether you're a competitive player, want to play for fun, or picking up the game for the first time we have a league for you! We currently have pickleball venues in Potrero Hill, Marina, SoMa, and Fillmore!\u003c/p>","hero":{"__typename":"HeroType","heroText":"San Francisco's Best Pickleball Leagues","heroSubText":"\u003cp id=\"isPasted\">Pickleball has been named the fastest growing sport in America! But why is it so popular? Well, we think it's because \u003cstrong>anyone can play, it's a good workout & its fun! \u003c/strong>\u003c/p>\u003cp>\u003cstrong>\u003cbr>\u003c/strong>\u003c/p>\u003cp style=\"text-align: center;\">\u003cstrong>SIGN UP HERE\u003c/strong>\u003c/p>","heroImage":{"__typename":"HeroImageType","image":{"__typename":"ImageType","name":"Copy of Untitled Design.png","url":"https://s3.amazonaws.com/rivall-user-uploads/prodUploads/citySportHeroFolder/Copy of Untitled Design.png"}},"heroCta":{"__typename":"HeroCtaType","text":"","url":"","newTab":false}},"stylesOfPlay":[{"__typename":"StylesOfPlayType","title":"Traditional","description":"\u003cp>Our traditional 2v2 leagues have both recreational and competitive divisions so there are divisions for all players and skillsets. Team minimums in all traditional leagues is 3 so that in case one of your teammates can't attend a game you still have a partner to play with! There are no gender requirements.\u003c/p>","image":null},{"__typename":"StylesOfPlayType","title":"Party Pickleball","description":"\u003cp id=\"isPasted\">We created a new format for players picking up the game for the first time, or who are looking for a very casual/friednly playing format. We appropriately call this format "Party Pickleball." \u003c/p>\u003cp>\u003cbr>\u003c/p>\u003cp>In Party Pickleball players serve 5 consecutive times before rotating to help improve their skills. The team minimum for Party Pickleball is 4 players. There are no gender minimums.\u003c/p>","image":null}],"faq":[{"__typename":"FAQType","answer":"\u003cp>Not to worry! Our hosts will explain the rules during week one of the program and you'll be a pro in no time. \u003c/p>","question":"What if I don't know how to play pickleball already?"},{"__typename":"FAQType","answer":"\u003cp>Yes! Here at Volo you'll see two types of pickleball. The first is traditional pickleball which is similar to normal pickleball rules. We also offer a party pickleball version that was created to be a more social atmosphere and allow more players to join in on the pickleball fun!\u003c/p>","question":"There are multiple formats of pickleball?"},{"__typename":"FAQType","answer":"\u003cp>Ideally, yes! Much like softball where you provide your own glove we ask that you bring your own paddle. We'll have a few on site in the event you need to borrow one.\u003c/p>","question":"Do I need to provide my own paddle?"},{"__typename":"FAQType","answer":"\u003cp>Depends on what style you're playing ! Check your league details If you and your crew don't have a full roster, we'll merge you with another small group. FYI – merged teams generally have extra players to protect against forfeits. If you'd like to make sure you have a larger or smaller team, you can register as a prepaid team which allows you to determine the number of players on your team.\u003c/p>","question":"How many people do I need for my team?"}],"programTypes":[{"__typename":"ProgramTypesType","hide":false,"name":"league","description":{"__typename":"ProgramTypeDescriptionType","isCustom":false,"text":"\u003cp>Default description enabled\u003c/p>"},"programImage":{"__typename":"ImageType","name":"118.png","url":"https://s3.amazonaws.com/rivall-user-uploads/prodUploads/programImagesFolder/118.png"}},{"__typename":"ProgramTypesType","hide":false,"name":"tournament","description":{"__typename":"ProgramTypeDescriptionType","isCustom":true,"text":"\u003cp>Our Summer is coming up hot with a tournament! \u003c/p>"},"programImage":{"__typename":"ImageType","name":"120.png","url":"https://s3.amazonaws.com/rivall-user-uploads/prodUploads/programImagesFolder/120.png"}},{"__typename":"ProgramTypesType","hide":true,"name":"practice","description":{"__typename":"ProgramTypeDescriptionType","isCustom":false,"text":""},"programImage":{"__typename":"ImageType","name":null,"url":null}},{"__typename":"ProgramTypesType","hide":false,"name":"pickup","description":{"__typename":"ProgramTypeDescriptionType","isCustom":true,"text":"\u003cp>Can't commit to a league? Come for daily play and enjoy a night with us\u003c/p>"},"programImage":{"__typename":"ImageType","name":"122.png","url":"https://s3.amazonaws.com/rivall-user-uploads/prodUploads/programImagesFolder/122.png"}},{"__typename":"ProgramTypesType","hide":true,"name":"dropin","description":{"__typename":"ProgramTypeDescriptionType","isCustom":false,"text":""},"programImage":{"__typename":"ImageType","name":null,"url":null}},{"__typename":"ProgramTypesType","hide":true,"name":"volunteer_event","description":{"__typename":"ProgramTypeDescriptionType","isCustom":false,"text":""},"programImage":{"__typename":"ImageType","name":null,"url":null}},{"__typename":"ProgramTypesType","hide":true,"name":"volunteer_league","description":{"__typename":"ProgramTypeDescriptionType","isCustom":false,"text":""},"programImage":{"__typename":"ImageType","name":null,"url":null}},{"__typename":"ProgramTypesType","hide":true,"name":"class","description":{"__typename":"ProgramTypeDescriptionType","isCustom":false,"text":""},"programImage":{"__typename":"ImageType","name":null,"url":null}},{"__typename":"ProgramTypesType","hide":true,"name":"clinic","description":{"__typename":"ProgramTypeDescriptionType","isCustom":false,"text":""},"programImage":{"__typename":"ImageType","name":null,"url":null}},{"__typename":"ProgramTypesType","hide":true,"name":"series","description":{"__typename":"ProgramTypeDescriptionType","isCustom":false,"text":"\u003cp>Default description enabled\u003c/p>"},"programImage":{"__typename":"ImageType","name":null,"url":null}}],"competitionLevels":[{"__typename":"CompetitionLevelsType","hidden":false,"level":"Super Social","description":"\u003cp>Pickleball is taking over and some players may want to try it out without the worry of playing expereinced or copmeptitive players. If this is you then our social pickleball league is for you. Teams are bigger and with a rotating serve rule there is more opportunity to be involved and learn the game as you play real games. If you are a competitive or experienced player then this league is not for you.\u003c/p>"},{"__typename":"CompetitionLevelsType","hidden":false,"level":"Recreational","description":""},{"__typename":"CompetitionLevelsType","hidden":false,"level":"Intermediate","description":""},{"__typename":"CompetitionLevelsType","hidden":false,"level":"Upper Intermediate","description":""},{"__typename":"CompetitionLevelsType","hidden":false,"level":"Competitive","description":""}],"formats":[{"__typename":"FormatsType","description":"","format":"2v2","formatImage":{"__typename":"ImageType","url":""},"gender":"open","maxPlayersOnField":{"__typename":"TotalsType","total":2,"male":0,"female":0},"minPlayersPerGame":{"__typename":"TotalsType","total":2,"male":0,"female":0},"minTeamSize":{"__typename":"TotalsType","total":4,"male":0,"female":0}},{"__typename":"FormatsType","description":"\u003cp>Party\u003c/p>","format":"2v2","formatImage":{"__typename":"ImageType","url":""},"gender":"coed","maxPlayersOnField":{"__typename":"TotalsType","total":2,"male":0,"female":0},"minPlayersPerGame":{"__typename":"TotalsType","total":2,"male":0,"female":0},"minTeamSize":{"__typename":"TotalsType","total":4,"male":0,"female":0}}]},{"__typename":"SportDetails","sportName":"Ping Pong","hideSport":true,"notes":"Join friends and make new ones with this popular games! Ping Pong is a fun way to relax and meet new people. When you play with us, we'll take care of everything! You just need to sign up, show up and play. ","hero":{"__typename":"HeroType","heroText":"","heroSubText":"","heroImage":{"__typename":"HeroImageType","image":{"__typename":"ImageType","name":"","url":""}},"heroCta":{"__typename":"HeroCtaType","text":"","url":"","newTab":false}},"stylesOfPlay":[{"__typename":"StylesOfPlayType","title":"Match Play","description":"","image":null}],"faq":[],"programTypes":[{"__typename":"ProgramTypesType","hide":false,"name":"league","description":{"__typename":"ProgramTypeDescriptionType","isCustom":false,"text":""},"programImage":{"__typename":"ImageType","name":null,"url":null}},{"__typename":"ProgramTypesType","hide":true,"name":"tournament","description":{"__typename":"ProgramTypeDescriptionType","isCustom":false,"text":""},"programImage":{"__typename":"ImageType","name":null,"url":null}},{"__typename":"ProgramTypesType","hide":true,"name":"practice","description":{"__typename":"ProgramTypeDescriptionType","isCustom":false,"text":""},"programImage":{"__typename":"ImageType","name":null,"url":null}},{"__typename":"ProgramTypesType","hide":true,"name":"pickup","description":{"__typename":"ProgramTypeDescriptionType","isCustom":false,"text":""},"programImage":{"__typename":"ImageType","name":null,"url":null}},{"__typename":"ProgramTypesType","hide":true,"name":"dropin","description":{"__typename":"ProgramTypeDescriptionType","isCustom":false,"text":""},"programImage":{"__typename":"ImageType","name":null,"url":null}},{"__typename":"ProgramTypesType","hide":false,"name":"volunteer_event","description":{"__typename":"ProgramTypeDescriptionType","isCustom":false,"text":""},"programImage":{"__typename":"ImageType","name":null,"url":null}},{"__typename":"ProgramTypesType","hide":false,"name":"volunteer_league","description":{"__typename":"ProgramTypeDescriptionType","isCustom":false,"text":""},"programImage":{"__typename":"ImageType","name":null,"url":null}},{"__typename":"ProgramTypesType","hide":true,"name":"class","description":{"__typename":"ProgramTypeDescriptionType","isCustom":false,"text":""},"programImage":{"__typename":"ImageType","name":null,"url":null}},{"__typename":"ProgramTypesType","hide":true,"name":"clinic","description":{"__typename":"ProgramTypeDescriptionType","isCustom":false,"text":""},"programImage":{"__typename":"ImageType","name":null,"url":null}},{"__typename":"ProgramTypesType","hide":true,"name":"series","description":{"__typename":"ProgramTypeDescriptionType","isCustom":false,"text":""},"programImage":{"__typename":"ImageType","name":null,"url":null}}],"competitionLevels":[{"__typename":"CompetitionLevelsType","hidden":true,"level":"Super Social","description":""},{"__typename":"CompetitionLevelsType","hidden":false,"level":"Recreational","description":"Recreational Ping Pong leagues are for players who have minimal to no experience. This level is geared toward people who want to have friendly competition and then head to the bar. Players at this level don't take the game too seriously, want to get in a good workout and/or socialize. This level is great for players who are new to Ping Pong or are looking to get back into it without the pressure of winning."},{"__typename":"CompetitionLevelsType","hidden":true,"level":"Intermediate","description":""},{"__typename":"CompetitionLevelsType","hidden":true,"level":"Upper Intermediate","description":""},{"__typename":"CompetitionLevelsType","hidden":true,"level":"Competitive","description":"\u003cp>Competitive leagues are for players looking for a seriously competitive game. This level is only meant for players who have experience playing Ping Pong and are looking for the highest level of play. People playing at this level likely played at the high school or college level, or consistently play well and are ready to level up from another division.\u003c/p>"}],"formats":[{"__typename":"FormatsType","description":"","format":"N/A","formatImage":{"__typename":"ImageType","url":""},"gender":"coed","maxPlayersOnField":{"__typename":"TotalsType","total":0,"male":0,"female":0},"minPlayersPerGame":{"__typename":"TotalsType","total":0,"male":0,"female":0},"minTeamSize":{"__typename":"TotalsType","total":4,"male":0,"female":0}}]},{"__typename":"SportDetails","sportName":"Sailing","hideSport":true,"notes":"","hero":{"__typename":"HeroType","heroText":"","heroSubText":null,"heroImage":{"__typename":"HeroImageType","image":{"__typename":"ImageType","name":"","url":""}},"heroCta":{"__typename":"HeroCtaType","text":"","url":"","newTab":false}},"stylesOfPlay":null,"faq":[],"programTypes":[{"__typename":"ProgramTypesType","hide":false,"name":"league","description":{"__typename":"ProgramTypeDescriptionType","isCustom":false,"text":""},"programImage":{"__typename":"ImageType","name":null,"url":null}},{"__typename":"ProgramTypesType","hide":false,"name":"tournament","description":{"__typename":"ProgramTypeDescriptionType","isCustom":false,"text":""},"programImage":{"__typename":"ImageType","name":null,"url":null}},{"__typename":"ProgramTypesType","hide":false,"name":"practice","description":{"__typename":"ProgramTypeDescriptionType","isCustom":false,"text":""},"programImage":{"__typename":"ImageType","name":null,"url":null}},{"__typename":"ProgramTypesType","hide":false,"name":"pickup","description":{"__typename":"ProgramTypeDescriptionType","isCustom":false,"text":""},"programImage":{"__typename":"ImageType","name":null,"url":null}},{"__typename":"ProgramTypesType","hide":false,"name":"dropin","description":{"__typename":"ProgramTypeDescriptionType","isCustom":false,"text":""},"programImage":{"__typename":"ImageType","name":null,"url":null}},{"__typename":"ProgramTypesType","hide":false,"name":"volunteer_event","description":{"__typename":"ProgramTypeDescriptionType","isCustom":false,"text":""},"programImage":{"__typename":"ImageType","name":null,"url":null}},{"__typename":"ProgramTypesType","hide":false,"name":"volunteer_league","description":{"__typename":"ProgramTypeDescriptionType","isCustom":false,"text":""},"programImage":{"__typename":"ImageType","name":null,"url":null}},{"__typename":"ProgramTypesType","hide":false,"name":"class","description":{"__typename":"ProgramTypeDescriptionType","isCustom":false,"text":""},"programImage":{"__typename":"ImageType","name":null,"url":null}},{"__typename":"ProgramTypesType","hide":false,"name":"clinic","description":{"__typename":"ProgramTypeDescriptionType","isCustom":false,"text":""},"programImage":{"__typename":"ImageType","name":null,"url":null}},{"__typename":"ProgramTypesType","hide":false,"name":"series","description":{"__typename":"ProgramTypeDescriptionType","isCustom":false,"text":""},"programImage":{"__typename":"ImageType","name":null,"url":null}}],"competitionLevels":[{"__typename":"CompetitionLevelsType","hidden":false,"level":"Super Social","description":""},{"__typename":"CompetitionLevelsType","hidden":false,"level":"Recreational","description":""},{"__typename":"CompetitionLevelsType","hidden":false,"level":"Intermediate","description":""},{"__typename":"CompetitionLevelsType","hidden":false,"level":"Upper Intermediate","description":""},{"__typename":"CompetitionLevelsType","hidden":false,"level":"Competitive","description":""}],"formats":[]},{"__typename":"SportDetails","sportName":"Skeeball","hideSport":false,"notes":"\u003cp>One of the best super social leagues we have: Skeeball in the Castro! Roll into the week playing at The Detour with other teams! \u003c/p>","hero":{"__typename":"HeroType","heroText":"Skeeball in San Francisco","heroSubText":null,"heroImage":{"__typename":"HeroImageType","image":{"__typename":"ImageType","name":"Skeeball 1.jpg","url":"https://s3.amazonaws.com/rivall-user-uploads/prodUploads/citySportHeroFolder/Skeeball 1.jpg"}},"heroCta":{"__typename":"HeroCtaType","text":"","url":"","newTab":false}},"stylesOfPlay":null,"faq":[null,null,null,null,{"__typename":"FAQType","answer":"","question":""}],"programTypes":[{"__typename":"ProgramTypesType","hide":false,"name":"league","description":{"__typename":"ProgramTypeDescriptionType","isCustom":false,"text":""},"programImage":{"__typename":"ImageType","name":null,"url":null}},{"__typename":"ProgramTypesType","hide":true,"name":"tournament","description":{"__typename":"ProgramTypeDescriptionType","isCustom":false,"text":""},"programImage":{"__typename":"ImageType","name":null,"url":null}},{"__typename":"ProgramTypesType","hide":true,"name":"practice","description":{"__typename":"ProgramTypeDescriptionType","isCustom":false,"text":""},"programImage":{"__typename":"ImageType","name":null,"url":null}},{"__typename":"ProgramTypesType","hide":true,"name":"pickup","description":{"__typename":"ProgramTypeDescriptionType","isCustom":false,"text":""},"programImage":{"__typename":"ImageType","name":null,"url":null}},{"__typename":"ProgramTypesType","hide":true,"name":"dropin","description":{"__typename":"ProgramTypeDescriptionType","isCustom":false,"text":""},"programImage":{"__typename":"ImageType","name":null,"url":null}},{"__typename":"ProgramTypesType","hide":true,"name":"volunteer_event","description":{"__typename":"ProgramTypeDescriptionType","isCustom":false,"text":""},"programImage":{"__typename":"ImageType","name":null,"url":null}},{"__typename":"ProgramTypesType","hide":true,"name":"volunteer_league","description":{"__typename":"ProgramTypeDescriptionType","isCustom":false,"text":""},"programImage":{"__typename":"ImageType","name":null,"url":null}},{"__typename":"ProgramTypesType","hide":true,"name":"class","description":{"__typename":"ProgramTypeDescriptionType","isCustom":false,"text":""},"programImage":{"__typename":"ImageType","name":null,"url":null}},{"__typename":"ProgramTypesType","hide":true,"name":"clinic","description":{"__typename":"ProgramTypeDescriptionType","isCustom":false,"text":""},"programImage":{"__typename":"ImageType","name":null,"url":null}},{"__typename":"ProgramTypesType","hide":true,"name":"series","description":{"__typename":"ProgramTypeDescriptionType","isCustom":false,"text":""},"programImage":{"__typename":"ImageType","name":null,"url":null}}],"competitionLevels":[{"__typename":"CompetitionLevelsType","hidden":false,"level":"Super Social","description":"Recreational skeeball leagues are for players who have minimal to no experience. This level is geared toward people who want to have friendly competition and then head to the bar. Players at this level don't take the game too seriously, want to get in a good workout and/or socialize. This level is great for players who are new to skeeball or are looking to get back into it without the pressure of winning."},{"__typename":"CompetitionLevelsType","hidden":false,"level":"Recreational","description":"\u003cp>Recreational skeeball leagues are for players who have minimal to no experience. This level is geared toward people who want to have friendly competition and then head to the bar. Players at this level don't take the game too seriously, want to get in a good workout and/or socialize. This level is great for players who are new to skeeball or are looking to get back into it without the pressure of winning.\u003c/p>"},{"__typename":"CompetitionLevelsType","hidden":true,"level":"Intermediate","description":""},{"__typename":"CompetitionLevelsType","hidden":true,"level":"Upper Intermediate","description":""},{"__typename":"CompetitionLevelsType","hidden":true,"level":"Competitive","description":""}],"formats":[{"__typename":"FormatsType","description":"Skeeball (Matchplay)\n","format":"N/A","formatImage":{"__typename":"ImageType","url":""},"gender":"open","maxPlayersOnField":{"__typename":"TotalsType","total":5,"male":0,"female":0},"minPlayersPerGame":{"__typename":"TotalsType","total":3,"male":0,"female":0},"minTeamSize":{"__typename":"TotalsType","total":5,"male":0,"female":0}}]},{"__typename":"SportDetails","sportName":"Soccer","hideSport":false,"notes":"Ready to hit the soccer field? Lace up those cleats and get ready to kick it with Volo SF. Our soccer leagues run year-round and include options like mens or coed divisions in Golden Gate Park, The Mission, and beyond. There's a location, day and league for everyone! While our leagues are competitive and full of great people, we never neglect the social aspect of our leagues. Come out to play, meet awesome people and have fun in SF!\n","hero":{"__typename":"HeroType","heroText":"Adult Soccer Leagues in San Francisco","heroSubText":"","heroImage":{"__typename":"HeroImageType","image":{"__typename":"ImageType","name":"Screen Shot 2021-02-19 at 2.17.32 PM.png","url":"https://s3.amazonaws.com/rivall-user-uploads/prodUploads/citySportHeroFolder/Screen Shot 2021-02-19 at 2.17.32 PM.png"}},"heroCta":{"__typename":"HeroCtaType","text":"","url":"","newTab":null}},"stylesOfPlay":[{"__typename":"StylesOfPlayType","title":"Coed","description":"\u003cp>Outdoor Turf soccer leagues are played at San Francisco's premier turf fields, including Beach Chalet, SFF and more! Outdoor soccer leagues can be coed, and come in various formats like 8v8, 7v7, and with different competition levels for each league, all skills are welcome to kick it at Volo soccer leagues!\u003c/p>","image":null}],"faq":[{"__typename":"FAQType","answer":"We're all about being social while burning up a sweat! We welcome all skill levels, but we do offer premier soccer leagues for our top competitors. We also offer a variety of levels of play within our soccer leagues, and we offer multiple divisions when we can. Our A Division is slightly more competitive, B Division for our more casual competitors. Please check each league for specific information or shoot us an email if you have questions!","question":"How competitive are Volo Soccer leagues?"},{"__typename":"FAQType","answer":"All soccer teams are required to have a minimum of 12 players for outdoor and 10 players for indoor and futsal. If you and your crew don't have a full roster, we'll merge you with another small group. FYI – merged teams generally have extra players to protect against forfeits. If you'd like to make sure you have a larger or smaller team, you can register as a prepaid team which allows you to determine the number of players on your team.","question":"How many people do I need for a full soccer team?"},{"__typename":"FAQType","answer":"You can expect your Volo Soccer league to be anywhere from $69-$119 per player for the entire season. Registration fees are dependent on location and day of the week, so be sure to check the league details carefully. After you sign up, everything else is taken care of for you. Your registration includes league shirt, referees, venue costs, insurance, player perks, equipment, prizes, league management, and more.\n\nDon't forget, when you sign up with Volo, your league registration helps provide free youth sports programs in San Francisco through the Volo Kids Foundation. #playitforward","question":"How much does it cost to join a Volo Soccer league?"},{"__typename":"FAQType","answer":"When signing up your soccer team, be aware that each team can have a maximum of 7 players on the field at a time and 2 of them must be female. To start a game, you must have a minimum of 4 players and one of those players must be female.","question":"What are the coed gender requirements for Volo Soccer?"},{"__typename":"FAQType","answer":"\u003cp>volosports.com/rules\u003c/p>","question":"Where can I find the full rules?"}],"programTypes":[{"__typename":"ProgramTypesType","hide":false,"name":"league","description":{"__typename":"ProgramTypeDescriptionType","isCustom":false,"text":""},"programImage":{"__typename":"ImageType","name":null,"url":null}},{"__typename":"ProgramTypesType","hide":true,"name":"tournament","description":{"__typename":"ProgramTypeDescriptionType","isCustom":false,"text":""},"programImage":{"__typename":"ImageType","name":null,"url":null}},{"__typename":"ProgramTypesType","hide":true,"name":"practice","description":{"__typename":"ProgramTypeDescriptionType","isCustom":false,"text":""},"programImage":{"__typename":"ImageType","name":null,"url":null}},{"__typename":"ProgramTypesType","hide":true,"name":"pickup","description":{"__typename":"ProgramTypeDescriptionType","isCustom":true,"text":"\u003cp>Open Play Soccer Pick-Up from 6:30pm - 8:30pm - All Levels Welcome.\u003c/p>"},"programImage":{"__typename":"ImageType","name":null,"url":null}},{"__typename":"ProgramTypesType","hide":true,"name":"dropin","description":{"__typename":"ProgramTypeDescriptionType","isCustom":false,"text":""},"programImage":{"__typename":"ImageType","name":null,"url":null}},{"__typename":"ProgramTypesType","hide":true,"name":"volunteer_event","description":{"__typename":"ProgramTypeDescriptionType","isCustom":false,"text":""},"programImage":{"__typename":"ImageType","name":null,"url":null}},{"__typename":"ProgramTypesType","hide":true,"name":"volunteer_league","description":{"__typename":"ProgramTypeDescriptionType","isCustom":false,"text":""},"programImage":{"__typename":"ImageType","name":null,"url":null}},{"__typename":"ProgramTypesType","hide":true,"name":"class","description":{"__typename":"ProgramTypeDescriptionType","isCustom":false,"text":""},"programImage":{"__typename":"ImageType","name":null,"url":null}},{"__typename":"ProgramTypesType","hide":true,"name":"clinic","description":{"__typename":"ProgramTypeDescriptionType","isCustom":false,"text":""},"programImage":{"__typename":"ImageType","name":null,"url":null}},{"__typename":"ProgramTypesType","hide":true,"name":"series","description":{"__typename":"ProgramTypeDescriptionType","isCustom":false,"text":""},"programImage":{"__typename":"ImageType","name":null,"url":null}}],"competitionLevels":[{"__typename":"CompetitionLevelsType","hidden":false,"level":"Super Social","description":"Recreational soccer leagues are for players who have minimal to no experience. This level is geared toward people who want to have friendly competition and then head to the bar. Players at this level don't take the game too seriously, want to get in a good workout and/or socialize. This level is great for players who are new to soccer or are looking to get back into it without the pressure of winning."},{"__typename":"CompetitionLevelsType","hidden":false,"level":"Recreational","description":"Recreational soccer leagues are for players who have minimal to no experience. This level is geared toward people who want to have friendly competition and then head to the bar. Players at this level don't take the game too seriously, want to get in a good workout and/or socialize. This level is great for players who are new to soccer or are looking to get back into it without the pressure of winning."},{"__typename":"CompetitionLevelsType","hidden":true,"level":"Intermediate","description":"Intermediate soccer leagues are for players who have played before and are seeking a little more competition. Winning is usually important to the team at this level. People at this level have a good understanding of the rules and have the basic skills down. "},{"__typename":"CompetitionLevelsType","hidden":true,"level":"Upper Intermediate","description":"Upper Intermediate soccer leagues are for players who have been playing soccer for a while and are looking for competitive games. People playing at this level demonstrate strong skills in the game & have a full understanding of the rules. They may have previously played JV or in the intermediate level and are ready to level up. "},{"__typename":"CompetitionLevelsType","hidden":false,"level":"Competitive","description":"\u003cp>Competitive leagues are for players looking for a seriously competitive game. This level is only meant for players who have experience playing soccer and are looking for the highest level of play. People playing at this level likely played at the high school or college level, or consistently play well and are ready to level up from another division.\u003c/p>"}],"formats":[{"__typename":"FormatsType","description":"","format":"8v8","formatImage":{"__typename":"ImageType","url":""},"gender":"coed","maxPlayersOnField":{"__typename":"TotalsType","total":8,"male":6,"female":0},"minPlayersPerGame":{"__typename":"TotalsType","total":5,"male":0,"female":1},"minTeamSize":{"__typename":"TotalsType","total":13,"male":0,"female":0}},{"__typename":"FormatsType","description":"\u003cp>Futsal\u003c/p>","format":"5v5","formatImage":{"__typename":"ImageType","url":""},"gender":"coed","maxPlayersOnField":{"__typename":"TotalsType","total":5,"male":0,"female":1},"minPlayersPerGame":{"__typename":"TotalsType","total":3,"male":0,"female":1},"minTeamSize":{"__typename":"TotalsType","total":10,"male":0,"female":1}},{"__typename":"FormatsType","description":"","format":"7v7","formatImage":{"__typename":"ImageType","url":""},"gender":"coed","maxPlayersOnField":{"__typename":"TotalsType","total":7,"male":5,"female":0},"minPlayersPerGame":{"__typename":"TotalsType","total":4,"male":0,"female":1},"minTeamSize":{"__typename":"TotalsType","total":12,"male":0,"female":0}},{"__typename":"FormatsType","description":"","format":"8v8","formatImage":{"__typename":"ImageType","url":""},"gender":"men","maxPlayersOnField":{"__typename":"TotalsType","total":8,"male":0,"female":0},"minPlayersPerGame":{"__typename":"TotalsType","total":5,"male":0,"female":0},"minTeamSize":{"__typename":"TotalsType","total":13,"male":0,"female":0}},{"__typename":"FormatsType","description":"","format":"7v7","formatImage":{"__typename":"ImageType","url":""},"gender":"men","maxPlayersOnField":{"__typename":"TotalsType","total":7,"male":0,"female":0},"minPlayersPerGame":{"__typename":"TotalsType","total":4,"male":0,"female":0},"minTeamSize":{"__typename":"TotalsType","total":12,"male":0,"female":0}},{"__typename":"FormatsType","description":"","format":"11v11","formatImage":{"__typename":"ImageType","url":""},"gender":"coed","maxPlayersOnField":{"__typename":"TotalsType","total":11,"male":0,"female":0},"minPlayersPerGame":{"__typename":"TotalsType","total":7,"male":0,"female":0},"minTeamSize":{"__typename":"TotalsType","total":16,"male":0,"female":0}},{"__typename":"FormatsType","description":"","format":"6v6","formatImage":{"__typename":"ImageType","url":""},"gender":"coed","maxPlayersOnField":{"__typename":"TotalsType","total":6,"male":0,"female":0},"minPlayersPerGame":{"__typename":"TotalsType","total":4,"male":0,"female":1},"minTeamSize":{"__typename":"TotalsType","total":11,"male":0,"female":0}},{"__typename":"FormatsType","description":"","format":"5v5","formatImage":{"__typename":"ImageType","url":""},"gender":"coed","maxPlayersOnField":{"__typename":"TotalsType","total":5,"male":0,"female":0},"minPlayersPerGame":{"__typename":"TotalsType","total":3,"male":0,"female":0},"minTeamSize":{"__typename":"TotalsType","total":10,"male":0,"female":0}}]},{"__typename":"SportDetails","sportName":"Softball","hideSport":false,"notes":"\u003cp>Step up to the plate. Volo SF softball leagues are open for registration and there's no time like the present to hit the field. Offering leagues throughout the week in multiple neighborhoods like Moscone, Potrero Hill, Fort Scott and more, we're taking the game to the next level. Get ready to compete, but also be ready to meet new people and have some fun. Don't miss your chance to play softball in SF this season.\u003c/p>","hero":{"__typename":"HeroType","heroText":"Softball Leagues in San Francisco","heroSubText":null,"heroImage":{"__typename":"HeroImageType","image":{"__typename":"ImageType","name":"IMG_5639.jpg","url":"https://s3.amazonaws.com/rivall-user-uploads/prodUploads/citySportHeroFolder/IMG_5639.jpg"}},"heroCta":{"__typename":"HeroCtaType","text":"","url":"","newTab":false}},"stylesOfPlay":[{"__typename":"StylesOfPlayType","title":"","description":"\u003cp>Coed and Men's 10v10 softball leagues are played all around the city, from Marina, Fort Scott, to Potrero Hills, and everywhere in between! Games are 6 innings or 50 minutes of gameplay, whichever comes first. Volo softball leagues are BOYG - that is, bring your own glove. Bats are provided for players, however they are first come first serve. If you'd like to play with your own aluminum bat, please make sure it is ASA, USSA or NSA certified.\u003c/p>","image":null}],"faq":[null,null,null,null,{"__typename":"FAQType","answer":"","question":""}],"programTypes":[{"__typename":"ProgramTypesType","hide":false,"name":"league","description":{"__typename":"ProgramTypeDescriptionType","isCustom":false,"text":""},"programImage":{"__typename":"ImageType","name":null,"url":null}},{"__typename":"ProgramTypesType","hide":true,"name":"tournament","description":{"__typename":"ProgramTypeDescriptionType","isCustom":false,"text":""},"programImage":{"__typename":"ImageType","name":null,"url":null}},{"__typename":"ProgramTypesType","hide":true,"name":"practice","description":{"__typename":"ProgramTypeDescriptionType","isCustom":true,"text":""},"programImage":{"__typename":"ImageType","name":null,"url":null}},{"__typename":"ProgramTypesType","hide":true,"name":"pickup","description":{"__typename":"ProgramTypeDescriptionType","isCustom":true,"text":""},"programImage":{"__typename":"ImageType","name":null,"url":null}},{"__typename":"ProgramTypesType","hide":true,"name":"dropin","description":{"__typename":"ProgramTypeDescriptionType","isCustom":false,"text":""},"programImage":{"__typename":"ImageType","name":null,"url":null}},{"__typename":"ProgramTypesType","hide":true,"name":"volunteer_event","description":{"__typename":"ProgramTypeDescriptionType","isCustom":false,"text":""},"programImage":{"__typename":"ImageType","name":null,"url":null}},{"__typename":"ProgramTypesType","hide":true,"name":"volunteer_league","description":{"__typename":"ProgramTypeDescriptionType","isCustom":false,"text":""},"programImage":{"__typename":"ImageType","name":null,"url":null}},{"__typename":"ProgramTypesType","hide":true,"name":"class","description":{"__typename":"ProgramTypeDescriptionType","isCustom":true,"text":""},"programImage":{"__typename":"ImageType","name":null,"url":null}},{"__typename":"ProgramTypesType","hide":true,"name":"clinic","description":{"__typename":"ProgramTypeDescriptionType","isCustom":true,"text":""},"programImage":{"__typename":"ImageType","name":null,"url":null}},{"__typename":"ProgramTypesType","hide":true,"name":"series","description":{"__typename":"ProgramTypeDescriptionType","isCustom":true,"text":""},"programImage":{"__typename":"ImageType","name":null,"url":null}}],"competitionLevels":[{"__typename":"CompetitionLevelsType","hidden":false,"level":"Super Social","description":""},{"__typename":"CompetitionLevelsType","hidden":false,"level":"Recreational","description":"\u003cp>Recreational softball leagues are for players who have minimal to no experience. This level is geared toward people who want to have friendly competition and then head to the bar. Players at this level don't take the game too seriously, want to get in a good workout and/or socialize. This level is great for players who are new to softball or are looking to get back into it without the pressure of winning.\u003c/p>"},{"__typename":"CompetitionLevelsType","hidden":false,"level":"Intermediate","description":""},{"__typename":"CompetitionLevelsType","hidden":true,"level":"Upper Intermediate","description":""},{"__typename":"CompetitionLevelsType","hidden":false,"level":"Competitive","description":"\u003cp>Competitive leagues are for players looking for a seriously competitive game. This level is only meant for players who have experience playing this sport and are looking for the highest level of play. People playing at this level likely played at the high school or college level, or consistently play well and are ready to level up from another division. \u003c/p>"}],"formats":[{"__typename":"FormatsType","description":"","format":"10v10","formatImage":{"__typename":"ImageType","url":""},"gender":"coed","maxPlayersOnField":{"__typename":"TotalsType","total":10,"male":7,"female":0},"minPlayersPerGame":{"__typename":"TotalsType","total":7,"male":0,"female":2},"minTeamSize":{"__typename":"TotalsType","total":15,"male":0,"female":0}},{"__typename":"FormatsType","description":"","format":"10v10","formatImage":{"__typename":"ImageType","url":""},"gender":"men","maxPlayersOnField":{"__typename":"TotalsType","total":10,"male":0,"female":0},"minPlayersPerGame":{"__typename":"TotalsType","total":7,"male":0,"female":0},"minTeamSize":{"__typename":"TotalsType","total":15,"male":0,"female":0}}]},{"__typename":"SportDetails","sportName":"Trip","hideSport":true,"notes":"","hero":{"__typename":"HeroType","heroText":"","heroSubText":null,"heroImage":{"__typename":"HeroImageType","image":{"__typename":"ImageType","name":"","url":""}},"heroCta":{"__typename":"HeroCtaType","text":"","url":"","newTab":false}},"stylesOfPlay":null,"faq":[],"programTypes":[{"__typename":"ProgramTypesType","hide":false,"name":"league","description":{"__typename":"ProgramTypeDescriptionType","isCustom":false,"text":""},"programImage":{"__typename":"ImageType","name":null,"url":null}},{"__typename":"ProgramTypesType","hide":false,"name":"tournament","description":{"__typename":"ProgramTypeDescriptionType","isCustom":false,"text":""},"programImage":{"__typename":"ImageType","name":null,"url":null}},{"__typename":"ProgramTypesType","hide":false,"name":"practice","description":{"__typename":"ProgramTypeDescriptionType","isCustom":false,"text":""},"programImage":{"__typename":"ImageType","name":null,"url":null}},{"__typename":"ProgramTypesType","hide":false,"name":"pickup","description":{"__typename":"ProgramTypeDescriptionType","isCustom":false,"text":""},"programImage":{"__typename":"ImageType","name":null,"url":null}},{"__typename":"ProgramTypesType","hide":false,"name":"dropin","description":{"__typename":"ProgramTypeDescriptionType","isCustom":false,"text":""},"programImage":{"__typename":"ImageType","name":null,"url":null}},{"__typename":"ProgramTypesType","hide":false,"name":"volunteer_event","description":{"__typename":"ProgramTypeDescriptionType","isCustom":false,"text":""},"programImage":{"__typename":"ImageType","name":null,"url":null}},{"__typename":"ProgramTypesType","hide":false,"name":"volunteer_league","description":{"__typename":"ProgramTypeDescriptionType","isCustom":false,"text":""},"programImage":{"__typename":"ImageType","name":null,"url":null}},{"__typename":"ProgramTypesType","hide":false,"name":"class","description":{"__typename":"ProgramTypeDescriptionType","isCustom":false,"text":""},"programImage":{"__typename":"ImageType","name":null,"url":null}},{"__typename":"ProgramTypesType","hide":false,"name":"clinic","description":{"__typename":"ProgramTypeDescriptionType","isCustom":false,"text":""},"programImage":{"__typename":"ImageType","name":null,"url":null}},{"__typename":"ProgramTypesType","hide":false,"name":"series","description":{"__typename":"ProgramTypeDescriptionType","isCustom":false,"text":""},"programImage":{"__typename":"ImageType","name":null,"url":null}}],"competitionLevels":[{"__typename":"CompetitionLevelsType","hidden":false,"level":"Super Social","description":""},{"__typename":"CompetitionLevelsType","hidden":false,"level":"Recreational","description":""},{"__typename":"CompetitionLevelsType","hidden":false,"level":"Intermediate","description":""},{"__typename":"CompetitionLevelsType","hidden":false,"level":"Upper Intermediate","description":""},{"__typename":"CompetitionLevelsType","hidden":false,"level":"Competitive","description":""}],"formats":[]},{"__typename":"SportDetails","sportName":"Volleyball","hideSport":false,"notes":"\u003cp>Hit the court with Volo SF volleyball leagues. Our indoor, grass and sand volleyball leagues are super social, designed for players of all levels and take place in the cities best locations. Volo SF volleyball leagues run multiple days a week with options like 6v6. Select your team's skill level, pick your league and we'll see you on the court for a good time. \u003c/p>","hero":{"__typename":"HeroType","heroText":"Volleyball Leagues in San Francisco","heroSubText":null,"heroImage":{"__typename":"HeroImageType","image":{"__typename":"ImageType","name":"Volleyball 14 .jpg","url":"https://s3.amazonaws.com/rivall-user-uploads/prodUploads/citySportHeroFolder/Volleyball 14 .jpg"}},"heroCta":{"__typename":"HeroCtaType","text":"","url":"","newTab":false}},"stylesOfPlay":[{"__typename":"StylesOfPlayType","title":"Sand Volleyball","description":"\u003cp>Beach style volleyball is our most popular style - and it's no surprise when you see the gorgeous waterfront venues where we play! Sign up for 6v6 coed volleyball in the Mission. Both have bars on site so feel free to serve yourself some beverages before it's time to serve up! Games are played best of 3 with rally scoring. Matches are played to 21, with the third match to 15, and you do not have to win by two. All skill levels are welcome, take a look at our division levels to decide which is the best fit for you.\u003c/p>","image":null},{"__typename":"StylesOfPlayType","title":"Grass Volleyball","description":"Grass style volleyball is the perfect way to catch up with your friends while enjoying the city's best parks! Play 6v6 coed volleyball in SF and make sure to head to the after bar to celebrate with your teammates. Grass volleyball games are played best of 3 matches, with rally scoring. Matches are played best to 25, with the third game to 15, and you do not have to win by two. This league is perfect for the casual player!\n","image":null},{"__typename":"StylesOfPlayType","title":"Indoor Volleyball","description":"All indoor volleyball leagues play at least one match a night with best-of-3 rally scoring. Leagues are played either in a gym setting. While we offer different player requirements depending on which league you choose, please note that indoor leagues do not allow alcohol and masks are required while playing. Additionally, indoor leagues have venue specific rules regarding if/when balls remain in play when hitting the ceiling or court sides.\n","image":null}],"faq":[],"programTypes":[{"__typename":"ProgramTypesType","hide":false,"name":"league","description":{"__typename":"ProgramTypeDescriptionType","isCustom":false,"text":""},"programImage":{"__typename":"ImageType","name":null,"url":null}},{"__typename":"ProgramTypesType","hide":true,"name":"tournament","description":{"__typename":"ProgramTypeDescriptionType","isCustom":false,"text":""},"programImage":{"__typename":"ImageType","name":null,"url":null}},{"__typename":"ProgramTypesType","hide":true,"name":"practice","description":{"__typename":"ProgramTypeDescriptionType","isCustom":false,"text":""},"programImage":{"__typename":"ImageType","name":null,"url":null}},{"__typename":"ProgramTypesType","hide":false,"name":"pickup","description":{"__typename":"ProgramTypeDescriptionType","isCustom":true,"text":"\u003cp>PickUps are now in SF! Sign up today to play for a night at a time!\u003c/p>"},"programImage":{"__typename":"ImageType","name":null,"url":null}},{"__typename":"ProgramTypesType","hide":true,"name":"dropin","description":{"__typename":"ProgramTypeDescriptionType","isCustom":false,"text":""},"programImage":{"__typename":"ImageType","name":null,"url":null}},{"__typename":"ProgramTypesType","hide":true,"name":"volunteer_event","description":{"__typename":"ProgramTypeDescriptionType","isCustom":false,"text":""},"programImage":{"__typename":"ImageType","name":null,"url":null}},{"__typename":"ProgramTypesType","hide":true,"name":"volunteer_league","description":{"__typename":"ProgramTypeDescriptionType","isCustom":false,"text":""},"programImage":{"__typename":"ImageType","name":null,"url":null}},{"__typename":"ProgramTypesType","hide":true,"name":"class","description":{"__typename":"ProgramTypeDescriptionType","isCustom":true,"text":""},"programImage":{"__typename":"ImageType","name":null,"url":null}},{"__typename":"ProgramTypesType","hide":true,"name":"clinic","description":{"__typename":"ProgramTypeDescriptionType","isCustom":true,"text":""},"programImage":{"__typename":"ImageType","name":null,"url":null}},{"__typename":"ProgramTypesType","hide":true,"name":"series","description":{"__typename":"ProgramTypeDescriptionType","isCustom":true,"text":""},"programImage":{"__typename":"ImageType","name":null,"url":null}}],"competitionLevels":[{"__typename":"CompetitionLevelsType","hidden":true,"level":"Super Social","description":""},{"__typename":"CompetitionLevelsType","hidden":false,"level":"Recreational","description":"\u003cp>Recreational volleyball leagues are for players who have minimal to no experience. This level is geared toward people who want to have friendly competition and then head to the bar. Players at this level don't take the game too seriously, want to get in a good workout and/or socialize. This level is great for players who are new to volleyball or are looking to get back into it without the pressure of winning.\u003c/p>"},{"__typename":"CompetitionLevelsType","hidden":true,"level":"Intermediate","description":""},{"__typename":"CompetitionLevelsType","hidden":true,"level":"Upper Intermediate","description":""},{"__typename":"CompetitionLevelsType","hidden":false,"level":"Competitive","description":"\u003cp>Competitive leagues are for players looking for a seriously competitive game. This level is only meant for players who have experience playing Volleyball and are looking for the highest level of play. People playing at this level likely played at the high school or college level, or consistently play well and are ready to level up from another division.\u003c/p>"}],"formats":[{"__typename":"FormatsType","description":"","format":"6v6","formatImage":{"__typename":"ImageType","url":""},"gender":"coed","maxPlayersOnField":{"__typename":"TotalsType","total":6,"male":4,"female":null},"minPlayersPerGame":{"__typename":"TotalsType","total":4,"male":0,"female":1},"minTeamSize":{"__typename":"TotalsType","total":9,"male":0,"female":0}}]},{"__typename":"SportDetails","sportName":"Yoga","hideSport":true,"notes":"","hero":{"__typename":"HeroType","heroText":"","heroSubText":null,"heroImage":{"__typename":"HeroImageType","image":{"__typename":"ImageType","name":"","url":""}},"heroCta":{"__typename":"HeroCtaType","text":"","url":"","newTab":false}},"stylesOfPlay":null,"faq":[],"programTypes":[{"__typename":"ProgramTypesType","hide":false,"name":"league","description":{"__typename":"ProgramTypeDescriptionType","isCustom":false,"text":""},"programImage":{"__typename":"ImageType","name":null,"url":null}},{"__typename":"ProgramTypesType","hide":false,"name":"tournament","description":{"__typename":"ProgramTypeDescriptionType","isCustom":false,"text":""},"programImage":{"__typename":"ImageType","name":null,"url":null}},{"__typename":"ProgramTypesType","hide":false,"name":"practice","description":{"__typename":"ProgramTypeDescriptionType","isCustom":false,"text":""},"programImage":{"__typename":"ImageType","name":null,"url":null}},{"__typename":"ProgramTypesType","hide":false,"name":"pickup","description":{"__typename":"ProgramTypeDescriptionType","isCustom":false,"text":""},"programImage":{"__typename":"ImageType","name":null,"url":null}},{"__typename":"ProgramTypesType","hide":false,"name":"dropin","description":{"__typename":"ProgramTypeDescriptionType","isCustom":false,"text":""},"programImage":{"__typename":"ImageType","name":null,"url":null}},{"__typename":"ProgramTypesType","hide":false,"name":"volunteer_event","description":{"__typename":"ProgramTypeDescriptionType","isCustom":false,"text":""},"programImage":{"__typename":"ImageType","name":null,"url":null}},{"__typename":"ProgramTypesType","hide":false,"name":"volunteer_league","description":{"__typename":"ProgramTypeDescriptionType","isCustom":false,"text":""},"programImage":{"__typename":"ImageType","name":null,"url":null}},{"__typename":"ProgramTypesType","hide":false,"name":"class","description":{"__typename":"ProgramTypeDescriptionType","isCustom":false,"text":""},"programImage":{"__typename":"ImageType","name":null,"url":null}},{"__typename":"ProgramTypesType","hide":false,"name":"clinic","description":{"__typename":"ProgramTypeDescriptionType","isCustom":false,"text":""},"programImage":{"__typename":"ImageType","name":null,"url":null}},{"__typename":"ProgramTypesType","hide":false,"name":"series","description":{"__typename":"ProgramTypeDescriptionType","isCustom":false,"text":""},"programImage":{"__typename":"ImageType","name":null,"url":null}}],"competitionLevels":[{"__typename":"CompetitionLevelsType","hidden":false,"level":"Super Social","description":""},{"__typename":"CompetitionLevelsType","hidden":false,"level":"Recreational","description":""},{"__typename":"CompetitionLevelsType","hidden":false,"level":"Intermediate","description":""},{"__typename":"CompetitionLevelsType","hidden":false,"level":"Upper Intermediate","description":""},{"__typename":"CompetitionLevelsType","hidden":false,"level":"Competitive","description":""}],"formats":[]}]},"approvedVenues":[{"__ref":"ApprovedVenue:5f06191738333e002d4d00f4"},{"__ref":"ApprovedVenue:6063810f3917ec003753c57e"},{"__ref":"ApprovedVenue:60638defccbfc500343049ea"},{"__ref":"ApprovedVenue:606395d8f0e6ba00376b12bd"},{"__ref":"ApprovedVenue:6063a01cf0e6ba00376b2d1d"},{"__ref":"ApprovedVenue:60822779cce9fa005b8082fd"},{"__ref":"ApprovedVenue:60a6741480c883002f986a3b"},{"__ref":"ApprovedVenue:60a67fab7fac26009f4c6f43"},{"__ref":"ApprovedVenue:60a699dd3874d200914daa11"},{"__ref":"ApprovedVenue:60d0b2a111709800bf74f45b"},{"__ref":"ApprovedVenue:60d0b32511709800bf74f807"},{"__ref":"ApprovedVenue:60d0b35c27e2b3003651a7d1"},{"__ref":"ApprovedVenue:60d0b3f1c456da002fc11d03"},{"__ref":"ApprovedVenue:60d0b466c456da002fc125b2"},{"__ref":"ApprovedVenue:60d0b47c7dc062003610a794"},{"__ref":"ApprovedVenue:60d0b48f7dc062003610a8a8"},{"__ref":"ApprovedVenue:60d0b4b6c456da002fc12650"},{"__ref":"ApprovedVenue:60d0b4cc9d301c0036524315"},{"__ref":"ApprovedVenue:60d0b4e38f9c70002f18ccd3"},{"__ref":"ApprovedVenue:60d0b4f38f9c70002f18ce0d"},{"__ref":"ApprovedVenue:60d0b54af80aa6002b6a1d59"},{"__ref":"ApprovedVenue:60d0b58d7dc062003610afbd"},{"__ref":"ApprovedVenue:60d0b60a7dc062003610b27b"},{"__ref":"ApprovedVenue:60d148707dc0620036170fd8"},{"__ref":"ApprovedVenue:60d148e67dc06200361712b4"},{"__ref":"ApprovedVenue:60d1490b7dc0620036171387"},{"__ref":"ApprovedVenue:60d1492f36a2d10067e50e59"},{"__ref":"ApprovedVenue:60d14b0336a2d10067e51724"},{"__ref":"ApprovedVenue:60d14b7236a2d10067e51844"},{"__ref":"ApprovedVenue:60d14b987dc0620036172080"},{"__ref":"ApprovedVenue:60d14bec7dc062003617217e"},{"__ref":"ApprovedVenue:60d14c5c7dc062003617231b"},{"__ref":"ApprovedVenue:60d14fbe7dc0620036173ae6"},{"__ref":"ApprovedVenue:60d14fd1ce46d20036862209"},{"__ref":"ApprovedVenue:60f87cd534edf2003678099e"},{"__ref":"ApprovedVenue:60f87ee8694c05002f443492"},{"__ref":"ApprovedVenue:60f8a2f11c013c00360af9a2"},{"__ref":"ApprovedVenue:60fafcfc63e3b100368ce11f"},{"__ref":"ApprovedVenue:6101a8bea453e5024477565c"},{"__ref":"ApprovedVenue:6101a8eca453e50244778080"},{"__ref":"ApprovedVenue:610af5ea19ab31029b547e6a"},{"__ref":"ApprovedVenue:610af75b19ab31029b5529a0"},{"__ref":"ApprovedVenue:610af8b30e3c1d00315ce8ee"},{"__ref":"ApprovedVenue:610afa408d321a02b72a09a9"},{"__ref":"ApprovedVenue:610afab911e1620031fa03e5"},{"__ref":"ApprovedVenue:610afb498d321a02b72a7724"},{"__ref":"ApprovedVenue:610afbe7c2a8cc02a989fe9e"},{"__ref":"ApprovedVenue:610afca083775c002b173f1f"},{"__ref":"ApprovedVenue:614a103635af2f002c229b4a"},{"__ref":"ApprovedVenue:6165e23758a7ab10ff717b9c"},{"__ref":"ApprovedVenue:6170821e76ae04440a60c368"},{"__ref":"ApprovedVenue:61773d35f705caf05080bba6"},{"__ref":"ApprovedVenue:61950bedacc21444a79ad0bf"},{"__ref":"ApprovedVenue:61d6140695b622a53bf34780"},{"__ref":"ApprovedVenue:61de1d1d42fc1d80695b3ae9"},{"__ref":"ApprovedVenue:61de30a542fc1d806973cfd3"},{"__ref":"ApprovedVenue:627c164a91e7548156b93381"},{"__ref":"ApprovedVenue:627e9b5fb91f25233f556563"},{"__ref":"ApprovedVenue:628e8a99097f9f9067b44ae9"},{"__ref":"ApprovedVenue:628e916630e88e2ca55d7001"},{"__ref":"ApprovedVenue:62be40a16290d6aeb28cdb81"},{"__ref":"ApprovedVenue:62c5fb58a2271cd8f2832113"},{"__ref":"ApprovedVenue:63bdeb5c6a954cb722765b3d"},{"__ref":"ApprovedVenue:63e2b5eb2ff5f1821644d46e"},{"__ref":"ApprovedVenue:63e41b61f4bd04122d42a562"},{"__ref":"ApprovedVenue:640fa938d72f21d7c9c8e757"},{"__ref":"ApprovedVenue:640fa9efa2cb61f756cbeb23"},{"__ref":"ApprovedVenue:640fbbfca2cb61f756d405a8"}]},"Organization:5a8dd81331762c7a7dfe2408":{"__typename":"Organization","_id":"5a8dd81331762c7a7dfe2408","name":"Seattle","crest":null,"contact_phone_number":"(720) 381-6304","contact_email":"info@volocityseattle.com","weather_line_number":null,"logo":"https://s3.amazonaws.com/rivall-user-uploads/prodUploads/orgLogo/5a8dd81331762c7a7dfe2408.png","sponsorLogos":[],"location":{"__typename":"LocationInfo","coordinates":{"__typename":"Coordinates","lat":47.6062,"lng":-122.3321}},"voloPassTiers":{"__typename":"VoloPassTiersType","isActive":false,"monthlyDollarPrice":15,"monthlyFee":0.99}},"Organization:5e8639451c9d44000034b626":{"__typename":"Organization","_id":"5e8639451c9d44000034b626","name":"Virtual","crest":null,"contact_phone_number":"(917) 300-1127","contact_email":"virtual@volosports.com","weather_line_number":null,"logo":"https://s3.amazonaws.com/rivall-user-uploads/prodUploads/orgLogo/5e8639451c9d44000034b626.png","sponsorLogos":[],"location":{"__typename":"LocationInfo","coordinates":{"__typename":"Coordinates","lat":38.893109,"lng":-77.036552}},"voloPassTiers":{"__typename":"VoloPassTiersType","isActive":false,"monthlyDollarPrice":20,"monthlyFee":0.99}},"Organization:5bfd81a5b63e3f6e864d00d4":{"__typename":"Organization","_id":"5bfd81a5b63e3f6e864d00d4","name":"Volo Kids Foundation","crest":null,"contact_phone_number":"(410) 995-7701","contact_email":"info@volokids.org","weather_line_number":null,"logo":"https://s3.amazonaws.com/rivall-user-uploads/prodUploads/orgLogo/5bfd81a5b63e3f6e864d00d4.png","sponsorLogos":[],"location":{"__typename":"LocationInfo","coordinates":{"__typename":"Coordinates","lat":38.896549,"lng":-77.033923}},"voloPassTiers":{"__typename":"VoloPassTiersType","isActive":false,"monthlyDollarPrice":20,"monthlyFee":0.99}},"SponsorLogos:632348131064f507019476a8":{"__typename":"SponsorLogos","_id":"632348131064f507019476a8","sponsorLogo":"https://s3.amazonaws.com/rivall-user-uploads/prodUploads/sponsorLogoFolder/5a74ea1c958b1a0d3790cc5a_sponsor_logo_0","sponsorName":"Gatorade","sponsorLink":"https://www.gatorade.com"},"Organization:5a74ea1c958b1a0d3790cc5a":{"__typename":"Organization","_id":"5a74ea1c958b1a0d3790cc5a","name":"Washington DC","crest":null,"contact_phone_number":"(202) 919-3955","contact_email":"dc@volosports.com","weather_line_number":"(202) 751-3558","logo":"https://s3.amazonaws.com/rivall-user-uploads/prodUploads/orgLogo/5a74ea1c958b1a0d3790cc5a.png","sponsorLogos":[{"__ref":"SponsorLogos:632348131064f507019476a8"}],"location":{"__typename":"LocationInfo","coordinates":null},"voloPassTiers":{"__typename":"VoloPassTiersType","isActive":true,"monthlyDollarPrice":20,"monthlyFee":0.99}},"League:640b84a9b8e3884814cf3ab6":{"__typename":"League","_id":"640b84a9b8e3884814cf3ab6","name":"Dodgeball (6v6 Coed) - Tuesday - RiNo Sports Arena (RiNo) - May 2023","featured_order":null,"schedule":{"__typename":"Schedule","start_date":"2023-05-16T18:00:00.000Z"},"details":{"__typename":"LeagueDetails","description":"\u003cp id=\"isPasted\">RiNo Sports Arena Dodgeball is back! \u003cspan id=\"isPasted\" style=\"font-size:10.5pt;font-family:Arial;color:#414141;background-color:#ffffff;font-weight:400;font-style:normal;font-variant:normal;text-decoration:none;vertical-align:baseline;white-space:pre;white-space:pre-wrap;\">After you play dodgeball, you'll play your opponents in on-site flip cup for additional team points!\u003c/span>\u003c/p>\u003cp>\u003cbr>\u003c/p>\u003cp>\u003cspan id=\"isPasted\">\u003cstrong id=\"isPasted\" style='box-sizing: inherit; background-repeat: no-repeat; background-size: contain; font-weight: 700; margin-bottom: 0px; color: rgb(65, 65, 65); font-family: Arial, \"Helvetica Neue\", Helvetica, sans-serif; font-size: 14px; font-style: normal; font-variant-ligatures: normal; font-variant-caps: normal; letter-spacing: normal; orphans: 2; text-align: left; text-indent: 0px; text-transform: none; white-space: normal; widows: 2; word-spacing: 0px; -webkit-text-stroke-width: 0px; background-color: rgb(255, 255, 255); text-decoration-thickness: initial; text-decoration-style: initial; text-decoration-color: initial;'>*Games played on polished concrete. \u003c/strong> \u003c/span>\u003c/p>\u003cp>\u003cbr>\u003c/p>\u003cp>Minimum for a full team is 9 players\u003c/p>\u003cp>\u003cbr>\u003c/p>\u003cp id=\"isPasted\" style=\"line-height: 1.2;\">\u003cspan style='box-sizing: inherit; background-repeat: no-repeat; background-size: contain; font-family: Arial, \"Helvetica Neue\", Helvetica, sans-serif; color: rgb(65, 65, 65); font-size: 14px; font-style: normal; font-variant-ligatures: normal; font-variant-caps: normal; font-weight: 400; letter-spacing: normal; orphans: 2; text-align: left; text-indent: 0px; text-transform: none; white-space: normal; widows: 2; word-spacing: 0px; -webkit-text-stroke-width: 0px; text-decoration-thickness: initial; text-decoration-style: initial; text-decoration-color: initial; background-color: rgb(255, 255, 255); float: none; display: inline !important;'>Registered Groups who do not meet the minimum roster requirement by the registration deadline\u003c/span>\u003cspan style='box-sizing: inherit; background-repeat: no-repeat; background-size: contain; font-family: Arial, \"Helvetica Neue\", Helvetica, sans-serif; margin-bottom: 0px; color: rgb(65, 65, 65); font-size: 14px; font-style: normal; font-variant-ligatures: normal; font-variant-caps: normal; font-weight: 400; letter-spacing: normal; orphans: 2; text-align: left; text-indent: 0px; text-transform: none; white-space: normal; widows: 2; word-spacing: 0px; -webkit-text-stroke-width: 0px; text-decoration-thickness: initial; text-decoration-style: initial; text-decoration-color: initial; background-color: rgb(255, 255, 255); float: none; display: inline !important;'> may be merged with other small groups, or have free agents added to their roster to meet the roster requirement\u003c/span>\u003c/p>\u003cp style=\"line-height: 1.2;\">\u003cbr>\u003c/p>\u003cp style=\"line-height: 1.2;\">Playoffs: Only the top 4 teams are guaranteed to make playoffs in this league! We will take more if time allows.\u003c/p>\u003cp>\u003cbr>\u003c/p>\u003cp>Weather Policy: Guaranteed 2 makeup games at the same location but not guaranteed to be played on the same day of the week.Teams may have byes or doubleheaders. \u003c/p>\u003cp>\u003cbr>\u003c/p>\u003cp>The league may be shortened/extended by a week but all league games will be played!\u003c/p>"},"activityName":"Dodgeball","programType":"LEAGUE"},"League:640ae2b87c3b9257ca8a348d":{"__typename":"League","_id":"640ae2b87c3b9257ca8a348d","name":"Dodgeball (6v6 Coed) - Monday - RiNo Sports Arena (RiNo) - May 2023","featured_order":null,"schedule":{"__typename":"Schedule","start_date":"2023-05-15T18:00:00.000Z"},"details":{"__typename":"LeagueDetails","description":"\u003cp id=\"isPasted\">RiNo Sports Arena Dodgeball is back! \u003cspan id=\"isPasted\" style=\"font-size:10.5pt;font-family:Arial;color:#414141;background-color:#ffffff;font-weight:400;font-style:normal;font-variant:normal;text-decoration:none;vertical-align:baseline;white-space:pre;white-space:pre-wrap;\">After you play dodgeball, you'll play your opponents in on-site flip cup for additional team points!\u003c/span>\u003c/p>\u003cp>\u003cbr>\u003c/p>\u003cp>\u003cspan id=\"isPasted\">\u003cstrong id=\"isPasted\" style='box-sizing: inherit; background-repeat: no-repeat; background-size: contain; font-weight: 700; margin-bottom: 0px; color: rgb(65, 65, 65); font-family: Arial, \"Helvetica Neue\", Helvetica, sans-serif; font-size: 14px; font-style: normal; font-variant-ligatures: normal; font-variant-caps: normal; letter-spacing: normal; orphans: 2; text-align: left; text-indent: 0px; text-transform: none; white-space: normal; widows: 2; word-spacing: 0px; -webkit-text-stroke-width: 0px; background-color: rgb(255, 255, 255); text-decoration-thickness: initial; text-decoration-style: initial; text-decoration-color: initial;'>*Games played on polished concrete. \u003c/strong> \u003c/span>\u003c/p>\u003cp>\u003cbr>\u003c/p>\u003cp>Minimum for a full team is 9 players\u003c/p>\u003cp>\u003cbr>\u003c/p>\u003cp id=\"isPasted\" style=\"line-height: 1.2;\">\u003cspan style='box-sizing: inherit; background-repeat: no-repeat; background-size: contain; font-family: Arial, \"Helvetica Neue\", Helvetica, sans-serif; color: rgb(65, 65, 65); font-size: 14px; font-style: normal; font-variant-ligatures: normal; font-variant-caps: normal; font-weight: 400; letter-spacing: normal; orphans: 2; text-align: left; text-indent: 0px; text-transform: none; white-space: normal; widows: 2; word-spacing: 0px; -webkit-text-stroke-width: 0px; text-decoration-thickness: initial; text-decoration-style: initial; text-decoration-color: initial; background-color: rgb(255, 255, 255); float: none; display: inline !important;'>Registered Groups who do not meet the minimum roster requirement by the registration deadline\u003c/span>\u003cspan style='box-sizing: inherit; background-repeat: no-repeat; background-size: contain; font-family: Arial, \"Helvetica Neue\", Helvetica, sans-serif; margin-bottom: 0px; color: rgb(65, 65, 65); font-size: 14px; font-style: normal; font-variant-ligatures: normal; font-variant-caps: normal; font-weight: 400; letter-spacing: normal; orphans: 2; text-align: left; text-indent: 0px; text-transform: none; white-space: normal; widows: 2; word-spacing: 0px; -webkit-text-stroke-width: 0px; text-decoration-thickness: initial; text-decoration-style: initial; text-decoration-color: initial; background-color: rgb(255, 255, 255); float: none; display: inline !important;'> may be merged with other small groups, or have free agents added to their roster to meet the roster requirement\u003c/span>\u003c/p>\u003cp style=\"line-height: 1.2;\">\u003cbr>\u003c/p>\u003cp style=\"line-height: 1.2;\">Playoffs: Only the top 4 teams are guaranteed to make playoffs in this league! We will take more if time allows.\u003c/p>\u003cp>\u003cbr>\u003c/p>\u003cp>Weather Policy: Guaranteed 2 makeup games at the same location but not guaranteed to be played on the same day of the week.Teams may have byes or doubleheaders. \u003c/p>\u003cp>\u003cbr>\u003c/p>\u003cp>The league may be shortened/extended by a week but all league games will be played!\u003c/p>"},"activityName":"Dodgeball","programType":"LEAGUE"},"League:640a55f38a1855cec49d896e":{"__typename":"League","_id":"640a55f38a1855cec49d896e","name":"Dodgeball (6v6 Coed) - Saturday - RiNo Sports Arena - May 2023","featured_order":null,"schedule":{"__typename":"Schedule","start_date":"2023-05-20T18:00:00.000Z"},"details":{"__typename":"LeagueDetails","description":"\u003cp id=\"isPasted\">RiNo Sports Arena Dodgeball is here! \u003cspan style=\"font-size:10.5pt;font-family:Arial;color:#414141;background-color:#ffffff;font-weight:400;font-style:normal;font-variant:normal;text-decoration:none;vertical-align:baseline;white-space:pre;white-space:pre-wrap;\">After you play dodgeball, you'll play your opponents in on-site flip cup for additional team points!\u003c/span>\u003c/p>\u003cp>\u003cspan style=\"font-size:10.5pt;font-family:Arial;color:#414141;background-color:#ffffff;font-weight:700;font-style:normal;font-variant:normal;text-decoration:none;vertical-align:baseline;white-space:pre;white-space:pre-wrap;\">*Games played on polished concrete. \u003c/span>\u003cspan style=\"font-size:10.5pt;font-family:Arial;color:#414141;background-color:#ffffff;font-weight:400;font-style:normal;font-variant:normal;text-decoration:none;vertical-align:baseline;white-space:pre;white-space:pre-wrap;\"> \u003c/span>\u003c/p>\u003cp>\u003cbr>\u003c/p>\u003cp>Minimum for a full team is 9 players \u003cspan style='color: rgb(65, 65, 65); font-family: Arial, \"Helvetica Neue\", Helvetica, sans-serif; font-size: 14px; font-style: normal; font-variant-ligatures: normal; font-variant-caps: normal; font-weight: 400; letter-spacing: normal; orphans: 2; text-align: left; text-indent: 0px; text-transform: none; white-space: normal; widows: 2; word-spacing: 0px; -webkit-text-stroke-width: 0px; background-color: rgb(255, 255, 255); text-decoration-thickness: initial; text-decoration-style: initial; text-decoration-color: initial; display: inline !important; float: none;'>(Registered Groups who are not pre-paid teams and do not meet the minimum roster requirement by the registration deadline\u003c/span>\u003cspan style='color: rgb(65, 65, 65); font-family: Arial, \"Helvetica Neue\", Helvetica, sans-serif; font-size: 14px; font-style: normal; font-variant-ligatures: normal; font-variant-caps: normal; font-weight: 400; letter-spacing: normal; orphans: 2; text-align: left; text-indent: 0px; text-transform: none; white-space: normal; widows: 2; word-spacing: 0px; -webkit-text-stroke-width: 0px; background-color: rgb(255, 255, 255); text-decoration-thickness: initial; text-decoration-style: initial; text-decoration-color: initial; display: inline !important; float: none;'> may be merged with other small groups, or have free agents added to their roster to meet the roster requirement).\u003c/span>\u003c/p>\u003cp>\u003cbr>\u003c/p>\u003cp>Playoffs: Top 4 teams make playoffs, we will take more if time and permitted space allows \u003c/p>\u003cp>\u003cbr>\u003c/p>\u003cp>Weather Policy: Guaranteed 2 makeup games at the same location but not guaranteed to be played on the same day of the week. \u003c/p>\u003cp>\u003cbr>\u003c/p>\u003cp>Doubleheaders: Teams may have byes or doubleheaders. \u003c/p>\u003cp>\u003cbr>\u003c/p>\u003cp>The league may be shortened/extended by a week but all league games will be played! \u003c/p>"},"activityName":"Dodgeball","programType":"LEAGUE"},"League:640a420332182a84a89a301a":{"__typename":"League","_id":"640a420332182a84a89a301a","name":"Dodgeball (6v6 Coed) - Sunday - RiNo Sports Arena - May 2023","featured_order":null,"schedule":{"__typename":"Schedule","start_date":"2023-05-14T18:00:00.000Z"},"details":{"__typename":"LeagueDetails","description":"\u003cp id=\"isPasted\">RiNo Sports Arena Dodgeball is here! Enjoy the best social dodgeball in the city. \u003cspan id=\"isPasted\" style=\"font-size:10.5pt;font-family:Arial;color:#414141;background-color:#ffffff;font-weight:400;font-style:normal;font-variant:normal;text-decoration:none;vertical-align:baseline;white-space:pre;white-space:pre-wrap;\">After you play dodgeball, you'll play your opponents in on-site flip cup for additional team points!\u003c/span>\u003c/p>\u003cp>\u003cbr>\u003c/p>\u003cp>\u003cstrong>*Games played one polished concrete. \u003cbr>\u003c/strong>\u003c/p>\u003cp>\u003cbr>\u003c/p>\u003cp>Minimum for a full team is 9 players \u003cspan style='color: rgb(65, 65, 65); font-family: Arial, \"Helvetica Neue\", Helvetica, sans-serif; font-size: 14px; font-style: normal; font-variant-ligatures: normal; font-variant-caps: normal; font-weight: 400; letter-spacing: normal; orphans: 2; text-align: left; text-indent: 0px; text-transform: none; white-space: normal; widows: 2; word-spacing: 0px; -webkit-text-stroke-width: 0px; background-color: rgb(255, 255, 255); text-decoration-thickness: initial; text-decoration-style: initial; text-decoration-color: initial; display: inline !important; float: none;'>(Registered Groups who do not meet the minimum roster requirement by the registration deadline\u003c/span>\u003cspan style='color: rgb(65, 65, 65); font-family: Arial, \"Helvetica Neue\", Helvetica, sans-serif; font-size: 14px; font-style: normal; font-variant-ligatures: normal; font-variant-caps: normal; font-weight: 400; letter-spacing: normal; orphans: 2; text-align: left; text-indent: 0px; text-transform: none; white-space: normal; widows: 2; word-spacing: 0px; -webkit-text-stroke-width: 0px; background-color: rgb(255, 255, 255); text-decoration-thickness: initial; text-decoration-style: initial; text-decoration-color: initial; display: inline !important; float: none;'> may be merged with other small groups, or have free agents added to their roster to meet the roster requirement).\u003c/span>\u003c/p>\u003cp>\u003cbr>\u003c/p>\u003cp>Playoffs: Top 4 teams make playoffs, we will take more if time and permitted space allows \u003c/p>\u003cp>\u003cbr>\u003c/p>\u003cp>Weather Policy: Guaranteed 2 makeup games at the same location but not guaranteed to be played on the same day of the week. \u003c/p>\u003cp>\u003cbr>\u003c/p>\u003cp>Doubleheaders: Teams may have byes or doubleheaders. The league may be shortened/extended by a week but all league games will be played! \u003c/p>"},"activityName":"Dodgeball","programType":"LEAGUE"},"League:63e2ac14163f1f417929d07c":{"__typename":"League","_id":"63e2ac14163f1f417929d07c","name":"Dodgeball (10v10 Coed) - Thursday - Galileo Gymnasium (Marina) - April 2023","featured_order":null,"schedule":{"__typename":"Schedule","start_date":"2023-04-20T19:00:00.000Z"},"details":{"__typename":"LeagueDetails","description":"\u003cp>Thursday night Dodgeball at Galileo Academy Gymnasium in the Marina is the place to be!! The MOST social dodgeball league in the Marina....and \u003cstrong>y\u003c/strong>\u003cstrong>es Flip Cup is BACK at our Sponsor Bar Westwood. \u003c/strong>\u003cstrong>Flip Cup is Mandatory - counts in standings!\u003c/strong>\u003c/p>\u003cp>\u003cbr>\u003c/p>\u003cp id=\"isPasted\" style=\"line-height:1.38;margin-top:0pt;margin-bottom:0pt;\">\u003cspan style=\"font-size:10.5pt;font-family:Arial;color:#414141;background-color:#ffffff;font-weight:400;font-style:normal;font-variant:normal;text-decoration:none;vertical-align:baseline;white-space:pre;white-space:pre-wrap;\">Join us for our Spring End of Season party including FREE all-you-can-drink beer and other specials. More info to come!\u003c/span>\u003c/p>\u003cp>\u003cbr>\u003c/p>\u003cp>\u003cstrong>Dodgeball 10v10\u003c/strong>\u003c/p>\u003cp>Flip Cup Win = 1 point Best of 7 \u003c/p>\u003cp>5 players minimum \u003c/p>\u003cp>Playing with beer is not required\u003c/p>\u003cp>Thursday night Dodgeball doesn't get any better than this! \u003c/p>\u003cp>\u003cbr>\u003c/p>\u003cp>\u003cbr>\u003c/p>"},"activityName":"Dodgeball","programType":"LEAGUE"},"League:63d6d6a7e1d3b86b33ef9ce0":{"__typename":"League","_id":"63d6d6a7e1d3b86b33ef9ce0","name":"Dodgeball (6v6 Coed) - Thursday - Baruch College (Murray Hill & Gramercy) - April 2023","featured_order":null,"schedule":{"__typename":"Schedule","start_date":"2023-04-20T16:00:00.000Z"},"details":{"__typename":"LeagueDetails","description":"\u003cp>Come show off the 5 D's of Dodgeball with us at Baruch College - Dodge, duck, dip, dive and dodge your way to glory each week.\u003cbr>\u003cbr>Flip Cup is Back for Spring 2023!\u003cbr>\u003cbr> Six Game regular season + playoffs (Top 4 teams make playoffs) Teams consist of 10 players (at least 4 women) 6 vs 6 Coed (4M 2W) All gator skin foam balls\u003c/p>\u003cp>\u003cbr>\u003c/p>\u003cp>\u003cspan id=\"isPasted\" style='color: rgb(76, 76, 76); font-family: Arial, \"Helvetica Neue\", Helvetica, sans-serif; font-size: 14px; font-style: normal; font-variant-ligatures: normal; font-variant-caps: normal; font-weight: 400; letter-spacing: normal; orphans: 2; text-align: start; text-indent: 0px; text-transform: none; white-space: pre-wrap; widows: 2; word-spacing: 0px; -webkit-text-stroke-width: 0px; background-color: rgb(255, 255, 255); text-decoration-thickness: initial; text-decoration-style: initial; text-decoration-color: initial; display: inline !important; float: none;'>All leagues, days, times, and locations are subject to change at any point in the season\u003c/span>\u003c/p>\u003cp>\u003cbr>\u003c/p>\u003cp>\u003cbr>\u003c/p>\u003cp dir=\"ltr\" id=\"isPasted\" style=\"line-height:1.38;text-align: center;margin-top:0pt;margin-bottom:0pt;\">\u003ca href=\"http://bit.ly/3Leyxcj\" style=\"text-decoration:none;\">\u003cspan style=\"font-size:11pt;font-family:Calibri,sans-serif;color:#1155cc;background-color:transparent;font-weight:400;font-style:normal;font-variant:normal;text-decoration:underline;-webkit-text-decoration-skip:none;text-decoration-skip-ink:none;vertical-align:baseline;white-space:pre;white-space:pre-wrap;\">\u003cspan style=\"border:none;display:inline-block;overflow:hidden;width:418px;height:139px;\">\u003cimg src=\"https://s3.amazonaws.com/rivall-user-uploads/prodUploads/orgEmailPicturesFolder/624b6905f214b16cfc304ee2_1679346397163.png\" width=\"418\" height=\"139\" class=\"fr-fic fr-dii\">\u003c/span>\u003c/span>\u003c/a>\u003c/p>\u003cp>\u003cspan style=\"font-size:11pt;font-family:Calibri,sans-serif;color:#000000;background-color:transparent;font-weight:700;font-style:italic;font-variant:normal;text-decoration:none;vertical-align:baseline;white-space:pre;white-space:pre-wrap;\">BET THE BRACKET: \u003c/span>\u003cspan style=\"font-size:11pt;font-family:Calibri,sans-serif;color:#000000;background-color:transparent;font-weight:400;font-style:normal;font-variant:normal;text-decoration:none;vertical-align:baseline;white-space:pre;white-space:pre-wrap;\">Get $50 OFF your next Volo NY league when you sign up for FanDuel Sportsbook and bet $5 or more on this year's College Basketball Tournament. \u003c/span>\u003ca href=\"http://bit.ly/3Leyxcj\" style=\"text-decoration:none;\">\u003cspan style=\"font-size:11pt;font-family:Calibri,sans-serif;color:#1155cc;background-color:transparent;font-weight:400;font-style:normal;font-variant:normal;text-decoration:underline;-webkit-text-decoration-skip:none;text-decoration-skip-ink:none;vertical-align:baseline;white-space:pre;white-space:pre-wrap;\">JOIN NOW!\u003c/span>\u003c/a>\u003c/p>"},"activityName":"Dodgeball","programType":"LEAGUE"},"League:63d3ee0070eec78e7db80812":{"__typename":"League","_id":"63d3ee0070eec78e7db80812","name":"Dodgeball (6v6 Coed) - Wednesday - Shiloh Baptist Church (Shaw) - April 2023","featured_order":null,"schedule":{"__typename":"Schedule","start_date":"2023-04-19T16:00:00.000Z"},"details":{"__typename":"LeagueDetails","description":"\u003cp id=\"isPasted\">Dodge, duck, dip, dive and....DODGE your way into the Spring with Shiloh Baptist Dodgeball! A new 6v6 rotational format- Your team plays 10 games a night over a period of 1hr and 15 min against multiple teams! \u003cbr>\u003cbr>\u003cstrong>Dodgeball (Coed 6v6 Indoor)\u003c/strong>\u003cbr>-Teams consist of at least 10 players\u003cbr>-6 vs 6 Coed (4 max men on the court)\u003cbr>-Min. 3 players (including 1 woman) to start a game\u003c/p>\u003cp>\u003cbr>\u003cstrong>Playoffs\u003c/strong>\u003cbr>Guaranteed top 4 teams will make playoffs, however, additional teams may be added to playoffs if schedule/venue space allows.\u003c/p>\u003cp>\u003cbr>\u003c/p>\u003cp>\u003cstrong>Vaccinations: \u003c/strong>Proof of vaccination is required for participation at Shiloh Indoor Leagues. Please bring your vaccination card or photo of your card plus a state-issued ID to the first week of your league.\u003c/p>\u003cp>\u003cbr>\u003c/p>\u003cp>Note: \u003cspan style=\"color: rgb(29, 28, 29); font-family: Slack-Lato, Slack-Fractions, appleLogo, sans-serif; font-size: 15px; font-style: normal; font-variant-ligatures: common-ligatures; font-variant-caps: normal; font-weight: 400; letter-spacing: normal; orphans: 2; text-align: left; text-indent: 0px; text-transform: none; white-space: normal; widows: 2; word-spacing: 0px; -webkit-text-stroke-width: 0px; background-color: rgb(248, 248, 248); text-decoration-thickness: initial; text-decoration-style: initial; text-decoration-color: initial; display: inline !important; float: none;\">In the event of unforeseen conflicts with the venue, games may be rescheduled to an alternate day or location\u003c/span>\u003c/p>"},"activityName":"Dodgeball","programType":"LEAGUE"},"League:63d360e970eec78e7db009fb":{"__typename":"League","_id":"63d360e970eec78e7db009fb","name":"Dodgeball (8v8 Coed) - Wednesday - St Ignatius Academy (Federal Hill) - May 2023","featured_order":null,"schedule":{"__typename":"Schedule","start_date":"2023-05-10T16:00:00.000Z"},"details":{"__typename":"LeagueDetails","description":"\u003cp id=\"isPasted\">\u003cspan style=\"font-size:11.5pt;font-family:Arial;color:#000000;background-color:#ffffff;font-weight:400;font-style:normal;font-variant:normal;text-decoration:none;vertical-align:baseline;white-space:pre;white-space:pre-wrap;\">Your weekend officially starts on Thursdays! Gather up your best buds to kick off a fun weekend with Volo's Traditional Dodgeball league at St Ignatius and then join us at the sponsor bar for flip cup!\u003c/span>\u003c/p>\u003cp>\u003cbr>\u003c/p>\u003cp id=\"isPasted\">\u003cstrong>8v8 Dodgeball:\u003c/strong>\u003c/p>\u003cp>5 male players max on field \u003c/p>\u003cp>Minimum 4 players, 1female players to play \u003c/p>\u003cp>Game variations played throughout the night\u003c/p>\u003cp>\u003cbr>\u003c/p>\u003cp>\u003cstrong>Playoffs \u003c/strong>\u003c/p>\u003cp>Top 8 teams will make playoffs *Additional teams may be added to playoffs if schedules / venue space allow\u003c/p>\u003cp>\u003cbr>\u003c/p>\u003cp>\u003cbr>\u003c/p>\u003cp dir=\"ltr\" id=\"isPasted\" style=\"line-height:1.38;margin-top:0pt;margin-bottom:0pt;\">\u003ca href=\"http://bit.ly/421r4TO\" style=\"text-decoration:none;\">\u003cspan style=\"font-size:11pt;font-family:Calibri,sans-serif;color:#1155cc;background-color:transparent;font-weight:400;font-style:normal;font-variant:normal;text-decoration:underline;-webkit-text-decoration-skip:none;text-decoration-skip-ink:none;vertical-align:baseline;white-space:pre;white-space:pre-wrap;\">\u003cspan style=\"border:none;display:inline-block;overflow:hidden;width:440px;height:147px;\">\u003cimg src=\"https://s3.amazonaws.com/rivall-user-uploads/prodUploads/orgEmailPicturesFolder/624b6905f214b16cfc304ee2_1679427951270.png\" width=\"440\" height=\"147\" class=\"fr-fic fr-dii\">\u003c/span>\u003c/span>\u003c/a>\u003c/p>\u003cp>\u003cspan style=\"font-size:11pt;font-family:Tahoma,sans-serif;color:#222222;background-color:#ffffff;font-weight:700;font-style:normal;font-variant:normal;text-decoration:none;vertical-align:baseline;white-space:pre;white-space:pre-wrap;\">BET THE BRACKET\u003c/span>\u003cspan style=\"font-size:11pt;font-family:Tahoma,sans-serif;color:#222222;background-color:#ffffff;font-weight:400;font-style:normal;font-variant:normal;text-decoration:none;vertical-align:baseline;white-space:pre;white-space:pre-wrap;\">: Get $50 OFF your next Volo Baltimore league when you sign up for DraftKings Sportsbook and bet $5 or more on this year's College Basketball Tournament. \u003c/span>\u003cspan style=\"font-size:11pt;font-family:Tahoma,sans-serif;color:#222222;background-color:#ffffff;font-weight:700;font-style:normal;font-variant:normal;text-decoration:none;vertical-align:baseline;white-space:pre;white-space:pre-wrap;\">Promo code: VOLO150\u003c/span>\u003cspan style=\"font-size:11pt;font-family:Tahoma,sans-serif;color:#222222;background-color:#ffffff;font-weight:400;font-style:normal;font-variant:normal;text-decoration:none;vertical-align:baseline;white-space:pre;white-space:pre-wrap;\">. \u003c/span>\u003ca href=\"http://bit.ly/421r4TO\" style=\"text-decoration:none;\">\u003cspan style=\"font-size:11pt;font-family:Tahoma,sans-serif;color:#1155cc;background-color:#ffffff;font-weight:400;font-style:normal;font-variant:normal;text-decoration:underline;-webkit-text-decoration-skip:none;text-decoration-skip-ink:none;vertical-align:baseline;white-space:pre;white-space:pre-wrap;\">Sign up now!\u003c/span>\u003c/a>\u003c/p>"},"activityName":"Dodgeball","programType":"LEAGUE"},"League:63d2f4b170603527e9bb0d37":{"__typename":"League","_id":"63d2f4b170603527e9bb0d37","name":"Dodgeball (10v10 Coed) - Thursday - SF Italian Athletic Club (North Beach) - April 2023","featured_order":null,"schedule":{"__typename":"Schedule","start_date":"2023-04-20T19:00:00.000Z"},"details":{"__typename":"LeagueDetails","description":"\u003cp id=\"isPasted\" style='box-sizing: inherit; background-repeat: no-repeat; background-size: contain; margin: 0px; padding: 0px; margin-block: 0px; margin-inline: 0px; padding-block: 0px; padding-inline: 0px; color: rgb(65, 65, 65); text-rendering: optimizelegibility; font-family: Arial, \"Helvetica Neue\", Helvetica, sans-serif; font-size: 14px; font-style: normal; font-variant-ligatures: normal; font-variant-caps: normal; font-weight: 400; letter-spacing: normal; orphans: 2; text-align: left; text-indent: 0px; text-transform: none; white-space: normal; widows: 2; word-spacing: 0px; -webkit-text-stroke-width: 0px; background-color: rgb(255, 255, 255); text-decoration-thickness: initial; text-decoration-style: initial; text-decoration-color: initial;'>\u003cspan style=\"box-sizing: inherit; background-repeat: no-repeat; background-size: contain; font-family: Arial; margin-bottom: 0px; font-size: 11.5pt; color: rgb(0, 0, 0); background-color: rgb(255, 255, 255); font-weight: 400; font-style: normal; font-variant: normal; text-decoration: none; vertical-align: baseline; white-space: pre-wrap;\">Dodge the mid week blues and take a much-needed break in your week with some Dodgeball on Thursday at SF Italian Athletic Club! \u003c/span>\u003c/p>\u003cp style='box-sizing: inherit; background-repeat: no-repeat; background-size: contain; margin: 0px; padding: 0px; margin-block: 0px; margin-inline: 0px; padding-block: 0px; padding-inline: 0px; color: rgb(65, 65, 65); text-rendering: optimizelegibility; font-family: Arial, \"Helvetica Neue\", Helvetica, sans-serif; font-size: 14px; font-style: normal; font-variant-ligatures: normal; font-variant-caps: normal; font-weight: 400; letter-spacing: normal; orphans: 2; text-align: left; text-indent: 0px; text-transform: none; white-space: normal; widows: 2; word-spacing: 0px; -webkit-text-stroke-width: 0px; background-color: rgb(255, 255, 255); text-decoration-thickness: initial; text-decoration-style: initial; text-decoration-color: initial;'>\u003cbr>\u003c/p>\u003cp dir=\"ltr\" id=\"isPasted\" style=\"line-height:1.38;margin-top:0pt;margin-bottom:0pt;\">\u003cspan style=\"font-size:10.5pt;font-family:Arial;color:#414141;background-color:#ffffff;font-weight:400;font-style:normal;font-variant:normal;text-decoration:none;vertical-align:baseline;white-space:pre;white-space:pre-wrap;\">Join us for our Spring End of Season party including FREE all you can drink beer and other specials. More info to come!\u003c/span>\u003c/p>\u003cp style='box-sizing: inherit; background-repeat: no-repeat; background-size: contain; margin: 0px; padding: 0px; margin-block: 0px; margin-inline: 0px; padding-block: 0px; padding-inline: 0px; color: rgb(65, 65, 65); text-rendering: optimizelegibility; font-family: Arial, \"Helvetica Neue\", Helvetica, sans-serif; font-size: 14px; font-style: normal; font-variant-ligatures: normal; font-variant-caps: normal; font-weight: 400; letter-spacing: normal; orphans: 2; text-align: left; text-indent: 0px; text-transform: none; white-space: normal; widows: 2; word-spacing: 0px; -webkit-text-stroke-width: 0px; background-color: rgb(255, 255, 255); text-decoration-thickness: initial; text-decoration-style: initial; text-decoration-color: initial;'>\u003cbr style=\"box-sizing: inherit; background-repeat: no-repeat; background-size: contain; margin-bottom: 0px;\">\u003c/p>\u003cp style='box-sizing: inherit; background-repeat: no-repeat; background-size: contain; margin: 0px; padding: 0px; margin-block: 0px; margin-inline: 0px; padding-block: 0px; padding-inline: 0px; color: rgb(65, 65, 65); text-rendering: optimizelegibility; font-family: Arial, \"Helvetica Neue\", Helvetica, sans-serif; font-size: 14px; font-style: normal; font-variant-ligatures: normal; font-variant-caps: normal; font-weight: 400; letter-spacing: normal; orphans: 2; text-align: left; text-indent: 0px; text-transform: none; white-space: normal; widows: 2; word-spacing: 0px; -webkit-text-stroke-width: 0px; background-color: rgb(255, 255, 255); text-decoration-thickness: initial; text-decoration-style: initial; text-decoration-color: initial;'>\u003cstrong>10v10 Dodgeball:\u003c/strong>\u003c/p>\u003cp style='box-sizing: inherit; background-repeat: no-repeat; background-size: contain; margin: 0px; padding: 0px; margin-block: 0px; margin-inline: 0px; padding-block: 0px; padding-inline: 0px; color: rgb(65, 65, 65); text-rendering: optimizelegibility; font-family: Arial, \"Helvetica Neue\", Helvetica, sans-serif; font-size: 14px; font-style: normal; font-variant-ligatures: normal; font-variant-caps: normal; font-weight: 400; letter-spacing: normal; orphans: 2; text-align: left; text-indent: 0px; text-transform: none; white-space: normal; widows: 2; word-spacing: 0px; -webkit-text-stroke-width: 0px; background-color: rgb(255, 255, 255); text-decoration-thickness: initial; text-decoration-style: initial; text-decoration-color: initial;'>6 male players max on field \u003c/p>\u003cp style='box-sizing: inherit; background-repeat: no-repeat; background-size: contain; margin: 0px; padding: 0px; margin-block: 0px; margin-inline: 0px; padding-block: 0px; padding-inline: 0px; color: rgb(65, 65, 65); text-rendering: optimizelegibility; font-family: Arial, \"Helvetica Neue\", Helvetica, sans-serif; font-size: 14px; font-style: normal; font-variant-ligatures: normal; font-variant-caps: normal; font-weight: 400; letter-spacing: normal; orphans: 2; text-align: left; text-indent: 0px; text-transform: none; white-space: normal; widows: 2; word-spacing: 0px; -webkit-text-stroke-width: 0px; background-color: rgb(255, 255, 255); text-decoration-thickness: initial; text-decoration-style: initial; text-decoration-color: initial;'>Minimum 6 players, 2 female players to play \u003c/p>\u003cp style='box-sizing: inherit; background-repeat: no-repeat; background-size: contain; margin: 0px; padding: 0px; margin-block: 0px; margin-inline: 0px; padding-block: 0px; padding-inline: 0px; color: rgb(65, 65, 65); text-rendering: optimizelegibility; font-family: Arial, \"Helvetica Neue\", Helvetica, sans-serif; font-size: 14px; font-style: normal; font-variant-ligatures: normal; font-variant-caps: normal; font-weight: 400; letter-spacing: normal; orphans: 2; text-align: left; text-indent: 0px; text-transform: none; white-space: normal; widows: 2; word-spacing: 0px; -webkit-text-stroke-width: 0px; background-color: rgb(255, 255, 255); text-decoration-thickness: initial; text-decoration-style: initial; text-decoration-color: initial;'>Game variations played throughout the night\u003c/p>\u003cp style='box-sizing: inherit; background-repeat: no-repeat; background-size: contain; margin: 0px; padding: 0px; margin-block: 0px; margin-inline: 0px; padding-block: 0px; padding-inline: 0px; color: rgb(65, 65, 65); text-rendering: optimizelegibility; font-family: Arial, \"Helvetica Neue\", Helvetica, sans-serif; font-size: 14px; font-style: normal; font-variant-ligatures: normal; font-variant-caps: normal; font-weight: 400; letter-spacing: normal; orphans: 2; text-align: left; text-indent: 0px; text-transform: none; white-space: normal; widows: 2; word-spacing: 0px; -webkit-text-stroke-width: 0px; background-color: rgb(255, 255, 255); text-decoration-thickness: initial; text-decoration-style: initial; text-decoration-color: initial;'>Each night consists of multiple dodgeball variants! \u003c/p>\u003cp style='box-sizing: inherit; background-repeat: no-repeat; background-size: contain; margin: 0px; padding: 0px; margin-block: 0px; margin-inline: 0px; padding-block: 0px; padding-inline: 0px; color: rgb(65, 65, 65); text-rendering: optimizelegibility; font-family: Arial, \"Helvetica Neue\", Helvetica, sans-serif; font-size: 14px; font-style: normal; font-variant-ligatures: normal; font-variant-caps: normal; font-weight: 400; letter-spacing: normal; orphans: 2; text-align: left; text-indent: 0px; text-transform: none; white-space: normal; widows: 2; word-spacing: 0px; -webkit-text-stroke-width: 0px; background-color: rgb(255, 255, 255); text-decoration-thickness: initial; text-decoration-style: initial; text-decoration-color: initial;'>Flip Cup Details Flip cup win = 1 point Minimum players: 5 Best of 7 End of season flip cup playoffs\u003c/p>\u003cp>\u003cbr>\u003c/p>\u003cp id=\"isPasted\" style='box-sizing: inherit; background-repeat: no-repeat; background-size: contain; margin: 0px; padding: 0px; margin-block: 0px; margin-inline: 0px; padding-block: 0px; padding-inline: 0px; color: rgb(65, 65, 65); text-rendering: optimizelegibility; font-family: Arial, \"Helvetica Neue\", Helvetica, sans-serif; font-size: 14px; font-style: normal; font-variant-ligatures: normal; font-variant-caps: normal; font-weight: 400; letter-spacing: normal; orphans: 2; text-align: left; text-indent: 0px; text-transform: none; white-space: normal; widows: 2; word-spacing: 0px; -webkit-text-stroke-width: 0px; background-color: rgb(255, 255, 255); text-decoration-thickness: initial; text-decoration-style: initial; text-decoration-color: initial;'>\u003cstrong>Playoffs\u003c/strong>\u003c/p>\u003cp style='box-sizing: inherit; background-repeat: no-repeat; background-size: contain; margin: 0px; padding: 0px; margin-block: 0px; margin-inline: 0px; padding-block: 0px; padding-inline: 0px; color: rgb(65, 65, 65); text-rendering: optimizelegibility; font-family: Arial, \"Helvetica Neue\", Helvetica, sans-serif; font-size: 14px; font-style: normal; font-variant-ligatures: normal; font-variant-caps: normal; font-weight: 400; letter-spacing: normal; orphans: 2; text-align: left; text-indent: 0px; text-transform: none; white-space: normal; widows: 2; word-spacing: 0px; -webkit-text-stroke-width: 0px; background-color: rgb(255, 255, 255); text-decoration-thickness: initial; text-decoration-style: initial; text-decoration-color: initial;'>Top 8 teams will make playoffs \u003c/p>\u003cp style='box-sizing: inherit; background-repeat: no-repeat; background-size: contain; margin: 0px; padding: 0px; margin-block: 0px; margin-inline: 0px; padding-block: 0px; padding-inline: 0px; color: rgb(65, 65, 65); text-rendering: optimizelegibility; font-family: Arial, \"Helvetica Neue\", Helvetica, sans-serif; font-size: 14px; font-style: normal; font-variant-ligatures: normal; font-variant-caps: normal; font-weight: 400; letter-spacing: normal; orphans: 2; text-align: left; text-indent: 0px; text-transform: none; white-space: normal; widows: 2; word-spacing: 0px; -webkit-text-stroke-width: 0px; background-color: rgb(255, 255, 255); text-decoration-thickness: initial; text-decoration-style: initial; text-decoration-color: initial;'>*Additional teams may be added to playoffs if schedules / venue space allow \u003c/p>\u003cp>\u003cbr>\u003c/p>"},"activityName":"Dodgeball","programType":"LEAGUE"},"League:63d2b9c921558490d303920e":{"__typename":"League","_id":"63d2b9c921558490d303920e","name":"Dodgeball (Coed) - Thursday - Trum Field (Somerville) - May 2023","featured_order":null,"schedule":{"__typename":"Schedule","start_date":"2023-05-11T16:00:00.000Z"},"details":{"__typename":"LeagueDetails","description":"\u003cp id=\"isPasted\">Dodgeball continues this season at one of our most popular outdoor venues\u003cspan style='color: rgb(76, 76, 76); font-family: Arial, \"Helvetica Neue\", Helvetica, sans-serif; font-size: 14px; font-style: normal; font-variant-ligatures: normal; font-variant-caps: normal; font-weight: 400; letter-spacing: normal; orphans: 2; text-align: start; text-indent: 0px; text-transform: none; white-space: pre-wrap; widows: 2; word-spacing: 0px; -webkit-text-stroke-width: 0px; background-color: rgb(255, 255, 255); text-decoration-thickness: initial; text-decoration-style: initial; text-decoration-color: initial; display: inline !important; float: none;'>- Trum Field Basketball Courts. Catch some fresh air while we bump tunes and sling some rubber balls on the court. Make some new friends and even more friendly rivalries.\u003c/span>\u003c/p>\u003cp>\u003cbr>\u003c/p>\u003cp>\u003cspan style='color: rgb(76, 76, 76); font-family: Arial, \"Helvetica Neue\", Helvetica, sans-serif; font-size: 14px; font-style: normal; font-variant-ligatures: normal; font-variant-caps: normal; font-weight: 400; letter-spacing: normal; orphans: 2; text-align: start; text-indent: 0px; text-transform: none; white-space: pre-wrap; widows: 2; word-spacing: 0px; -webkit-text-stroke-width: 0px; background-color: rgb(255, 255, 255); text-decoration-thickness: initial; text-decoration-style: initial; text-decoration-color: initial; display: inline !important; float: none;'>No Sting balls \u003c/span>\u003c/p>\u003cp>\u003cspan style='color: rgb(76, 76, 76); font-family: Arial, \"Helvetica Neue\", Helvetica, sans-serif; font-size: 14px; font-style: normal; font-variant-ligatures: normal; font-variant-caps: normal; font-weight: 400; letter-spacing: normal; orphans: 2; text-align: start; text-indent: 0px; text-transform: none; white-space: pre-wrap; widows: 2; word-spacing: 0px; -webkit-text-stroke-width: 0px; background-color: rgb(255, 255, 255); text-decoration-thickness: initial; text-decoration-style: initial; text-decoration-color: initial; display: inline !important; float: none;'>10 games played each week \u003c/span>\u003c/p>\u003cp>\u003cspan style='color: rgb(76, 76, 76); font-family: Arial, \"Helvetica Neue\", Helvetica, sans-serif; font-size: 14px; font-style: normal; font-variant-ligatures: normal; font-variant-caps: normal; font-weight: 400; letter-spacing: normal; orphans: 2; text-align: start; text-indent: 0px; text-transform: none; white-space: pre-wrap; widows: 2; word-spacing: 0px; -webkit-text-stroke-width: 0px; background-color: rgb(255, 255, 255); text-decoration-thickness: initial; text-decoration-style: initial; text-decoration-color: initial; display: inline !important; float: none;'>At least 8 players are needed for a complete team - Minimum of 3 males/females per team\u003c/span>\u003c/p>"},"activityName":"Dodgeball","programType":"LEAGUE"},"League:63d0478d3b0033cf739de1fa":{"__typename":"League","_id":"63d0478d3b0033cf739de1fa","name":"Dodgeball (6v6 Coed) - Tuesday - Shady Hill School (Cambridge) - May 2023","featured_order":null,"schedule":{"__typename":"Schedule","start_date":"2023-05-09T16:00:00.000Z"},"details":{"__typename":"LeagueDetails","description":"\u003cp>Dodgeball continues this season at one of our most popular venues\u003cspan id=\"isPasted\" style='color: rgb(76, 76, 76); font-family: Arial, \"Helvetica Neue\", Helvetica, sans-serif; font-size: 14px; font-style: normal; font-variant-ligatures: normal; font-variant-caps: normal; font-weight: 400; letter-spacing: normal; orphans: 2; text-align: start; text-indent: 0px; text-transform: none; white-space: pre-wrap; widows: 2; word-spacing: 0px; -webkit-text-stroke-width: 0px; background-color: rgb(255, 255, 255); text-decoration-thickness: initial; text-decoration-style: initial; text-decoration-color: initial; display: inline !important; float: none;'>- Shady Hill. Break up the work week and meet us at Shady Hill for some Tuesday night Dodgeball! After your game head to Donohue's for half off apps!\u003c/span>\u003c/p>\u003cp>\u003cbr>\u003c/p>\u003cp>\u003cspan style='color: rgb(76, 76, 76); font-family: Arial, \"Helvetica Neue\", Helvetica, sans-serif; font-size: 14px; font-style: normal; font-variant-ligatures: normal; font-variant-caps: normal; font-weight: 400; letter-spacing: normal; orphans: 2; text-align: start; text-indent: 0px; text-transform: none; white-space: pre-wrap; widows: 2; word-spacing: 0px; -webkit-text-stroke-width: 0px; background-color: rgb(255, 255, 255); text-decoration-thickness: initial; text-decoration-style: initial; text-decoration-color: initial; display: inline !important; float: none;'>No Sting balls \u003c/span>\u003c/p>\u003cp>\u003cspan style='color: rgb(76, 76, 76); font-family: Arial, \"Helvetica Neue\", Helvetica, sans-serif; font-size: 14px; font-style: normal; font-variant-ligatures: normal; font-variant-caps: normal; font-weight: 400; letter-spacing: normal; orphans: 2; text-align: start; text-indent: 0px; text-transform: none; white-space: pre-wrap; widows: 2; word-spacing: 0px; -webkit-text-stroke-width: 0px; background-color: rgb(255, 255, 255); text-decoration-thickness: initial; text-decoration-style: initial; text-decoration-color: initial; display: inline !important; float: none;'>10 games played each week \u003c/span>\u003c/p>\u003cp>\u003cspan style='color: rgb(76, 76, 76); font-family: Arial, \"Helvetica Neue\", Helvetica, sans-serif; font-size: 14px; font-style: normal; font-variant-ligatures: normal; font-variant-caps: normal; font-weight: 400; letter-spacing: normal; orphans: 2; text-align: start; text-indent: 0px; text-transform: none; white-space: pre-wrap; widows: 2; word-spacing: 0px; -webkit-text-stroke-width: 0px; background-color: rgb(255, 255, 255); text-decoration-thickness: initial; text-decoration-style: initial; text-decoration-color: initial; display: inline !important; float: none;'>At least 8 players are needed for a complete team - Minimum of 3 males/females per team\u003c/span>\u003c/p>\u003cp>\u003cbr>\u003c/p>\u003cp>\u003cspan style='color: rgb(76, 76, 76); font-family: Arial, \"Helvetica Neue\", Helvetica, sans-serif; font-size: 14px; font-style: normal; font-variant-ligatures: normal; font-variant-caps: normal; font-weight: 400; letter-spacing: normal; orphans: 2; text-align: start; text-indent: 0px; text-transform: none; white-space: pre-wrap; widows: 2; word-spacing: 0px; -webkit-text-stroke-width: 0px; background-color: rgb(255, 255, 255); text-decoration-thickness: initial; text-decoration-style: initial; text-decoration-color: initial; display: inline !important; float: none;'>\u003cem>\u003cstrong>*League may run from 6:00-7:00 due to registrations\u003c/strong>\u003c/em>\u003c/span>\u003cstrong>\u003cem>\u003cbr>\u003c/em>\u003c/strong>\u003c/p>\u003cp>\u003cbr>\u003c/p>\u003cp>\u003cbr>\u003c/p>"},"activityName":"Dodgeball","programType":"LEAGUE"},"League:63d03566f57b78d504ee5fa3":{"__typename":"League","_id":"63d03566f57b78d504ee5fa3","name":"Dodgeball (6v6 Coed) - Wednesday - Aeronaut Taproom (Everett) - May 2023","featured_order":null,"schedule":{"__typename":"Schedule","start_date":"2023-05-10T16:00:00.000Z"},"details":{"__typename":"LeagueDetails","description":"\u003cp id=\"isPasted\" style='box-sizing: inherit; background-repeat: no-repeat; background-size: contain; margin: 0.5rem auto auto; padding: 0px; margin-block: 0px; margin-inline: 0px; padding-block: 0px; padding-inline: 0px; color: rgb(76, 76, 76); text-rendering: optimizelegibility; font-family: Arial, \"Helvetica Neue\", Helvetica, sans-serif; align-items: center; font-size: 14px; overflow: hidden; font-style: normal; font-variant-ligatures: normal; font-variant-caps: normal; font-weight: 400; letter-spacing: normal; orphans: 2; text-align: start; text-indent: 0px; text-transform: none; white-space: pre-wrap; widows: 2; word-spacing: 0px; -webkit-text-stroke-width: 0px; text-decoration-thickness: initial; text-decoration-style: initial; text-decoration-color: initial; background-color: rgb(255, 255, 255);'>Dodgeball in gym class was awesome, but have you ever played while you drink cold beers on the sideline?! A super social league for anyone looking for new friends!\u003c/p>\u003cp style='box-sizing: inherit; background-repeat: no-repeat; background-size: contain; margin: 0.5rem auto auto; padding: 0px; margin-block: 0px; margin-inline: 0px; padding-block: 0px; padding-inline: 0px; color: rgb(76, 76, 76); text-rendering: optimizelegibility; font-family: Arial, \"Helvetica Neue\", Helvetica, sans-serif; align-items: center; font-size: 14px; overflow: hidden; font-style: normal; font-variant-ligatures: normal; font-variant-caps: normal; font-weight: 400; letter-spacing: normal; orphans: 2; text-align: start; text-indent: 0px; text-transform: none; white-space: pre-wrap; widows: 2; word-spacing: 0px; -webkit-text-stroke-width: 0px; background-color: rgb(255, 255, 255); text-decoration-thickness: initial; text-decoration-style: initial; text-decoration-color: initial;'>\u003cspan style='box-sizing: inherit; background-repeat: no-repeat; background-size: contain; font-family: Arial, \"Helvetica Neue\", Helvetica, sans-serif; margin-bottom: 0px; color: rgb(76, 76, 76); font-size: 14px; font-style: normal; font-variant-ligatures: normal; font-variant-caps: normal; font-weight: 400; letter-spacing: normal; orphans: 2; text-align: start; text-indent: 0px; text-transform: none; white-space: pre-wrap; widows: 2; word-spacing: 0px; -webkit-text-stroke-width: 0px; background-color: rgb(255, 255, 255); text-decoration-thickness: initial; text-decoration-style: initial; text-decoration-color: initial; float: none; display: inline !important;'> \u003c/span>\u003c/p>\u003cp style='box-sizing: inherit; background-repeat: no-repeat; background-size: contain; margin: 0.5rem auto auto; padding: 0px; margin-block: 0px; margin-inline: 0px; padding-block: 0px; padding-inline: 0px; color: rgb(76, 76, 76); text-rendering: optimizelegibility; font-family: Arial, \"Helvetica Neue\", Helvetica, sans-serif; align-items: center; font-size: 14px; overflow: hidden; font-style: normal; font-variant-ligatures: normal; font-variant-caps: normal; font-weight: 400; letter-spacing: normal; orphans: 2; text-align: start; text-indent: 0px; text-transform: none; white-space: pre-wrap; widows: 2; word-spacing: 0px; -webkit-text-stroke-width: 0px; text-decoration-thickness: initial; text-decoration-style: initial; text-decoration-color: initial; background-color: rgb(255, 255, 255);'>Foam Balls 10 games played each week\u003c/p>\u003cp style='box-sizing: inherit; background-repeat: no-repeat; background-size: contain; margin: 0.5rem auto auto; padding: 0px; margin-block: 0px; margin-inline: 0px; padding-block: 0px; padding-inline: 0px; color: rgb(76, 76, 76); text-rendering: optimizelegibility; font-family: Arial, \"Helvetica Neue\", Helvetica, sans-serif; align-items: center; font-size: 14px; overflow: hidden; font-style: normal; font-variant-ligatures: normal; font-variant-caps: normal; font-weight: 400; letter-spacing: normal; orphans: 2; text-align: start; text-indent: 0px; text-transform: none; white-space: pre-wrap; widows: 2; word-spacing: 0px; -webkit-text-stroke-width: 0px; background-color: rgb(255, 255, 255); text-decoration-thickness: initial; text-decoration-style: initial; text-decoration-color: initial;'>\u003cspan style='box-sizing: inherit; background-repeat: no-repeat; background-size: contain; font-family: Arial, \"Helvetica Neue\", Helvetica, sans-serif; margin-bottom: 0px; color: rgb(76, 76, 76); font-size: 14px; font-style: normal; font-variant-ligatures: normal; font-variant-caps: normal; font-weight: 400; letter-spacing: normal; orphans: 2; text-align: start; text-indent: 0px; text-transform: none; white-space: pre-wrap; widows: 2; word-spacing: 0px; -webkit-text-stroke-width: 0px; background-color: rgb(255, 255, 255); text-decoration-thickness: initial; text-decoration-style: initial; text-decoration-color: initial; float: none; display: inline !important;'> \u003c/span>\u003c/p>\u003cp style='box-sizing: inherit; background-repeat: no-repeat; background-size: contain; margin: 0.5rem auto auto; padding: 0px; margin-block: 0px; margin-inline: 0px; padding-block: 0px; padding-inline: 0px; color: rgb(76, 76, 76); text-rendering: optimizelegibility; font-family: Arial, \"Helvetica Neue\", Helvetica, sans-serif; align-items: center; font-size: 14px; overflow: hidden; font-style: normal; font-variant-ligatures: normal; font-variant-caps: normal; font-weight: 400; letter-spacing: normal; orphans: 2; text-align: start; text-indent: 0px; text-transform: none; white-space: pre-wrap; widows: 2; word-spacing: 0px; -webkit-text-stroke-width: 0px; text-decoration-thickness: initial; text-decoration-style: initial; text-decoration-color: initial; background-color: rgb(255, 255, 255);'>At least 8 players are needed for a complete team Minimum of 3 males/females per team\u003c/p>\u003cp style='box-sizing: inherit; background-repeat: no-repeat; background-size: contain; margin: 0.5rem auto auto; padding: 0px; margin-block: 0px; margin-inline: 0px; padding-block: 0px; padding-inline: 0px; color: rgb(76, 76, 76); text-rendering: optimizelegibility; font-family: Arial, \"Helvetica Neue\", Helvetica, sans-serif; align-items: center; font-size: 14px; overflow: hidden; font-style: normal; font-variant-ligatures: normal; font-variant-caps: normal; font-weight: 400; letter-spacing: normal; orphans: 2; text-align: start; text-indent: 0px; text-transform: none; white-space: pre-wrap; widows: 2; word-spacing: 0px; -webkit-text-stroke-width: 0px; background-color: rgb(255, 255, 255); text-decoration-thickness: initial; text-decoration-style: initial; text-decoration-color: initial;'>\u003cspan style='box-sizing: inherit; background-repeat: no-repeat; background-size: contain; font-family: Arial, \"Helvetica Neue\", Helvetica, sans-serif; margin-bottom: 0px; color: rgb(76, 76, 76); font-size: 14px; font-style: normal; font-variant-ligatures: normal; font-variant-caps: normal; font-weight: 400; letter-spacing: normal; orphans: 2; text-align: start; text-indent: 0px; text-transform: none; white-space: pre-wrap; widows: 2; word-spacing: 0px; -webkit-text-stroke-width: 0px; background-color: rgb(255, 255, 255); text-decoration-thickness: initial; text-decoration-style: initial; text-decoration-color: initial; float: none; display: inline !important;'> \u003c/span>\u003c/p>\u003cp style='box-sizing: inherit; background-repeat: no-repeat; background-size: contain; margin: 0.5rem auto auto; padding: 0px; margin-block: 0px; margin-inline: 0px; padding-block: 0px; padding-inline: 0px; color: rgb(76, 76, 76); text-rendering: optimizelegibility; font-family: Arial, \"Helvetica Neue\", Helvetica, sans-serif; align-items: center; font-size: 14px; overflow: hidden; font-style: normal; font-variant-ligatures: normal; font-variant-caps: normal; font-weight: 400; letter-spacing: normal; orphans: 2; text-align: start; text-indent: 0px; text-transform: none; white-space: pre-wrap; widows: 2; word-spacing: 0px; -webkit-text-stroke-width: 0px; text-decoration-thickness: initial; text-decoration-style: initial; text-decoration-color: initial; background-color: rgb(255, 255, 255);'>Join the Volo Dodgeball community online: https://www.facebook.com/groups/941690679184694 (it's a great tool to connect with people in your league, organize carpools, put together teams, or just pick up an extra player or sub!) \u003c/p>\u003cp style='box-sizing: inherit; background-repeat: no-repeat; background-size: contain; margin: 0.5rem auto auto; padding: 0px; margin-block: 0px; margin-inline: 0px; padding-block: 0px; padding-inline: 0px; color: rgb(76, 76, 76); text-rendering: optimizelegibility; font-family: Arial, \"Helvetica Neue\", Helvetica, sans-serif; align-items: center; font-size: 14px; overflow: hidden; font-style: normal; font-variant-ligatures: normal; font-variant-caps: normal; font-weight: 400; letter-spacing: normal; orphans: 2; text-align: start; text-indent: 0px; text-transform: none; white-space: pre-wrap; widows: 2; word-spacing: 0px; -webkit-text-stroke-width: 0px; text-decoration-thickness: initial; text-decoration-style: initial; text-decoration-color: initial; background-color: rgb(255, 255, 255);'>\u003cbr>\u003c/p>\u003cp style='box-sizing: inherit; background-repeat: no-repeat; background-size: contain; margin: 0.5rem auto auto; padding: 0px; margin-block: 0px; margin-inline: 0px; padding-block: 0px; padding-inline: 0px; color: rgb(76, 76, 76); text-rendering: optimizelegibility; font-family: Arial, \"Helvetica Neue\", Helvetica, sans-serif; align-items: center; font-size: 14px; overflow: hidden; font-style: normal; font-variant-ligatures: normal; font-variant-caps: normal; font-weight: 400; letter-spacing: normal; orphans: 2; text-align: start; text-indent: 0px; text-transform: none; white-space: pre-wrap; widows: 2; word-spacing: 0px; -webkit-text-stroke-width: 0px; text-decoration-thickness: initial; text-decoration-style: initial; text-decoration-color: initial; background-color: rgb(255, 255, 255);'>\u003cbr>\u003c/p>"},"activityName":"Dodgeball","programType":"LEAGUE"},"League:63cb698276cd6b4ccb141796":{"__typename":"League","_id":"63cb698276cd6b4ccb141796","name":"Dodgeball (6v6 Coed) - Tuesday - RiNo Sports Arena (RiNo) - April 2023","featured_order":null,"schedule":{"__typename":"Schedule","start_date":"2023-04-18T18:00:00.000Z"},"details":{"__typename":"LeagueDetails","description":"\u003cp>Don't miss our Tuesday Dodgeball Warehouse league! This league plays on a polished concrete flooring. The venue is BYOB.\u003c/p>\u003cp>\u003cbr>\u003c/p>\u003cp>\u003cstrong>\u003cu>Dodgeball (Coed 6v6) \u003c/u>\u003c/strong>\u003c/p>\u003cp>Minimum 4 to play each week. Maximum 4 men on the court, minimum 1 woman on the court. \u003c/p>\u003cp>\u003cbr>\u003c/p>\u003cp>\u003cspan style='color: rgb(65, 65, 65); font-family: Arial, \"Helvetica Neue\", Helvetica, sans-serif; font-size: 14px; font-style: normal; font-variant-ligatures: normal; font-variant-caps: normal; font-weight: 400; letter-spacing: normal; orphans: 2; text-align: left; text-indent: 0px; text-transform: none; white-space: normal; widows: 2; word-spacing: 0px; -webkit-text-stroke-width: 0px; background-color: rgb(255, 255, 255); text-decoration-thickness: initial; text-decoration-style: initial; text-decoration-color: initial; display: inline !important; float: none;'>Registered Groups who are not pre-paid teams and do not meet the minimum roster requirement by the registration deadline\u003c/span>\u003cspan style='color: rgb(65, 65, 65); font-family: Arial, \"Helvetica Neue\", Helvetica, sans-serif; font-size: 14px; font-style: normal; font-variant-ligatures: normal; font-variant-caps: normal; font-weight: 400; letter-spacing: normal; orphans: 2; text-align: left; text-indent: 0px; text-transform: none; white-space: normal; widows: 2; word-spacing: 0px; -webkit-text-stroke-width: 0px; background-color: rgb(255, 255, 255); text-decoration-thickness: initial; text-decoration-style: initial; text-decoration-color: initial; display: inline !important; float: none;'> may be merged with other small groups or have free agents added to their roster to meet the roster requirement.\u003c/span>\u003c/p>\u003cp>\u003cbr>\u003c/p>\u003cp>First play dodgeball then play flip cup against your opponent afterwards for extra team points!\u003c/p>\u003cp>\u003cbr>\u003c/p>\u003cp>Playoffs: Top 4 teams make playoffs. We will take more if time and permitted space allows.\u003c/p>\u003cp>\u003cbr>\u003c/p>\u003cp>Weather Policy: Guaranteed 2 makeup games at the same location but not guaranteed to be played on the same day of the week.\u003c/p>\u003cp>\u003cbr>\u003c/p>\u003cp>Doubleheaders: Teams may have byes or doubleheaders. \u003c/p>"},"activityName":"Dodgeball","programType":"LEAGUE"},"League:63cb698276cd6b4ccb141793":{"__typename":"League","_id":"63cb698276cd6b4ccb141793","name":"Dodgeball (6v6 Coed) - Saturday - RiNo Sports Arena (RiNo) - April 2023","featured_order":null,"schedule":{"__typename":"Schedule","start_date":"2023-04-22T18:00:00.000Z"},"details":{"__typename":"LeagueDetails","description":"\u003cp id=\"isPasted\">RiNo Sports Arena Dodgeball is here! \u003cspan style=\"font-size:10.5pt;font-family:Arial;color:#414141;background-color:#ffffff;font-weight:400;font-style:normal;font-variant:normal;text-decoration:none;vertical-align:baseline;white-space:pre;white-space:pre-wrap;\">After you play dodgeball, you'll play your opponents in on-site flip cup for additional team points!\u003c/span>\u003c/p>\u003cp>\u003cspan style=\"font-size:10.5pt;font-family:Arial;color:#414141;background-color:#ffffff;font-weight:700;font-style:normal;font-variant:normal;text-decoration:none;vertical-align:baseline;white-space:pre;white-space:pre-wrap;\">*Games played on polished concrete. \u003c/span>\u003cspan style=\"font-size:10.5pt;font-family:Arial;color:#414141;background-color:#ffffff;font-weight:400;font-style:normal;font-variant:normal;text-decoration:none;vertical-align:baseline;white-space:pre;white-space:pre-wrap;\"> \u003c/span>\u003c/p>\u003cp>\u003cbr>\u003c/p>\u003cp>Minimum for a full team is 9 players \u003cspan style='color: rgb(65, 65, 65); font-family: Arial, \"Helvetica Neue\", Helvetica, sans-serif; font-size: 14px; font-style: normal; font-variant-ligatures: normal; font-variant-caps: normal; font-weight: 400; letter-spacing: normal; orphans: 2; text-align: left; text-indent: 0px; text-transform: none; white-space: normal; widows: 2; word-spacing: 0px; -webkit-text-stroke-width: 0px; background-color: rgb(255, 255, 255); text-decoration-thickness: initial; text-decoration-style: initial; text-decoration-color: initial; display: inline !important; float: none;'>(Registered Groups who are not pre-paid teams and do not meet the minimum roster requirement by the registration deadline\u003c/span>\u003cspan style='color: rgb(65, 65, 65); font-family: Arial, \"Helvetica Neue\", Helvetica, sans-serif; font-size: 14px; font-style: normal; font-variant-ligatures: normal; font-variant-caps: normal; font-weight: 400; letter-spacing: normal; orphans: 2; text-align: left; text-indent: 0px; text-transform: none; white-space: normal; widows: 2; word-spacing: 0px; -webkit-text-stroke-width: 0px; background-color: rgb(255, 255, 255); text-decoration-thickness: initial; text-decoration-style: initial; text-decoration-color: initial; display: inline !important; float: none;'> may be merged with other small groups, or have free agents added to their roster to meet the roster requirement).\u003c/span>\u003c/p>\u003cp>\u003cbr>\u003c/p>\u003cp>Playoffs: Top 4 teams make playoffs, we will take more if time and permitted space allows \u003c/p>\u003cp>\u003cbr>\u003c/p>\u003cp>Weather Policy: Guaranteed 2 makeup games at the same location but not guaranteed to be played on the same day of the week. \u003c/p>\u003cp>\u003cbr>\u003c/p>\u003cp>Doubleheaders: Teams may have byes or doubleheaders. \u003c/p>\u003cp>\u003cbr>\u003c/p>\u003cp>The league may be shortened/extended by a week but all league games will be played! \u003c/p>"},"activityName":"Dodgeball","programType":"LEAGUE"},"League:63cb698276cd6b4ccb141790":{"__typename":"League","_id":"63cb698276cd6b4ccb141790","name":"Dodgeball (6v6 Coed) - Monday - RiNo Sports Arena (RiNo) - April 2023","featured_order":null,"schedule":{"__typename":"Schedule","start_date":"2023-04-17T18:00:00.000Z"},"details":{"__typename":"LeagueDetails","description":"\u003cp id=\"isPasted\">RiNo Sports Arena Dodgeball is back! \u003cspan id=\"isPasted\" style=\"font-size:10.5pt;font-family:Arial;color:#414141;background-color:#ffffff;font-weight:400;font-style:normal;font-variant:normal;text-decoration:none;vertical-align:baseline;white-space:pre;white-space:pre-wrap;\">After you play dodgeball, you'll play your opponents in on-site flip cup for additional team points!\u003c/span>\u003c/p>\u003cp>\u003cbr>\u003c/p>\u003cp>\u003cspan id=\"isPasted\">\u003cstrong id=\"isPasted\" style='box-sizing: inherit; background-repeat: no-repeat; background-size: contain; font-weight: 700; margin-bottom: 0px; color: rgb(65, 65, 65); font-family: Arial, \"Helvetica Neue\", Helvetica, sans-serif; font-size: 14px; font-style: normal; font-variant-ligatures: normal; font-variant-caps: normal; letter-spacing: normal; orphans: 2; text-align: left; text-indent: 0px; text-transform: none; white-space: normal; widows: 2; word-spacing: 0px; -webkit-text-stroke-width: 0px; background-color: rgb(255, 255, 255); text-decoration-thickness: initial; text-decoration-style: initial; text-decoration-color: initial;'>*Games played on polished concrete. \u003c/strong> \u003c/span>\u003c/p>\u003cp>\u003cbr>\u003c/p>\u003cp>Minimum for a full team is 9 players\u003c/p>\u003cp>\u003cbr>\u003c/p>\u003cp id=\"isPasted\" style=\"line-height: 1.2;\">\u003cspan style='box-sizing: inherit; background-repeat: no-repeat; background-size: contain; font-family: Arial, \"Helvetica Neue\", Helvetica, sans-serif; color: rgb(65, 65, 65); font-size: 14px; font-style: normal; font-variant-ligatures: normal; font-variant-caps: normal; font-weight: 400; letter-spacing: normal; orphans: 2; text-align: left; text-indent: 0px; text-transform: none; white-space: normal; widows: 2; word-spacing: 0px; -webkit-text-stroke-width: 0px; text-decoration-thickness: initial; text-decoration-style: initial; text-decoration-color: initial; background-color: rgb(255, 255, 255); float: none; display: inline !important;'>Registered Groups who do not meet the minimum roster requirement by the registration deadline\u003c/span>\u003cspan style='box-sizing: inherit; background-repeat: no-repeat; background-size: contain; font-family: Arial, \"Helvetica Neue\", Helvetica, sans-serif; margin-bottom: 0px; color: rgb(65, 65, 65); font-size: 14px; font-style: normal; font-variant-ligatures: normal; font-variant-caps: normal; font-weight: 400; letter-spacing: normal; orphans: 2; text-align: left; text-indent: 0px; text-transform: none; white-space: normal; widows: 2; word-spacing: 0px; -webkit-text-stroke-width: 0px; text-decoration-thickness: initial; text-decoration-style: initial; text-decoration-color: initial; background-color: rgb(255, 255, 255); float: none; display: inline !important;'> may be merged with other small groups, or have free agents added to their roster to meet the roster requirement\u003c/span>\u003c/p>\u003cp style=\"line-height: 1.2;\">\u003cbr>\u003c/p>\u003cp style=\"line-height: 1.2;\">Playoffs: Only the top 4 teams are guaranteed to make playoffs in this league! We will take more if time allows.\u003c/p>\u003cp>\u003cbr>\u003c/p>\u003cp>Weather Policy: Guaranteed 2 makeup games at the same location but not guaranteed to be played on the same day of the week.Teams may have byes or doubleheaders. \u003c/p>\u003cp>\u003cbr>\u003c/p>\u003cp>The league may be shortened/extended by a week but all league games will be played!\u003c/p>"},"activityName":"Dodgeball","programType":"LEAGUE"},"League:63cb698276cd6b4ccb14178d":{"__typename":"League","_id":"63cb698276cd6b4ccb14178d","name":"Dodgeball (6v6 Coed) - Sunday - RiNo Sports Arena - April 2023","featured_order":null,"schedule":{"__typename":"Schedule","start_date":"2023-04-16T18:00:00.000Z"},"details":{"__typename":"LeagueDetails","description":"\u003cp id=\"isPasted\">RiNo Sports Arena Dodgeball is here! Enjoy the best social dodgeball in the city. \u003cspan id=\"isPasted\" style=\"font-size:10.5pt;font-family:Arial;color:#414141;background-color:#ffffff;font-weight:400;font-style:normal;font-variant:normal;text-decoration:none;vertical-align:baseline;white-space:pre;white-space:pre-wrap;\">After you play dodgeball, you'll play your opponents in on-site flip cup for additional team points!\u003c/span>\u003c/p>\u003cp>\u003cbr>\u003c/p>\u003cp>\u003cstrong>*Games played one polished concrete. \u003cbr>\u003c/strong>\u003c/p>\u003cp>\u003cbr>\u003c/p>\u003cp>Minimum for a full team is 9 players \u003cspan style='color: rgb(65, 65, 65); font-family: Arial, \"Helvetica Neue\", Helvetica, sans-serif; font-size: 14px; font-style: normal; font-variant-ligatures: normal; font-variant-caps: normal; font-weight: 400; letter-spacing: normal; orphans: 2; text-align: left; text-indent: 0px; text-transform: none; white-space: normal; widows: 2; word-spacing: 0px; -webkit-text-stroke-width: 0px; background-color: rgb(255, 255, 255); text-decoration-thickness: initial; text-decoration-style: initial; text-decoration-color: initial; display: inline !important; float: none;'>(Registered Groups who do not meet the minimum roster requirement by the registration deadline\u003c/span>\u003cspan style='color: rgb(65, 65, 65); font-family: Arial, \"Helvetica Neue\", Helvetica, sans-serif; font-size: 14px; font-style: normal; font-variant-ligatures: normal; font-variant-caps: normal; font-weight: 400; letter-spacing: normal; orphans: 2; text-align: left; text-indent: 0px; text-transform: none; white-space: normal; widows: 2; word-spacing: 0px; -webkit-text-stroke-width: 0px; background-color: rgb(255, 255, 255); text-decoration-thickness: initial; text-decoration-style: initial; text-decoration-color: initial; display: inline !important; float: none;'> may be merged with other small groups, or have free agents added to their roster to meet the roster requirement).\u003c/span>\u003c/p>\u003cp>\u003cbr>\u003c/p>\u003cp>Playoffs: Top 4 teams make playoffs, we will take more if time and permitted space allows \u003c/p>\u003cp>\u003cbr>\u003c/p>\u003cp>Weather Policy: Guaranteed 2 makeup games at the same location but not guaranteed to be played on the same day of the week. \u003c/p>\u003cp>\u003cbr>\u003c/p>\u003cp>Doubleheaders: Teams may have byes or doubleheaders. The league may be shortened/extended by a week but all league games will be played! \u003c/p>"},"activityName":"Dodgeball","programType":"LEAGUE"},"League:63bcff2a9baeda5ad76d0885":{"__typename":"League","_id":"63bcff2a9baeda5ad76d0885","name":"Dodgeball (6v6 Coed) - Thursday - St. Patrick's Youth Center (Lower East Side) - April 2023","featured_order":null,"schedule":{"__typename":"Schedule","start_date":"2023-04-06T16:00:00.000Z"},"details":{"__typename":"LeagueDetails","description":"\u003cp>Six week regular season + playoffs (Top 4 teams make playoffs)\nTeams consist of 10 players (at least 4 women)\n6 vs 6 Coed (4M 2W) All gator skin foam balls\u003c/p>\u003cp>\u003cbr>\u003c/p>\u003cp id=\"isPasted\" style='box-sizing: inherit; background-repeat: no-repeat; background-size: contain; margin: 0.5rem auto auto; padding: 0px; margin-block: 0px; margin-inline: 0px; padding-block: 0px; padding-inline: 0px; color: rgb(76, 76, 76); text-rendering: optimizelegibility; font-family: Arial, \"Helvetica Neue\", Helvetica, sans-serif; outline: 0px; align-items: center; font-size: 14px; overflow: hidden; font-style: normal; font-variant-ligatures: normal; font-variant-caps: normal; font-weight: 400; letter-spacing: normal; orphans: 2; text-align: start; text-indent: 0px; text-transform: none; white-space: pre-wrap; widows: 2; word-spacing: 0px; -webkit-text-stroke-width: 0px; background-color: rgb(255, 255, 255); text-decoration-thickness: initial; text-decoration-style: initial; text-decoration-color: initial;'>\u003cstrong style=\"box-sizing: inherit; background-repeat: no-repeat; background-size: contain; font-weight: 600;\">Flip Cup Is Back:\u003c/strong>\u003cbr style=\"box-sizing: inherit; background-repeat: no-repeat; background-size: contain; margin-bottom: 0px;\">Teams will play for 3 points each night 2 for winning on the court and 1 for Flip Cup.\u003c/p>\u003cp style='box-sizing: inherit; background-repeat: no-repeat; background-size: contain; margin: 0.5rem auto auto; padding: 0px; margin-block: 0px; margin-inline: 0px; padding-block: 0px; padding-inline: 0px; color: rgb(76, 76, 76); text-rendering: optimizelegibility; font-family: Arial, \"Helvetica Neue\", Helvetica, sans-serif; align-items: center; font-size: 14px; overflow: hidden; font-style: normal; font-variant-ligatures: normal; font-variant-caps: normal; font-weight: 400; letter-spacing: normal; orphans: 2; text-align: start; text-indent: 0px; text-transform: none; white-space: pre-wrap; widows: 2; word-spacing: 0px; -webkit-text-stroke-width: 0px; background-color: rgb(255, 255, 255); text-decoration-thickness: initial; text-decoration-style: initial; text-decoration-color: initial;'>\u003cbr style=\"box-sizing: inherit; background-repeat: no-repeat; background-size: contain; margin-bottom: 0px;\">\u003c/p>\u003cp style='box-sizing: inherit; background-repeat: no-repeat; background-size: contain; margin: 0.5rem auto auto; padding: 0px; margin-block: 0px; margin-inline: 0px; padding-block: 0px; padding-inline: 0px; color: rgb(76, 76, 76); text-rendering: optimizelegibility; font-family: Arial, \"Helvetica Neue\", Helvetica, sans-serif; align-items: center; font-size: 14px; overflow: hidden; font-style: normal; font-variant-ligatures: normal; font-variant-caps: normal; font-weight: 400; letter-spacing: normal; orphans: 2; text-align: start; text-indent: 0px; text-transform: none; white-space: pre-wrap; widows: 2; word-spacing: 0px; -webkit-text-stroke-width: 0px; background-color: rgb(255, 255, 255); text-decoration-thickness: initial; text-decoration-style: initial; text-decoration-color: initial;'>\u003cspan style='box-sizing: inherit; background-repeat: no-repeat; background-size: contain; font-family: Arial, \"Helvetica Neue\", Helvetica, sans-serif; margin-bottom: 0px; color: rgb(76, 76, 76); font-size: 14px; font-style: normal; font-variant-ligatures: normal; font-variant-caps: normal; font-weight: 400; letter-spacing: normal; orphans: 2; text-align: start; text-indent: 0px; text-transform: none; white-space: pre-wrap; widows: 2; word-spacing: 0px; -webkit-text-stroke-width: 0px; background-color: rgb(255, 255, 255); text-decoration-thickness: initial; text-decoration-style: initial; text-decoration-color: initial; float: none; display: inline !important;'>All leagues, days, times, and locations are subject to change at any point in the season\u003c/span>\u003c/p>\u003cp>\u003cbr>\u003c/p>\u003cp dir=\"ltr\" id=\"isPasted\" style=\"line-height:1.38;margin-top:0pt;margin-bottom:0pt;\">\u003ca href=\"http://bit.ly/3Leyxcj\" style=\"text-decoration:none;\">\u003cspan style=\"font-size:11pt;font-family:Calibri,sans-serif;color:#1155cc;background-color:transparent;font-weight:400;font-style:normal;font-variant:normal;text-decoration:underline;-webkit-text-decoration-skip:none;text-decoration-skip-ink:none;vertical-align:baseline;white-space:pre;white-space:pre-wrap;\">\u003cspan style=\"border:none;display:inline-block;overflow:hidden;width:392px;height:131px;\">\u003cimg src=\"https://s3.amazonaws.com/rivall-user-uploads/prodUploads/orgEmailPicturesFolder/624b6905f214b16cfc304ee2_1678742925293.png\" width=\"392\" class=\"fr-fic fr-dii\" style=\"width: 382px; height: 131px;\">\u003c/span>\u003c/span>\u003c/a>\u003c/p>\u003cp dir=\"ltr\" style=\"line-height:1.38;margin-top:0pt;margin-bottom:0pt;\">\u003cspan style=\"font-size:11pt;font-family:Arial;color:#4a86e8;background-color:transparent;font-weight:700;font-style:italic;font-variant:normal;text-decoration:none;vertical-align:baseline;white-space:pre;white-space:pre-wrap;\">CLAIM OUR EXCLUSIVE OFFER\u003c/span>\u003c/p>\u003cp>\u003cspan style=\"font-size:11pt;font-family:Arial;color:#4a86e8;background-color:transparent;font-weight:400;font-style:normal;font-variant:normal;text-decoration:none;vertical-align:baseline;white-space:pre;white-space:pre-wrap;\">This week only: Get $50 OFF your next Volo NY league AND 10x your money when you bet this year's College Basketball Tournament with Fanduel Sportsbook. New players only. \u003c/span>\u003ca href=\"http://bit.ly/3Leyxcj\" style=\"text-decoration:none;\">\u003cspan style=\"font-size:11pt;font-family:Arial;color:#1155cc;background-color:transparent;font-weight:700;font-style:normal;font-variant:normal;text-decoration:underline;-webkit-text-decoration-skip:none;text-decoration-skip-ink:none;vertical-align:baseline;white-space:pre;white-space:pre-wrap;\">JOIN NOW!\u003c/span>\u003c/a>\u003c/p>"},"activityName":"Dodgeball","programType":"LEAGUE"},"ApprovedVenue:5f06191738333e002d4d00f4":{"__typename":"ApprovedVenue","_id":"5f06191738333e002d4d00f4","disabled":true,"shorthandName":"Apple HQ","pdfUploads":[],"place_id":"ChIJ_Yjh6Za1j4AR-sm4t2XLIc0","location":{"__typename":"Coordinates","lat":37.32942810000001,"lng":-122.0102583},"neighborhood":"Golden Gate Park","city":"Cupertino","formatted_address":"1 Apple Park Way, Cupertino, CA 95014, USA","sportDetails":[],"image":null},"ApprovedVenue:6063810f3917ec003753c57e":{"__typename":"ApprovedVenue","_id":"6063810f3917ec003753c57e","disabled":false,"shorthandName":"Beach Chalet Fields","pdfUploads":["https://s3.amazonaws.com/rivall-user-uploads/prodUploads/pdfUploadsFolder/45626-2021 Fall League Beach-invoice_1625678372576.pdf","https://s3.amazonaws.com/rivall-user-uploads/prodUploads/pdfUploadsFolder/2021 Fall Beach Chalet Soccer Permit_1627518322925.pdf","https://s3.amazonaws.com/rivall-user-uploads/prodUploads/pdfUploadsFolder/2021 Fall Beach Chalet Soccer Permit #2_1627518322926.pdf","https://s3.amazonaws.com/rivall-user-uploads/prodUploads/pdfUploadsFolder/2021 Fall Beach Chalet Soccer Permit_1627518509947.pdf","https://s3.amazonaws.com/rivall-user-uploads/prodUploads/pdfUploadsFolder/2021 Fall Beach Chalet Soccer Permit #2_1627518509948.pdf","https://s3.amazonaws.com/rivall-user-uploads/prodUploads/pdfUploadsFolder/2021 Fall Beach Chalet Soccer Permit_1627583454447.pdf","https://s3.amazonaws.com/rivall-user-uploads/prodUploads/pdfUploadsFolder/2021 Fall Beach Chalet Soccer Permit #2_1627583482527.pdf"],"place_id":"ChIJ5-r4GryHhYAR6w4ofG2yEuQ","location":{"__typename":"Coordinates","lat":37.7673557,"lng":-122.508802},"neighborhood":"Golden Gate Park","city":"San Francisco","formatted_address":"1400-1598 John F Kennedy Dr, San Francisco, CA 94121, USA","sportDetails":[{"__typename":"SportDescription","sportName":"Soccer","description":"\u003cp>\u003cimg src=\"https://s3.amazonaws.com/rivall-user-uploads/prodUploads/orgEmailPicturesFolder/63bc6e331e380edd1b0dcb22_1678842581864.jpeg\" style=\"width: 300px;\" class=\"fr-fic fr-dib\">Beach Chalet is home to turf soccer under the lights! Our most popular soccer venue will sell out. Games can be played late into the night here and there is plenty of parking at this park!\u003c/p>"}],"image":{"__typename":"ImageType","url":"https://s3.amazonaws.com/rivall-user-uploads/prodUploads/approvedVenueFolder/Screen Shot 2021-07-07 at 8.46.08 AM.png"}},"ApprovedVenue:60638defccbfc500343049ea":{"__typename":"ApprovedVenue","_id":"60638defccbfc500343049ea","disabled":false,"shorthandName":"Jackson Playground","pdfUploads":["https://s3.amazonaws.com/rivall-user-uploads/prodUploads/pdfUploadsFolder/2021 Fall Sunday Jackson Playground Softball Permit_1627518279331.pdf","https://s3.amazonaws.com/rivall-user-uploads/prodUploads/pdfUploadsFolder/45632-2021 Fall Kickball Jackson-invoice_1627518279333.pdf","https://s3.amazonaws.com/rivall-user-uploads/prodUploads/pdfUploadsFolder/2021 Fall Sunday Jackson Playground Softball Permit #2_1627518279333.pdf"],"place_id":"ChIJnf3sn8x_j4ARZ2gNoDGp3wk","location":{"__typename":"Coordinates","lat":37.7638764,"lng":-122.3997761},"neighborhood":"Potrero Hill","city":"San Francisco","formatted_address":"17th St & Arkansas St, San Francisco, CA 94107, USA","sportDetails":[{"__typename":"SportDescription","sportName":"Kickball","description":"\u003cp>Kickball and Softball in the heart of Potrero Hill\u003c/p>"},{"__typename":"SportDescription","sportName":"Softball","description":"\u003cp>Kickball and Softball in the heart of Potrero Hill\u003c/p>"}],"image":{"__typename":"ImageType","url":"https://s3.amazonaws.com/rivall-user-uploads/prodUploads/approvedVenueFolder/Screen Shot 2021-07-29 at 4.54.15 PM.png"}},"ApprovedVenue:606395d8f0e6ba00376b12bd":{"__typename":"ApprovedVenue","_id":"606395d8f0e6ba00376b12bd","disabled":false,"shorthandName":"Joe DiMaggio Playground","pdfUploads":["https://s3.amazonaws.com/rivall-user-uploads/prodUploads/pdfUploadsFolder/2021 Fall Joe D Bocce Permit_1627518378322.pdf","https://s3.amazonaws.com/rivall-user-uploads/prodUploads/pdfUploadsFolder/2021 Fall Joe D Kickball Permit_1627518378322.pdf"],"place_id":"ChIJxyJ1BfCAhYARSZU6k5EBy8M","location":{"__typename":"Coordinates","lat":37.8024356,"lng":-122.4124463},"neighborhood":"North Beach","city":"San Francisco","formatted_address":"651 Lombard St, San Francisco, CA 94133, USA","sportDetails":[{"__typename":"SportDescription","sportName":"Bocce","description":"\u003cp>Home to our popular Bocce League!\u003c/p>"},{"__typename":"SportDescription","sportName":"Kickball","description":"\u003cp>Home to the original and legendary kickball league!\u003c/p>"}],"image":{"__typename":"ImageType","url":"https://s3.amazonaws.com/rivall-user-uploads/prodUploads/approvedVenueFolder/Screen Shot 2021-07-29 at 4.57.07 PM.png"}},"ApprovedVenue:6063a01cf0e6ba00376b2d1d":{"__typename":"ApprovedVenue","_id":"6063a01cf0e6ba00376b2d1d","disabled":false,"shorthandName":"Hamilton Recreation Center","pdfUploads":["https://s3.amazonaws.com/rivall-user-uploads/prodUploads/pdfUploadsFolder/2021 Fall Kickball Hamilton Rec Permit_1627518338775.pdf","https://s3.amazonaws.com/rivall-user-uploads/prodUploads/pdfUploadsFolder/2021 Fall Kickball Hamilton Rec Permit_1627585328840.pdf","https://s3.amazonaws.com/rivall-user-uploads/prodUploads/pdfUploadsFolder/2021 Fall Kickball Hamilton Rec Permit_1627585492224.pdf","https://s3.amazonaws.com/rivall-user-uploads/prodUploads/pdfUploadsFolder/2021 Fall Kickball Hamilton Rec Permit_1627585731445.pdf","https://s3.amazonaws.com/rivall-user-uploads/prodUploads/pdfUploadsFolder/2021 Fall Kickball Hamilton Rec Permit_1627586511419.pdf"],"place_id":"ChIJR_ekLbiAhYARC0-swgr7Zf8","location":{"__typename":"Coordinates","lat":37.7843667,"lng":-122.4350759},"neighborhood":"Fillmore","city":"San Francisco","formatted_address":"1900 Geary Blvd, San Francisco, CA 94115, USA","sportDetails":[{"__typename":"SportDescription","sportName":"Kickball","description":"\u003cp>Home to Lower Pac Heights kickball and softball with sponsor bar: SF Athletic Club.\u003c/p>"},{"__typename":"SportDescription","sportName":"Softball","description":"\u003cp>Home to Lower Pac Heights kickball and softball with sponsor bar: SF Athletic Club.\u003c/p>"}],"image":{"__typename":"ImageType","url":"https://s3.amazonaws.com/rivall-user-uploads/prodUploads/approvedVenueFolder/Screen Shot 2021-07-29 at 4.52.46 PM.png"}},"ApprovedVenue:60822779cce9fa005b8082fd":{"__typename":"ApprovedVenue","_id":"60822779cce9fa005b8082fd","disabled":false,"shorthandName":"SFF","pdfUploads":[],"place_id":"ChIJUcfd3c9_j4ARKnu9Law6OLU","location":{"__typename":"Coordinates","lat":37.7707793,"lng":-122.3914307},"neighborhood":"Mission Bay","city":"San Francisco","formatted_address":"601 Mission Bay Boulevard North, San Francisco, CA 94158, USA","sportDetails":[{"__typename":"SportDescription","sportName":"Soccer","description":"\u003cp>A popular soccer venue in Mission Bay\u003c/p>"},{"__typename":"SportDescription","sportName":"Volunteer","description":""}],"image":{"__typename":"ImageType","url":"https://s3.amazonaws.com/rivall-user-uploads/prodUploads/approvedVenueFolder/Screen Shot 2023-01-19 at 12.26.11 PM.png.png"}},"ApprovedVenue:60a6741480c883002f986a3b":{"__typename":"ApprovedVenue","_id":"60a6741480c883002f986a3b","disabled":true,"shorthandName":"Margaret Hayward (James Lang Field)","pdfUploads":[],"place_id":"ChIJtyUE_JeAhYARyPG0FVCH500","location":{"__typename":"Coordinates","lat":37.7809882,"lng":-122.4246414},"neighborhood":"Fillmore","city":"San Francisco","formatted_address":"Gough St &, Golden Gate Ave, San Francisco, CA 94102, USA","sportDetails":[{"__typename":"SportDescription","sportName":"Kickball","description":""},{"__typename":"SportDescription","sportName":"Softball","description":""}],"image":{"__typename":"ImageType","url":"https://s3.amazonaws.com/rivall-user-uploads/prodUploads/approvedVenueFolder/Screen Shot 2021-07-29 at 5.01.42 PM.png"}},"ApprovedVenue:60a67fab7fac26009f4c6f43":{"__typename":"ApprovedVenue","_id":"60a67fab7fac26009f4c6f43","disabled":false,"shorthandName":"Mission Dolores Park","pdfUploads":["https://s3.amazonaws.com/rivall-user-uploads/prodUploads/pdfUploadsFolder/2021 Fall Dolores Park Volleyball Permit_1627518304131.pdf","https://s3.amazonaws.com/rivall-user-uploads/prodUploads/pdfUploadsFolder/2021 Fall Dolores Park Volleyball Permit_1627586029164.pdf"],"place_id":"ChIJh2gmih9-j4ARv_3qdyCuRmc","location":{"__typename":"Coordinates","lat":37.7691771,"lng":-122.4241294},"neighborhood":"The Mission","city":"San Francisco","formatted_address":"Clinton Park, San Francisco, CA 94103, USA","sportDetails":[{"__typename":"SportDescription","sportName":"Volleyball","description":"\u003cp>Our most popular venue! Play volleyball this spring and summer here, leagues fill up fast!\u003c/p>"}],"image":{"__typename":"ImageType","url":"https://s3.amazonaws.com/rivall-user-uploads/prodUploads/approvedVenueFolder/Screen Shot 2021-07-29 at 4.50.29 PM.png"}},"ApprovedVenue:60a699dd3874d200914daa11":{"__typename":"ApprovedVenue","_id":"60a699dd3874d200914daa11","disabled":false,"shorthandName":"Moscone Park","pdfUploads":["https://s3.amazonaws.com/rivall-user-uploads/prodUploads/pdfUploadsFolder/2021 Fall Moscone Softball Permit_1627518361107.pdf","https://s3.amazonaws.com/rivall-user-uploads/prodUploads/pdfUploadsFolder/2021 Fall Moscone Softball Permit #2_1627518361107.pdf","https://s3.amazonaws.com/rivall-user-uploads/prodUploads/pdfUploadsFolder/2021 Fall Moscone Softball Permit_1627518469838.pdf","https://s3.amazonaws.com/rivall-user-uploads/prodUploads/pdfUploadsFolder/2021 Fall Moscone Softball Permit #2_1627518469838.pdf","https://s3.amazonaws.com/rivall-user-uploads/prodUploads/pdfUploadsFolder/2021 Summer Softball Moscone Permit_1627518469839.pdf","https://s3.amazonaws.com/rivall-user-uploads/prodUploads/pdfUploadsFolder/43255-2021 Summer League - Friday Softball-invoice_1627518469839.pdf"],"place_id":"ChIJ0Zr0e9mAhYAR9IKthDJaa0s","location":{"__typename":"Coordinates","lat":37.80222349999999,"lng":-122.43291},"neighborhood":"Marina","city":"San Francisco","formatted_address":"1800 Chestnut St, San Francisco, CA 94123, USA","sportDetails":[{"__typename":"SportDescription","sportName":"Softball","description":"\u003cp>Play softball in the Marina!\u003c/p>"}],"image":{"__typename":"ImageType","url":"https://s3.amazonaws.com/rivall-user-uploads/prodUploads/approvedVenueFolder/Screen Shot 2021-07-29 at 5.03.13 PM.png"}},"ApprovedVenue:60d0b2a111709800bf74f45b":{"__typename":"ApprovedVenue","_id":"60d0b2a111709800bf74f45b","disabled":false,"shorthandName":"SF Italian Athletic Club","pdfUploads":[],"place_id":"ChIJ2RWMEPGAhYARXe0nDBmNCrM","location":{"__typename":"Coordinates","lat":37.8008786,"lng":-122.4089861},"neighborhood":"North Beach","city":"San Francisco","formatted_address":"1630 Stockton St, San Francisco, CA 94133, USA","sportDetails":[{"__typename":"SportDescription","sportName":"Dodgeball","description":"\u003cp>The perfect venue to play dodgeball!\u003c/p>"}],"image":{"__typename":"ImageType","url":"https://s3.amazonaws.com/rivall-user-uploads/prodUploads/approvedVenueFolder/Screen Shot 2023-01-19 at 12.25.06 PM.png.png"}},"ApprovedVenue:60d0b32511709800bf74f807":{"__typename":"ApprovedVenue","_id":"60d0b32511709800bf74f807","disabled":true,"shorthandName":"Salvation Army Chinatown Corps","pdfUploads":[],"place_id":"ChIJT6WBMfKAhYARvC2QTesk4Zg","location":{"__typename":"Coordinates","lat":37.7980032,"lng":-122.4101959},"neighborhood":"North Beach","city":"San Francisco","formatted_address":"1450 Powell St, San Francisco, CA 94133, USA","sportDetails":[],"image":null},"ApprovedVenue:60d0b35c27e2b3003651a7d1":{"__typename":"ApprovedVenue","_id":"60d0b35c27e2b3003651a7d1","disabled":false,"shorthandName":"Mission Bay Park System","pdfUploads":[],"place_id":"ChIJn9MEP9F_j4ARXi5_d3KAVIA","location":{"__typename":"Coordinates","lat":37.77328869999999,"lng":-122.3954617},"neighborhood":"Mission Bay","city":"San Francisco","formatted_address":"451 Berry St, San Francisco, CA 94158, USA","sportDetails":[{"__typename":"SportDescription","sportName":"Volleyball","description":"\u003cp>Volo's home to sand volleyball!\u003c/p>"}],"image":{"__typename":"ImageType","url":"https://s3.amazonaws.com/rivall-user-uploads/prodUploads/approvedVenueFolder/Mission_Bay_Parks_Volleyballl_1800x574.jpg"}},"ApprovedVenue:60d0b3f1c456da002fc11d03":{"__typename":"ApprovedVenue","_id":"60d0b3f1c456da002fc11d03","disabled":true,"shorthandName":"Crocker-Amazon","pdfUploads":[],"place_id":"ChIJsSz695h-j4AR3I6PC3e7bRQ","location":{"__typename":"Coordinates","lat":37.71361960000001,"lng":-122.4367915},"neighborhood":"The Mission","city":"San Francisco","formatted_address":"Crocker-Amazon, San Francisco, CA, USA","sportDetails":[{"__typename":"SportDescription","sportName":"Soccer","description":""}],"image":null},"ApprovedVenue:60d0b466c456da002fc125b2":{"__typename":"ApprovedVenue","_id":"60d0b466c456da002fc125b2","disabled":false,"shorthandName":"KIPP San Francisco Bay Academy","pdfUploads":[],"place_id":"ChIJN7deBreAhYARxXRoEjoRuog","location":{"__typename":"Coordinates","lat":37.78316530000001,"lng":-122.4375903},"neighborhood":"Fillmore","city":"San Francisco","formatted_address":"Third Floor, 1430 Scott St, San Francisco, CA 94115, USA","sportDetails":[{"__typename":"SportDescription","sportName":"Basketball","description":"\u003cp>\u003cimg src=\"https://s3.amazonaws.com/rivall-user-uploads/prodUploads/orgEmailPicturesFolder/63bc6e331e380edd1b0dcb22_1678842623511.jpeg\" style=\"width: 300px;\" class=\"fr-fic fr-dib\">\u003c/p>\u003cp>A popular basketball venue\u003c/p>"}],"image":{"__typename":"ImageType","url":"https://s3.amazonaws.com/rivall-user-uploads/prodUploads/approvedVenueFolder/Screen Shot 2023-01-19 at 12.08.02 PM.png.png"}},"ApprovedVenue:60d0b47c7dc062003610a794":{"__typename":"ApprovedVenue","_id":"60d0b47c7dc062003610a794","disabled":true,"shorthandName":"Treasure Island Sailing Center","pdfUploads":[],"place_id":"ChIJT80BLy6AhYARE3tHDpaz14w","location":{"__typename":"Coordinates","lat":37.8192247,"lng":-122.3645029},"neighborhood":"Treasure Island","city":"San Francisco","formatted_address":"698 California Ave # 112, San Francisco, CA 94130, USA","sportDetails":[],"image":null},"ApprovedVenue:60d0b48f7dc062003610a8a8":{"__typename":"ApprovedVenue","_id":"60d0b48f7dc062003610a8a8","disabled":false,"shorthandName":"Anchor Public Taps","pdfUploads":[],"place_id":"ChIJz1P1rMx_j4ARUR7GSj8X5Ec","location":{"__typename":"Coordinates","lat":37.76388889999999,"lng":-122.4011111},"neighborhood":"Potrero Hill","city":"San Francisco","formatted_address":"495 De Haro St, San Francisco, CA 94107, USA","sportDetails":[{"__typename":"SportDescription","sportName":"Cornhole","description":"\u003cp>The original home for Cornhole in SF!\u003c/p>"}],"image":{"__typename":"ImageType","url":"https://s3.amazonaws.com/rivall-user-uploads/prodUploads/approvedVenueFolder/Volleyball:Dodgeball (2).jpg"}},"ApprovedVenue:60d0b4b6c456da002fc12650":{"__typename":"ApprovedVenue","_id":"60d0b4b6c456da002fc12650","disabled":true,"shorthandName":"Salvation Army Mission","pdfUploads":[],"place_id":"ChIJtf6RBz9-j4ARCSHvih4OfwE","location":{"__typename":"Coordinates","lat":37.754379,"lng":-122.421176},"neighborhood":"The Mission","city":"San Francisco","formatted_address":"1156 Valencia St, San Francisco, CA 94110, USA","sportDetails":[],"image":null},"ApprovedVenue:60d0b4cc9d301c0036524315":{"__typename":"ApprovedVenue","_id":"60d0b4cc9d301c0036524315","disabled":true,"shorthandName":"Presidio Community YMCA","pdfUploads":[],"place_id":"ChIJ2w3pM9aGhYARyQChT8dBPj8","location":{"__typename":"Coordinates","lat":37.79990850000001,"lng":-122.4547773},"neighborhood":"Presidio","city":"San Francisco","formatted_address":"1151 Gorgas Ave, San Francisco, CA 94129, USA","sportDetails":[],"image":null},"ApprovedVenue:60d0b4e38f9c70002f18ccd3":{"__typename":"ApprovedVenue","_id":"60d0b4e38f9c70002f18ccd3","disabled":true,"shorthandName":"Peacock Meadow","pdfUploads":[],"place_id":"ChIJgZQ3j0-HhYARHGdC0FXeNq4","location":{"__typename":"Coordinates","lat":37.77157100000001,"lng":-122.457653},"neighborhood":"Golden Gate Park","city":"San Francisco","formatted_address":"240 John F Kennedy Dr, San Francisco, CA 94117, USA","sportDetails":[],"image":null},"ApprovedVenue:60d0b4f38f9c70002f18ce0d":{"__typename":"ApprovedVenue","_id":"60d0b4f38f9c70002f18ce0d","disabled":false,"shorthandName":"Fort Scott Field","pdfUploads":[],"place_id":"ChIJwRoXqeiGhYARMQvtAQB07Tw","location":{"__typename":"Coordinates","lat":37.80297059999999,"lng":-122.4746065},"neighborhood":"Presidio","city":"San Francisco","formatted_address":"1299 Storey Ave, San Francisco, CA 94129, USA","sportDetails":[{"__typename":"SportDescription","sportName":"Event","description":""},{"__typename":"SportDescription","sportName":"Softball","description":"\u003cp>The Presidio's beautiful offering of grass diamonds\u003c/p>"}],"image":{"__typename":"ImageType","url":"https://s3.amazonaws.com/rivall-user-uploads/prodUploads/approvedVenueFolder/Screen Shot 2021-09-16 at 5.28.12 PM.png"}},"ApprovedVenue:60d0b54af80aa6002b6a1d59":{"__typename":"ApprovedVenue","_id":"60d0b54af80aa6002b6a1d59","disabled":true,"shorthandName":"Rikki Streicher Field","pdfUploads":[],"place_id":"ChIJo3AiIQV-j4ARjGZ3-vCFx40","location":{"__typename":"Coordinates","lat":37.7595864,"lng":-122.4365283},"neighborhood":"Castro","city":"San Francisco","formatted_address":"100 Collingwood St, San Francisco, CA 94114, USA","sportDetails":[],"image":null},"ApprovedVenue:60d0b58d7dc062003610afbd":{"__typename":"ApprovedVenue","_id":"60d0b58d7dc062003610afbd","disabled":true,"shorthandName":"Buchanan YMCA","pdfUploads":[],"place_id":"ChIJD5Xjs76AhYARtyK2usVeook","location":{"__typename":"Coordinates","lat":37.7842108,"lng":-122.4291814},"neighborhood":"Fillmore","city":"San Francisco","formatted_address":"1530 Buchanan St, San Francisco, CA 94115, USA","sportDetails":[],"image":null},"ApprovedVenue:60d0b60a7dc062003610b27b":{"__typename":"ApprovedVenue","_id":"60d0b60a7dc062003610b27b","disabled":true,"shorthandName":"San Francisco Brewing Co.","pdfUploads":[],"place_id":"ChIJ3VJvKxx-j4AR5PnwzAq_Ln8","location":{"__typename":"Coordinates","lat":37.805681,"lng":-122.423091},"neighborhood":"Ghirardelli Square","city":"San Francisco","formatted_address":"3150 Polk St, San Francisco, CA 94109, USA","sportDetails":[],"image":null},"ApprovedVenue:60d148707dc0620036170fd8":{"__typename":"ApprovedVenue","_id":"60d148707dc0620036170fd8","disabled":true,"shorthandName":"Fort Mason","pdfUploads":[],"place_id":"ChIJMduQqNiAhYARNCyGjHj5M2s","location":{"__typename":"Coordinates","lat":37.8074131,"lng":-122.4304447},"neighborhood":"Marina","city":"San Francisco","formatted_address":"Fort Mason, San Francisco, CA, USA","sportDetails":[],"image":null},"ApprovedVenue:60d148e67dc06200361712b4":{"__typename":"ApprovedVenue","_id":"60d148e67dc06200361712b4","disabled":false,"shorthandName":"Parklab Gardens","pdfUploads":[],"place_id":"ChIJHVoGBPB_j4ARkrHK8n29Gew","location":{"__typename":"Coordinates","lat":37.77082129999999,"lng":-122.3909647},"neighborhood":"SoMa","city":"San Francisco","formatted_address":"1379 4th St, San Francisco, CA 94158, USA","sportDetails":[{"__typename":"SportDescription","sportName":"Cornhole","description":"\u003cp>New to 2023!\u003c/p>"}],"image":{"__typename":"ImageType","url":"https://s3.amazonaws.com/rivall-user-uploads/prodUploads/approvedVenueFolder/ParkLab.avif.avif"}},"ApprovedVenue:60d1490b7dc0620036171387":{"__typename":"ApprovedVenue","_id":"60d1490b7dc0620036171387","disabled":true,"shorthandName":"Eureka Valley Rec Center","pdfUploads":[],"place_id":"ChIJ_R532wR-j4ARvUDkjlL7CHk","location":{"__typename":"Coordinates","lat":37.7601891,"lng":-122.4364488},"neighborhood":"Castro","city":"San Francisco","formatted_address":"100 Collingwood St, San Francisco, CA 94114, USA","sportDetails":[{"__typename":"SportDescription","sportName":"Kickball","description":""}],"image":null},"ApprovedVenue:60d1492f36a2d10067e50e59":{"__typename":"ApprovedVenue","_id":"60d1492f36a2d10067e50e59","disabled":true,"shorthandName":"Morton Field","pdfUploads":[],"place_id":"ChIJ7xFmsy6HhYARDU9enLM57KE","location":{"__typename":"Coordinates","lat":37.7948802,"lng":-122.4532701},"neighborhood":"Presidio","city":"San Francisco","formatted_address":"Morton St, San Francisco, CA 94129, USA","sportDetails":[],"image":null},"ApprovedVenue:60d14b0336a2d10067e51724":{"__typename":"ApprovedVenue","_id":"60d14b0336a2d10067e51724","disabled":true,"shorthandName":"South Sunset Fields","pdfUploads":[],"place_id":"ChIJjfYDunB9j4ARfGSX-AlqDoA","location":{"__typename":"Coordinates","lat":37.737865,"lng":-122.498502},"neighborhood":"Sunset","city":"San Francisco","formatted_address":"40th Ave &, Vicente St, San Francisco, CA 94116, USA","sportDetails":[],"image":null},"ApprovedVenue:60d14b7236a2d10067e51844":{"__typename":"ApprovedVenue","_id":"60d14b7236a2d10067e51844","disabled":false,"shorthandName":"Spark Social SF","pdfUploads":[],"place_id":"Ej02MDEgTWlzc2lvbiBCYXkgQm91bGV2YXJkIE5vcnRoLCBTYW4gRnJhbmNpc2NvLCBDQSA5NDE1OCwgVVNBIhsSGQoUChIJN6NB2tF_j4AR9SQZnFe_9HQQ2QQ","location":{"__typename":"Coordinates","lat":37.7708976,"lng":-122.3929305},"neighborhood":"Mission Bay","city":"San Francisco","formatted_address":"601 Mission Bay Boulevard North, San Francisco, CA 94158, USA","sportDetails":[{"__typename":"SportDescription","sportName":"Cornhole","description":"\u003cp>Find your league today!\u003c/p>"}],"image":{"__typename":"ImageType","url":"https://s3.amazonaws.com/rivall-user-uploads/prodUploads/approvedVenueFolder/spark-social-02-889x581.jpg.jpeg"}},"ApprovedVenue:60d14b987dc0620036172080":{"__typename":"ApprovedVenue","_id":"60d14b987dc0620036172080","disabled":false,"shorthandName":"Little Rec Field","pdfUploads":[],"place_id":"ChIJXSwgXVCHhYARlZUckAKtk6w","location":{"__typename":"Coordinates","lat":37.76837079999999,"lng":-122.4564649},"neighborhood":"Golden Gate Park","city":"San Francisco","formatted_address":"541-561 Kezar Dr, San Francisco, CA 94117, USA","sportDetails":[{"__typename":"SportDescription","sportName":"Kickball","description":"\u003cp>In Golden Gate Park, right next to our sponsor bar - Kezar Pub!\u003c/p>"}],"image":{"__typename":"ImageType","url":"https://s3.amazonaws.com/rivall-user-uploads/prodUploads/approvedVenueFolder/Screen Shot 2023-01-19 at 12.13.29 PM.png.png"}},"ApprovedVenue:60d14bec7dc062003617217e":{"__typename":"ApprovedVenue","_id":"60d14bec7dc062003617217e","disabled":true,"shorthandName":"Barebottle Brewing Company","pdfUploads":[],"place_id":"ChIJH5jJ8VZ-j4ARja23tGUOAzE","location":{"__typename":"Coordinates","lat":37.7398597,"lng":-122.4091179},"neighborhood":"Bernal Heights","city":"San Francisco","formatted_address":"1525 Cortland Ave, San Francisco, CA 94110, USA","sportDetails":[],"image":null},"ApprovedVenue:60d14c5c7dc062003617231b":{"__typename":"ApprovedVenue","_id":"60d14c5c7dc062003617231b","disabled":true,"shorthandName":"Telegraph Hill Neighborhood Center","pdfUploads":[],"place_id":"ChIJlYHYq_qAhYARx96iw5UIImE","location":{"__typename":"Coordinates","lat":37.8030921,"lng":-122.4124375},"neighborhood":"Tel Hi","city":"San Francisco","formatted_address":"San Francisco, CA 94133, USA","sportDetails":[],"image":null},"ApprovedVenue:60d14fbe7dc0620036173ae6":{"__typename":"ApprovedVenue","_id":"60d14fbe7dc0620036173ae6","disabled":true,"shorthandName":"Rossi Playground","pdfUploads":[],"place_id":"ChIJkfZJdEiHhYARuvzwrfgHLNA","location":{"__typename":"Coordinates","lat":37.7779375,"lng":-122.4577815},"neighborhood":"Fillmore","city":"San Francisco","formatted_address":"Inner Richmond, San Francisco, CA 94118, USA","sportDetails":[],"image":null},"ApprovedVenue:60d14fd1ce46d20036862209":{"__typename":"ApprovedVenue","_id":"60d14fd1ce46d20036862209","disabled":true,"shorthandName":"SoMa StrEat Food Park","pdfUploads":[],"place_id":"ChIJeaJ_sSh-j4AR7jS8-7l5qgw","location":{"__typename":"Coordinates","lat":37.769775,"lng":-122.4120333},"neighborhood":"SoMa","city":"San Francisco","formatted_address":"428 11th St, San Francisco, CA 94103, USA","sportDetails":[],"image":null},"ApprovedVenue:60f87cd534edf2003678099e":{"__typename":"ApprovedVenue","_id":"60f87cd534edf2003678099e","disabled":false,"shorthandName":"John O'Connell - Gymnasium","pdfUploads":[],"place_id":"ChIJgxtZ9Tl-j4ARIL76vQ4X9-Y","location":{"__typename":"Coordinates","lat":37.7595222,"lng":-122.4140747},"neighborhood":"The Mission","city":"San Francisco","formatted_address":"2355 Folsom St, San Francisco, CA 94110, USA","sportDetails":[{"__typename":"SportDescription","sportName":"Basketball","description":"\u003cp>One of our many basketball venues, located in Mission District\u003c/p>"},{"__typename":"SportDescription","sportName":"Volleyball","description":"\u003cp>Home to competitive and recreation volleyball!\u003c/p>"}],"image":{"__typename":"ImageType","url":"https://s3.amazonaws.com/rivall-user-uploads/prodUploads/approvedVenueFolder/Screen Shot 2021-08-25 at 3.20.37 PM.png"}},"ApprovedVenue:60f87ee8694c05002f443492":{"__typename":"ApprovedVenue","_id":"60f87ee8694c05002f443492","disabled":false,"shorthandName":"John O'Connell Turf Field","pdfUploads":[],"place_id":"EiozMjAwIDIwdGggU3QsIFNhbiBGcmFuY2lzY28sIENBIDk0MTEwLCBVU0EiGxIZChQKEgkDadBYN36PgBEqOyJ5YqcFDBCAGQ","location":{"__typename":"Coordinates","lat":37.7590434,"lng":-122.4125343},"neighborhood":"The Mission","city":"San Francisco","formatted_address":"3200 20th St, San Francisco, CA 94110, USA","sportDetails":[{"__typename":"SportDescription","sportName":"Flag Football","description":""},{"__typename":"SportDescription","sportName":"Kickball","description":""},{"__typename":"SportDescription","sportName":"Soccer","description":""}],"image":{"__typename":"ImageType","url":"https://s3.amazonaws.com/rivall-user-uploads/prodUploads/approvedVenueFolder/Screen Shot 2021-08-25 at 3.18.15 PM.png"}},"ApprovedVenue:60f8a2f11c013c00360af9a2":{"__typename":"ApprovedVenue","_id":"60f8a2f11c013c00360af9a2","disabled":false,"shorthandName":"Galileo Turf Field","pdfUploads":[],"place_id":"EjExMDc5IE5vcnRoIFBvaW50IFN0LCBTYW4gRnJhbmNpc2NvLCBDQSA5NDEwOSwgVVNBIhsSGQoUChIJ7YcVPN6AhYAR9Dvj9tlmYtQQtwg","location":{"__typename":"Coordinates","lat":37.8051492,"lng":-122.4248848},"neighborhood":"Marina","city":"San Francisco","formatted_address":"1079 North Point St, San Francisco, CA 94109, USA","sportDetails":[{"__typename":"SportDescription","sportName":"Flag Football","description":"\u003cp>Popular turf space!\u003c/p>"},{"__typename":"SportDescription","sportName":"Soccer","description":"\u003cp>Popular turf space!\u003c/p>"}],"image":{"__typename":"ImageType","url":"https://s3.amazonaws.com/rivall-user-uploads/prodUploads/approvedVenueFolder/Cropped-Galileo-09-01-09-066.jpg"}},"ApprovedVenue:60fafcfc63e3b100368ce11f":{"__typename":"ApprovedVenue","_id":"60fafcfc63e3b100368ce11f","disabled":false,"shorthandName":"The Detour","pdfUploads":[],"place_id":"ChIJAQBwTBx-j4ARap_YV-X70IU","location":{"__typename":"Coordinates","lat":37.7658454,"lng":-122.4313844},"neighborhood":"Castro","city":"San Francisco","formatted_address":"2200a Market St, San Francisco, CA 94114, USA","sportDetails":[{"__typename":"SportDescription","sportName":"Skeeball","description":"\u003cp>Home to Volo Skeeball!\u003c/p>"}],"image":{"__typename":"ImageType","url":"https://s3.amazonaws.com/rivall-user-uploads/prodUploads/approvedVenueFolder/DETOUR LOGO WHITE NO ARROW.png"}},"ApprovedVenue:6101a8bea453e5024477565c":{"__typename":"ApprovedVenue","_id":"6101a8bea453e5024477565c","disabled":false,"shorthandName":"Margaret Hayward Playground","pdfUploads":["https://s3.amazonaws.com/rivall-user-uploads/prodUploads/pdfUploadsFolder/47450-2021 Fall League – M_1627518398260.pdf"],"place_id":"ChIJeVFrGL2AhYARV0TrwbTSjEE","location":{"__typename":"Coordinates","lat":37.7808307,"lng":-122.4263746},"neighborhood":"Fillmore","city":"San Francisco","formatted_address":"1016 Laguna St, San Francisco, CA 94102, USA","sportDetails":[{"__typename":"SportDescription","sportName":"Flag Football","description":"\u003cp>Great turf space for flag football, kickball, and softball!\u003c/p>"},{"__typename":"SportDescription","sportName":"Kickball","description":"\u003cp>\u003cspan id=\"isPasted\" style='color: rgb(65, 65, 65); font-family: Arial, \"Helvetica Neue\", Helvetica, sans-serif; font-size: 14px; font-style: normal; font-variant-ligatures: normal; font-variant-caps: normal; font-weight: 400; letter-spacing: normal; orphans: 2; text-align: left; text-indent: 0px; text-transform: none; white-space: normal; widows: 2; word-spacing: 0px; -webkit-text-stroke-width: 0px; background-color: rgb(255, 255, 255); text-decoration-thickness: initial; text-decoration-style: initial; text-decoration-color: initial; display: inline !important; float: none;'>Great turf space home to\u003c/span>\u003cspan style='color: rgb(65, 65, 65); font-family: Arial, \"Helvetica Neue\", Helvetica, sans-serif; font-size: 14px; font-style: normal; font-variant-ligatures: normal; font-variant-caps: normal; font-weight: 400; letter-spacing: normal; orphans: 2; text-align: left; text-indent: 0px; text-transform: none; white-space: normal; widows: 2; word-spacing: 0px; -webkit-text-stroke-width: 0px; background-color: rgb(255, 255, 255); text-decoration-thickness: initial; text-decoration-style: initial; text-decoration-color: initial; display: inline !important; float: none;'> flag football, kickball, and softball!\u003c/span>\u003c/p>"},{"__typename":"SportDescription","sportName":"Softball","description":"\u003cp>\u003cimg src=\"https://s3.amazonaws.com/rivall-user-uploads/prodUploads/orgEmailPicturesFolder/63bc6e331e380edd1b0dcb22_1678842708738.jpeg\" style=\"width: 300px;\" class=\"fr-fic fr-dib\">\u003c/p>\u003cp>Join us at popular Margaret Hayward Field!\u003c/p>"}],"image":{"__typename":"ImageType","url":"https://s3.amazonaws.com/rivall-user-uploads/prodUploads/approvedVenueFolder/Screen Shot 2021-07-29 at 5.01.42 PM.png"}},"ApprovedVenue:6101a8eca453e50244778080":{"__typename":"ApprovedVenue","_id":"6101a8eca453e50244778080","disabled":false,"shorthandName":"Raymond Kimbell Playground","pdfUploads":["https://s3.amazonaws.com/rivall-user-uploads/prodUploads/pdfUploadsFolder/47449-2021 Fall League – Kimbell – Soccer-invoice_1627518440480.pdf"],"place_id":"ChIJ6QW73rmAhYARdOMAgTsxQ3s","location":{"__typename":"Coordinates","lat":37.7830758,"lng":-122.4350456},"neighborhood":"Fillmore","city":"San Francisco","formatted_address":"1901 Geary Blvd, San Francisco, CA 94115, USA","sportDetails":[{"__typename":"SportDescription","sportName":"Kickball","description":"\u003cp>Lower Pac Heights home to soccer and kickball\u003c/p>"},{"__typename":"SportDescription","sportName":"Soccer","description":"\u003cp>Lower Pac Heights home to soccer and kickball\u003c/p>"}],"image":{"__typename":"ImageType","url":"https://s3.amazonaws.com/rivall-user-uploads/prodUploads/approvedVenueFolder/Screen Shot 2021-07-29 at 5.04.47 PM.png"}},"ApprovedVenue:610af5ea19ab31029b547e6a":{"__typename":"ApprovedVenue","_id":"610af5ea19ab31029b547e6a","disabled":true,"shorthandName":"Civic Center Plaza","pdfUploads":[],"place_id":"ChIJE_PHY3yAhYAR5uBdYH1Racs","location":{"__typename":"Coordinates","lat":37.77947440000001,"lng":-122.4177047},"neighborhood":"SoMa","city":"San Francisco","formatted_address":"335 McAllister St, San Francisco, CA 94102, USA","sportDetails":[{"__typename":"SportDescription","sportName":"Bocce","description":""},{"__typename":"SportDescription","sportName":"Soccer","description":""}],"image":{"__typename":"ImageType","url":"https://s3.amazonaws.com/rivall-user-uploads/prodUploads/approvedVenueFolder/CivicCenterPlaza.jpeg"}},"ApprovedVenue:610af75b19ab31029b5529a0":{"__typename":"ApprovedVenue","_id":"610af75b19ab31029b5529a0","disabled":true,"shorthandName":"James Rolph Jr. Playground","pdfUploads":[],"place_id":"ChIJpYrR201-j4AROcdcFPJCspk","location":{"__typename":"Coordinates","lat":37.7490327,"lng":-122.4067073},"neighborhood":"Bernal Heights","city":"San Francisco","formatted_address":"2850 Cesar Chavez, San Francisco, CA 94110, USA","sportDetails":[{"__typename":"SportDescription","sportName":"Kickball","description":""}],"image":{"__typename":"ImageType","url":"https://s3.amazonaws.com/rivall-user-uploads/prodUploads/approvedVenueFolder/jamesrolphjr.jpeg"}},"ApprovedVenue:610af8b30e3c1d00315ce8ee":{"__typename":"ApprovedVenue","_id":"610af8b30e3c1d00315ce8ee","disabled":true,"shorthandName":"Minnie & Lovie Ward Recreational Center","pdfUploads":[],"place_id":"ChIJaey8JS58j4ARc9AyoyKGqxM","location":{"__typename":"Coordinates","lat":37.7162809,"lng":-122.4575292},"neighborhood":"Outer Mission","city":"San Francisco","formatted_address":"650 Capitol Ave, San Francisco, CA 94112, USA","sportDetails":[{"__typename":"SportDescription","sportName":"Soccer","description":""}],"image":{"__typename":"ImageType","url":"https://s3.amazonaws.com/rivall-user-uploads/prodUploads/approvedVenueFolder/Minnie Lovie Ward.jpeg"}},"ApprovedVenue:610afa408d321a02b72a09a9":{"__typename":"ApprovedVenue","_id":"610afa408d321a02b72a09a9","disabled":true,"shorthandName":"The Panhandle","pdfUploads":[],"place_id":"EjJGZWxsIFN0ICYgU3RhbnlhbiBTdCwgU2FuIEZyYW5jaXNjbywgQ0EgOTQxMTcsIFVTQSJmImQKFAoSCbkrwz5Oh4WAEQ9WJaYs2V5pEhQKEgm5K8M-ToeFgBEPViWmLNleaRoUChIJz3FIf6-AhYAR34kCXUjA7sIaFAoSCbEGRsJRh4WAEUKk2xUYwHs2IgoNSImDFhXq_AK3","location":{"__typename":"Coordinates","lat":37.7719112,"lng":-122.454095},"neighborhood":"Haight Ashbury","city":"San Francisco","formatted_address":"Fell St & Stanyan St, San Francisco, CA 94117, USA","sportDetails":[{"__typename":"SportDescription","sportName":"Bocce","description":""}],"image":null},"ApprovedVenue:610afab911e1620031fa03e5":{"__typename":"ApprovedVenue","_id":"610afab911e1620031fa03e5","disabled":true,"shorthandName":"Esprit Park","pdfUploads":[],"place_id":"ChIJtU7x7rd_j4ARaHZtto2FX5E","location":{"__typename":"Coordinates","lat":37.7609832,"lng":-122.3910594},"neighborhood":"Dogpatch","city":"San Francisco","formatted_address":"19th St & Minnesota St, San Francisco, CA 94107, USA","sportDetails":[{"__typename":"SportDescription","sportName":"Kickball","description":""}],"image":{"__typename":"ImageType","url":"https://s3.amazonaws.com/rivall-user-uploads/prodUploads/approvedVenueFolder/Esprit Park.jpeg"}},"ApprovedVenue:610afb498d321a02b72a7724":{"__typename":"ApprovedVenue","_id":"610afb498d321a02b72a7724","disabled":true,"shorthandName":"Kennedy's","pdfUploads":[],"place_id":"ChIJI26UAeWAhYARClONkxIt69Y","location":{"__typename":"Coordinates","lat":37.8041563,"lng":-122.4152693},"neighborhood":"North Beach","city":"San Francisco","formatted_address":"1040 Columbus Ave, San Francisco, CA 94133, USA","sportDetails":[{"__typename":"SportDescription","sportName":"Skeeball","description":""}],"image":{"__typename":"ImageType","url":"https://s3.amazonaws.com/rivall-user-uploads/prodUploads/approvedVenueFolder/kennedy-s-irish-pub-and.jpeg"}},"ApprovedVenue:610afbe7c2a8cc02a989fe9e":{"__typename":"ApprovedVenue","_id":"610afbe7c2a8cc02a989fe9e","disabled":true,"shorthandName":"Score Bar and Lounge","pdfUploads":[],"place_id":"ChIJv92MW_SAhYAR7kHUoyZXIPc","location":{"__typename":"Coordinates","lat":37.7982708,"lng":-122.4052423},"neighborhood":"Tel Hi","city":"San Francisco","formatted_address":"490 Broadway, San Francisco, CA 94133, USA","sportDetails":[],"image":null},"ApprovedVenue:610afca083775c002b173f1f":{"__typename":"ApprovedVenue","_id":"610afca083775c002b173f1f","disabled":true,"shorthandName":"George Christopher Playground","pdfUploads":[],"place_id":"ChIJ7cJqhXN-j4ARpwxfrGRNo5g","location":{"__typename":"Coordinates","lat":37.7439508,"lng":-122.4402977},"neighborhood":"Diamond Heights","city":"San Francisco","formatted_address":"5210 Diamond Heights Blvd, San Francisco, CA 94131, USA","sportDetails":[],"image":null},"ApprovedVenue:614a103635af2f002c229b4a":{"__typename":"ApprovedVenue","_id":"614a103635af2f002c229b4a","disabled":false,"shorthandName":"Mission High School Turf Field / Outdoor Court","pdfUploads":[],"place_id":"ChIJxyZbsRl-j4ARKxfvWqcKqCw","location":{"__typename":"Coordinates","lat":37.7617503,"lng":-122.4271709},"neighborhood":"The Mission","city":"San Francisco","formatted_address":"3750 18th St, San Francisco, CA 94114, USA","sportDetails":[{"__typename":"SportDescription","sportName":"Kickball","description":"\u003cp>\u003cspan id=\"isPasted\" style='color: rgb(65, 65, 65); font-family: Arial, \"Helvetica Neue\", Helvetica, sans-serif; font-size: 14px; font-style: normal; font-variant-ligatures: normal; font-variant-caps: normal; font-weight: 400; letter-spacing: normal; orphans: 2; text-align: left; text-indent: 0px; text-transform: none; white-space: normal; widows: 2; word-spacing: 0px; -webkit-text-stroke-width: 0px; background-color: rgb(255, 255, 255); text-decoration-thickness: initial; text-decoration-style: initial; text-decoration-color: initial; display: inline !important; float: none;'>Located near our summer venue\u003c/span>\u003cspan style='color: rgb(65, 65, 65); font-family: Arial, \"Helvetica Neue\", Helvetica, sans-serif; font-size: 14px; font-style: normal; font-variant-ligatures: normal; font-variant-caps: normal; font-weight: 400; letter-spacing: normal; orphans: 2; text-align: left; text-indent: 0px; text-transform: none; white-space: normal; widows: 2; word-spacing: 0px; -webkit-text-stroke-width: 0px; background-color: rgb(255, 255, 255); text-decoration-thickness: initial; text-decoration-style: initial; text-decoration-color: initial; display: inline !important; float: none;'> Mission Delores Park!\u003c/span>\u003c/p>"},{"__typename":"SportDescription","sportName":"Pickleball","description":"\u003cp>Home to our first outdoor pickleball courts!\u003c/p>"},{"__typename":"SportDescription","sportName":"Soccer","description":"\u003cp>Located near Mission Delores Park!\u003c/p>"}],"image":null},"ApprovedVenue:6165e23758a7ab10ff717b9c":{"__typename":"ApprovedVenue","_id":"6165e23758a7ab10ff717b9c","disabled":false,"shorthandName":"SPIN","pdfUploads":[],"place_id":"ChIJzU6CyX2AhYARmQGMtoO_nzQ","location":{"__typename":"Coordinates","lat":37.7842568,"lng":-122.3990409},"neighborhood":"SoMa","city":"San Francisco","formatted_address":"690 Folsom St, San Francisco, CA 94107, USA","sportDetails":[{"__typename":"SportDescription","sportName":"Event","description":""},{"__typename":"SportDescription","sportName":"Ping Pong","description":""}],"image":{"__typename":"ImageType","url":"https://s3.amazonaws.com/rivall-user-uploads/prodUploads/approvedVenueFolder/Screen Shot 2021-10-12 at 11.11.47 AM.png"}},"ApprovedVenue:6170821e76ae04440a60c368":{"__typename":"ApprovedVenue","_id":"6170821e76ae04440a60c368","disabled":false,"shorthandName":"Alvord Lake Bocce","pdfUploads":[],"place_id":"Eiw2NzggU3RhbnlhbiBTdCwgU2FuIEZyYW5jaXNjbywgQ0EgOTQxMTcsIFVTQSIxEi8KFAoSCTXePJVRh4WAEQxyK5l4TpPKEKYFKhQKEgmxBkbCUYeFgBFCpNsVGMB7Ng","location":{"__typename":"Coordinates","lat":37.7695704,"lng":-122.4536438},"neighborhood":"Golden Gate Park","city":"San Francisco","formatted_address":"678 Stanyan St, San Francisco, CA 94117, USA","sportDetails":[{"__typename":"SportDescription","sportName":"Bocce","description":"\u003cp>\u003cimg src=\"https://s3.amazonaws.com/rivall-user-uploads/prodUploads/orgEmailPicturesFolder/63bc6e331e380edd1b0dcb22_1678843250218.jpeg\" style=\"width: 714px;\" class=\"fr-fic fr-dib\">\u003c/p>"}],"image":{"__typename":"ImageType","url":"https://s3.amazonaws.com/rivall-user-uploads/prodUploads/approvedVenueFolder/Alvord Lake GGP Bocce.jpg"}},"ApprovedVenue:61773d35f705caf05080bba6":{"__typename":"ApprovedVenue","_id":"61773d35f705caf05080bba6","disabled":false,"shorthandName":"Galileo Gymnasium","pdfUploads":[],"place_id":"ChIJBc_rV-eAhYARxkitrz4kdj4","location":{"__typename":"Coordinates","lat":37.8035481,"lng":-122.4240267},"neighborhood":"Marina","city":"San Francisco","formatted_address":"1150 Francisco St, San Francisco, CA 94109, USA","sportDetails":[{"__typename":"SportDescription","sportName":"Basketball","description":"\u003cp>A favorite spot as it's home to basketball, futsal, pickleball, and volleyball!\u003c/p>"},{"__typename":"SportDescription","sportName":"Futsal","description":"\u003cp>\u003cspan id=\"isPasted\" style='color: rgb(65, 65, 65); font-family: Arial, \"Helvetica Neue\", Helvetica, sans-serif; font-size: 14px; font-style: normal; font-variant-ligatures: normal; font-variant-caps: normal; font-weight: 400; letter-spacing: normal; orphans: 2; text-align: left; text-indent: 0px; text-transform: none; white-space: normal; widows: 2; word-spacing: 0px; -webkit-text-stroke-width: 0px; background-color: rgb(255, 255, 255); text-decoration-thickness: initial; text-decoration-style: initial; text-decoration-color: initial; display: inline !important; float: none;'>A favorite spot as it's a gymnasium \u003c/span>\u003cspan style='color: rgb(65, 65, 65); font-family: Arial, \"Helvetica Neue\", Helvetica, sans-serif; font-size: 14px; font-style: normal; font-variant-ligatures: normal; font-variant-caps: normal; font-weight: 400; letter-spacing: normal; orphans: 2; text-align: left; text-indent: 0px; text-transform: none; white-space: normal; widows: 2; word-spacing: 0px; -webkit-text-stroke-width: 0px; background-color: rgb(255, 255, 255); text-decoration-thickness: initial; text-decoration-style: initial; text-decoration-color: initial; display: inline !important; float: none;'>home to basketball, futsal, pickleball, and volleyball!\u003c/span>\u003c/p>"},{"__typename":"SportDescription","sportName":"Pickleball","description":"\u003cp>\u003cspan id=\"isPasted\" style='color: rgb(65, 65, 65); font-family: Arial, \"Helvetica Neue\", Helvetica, sans-serif; font-size: 14px; font-style: normal; font-variant-ligatures: normal; font-variant-caps: normal; font-weight: 400; letter-spacing: normal; orphans: 2; text-align: left; text-indent: 0px; text-transform: none; white-space: normal; widows: 2; word-spacing: 0px; -webkit-text-stroke-width: 0px; background-color: rgb(255, 255, 255); text-decoration-thickness: initial; text-decoration-style: initial; text-decoration-color: initial; display: inline !important; float: none;'>A favorite spot as it's a gymnasium \u003c/span>\u003cspan style='color: rgb(65, 65, 65); font-family: Arial, \"Helvetica Neue\", Helvetica, sans-serif; font-size: 14px; font-style: normal; font-variant-ligatures: normal; font-variant-caps: normal; font-weight: 400; letter-spacing: normal; orphans: 2; text-align: left; text-indent: 0px; text-transform: none; white-space: normal; widows: 2; word-spacing: 0px; -webkit-text-stroke-width: 0px; background-color: rgb(255, 255, 255); text-decoration-thickness: initial; text-decoration-style: initial; text-decoration-color: initial; display: inline !important; float: none;'>home to basketball, futsal, pickleball, and volleyball!\u003c/span>\u003c/p>"},{"__typename":"SportDescription","sportName":"Volleyball","description":"\u003cp>\u003cspan id=\"isPasted\" style='color: rgb(65, 65, 65); font-family: Arial, \"Helvetica Neue\", Helvetica, sans-serif; font-size: 14px; font-style: normal; font-variant-ligatures: normal; font-variant-caps: normal; font-weight: 400; letter-spacing: normal; orphans: 2; text-align: left; text-indent: 0px; text-transform: none; white-space: normal; widows: 2; word-spacing: 0px; -webkit-text-stroke-width: 0px; background-color: rgb(255, 255, 255); text-decoration-thickness: initial; text-decoration-style: initial; text-decoration-color: initial; display: inline !important; float: none;'>A favorite spot as it's a gymnasium \u003c/span>\u003cspan style='color: rgb(65, 65, 65); font-family: Arial, \"Helvetica Neue\", Helvetica, sans-serif; font-size: 14px; font-style: normal; font-variant-ligatures: normal; font-variant-caps: normal; font-weight: 400; letter-spacing: normal; orphans: 2; text-align: left; text-indent: 0px; text-transform: none; white-space: normal; widows: 2; word-spacing: 0px; -webkit-text-stroke-width: 0px; background-color: rgb(255, 255, 255); text-decoration-thickness: initial; text-decoration-style: initial; text-decoration-color: initial; display: inline !important; float: none;'>home to basketball, futsal, pickleball, and volleyball!\u003c/span>\u003c/p>"}],"image":{"__typename":"ImageType","url":"https://s3.amazonaws.com/rivall-user-uploads/prodUploads/approvedVenueFolder/Image from iOS (9).jpg"}},"ApprovedVenue:61950bedacc21444a79ad0bf":{"__typename":"ApprovedVenue","_id":"61950bedacc21444a79ad0bf","disabled":false,"shorthandName":"SF International HS","pdfUploads":[],"place_id":"ChIJNeeDPMt_j4ARBuAdnyPL7LY","location":{"__typename":"Coordinates","lat":37.7617201,"lng":-122.4006227},"neighborhood":"Potrero Hill","city":"San Francisco","formatted_address":"655 De Haro St, San Francisco, CA 94107, USA","sportDetails":[{"__typename":"SportDescription","sportName":"Basketball","description":"\u003cp>Beautiful, full gymnasium located in Potrero Hill\u003c/p>"},{"__typename":"SportDescription","sportName":"Kickball","description":""},{"__typename":"SportDescription","sportName":"Volleyball","description":"\u003cp>\u003cspan id=\"isPasted\" style='color: rgb(65, 65, 65); font-family: Arial, \"Helvetica Neue\", Helvetica, sans-serif; font-size: 14px; font-style: normal; font-variant-ligatures: normal; font-variant-caps: normal; font-weight: 400; letter-spacing: normal; orphans: 2; text-align: left; text-indent: 0px; text-transform: none; white-space: normal; widows: 2; word-spacing: 0px; -webkit-text-stroke-width: 0px; background-color: rgb(255, 255, 255); text-decoration-thickness: initial; text-decoration-style: initial; text-decoration-color: initial; display: inline !important; float: none;'>This b\u003c/span>\u003cspan style='color: rgb(65, 65, 65); font-family: Arial, \"Helvetica Neue\", Helvetica, sans-serif; font-size: 14px; font-style: normal; font-variant-ligatures: normal; font-variant-caps: normal; font-weight: 400; letter-spacing: normal; orphans: 2; text-align: left; text-indent: 0px; text-transform: none; white-space: normal; widows: 2; word-spacing: 0px; -webkit-text-stroke-width: 0px; background-color: rgb(255, 255, 255); text-decoration-thickness: initial; text-decoration-style: initial; text-decoration-color: initial; display: inline !important; float: none;'>eautiful, full gymnasium is \u003c/span>\u003cspan style='color: rgb(65, 65, 65); font-family: Arial, \"Helvetica Neue\", Helvetica, sans-serif; font-size: 14px; font-style: normal; font-variant-ligatures: normal; font-variant-caps: normal; font-weight: 400; letter-spacing: normal; orphans: 2; text-align: left; text-indent: 0px; text-transform: none; white-space: normal; widows: 2; word-spacing: 0px; -webkit-text-stroke-width: 0px; background-color: rgb(255, 255, 255); text-decoration-thickness: initial; text-decoration-style: initial; text-decoration-color: initial; display: inline !important; float: none;'>located in Potrero Hill\u003c/span>\u003c/p>"}],"image":{"__typename":"ImageType","url":"https://s3.amazonaws.com/rivall-user-uploads/prodUploads/approvedVenueFolder/IMG_4477.jpg.jpeg"}},"ApprovedVenue:61d6140695b622a53bf34780":{"__typename":"ApprovedVenue","_id":"61d6140695b622a53bf34780","disabled":false,"shorthandName":"Thriller Social Club","pdfUploads":[],"place_id":"ChIJF-erOKKBhYARuDf3MCEVBJw","location":{"__typename":"Coordinates","lat":37.7792122,"lng":-122.3981003},"neighborhood":"SoMa","city":"San Francisco","formatted_address":"508 4th St, San Francisco, CA 94107, USA","sportDetails":[{"__typename":"SportDescription","sportName":"Bar Olympics","description":"\u003cp>Home of our Bar Games, Thriller is the perfect place to spend your night in our league meeting others and having a blast over your favorite styles of arcade/bar/carnival games!\u003c/p>"}],"image":{"__typename":"ImageType","url":"https://s3.amazonaws.com/rivall-user-uploads/prodUploads/approvedVenueFolder/Screen Shot 2023-01-19 at 12.27.12 PM.png.png"}},"ApprovedVenue:61de1d1d42fc1d80695b3ae9":{"__typename":"ApprovedVenue","_id":"61de1d1d42fc1d80695b3ae9","disabled":true,"shorthandName":"Mission Blue Field","pdfUploads":[],"place_id":"ChIJSY179jF5j4ARGJtv2QIxcLk","location":{"__typename":"Coordinates","lat":37.6926777,"lng":-122.4137649},"neighborhood":"Brisbane","city":"Brisbane","formatted_address":"475 Mission Blue Dr, Brisbane, CA 94005, USA","sportDetails":[{"__typename":"SportDescription","sportName":"Kickball","description":""}],"image":{"__typename":"ImageType","url":"https://s3.amazonaws.com/rivall-user-uploads/prodUploads/approvedVenueFolder/mission blue field.jpeg"}},"ApprovedVenue:61de30a542fc1d806973cfd3":{"__typename":"ApprovedVenue","_id":"61de30a542fc1d806973cfd3","disabled":false,"shorthandName":"Industrious SF","pdfUploads":[],"place_id":"ChIJD4j71fmAhYARgIl_U-8GsIc","location":{"__typename":"Coordinates","lat":37.8052715,"lng":-122.4047486},"neighborhood":"North Beach","city":"San Francisco","formatted_address":"1700 Montgomery St, San Francisco, CA 94111, USA","sportDetails":[{"__typename":"SportDescription","sportName":"Event","description":"\u003cp>Volo Office\u003c/p>"}],"image":null},"ApprovedVenue:627c164a91e7548156b93381":{"__typename":"ApprovedVenue","_id":"627c164a91e7548156b93381","disabled":false,"shorthandName":"Victoria Manalo Draves","pdfUploads":[],"place_id":"ChIJMb8k6YGAhYARcKW5RbBfh40","location":{"__typename":"Coordinates","lat":37.7770185,"lng":-122.4058444},"neighborhood":"SoMa","city":"San Francisco","formatted_address":"16 Sherman St, San Francisco, CA 94103, USA","sportDetails":[{"__typename":"SportDescription","sportName":"Kickball","description":""}],"image":{"__typename":"ImageType","url":"https://s3.amazonaws.com/rivall-user-uploads/prodUploads/approvedVenueFolder/Screen Shot 2022-05-11 at 12.57.43 PM.png"}},"ApprovedVenue:627e9b5fb91f25233f556563":{"__typename":"ApprovedVenue","_id":"627e9b5fb91f25233f556563","disabled":false,"shorthandName":"Multiple Locations - San Francisco","pdfUploads":[],"place_id":"ChIJIQBpAG2ahYAR_6128GcTUEo","location":{"__typename":"Coordinates","lat":37.7749295,"lng":-122.4194155},"neighborhood":"Bernal Heights","city":"San Francisco","formatted_address":"San Francisco, CA, USA","sportDetails":[{"__typename":"SportDescription","sportName":"Volunteer","description":""}],"image":null},"ApprovedVenue:628e8a99097f9f9067b44ae9":{"__typename":"ApprovedVenue","_id":"628e8a99097f9f9067b44ae9","disabled":true,"shorthandName":"Sanchez Elementary School","pdfUploads":[],"place_id":"ChIJk5_oCRx-j4ARwQKQZF69NVA","location":{"__typename":"Coordinates","lat":37.7634569,"lng":-122.4305366},"neighborhood":"Castro","city":"San Francisco","formatted_address":"325 Sanchez St, San Francisco, CA 94114, USA","sportDetails":[],"image":{"__typename":"ImageType","url":"https://s3.amazonaws.com/rivall-user-uploads/prodUploads/approvedVenueFolder/VoloKidsFoundation-logo-color.png"}},"ApprovedVenue:628e916630e88e2ca55d7001":{"__typename":"ApprovedVenue","_id":"628e916630e88e2ca55d7001","disabled":false,"shorthandName":"Booker T Washington Community Service Center","pdfUploads":[],"place_id":"ChIJL8kNuMqAhYARXpnRmn0R4VQ","location":{"__typename":"Coordinates","lat":37.7840952,"lng":-122.4460402},"neighborhood":"Fillmore","city":"San Francisco","formatted_address":"800 Presidio Ave, San Francisco, CA 94115, USA","sportDetails":[{"__typename":"SportDescription","sportName":"Basketball","description":"\u003cp>One of your most played basketball venues! beautiful gym located in the Fillmore\u003c/p>"}],"image":{"__typename":"ImageType","url":"https://s3.amazonaws.com/rivall-user-uploads/prodUploads/approvedVenueFolder/Booker T Washington Community Service Center.jpg"}},"ApprovedVenue:62be40a16290d6aeb28cdb81":{"__typename":"ApprovedVenue","_id":"62be40a16290d6aeb28cdb81","disabled":false,"shorthandName":"Westwood SF","pdfUploads":[],"place_id":"ChIJJd8ZqtCAhYARQb4ligtKGJU","location":{"__typename":"Coordinates","lat":37.8001365,"lng":-122.4354904},"neighborhood":"Marina","city":"San Francisco","formatted_address":"2036 Lombard St, San Francisco, CA 94123, USA","sportDetails":[{"__typename":"SportDescription","sportName":"Event","description":""},{"__typename":"SportDescription","sportName":"Flip Cup","description":"\u003cp>Home to Kickball and Dodgeball\u003c/p>"}],"image":{"__typename":"ImageType","url":"https://s3.amazonaws.com/rivall-user-uploads/prodUploads/approvedVenueFolder/Westwood_PChang_2771.jpg"}},"ApprovedVenue:62c5fb58a2271cd8f2832113":{"__typename":"ApprovedVenue","_id":"62c5fb58a2271cd8f2832113","disabled":false,"shorthandName":"Zoom - Virtual Event ","pdfUploads":[],"place_id":"ChIJQ2_bVTmq3oARHufIxiqC5N8","location":{"__typename":"Coordinates","lat":32.7509166,"lng":-117.2502598},"neighborhood":"Castro","city":"San Diego","formatted_address":"Abbott St, San Diego, CA 92107, USA","sportDetails":[{"__typename":"SportDescription","sportName":"Volunteer","description":""}],"image":null},"ApprovedVenue:63bdeb5c6a954cb722765b3d":{"__typename":"ApprovedVenue","_id":"63bdeb5c6a954cb722765b3d","disabled":false,"shorthandName":"Downtown HS","pdfUploads":[],"place_id":"ChIJh5UK9DR-j4ARVx51nIQoHq0","location":{"__typename":"Coordinates","lat":37.7614078,"lng":-122.4039416},"neighborhood":"Potrero Hill","city":"San Francisco","formatted_address":"693 Vermont St, San Francisco, CA 94107, USA","sportDetails":[{"__typename":"SportDescription","sportName":"Basketball","description":"\u003cp>Volo's newest venue! Join us today\u003c/p>"},{"__typename":"SportDescription","sportName":"Futsal","description":"\u003cp>Volo's newest venue! Join us today\u003c/p>"},{"__typename":"SportDescription","sportName":"Pickleball","description":"\u003cp>Volo's newest venue! Join us today\u003c/p>"}],"image":{"__typename":"ImageType","url":"https://s3.amazonaws.com/rivall-user-uploads/prodUploads/approvedVenueFolder/Screen Shot 2023-01-10 at 3.48.37 PM.png"}},"ApprovedVenue:63e2b5eb2ff5f1821644d46e":{"__typename":"ApprovedVenue","_id":"63e2b5eb2ff5f1821644d46e","disabled":true,"shorthandName":"SFF 2","pdfUploads":[],"place_id":"ChIJGyZs589_j4ARi9MXrRJag9Q","location":{"__typename":"Coordinates","lat":37.7707779,"lng":-122.3914399},"neighborhood":"Brisbane","city":"San Francisco","formatted_address":"601 Mission Bay Boulevard North, San Francisco, CA 94158, USA","sportDetails":[],"image":null},"ApprovedVenue:63e41b61f4bd04122d42a562":{"__typename":"ApprovedVenue","_id":"63e41b61f4bd04122d42a562","disabled":false,"shorthandName":"Marina Middle School","pdfUploads":[],"place_id":"ChIJg6ZxZ9eAhYAR8FzC1DvbSD4","location":{"__typename":"Coordinates","lat":37.80234919999999,"lng":-122.4360188},"neighborhood":"Marina","city":"San Francisco","formatted_address":"3500 Fillmore St, San Francisco, CA 94123, USA","sportDetails":[{"__typename":"SportDescription","sportName":"Basketball","description":"\u003cp>Beautiful gym space located in the heart of the Marina!\u003c/p>"},{"__typename":"SportDescription","sportName":"Pickleball","description":"\u003cp>Beautiful gym space located in the heart of the Marina!\u003c/p>"},{"__typename":"SportDescription","sportName":"Volleyball","description":"\u003cp>Beautiful gym space located in the heart of the Marina!\u003c/p>"}],"image":{"__typename":"ImageType","url":"https://s3.amazonaws.com/rivall-user-uploads/prodUploads/approvedVenueFolder/IMG_4449.jpg.jpeg"}},"ApprovedVenue:640fa938d72f21d7c9c8e757":{"__typename":"ApprovedVenue","_id":"640fa938d72f21d7c9c8e757","disabled":false,"shorthandName":"Teeth","pdfUploads":[],"place_id":"ChIJ19wvezx-j4ARtTYI1KKXkZY","location":{"__typename":"Coordinates","lat":37.7598456,"lng":-122.4189341},"neighborhood":"The Mission","city":"San Francisco","formatted_address":"2323 Mission St, San Francisco, CA 94110, USA","sportDetails":[],"image":{"__typename":"ImageType","url":"https://s3.amazonaws.com/rivall-user-uploads/prodUploads/approvedVenueFolder/Screenshot 2023-03-13 3.52.00 PM.png"}},"ApprovedVenue:640fa9efa2cb61f756cbeb23":{"__typename":"ApprovedVenue","_id":"640fa9efa2cb61f756cbeb23","disabled":false,"shorthandName":"Afterwork Bar","pdfUploads":[],"place_id":"ChIJi-k0_oKBhYARgPlbcExFlU4","location":{"__typename":"Coordinates","lat":37.7770716,"lng":-122.423167},"neighborhood":"Fillmore","city":"San Francisco","formatted_address":"409 Gough St, San Francisco, CA 94102, USA","sportDetails":[],"image":{"__typename":"ImageType","url":"https://s3.amazonaws.com/rivall-user-uploads/prodUploads/approvedVenueFolder/Screenshot 2023-03-13 3.55.18 PM.png"}},"ApprovedVenue:640fbbfca2cb61f756d405a8":{"__typename":"ApprovedVenue","_id":"640fbbfca2cb61f756d405a8","disabled":false,"shorthandName":"Hellman Hollow Picnic Area","pdfUploads":[],"place_id":"ChIJWYSTo5iHhYARSUF4j5afF0s","location":{"__typename":"Coordinates","lat":37.7692206,"lng":-122.4839124},"neighborhood":"Golden Gate Park","city":"San Francisco","formatted_address":"800 John F Kennedy Dr, San Francisco, CA 94122, USA","sportDetails":[{"__typename":"SportDescription","sportName":"Event","description":""},{"__typename":"SportDescription","sportName":"Kickball","description":""}],"image":{"__typename":"ImageType","url":"https://s3.amazonaws.com/rivall-user-uploads/prodUploads/approvedVenueFolder/Screenshot 2023-03-13 5.12.03 PM.png"}}};