Info
About Our Sports
Details for Play
Overview
Ready to hit the soccer field? Lace up those cleats and get ready to kick it with Volo San Jose. Our soccer leagues run year-round and include options like mens or coed divisions in San Jose. There's a location, day and league for everyone! While our leagues are competitive and full of great people, we never neglect the social aspect of our leagues. Come out to play, meet awesome people and have fun in SJ!
Program Types
league
tournament
practice
pickup
dropin
class
clinic
series
Soccer leagues
Volo sports leagues operate a lot like the sports leagues of your youth. Most of our leagues are 5 to 8 weeks and culminate in a series of playoff games to crown a champion! By competing in leagues, your team can also qualify for championship tournaments throughout the year to compete for city-wide, regional, and even national titles. A team t-shirt is always included with registration and you will receive it at your first game. Volo provides specially trained staff members, referees, equipment, and prizes for your game. After your games each week, you and your team will head over to one of our sponsor bars for some post-game fun! Volo hosts the best post-game social parties and you will have access to Volo exclusive food and drink specials. By participating in leagues, you will also enjoy special invitations to Volo events, often including an end of season party. We strive to keep the games fair, safe, and stress free so that all you need to do is show up, play, socialize, and have a great time!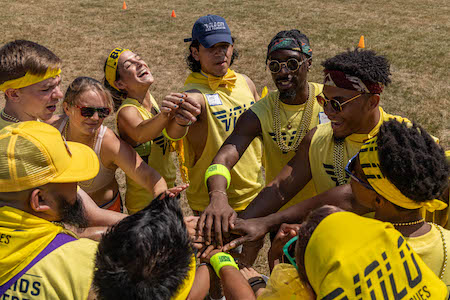 Competition Levels
Recreational leagues are for players who have minimal to no experience. This level is geared toward people who want to have friendly competition and then head to the bar.
Intermediate leagues are for players who have played before and are seeking a little more competition. People at this level have a good understanding of the rules and have the basic skills down.
Competitive leagues are for players looking for a seriously competitive game. This level is only meant for players who have experience playing this sport and are looking for the highest level of play. People playing at this level likely played at the high school or college level, or consistently play well and are ready to level up from another division.
Available Formats
coed 5v5
Minimum Roster Size:
9  | 1 Female
Maximum Players on Field:
5 | 5 Male | 1 Female
Minimum Players to Start Game:
3  | 1 Female
men 5v5
Maximum Players on Field:
5  
Minimum Players to Start Game:
4  
women 5v5
Maximum Players on Field:
5  
Minimum Players to Start Game:
3  
coed 7v7
Maximum Players on Field:
8  
Minimum Players to Start Game:
5  
Venues
The Park
1650 Monterey Hwy, San Jose, CA 95112, USA
The Park San Jose is home to outdoor arena style soccer played 5v5! This venue is unlike any other you'll see in San Jose and is sure to wow even the biggest soccer fan. Check out the leagues we're offering this season for more details!
Upcoming Soccer Events in San Jose
Frequently Asked Questions
How competitive are Volo Soccer leagues?
How many people do I need for a full soccer team?
How much does it cost to join a Volo Soccer league?
Where can I find the full rules?