Info
About Our Sports
Details for Play
Overview
Just want to be social? Don't want to throw, kick or roll a ball? Then our Volo DC Flip Cup league is the one for you! Volo does flip cup like no one else. You don't just show up, play, and go home at Volo. You show up, play, and make friends that last a lifetime! Get in the action of our co-ed weekly flip cup leagues. All leagues located at your favorite neighborhood bars, so come on out and blow off some steam!
Program Types
league
tournament
dropin
class
clinic
series
Flip Cup leagues
Volo sports leagues operate a lot like the sports leagues of your youth. Most of our leagues are 5 to 8 weeks and culminate in a series of playoff games to crown a champion! By competing in leagues, your team can also qualify for championship tournaments throughout the year to compete for city-wide, regional, and even national titles. A team t-shirt is always included with registration and you will receive it at your first game. Volo provides specially trained staff members, referees, equipment, and prizes for your game. After your games each week, you and your team will head over to one of our sponsor bars for some post-game fun! Volo hosts the best post-game social parties and you will have access to Volo exclusive food and drink specials. By participating in leagues, you will also enjoy special invitations to Volo events, often including an end of season party. We strive to keep the games fair, safe, and stress free so that all you need to do is show up, play, socialize, and have a great time!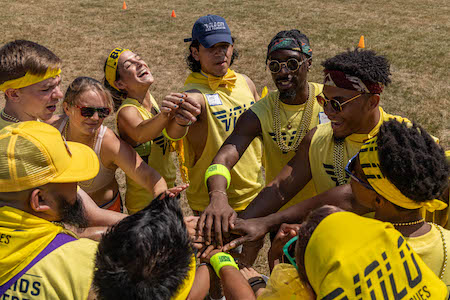 Competition Levels
Super Social leagues are great for anyone looking for a party at the field and the bar! These leagues require no experience playing the sport and players are primarily there to have fun. The super social level is great for anyone looking to make new friends, find a love connection, and make some new memories!
Venues
The Exchange Saloon
1719 G St NW, Washington, DC 20006, USA
Join the party at the hottest Volo bar in DC with live DJ and flip cup
Frequently Asked Questions
Where can I find the full rules?
Do I have to drink alcohol to join or play?